There are many things to considering when deciding its time to invest in your first Chanel Bag. I think out of every luxury brand Chanel is really the epitome of and elegance. Their bags are timeless and will always hold their value if they are well taken care of. For my birthday this year I decided it was time to purchase my first Chanel Bag and I wanted to choose one that would fit my personality and last me for many years to go come. I did so much research before finally making a decision and wanted to share everything I learned with all of you.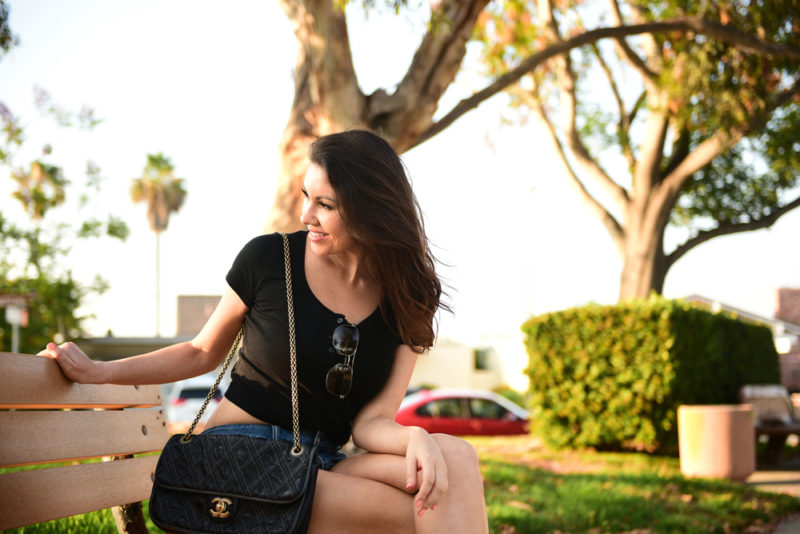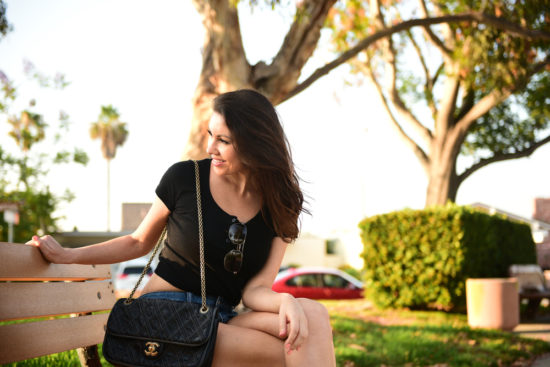 To Buy New or Pre-Loved:
I am a firm believer in purchasing all my accessories previously owned. I am a business women and I know that many luxury brands retain their value. Many people, like myself, try to take immaculate care of their handbags. Though my bag is probably several years old, it still looks brand new. It allows allows me to get a unique style that is no longer being produced. More importantly, and this is where my business sense kicks in, I could re-sell it years from now and receive exactly what I paid for it. So essentially my bag would be free! This is something not many people take into consideration, but this is how I began my handbag collection. Many websites now even offer handbag rentals. A perfect example is my Gucci 85th Anniversary bag I purchased 4 years for about $600. It was and still is in great condition. Even four years later it is still worth the same price I payed. Had I bought it brand new however, I would have been paying a whopping $2,500 – $3,400! No one will know that you bought it pre-owned but you.
Leather:
This is the issue that I really had to consider when making my purchase. Chanel bags have several different types of leather, the most popular being lambskin. Its important to make a decisions that fits your lifestyle. No matter how careful I try to be, I knew if I wanted my bag to last and still look great, I needed a bag that was a little more durable. Lets break down the most common Chanel leathers below.
Lamb Skin: this is the most common type of leather used. It is delicate and super soft to the touch. It also however can scratch very easily. You will commonly see many small surface scratches. The leather can easily be damaged by water and often the corners have a lot of wear if not cautious.
Caviar: this is probably the second most popular style and also typically more expensive. While it is not soft and playable, its very durable and does not scratch or lose its shape easily. These bags tend to look newer longer.
Calf Skin: this is harder to find and only made for specific styles. It is like a cross between lamb skin and caviar as far as how durable it is. Calf skin often has a slightly wrinkled texture so even if it has a little wear it is not noticeable and it does not scratch as easily. The corners can still show wear however if not taken care of properly
Patent Leather: this type of leather can be durable as far as scratches and especially water damage. It can however wrinkle if not stored properly, but the biggest concern is color loss. Patent leather can start to change color, especially lighter colors. Dark jeans will easily stain patent leather and these stains can be difficult to remove. The other issue is losing its shine and luster over time.
Style:
The last thing to really consider is the style. The most traditional is the single and double flap. Most common is the black lamb skin, but these styles are classic and can be found in numerous colors, leathers, and patterns. There are also larger bags, chain arounds, and the list goes on. I personally went with a classic flap Chanel bag because of how timeless they are. It makes a great first bag but it does lack in space so my second would probably be something bigger. Style is always just a personal preference.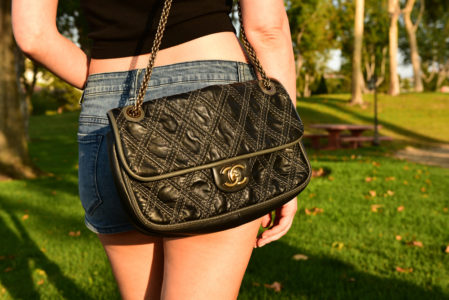 The bag I ended up choosing was a Black Calfskin Triptych Flap Shoulder Chanel Bag with Grey Stitching. I knew I needed something more durable and didnt want the leather to show any scratches so I was really happy to go with the calfskin leather. This style was also traditional, yet unique with the antique gold hardware and Triptych stitching. I found that this particular style is not very common and can be hard to find so after some back and forth negotiations with the seller I jumped on it. One thing that I also knew I wanted was the option to wear the bag either long on the shoulder, double strapped or as a cross body. I really feel like I found the perfect bag and I hope with these tips you will too!