Recently, we revisited Las Brisas in Laguna Beach to enjoy their tasty dinner dishes and cocktails following their 40th-anniversary celebration! Las Brisas is well known for not only their beautiful location right on the beach but their coastal California cuisine which they combine with traditional, Mexican flavors.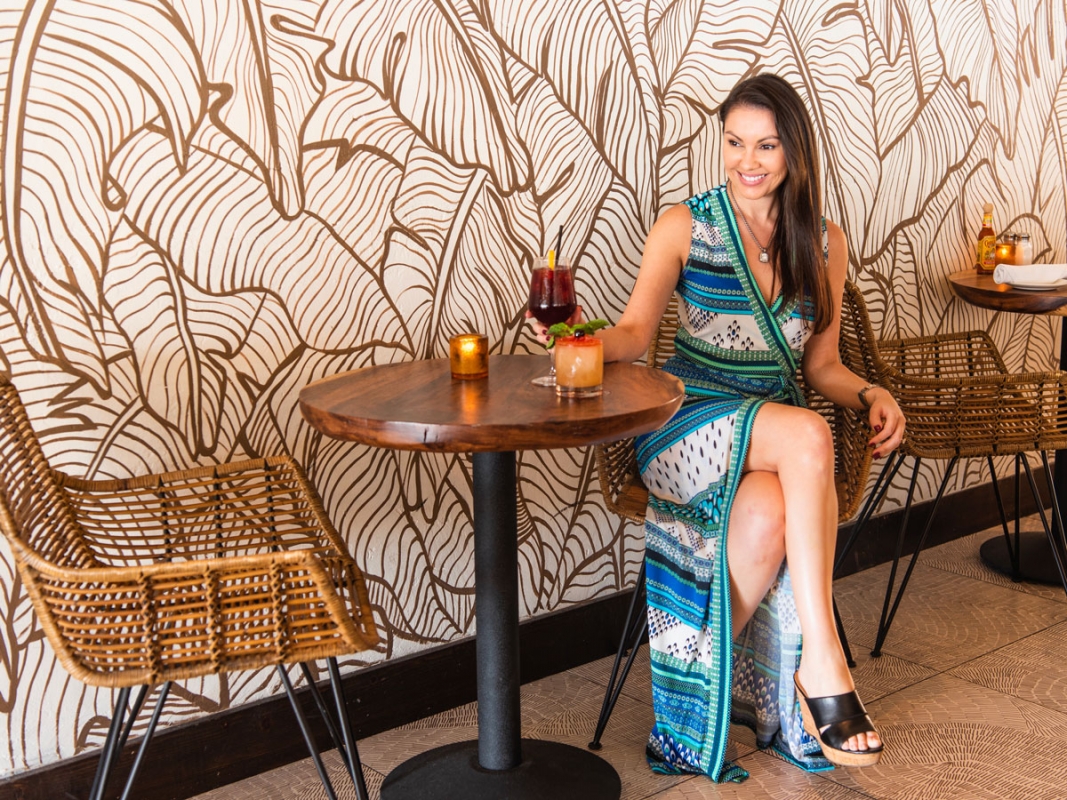 Our evening began with cocktails, each of which was vibrant in color and sophisticated in style. We were seated next to this beautiful accent wall that was hand-painted by a local artist! At Las Brisas, they go the extra mile to make all the details come together. It is a wonderful atmosphere to enjoy their delicious coastal dishes.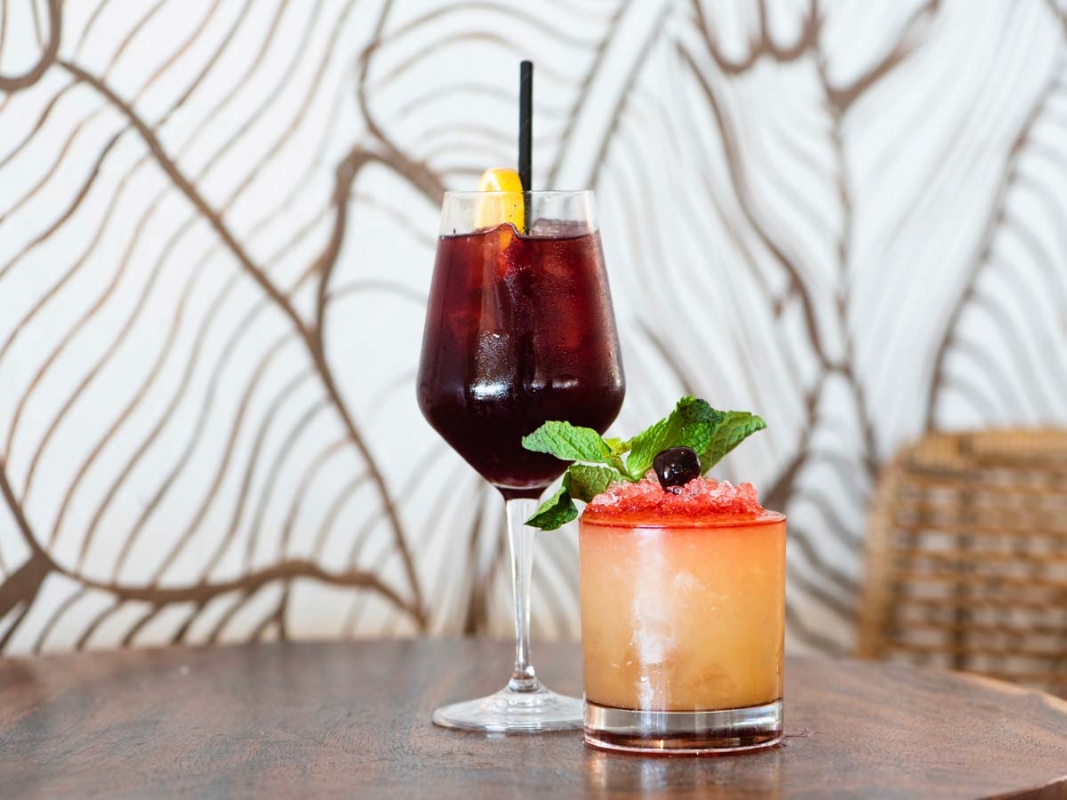 The Red Sangria made with seasonal fruit and Mai Tai topped with a maraschino cherry and mint sprig. 
The Red Sangria, also available in white, will instantly transport you to the Mediterranean coast. It contains brandy, white port, and sparkling wine which makes the perfect combination for an evening by the sea. The Mai Tai which comes in an ombre of red and orange is made with Plantation Pineapple Rum, red bitters, Curaçao with a hint of lime for an extra touch of flavor.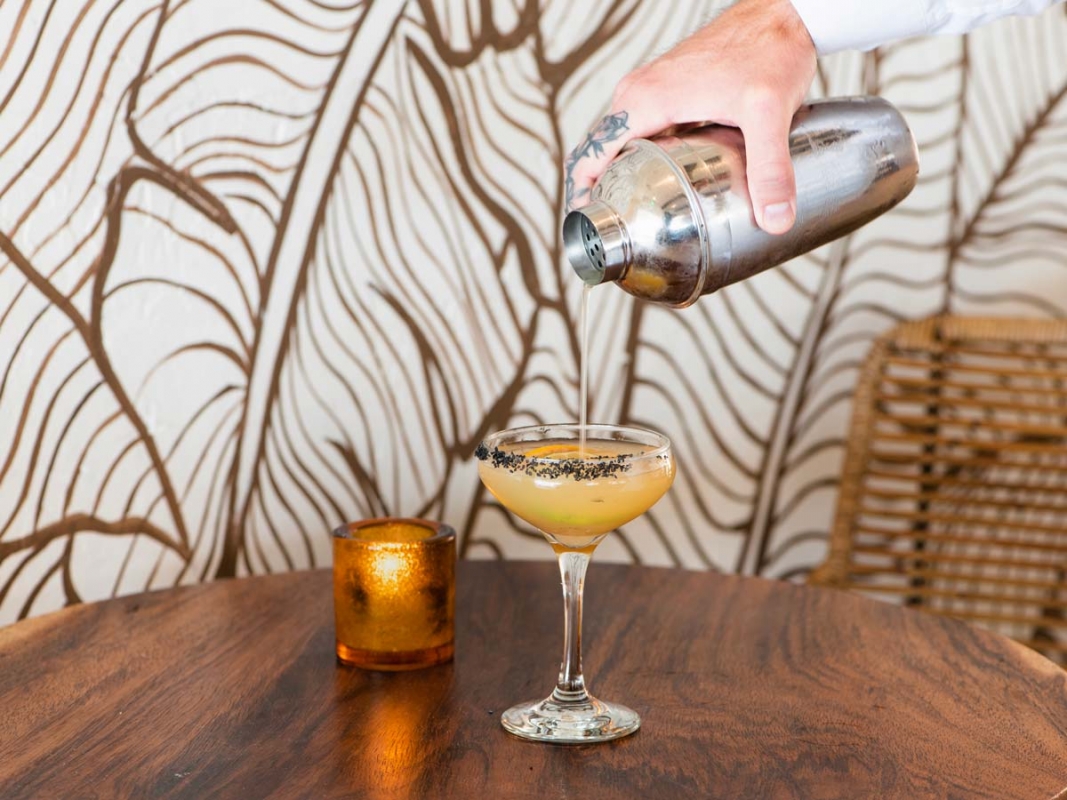 Cocktail Enthusiasts will love the Laguna Pearl's Spanish Twist on a classic Margarita
The Laguna Pearl is accented with a black salted rim and contains Roca Patrón Silver and Hennessy. This beautifully presented cocktail is a favorite among returning customers and it tastes even better than it looks!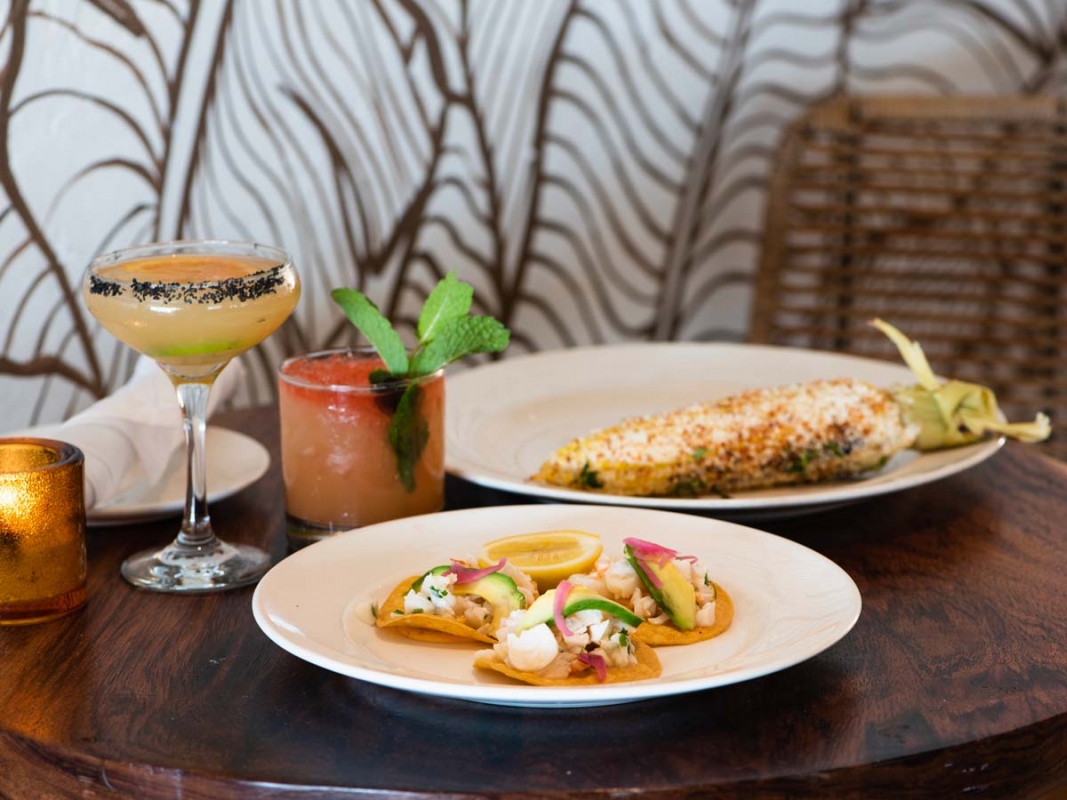 The Happy Hour Lobster Tostadas and Elote are a hit at Las Brisas in Laguna Beach.
For appetizers, we sampled the lobster tostadas which were petite, but extremely flavorful. They were topped with chipotle mayo, adding a hint of spice, and a sliver of avocado to complete the presentation. The elote was grilled to perfection, topped with a combination of chile, lime, mayo, and fresh cotija cheese. Once again, the chefs at Las Brisas have taken traditional Mexican dishes and elevated them to a new level!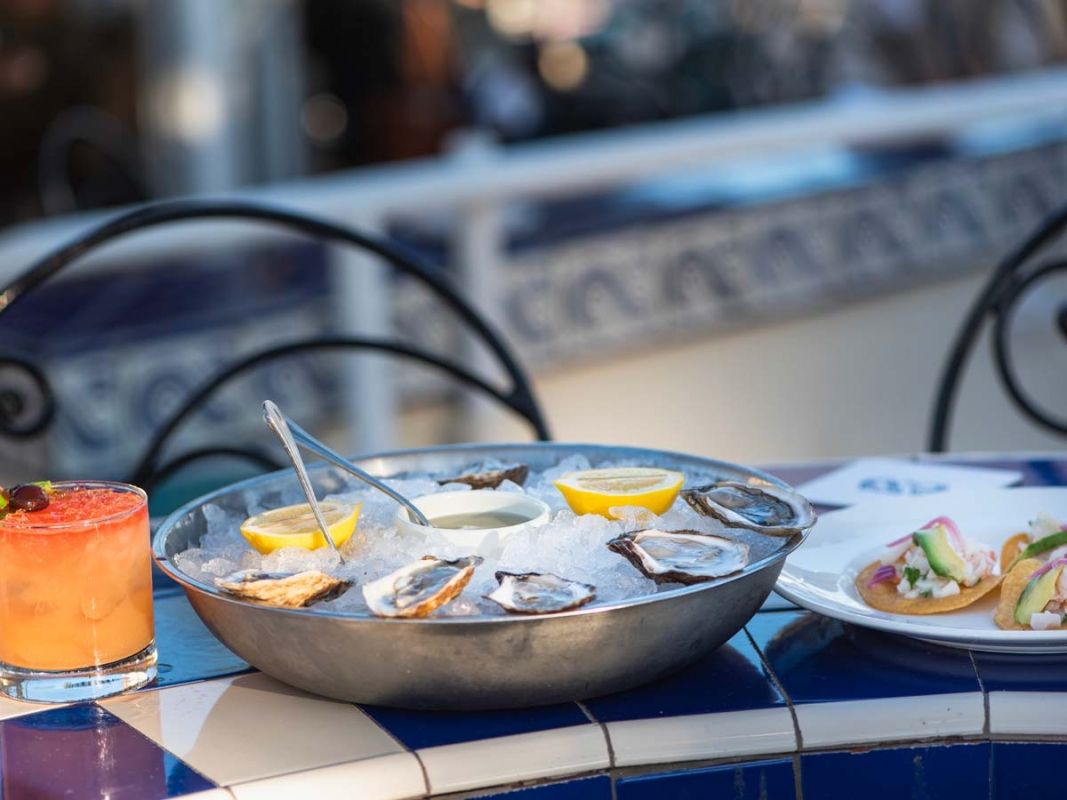 Half-dozen oysters on the half shell served on the Las Brisas patio. 
We couldn't leave without sampling their half-dozen oysters. They were incredibly fresh and delicious with a sweet finish. These oysters alone will keep you coming back again and again! If Las Brisas in Laguna Beach knows one thing, its fresh seafood!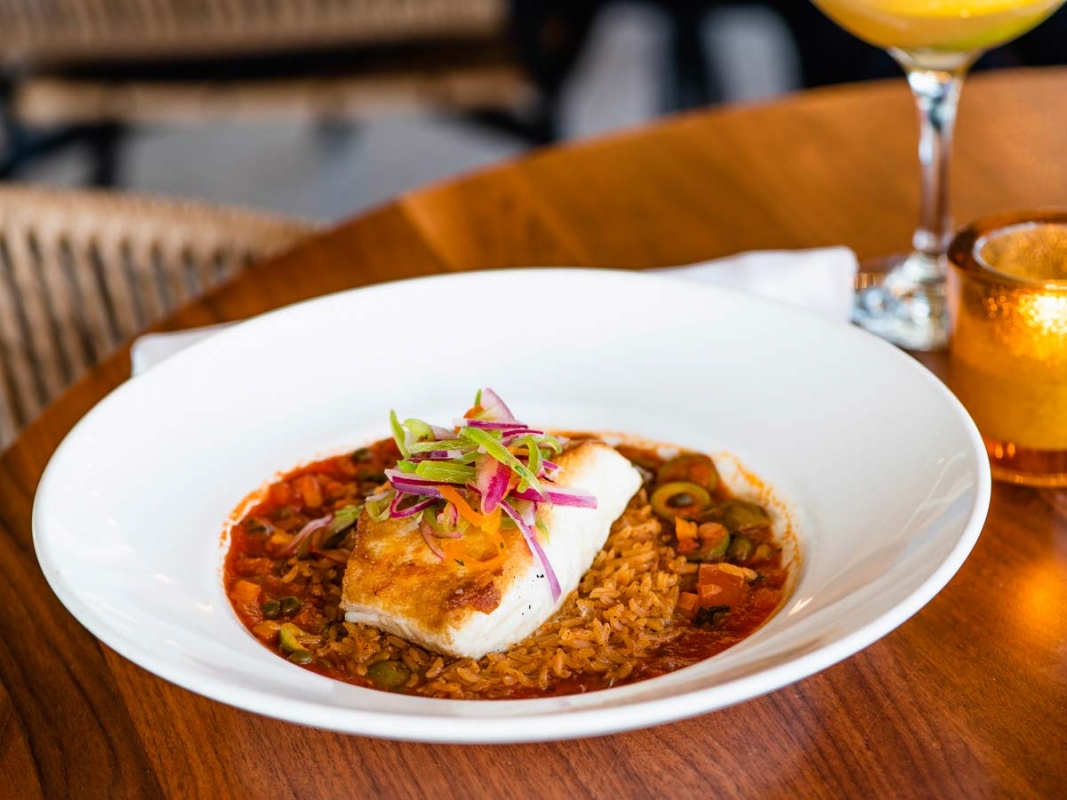 A generous serving of Halibut with rice in an exceptional tomato-based.
Next, for our first entree selection, we couldn't resist the Halibut Veracruz. The Halibut was served with summer vegetables, olives, and capers atop a mix of tomato broth and rice. This dish has elements of Spanish cuisine that were perfectly accompanied by a glass of Red Sangria.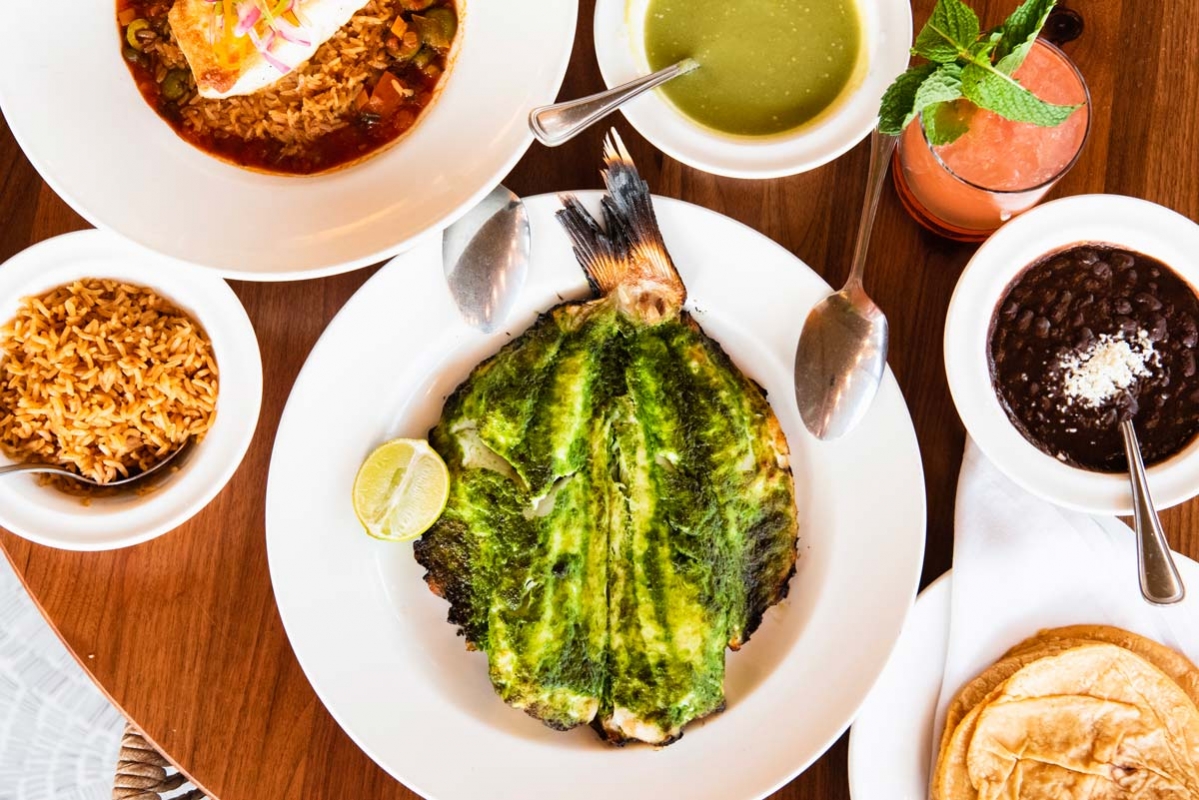 The Contramar Fish for Two is covered with an herb oil made with parsley for that nice, vibrant green color.
Finally, for our final course, we were recommended the Contramar Fish for Two. It included sides of rice, black beans, salsa verde, and corn tortillas. This dish is perfect for sharing and can likely even feed three or four. Our server also let us know that this popular item typically sells out during the summer months, so order it while you can!
Las Brisas in Laguna Beach has a lovely coastal feel with elements of Mexican culture and hand-painted accent walls that are only enhanced by the beautiful backdrop. Visit during sunset for an added bonus and watch the sun descend as you sip on one of their signature cocktails from the outdoor bar!

Las Brisas | 361 Cliff Dr. Laguna Beach, CA 92651 | 949.497.5434
Discover Our Latest Posts