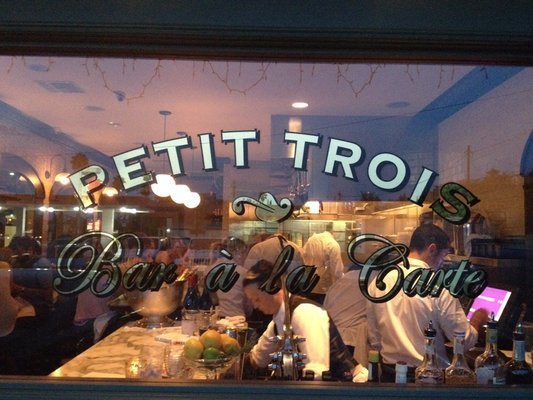 I recently went with a friend to check out the new little sister restaurant to Trios Mec, Petit Trios. Now if you don't already know Trios Mec is the very elusive restaurant by Chef Ludo which you have to call in advance for tickets to even have the opportunity to eat there. The establishment is secretly hidden next to a Yum Yum Donuts and still has never changed its sign which reads Raphaels Pizza. Theres also a little note on the door that says "we don't sell pizza". What they do sell however is delicious authentic french cuisine. If trying to snag tickets that sell out in 20 minutes its not your cup of tea, you can now head next door to Petit Trios to quench your French pallet.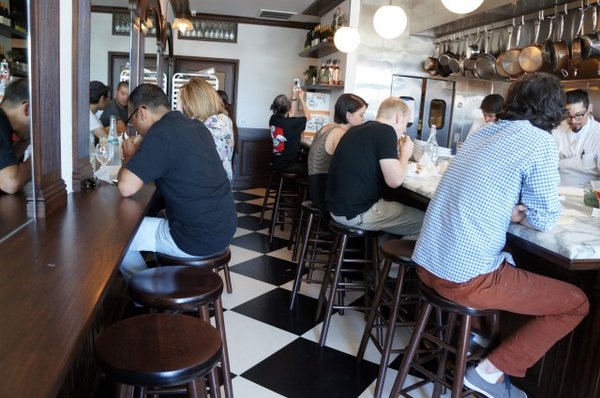 When you first walk in you"ll notice the space is very small and set up pub style with bar stool at the seat and along a narrow mirrored wall. Comfort is not going to happen here. Its set up so you will eat and leave. If you have lower back issues your back will be sore like mine was throughout most of your stay. I guess thats the price you pay to watch Chef Ludo walk around with his tattooed sleeves listening to french hip hop. I decided to be daring and try something that always made me squeamish, escargot! Oddly enough I actually like snails and think they're cute. I don't want to eat them, but if I'm ever going to try them, this is it. We also ordered the Halbut Special appetizer, Fried Chicken Leg, Steak and Frites and for dessert the Floating Island. For cocktails they didnt have my signature Bellini so I let them get creative. They ended up making me a champagne and elderflower drink that wasn't as bubbly and yummy as my Bellini's. I was there for the food so i guess I'll give them a pass on that one. Below are my reviews of each dish.
Halibut Appetizer:  This dish was a generous portion of smoked Halibut served with a variety of thinly sliced colored carrots. I am normally not a carrot lover, but I have to say the simplicity of this dish was perfect. The crunch and sweetness of the carrots was the perfect accompaniment to the smoked flavor and soft texture of the Halibut. This was one of the favorite dishes of the night.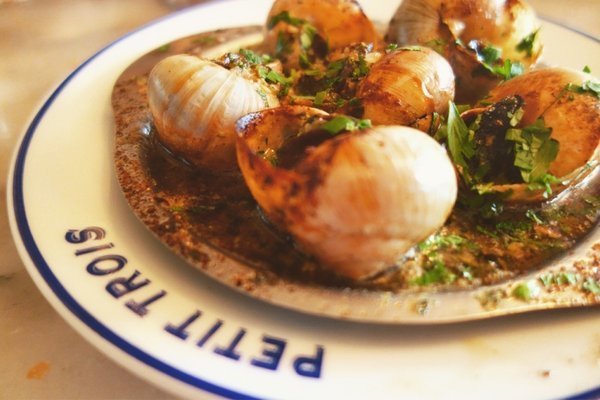 Escargot: ok so its basically snails drowning in a sea of butter, garlic, and fresh parsley. It would be extremely difficult for anything prepared like this to not taste good. The Escargot was actually not too bad. It was surprisingly very tender, not chewy at all, and not slimy. It was very similar to having a steamed oyster or fresh clam. But with that being said I could only eat two. I don't understand why I like snails as apposed to a chicken or a cow. Maybe it was the mystery snails I used to keep in my fish tank. In any event I just couldn't continue, but I'm glad I can say I've finally tried them. Mission accomplished!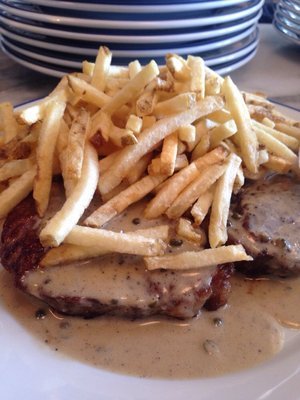 Steak and Frites: while this dish was tasty, it reminded me of the chicken fried steak I can get at Norms. It was tender, but it just had that taste of the tender flattened out steak smothered in gravy. When a friend orders this for breakfast I can usually handle having a bite or two and then I'm over it. Thats pretty much how I felt about this dish. The biggest disappointment however were the fries. They were equally as bad as the fries at In and out burger. For a $33 dollar dish that consists of steak and frites, I expect those frites to be amazing. Wowing me with homemade, delicious, perfectly crispy fries could have saved this dish for me, but I was just wowed.
Fried Chicken Leg: Now what did wow me was this dish! OMG this is the best chicken leg I've ever had the pleasure of enjoying. It was fried and seasoned to perfection. We both could not stop eating every little sliver of chicken and crispy skin on that plate. I always found ordering the chicken to be the boring option, but this dish put that theory of mine to rest. It was served floating in a Brioche Butter, atop of Frisee Salad and regardless of the simplicity it all worked remarkably well.
The Bread: Not to be unmentioned is the absolutely delicious french bread and butter they serve you before your meal. This and a glass of red wine could be a meal alone. I read others complimenting the bread here and they were absolutely right. It is the perfect soft moist bread on the inside with that crunchy crispy crust on the outside. I wanted to sneak some in my purse it was that good.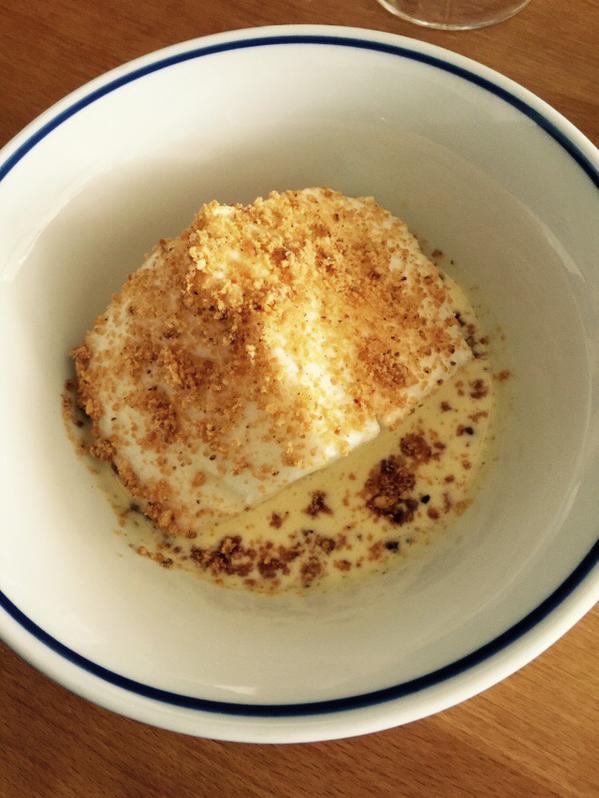 The Floating Island: Finally time for Dessert, my favorite part of the meal. My friend is obsessed with this dessert, but I just dont get it. Give me a chocolate souffle any day. A floating island is basically a meringue floating on a very liquid vanilla custard and usually topped with something crunchy like slivered almonds or in this case praline. I am constantly telling my friend I can make this dessert ghetto style for him by melting some vanilla ice cream, microwaving some marshmallows into a gooey ball, and throwing some almonds on top.
 Petit Trios
718 N Highland Ave
Los Angeles, CA 90038