It is time for my top 5 tips on how to decorate a designer Christmas tree like a pro this year. Both my fiance's parents and brother will be out-of-town, so we are celebrating Christmas early this year. I didn't want to miss Christmas with his family so I arranged for us all to get together for an early Christmas dinner December 11th. We just picked up our Christmas Tree this weekend, but of course, I had already spent two weeks brainstorming and preparing how I wanted it to look this year.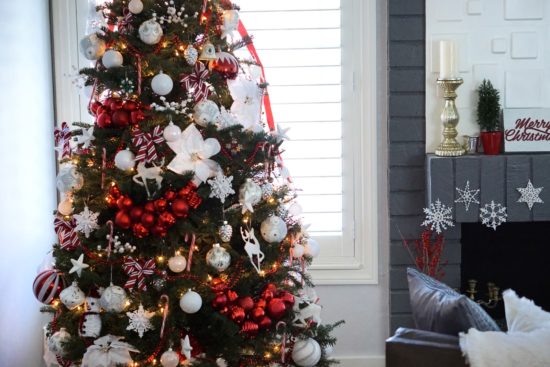 I absolutely love the holidays and my favorite part is putting up the decorations. I like to pick a theme each year and this year for our Christmas Tree I decided to go with red and white. Instead of putting up a mixture of red and white ornaments, I had an idea to do things a little different. I took all of the red ornaments and made ornament garland to put up throughout the tree and then used all white for everything else.  Instead of making a large garland, I made several small ones. It turned out awesome and it really made the red and white theme stand out even more. I also added some red beaded garland which I doubled up, candy canes, and a few red and white glitter bows just for some added color.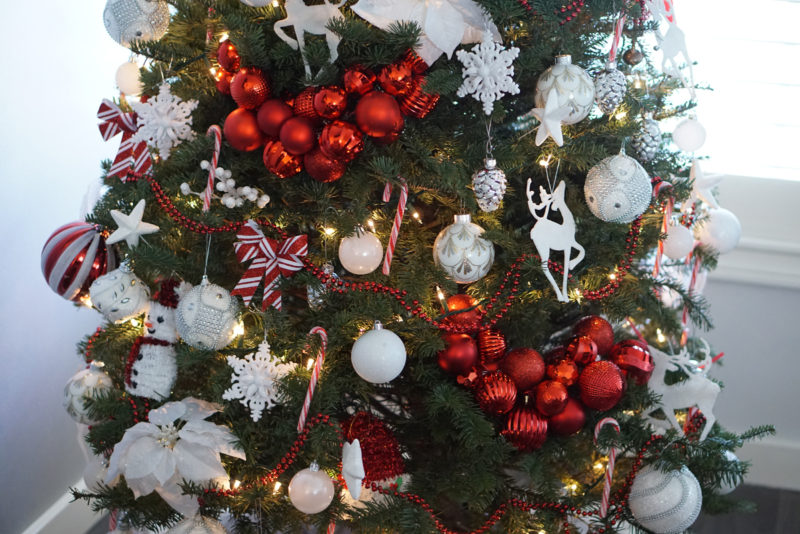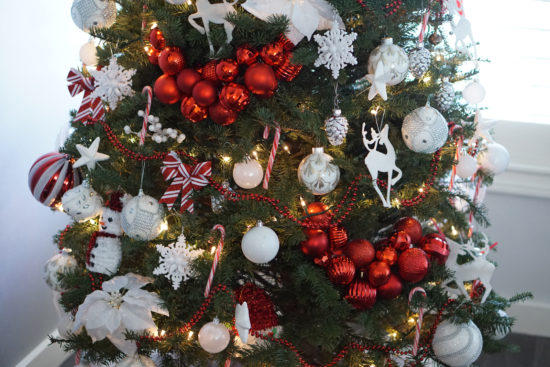 Ornament Garland is extremely easy to make. Simply take some ribbon that's either green or the same color as your ornaments so it blends in. Then start adding different sizes and textures of the ornaments you'd like to use. I prefer to use all of the same colors or you can do gold & silver. I think they look best when you have a variety of ornaments that are shiny, matte, glitter, etc. You also want to make sure to use a variety of sizes. Then just leave some room at the ends to tie them to your tree. They are super easy to make and add an awesome pop of color. You can also use ornament garland to line your fireplace or tie both ends together to make a cool wreath.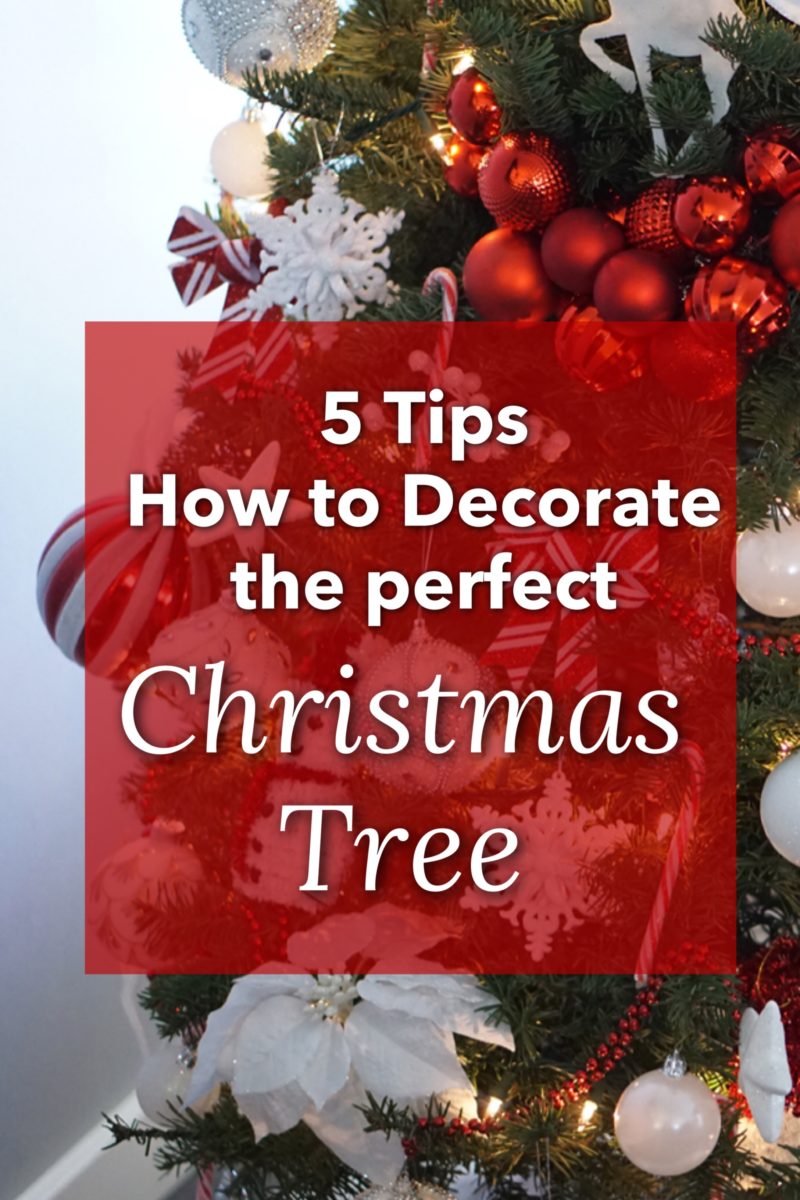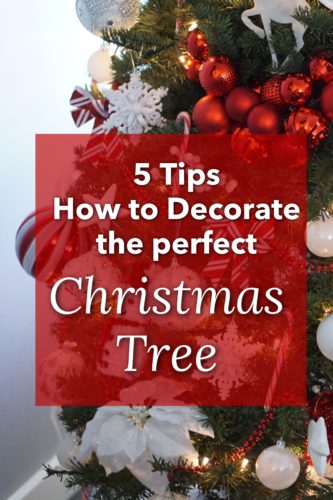 Each year there are 5 tips I always live by to put together the perfect Christmas Tree and some of these will even save you a lot of money!
Put your tree together in the right order
The order you put everything on your tree is key. It's going to help you visualize where you need to add extra ornaments to fill in gaps and spaces. My order is also not typical, but trust me it works the best.
– First, you want to add your lights.
– Second, you want to add your garland. Yes, that's right you add the garland second, not last, trust me it will look better. You also won't  have to worry about knocking all your ornaments on the ground or covering any with the garland.
– Next, you want to add all your ball ornaments using the most expensive and visually appealing ones first. Then filling in after with the cheaper ones.
– Then you"ll want to add your other ornaments like candy canes, bows, and cute family ornaments
– Last you"ll put on the tree topper.
2. Purchase a bunch of basic ornaments from the 99 Cent Store
The 99 Cent store has a bunch of basic colored ornaments that are perfect for filling up your tree and no one will ever know they came from the 99 cent store. I would say 75% of my ornaments are from the 99 Cent store and I have maybe 3 boxes of ornaments that were more expensive. Ornaments are not cheap. I paid $12 for a box of 4 nice white ornaments, and for $12 I could get 50-100 ornaments at the 99 cent store. Some of them are also so cute, like my little white reindeer and the giant red ornaments I got this year. Even the bow at the very top, my cute red and white glittered bows, and all the candy canes, which came in a box of 12, were all 99 Cents. A beautiful Christmas Tree can still be inexpensive!
3. Add ornaments of all different sizes
When shopping for ornaments be sure to select a few that are large and oversized. You will see in the photo that it really adds dimension and brings the tree to life. It also helps to fill in large empty spaces and areas where the tree looks sparse. This gives an illusion of a full Christmas Tree.
4. Choose a theme
Make sure you have a theme and stick to it. Last year I did all white with gold and silver and this year its red and white. Next year I may do a neutral and earthy theme. You can even go the multi-colored route but make sure that your ornaments are fun bright colors as well. You will notice that all of the nicest designed Christmas Trees all have a focus.
5. Add decorations that stick out from the tree
You can also find tons of these at the 99 cent store. These aren't really ornaments but decorations on sticks. They are usually some type of flower or styrofoam decoration like stars. Here are the two I have in my tree. I just slightly bend them at the bottom and place them in the tree so they slightly stick out. This will always give your tree a high-end feel while again adding more dimension. 
And there you have my top 5 tips, do you have other great tips as well? What theme are you going with this year?