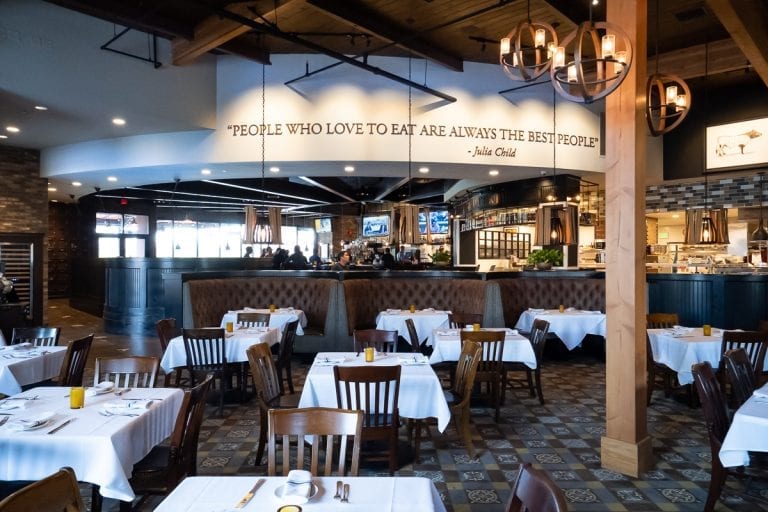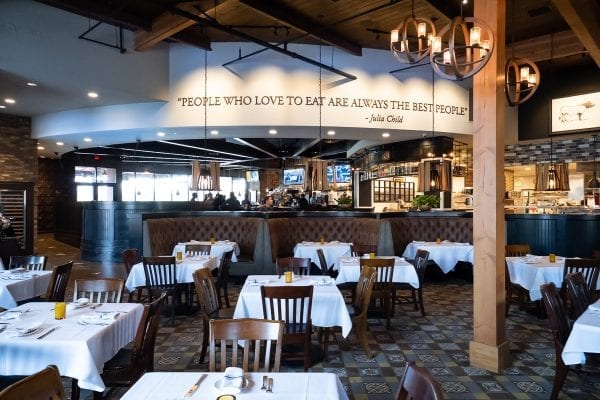 For the longest time, I never ventured to try TAPS Fish House and Brewery because my immediate assumption led me to believe it was a bar. Then about a year ago I met with some friends already dining at the restaurant and I was truly blown away. It was nothing like the name suggested. When I think of a "Tap", I think, beer tap. I was expecting hot wings, quesadillas, and other typical bar food fare. Their menu, however, is nothing but typical and features selection that will satisfy even the most sophisticated palettes. Enjoy an inside look at their delicious menu below.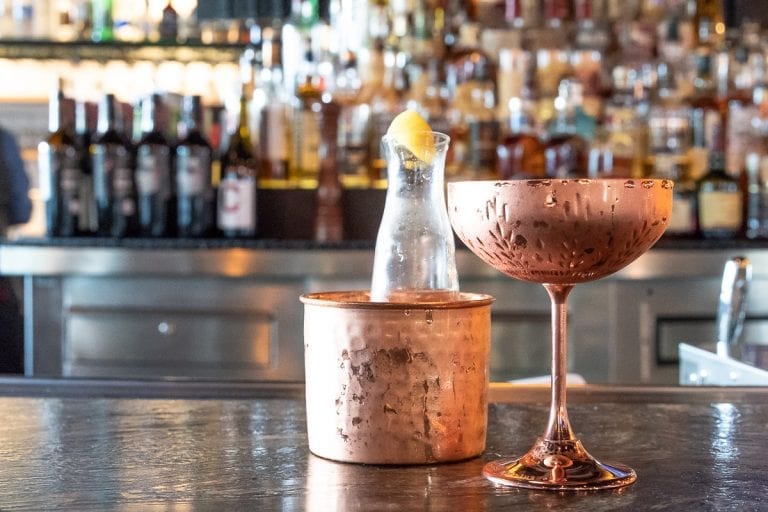 First, you always have to start with a great cocktail and I love the presentation of the Baller Martini. This fancy martini is served tableside in a copper cup with a carafe chilled in a copper bowl on the side. It is a mix of Absolut Elyx Vodka and Italian vermouth. Other popular cocktails include The Swipe Right and TAPS Fish House and Brewery has an extensive wine menu.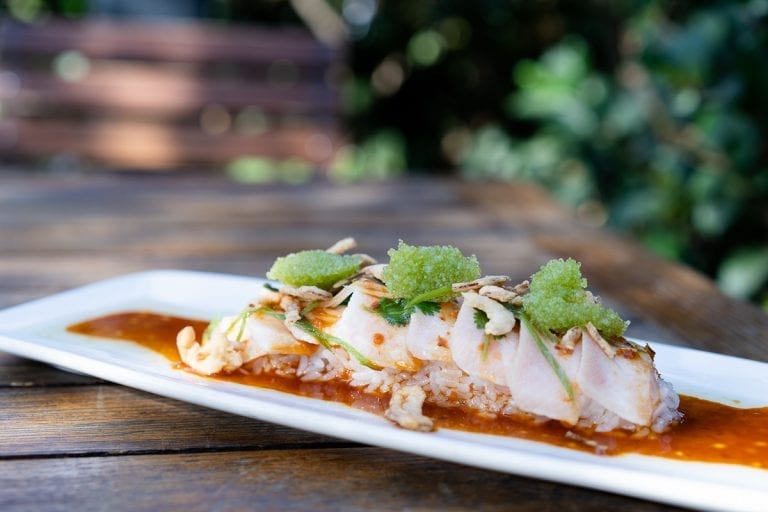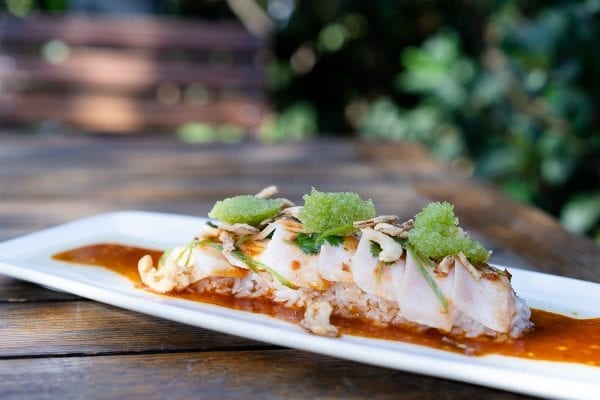 Next is the appetizer that solidified my love of TAPS, the Sizzling Hamachi. The hamachi is served tableside with sizzling hot oil poured overtop causing a light sear on the delicate fish. Then a special sauce is also added which is the perfect blend of soy vinaigrette, green onions, shallots, cilantro, and ginger. Finally, the dish is topped with crispy shallots and wasabi tobiko. It is a truly exceptional, must try appetizer for any guests who visit.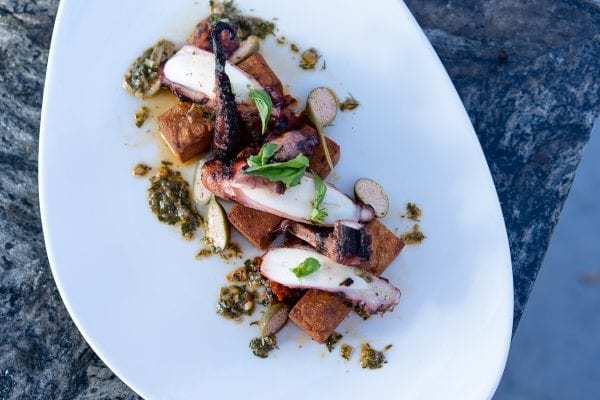 Sophisticated Palettes are sure to love the Grilled Spanish Octopus.
Another appetizer sophisticated palettes are sure to love is the Grilled Spanish Octopus. This dynamic and flavorful dish is composed of oven-dried tomatoes, Panisse, caper berries, dill, extra virgin olive oil sauce, micro basil. Panisse is a type of chickpea cake which is actually quite difficult to execute correctly. The majority of Panisses that I've tried are often extremely dry. Executive Chef Ryan Robertson managed to create the most flavorful moist Panisse I've tried thus far. The addition of caper berries is also a welcome touch. This unique ingredient has a flavor similar to olives and is one of my favorite accompaniments. I keep them regularly stocked in my refrigerator for snacking and entertaining.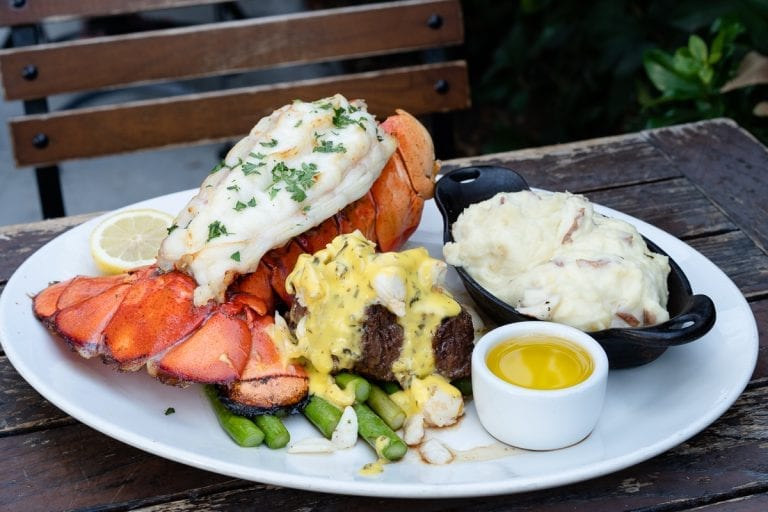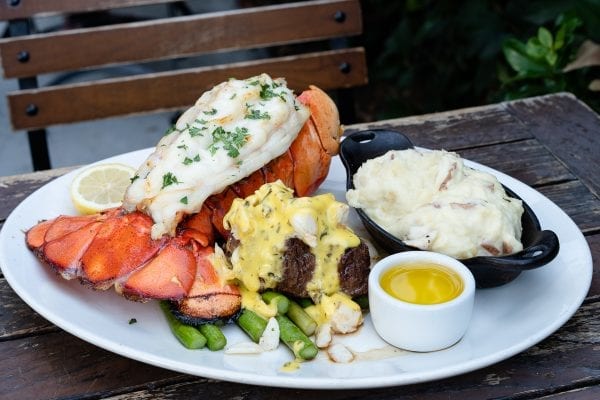 For all you lobster and steak lovers, you're going to be in for a special treat.
For dinner, TAPS Fish House and Brewery serves the most gigantic lobster tail I've ever seen. Their surf and turf is served with an 18oz lobster tail and 8oz petit filet. Whats even more exciting is that you can add a list of steak enhancements to your filet. I always opt for Oscar Style which is a rich bearnaise sauce with lump crab meat. Other popular steak enhancements include their bone marrow butter and mushroom with truffle butter.
Finally, I'm obsessed with the Butter Cake at TAPS which is one of their most popular desserts. The name says it all. It is a deliciously buttery fluffy cake made extra special by the sugar crust that gets caramelized while baking. Each cake takes an additional 25 minutes since it is baked to order. Trust me when I tell you this cake is one of a kind.
Have you visited TAPS Fish House and Brewery?
www.tapsfishhouse.com/
3 locations in Brea, Corona, & Irvine, CA