Thanksgiving is best celebrated with family, but why not take a break in the kitchen and celebrate Thanksgiving in Orange County at one of these amazing restaurants? Resorts, hotels, and restaurants all over The O.C. have created exclusive menus for this special holiday and they are looking forward to sharing their bountiful feasts with you and your family this season! Below is a list of participating eateries and where to find them this Thanksgiving and there are delicious selections for everyone!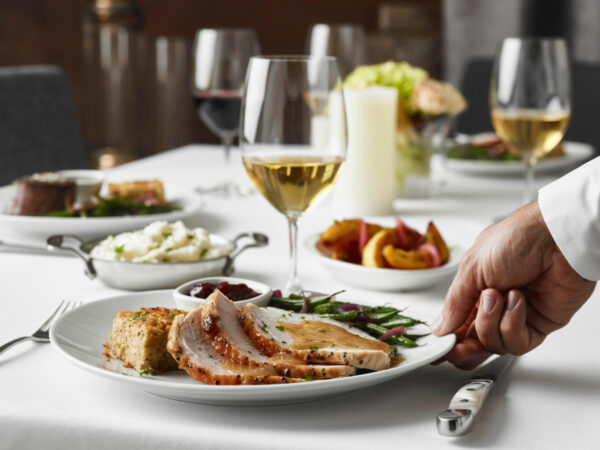 Fleming's Prime Steakhouse and Wine Bar
Thursday, November 28, from 11 a.m. to 8 p.m.
Fleming's Newport Beach will prepare a special menu of offerings inspired by traditional favorites this Thanksgiving. The three-course menu begins with your choice of Fleming's salad or creamy lobster bisque, these are followed by a mixed herb-roasted turkey breast with savory turkey gravy and cinnamon-orange fresh cranberry sauce that everyone is sure to love! Another option is the 8 oz. petite filet mignon with cabernet demi-glaze ($15 supplement) if you prefer to go non-traditional. Both entrées are served with savory house-made stuffing, green beans and onions. Also, each table will receive a dish of mashed potatoes to share. Dessert will include the choice of pumpkin cheesecake or chocolate gooey butter cake with honeycomb brittle. A children's version is available if needed and guests may also order from Fleming's full à la carte menu all day.  
$52 per adult; $22 per child, ages 12 and under. À la carte menu priced per selection. All prices exclusive of tax and gratuity.
Where: Fleming's
455 Newport Center Drive (Fashion Island)
Newport Beach, CA 92660
Phone: (949) 720-9633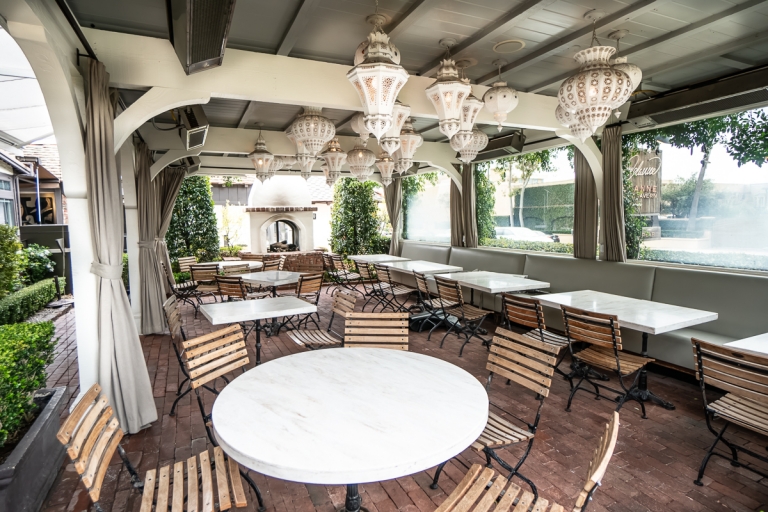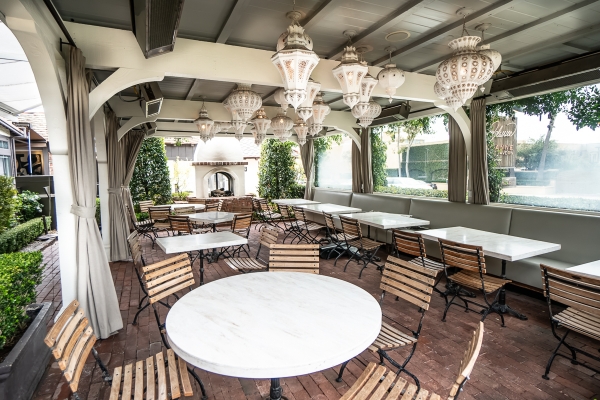 Selanne Steak Tavern's Three-Course Thanksgiving Celebration
Thursday, November 28, from noon to 8 p.m.
Executive Chef Vince Terusa will prepare a lovely, enticing meal with three courses and an assortment of seasonal sides served family style at each table. Wine lovers will enjoy the choice of distinctive wines and fine bubbly selections from Selanne's Wine Spectator "Best of Award of Excellence" list. The choices among soups, salads, and appetizers will first include the Garnet Yam Soup with pickled cranberries, Quail and Apple Salad with candied walnuts and Roquefort blue, Beet Ravioli with orange hazelnut dressing or a classy Caesar Salad with black garlic aioli. Next, the traditional style entrees, featuring a choice between Kurobuta Leg of Ham with Smith apple celery root puree, American Prime Ribeye Roast with cabernet jus or Mary's Farm Heritage Turkey slow roasted breast and dark meat roulade, house cranberry and marsala jus. The side dishes available for the celebration are numerous and include Roasted Butternut Squash in bourbon maple syrup, French and Romano Bean Casserole with porcini cream and pancetta, Brioche Stuffing and more! Finally, your choice of desserts are between the lovely Chocolate Coconut Pecan Pie or Creamy Pumpkin Tart.
$95 per adult; $25 per child (ages 4 – 12), excluding tax and gratuity. For reservations, call (949) 715-9881.
Where: Selanne Steak Tavern
1464 South Coast Highway
Laguna Beach, CA 92651
(949) 715-9881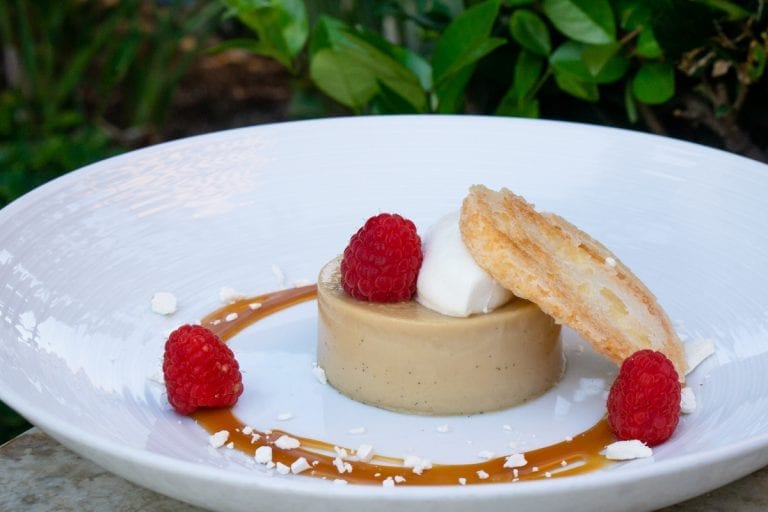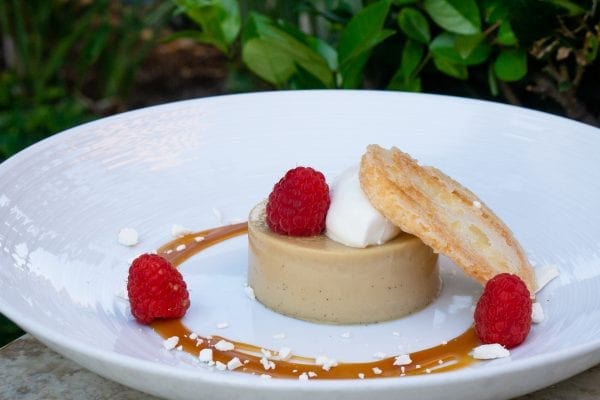 Thanksgiving Dinner Specials at EATS Kitchen and Bar
Thursday, November 28, from 4 to 8 p.m.
EATS Kitchen and Bar will be serving up appetizing traditional specials including a Cornucopia Salad with shaved apples, candied walnuts, feta cheese and apple cider gastrique. Next, the main course, featuring Oven Roasted Turkey or Honey Glazed Ham with tasty sides such as mashed potatoes, sage stuffing, Brussels sprouts and cranberry sauce. Lastly, for dessert, a beautiful Bruléed Pumpkin Tart.
Specials are individually priced. Reservations are encouraged and can be made by calling (949) 225-6780.
Hotel Irvine's Thanksgiving Feast in The Backyard
Thursday, November 28, seatings at 11 a.m. and 2 p.m.
The Backyard Thanksgiving Feast at Hotel Irvine pays tribute to the bounty of the season featuring several food stations. The first will feature Spinach and Goat Cheese Quiche, a brunch favorite. Seafood lovers will enjoy the Poached Shrimp, Smoked Salmon and Ahi Poke. Also, there will be an offering of Salads such as Salt-Roasted Beets with lingonberry vinaigrette and Apple-Celery Salad with cranberries and walnuts. Guaranteed favorites are the Fairytale Pumpkin Bisque, Roasted Free-Range Turkey and Beef Short Ribs Bourguignon. Hotel Irvine's dessert options are sure to take the cake! They will include Apple Cranberry Cobbler, Pumpkin and Pecan Pie, Chocolate Magma Cakes and other holiday treats. The kids will love their special buffet and everyone will enjoy the abundance of other fun festivities available!
$79 per adult, $37 per child ages 5 – 12. Pricing excludes tax and gratuity. Advance purchase recommended.
Where: Hotel Irvine
17900 Jamboree Rd.
Irvine, CA 92614
For hotel: (949) 230-4452
For EATS Kitchen and Bar: (949) 225-6780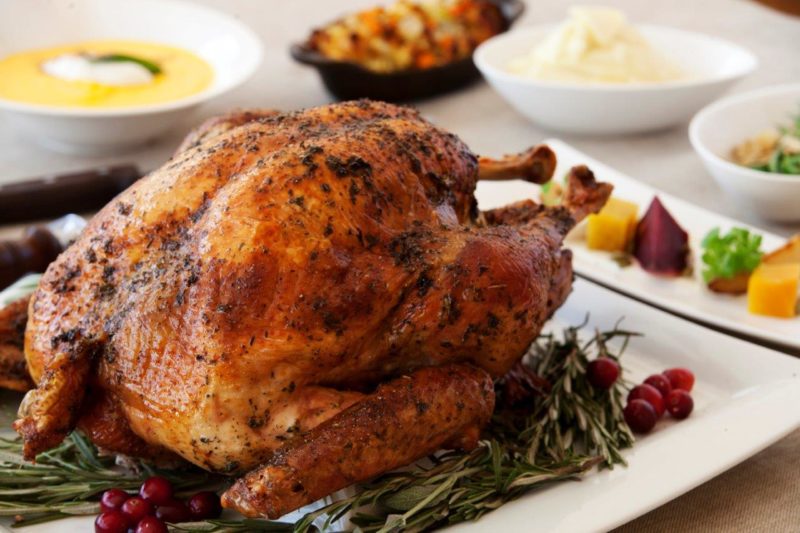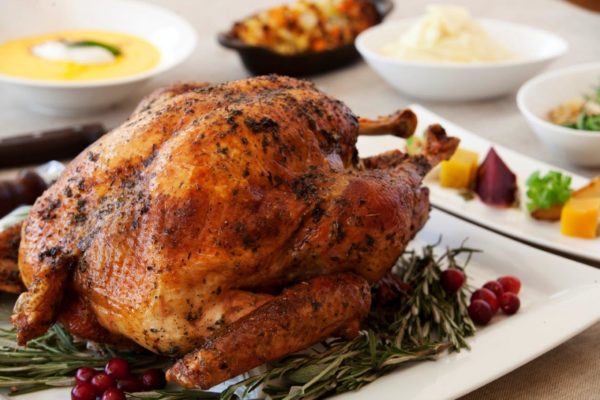 Oak Grill Thanksgiving Buffet Feast
Thursday, November 28, from 11 a.m. to 7 p.m.
Chef Brittany Valles and her culinary team will prepare a lavish Thanksgiving buffet in traditional, yet contemporary O.C.-style. Between the hours of 11am and 3pm, stations will feature brunch favorites such as breakfast pastries and breads and made-to-order omelets. Additionally, there will be selections from the carving station, salads and chilled seafood plus a multitude of festive favorites. Then, from 3 to 7pm, the stations will change to feature festive and celebratory dinner choices, including turkey and all the fixings of course! There will also be a Kids Station at both buffets, as well as an ample selection of desserts to satisfy your sweet tooth. The day will be filled with live entertainment and a photo booth for everyone to enjoy!
$110 per adult, $40 per child ages 5 – 12. Free for children 4 and under. Pricing excludes tax and gratuity. Reservations are available and can be made by calling (949) 706-5466.
Where: Oak Grill
690 Newport Center Drive
Newport Beach, CA 92660
Phone: (949) 706-5466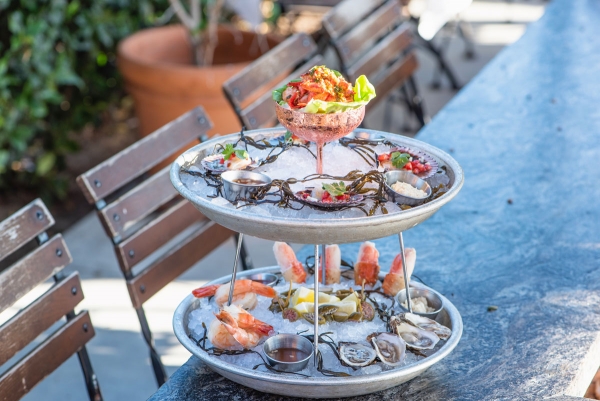 TAPS Fish House and Brewery, Brea and Irvine
Thursday, November 28, from 12 to 7 p.m.
Join TAPS Fish House and Brewery for a feast that is sure to make you thankful this season. Their amazing buffet begins with a fresh seafood bar with raw oysters on ice, shrimp cocktail, poke and ceviche! Also available, charcuterie, artisan cheeses, and an assortment of salads for your choice of appetizers. Entrees consist of traditional holiday favorites such as a freshly carved turkey, honey-glazed ham, prime rib, seafood, dressing, green bean casserole, candied yams, traditional side dishes and chef specials. You can't forget about dessert – seasonal pies, cheesecake and TAPS famous chocolate fountain are not to be missed! 
$47.99 per adult; $15.99 per child, ages 3-10, excluding tax and gratuity. Alcoholic beverages not included. Reservations recommended by calling your preferred location. 
Where: TAPS Fish House and Brewery
Irvine: 13390 Jamboree Rd, Irvine Market Place 
Phone: (714) 619-0404
Brea: 101 E. Imperial Hwy, Brea Downtown
Phone: (714) 257-0101
Five Crowns and SideDoor invite guests to celebrate the holidays like royalty with world-class seasonal menu offerings courtesy of Executive Chef Alejandra Padilla, warm hospitality and an unforgettable festive atmosphere throughout the holiday season.
Thanksgiving Day reservations are currently available with seatings from 11 a.m. until 8 p.m. The festive menu boasts the classic Oven Roasted Free Range Turkey with stuffing, mashed potatoes, gravy, buttered Blue Lake green beans, and housemade cranberry compote. Prime Rib of Beef is served in the traditional manner with au jus, Yorkshire pudding, organic whipped cream horseradish and choice of side. Indulge with the "Best of Both" for a portion of prime rib and side of turkey with all the seasonal accompaniments.
Where: Five Crowns and SideDoor
3801 East Coast Highway in Corona del Mar, CA.
Valet parking is available. To make a reservation at Five Crowns, please call (949) 760-0331. For reservations at SideDoor, please call (949) 717-4322.
Thanksgiving Day at The Loft
Thursday, November 28, from 12 to 9 p.m.
The chefs at The Loft this year have created a celebratory Four-Course Thanksgiving Holiday Tasting Menu full of seasonal dishes! It begins with their appetizers featuring their Butternut Squash-Fuji Apple Soup and entrees such as the Diestel Ranch Turkey with all the fixings and California Black Cod with a delicious chili-sesame glaze. A special holiday menu for children will also be available. 
$135 for adults; $50 for children (ages 4 – 12), excluding tax and gratuity.
Thanksgiving at Studio: Four-Course Holiday Brunch and Four-Course Dinner Menu
Thursday, November 28, from 11 a.m. to 4 p.m. for brunch; 5 to 9 p.m. for dinner
Studio, the award-winning signature restaurant, will be celebrating Thanksgiving in Orange County with a four-course brunch. There seasonal holiday offerings aplenty!  The brunch menu features Duck Liver Parfait, Dungeness Crab Hash, Niman Ranch Filet Mignon among other amazing dishes. Studio's Thanksgiving dinner menu will offer new and exciting specials such as the Hamachi Crudo, Cinderella Pumpkin Soup, Mary's Farm Turkey Breast with accompaniments and a fabulous Cranberry Dulcey Pot de Crème for dessert!
Brunch pricing: $160 for adults (includes a glass of champagne); $50 for children (ages 4 – 12).
Dinner pricing: $155 for the holiday tasting menu, plus tax and gratuity; the à la carte menu will be available as well.
Montage Laguna Beach Grand Ballroom Masterpiece Thanksgiving Celebration
Thursday, November 28, from 12 to 6 p.m.
This Masterpiece Celebration includes an impressive multi-station holiday buffet for everyone to enjoy! The offerings will include a delightful array of starters and salads, "Plateau De Fruits De Mer," sushi, breakfast options, roasted meats, several delicious side dishes and desserts. Additionally, there will be live music plus a complimentary Piper Heidsieck champagne toast!
$180 for adults; $50 for children (ages 4 – 12; free for children under 4), including tax and gratuity.
Where: Montage Laguna Beach
30801 Coast Highway
Laguna Beach, CA 92651
(949) 715-6420