With over 400 wineries in the region, deciding the best Napa Valley wineries to visit can be overwhelming. Whether you're a seasoned wine connoisseur or a curious novice, Napa Valley offers a diverse range of wineries that cater to every palate. From amazing wines to exceptional food & wine pairings, this article will help you plan an unforgettable trip to one of the most celebrated wine regions in the world.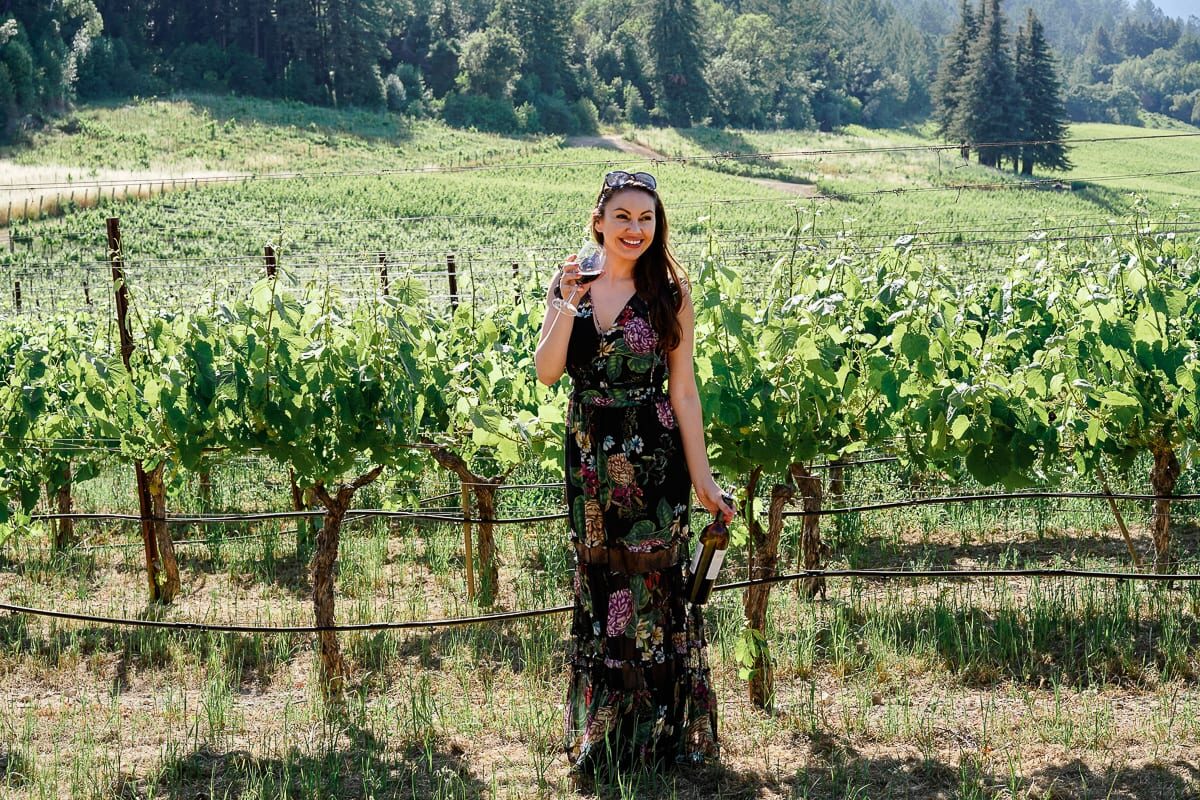 Why Visit Napa Valley, California
Napa Valley, located in Northern California, is renowned for its world-class wineries and picturesque landscapes that make it a popular destination for wine enthusiasts from all over the world. Additionally, Napa Valley's reputation as a foodie destination is well-deserved and many of the wineries boast exceptional food and wine pairing experiences.
Pour a glass and let's delve into the best Napa Valley wineries and everything that makes them so spectacular. I should add that I tend to favor wineries that are unique, offer special experiences, and serve outstanding food pairings.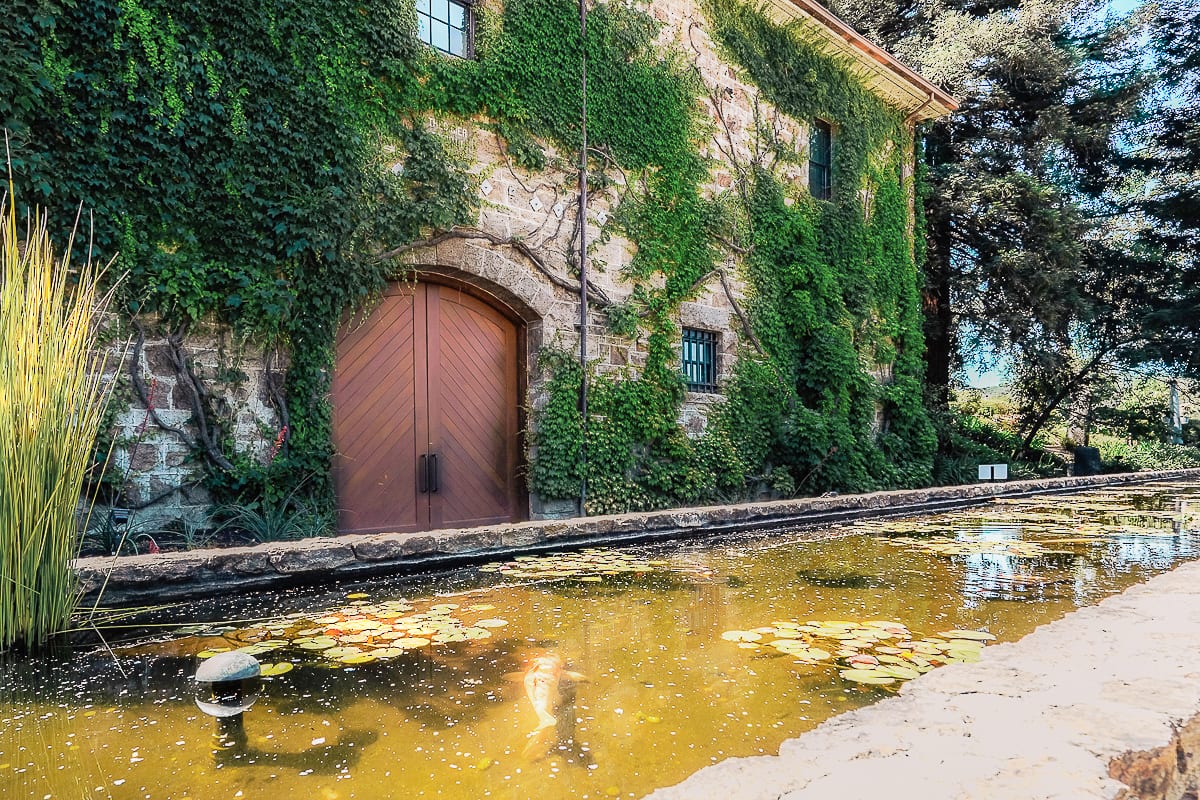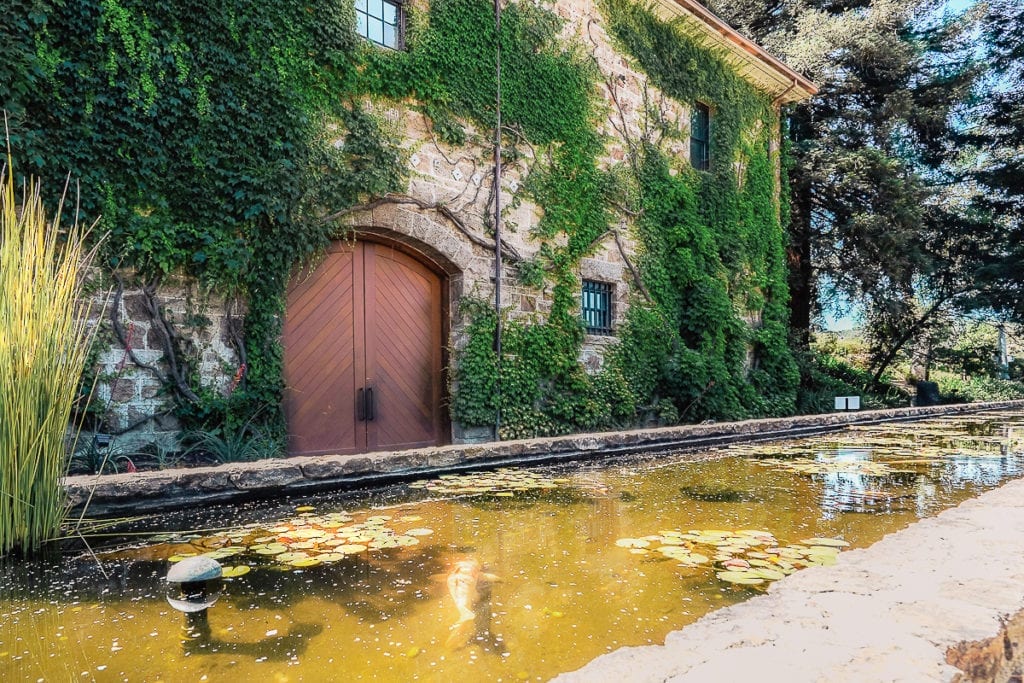 1. Hess Winery
Hess Winery, located on the slopes of Mount Veeder in Napa Valley, is a renowned winery that offers unique wine-tasting experiences, exceptional wines, and stunning views. Throughout the winery, you'll find one-of-a-kind sculptures and historic art hanging from the walls. The winery itself has an 18th-century feel mixed with modern architecture and is wonderful for photos. What makes Hess Winery truly one of the best Napa Valley wineries is their ATV and Culinary Food & Wine Pairing experiences.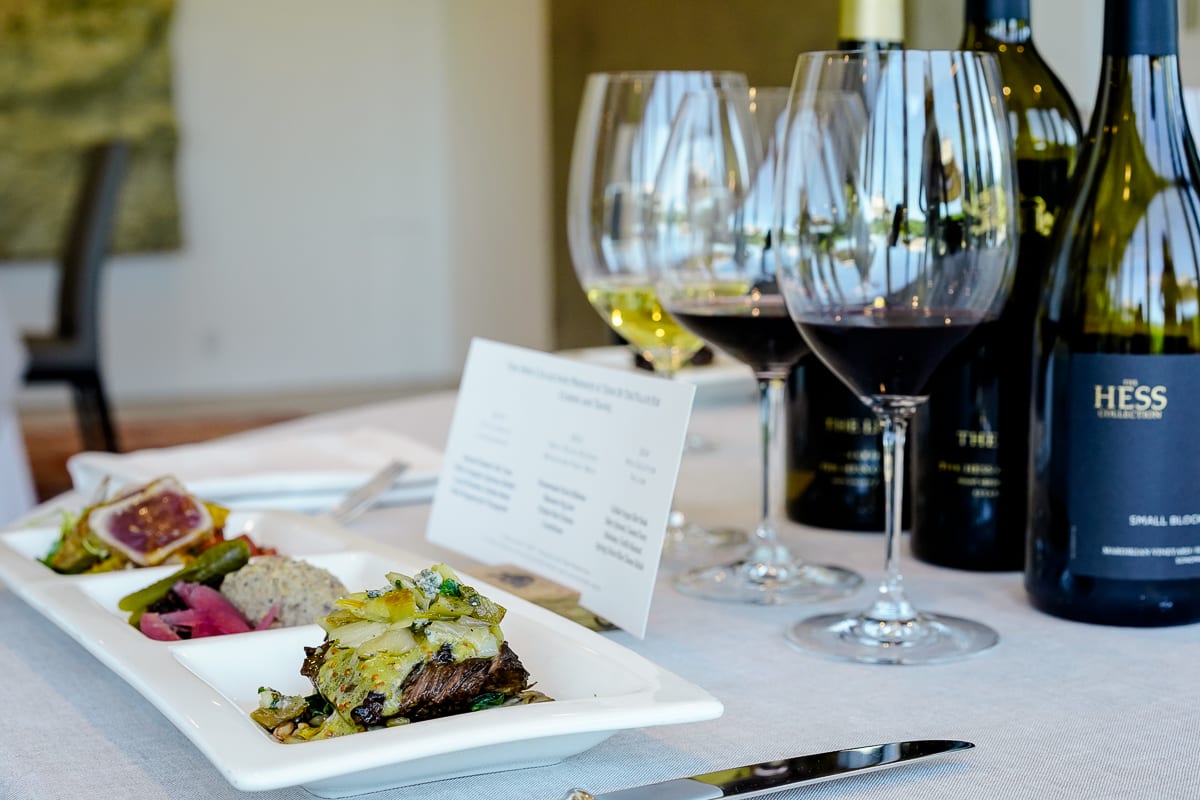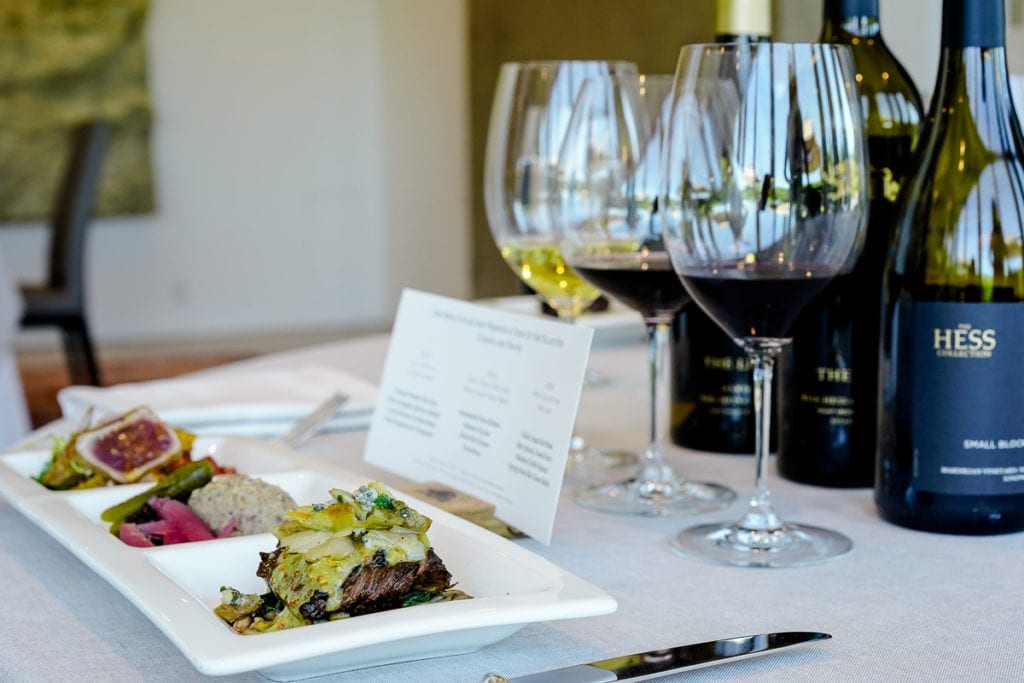 Tour of the Palate
The Tour of the Palate food and wine pairing is a $185pp experience that begins with a walking tour of their contemporary art museum, followed by a tasting of limited-production, estate wines expertly paired with an exquisite three-course tasting menu from Executive Chef, Chad Hendrickson.
If you prefer dessert they also have a wonderful artisan chocolate pairing featuring the most beautifully crafted chocolates, all made by their in-house chocolatier, Chef Jason Collins.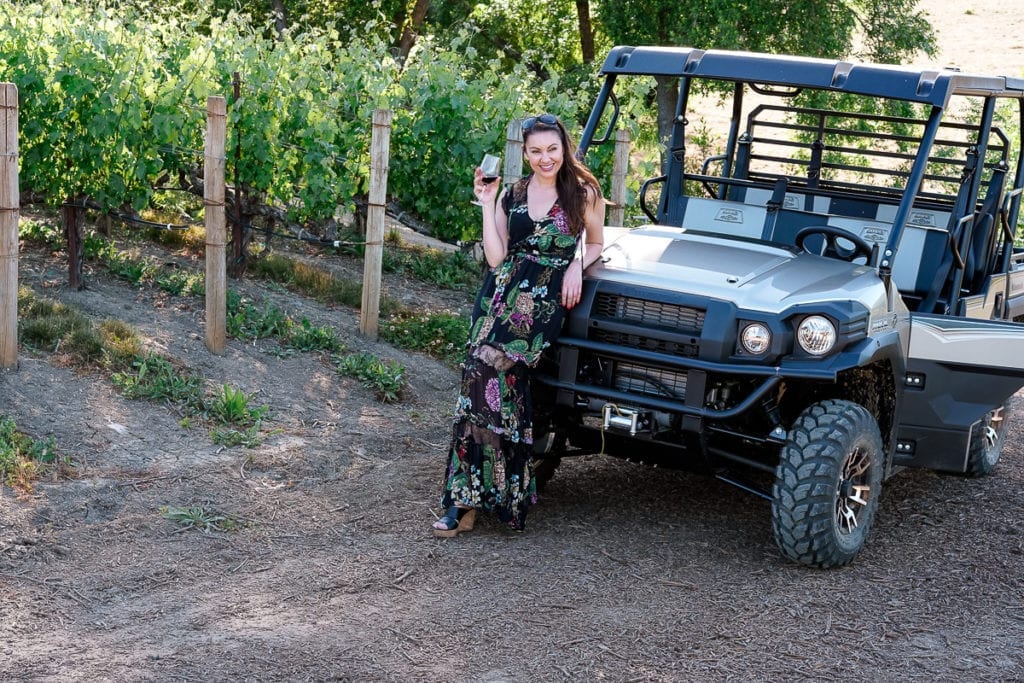 ATV Vineyard Tour
Step outside the tasting room and venture into the vineyards as you hop on an ATV to explore the historic Hess estate. Throughout the adventure, the tour will make several stops to enjoy wine tastings throughout the vineyards. You can also book this tour with a wine & cheese pairing, or the Tour of the Palate food and wine pairing.
Bookings & Info: View all of the Hess Winery Experiences with more details and pricing info.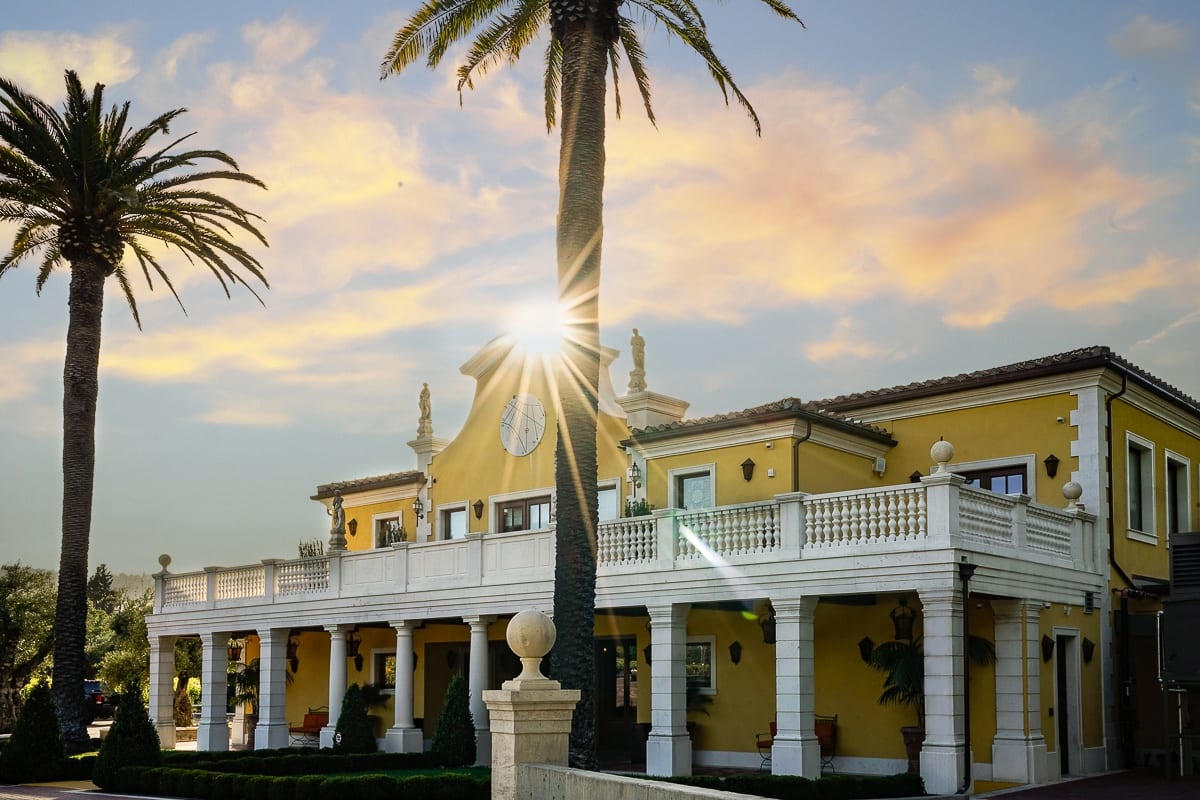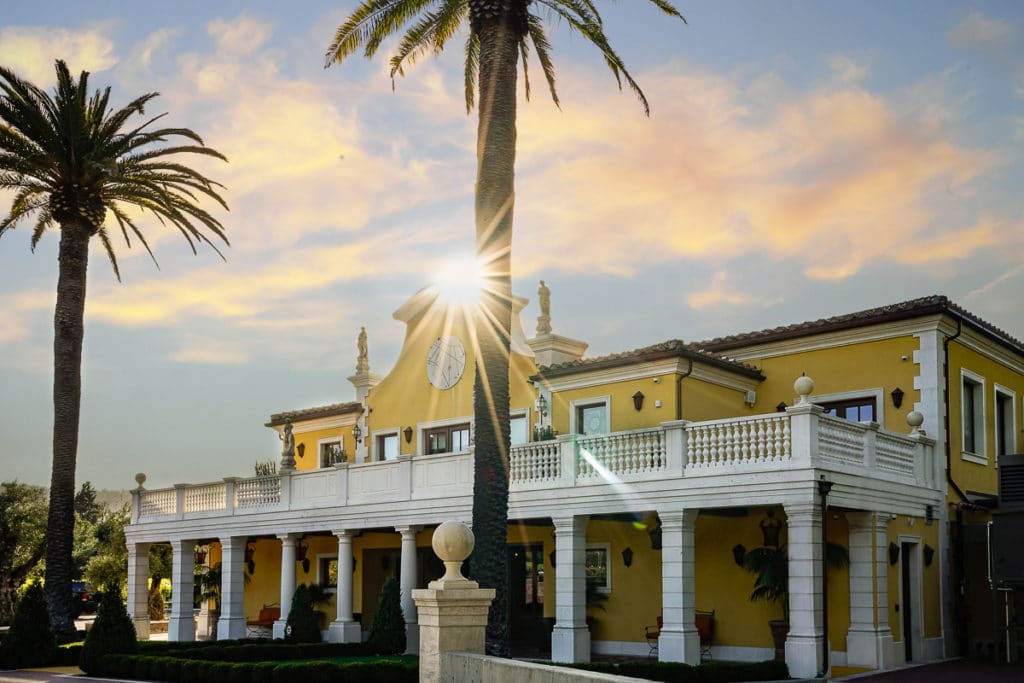 2. Del Dotto Winery
Del Dotto has 3 locations, but their Piazza Del Dotto Winery & Caves is truly one of the best Napa Valley wineries. This Italian-inspired "barchessa," or barn, is surrounded by 8.5 acres of cabernet sauvignon, vegetable gardens, 17th century fountains, and an outdoor barn with turkeys, peacocks, pheasants, and doves. They offer a famous Del Dotto Cave Experience with Barrel Tasting as well as the Delicacies Wine & Food Pairing.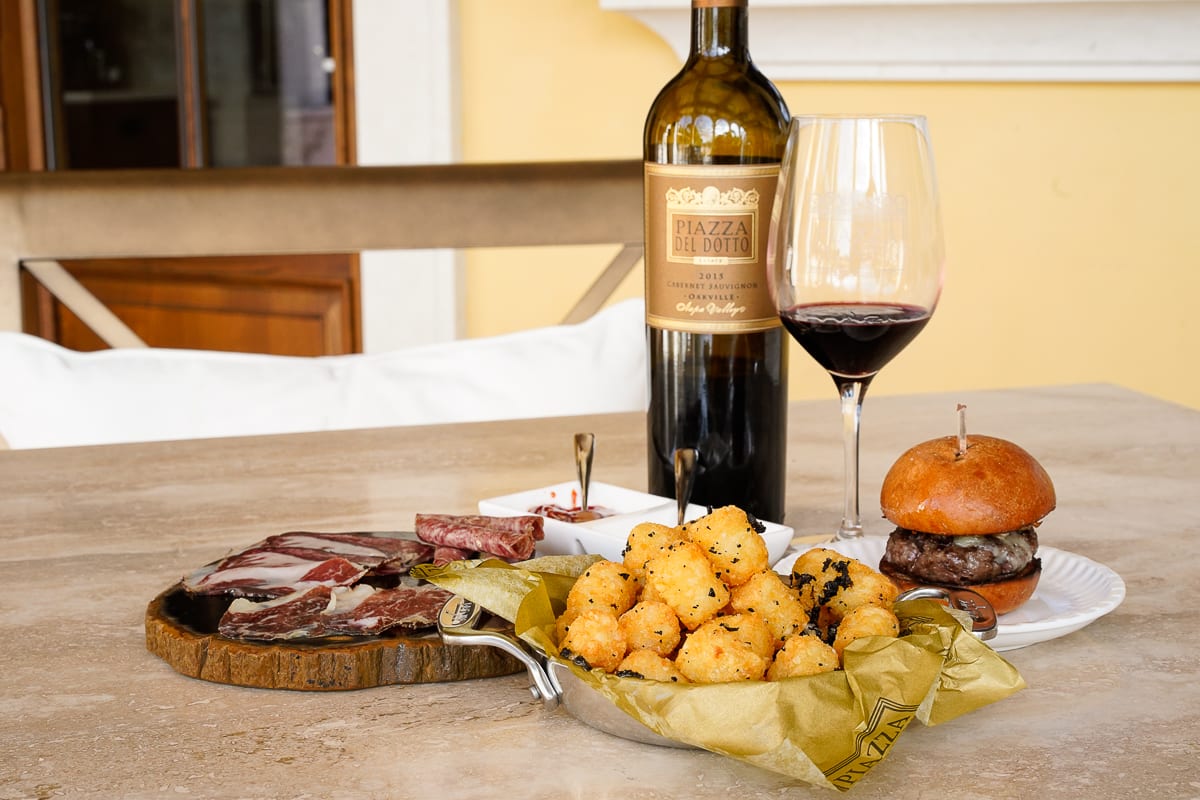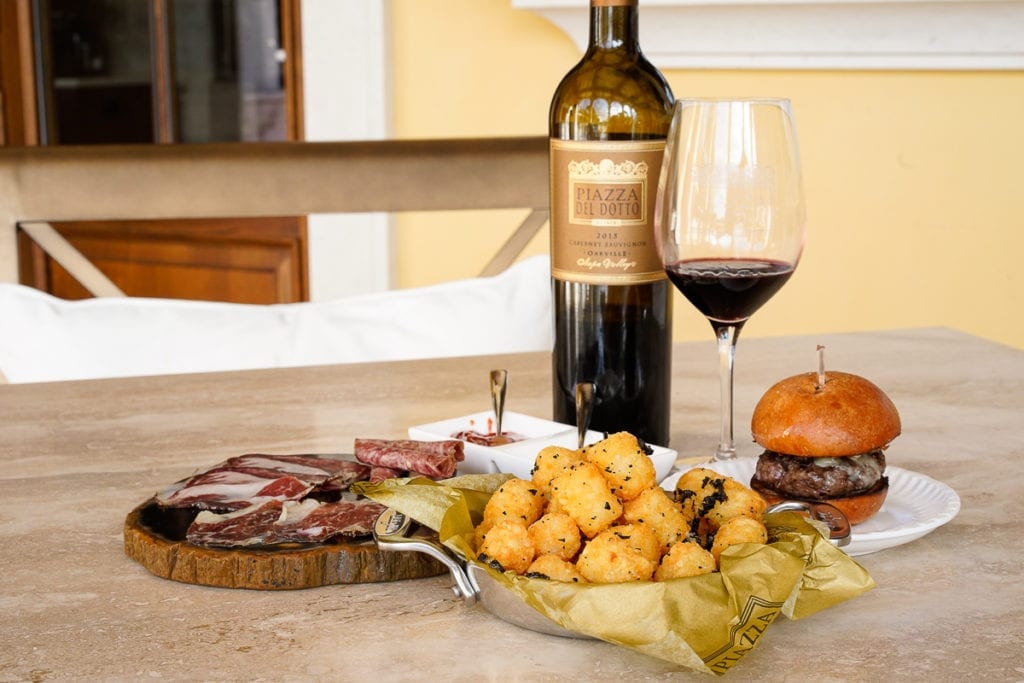 Delicacies Wine & Food Pairing
The Delicacies Wine & Food Pairing is unlike any pairing you've ever experienced. You can skip both lunch and dinner because this is one of the most epic pairings I've ever experienced and both the culinary offerings and wine selections will blow you away.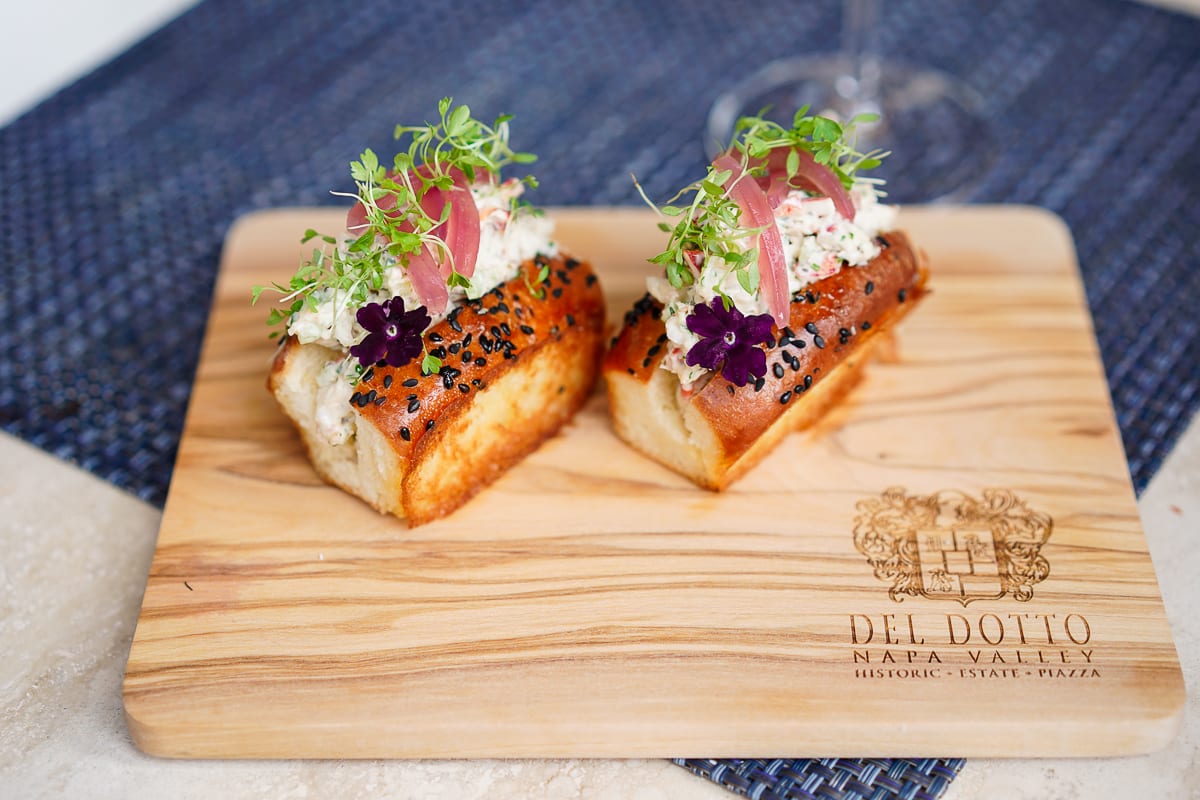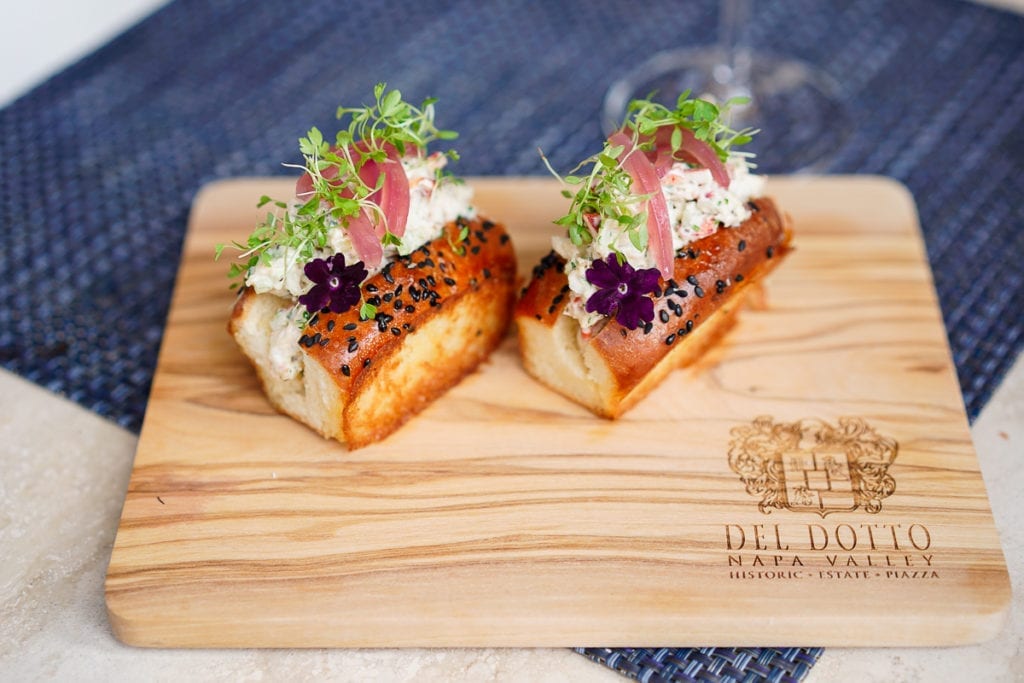 Guests will begin with a group barrel tasting in their marble-lined cave of approximately 5 of their highly rated world-class wines. You will then be seated at a table to enjoy a welcome bite plus 4 luxurious small plates paired with 5 pours of wine. This is a 2.5 hour experience and you can view a sample of their luxurious menu here.
Bookings & Info: View the Del Dotto Winery Experiences & Pricing info.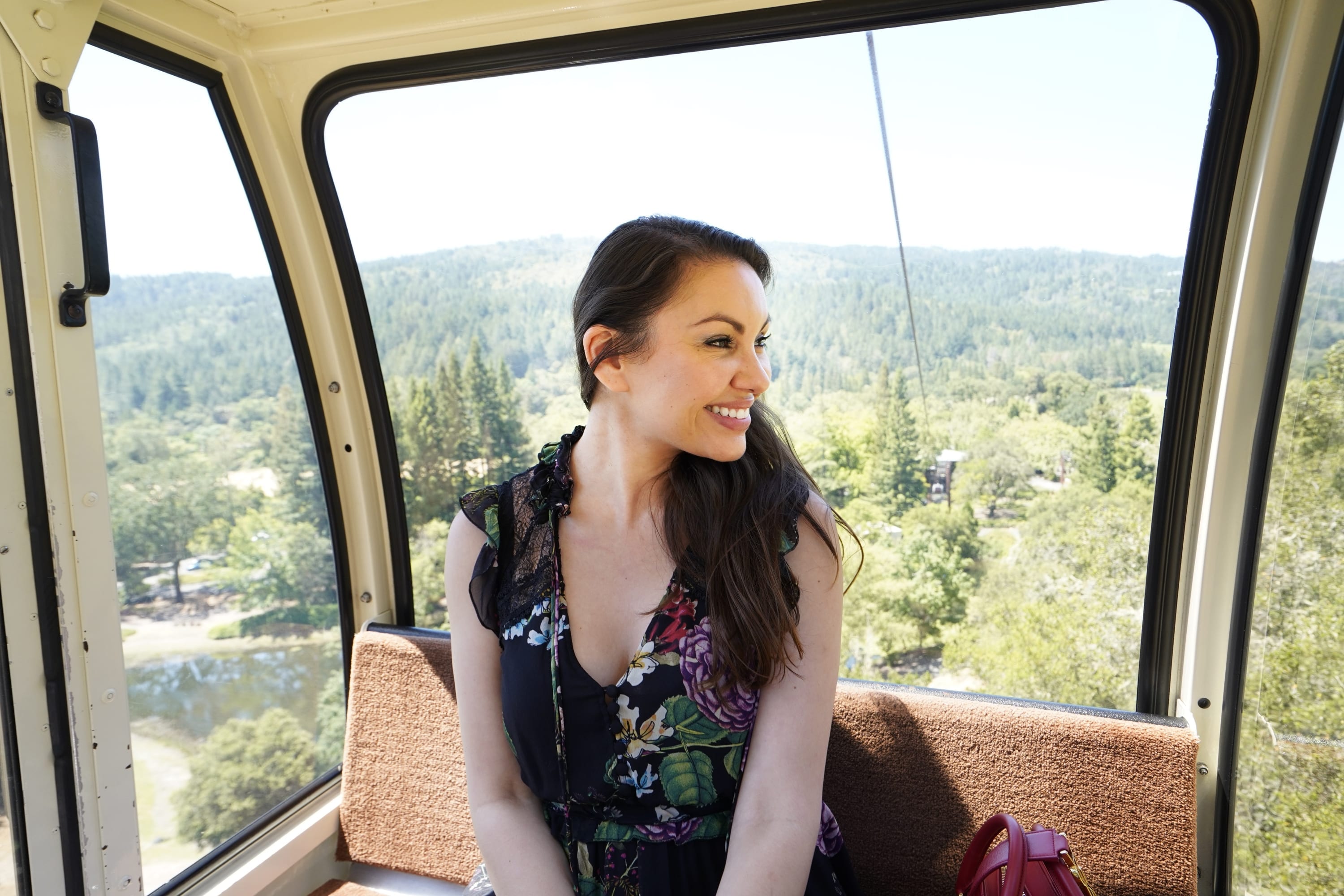 3. Sterling Vineyards
If you're looking for a unique wine tasting experience that really showcases the beauty of the Napa Valley, then head to Sterling Vineyards. Here you will be whisked away in a sky gondola overlooking acres of vineyards and the rolling hills of Napa. At the top of the sky gondola, you will find the Sterling Vineyards winery where you can relax for a wine tasting or enjoy their delicious food and wine pairing.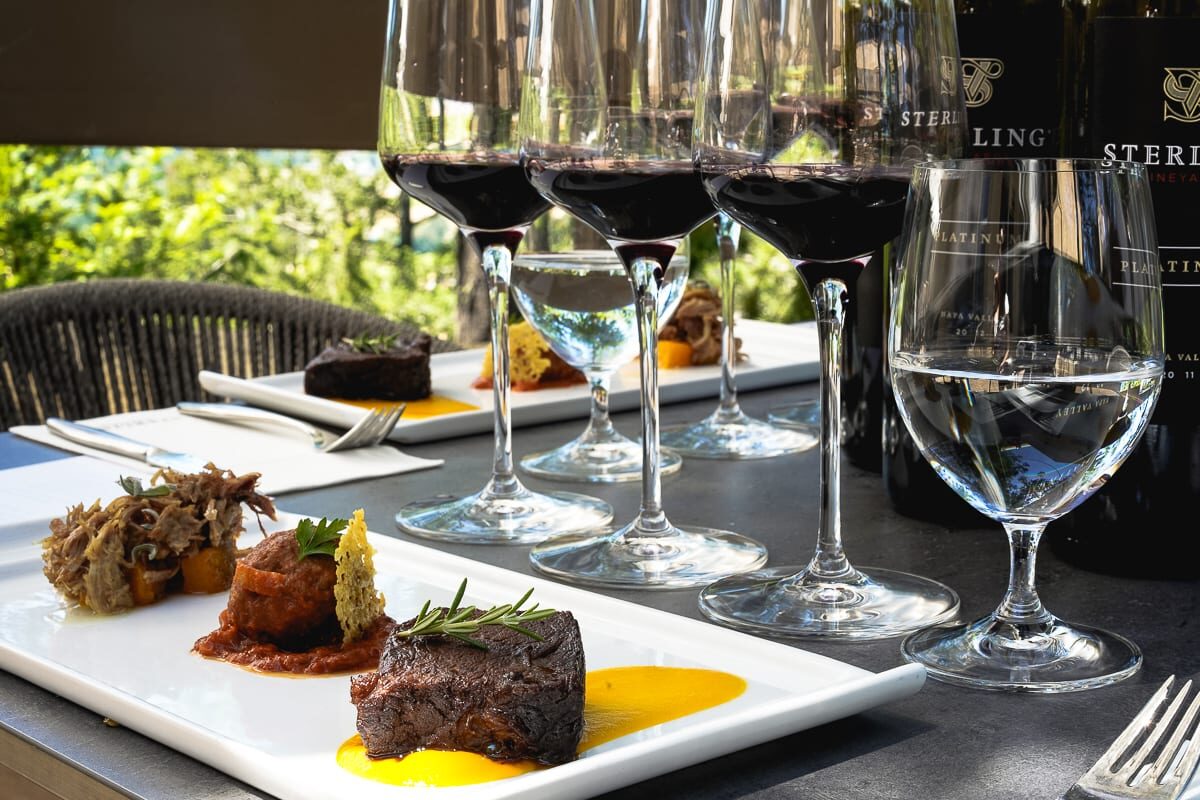 Update: Sterling Vineyards was one of the many wineries affected by the Glass fire in 2020 and is currently undergoing a complete renovation. They are slated to reopen this year in 2023.
Bookings & Info: Be the first to know when they reopen by visiting their website and joining the mailing list. You can also book virtual tastings.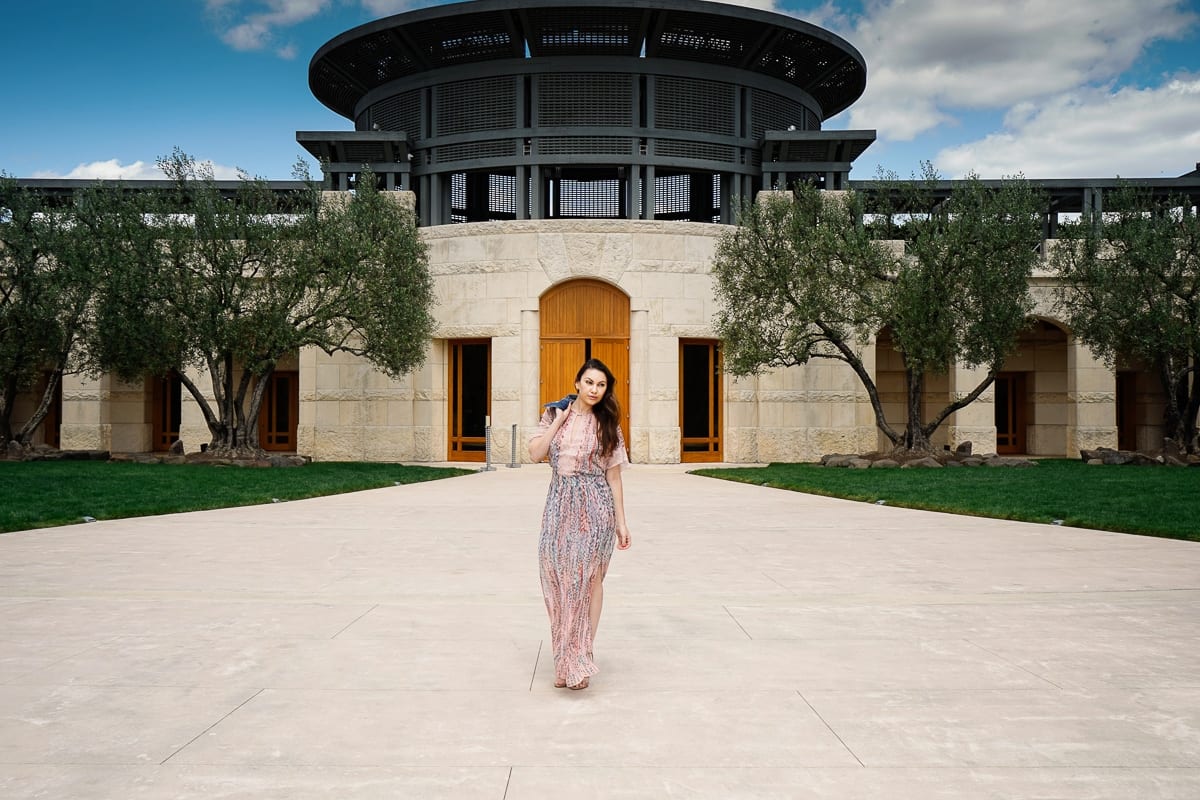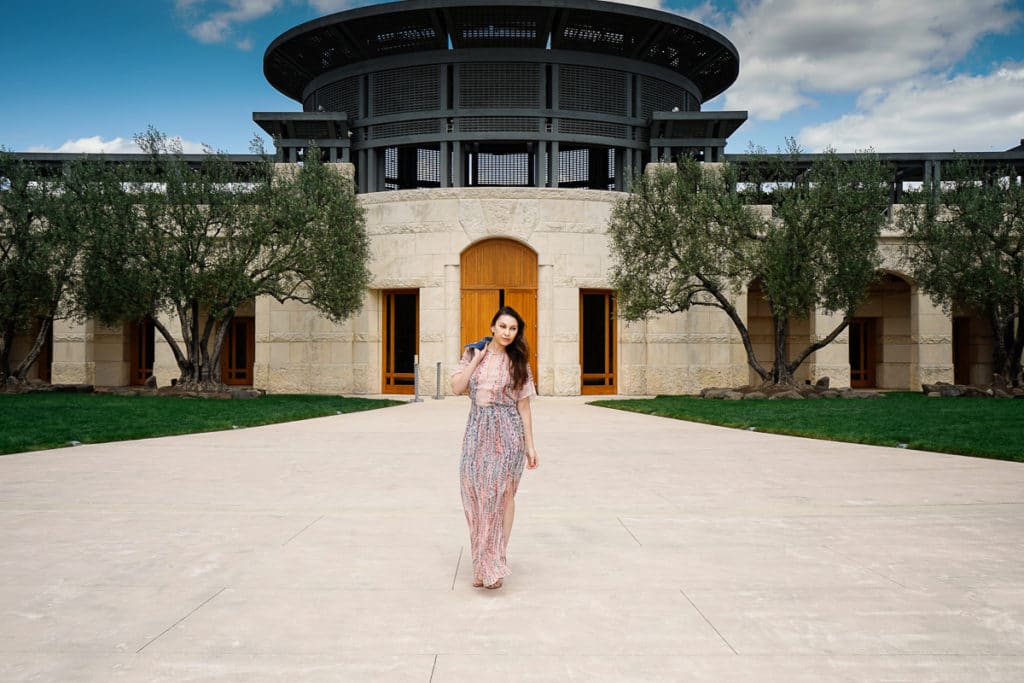 4. Opus One
Opus One is easily one of the more luxurious and prestige Napa Valley wineries. They are renowned for their exceptional Bordeaux-style blends and striking architecture. The stunning views make it a must-see destination for anyone interested in design and architecture, as well as those who simply want to relax and enjoy the beauty of the Napa Valley landscape.
If you want to experience one of the most exceptional wines in the region this is it. For the $100 Courtyard Experience, you will enjoy a self-guided 60-minute tasting of two vintages of Opus One alongside their second wine, Overture, at your leisure.
Bookings & Info: You can book the Courtyard or Partner Room Experience at Opus One.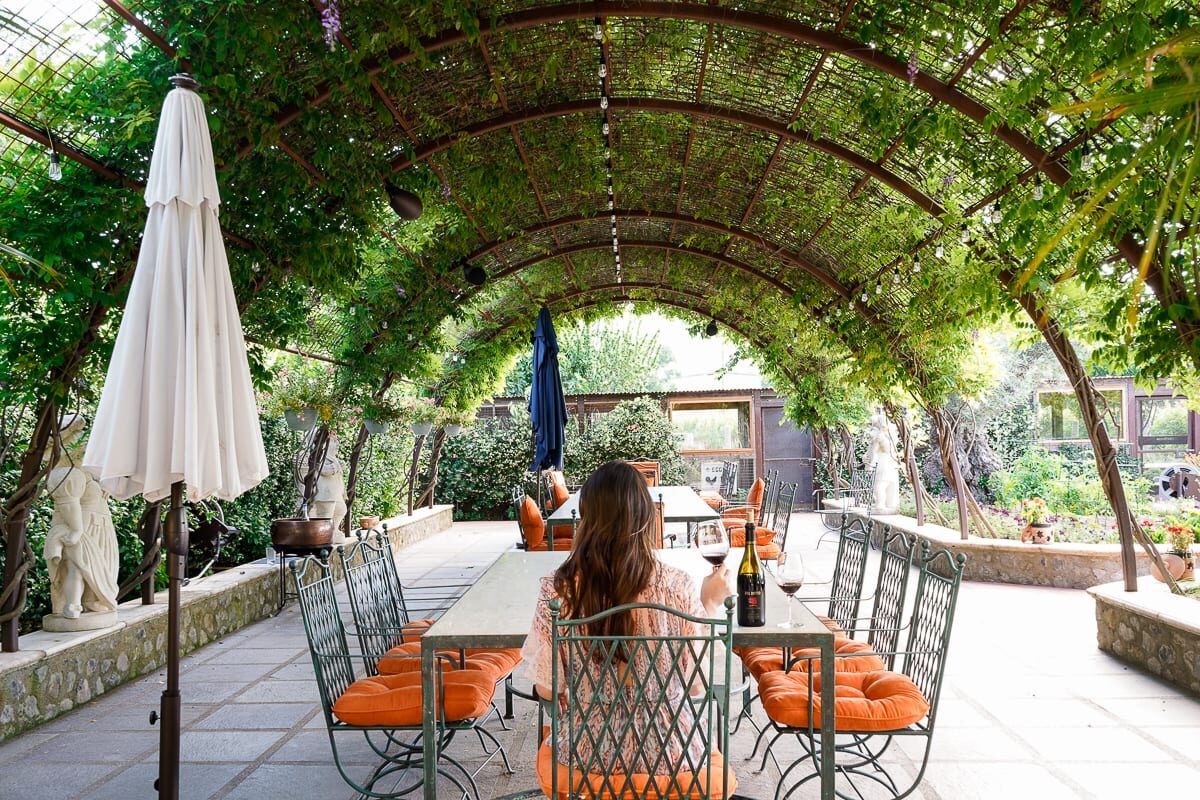 Whatever your preferences may be, a visit to any of these wineries is sure to provide a memorable and unforgettable experience that celebrates the unique terroir and rich culture of the best Napa Valley wineries. Whether you're searching for exceptional wine, unique experiences, or the most delicious culinary pairings, these wineries offer something special for everyone.
Discover More Travel Guides