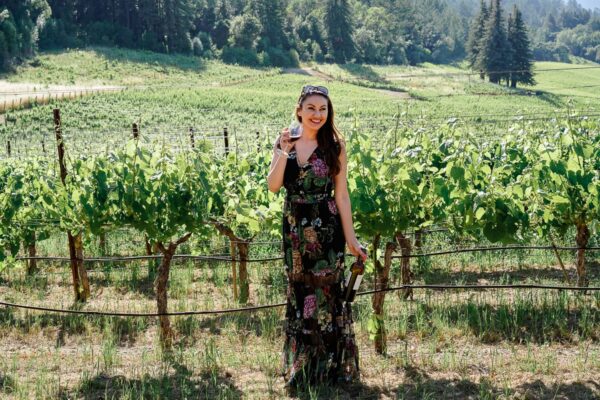 One of the best Napa wineries is hands down The Hess Collection. If you plan on visiting the Napa Valley and are looking for a complete sensory experience, then the visitors center at Hess Winery will undoubtedly check all of your boxes. Guests will be able to enjoy a variety of delicious wine tastings, tour their unique museum, and there are even numerous exclusive experiences that are well worth indulging in. During our visit, we could not resist their Tour of the Palate food pairing and even took a one of a kind ATV Tour through their vineyards. Enjoy a behind the scenes sneak peek at one of the best Napa wineries at the Hess Collection visitor center.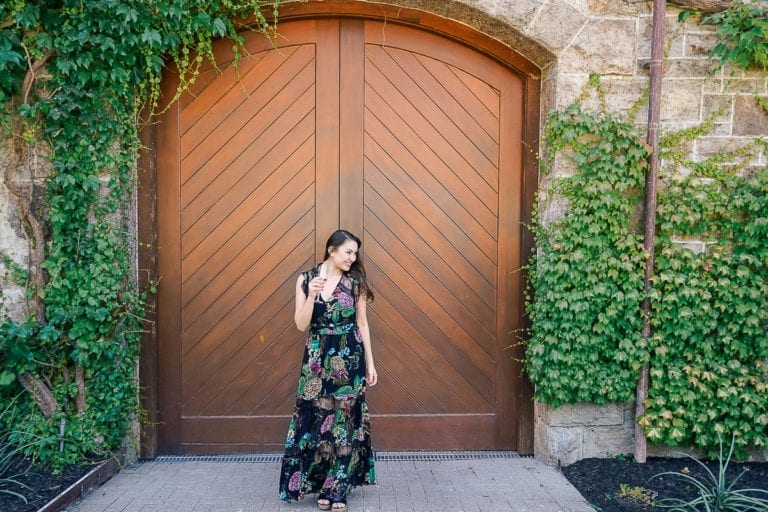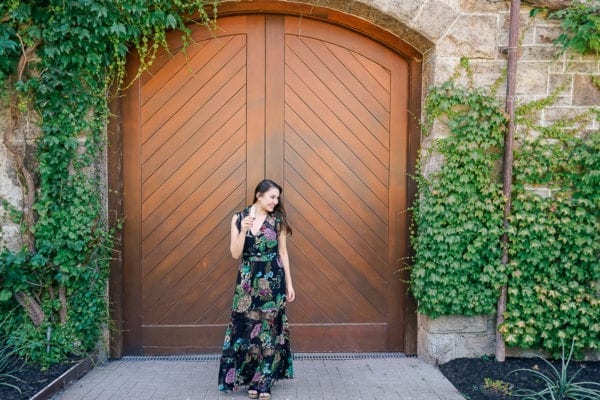 Hess Family Wines has a rich history and began over 30 years ago when Donald Hess first came to the rugged hillsides of Mount Veeder in Napa Valley. Since then they have become one of the most recognizable names in the wine industry, specializing in Cabernet Sauvignon and Chardonnay. At the Hess Collection visitors center, you can expect to taste their special reserved wines which are only available on their website.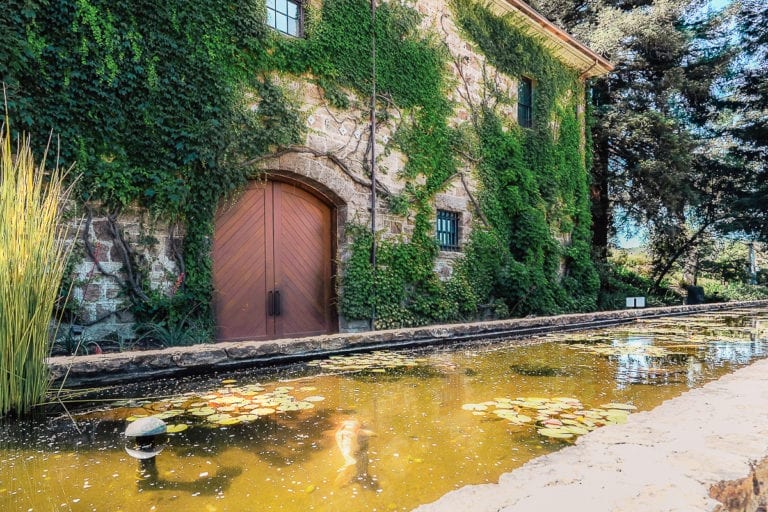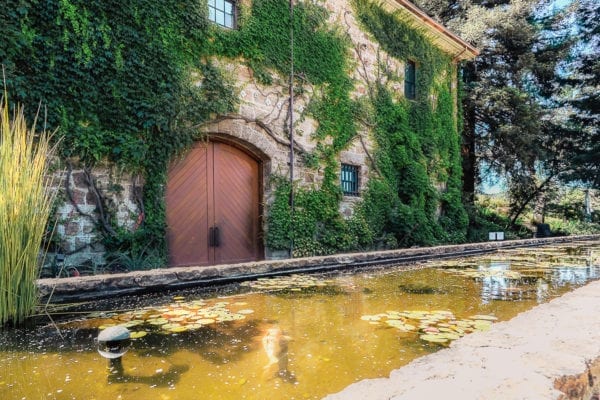 As you make your way up the windy roads towards Mount Veeder you will arrive at a beautiful vine covered building with a koi pond surrounded by vineyards.
As you make your way inside the Hess Collection visitor center you will immediately notice its rustic castle-like decor mixed with modern art. While making your way upstairs, you will be brought through their museum featuring artwork specially selected by the Hess family.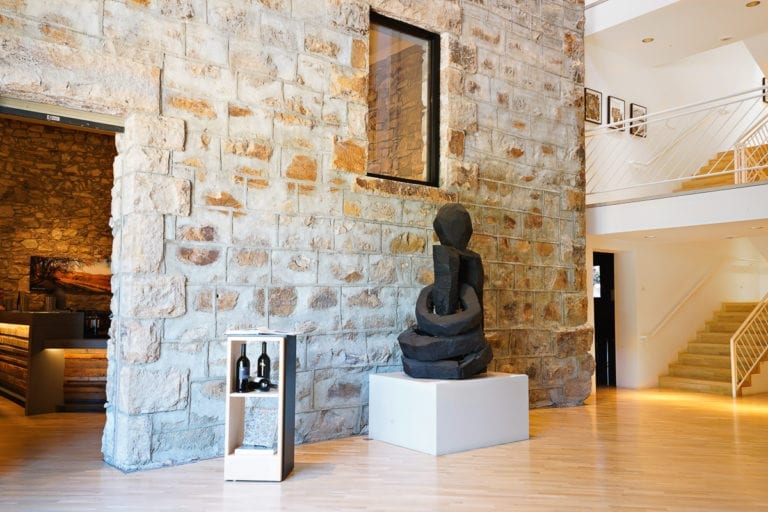 Once you receive your guided tour of The Hess Collection Art Museums, your host will lead you into an intimate dining room where you will experience their exquisite food and wine pairing, Tour of the Palette. The Hess Collection's Executive Chef, Chad Hendrickson will create a masterful pairing of three current release wines expertly paired with three delicious dishes.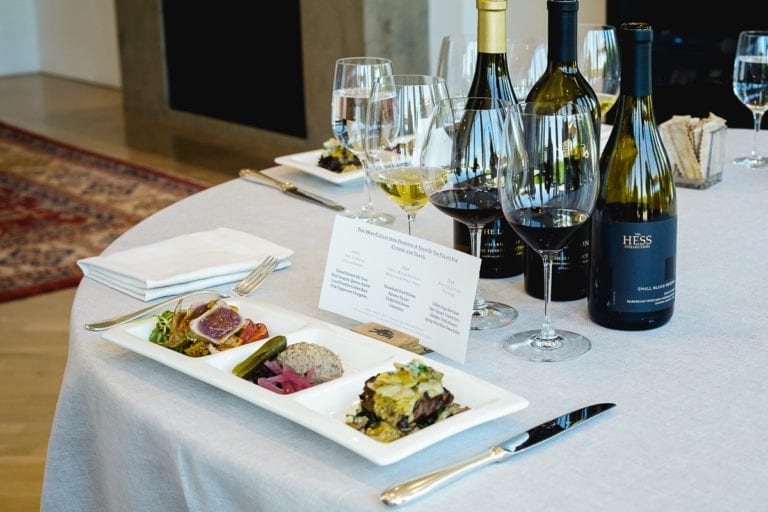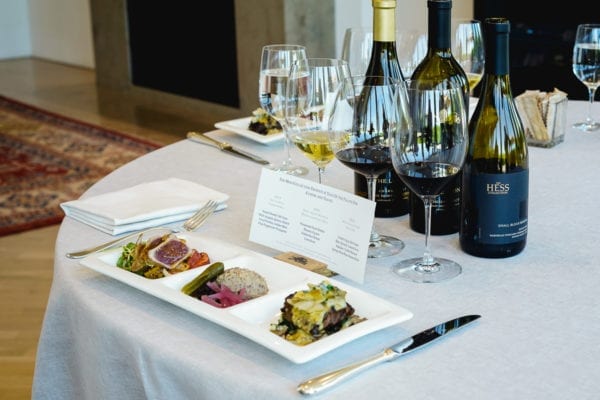 Our first pairing featured the 2015 Lioness Chardonnay. This wine was paired with fennel dusted Ahi Tuna, wild arugula, quinoa, radish, local peaches, golden beets, and a pink peppercorn vinaigrette. The pairing was an absolute showstopper and my favorite of the day. I especially love that The Lioness pays homage to the women of the Hess Family who now lead the pride. In the mouth, crème brûlée and tropical notes are layered with well-integrated toasty oak and hints of vanilla that persist throughout a long satisfying finish.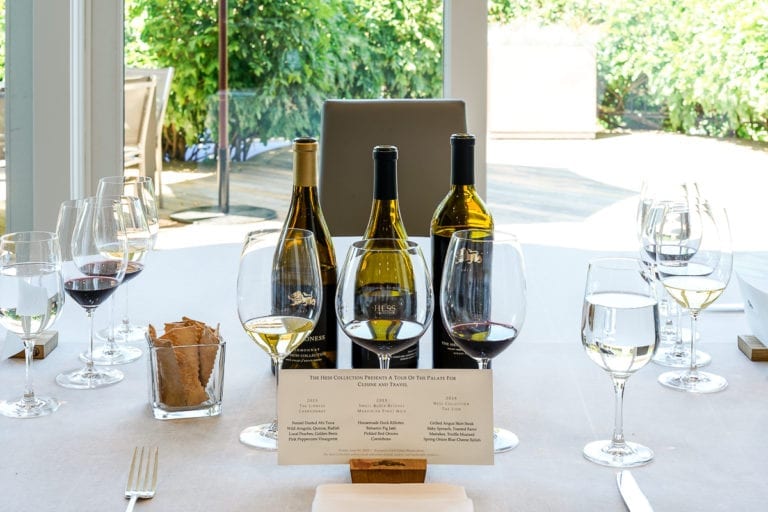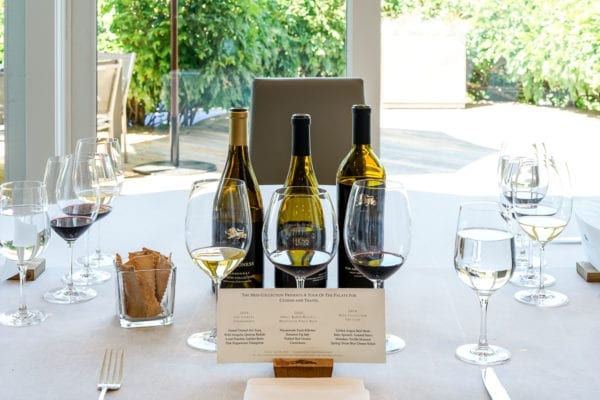 Next, for our second pairing was the 2015 Small Block Reserve Mardikian Pinot Noir.
This very special reserve level Pinot Noir comes from their Mardikian Estate Vineyard in the Sebastopol Hills in west Sonoma County. The vineyard is only in its sixth leaf. Consequentially, each new vintage offering is truly something special. These Pinots are an evolving tale that is wonderful to explore and experience. This Pinot Noir is a more robust style that will enhance a wide variety of dishes. It was expertly paired with housemade Duck Rillettes with balsamic fig jam, pickled red onions, and cornichons. A unique pairing for an equally unique Pinot Noir.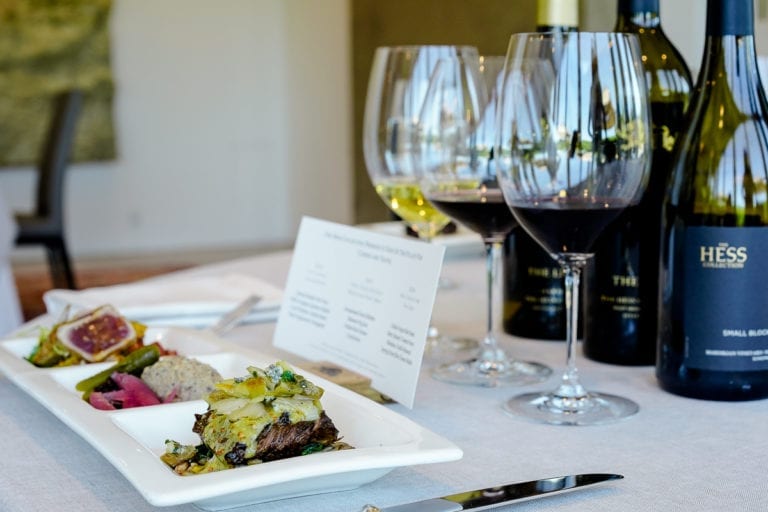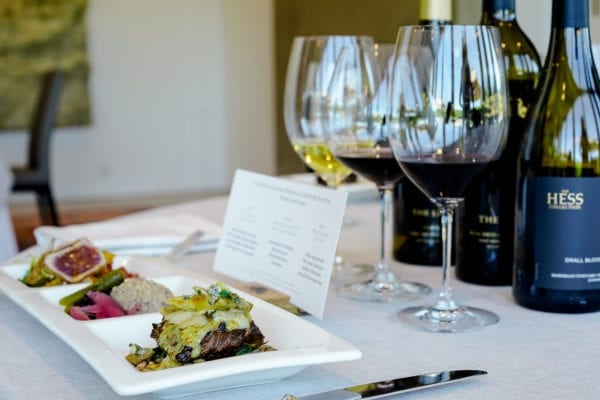 Finally, for our third pairing, we enjoyed the 2014 Hess Collection "The Lion". This was my favorite wine with full robust flavors of blackberry, blueberry and a hint of dark chocolate. The years during the California droughts have produced some of the most award-winning wines in the region. Each sip embodies a depth and richness with a velvety texture and a lasting vibrancy. This wine was served with a decadent grilled Angus Skirt Steak with baby spinach, toasted farro, and a truffle mustard spring onion blue cheese relish. The steak was incredibly tender and the pungent blue cheese brought out every sweet note of this fruit forward wine.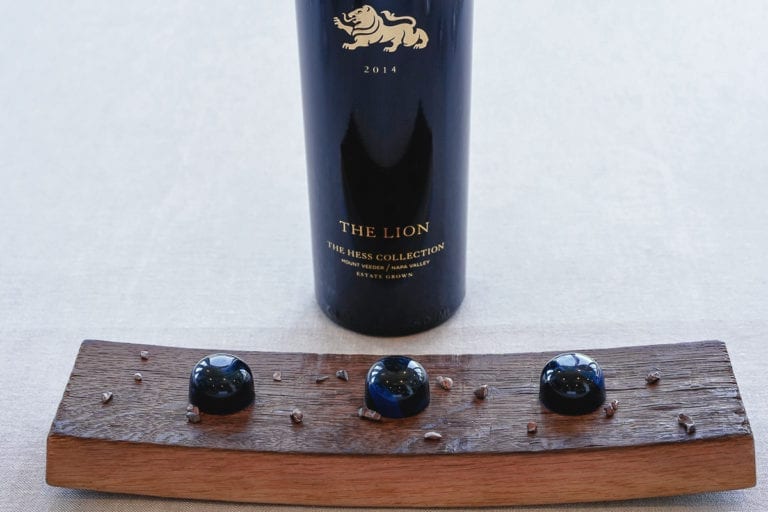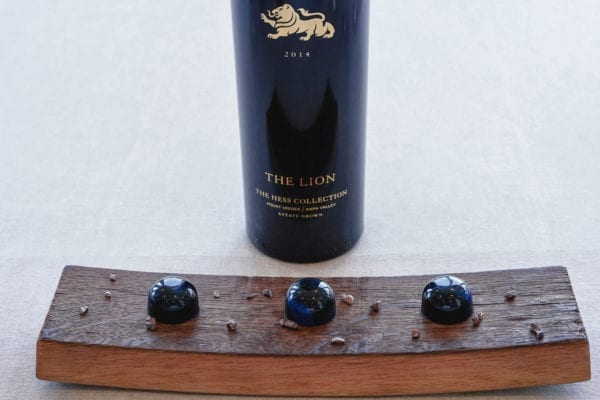 Our elevated food and wine pairing ended with a final pairing of The Hess Collection in house truffles. Furthermore, they were plated with delicious crunchy cocoa nibs for additional added texture.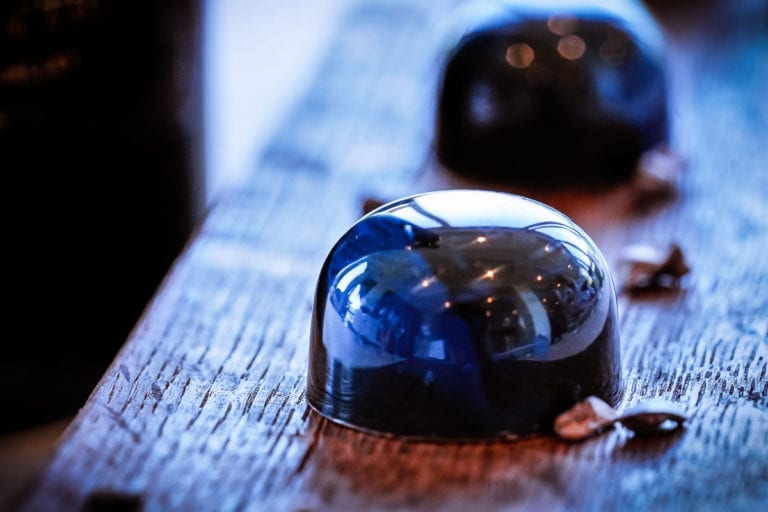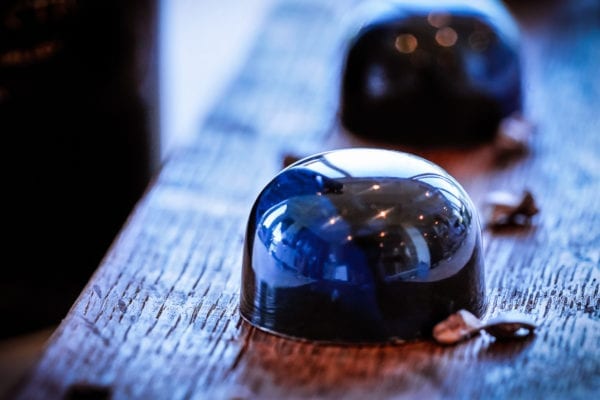 Sous Chef, Eric Martinez has developed all of their in-house crafted truffles. They go through an invigorating tasting process. This ensures their truffles are the perfect compliment to the Hess Collection wines. Cocoa nibs are my latest discovery and newest obsession thanks to this experience. I even found some located at Trader Joes. I'm looking forward to brainstorming different ways I can use this fun ingredient.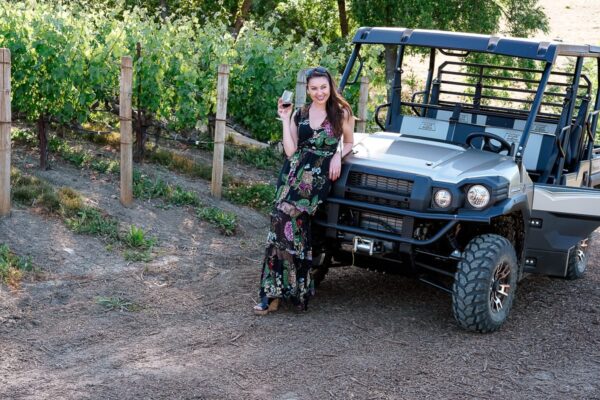 As if the food and wine pairing weren't enough, we finished our day at the Hess Visitors Center with a guided ATV Tour through the vineyards.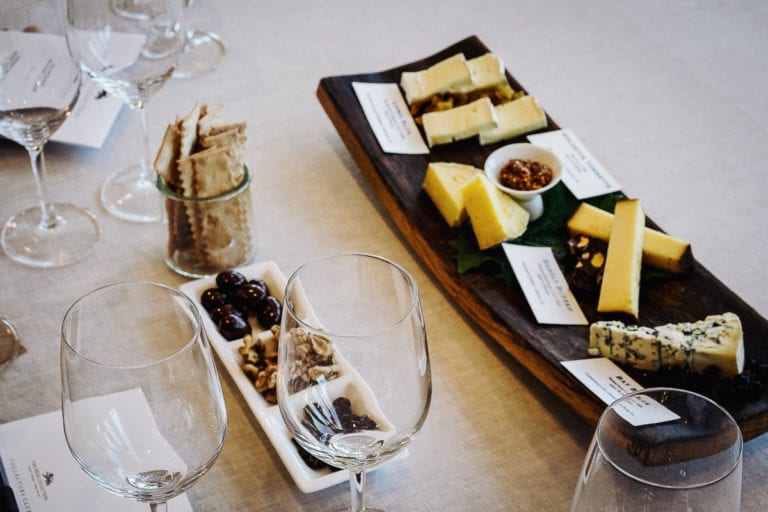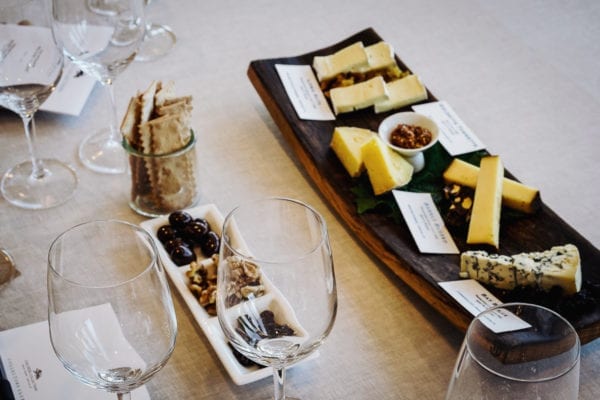 I cannot recommend this unique experience enough. The guided ATV tour was really the deciding factor that made this one of the best Napa wineries to visit. Guests visiting the winery can book the Vineyard Wine & Cheese Pairing Excursion. This experience begins with a guided ATV vineyard tour through the historic Mont La Salle vineyard. Guests will explore a range of Napa Green sustainable practices. After which you"ll enjoy estate wines paired with Artisan cheeses, seasonal fruits, nuts, and items from the winery's culinary gardens.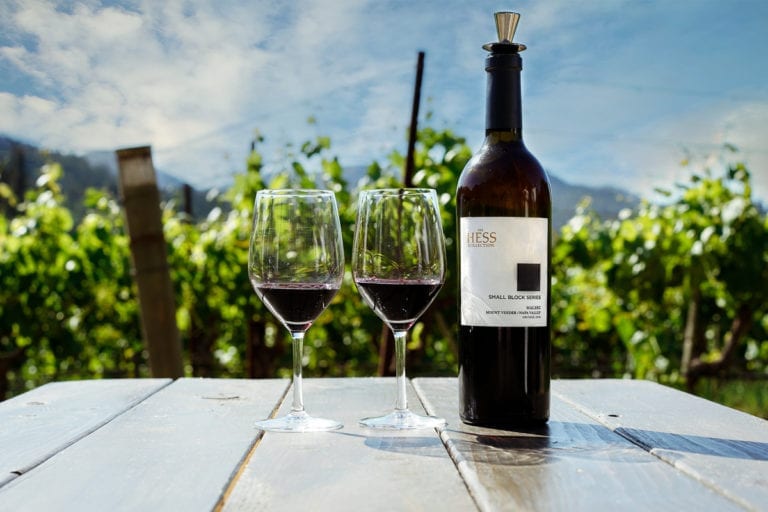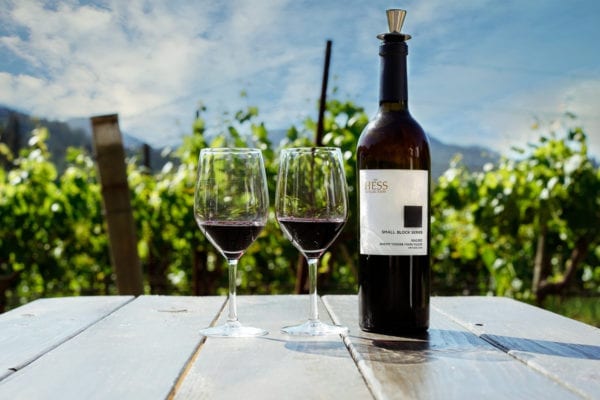 The ATV Tour is such an enjoyable experience. It really allows guests to explore the rich history of the Hess Family Vineyards.
The vineyards are absolutely gorgeous with expansive breathtaking views of the Napa Valley. Along the ride, we stopped several times to taste their Small Block Series Malbec. It also allowed us to take even more photos of their amazing vineyards. We also took a look at the area where the Hess Staff and Firefighters fended off flames from the terrible fires that engulfed the Napa and Sonoma Valley this winter.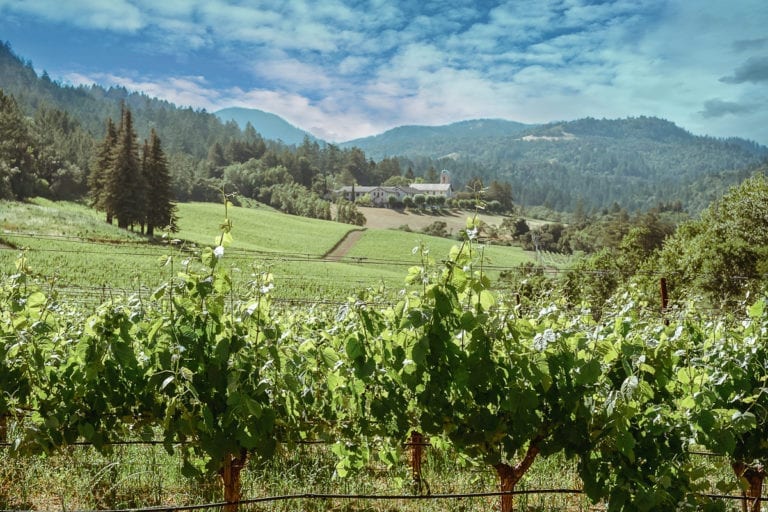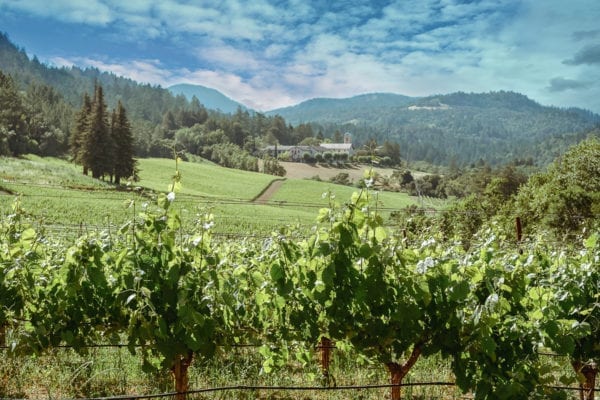 The fires came right to the edge of the vineyard. They were just feet away from destroying vines that have been in the family for over 20 years.
If you are looking for a memorable experience, then Hess is one of the best Napa wineries in the area. They offer a full sensory experience of taste, site, and adventure. In addition, this summer they will also be debuting their newly remodeled Cellar One. After the devastating 2014 South Napa earthquake, their cellars suffered extensive damage and loss several thousand gallons of wine. This summer is definitely a fantastic time to plan your visit!
The Hess Collection Visitors Center
4411 Redwood Road
Napa, California 94558
707-255-1144