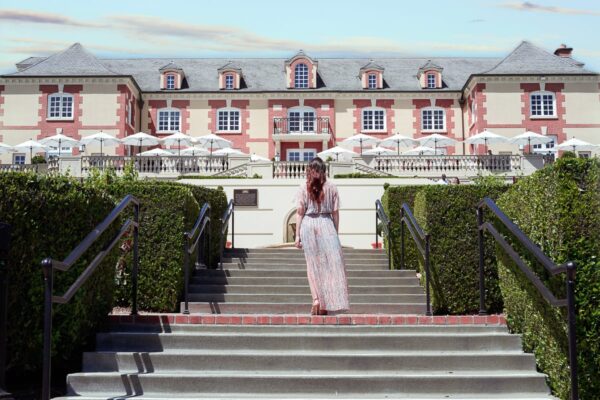 On our quest to visit the most beautiful wineries in Napa Valley we could not resist the French-inspired Domaine Carneros Winery and Vineyards. Their main entrance, which we highly recommend taking, will bring you to a grand staircase leading up to their gorgeous Chateau.  Once you make your way to the top, amazing napa valley views will await, offering the perfect setting for sipping the finest sparkling wine and pinot noirs.
Domaine Carneros was founded by the noble family behind Champagne Taittinger, Claude Taittinger's search for a worthy U.S. counterpart began in the late 1970s. In 1987 he selected a 138-acre parcel in the heart of Carneros, Napa Valley. The heart of Domaine Carneros has always been sparkling wines, with distinctive styles ranging from the classic vintage-dated Brut cuvée to our luxury Le Rêve Blanc de Blancs. In 1992 they added rich, complex Pinot Noir to their portfolio.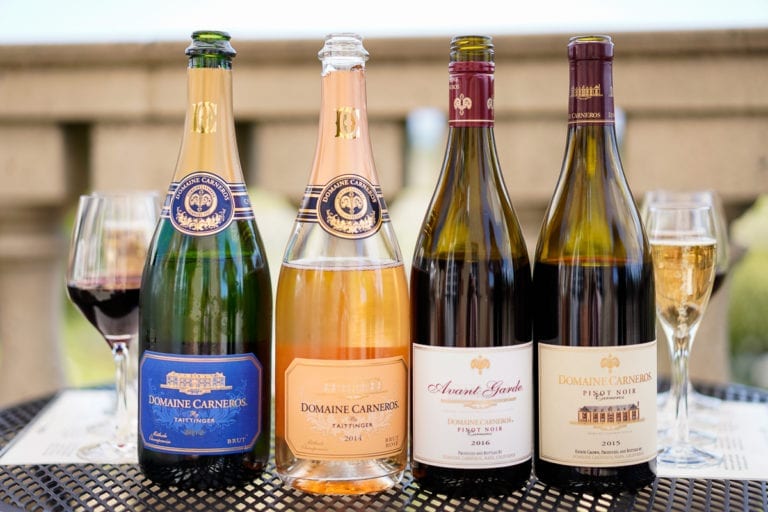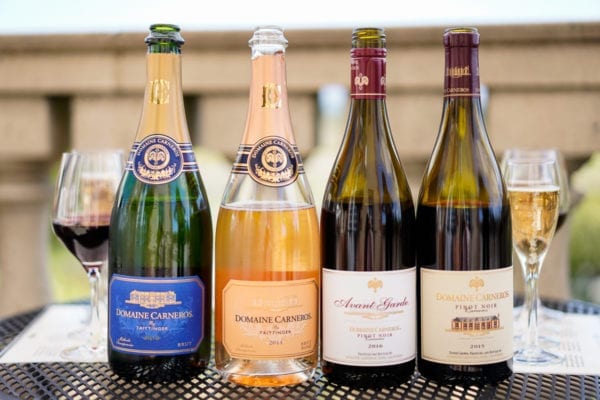 Once seated, guests can choose from numerous sparkling wine and Pinot Noir flights. They also offer fantastic food pairing options, making Domaine Carneros a fabulous choice for enjoying a lovely Napa Valley brunch. We began with the Chateau sampler which included two sparkling wines and 2 Pinot Noirs for only $30. This is a steal for wine tasting in Napa.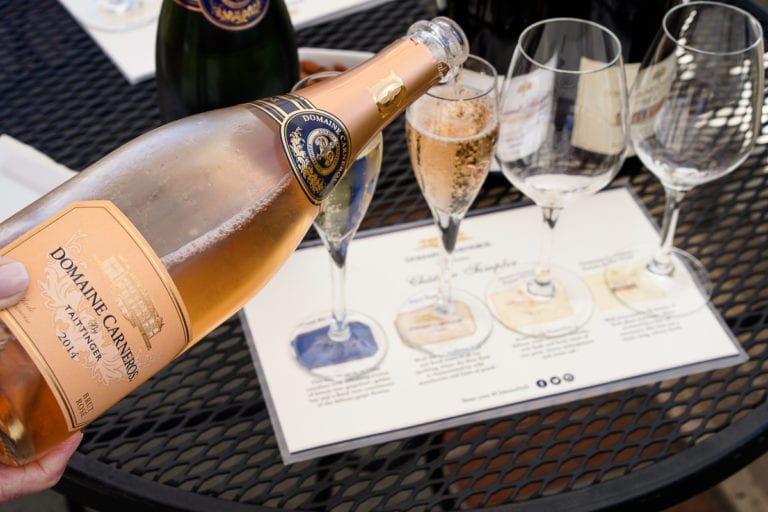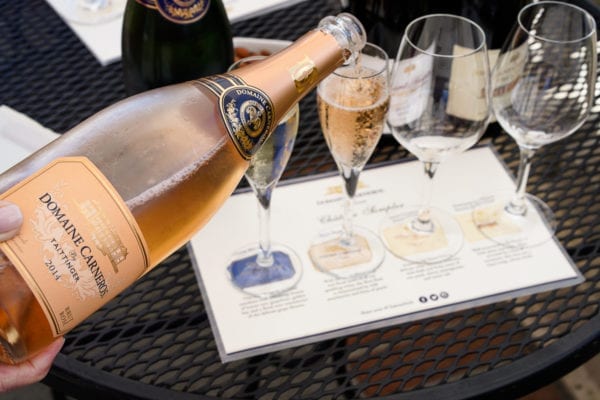 Our first two sparkling wines were the 2012 Estate Brut Cuvée and the 2014 Brut Rosé.
The 2012 Estate Brut is a small cuvée comprised only of grapes grown in their vineyards and aged a full three-plus years in their cellar. Each sip reveals beautiful aromatic notes of fresh flowers, lychee, white peach, and pear with an exceptionally creamy finish. Next, we enjoyed the 2014 Brut Rose. All of the Rose at Domaine Carneros have a slight amount of Chardonnay grapes added for structure. Aromas of peaches and cream, red currants, lime blossoms and white flowers engulf the nose. Then, silky flavors of wild strawberries, roses and nectarines evoke the bliss of a perfect summer day through the long, lovely finish.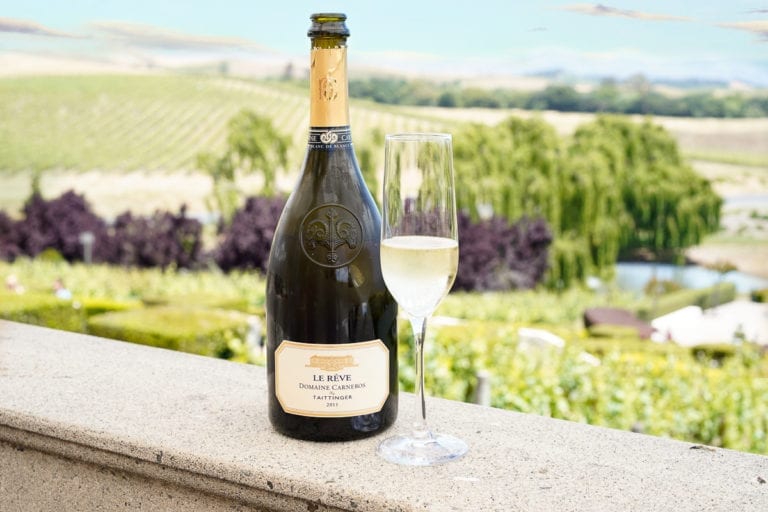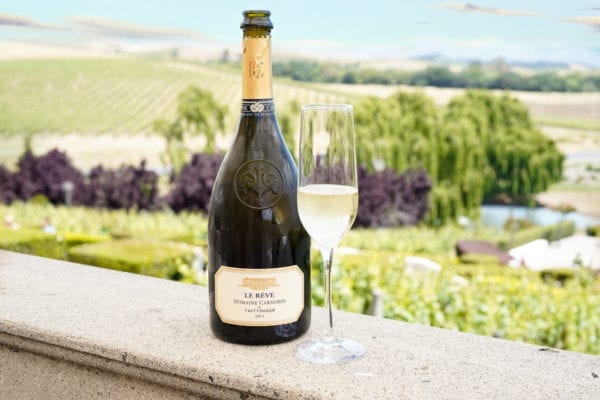 Crafted from 100% estate-grown Chardonnay, the 2011 Le Rêve is a pure expression of Domaine Carneros.
In addition, we also splurged on their incredible 2011 Le Rêve. This highly respected tête de cuvée is frequently named America's Best Sparkling. During the 2011 growing season, they experienced frost in the vineyard and ended the season with a very cool summer, resulting in a reduced crop size and an intensely flavorful cuvee. Lovely notes of white flowers, Meyer lemon, quince, pear and a hint of pineapple with a toasty to slightly smoky aroma fill the air. The palate opens up to honeysuckle and Crème Brûlée. This sparkling wine continues to improve with age so you"ll want to resist the temptation to open it right away.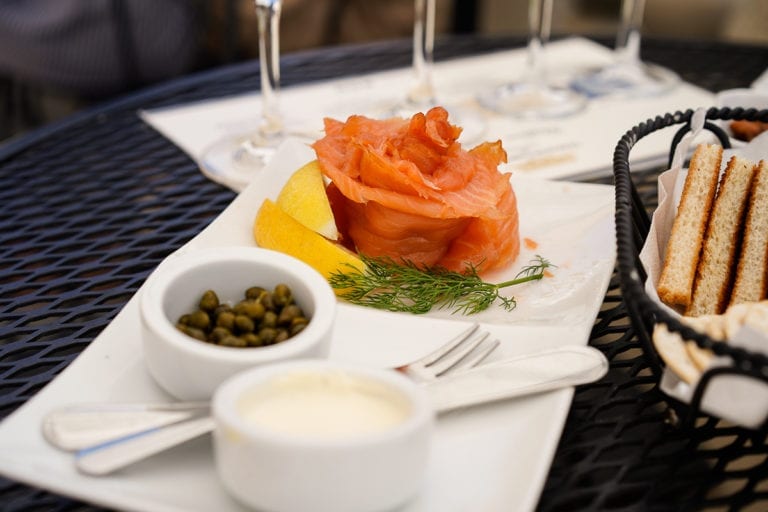 All of their wines pair perfectly with their many optional food offerings ranging from creamy cheeses, fresh smoked salmon, and even caviar flights. We first dove into their Smoked Salmon Plate with rich and silky cold-smoked salmon from Tsar Nicoulai. The smoked salmon was served with toast points and Cowgirl Creamery crème fraîche.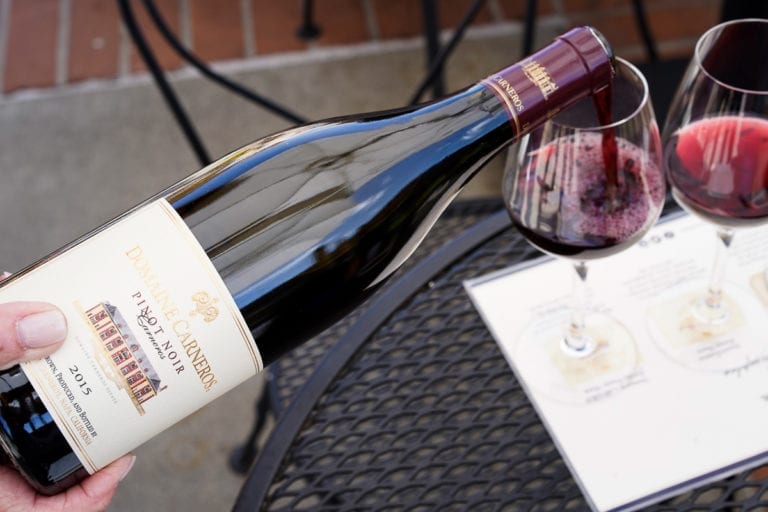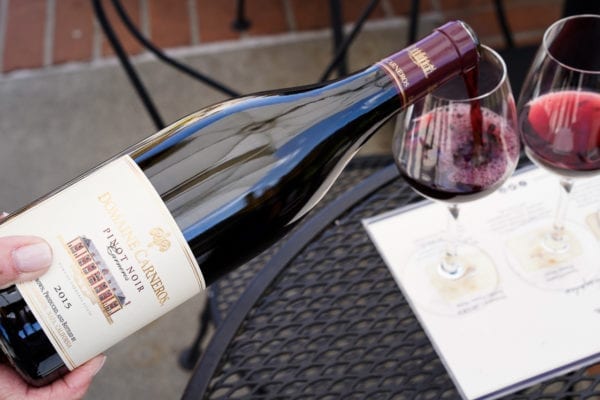 The Domaine Carneros Avant-Garde Pinot Noir features a delicate note of rose petal. This is followed by sweet cherries, pomegranate, warm oak, and baking spice.
Next, we enjoyed their 2016 Avant-Garde Pinot Noir and 2015 Estate Pinot Noir. The 2016 Avant-Garde was extremely aromatic and continued on the palate with baked cherry pie, dark boysenberry, and savory tobacco leaf. The 2015 Domaine Carneros Estate Pinot Noir is farmed from their Estate Vineyards located within four miles of the Château. This was my favorite wine of the tasting. The sweetness balanced the supple tannin from this exceptional vintage full-bodied Pinot Noir. I tend to enjoy my reds full-bodied, with juicy and sweet fruit forward notes upon the palate.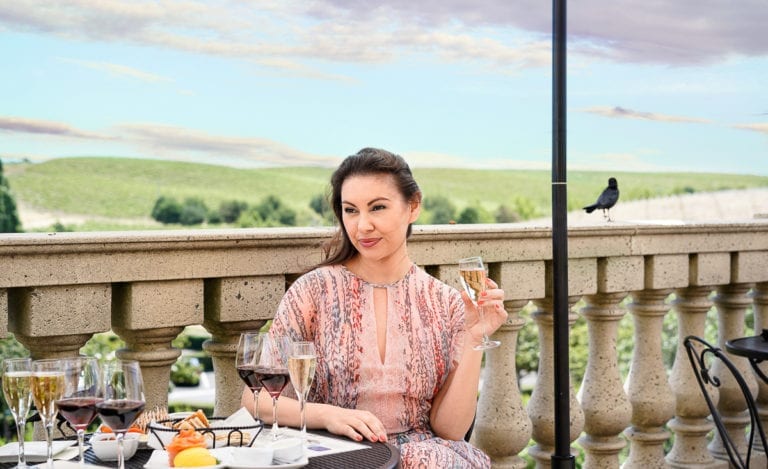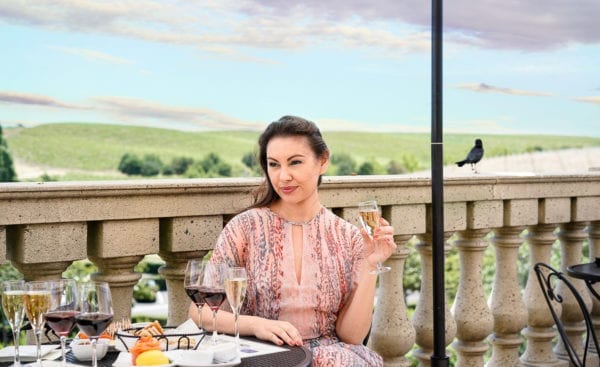 It's amazing how each year's weather conditions have such a great impact on the flavor of the wine.
As a matter of fact, the defining feature of the 2015 growing season was the weather during flowering. It had substantial fluctuations in temperature combined with occasional rainfall.  This resulted in a reduced number of grapes per individual cluster. The impact on the wine is substantial as we see in the 2015's. They display dark color, depth of fruit and a wonderful juicy quality.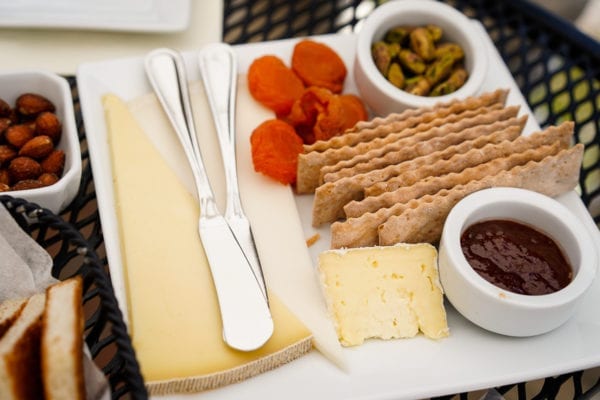 While sipping our Pinot Noirs we also noshed on a terrific cheese plate. Presented were three kinds of cheese including Brabander, Wagon Wheel, and Mt. Tam from Cowgirl Creamery which is a favorite of mine. Each plate also comes with dried apricots, preserves, pistachios, and a variety of crackers.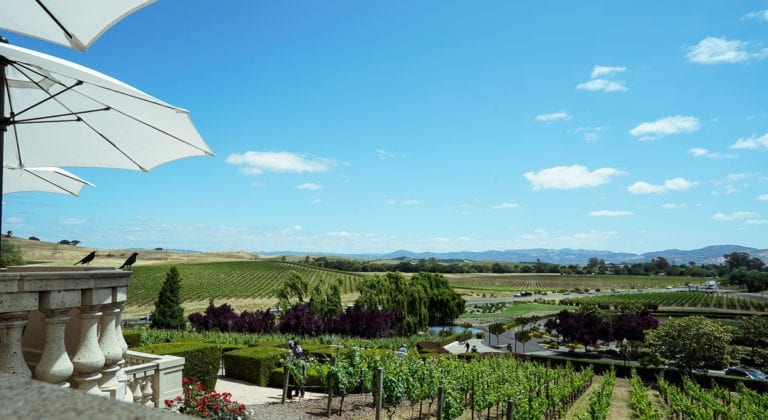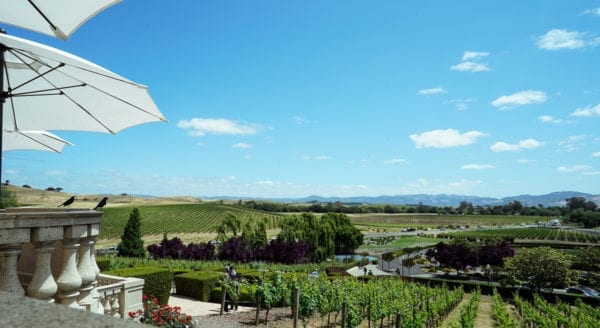 If you are looking for the perfect destination to begin your travels to Napa Valley, Domaine Carneros will not disappoint.
Their French Chataue is gorgeous, they offer wonderful wines and stunning views. What more could you possibly ask for? Additionally, they are also one of the few wineries where you can relax and enjoy table service while gazing out at the breathtaking rolling hills of the Napa Valley. Reservations are a must, but can be made until 5pm the same day!
Domaine Carneros Napa Valley
1240 Duhig Rd
Napa, CA 94559