Each year I choose a new Christmas Decor theme and this year I went with a Black and White Christmas theme using Buffalo Plaid with hints of gold. The Black and white Christmas theme has been on my list for a few years and with my recent move, I knew this was the perfect year to give it a try. I actually ended up loving it so much more than I thought I would. Here are some helpful tips on how I pulled the look together and some ways you can use these tips for your own Christmas themes.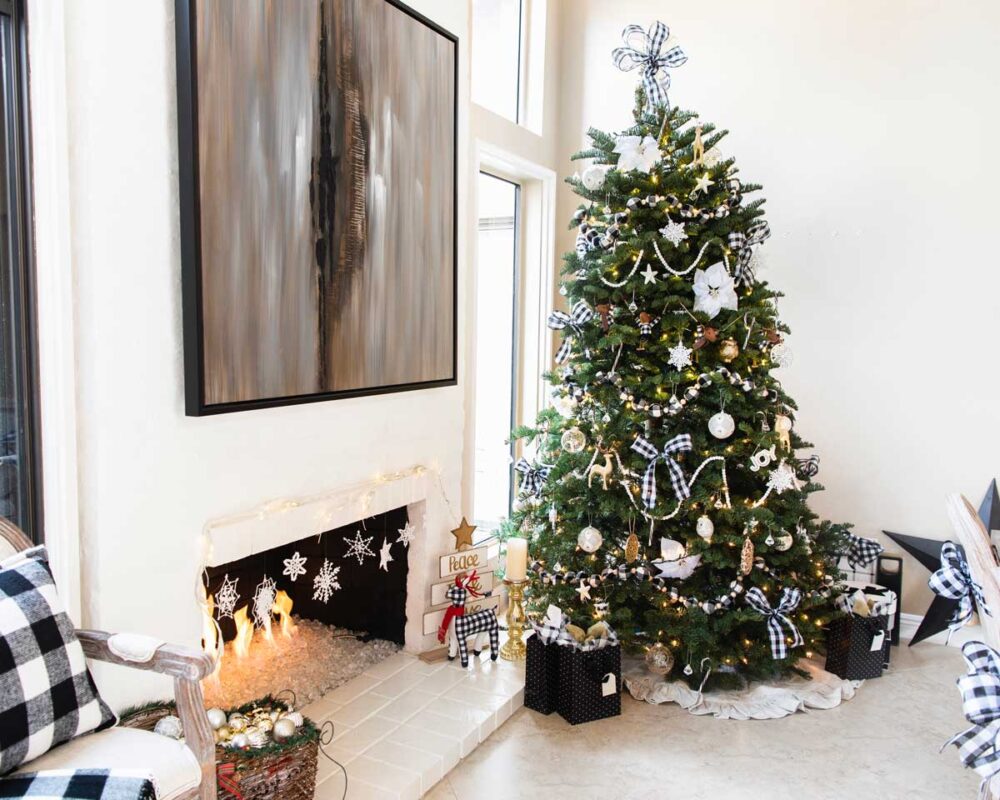 Luckily, this year it seems Buffalo Plaid is trending so I was able to find a few goodies, such as the plaid garland. I started my Christmas shopping early and got in before the Thanksgiving holiday. By the time Thanksgiving was over, the garland was already completely sold out of every store within a 30-mile radius. So I highly recommend starting early as soon as items start hitting the shelves. I also found some amazing oreo flavored black and white candy canes since I went right after Halloween. If you are doing a black and white theme, scour the Halloween clearance racks for good black and white items you can use for your Christmas theme!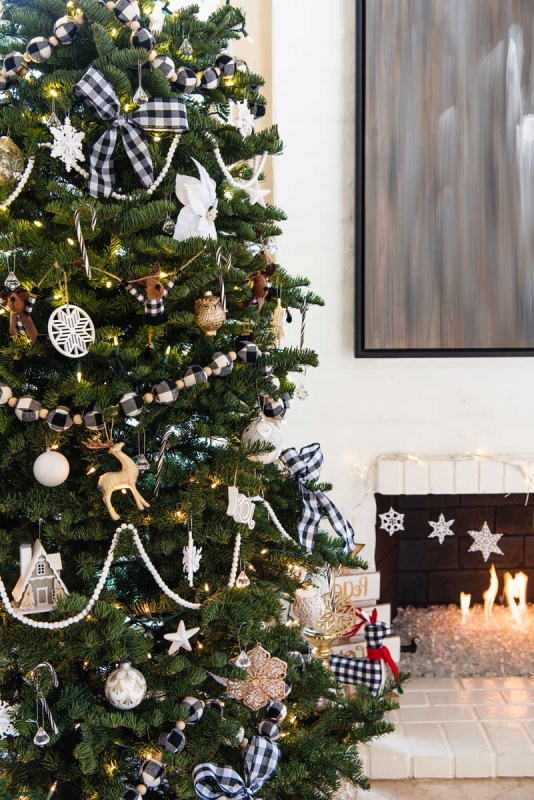 If you have a unique idea and are unable to find garland, using ribbon is a great alternative. I usually add ribbon to all of my trees and this year I tied adorable black and white buffalo plaid bows around the entire tree and a giant bow for the top. Be sure to get ribbon with wired edges.
I always have a set of really nice ornaments and then filler ornaments I get from the 99 cent store.
When it comes to ornaments, I always have a set of really nice ornaments and then filler ornaments I get from the 99 cent store. These cheaper ornaments are also great for filling decorative glass vases around the house. You can also find extra-large filler items like large poinsettia's which are great to fill in gaps that look bare. For more expensive ornaments stores like Home Goods, Marshalls, and TJ Max have great deals and they even had some black styles.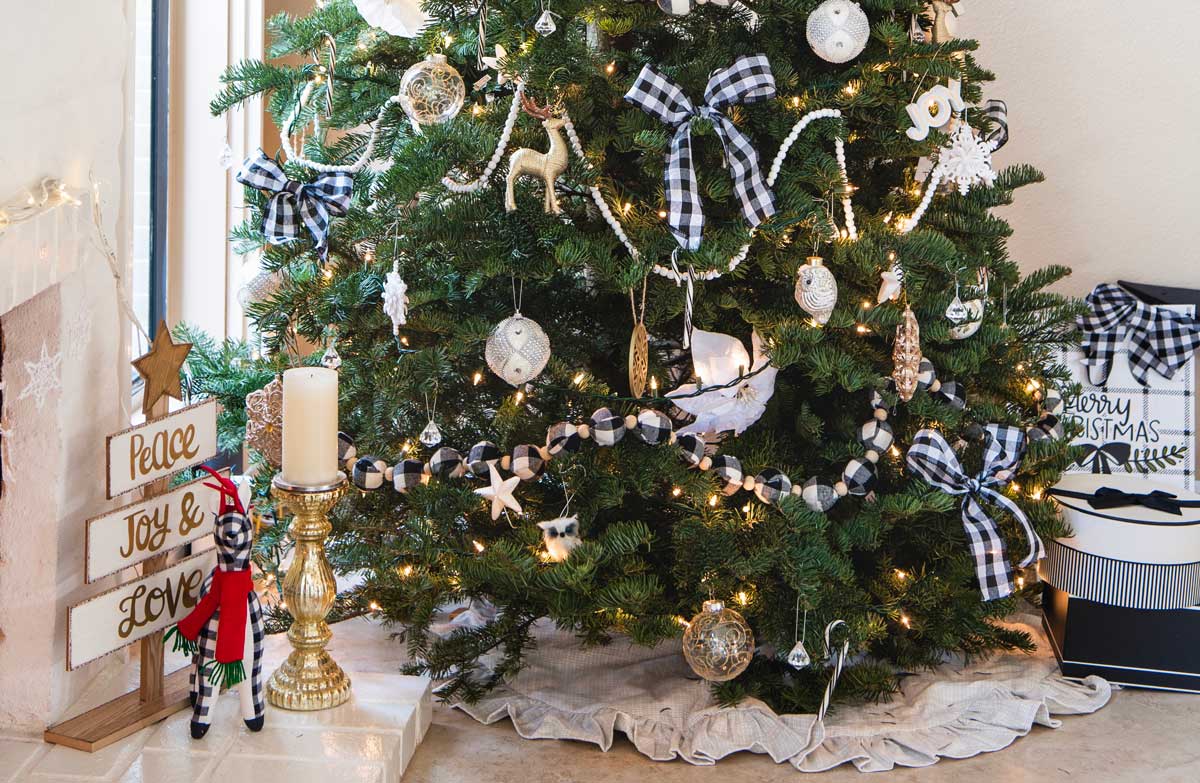 To add some additional style and really tie together your Christmas theme I recommend also choosing matching wrapping paper and gift boxes. Also, since its a black and white theme, not everything has to be plaid. I found some adorable black and white striped boxes at target this year and a giant gift bag that was only $1.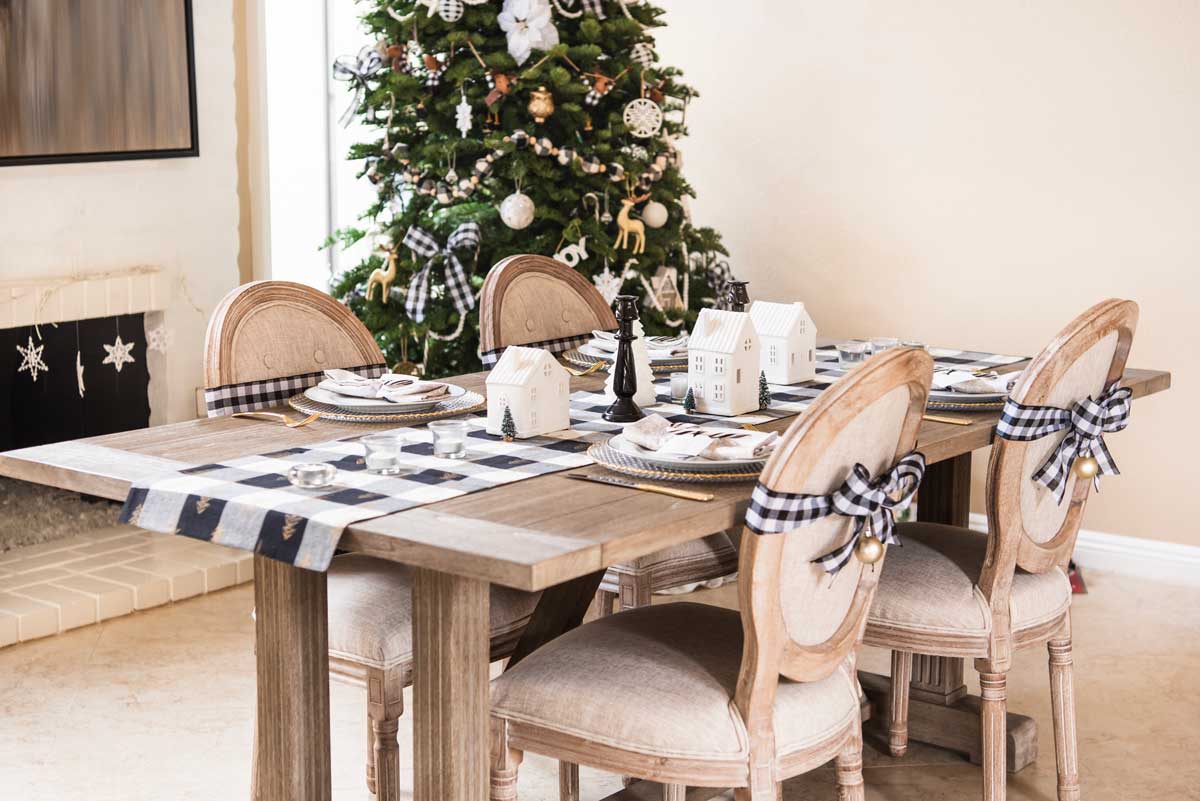 [show_shopthepost_widget id="3846154″]
For the tablescape, I had so much extra ribbon that I decided to tie them into bows around our French Chairs. To add a little extra glam, I added small gold ornaments hanging down the center. For a centerpiece, I decided to use my Christmas village. I got these ceramic houses from Target a few years ago for only $3-$5 dollars. Each year they have a great selection of holiday goods that don't break the bank and are surprisingly adorable. I originally was not going to do a plaid table runner but at Marshalls I was able to find one for only $12. They also had a matching apron for $5, score!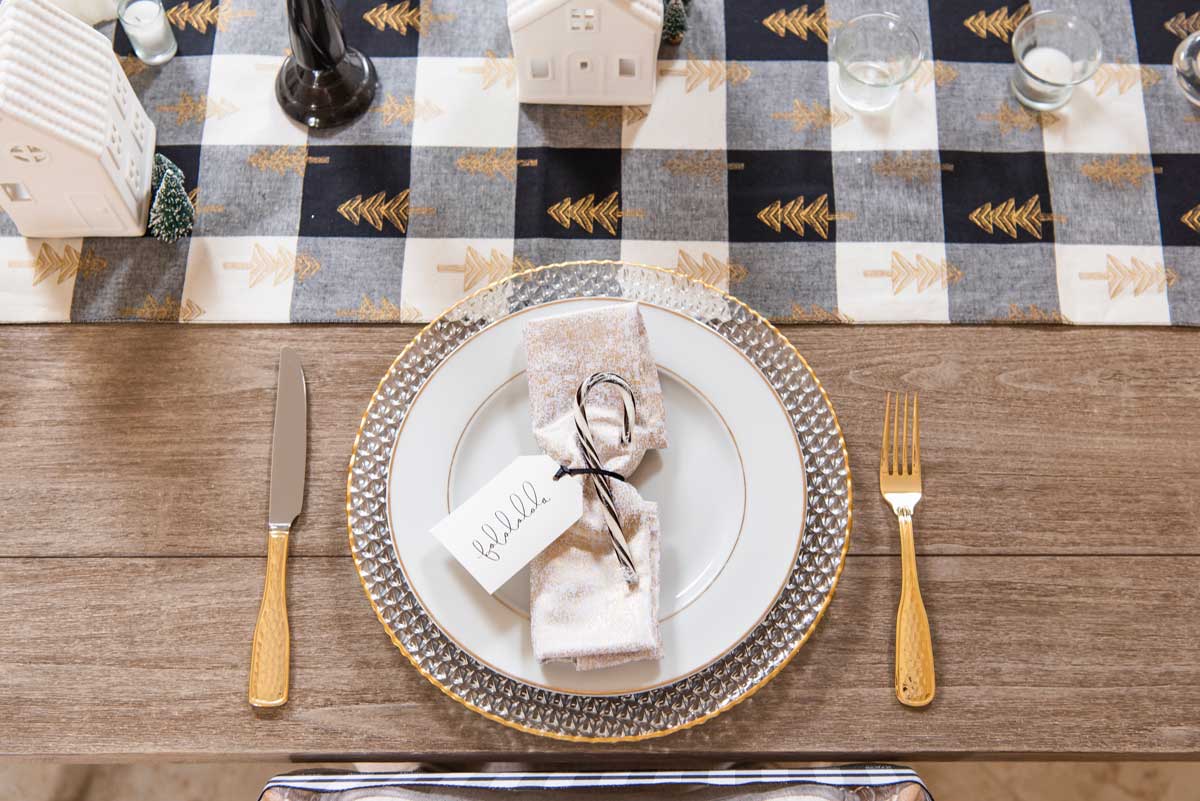 This year for the table setting I decided to use the black and white candy canes I found right after Halloween
For the table setting, I am a huge fan of unique utensils in colors like gold and copper. I also collect charger plates which I think really make a table setting elegant. It's worth the extra investment to avoid plastic charger plates and purchase beautiful glass, ceramic, or metal chargers you can use for special occasions. I use these whenever I entertain so I don't mind the extra investment. Each setting also needs an eye-catching element to add to the plate or napkin arrangements. This year I decided to use the black and white candy canes I found right after Halloween. I used cute "falalala" gift tags to tie around the napkins which I also found at target.
What do you think of the black and white Christmas theme? You can also take a look at one of our previous Christmas themes here.