Posts may contain affiliate links. Read our full disclosure policy here.
Whether you're located in SoCal or NorCal, all wine purveyors will meet in the middle at the California Wine Festival Santa Barbara 2022 wine and food event. Year after year this event has been voted one of the top 10 Wine and Food Festivals in the country.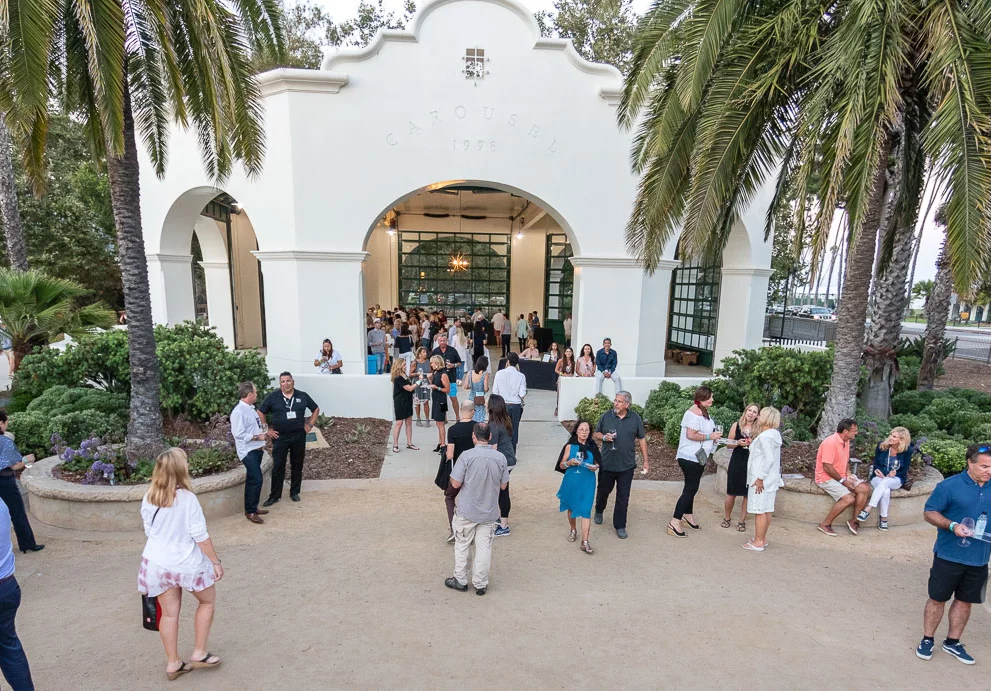 CALIFORNIA WINE FESTIVAL SANTA BARBARA 2022: Sunset Rare and Reserve Tasting on July 15th 6:30pm-9pm
On July 15th, 2022 the Chase Palm Park Carousel House will be hosting the Rare Wine & Reserve Tasting from 6:30pm – 9pm. This special event will feature only the best and most coveted rare and reserve wines available complete with a sparkling wine reception under the stars. Extremely limited reserve level wines are matched with gourmet appetizers from top local chefs, artisan cheeses, fresh fruits, olive oils, and more while enjoying live music.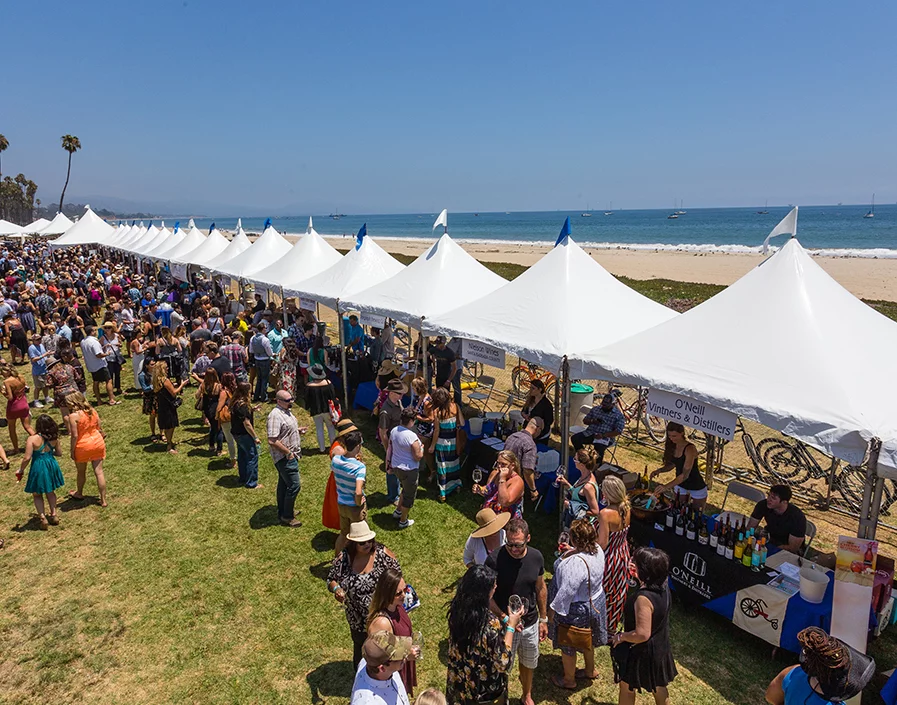 CALIFORNIA WINE FESTIVAL SANTA BARBARA 2022: Beachside Festival on July 16th 1pm-4pm
Tickets are $95 (VIP Sold Out)
Then on July 16th from 1pm – 4pm California Wine Festival Santa Barbara 2022 will host their annual Beachside Festival at Chase Palm Park Oceanside. This event will feature a full day of amazing wine, delicious cuisine, and even a Tri-tip BBQ competition voted on by attendees. Taste artisanal cheeses, breads, olive oil, chocolates, and more! A live band keeps the beat for this all-day feast for the senses where wine and food are king and queen.
Tri-tip Competition & You're the Judge!
Upon entering the festival grounds, you will receive a wristband with a voting tab. Taste the delicious tri-tip provided by our talented BBQ Competitors and head to the California Wine Festival booth adjacent to the BBQ area and cast your vote! Voting ends at 3pm.
Yesica Arredondo, Executive Chef at Hilton Santa Barbara Beachfront Resort will be bringing her Texas roots to the competition. Other restaurant contenders will include The Shift Food Truck & Catering, Solvang Brewing Company, Santa Barbara WoodFire Catering, Convivo, Beans BBQ and Catering, and Lucky Sevens BBQ. Traeger is the official sponsor of this competition.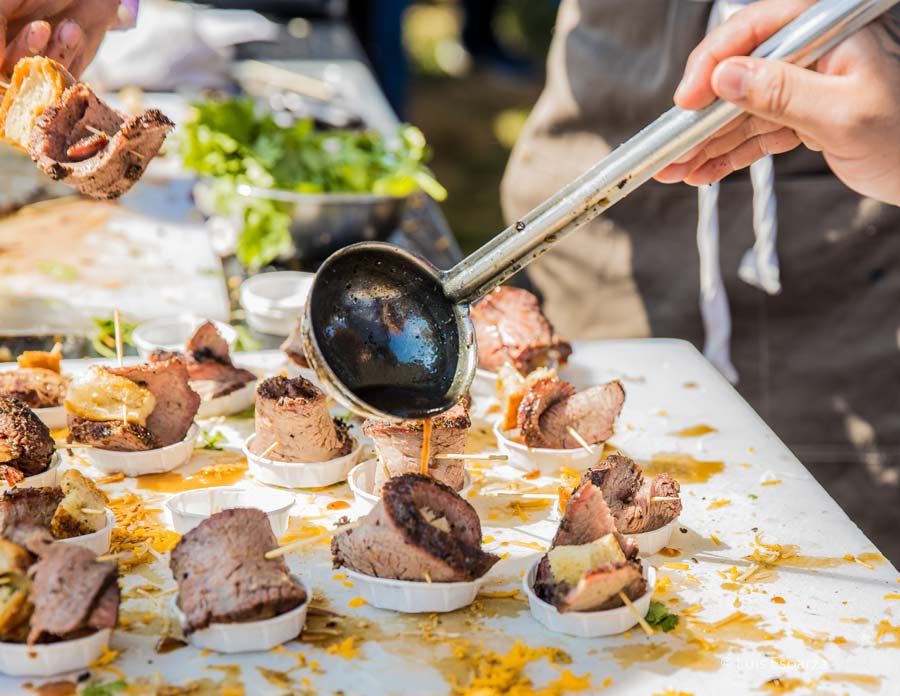 Expanded VIP Section
VIP ticket holders can enjoy appetizers, reserve-level wines, craft brews, and water along with special ocean view seating in the Pavilion tent. The VIP Pavilion presented by HexClad will feature six serving stations showcasing cooking demos and food samples for VIP guests.
Serving stations will include demos by Chef David Schoen of Knife & Grill, Rice Browns, Chocolate Marshmallow Pizza Co. and Selfie Cork; Domenico's Foods x The Cheese Store of Beverly Hills; Chef Miguel McDaniel of Seattle-style chicken purveyor, Shine 76; Chef Kim Alter of Nightbird Restaurant; Caroline D'Amore a.k.a. Pizza Girl; and Aquamar Seafood. The VIP Pavilion will also boast a selection of reserve-level wines as well as craft brews.
​
EVENT LOCATIONS & TIMES
Sunset Rare & Reserve Tasting
Friday, July 15, 2022 from 6:30 – 9pm
Chase Palm Park Carousel House – OUTSIDE
223 E. Cabrillo Blvd., Santa Barbara, CA
Beachside Wine Festival
Saturday, July 16, 2022 – 1-4pm (12pm for VIP and Early Entrance)
Chase Palm Park Oceanside – OUTSIDE
236 E. Cabrillo Blvd., Santa Barbara, CA
Participating Wineries & Breweries
Here is a list of just some of the wineries and breweries you can expect to find at the California Wine Festival Santa Barbara 2022.
Adobe Road Winery, Animo by Michael Mondavi Family, Austin Hope Winery, Bernardus Winery, Bonny Doon Vineyard, Brick Barn Wine Estate, Carol Shelton Wines, Cuvaison, Goldschmidt Vineyards, Heavens Hill Estate, J. Wilkes Wines, Kobler Estate Winery, Michael Pozzan Winery, Miner Family Wines, Navarro Vineyards, New Zealand Wine Navigator, Rescue Dog Wines, Rombauer Vineyards, Russian River Vineyards, Smith Story Wine Cellars and Wilson Creek Winery.
Golden Road Brewing, M.Special Brewing Company and Rincon Brewery. The event will also boast hard kombucha purveyors including Boochcraft and Flying Embers.
Sponsorship, Winery & Vendor Info.
Emily Kaufmann
Executive Director
emily@californiawinefestival.com
General Information