This year's 2017 Trend is all about Copper
I decided to go with an antique copper holiday tablescape this year that almost has a rose gold feel. It is like a perfect harmony between rose gold and copper. I found these amazing chargers at Home Goods for only $5.99 a piece. They are beautiful glass with unique detail that gives them an extra wow factor.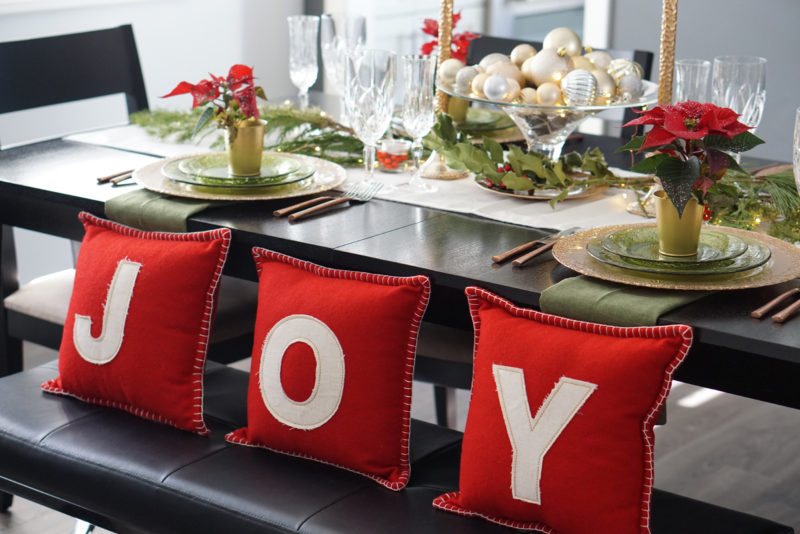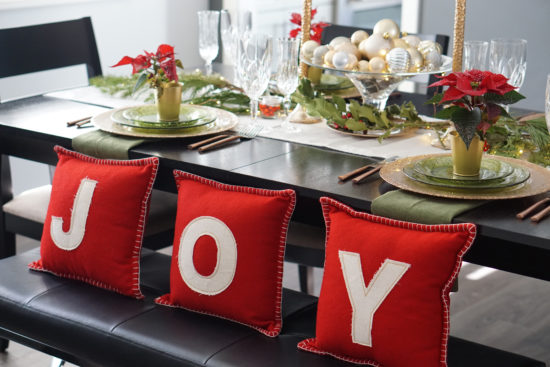 The main element I wanted to add to the tablescape this year was this beautiful green depression glass which is a family heirloom from my fiance's mother. She has a set for each of her children and so I borrowed this green set from his brother. We have the blue bubble and she also has a pink set which I love. I have become obsessed with depression glass. When used as an accent, it really makes every tablescape special.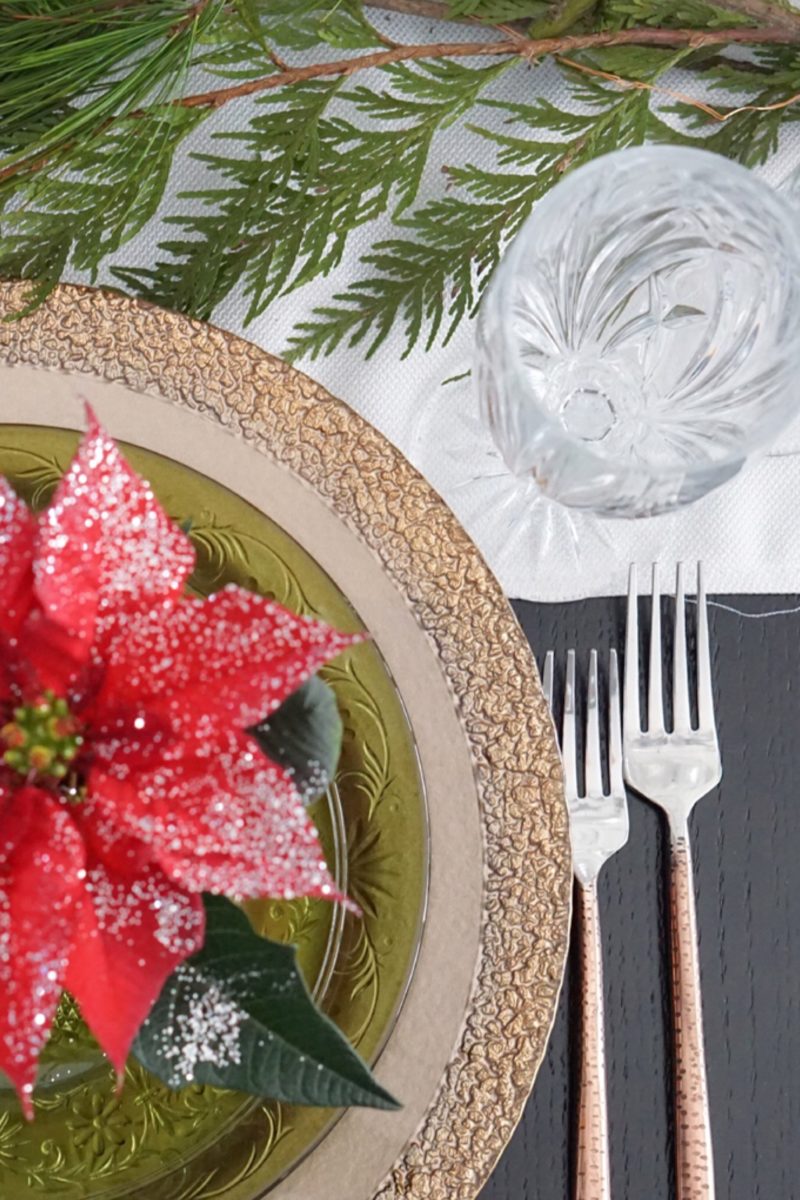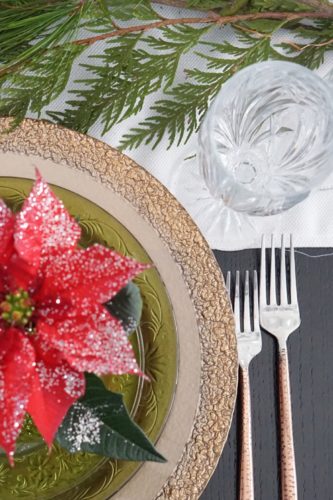 I also did make some new purchases like these gold-rimmed classic white plates I found at Bed, Bath, and Beyond for only $19.99 for a set of 12 plates. This was a score in my book and I can't wait to donate some of our square plates which just don't photograph as nicely as the round plates. I also purchased these beautiful Waterford Crystal water glasses for only $19.99 at you guessed it, Home Goods. These glasses typically retail for $100 for a set of 4. Trust me, please stop paying full retail and check Home Goods, Ross, TJ Maxx first. If you have good taste, you can make everything look full price. I don't care if it came from a thrift store. I always get a feeling of euphoria when I find a great deal, it's like my crack!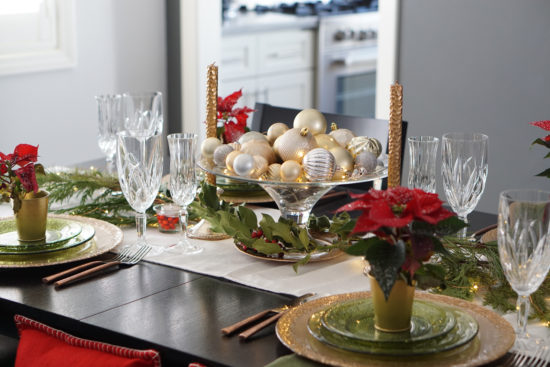 For the centerpiece, I used a large bowl we had in the garage that never gets used. I filled it with some cute gold, silver, and rose gold ornaments I found at the 99 Cent Store. I then bought some green foliage from Trader Joes to add along the table runner and some battery operated LED lights. The battery pack is hidden underneath all the ornaments. I love these LED lights and bought several packs for only $5.99 each at Ross. They retail everywhere else for around $12.99.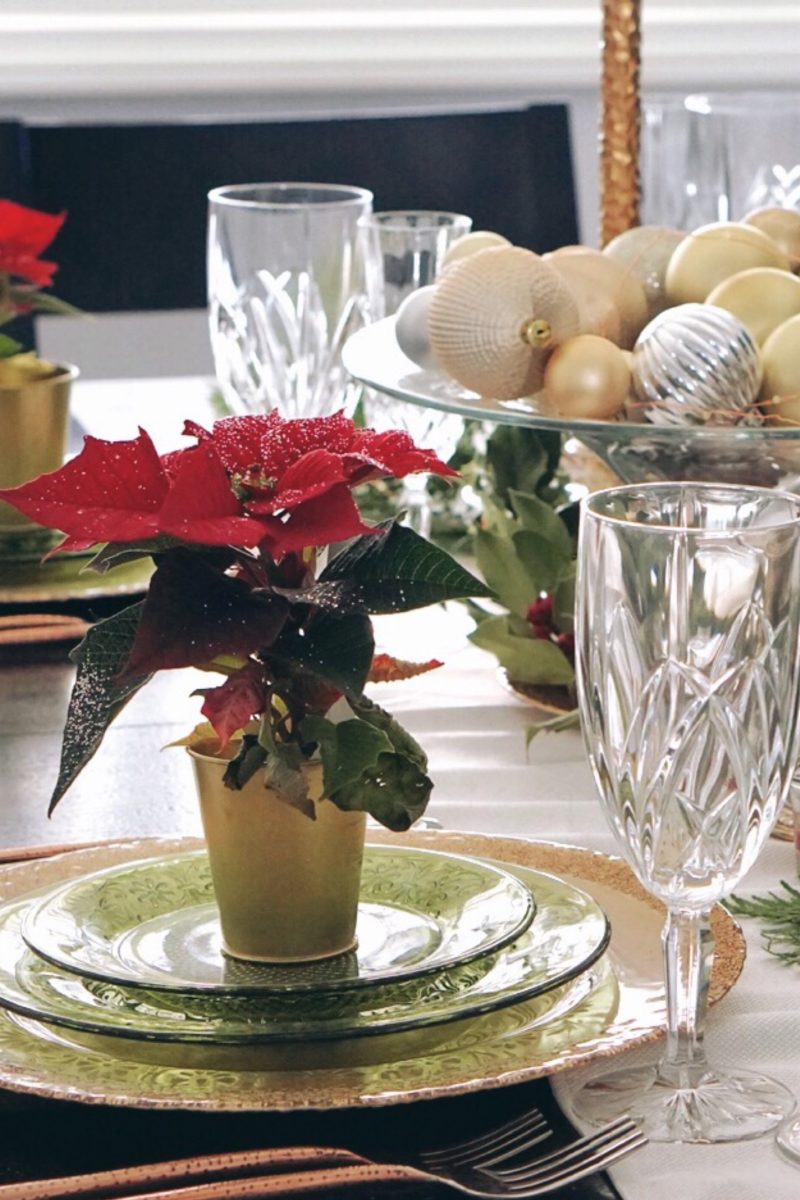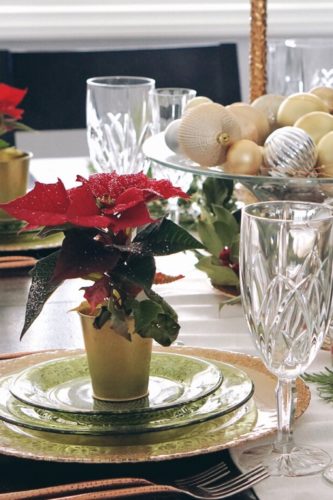 The most expensive part of our copper holiday tablescape this year is actually the copper flatware. I am in love with unique flatware and was lucky enough to find this cool set at Home Goods which matched perfectly. They did set me back $80 though since I bought two sets. I try to always keep a set for eight for entertaining guests. I'd also like to get a gold set of flatware as well. Since I love to entertain, this will give me some fun options.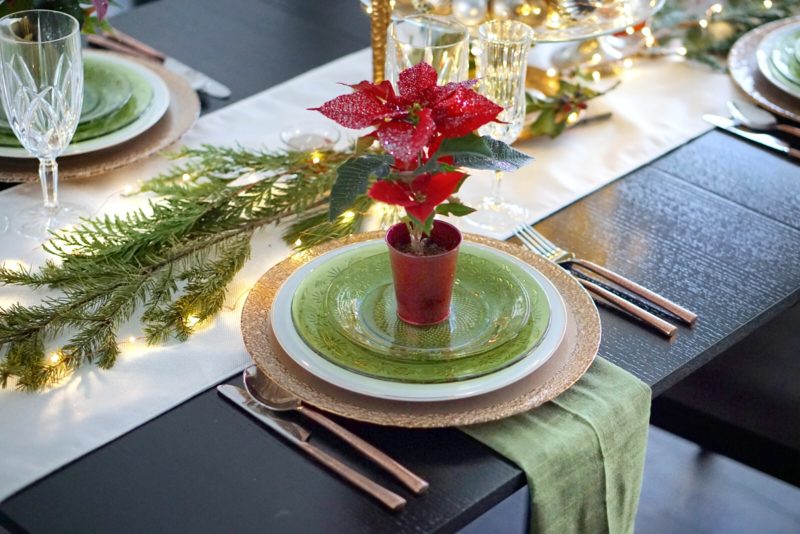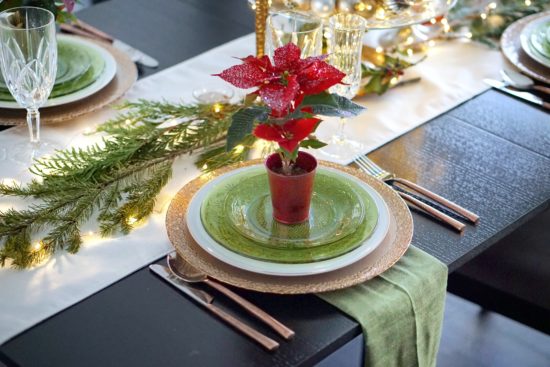 Are you as crazy about tablescapes as I am? I keep my tablescape set for the entire holiday season because I just love the warm inviting feeling it adds to your home. When the holidays are over, I still keep a simple table setting. I am so in love with how my tablescape looks this year. Oh, and how adorable are the JOY pillows I got from Target? I try to buy items I can use all year round, but I figured I get three pillows for the price of one, so I splurged. I can also turn them around to the plain red side and use them during February. These are the crazy things that go through my mind when I'm shopping.