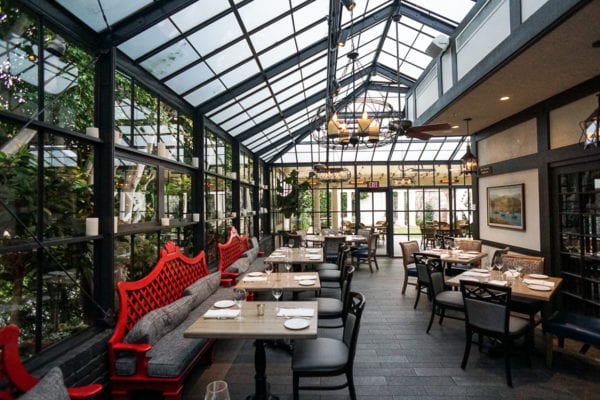 I love when restaurants introduce new seasonal menu's and the Five Crowns spring menu is sure to delight. Guests can enjoy fresh ingredients like sweet English peas and plucked from the garden carrots in addition to all the many fresh vegetables that April showers bring. This year's new spring menu is designed by their new executive chef Alejandra Victoria who has also been featured on the Food Networks, Chopped. Her creative twist and beautifully plated dishes are equally as delicious as they are gorgeous.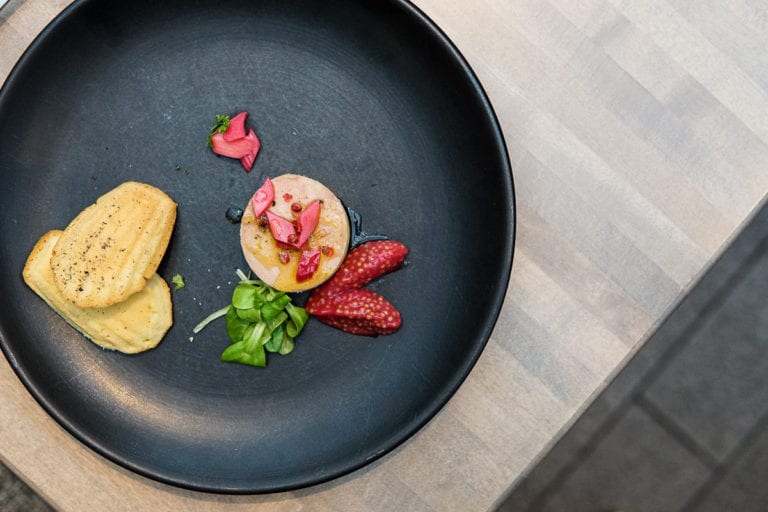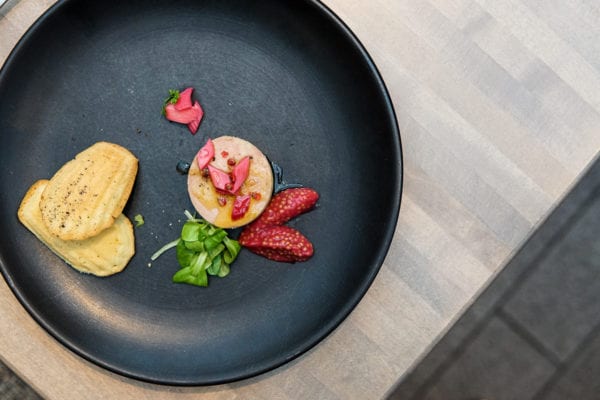 We began the evening with a few appetizers from the Five Crowns spring menu. I could not resist their new Foie Gras with pickled rhubarb, fresh herbs, berry puree and cracked black pepper sprinkled on top. I especially loved the use of Madaline cookies instead of the more common brioche. The pickled mustard seeds mixed into the berry puree also provided a lovely texture. Five Crowns consistently serves some of the best Foie Gras in all of Orange County.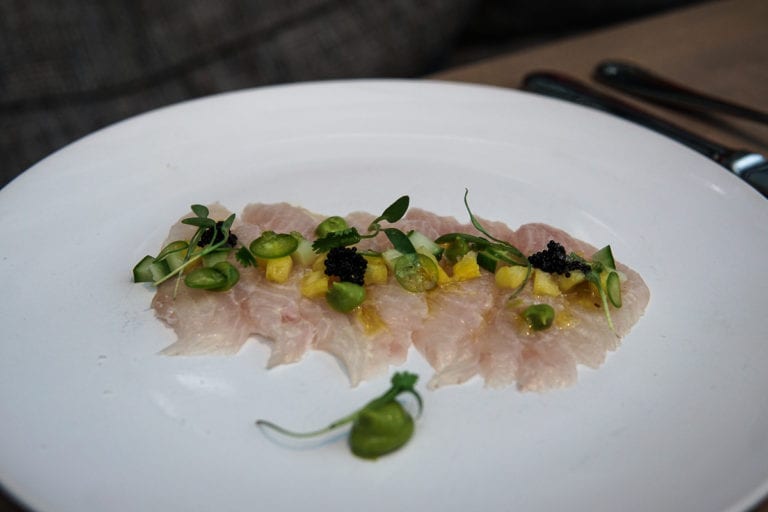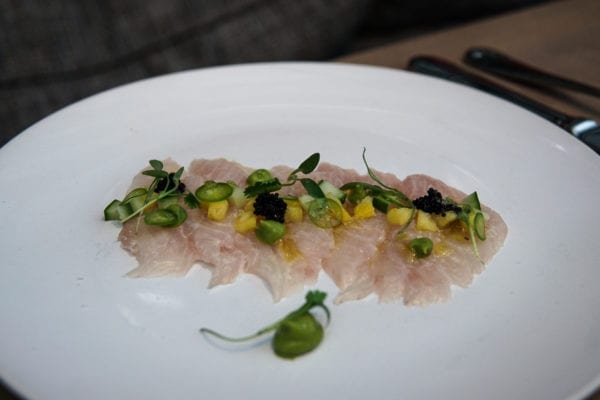 Additionally, we also tried the Hiramasa Crudo appetizer which was one of my favorite dishes of the evening. This simple dish was served with avocado puree, caviar, green onion, and mango. It was light, flavorful, and refreshing. I could have easily ordered several of these with a glass of champagne and called it a night. Of course, then I wouldn't be able to show you all the other amazing new spring dishes so I had to limit myself to only one!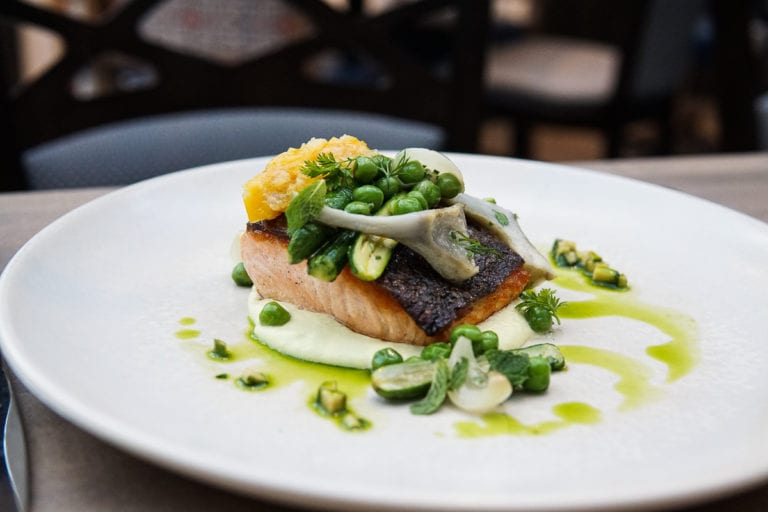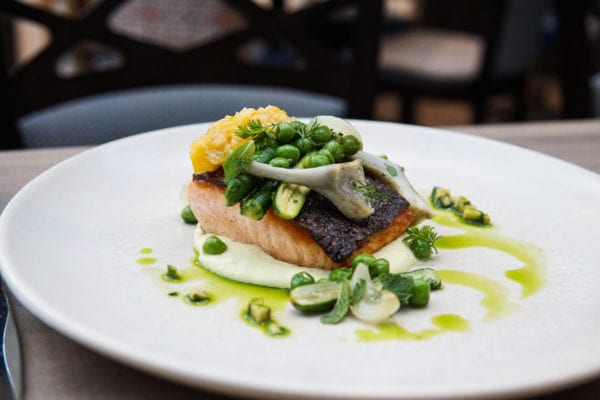 For entrees, nothing says spring more than their new Seared Salmon with English peas, leek soubise, zucchini, artichoke, dill, and garlic chips. This dish perfectly embodies what any diner should come to expect from a beautifully executed spring entree. The salmon skin was perfectly crispy and I especially loved the medley of vegetables chosen to accompany the salmon. The garlic chips were also a nice unexpected touch that added additional texture and flavor to balance the delicate salmon.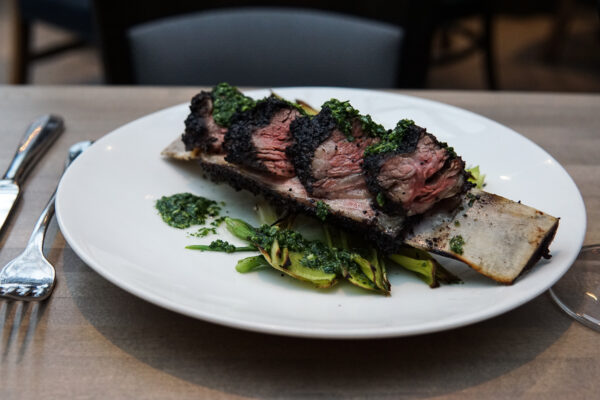 Next, we enjoyed the Coffee Rubbed Shortrib which is the most visually stunning dish I've seen in a while. Serving this short rib straight off the bone is simply striking. I've long used infused coffee salts and grinds as a rub and appreciated seeing this ingredient used to bring out the flavors in the short rib. This cut of meat is a California favorite with its high-fat content which provides additional flavor.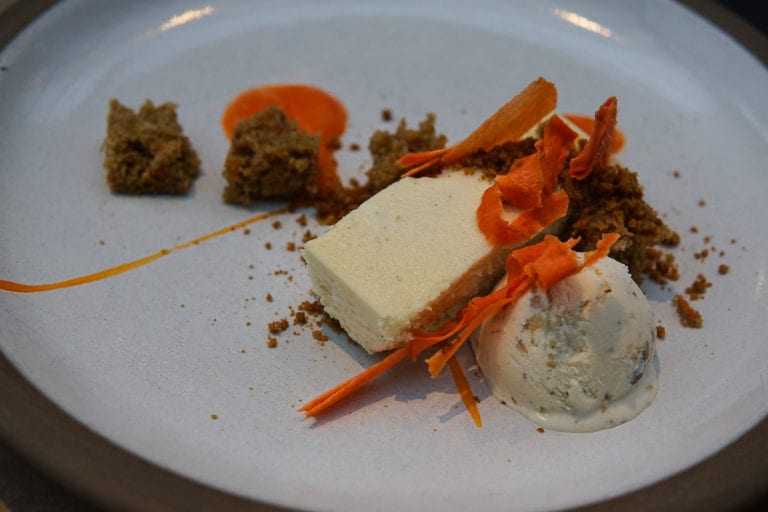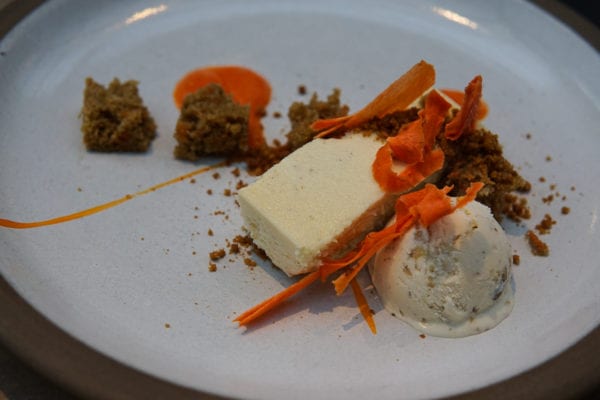 For dessert, Chef Alejandra created a delicious deconstructed Carrot Cheesecake. This dessert was even more delightful than the traditional version with its carrot cake crumbles, walnut ice cream, and carrot chips. The walnut ice cream was fantastic and each item melded together harmoniously to create the perfect bite!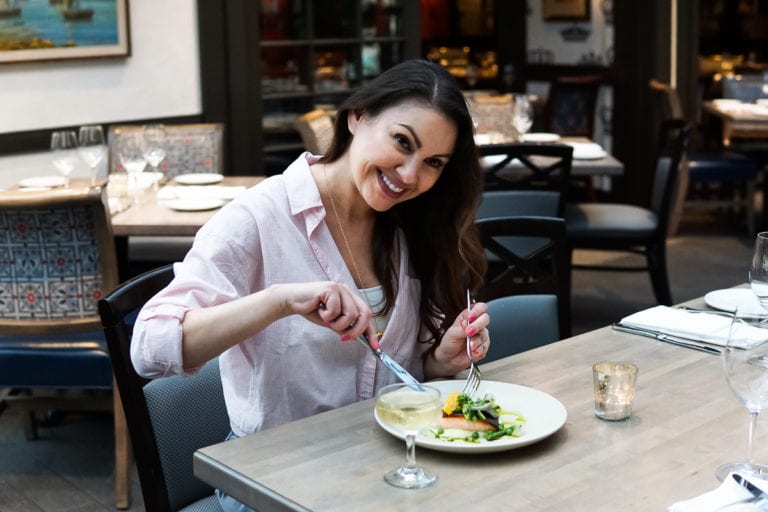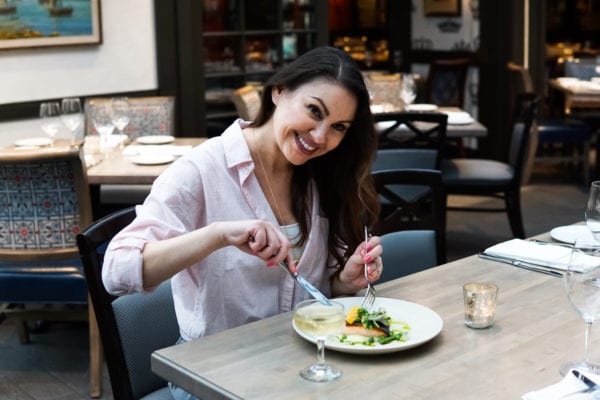 In addition to the wonderful dishes we sampled, guests can also delve into a variety of new spring dishes. Bone Marrows, Smoked Octopus, and Scallops with prosciutto chip, pea purée, and wild mushrooms are just a few of the many new items added to the Five Crowns spring menu. You can view their entire new menu and find reservation information below.
FIVE CROWNS SPRING MENU HIGHLIGHTS:
Small Plates
Grilled Artichoke
caper aioli, lemon, 14
Bone Marrow
bordelaise, shallot marmalade, parsley salad, grilled bread, 18
Crab Cake
celery root remoulade, apple basil salad, 20
Foie Gras Brûlée
rhubarb, savory madeleine, 29
Fruits del Mar
Smoked Octopus
meyer lemon yogurt, spring peas, pickled red onions, 14
Hiramasa
pineapple, cucumber, avocado, serrano pepper, 16
Soups and Greens
Cauliflower Soup
roasted pepper, za'atar, 12
Beets and Citrus
horseradish, goat cheese, candied pistachios, 14
Little Gem Citrus
roasted tomato, herbed croutons, parmegiano crisp, 12
Sides
Sautéed Peas and Fennel, 10
Beef Fat Cauliflower, 10
Mains
Scallops
prosciutto chip, pea purée, wild mushrooms, 36
Coffee Rubbed Shortrib
tomato petals, grilled leeks, horseradish gremolata, bordelaise, 42
Seared Salmon
leek soubise, zucchini, artichoke, dill, garlic chips, 32
Housemade Pasta
mustard greens, clams, tomato sofrito, grilled leeks, pepperoncini, chicharrone breadcrumb, scallions, 28
DESSERTS:
Cheesecake
carrot cake crumbles, walnut ice cream, carrot chips, 9
Almond Meringue
poached rhubarb, strawberries, almond cake, elderflower whipped cream, 9
HOURS:
Sun.-Thurs., 5-9 p.m.
Fri. and Sat., 5-11 p.m.
ADDRESS:
Five Crowns
3801 East Coast Hwy, Corona Del Mar, CA 92625
RESERVATIONS AND CONTACT:
Call (949) 717-4322 or visit http://www.lawrysonline.com/five-crowns/