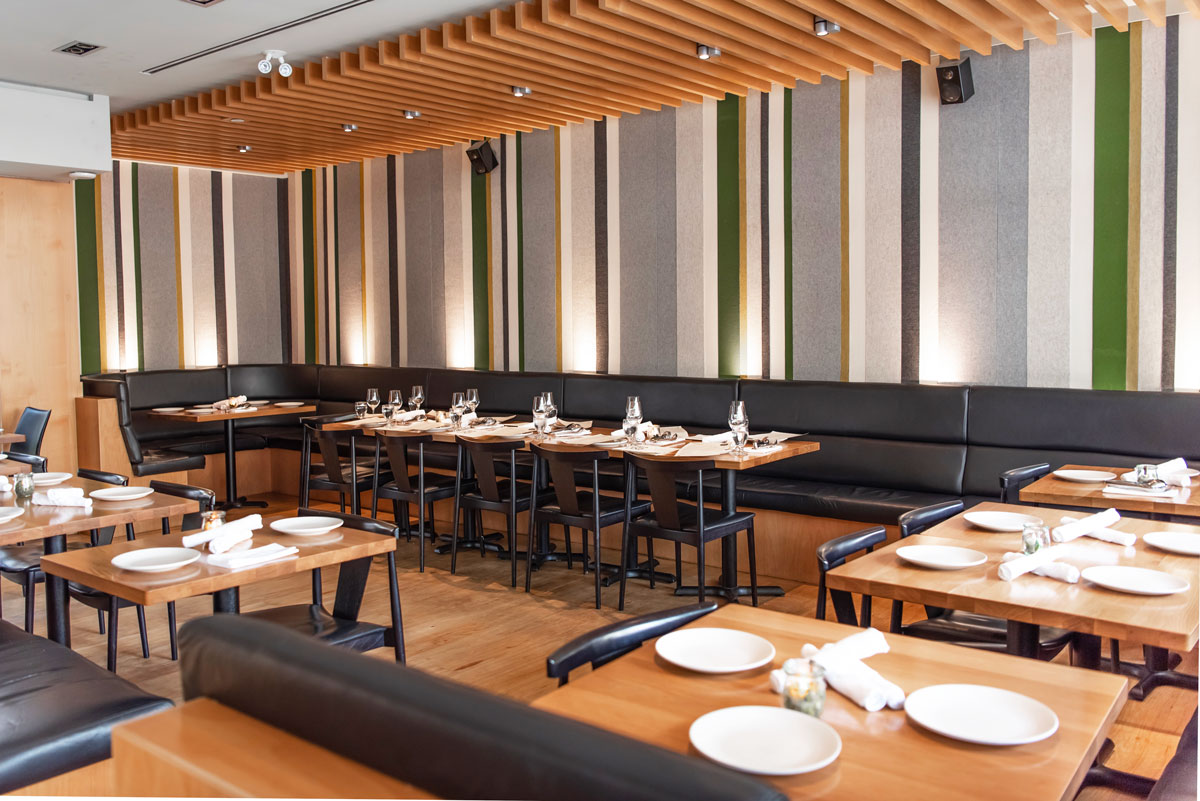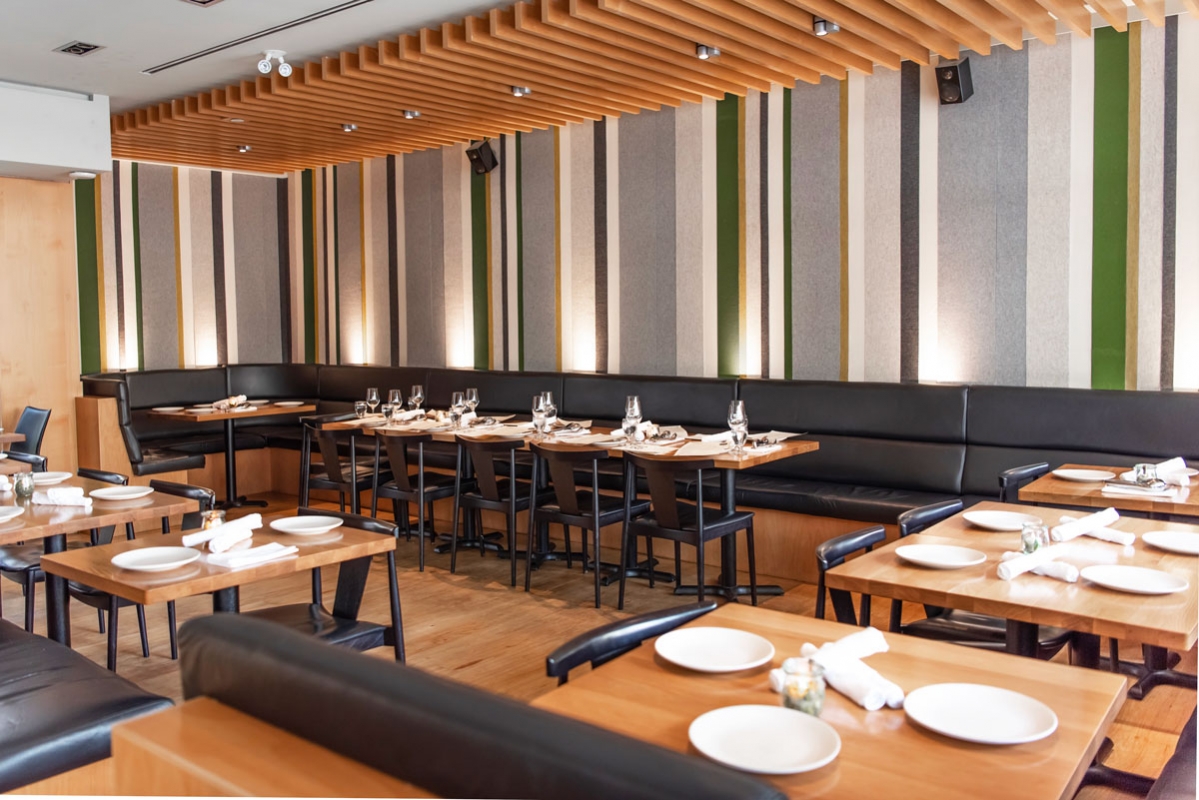 Forage in Vancouver prides itself on using seasonal ingredients to develop their menu which changes every week. Both the food and wine menus are divided by sea, soil, and land bringing together suggestions for the perfect pairings. On the menu, the most popular selection is the Foraged and Cultivated Mushrooms which are one of the only regular staples that remain on the menu year long. During our visit, ingredients such as Bison, King Oysters, Morel Mushrooms, Green Garlic, and Crispy Lichon were some of the unique seasonal ingredients highlighted on the menu.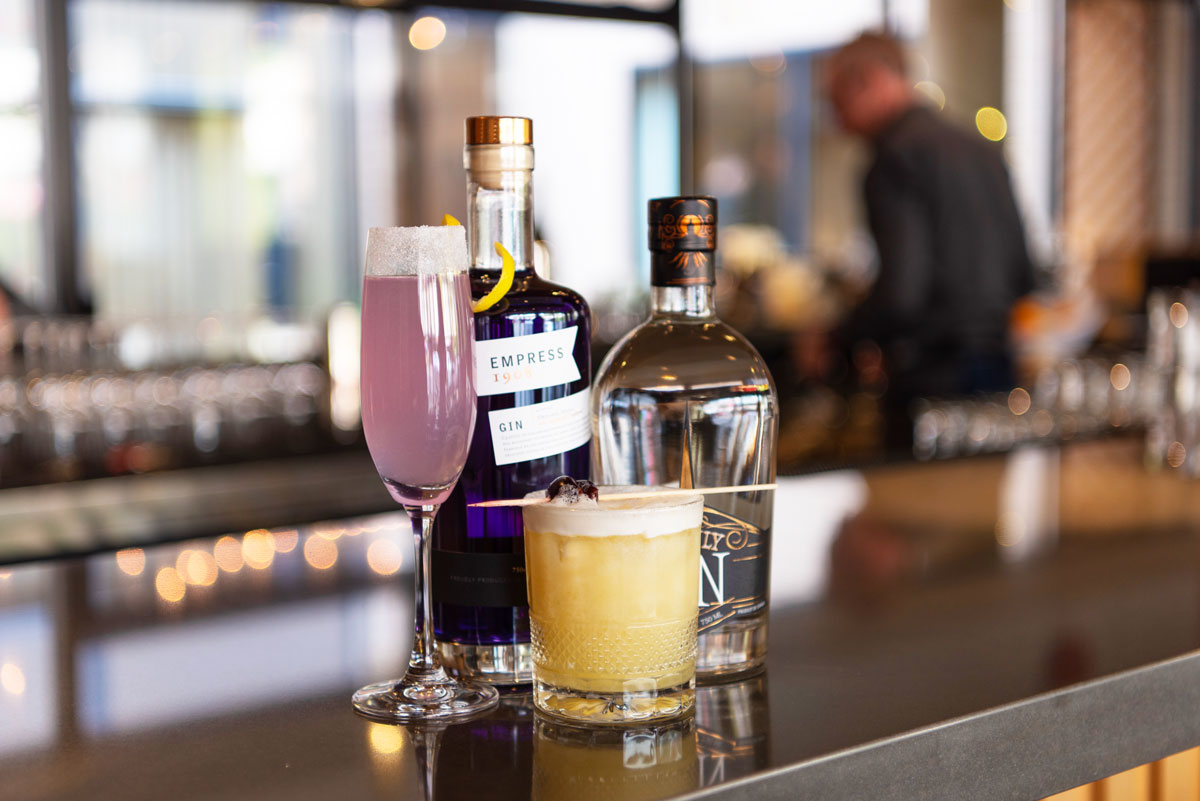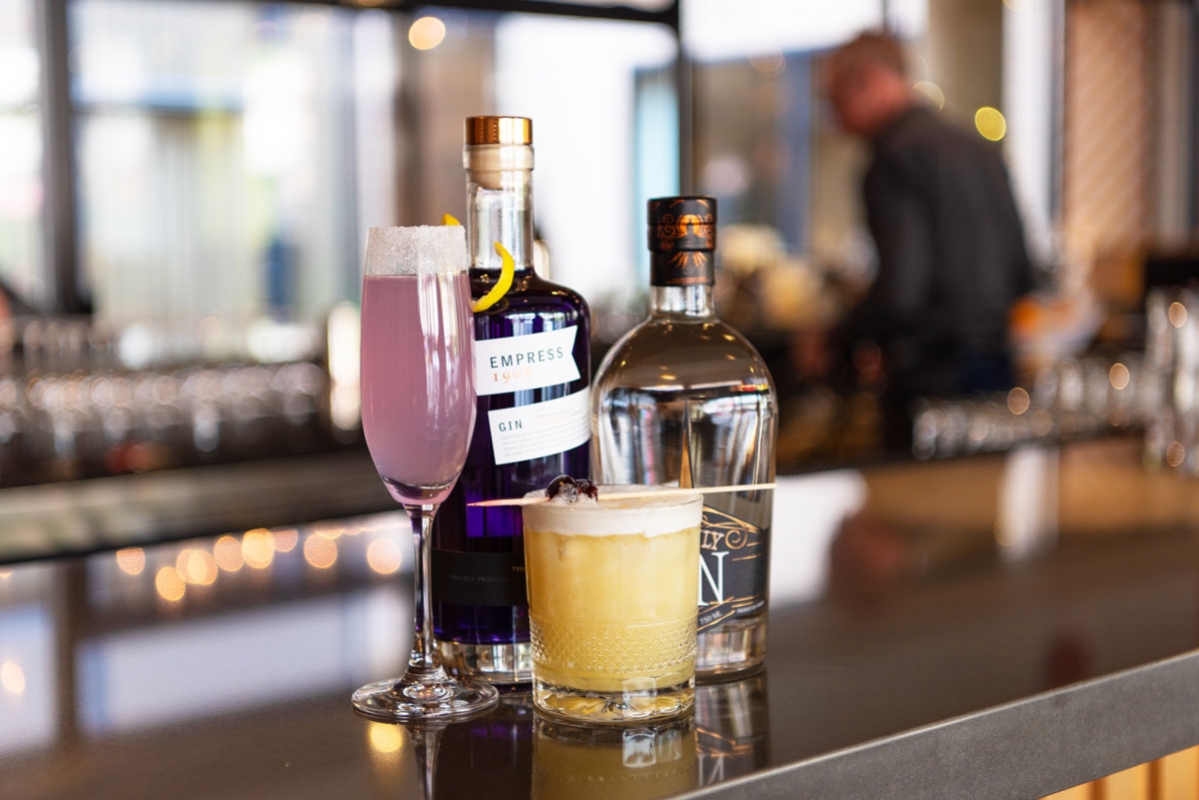 We began the evening with their Forage 75 and Unruly Sour
In addition to their wonderful seasonal menu, Forage in Vancouver also has some fantastic cocktail selections. To begin the evening we started with the Forage 75, their take on a French 75. It featured Effervescence sparkling wine, Victoria spirits Empress Gin and Fresh Lemon. I was also recommended their delicious Unruly Sour made with Unruly Gin, house-made honey cordial, egg whites, and grapefruit bitters. All of the cocktails at Forage are both thoughtful and beautiful!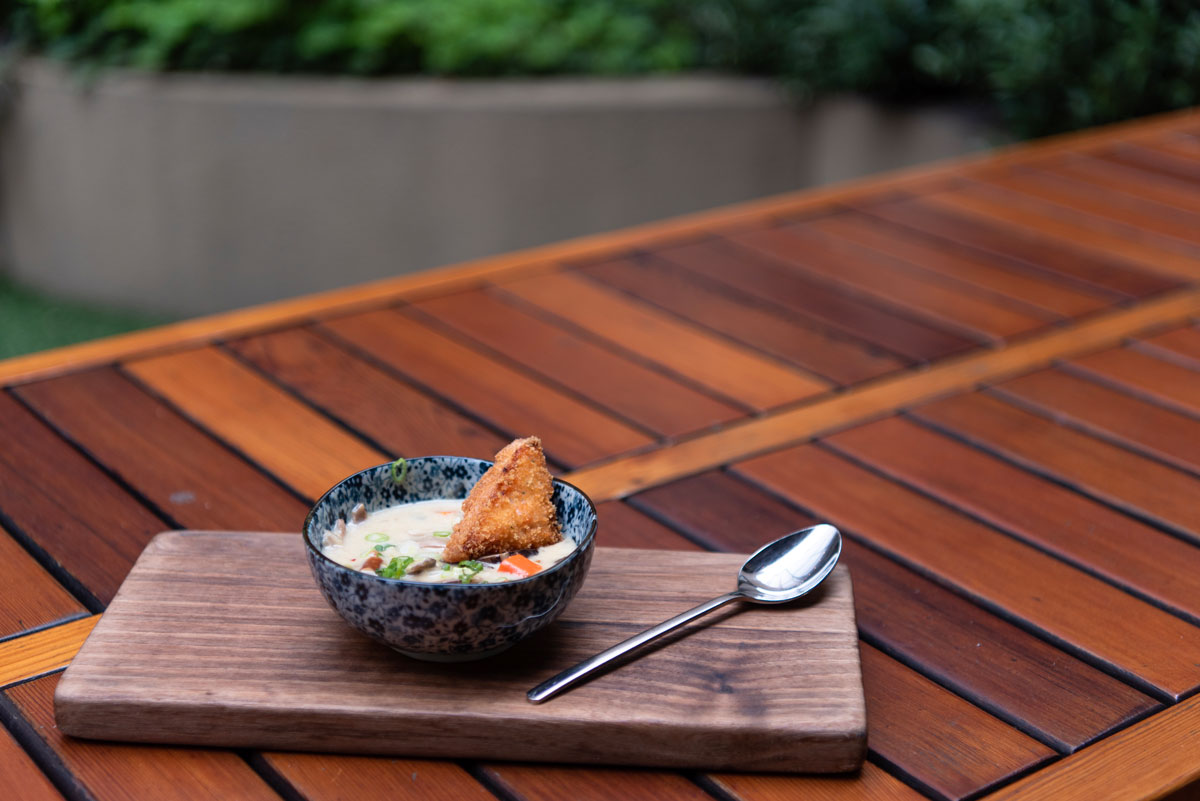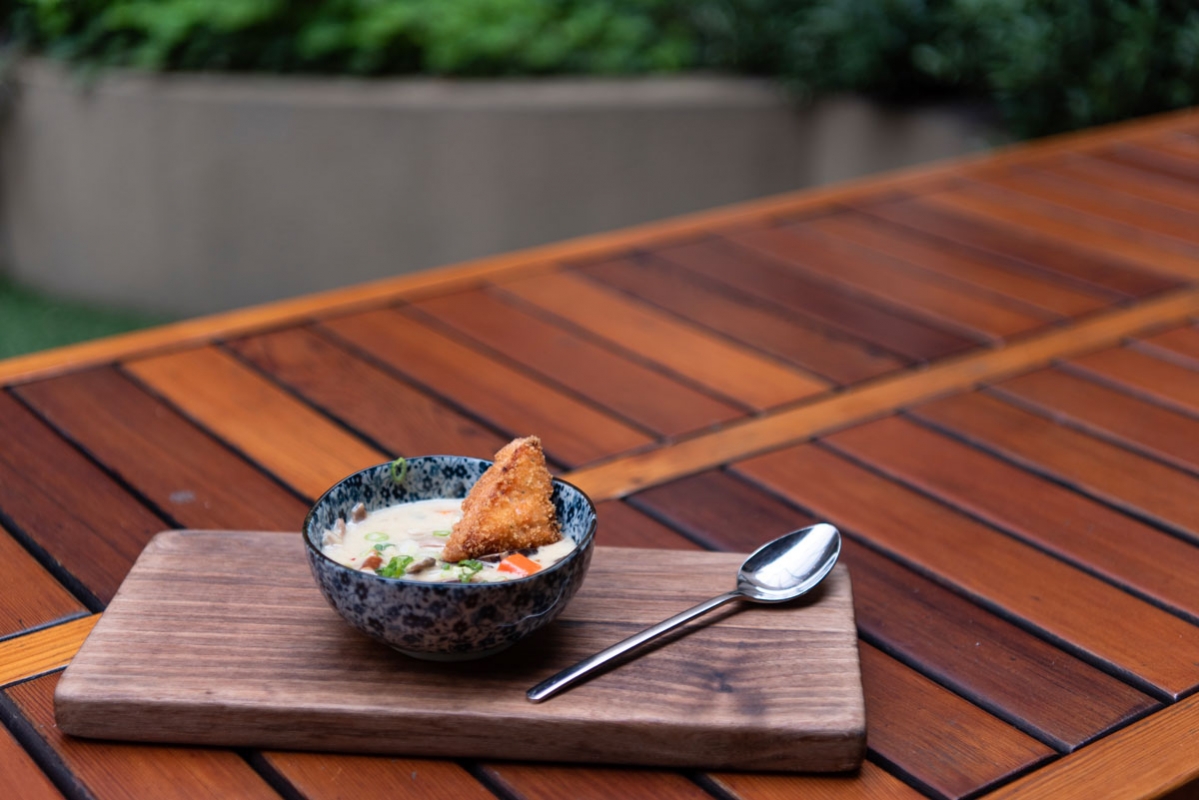 The Buttery Shrimp Toast was the perfect accompaniment for dipping into my chowder.
After cocktails, we decided to move onto the "snacks" section of their menu. I couldn't resist their award-winning BBQ duck chowder with Berezan shrimp, crab, and shrimp toast. This delicious hearty chowder was perfect for the chilly Vancouver weather. The huge chunks of duck meat and mushrooms were the stars of this dish. I especially loved the crispy, buttery shrimp toast which was the perfect accompaniment for dipping into my thick creamy chowder.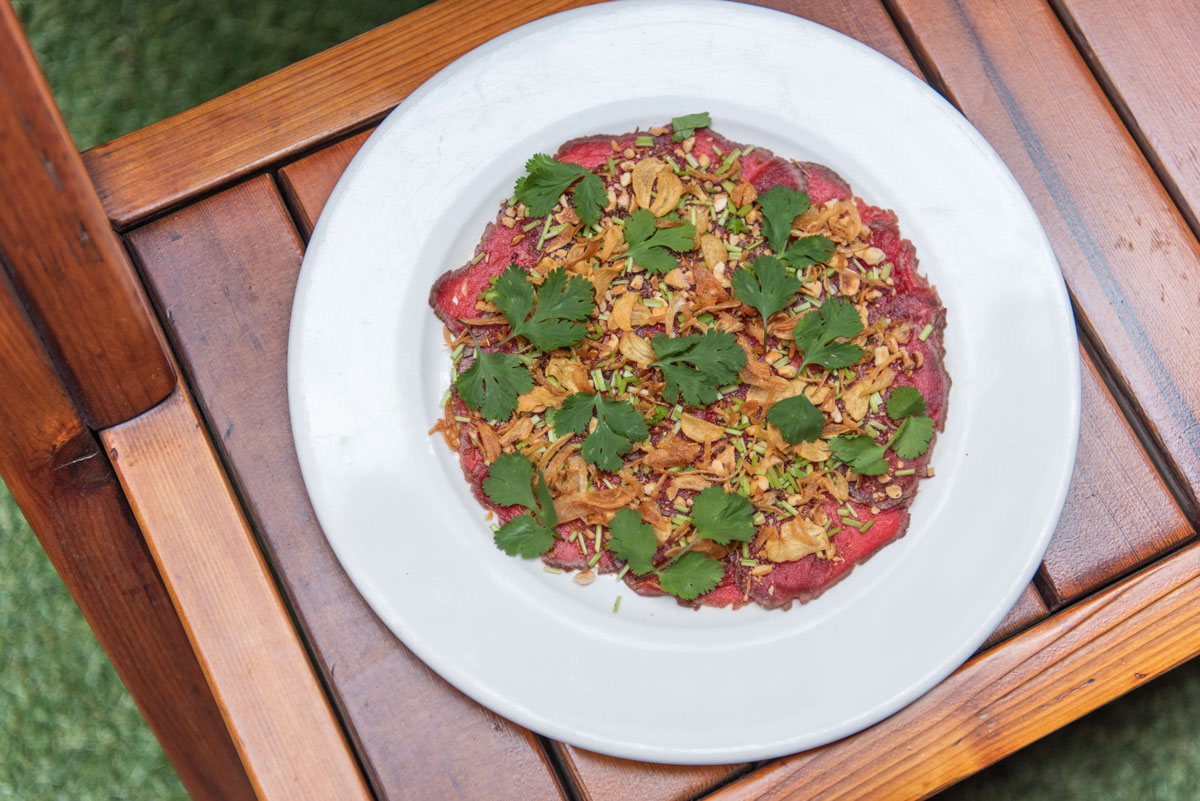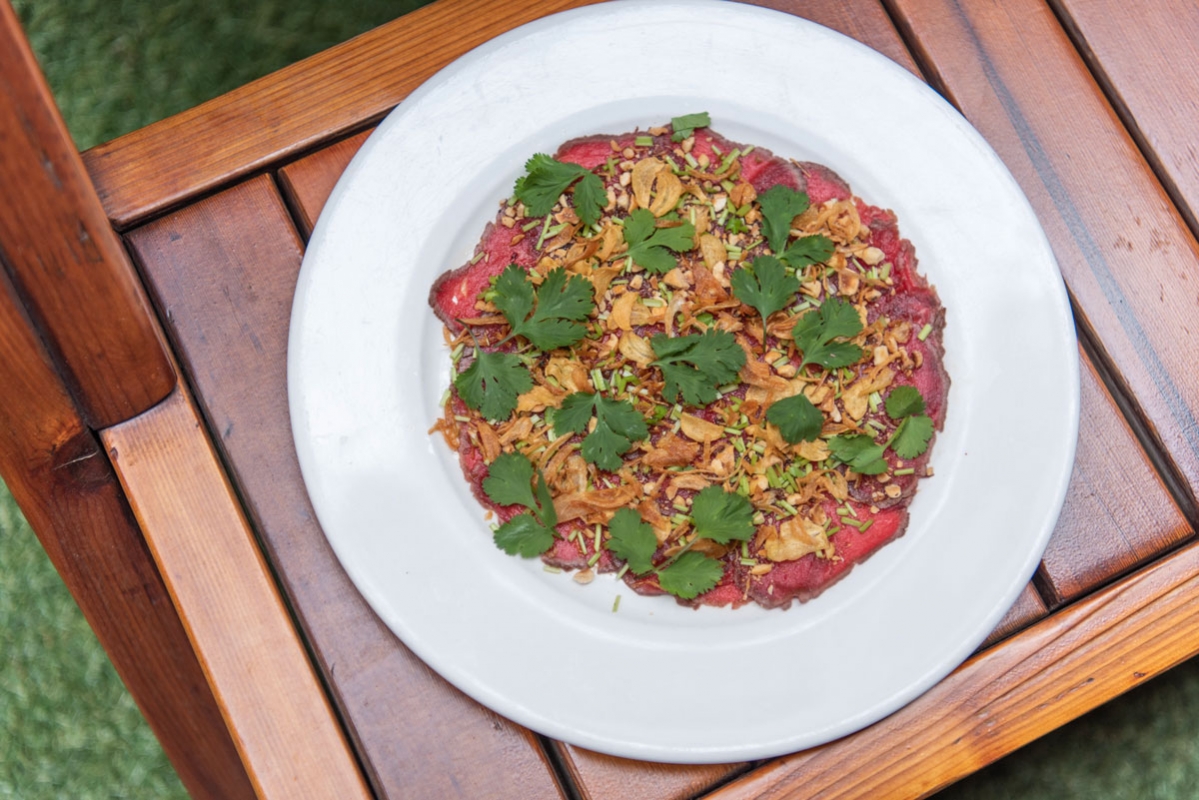 Forage reduces its carbon footprint by only using Bison instead of beef.
Next, being such a huge fan of carpaccio I also opted for the Vietnamese style bison carpaccio with sweet soy, crispy shallow, hazelnuts, and cilantro. An interesting fact about Forage is that they only use Bison instead of beef because of the carbon footprint left by the beef industry and its effect on the environment. Forage in Vancouver prides itself on sustainable ingredients that leave as little impact as possible on our environment.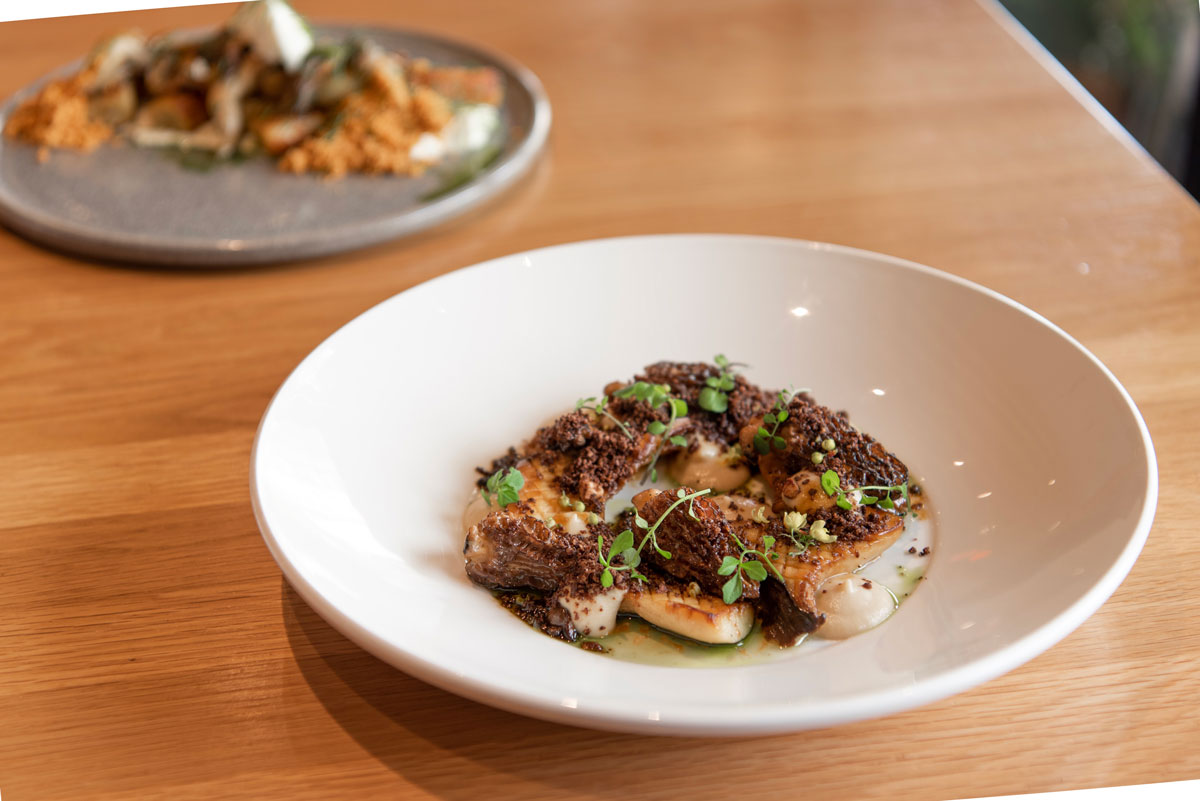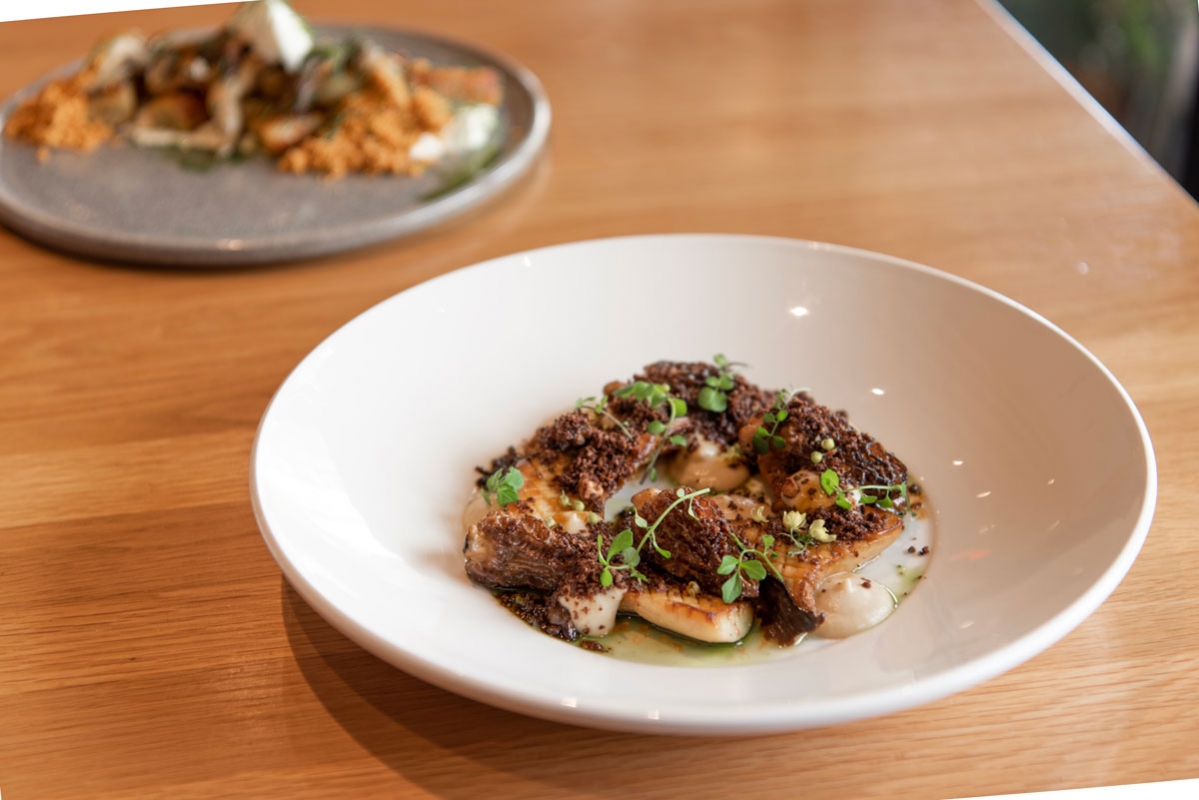 Forage uses its close relationship with local farmers to bring guests the best local ingredients Vancouver has to offer.
Additionally, Forage has a close relationship with local farmers and is connected to the local market. They really do forage at Forage. In keeping with the theme, we decided to order some of their dishes from the "Soil" section of the menu which featured one of my favorite ingredients, Morel Mushrooms. The King Oyster and Morel Mushrooms were recently added to the menu and feature a hazelnut mushroom "soil" with an onion purée and birch syrup. I was told Birch Syrup is a more expensive, less sweet alternative to traditional maple syrup.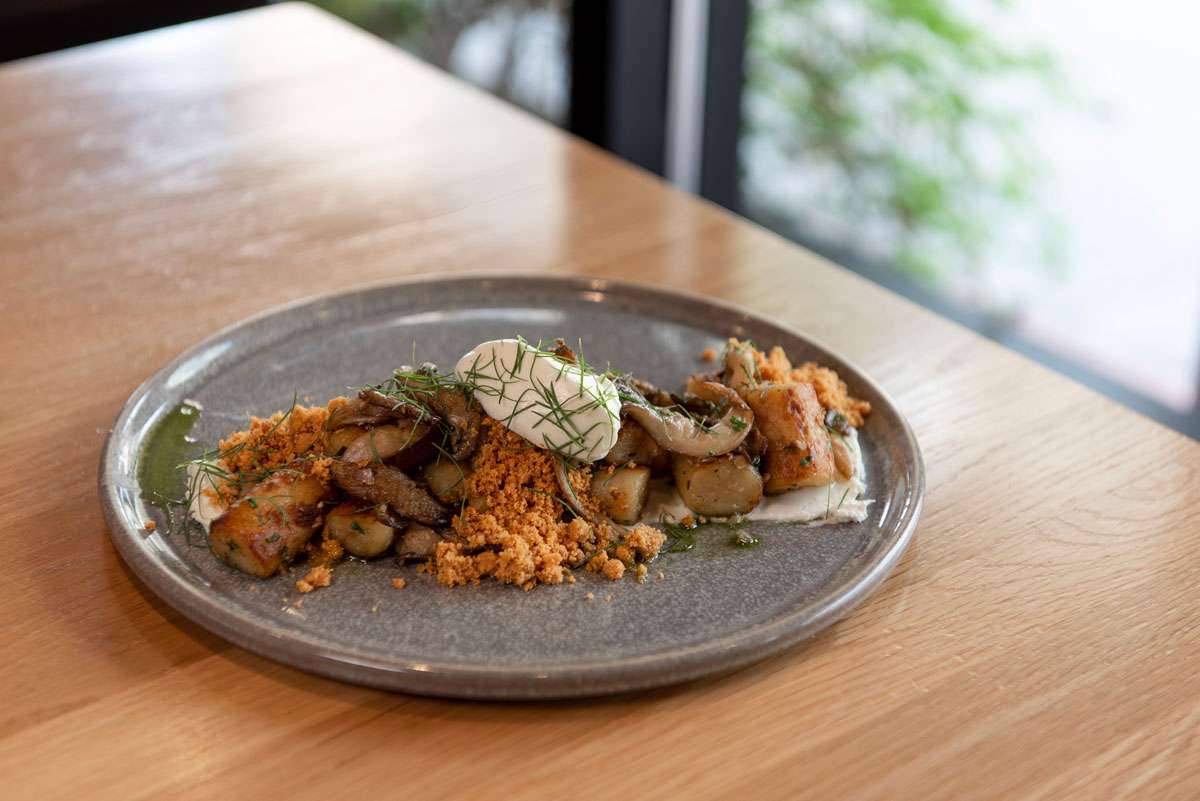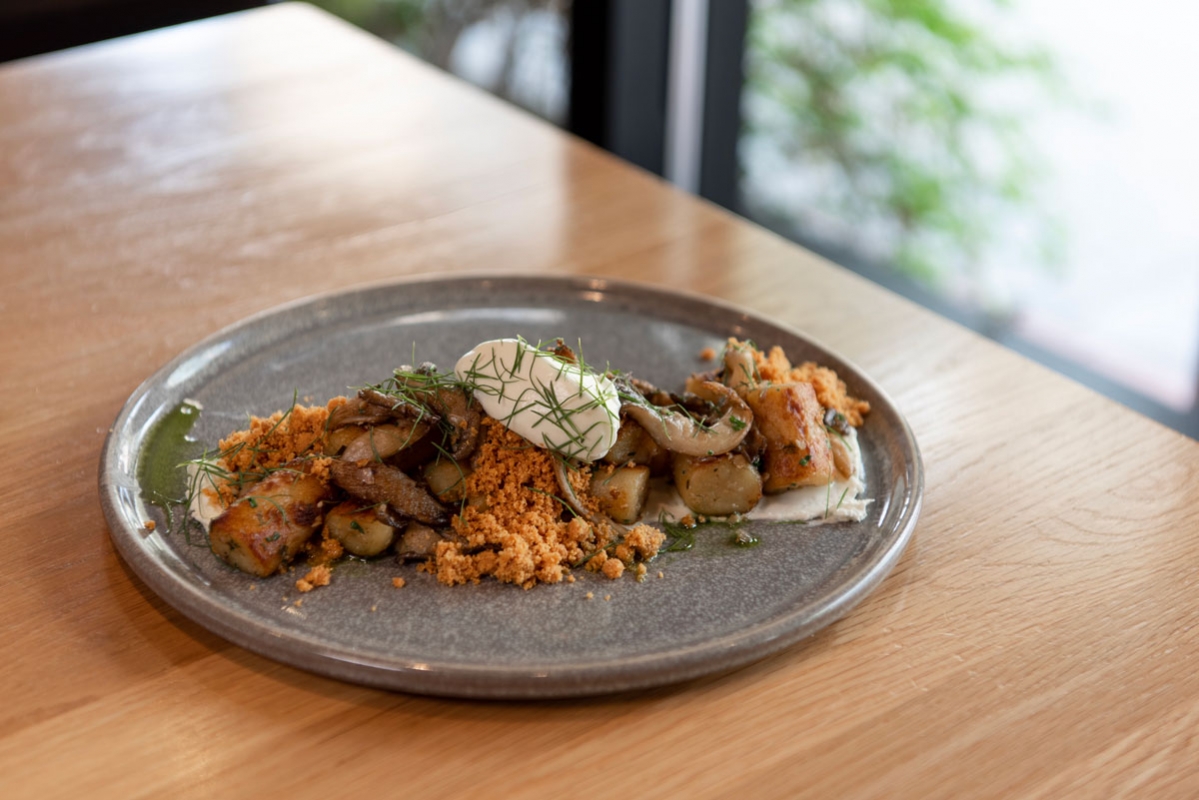 Another dish recommended by the staff was the conifer gnocchi with brown butter, whipped neufchâtel, oyster mushrooms, and green garlic. This Neufchâtel was very similar to sour cream making this dish reminiscent of pierogis, likely inspiration for this much more refined dish.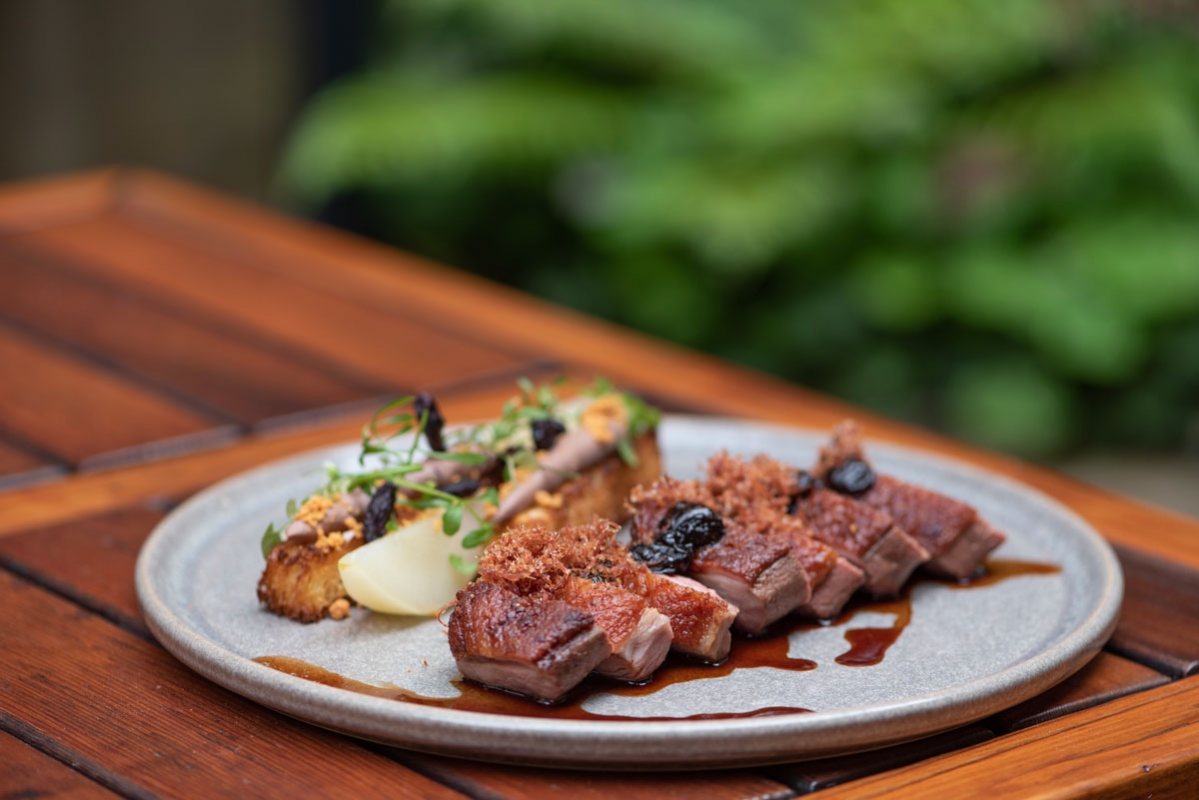 The smoked duck was my favorite dish of the evening at Forage in Vancouver.
Next, for an entree, we decided to try the grand fir smoked duck breast from their "Land" section. This dish looked especially unique accompanied by liver parfait on brioche, Haskap berry, and Gewurztraminer pear. We paired our entree with a Lariana 2015 vintage Cabernet Sauvignon. This wine is cultivated in the Okanagan Valley which is right on the United States border, giving it a similar taste to the traditional California cabs we all know and love. The smoked duck was phenomenal and my favorite dish of the evening. The smoke was so subtle and added an unexpected flavor I never knew my previous duck experiences were missing.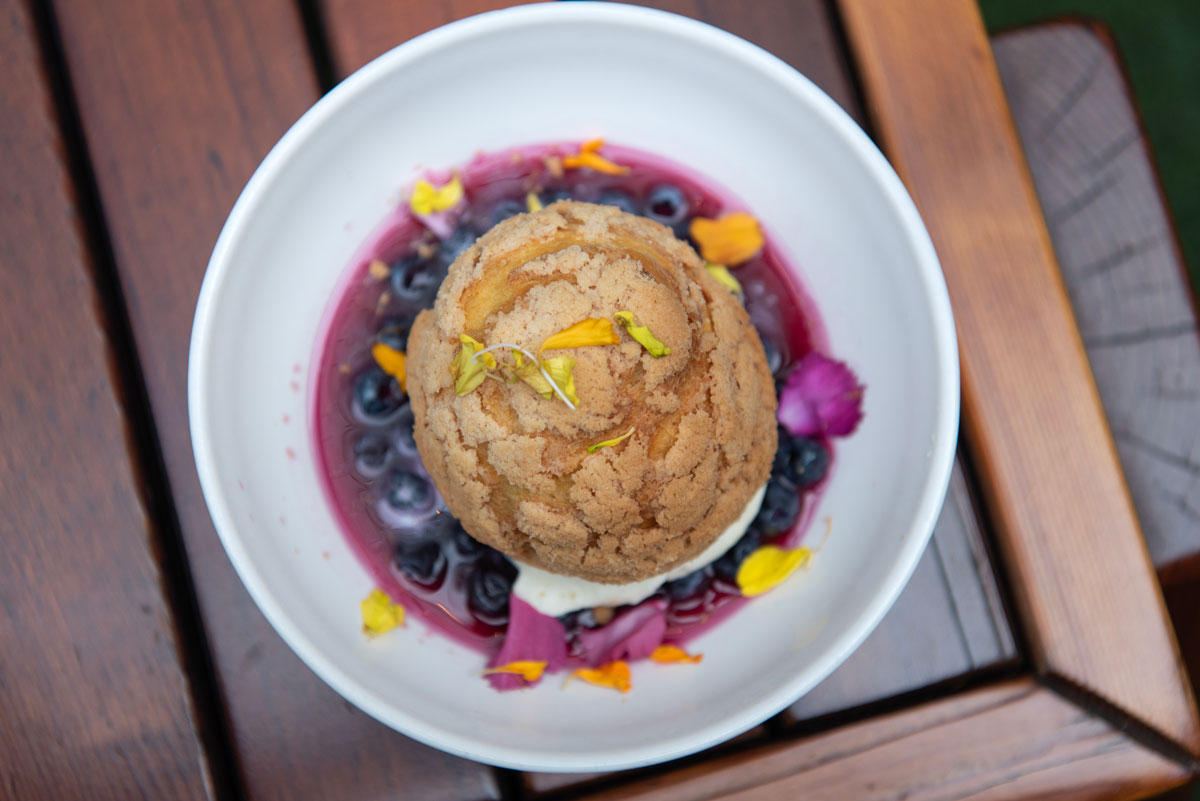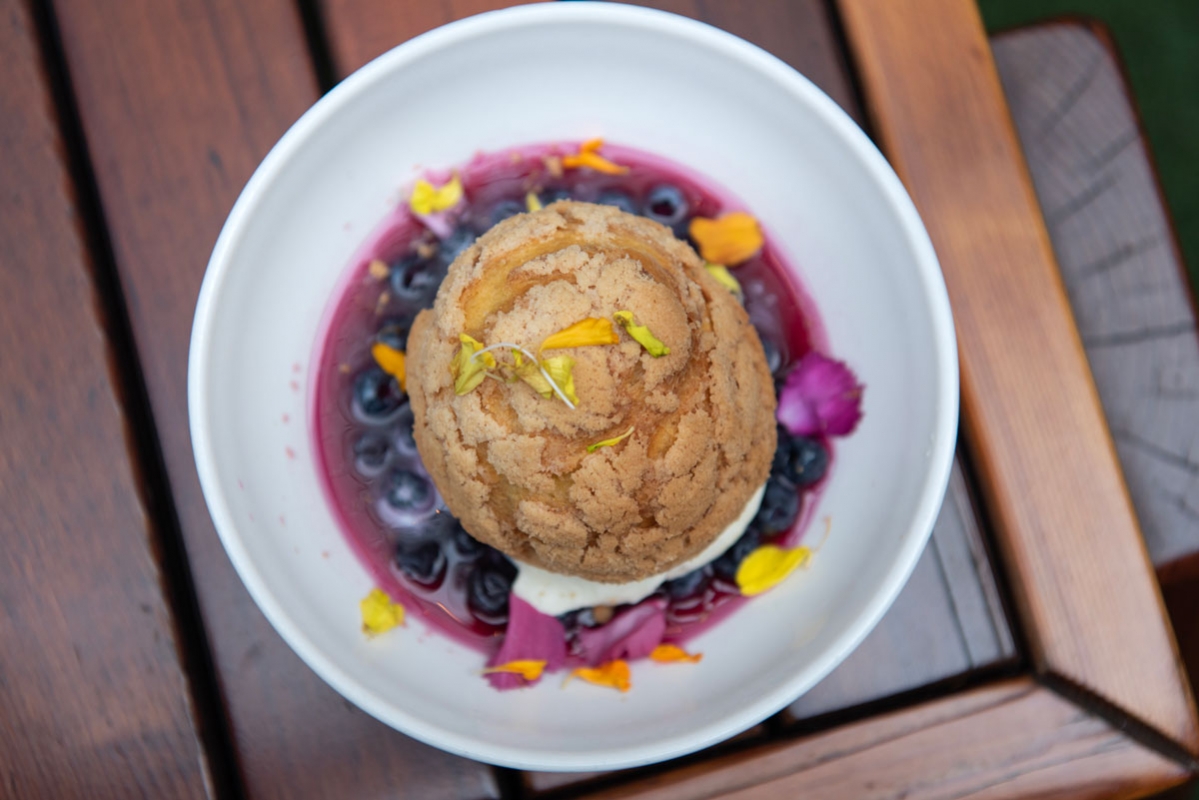 An unexpected surprise awaits when you break open this giant pastry puff shell.
Finally, for dessert, we were told we had to get the elderflower and fromage cheese puffs with ice cream, cordial, and Unruly Gin-spiked blueberries. Now normally my heart is all in for chocolate and coffee ice cream, but when two servers recommend cheese puffs, you get the cheese puffs. I'm happy to say they did not lead us in the wrong direction. Once you break open that pastry puff shell you'll be met with a fluffy cheese filling. This dessert was like a cream puff and cheesecake all rolled into one delicious bite. This one of a kind dessert is a must try when you visit Forage in Vancouver.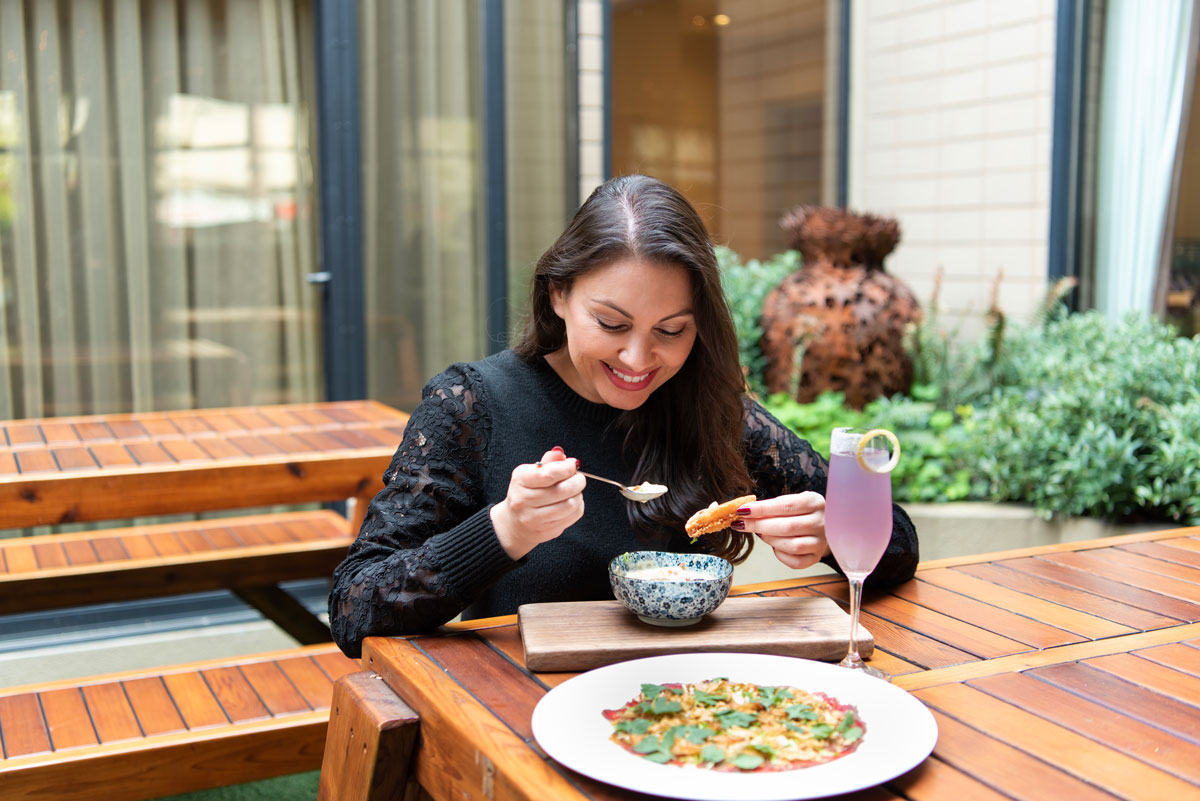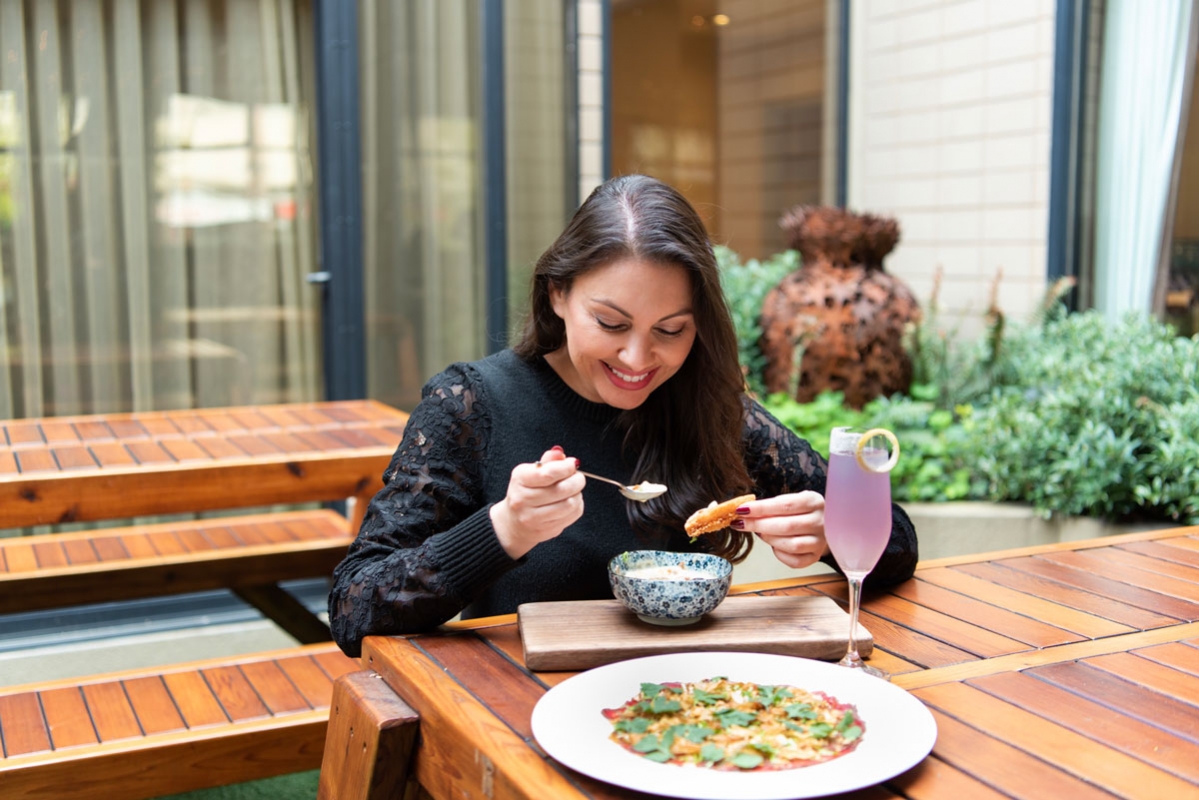 On our visit to Vancouver, I wanted to find a restaurant that represented the local ingredients of the city. Forage is as good as it gets and delivers a taste of Vancouver in every bite. I imagine it is always a culinary adventure looking forward to the following weeks' menu to come.
1300 Robson St. | ph: (604) 661-1400