Restaurants have finally reopened and we wanted to provide an inside look at the new restaurant guidelines for reopening in Orange County. As soon as restaurants announced reopening, I was eager to get out of the house and enjoy dining at my favorite restaurants again. I decided to visit one of my absolute favorite restaurants, Olea in Newport Beach, to give an inside look at what diners can expect as restaurants take extra precautions and safety measures to protect its staff and guests against covid 19.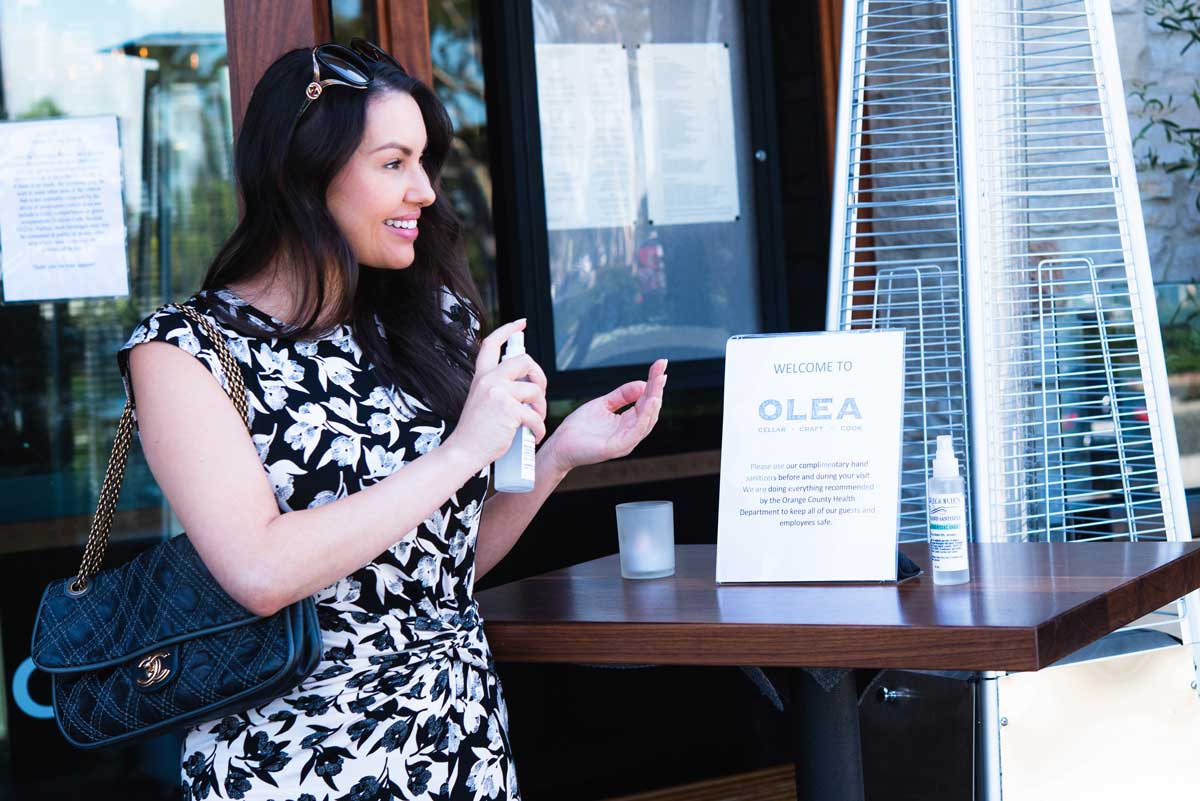 Olea Offers Hand Sanitizer
First, upon arriving, Olea has taken the liberty of proving a hand sanitizing station. They have teamed up with Spa Gregory to supply plenty of fragrant hand sanitizer so guests can give themselves a few sprays on the way in and after leaving. This is the first and only restaurant I have seen doing this so far but I think it would be nice to have these stations at more restaurants and businesses throughout California, especially in high traffic areas like shopping centers.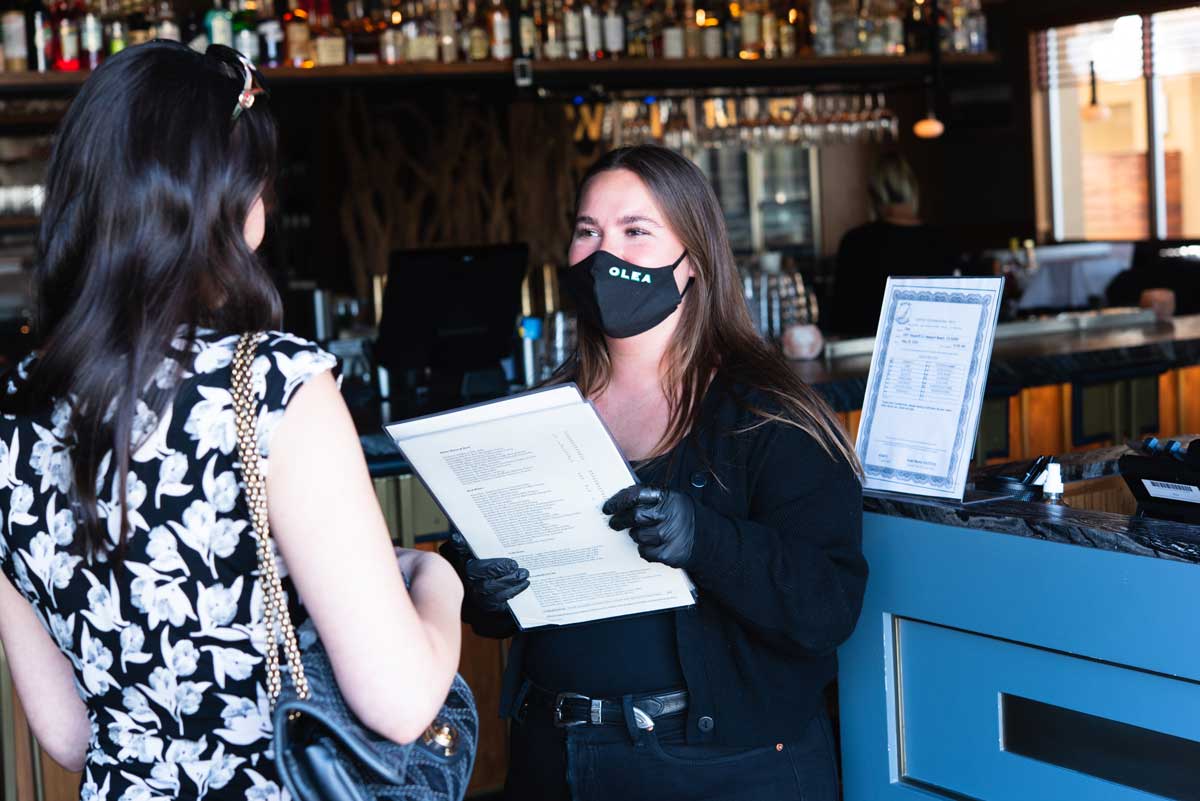 New Restaurant Guidelines for Reopening Require All Staff to Wear Masks
Once you enter Olea, you'll be welcomed by their friendly staff, all of whom are wearing masks. This has become the new standard for dining out in Orange County. I would personally not visit a restaurant that was not enforcing the wearing of masks by all staff members.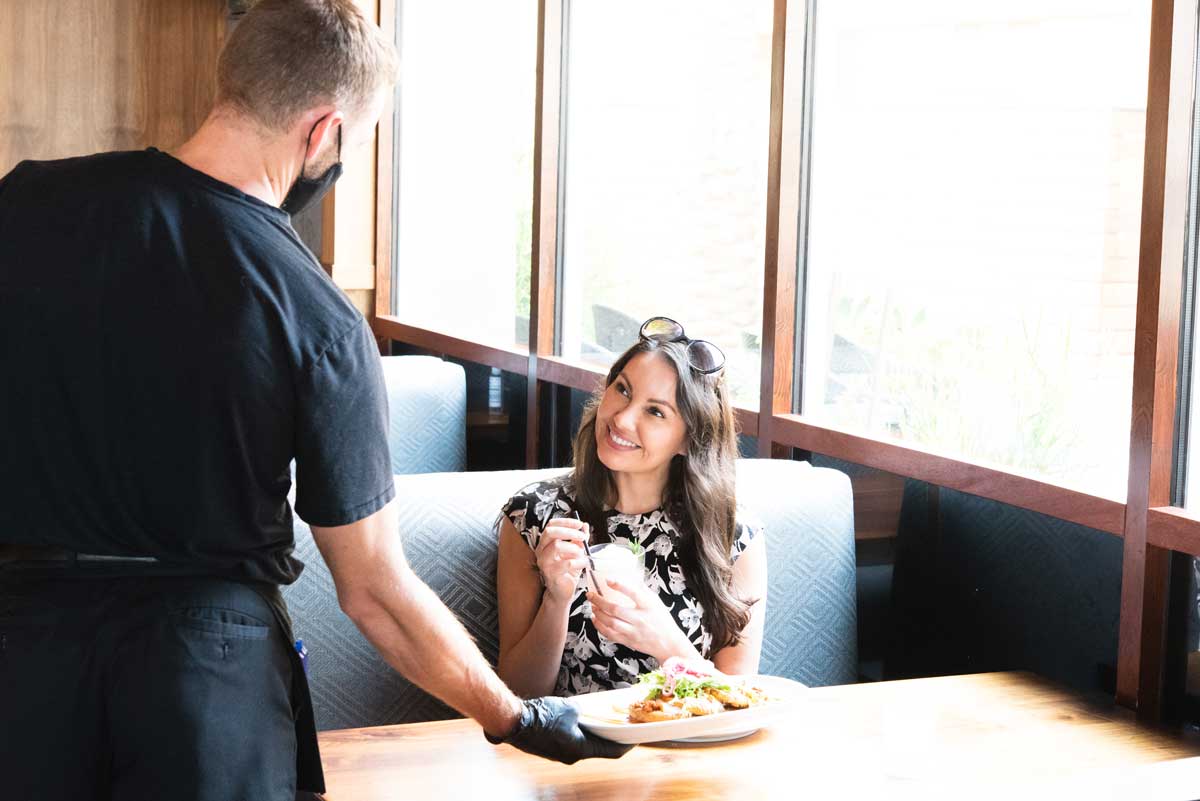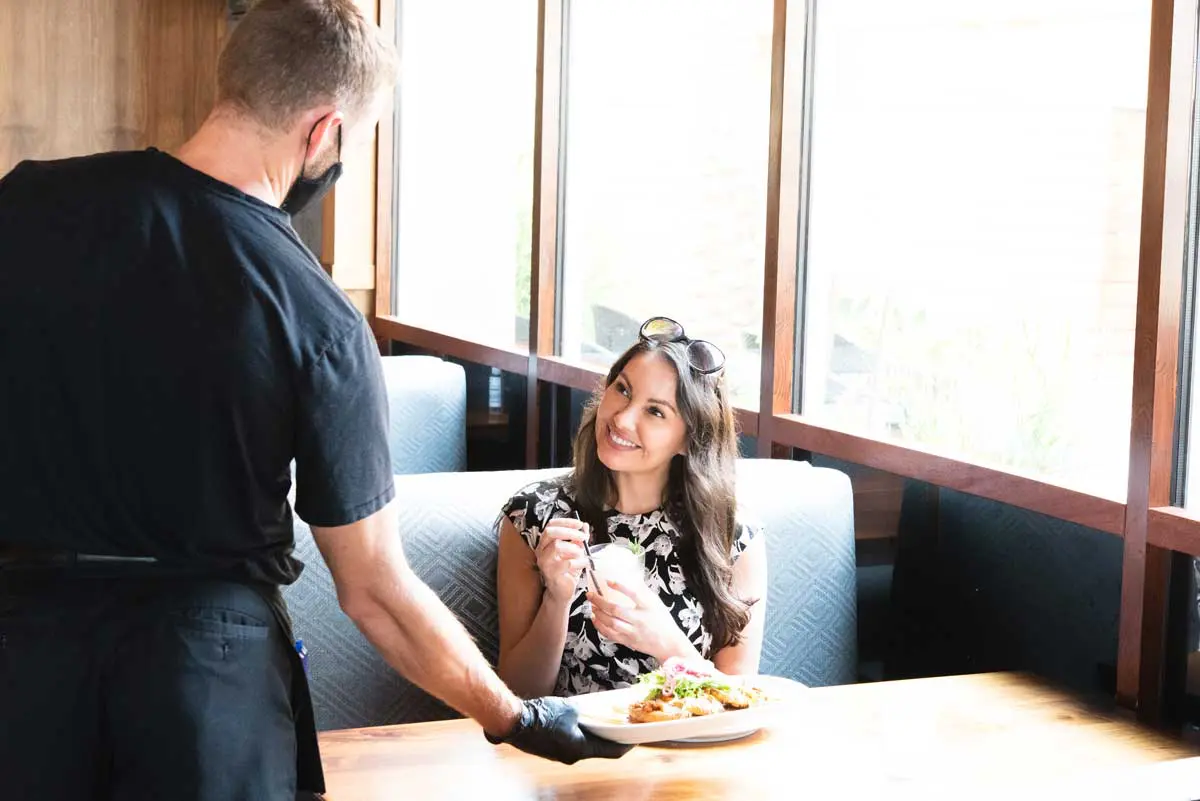 Tables Must be Separated 6ft Apart
Additionally, Olea took extra care to reduce seating and ensure all tables were seated 6ft apart. This was extra reassuring and I've found that not all restaurants have been following this recommendation. If this is a concern, I highly recommend calling the restaurant in advance to ensure tables are being properly spaced.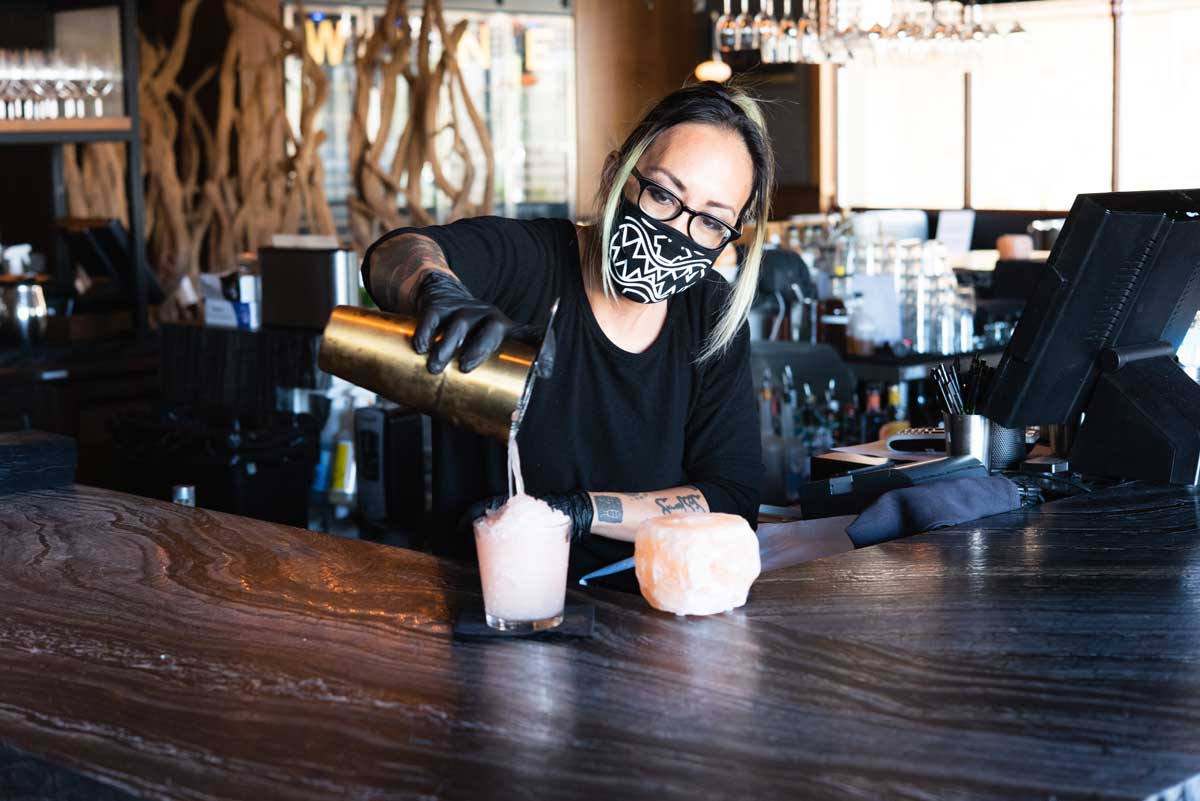 All staff are also wearing gloves including our bartender who created this flirty spring cocktail. The "Rich Girl" is made with Rose Wine, Vodka, Lime, Yuzu, and Basil.
We also tried "Dads Rootbeer" made with Root Beer Infused Bourbon, Sweet Vermouth, Montenegro, Burnt Cinnamon Stick, and a clever "Thank You" ice cube.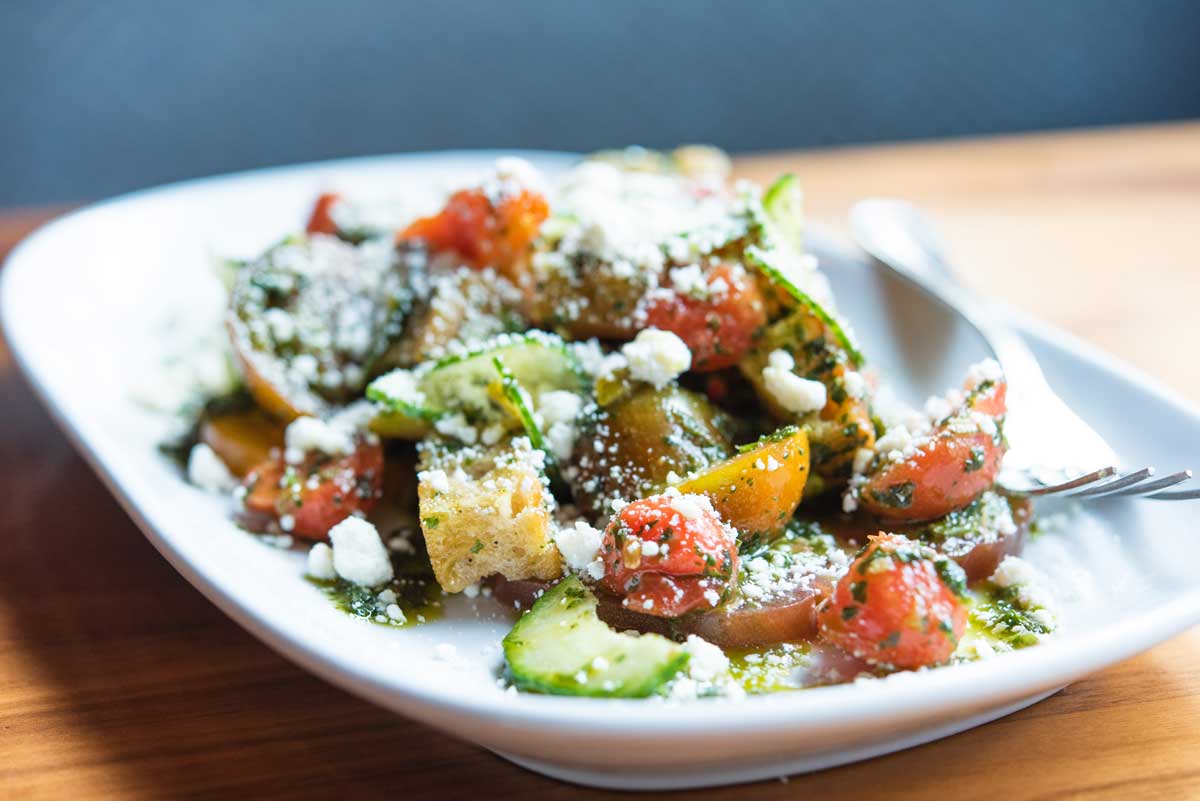 After cocktails, we decided to try a nice refreshing spring salad with watermelon, heirloom tomatoes, cucumber and feta.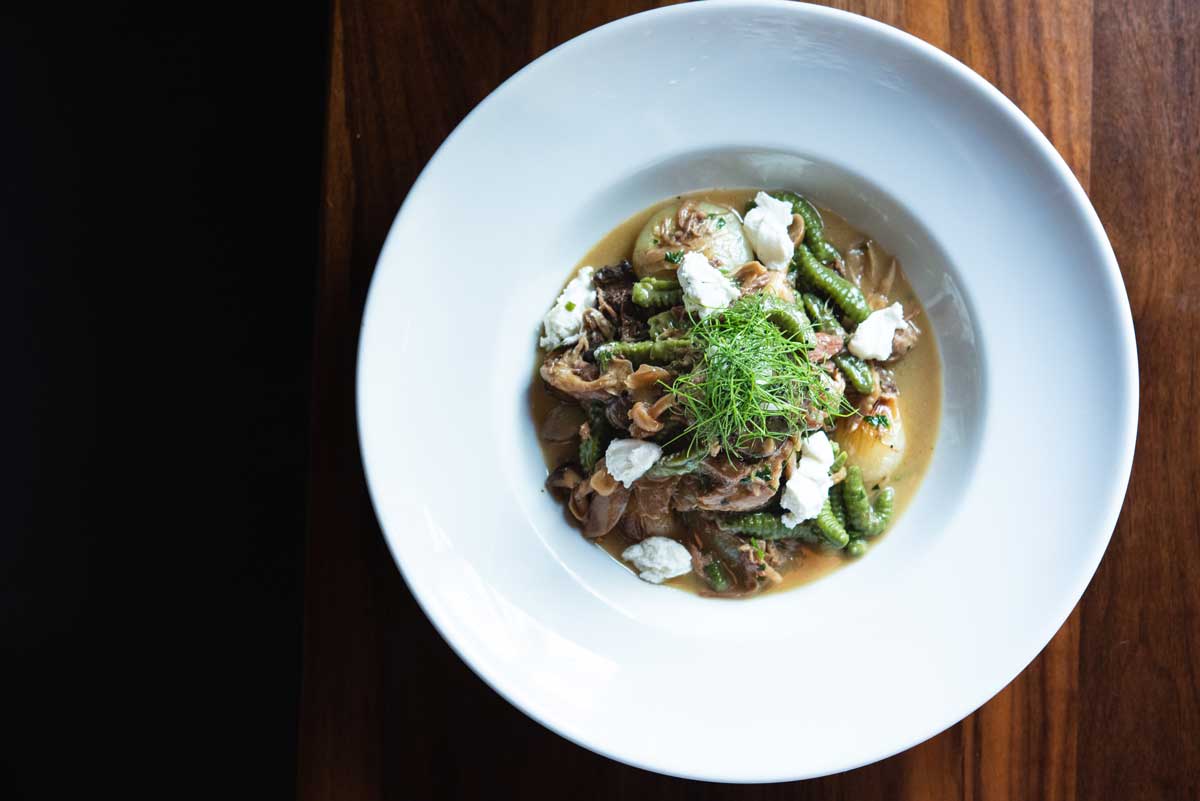 The Duck Confit at Olea Newport Beach is a Must Try!
For an entree, I decided to try something new and ordered the Duck Confit with Morel Mushrooms and Cavetti Pasta. I cannot believe I have never tried this entree before, but this is what happens when everything on the menu is so good. I love morel mushrooms and have been meaning to try this dish for a very long time. It was exceptional. I'm going to need to increase my party size on the next visit so I can convince everyone to order all my favorite dishes. Sharing is caring!
A Summary of Restaurant Guidelines for Reopening in Orange County
I have to admit, I was more than ready to start visiting restaurants again in Orange County, but of course, it's only natural to still feel cautious. I highly recommend calling ahead before making reservations to check on what safety standards each restaurant is implementing. All restaurants are required to have tables separated 6ft apart, staff wear masks, and limit capacity to 25%.
Luckily, not only is Olea my favorite restaurant in Newport Beach, but they are also adhering to all of the new restaurant guidelines for reopening set forth by the CDC. They have even added in some of their own safety precautions like hand sanitizer and requiring all staff to wear gloves. While I've enjoyed sharing some of my amazing recipes over the past several months, it sure is nice to dine out again.