Posts may contain affiliate links. Read our full disclosure policy here.
If you're looking for a unique wine country experience, then head to Oak Mountain Winery for a one of a kind dinner in their Temecula wine cave. We were first introduced to Oak Mountain Winery while taking a Temecula Wine Tasting Tour with Best Coast Tours. During our visit I couldn't help but notice all the amazing cuisine being served at their restaurant and knew I had to return for dinner.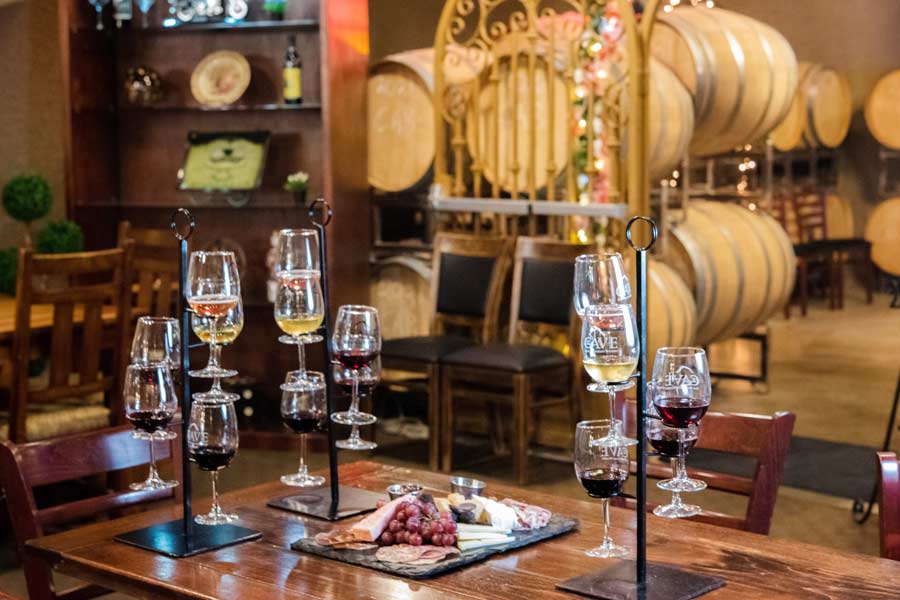 At Oak Mountain Winery you'll dine in a Temecula wine cave surrounded by barrels.
The cuisine at Oak Mountain Winery is as delicious and lively as the fun laid back atmosphere. At the entrance of the wine cave are dining tables set up between various barrels making for the perfect backdrop. Ordering one of their amazing wine flights will also ensure you have the perfect wine pairing for each dish.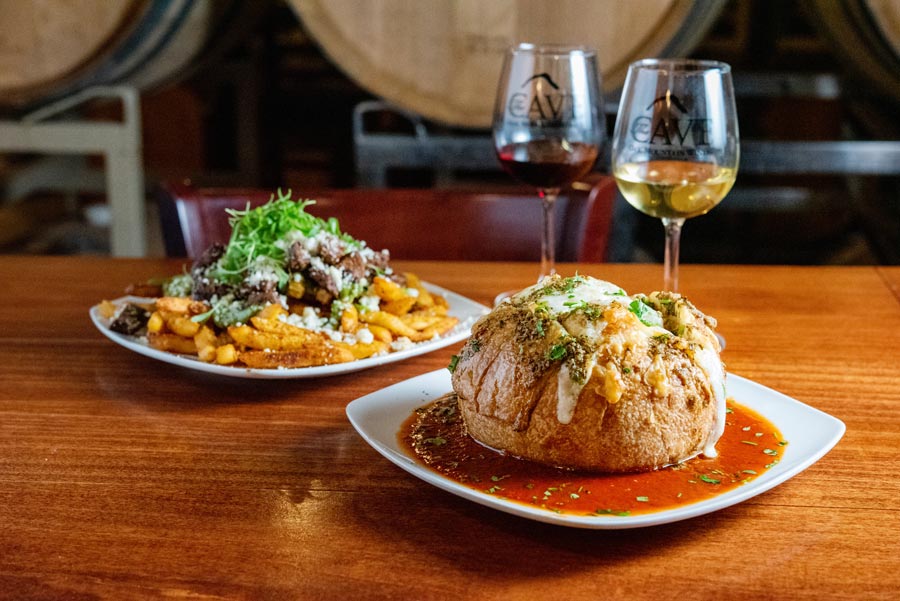 Gooey Mozerella Cheese Pull Bread
To start, you have to try their gooey stringy Mozerella Cheese Pull Bread swimming on a plate of housemade marinara sauce. This bread will give you that perfect Insta-worthy cheese pull and there is plenty to share.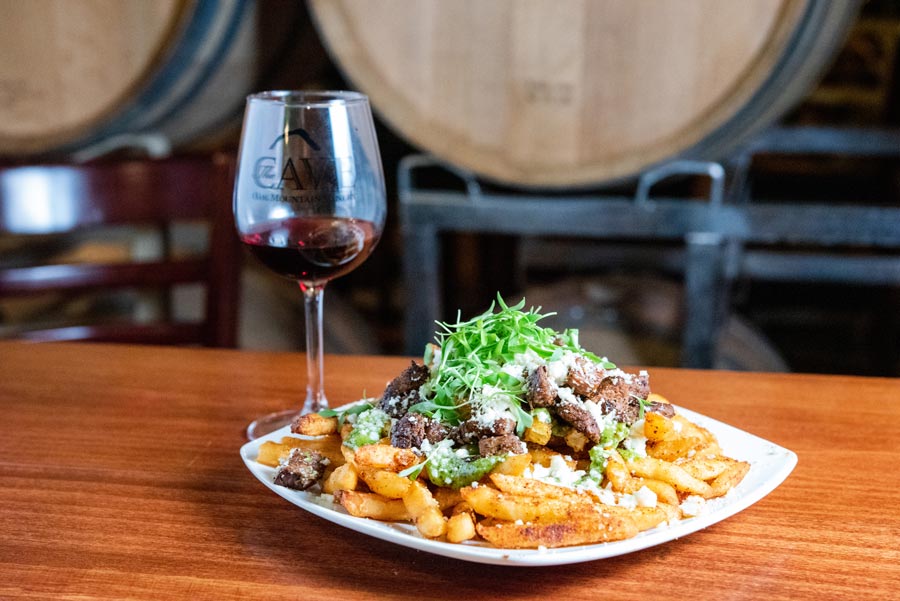 Trip-Tip Steak Chimichurri Fries
If you follow my recipes, you already know my love affair with chimichurri sauce. I make my cilantro chimichurri and mint chimichurri regularly so the Tri-Tip Chimichurri Steak Fries are a must-order. The steak is so tender, the fries are fresh and crispy, and the flavors are incredibly addicting. I'd dare you to try and just have one. I kept trying to remember to pace myself and save room for our entrees, but they were just too good. We devoured them all!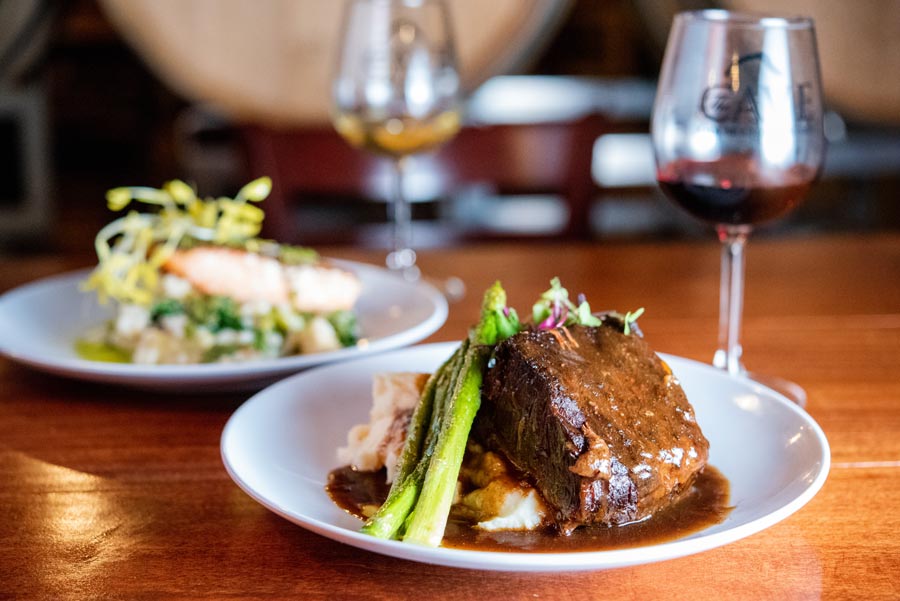 Slow Roasted Beef Short Ribs with Red Wine Reduction
For entrees, we began with their decadent short ribs who's preparation is no joke! The website even shares their short ribs recipe which involves 3 1/2 hours of baking followed by pressing them in their own juices overnight. The finished result of this 2-day process is flavorful succulent short ribs with a robust red wine reduction.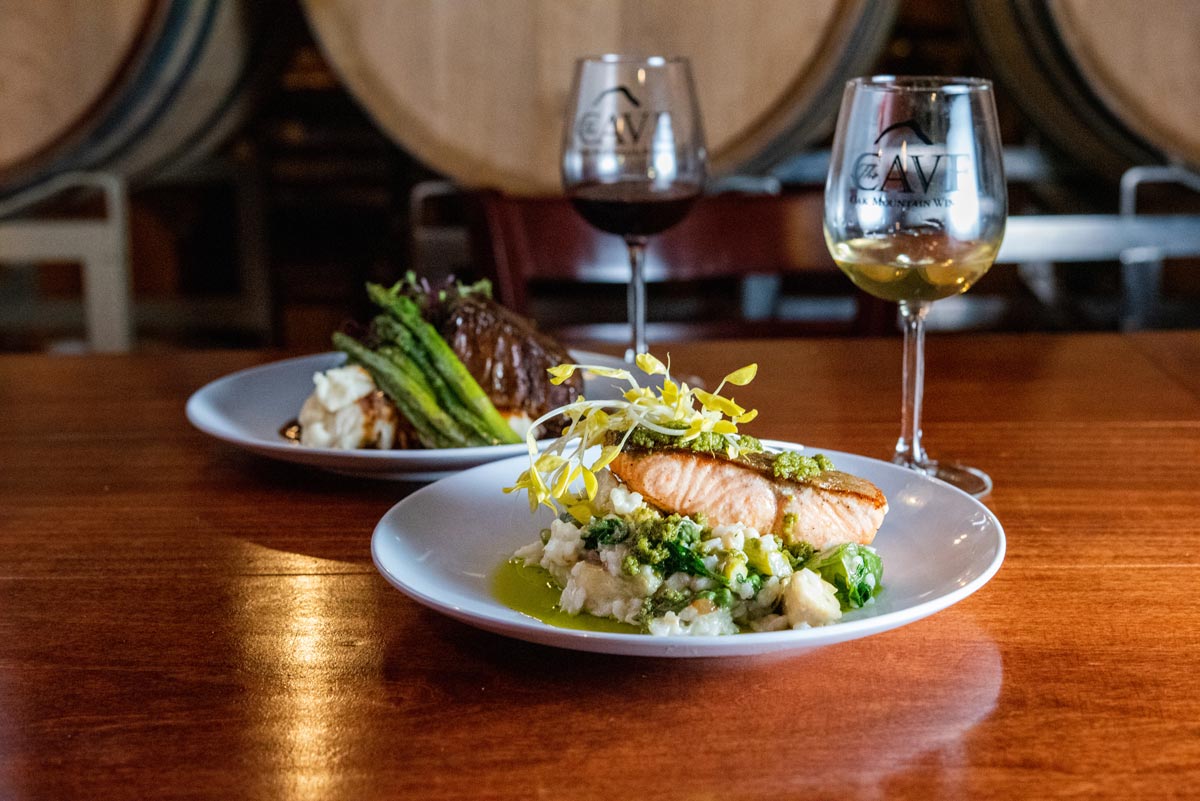 Skin On Pan-Seared Atlantic Salmon
We also enjoyed the delicious Skin On Pan-Seared Atlantic Salmon served with asparagus, spinach risotto, and herb pesto. The salmon was cooked perfectly and the crispy skin added perfect texture to the dish.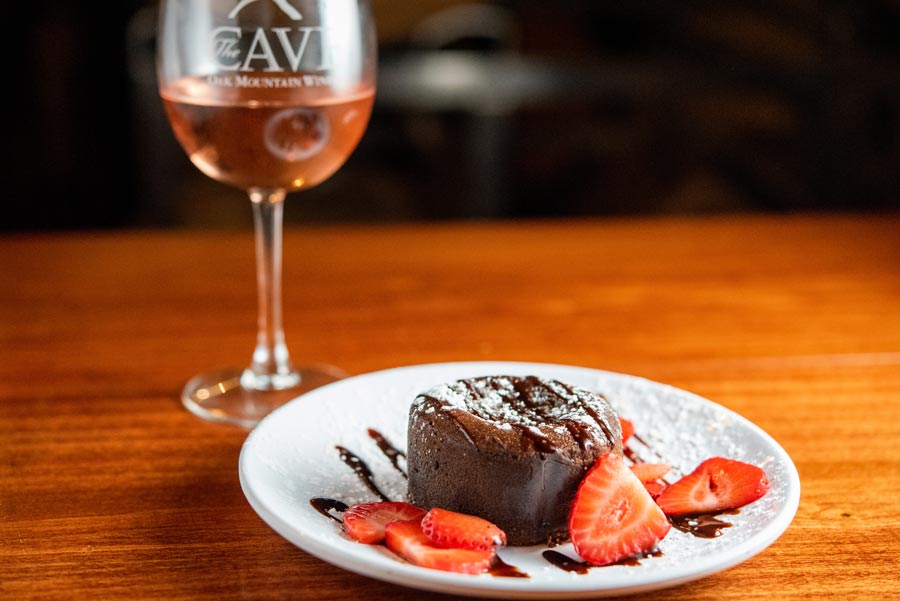 Seasonal Chocolate Lava Cake
For dessert, if you're lucky, they will have their seasonal Lava Cake. This dessert really needs no introduction, just look at the picture. If I see Lava Cake on a menu, you better believe there is no resisting. A few bites of this decadent fudgy cake will be the perfect ending to a fabulous day in Temecula Wine County.
In addition to Cave Cafe, Oak Mountain Winery also has a unique Speak-Easy Distillery and offers a Cave Wine Tasting Tour. During your tour of this unique Temecula wine cave, you'll also sip on a selection of 6 different wines and enjoy a beautiful cheese and charcuterie board for only $45. This tour is also included in the Best Coast Tours Temecula Wine Tasting Experience which offers pick-up from Orange County to Temecula or pick-up in Temecula.
Oak Mountain Winery
36522 Via Verde – Temecula, CA. 92592
Phone: (951) 699-9102
Visit our Temecula Travel Guide for the best dining, activities, and places to stay!