OrangeCoast Magazine's Best of 2017 event is finally here and is sure to be a great event. Their Best Restaurants event was amazing and I have no doubts that this event will be equally as impressive. This event is also held at the enchanting Rancho Las Lomas and proceeds go towards their wildlife foundation. As if that wasn't enough they will have delicious bites and libations from some of the best restaurants in Orange County.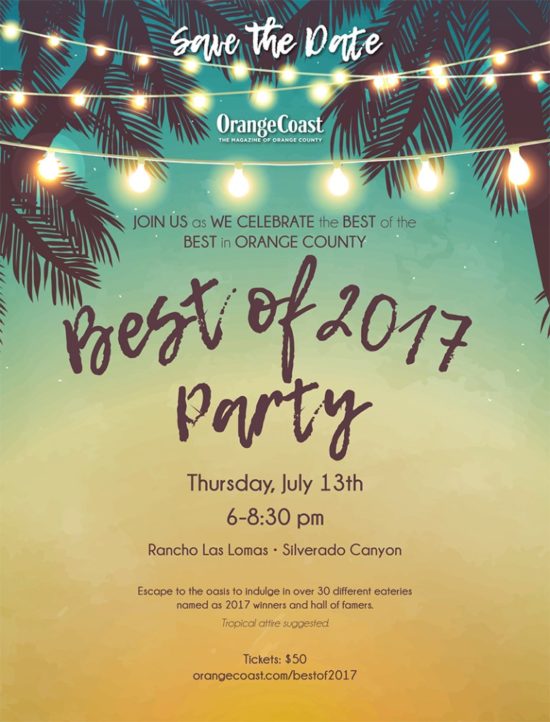 This event is extra special because of its beautiful venue, Rancho Las Lomas. If you've never been, this garden zoological garden is a hidden gem in Orange County featuring a serene majestic garden setting with unique wildlife like Lily the Bengal Tiger,  Ziddle the Zebra, and Oliver the Macaw Parrot. Proceeds from this great event will go towards helping support the Rancho Las Lomas Wildlife Foundation which aims to provide a link between the preservation of endangered species and wildlife education.
Escape to the OC oasis to celebrate the BEST of the BEST of Orange Coast at our annual "Best of 2017" Party. Join us for an evening of unlimited tastings from over 30 different eateries, event activities, and entertainment. Best of 2017 restaurants handing out tasty samples include TLT, Zov's, Bluewater Grill, B. Candy, Great Dane Bakery, Uroko Café, Final Touch Bakery, Royal Khyber, Cava Bowls and much more. Guests can also enjoy delicious wines from Wine from Cowboy Canyon Winery, Giracci Vineyards, and A Stone's Throw Winery. In addition, there will also be fun entertainment such as fire and hula dancers, DJ, photo booth, beauty lounge, gift bags and more!
Finally, guests can continue the after party with Movie Under The Stars in Casa Bella at Rancho Las Lomas.
This is absolutely going to be a wonderful event and with ticket prices at only $50 it's worth every penny. In fact for everything that this event brings, it is one of the best-valued events in Orange County. There was so much amazing food at their last event, there is no way any guest will be leaving hungry!
Thursday, July 13th, 2017
6-8:30 pm
Rancho Las Lomas
19191 Lawrence Canyon Silverado, CA
www.rancholaslomas.com
Tropical attire suggested.
Complimentary valet provided.
Event is 21 & over.
Tickets Only $50 can be purchased here.