Tailwind just announced that there will be new Pinterest Best Practices 2020 and Algorithm changes that may have a drastic effect on how you currently use the site. For years bloggers and businesses have used Pinterest as their number one source for driving traffic to their websites, but this might all be changing. Pinterest will now be prioritizing fresh new content in users' feeds and will be prioritizing user accounts who focus on new content on their boards.
Currently, Pinterest is a popular platform among bloggers because of what is called "evergreen content". Unlike Instagram, where your post might go viral for a day, Pinterest continues to drive traffic for years. For example, my one post "5 Tips to Make Thin Fine Hair Look Thicker" spent several months driving 30k+ views to my website and still currently drives close to 8k per month several years later. This new algorithm change may have a very drastic effect on the bloggers who have helped grow this platform.
I reached out to Pinterest regarding this concern and received this reply from their Creator Management Team, which I will continue to update as I receive more information.
"Pins are still evergreen on Pinterest. We are encouraging our creators to publish fresh content and be thoughtful about their content creation strategy, only repinning when it's truly valuable and relevant to Pinners. Pins will still live on as evergreen content on the platform, nothing is changing there, we're just working to ensure the best Pinner experience, which means surfacing a variety of fresh content to engage with. "
What these new Pinterest best practices 2020 and algorithm changes mean for you and how to adjust your blogging and marketing strategy.

1. Create More Original Pins with Different Images from the same post:
Pinterest will be prioritizing original content, but also mentioned that you can post multiple images from the same URL and it will still count as original content. This means utilizing various picture angels, crops, and varying titles.
"If you currently make one Pin for each blog post, article, product or other pieces of content you're creating, try experimenting with new images, titles, descriptions or even new formats to see what engages your audience. This could involve adjustments like changes to the background photo, changes to the text overlay, border adjustments, or color adjustments, to name a few. Not only will you now have extra Fresh Pins to share, but you'll also be able to see what sort of variations perform best on Pinterest! – Tailwind team
2. Do not share pins to multiple boards:
Pinterest is now advising not to go overboard with reposting the same pin to multiple boards. Currently, most users add the same pin to several boards by adding them to their drafts and using the shuffle feature so they aren't all posted at the same time. It might now be a better idea to just choose the most relevant boards.
"As a rule of thumb, Pinterest's latest best practices recommend avoiding sharing the same Pin to more than 10 different Boards. Pinning the same Pin to too many Boards can reduce its effectiveness and limit its potential reach. "
It looks like Tailwind has adjusted their interval schedule to adjust to these new Pinterest rules which recommend pinning the same pin several days apart.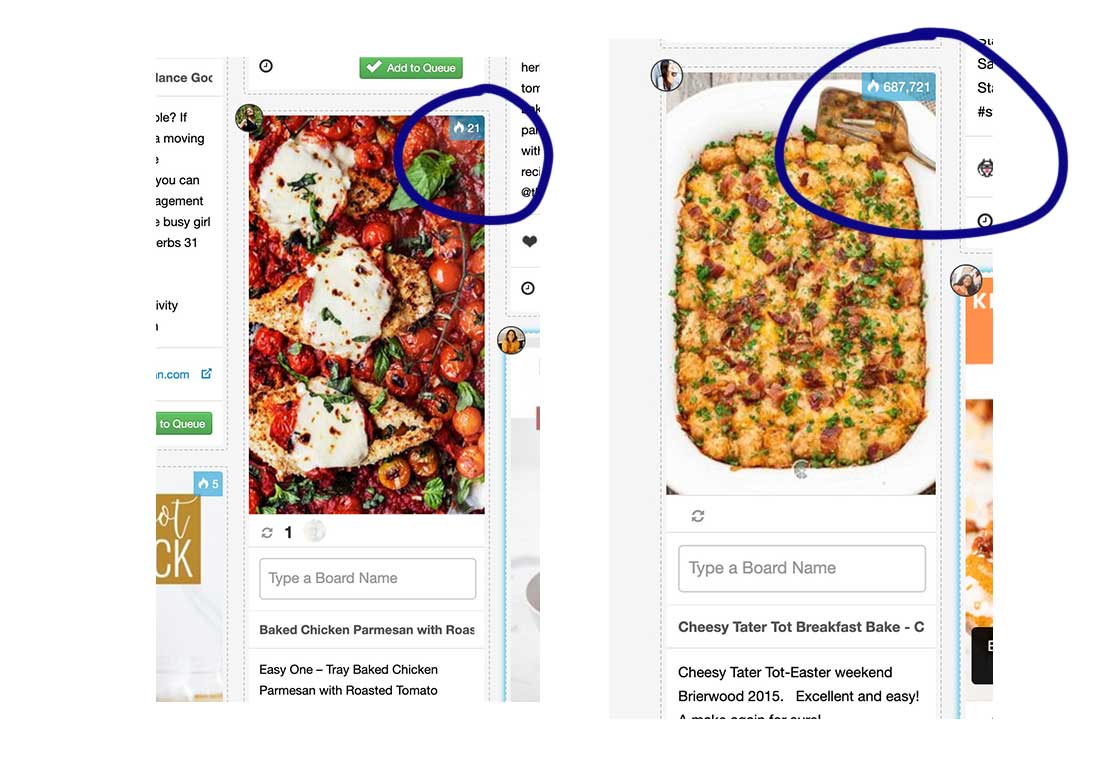 3. Share Newer Pins
If you use Tailwind on Pinterest you will notice there is a blue flame on the right-hand corner of the images in your tribes. This number indicates how often a pin has been shared. Previously it used to be more beneficial to share popular images with a high Blue Flame number. However, now it will be more beneficial to share pins that are newer with a low Blue Flame number. Since Pinterest is now giving priority to original fresh content, you'll want to re-pin content that is more recent.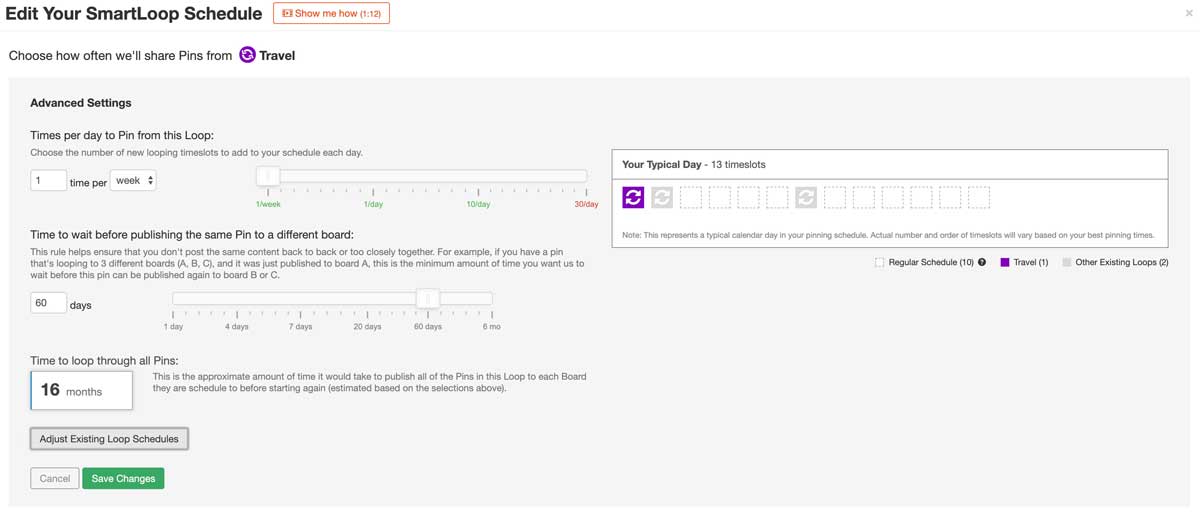 4. Reduce Duplicate Pinning & Smartloops:
Currently, it has become a common practice to use "smartloops" which takes your past pins and re-adds them to group boards every for weeks. Well, this practice may now actually hurt your account. Pinterest will now be looking at accounts who pin the same content too often as spam and reduce your reach.
"excessively sharing duplicate Pins could put your account at greater risk of losing reach or being marked as spam."
It is now recommended to only use smart loops to re-pin your already pinned content twice per year. This means everyone should go into their smart loops and adjust their settings.
Take-Aways from the new Pinterest best practices 2020 and algorithm changes and how to adjust your strategy.
Here are the two most important pieces of information to take away from the new Pinterest Best Practices 2020. First, if you aren't already, begin making multiple pins for the same article. Next, when you are re-pinning others' content, focus on newer content with the lowest blue flame, not the highest as has been previously done.
It seems as though Pinterest is trying to switch its focus to content creation, over creating boards. Pinterest is competing with Instagram, which success is based on new daily user-submitted content, so I can understand the underline thinking. Hopefully, this does not ruin the platform and what has made it so appealing for the actual content creators.
I personally enjoy utilizing Pinterest as a way to drive traffic to my site but also to search for new recipes. When I am searching for a recipe, I want to find the most useful information which is typically based on the number of re-pins and likes it has received. It seems their new changes may have a negative effect on the site's usefulness. Only time will tell.
Please share your thoughts. I would love to hear if you are now noticing a decline in website traffic from previous pins? Are you receiving an influx of new traffic from newer pins and does this compensate for the loss of traffic you're receiving?