Posts may contain affiliate links. Read our full disclosure policy here.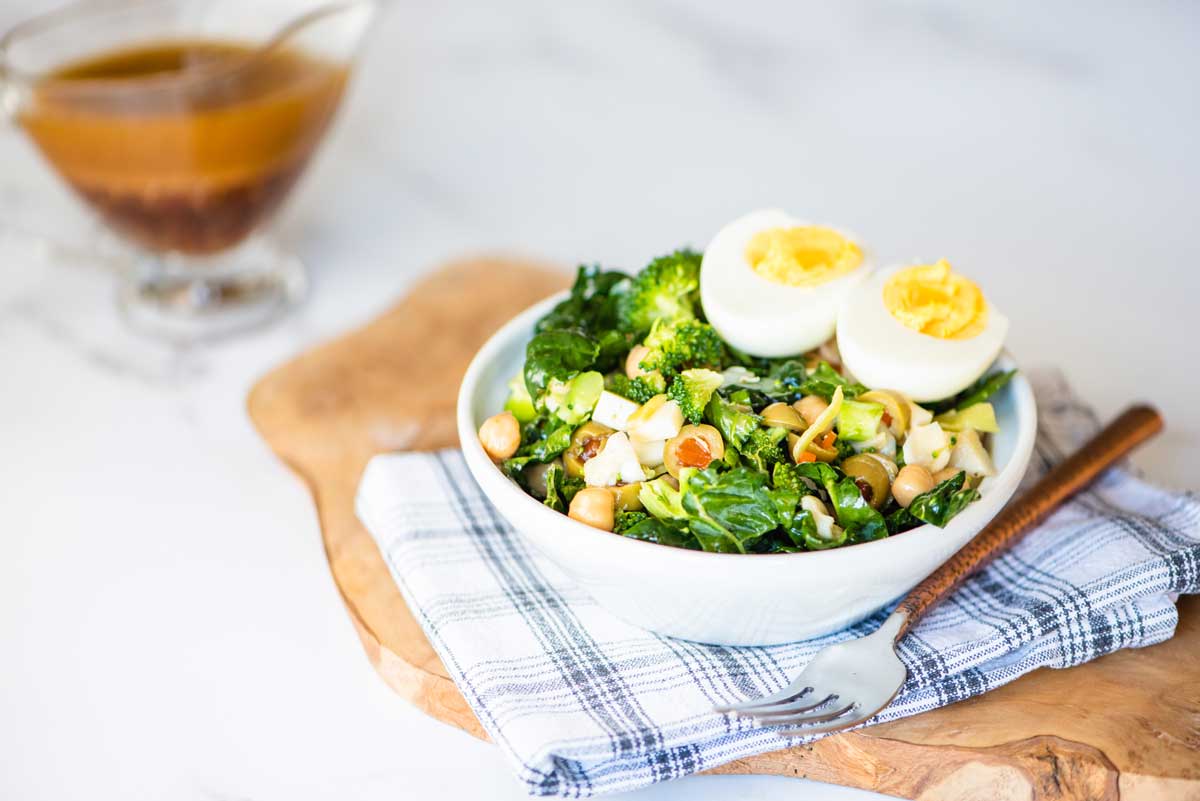 This Tuscan Chopped Salad Recipe is incredibly healthy and delicious with my special homemade balsamic vinaigrette dressing.
---
This Tuscan Chopped Salad recipe I created will absolutely be the best chopped salad recipe you've ever tried. It's also incredibly healthy, filling, high in protein, low in calories, and full of flavor. I'll admit, I am typically not a huge fan of salads. I often find they are full of calories and typically not as healthy as one would assume. I do however enjoy a good chopped salad. What makes chopped salads special is the ability to get every ingredient into one delicious bite.
I created this recipe combining many of my favorites ingredients as well as inspiration from other chopped salads I've had over the years. What really makes this the best-chopped salad recipe is my special homemade Balsamic Vinaigrette Dressing. Making your own dressing is so easy and makes such a big difference.
This Tuscan Chopped Salad is also gluten-free and vegetarian. However, one of the great things about chopped salads, is there are so many ways you can customize them to fit your taste. First, I use Organic Tuscan Kale as the base of my chopped salad. Not only is Tuscan Kale high in nutrients, but it also has a much better flavor profile and texture. It is one of my all-time favorite ingredients to use in many of my recipes. Below is a list of all the ingredients used in my Best Chopped Salad Recipe, and I'll also include some suggestions for optional ingredients.
Ingredients for The Best Chopped Salad Recipe
Tuscan Kale
Brocolli
Chickpeas
Green Olives
Provolone Cheese
Marinated Artichokes
Pepperoncini's
Hard-Boiled Egg
Other optional ingredients you may want to include in your Tuscan Chopped Salad Recipe
Specialty Cheese: I often like to use the truffle cheese from Trader Joe's instead of Provolone
English peas
Meats: such as grilled chicken or salami
different types of olives or make a greek chopped salad by adding kalamata olives and feta cheese
Heart of Palm
Other Vegetables such as cauliflower or shredded carrots
One thing to remember when making your chopped salad is that you want the ingredients all to be chopped into small enough pieces that you can get every ingredient in one bite. The only ingredient that does not get chopped is the Chickpeas ( or English Peas if you were to include those).  This is a great recipe to enjoy if you are making a nice dinner like Chicken Picatta. It will easily feed a family of six to eight. I, however, like to enjoy this salad throughout the week.
How to Store Your Tuscan Chopped Salad for Meal Prep
To keep your salad fresh, you'll want to store several of the components in separate small containers and combine them when you're ready to enjoy. This will make your salads last for 1-2 weeks! I really like this Bento Salad Container for this chopped salad because it lets you cover your dressing and store each component separately so you can combine them all when you're ready for lunch.
In one container add the chopped kale and broccoli
In another container add your moist ingredients which are the olives, artichoke hearts, pepperoncini, and optional heart of palm.
in the third small container, you want to add your diced meat & cheese
I also keep the eggs in their shells until I'm ready to use them.
I also use special Rubbermaid Produce Saver containers I purchased through amazon which keeps my producer fresh 10x longer. My Tuscan Kale can go over a month without any issues, they are amazing and I own several in different sizes to store all of my produce as soon as it gets home.
How to Make an Amazing Homemade Balsamic Vinaigrette Dressing
There is truly nothing more enjoyable than making your own dressing at home. The flavor of a homemade balsamic vinaigrette dressing to a store-bought is night and day. I always recommend using a high quality and robust olive oil which store-bought brands will never do. You can also get creative by using flavored balsamic. I personally enjoy using Oregano Balsamic and Neapolitan Balsamic when making dressings.
One key ingredient that really makes my recipe amazing is the addition of red wine vinegar. I also prefer to use less oil than what is typically recommended in salad dressing recipes. Here is what you'll need for making your own easy and delicious homemade balsamic vinaigrette dressing.
garlic fresh and minced
parmesan cheese
balsamic vinegar
red wine vinegar
high-quality olive oil
salt & pepper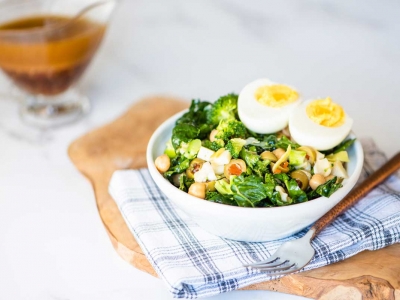 Best Chopped Salad Recipe
This Tuscan Chopped Salad Recipe is incredibly healthy and delicious with my special homemade balsamic vinaigrette dressing.
Ingredients
3

cup

Tuscan Kale

organic (about 1 bushel)

1.5

cup

Broccoli

chopped

¼

cup

green olives

sliced

¼

cup

pepperoncini peppers

chopped

¼

cup

marinated artichoke hearts

chopped

1

can

chickpeas

½

cup

provolone cheese

block, diced

½

cup

olive oil

high quality

2

cloves

garlic

minced

1

tbsp

parmesan cheese

finely grated

¼

cup

balsamic vinegar

¼

cup

red wine vinegar

½

tsp

salt

Pink Himalayan

½

tsp

pepper
Instructions
Chop all ingredients into bite-sized pieces, accept the chickpeas.

Add all ingredients to a bowl and toss with dressing.

I recommend using only 1/2 cup and allowing diners to add additional
Instructions for Balsamic Vinaigrette
Add Balsamic & Red Wine Vinegar, garlic, parmesan, salt and pepper to your dressing container and mix well
Notes
This is a great recipe to try other balsamic if you have a specialty store near you. You'll want to select herbal balsamic like Oregano and Napolean flavors. You can also store the ingredients seperately and make this salad throughout the week. While it is low in calories, it is also incredibly filling.
Nutrition
Serving:
6
3/4 cup
|
Calories:
246
kcal
|
Carbohydrates:
6
g
|
Protein:
5
g
|
Fat:
23
g
|
Saturated Fat:
5
g
|
Cholesterol:
8
mg
|
Sodium:
439
mg
|
Potassium:
164
mg
|
Fiber:
1
g
|
Sugar:
2
g
|
Vitamin A:
1410
IU
|
Vitamin C:
39
mg
|
Calcium:
127
mg
|
Iron:
1
mg
View Our Most Recent Recipes & Articles
Find Delicious Recipes By Category