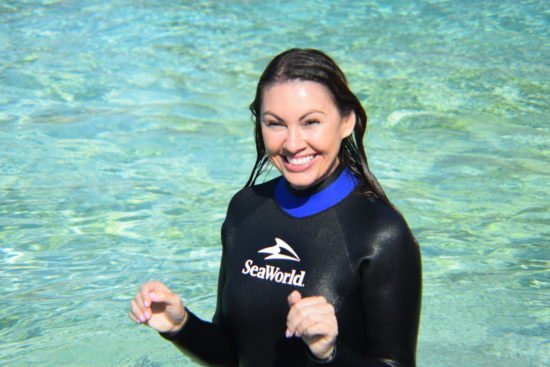 This week I made a visit to SeaWorld San Diego to celebrate my birthday. I had not been to SeaWorld since I visited with my dad as a little girl. This year I wanted to do something extra special. I reached out to the park to see if they would help me organize a visit to go swimming with Dolphins and make my birthday wish come true. Not only was our experience amazing, but truly we had the most wonderful time. We even captured such great and unique footage which you"ll be able to see below.
Below are our top 5 reasons it's time to give SeaWorld San Diego another visit.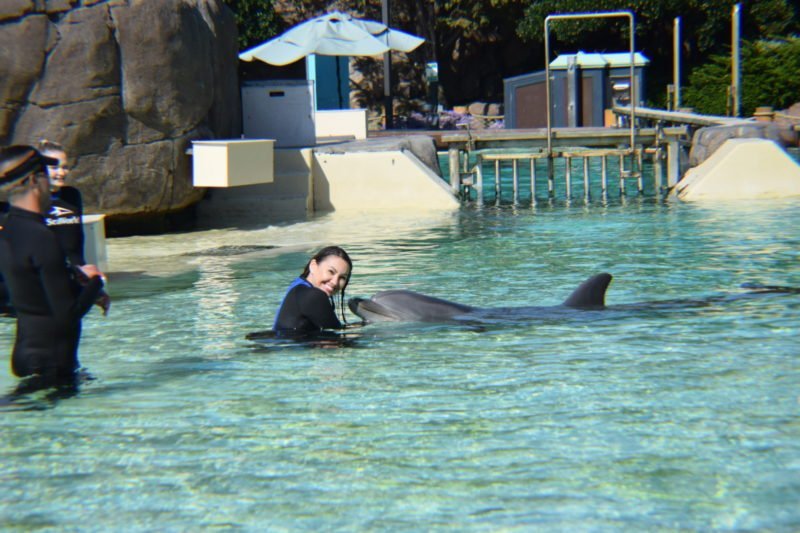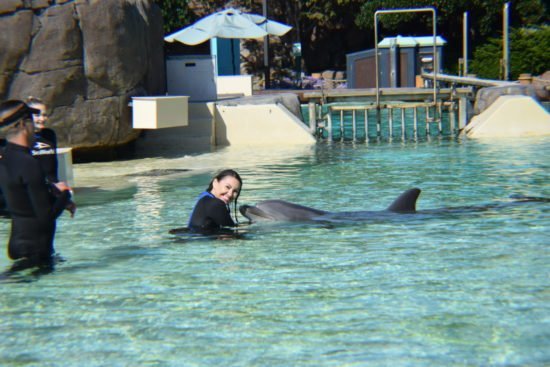 For the Price of Admission to Most Theme Parks, You Could be Swimming with Dolphins
Yes, you read that right. Theme parks have become increasingly expensive and for the price of admission to certain theme parks, you could actually spend the entire day at Seaworld and go swimming with Dolphins. This is the type of experience you will remember your entire life. I honestly cannot even believe I waited this long to do it. I also trust the trainers at Seaworld as opposed to having this experience in another country such as the Bahamas. The second you meet the trainers you can see how professional, passionate and experienced they are when working with the Dolphins. In fact, Tobie, one of the Dolphins we met was actually a rescue who would not have survived in the wild. She is now thriving and even has a new baby girl named Sarasota who we also were able to meet. It was truly fascinating watching the trainers and dolphins interact with each other.
During our Dolphin Encounter, we were able to do several different interactions including a fin shake, hug, and even a kiss on the nose. My best friend Joseph even did a little dance with the Dolphin which was so adorable. The favorite part was when the dolphin took us for a little ride. You can check out our video above of this awesome experience.
2. Getting Up-close and Personal with the Marine Life
The Dolphins were absolutely amazing, but there are so many unique experiences throughout the park. When we first entered we found Garrarufa fish which are toothless fish used in many Asian cultures for pedicures believe it or not! Spa guests soak their feet in large tubs of freshwater filled with hundreds of fish which swim over and eat the dead skin. Don't judge me, but I found this fascinating and could not wait to put my hand in that tank! It was actually quite soothing and enjoyable. I can totally understand why this is a popular treatment.
Then we found our way to the Mana Rays and were able to buy some fish heads to feed them!  Ok, so to some this might be gross but again, I found it fascinating. When it came to feeding the Mana Rays I was the biggest chicken. My friend kept saying he could feel little teeth and I was just terrified these guys were going to eat my hand off. Some of them were enormous. Finally, after a few tries, I was able to feed one. They were so soft and beautiful. Our video of me trying to feed these amazing sea creatures is hilarious! You can watch my attempted feeding and us visiting the other sea life in our re-cap video above!
Finally, later in the evening, we made our way to visit the Sea Turtles. This was definitely one of the most memorable moments in our trip. So before visiting the Sea Turtles we got one of those souvenir cups with the blinking lights, which actually saves you a few dollars on your drink refills. While we were visiting we realized that one of the Sea Turtles was fascinated by our blinking light, came right up to us and started following the cup. It was amazing and also helped me capture some seriously stunning photographs. The best part is we caught the entire thing on video as you can see above!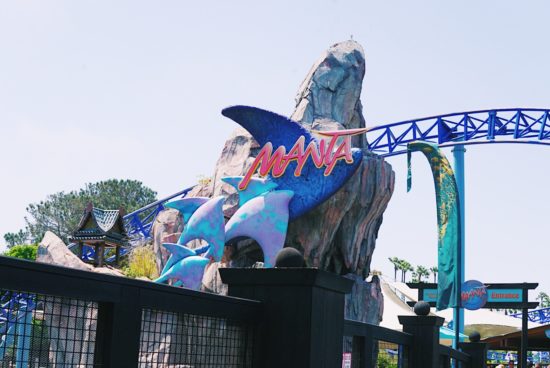 3. The Rides
Who knew Seaworld also had fun rides? I honestly had no idea. If I wasn't rushing over to my Dolphin Encounter, I probably would have gone on their Manta Rollercoaster at least 3 more times. Now if you're a true adrenaline junkie you might be looking for 6 loops and a drop the size of the grand canyon. I, however, am way too old for that. I just want a fun ride that doesn't give me neck spasms when I get off. Their Manta ride is probably up there in my top 5 amusement parks roller coasters!
4. The Scenery
Aside from being a blast and meeting all the marine life, SeaWorld is gorgeous. The park is extremely well kept and is located right on the San Diego harbor. In fact, there is a walkway in the park that takes you right along the water where you can watch the sunset. If that isn't enough they even have Sky Carts which bring you over the water. By the time we got around to getting on the sky karts the sun was almost down so we ended up not going. There is literally so much to do it is hard to fit it all in just one day. We did however get this beautiful footage of the sunset along the walkway.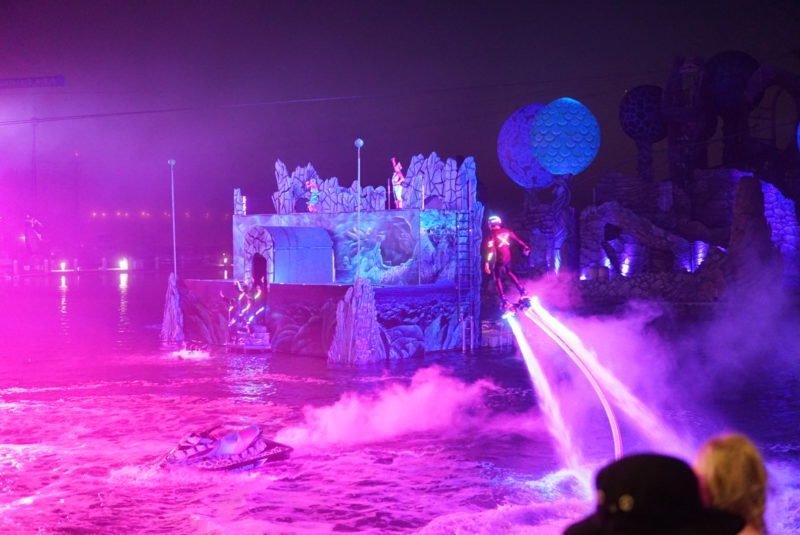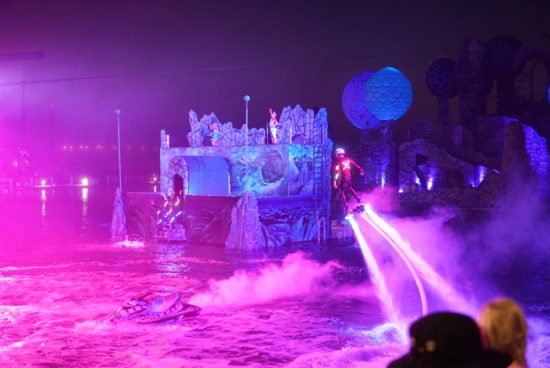 5. The Entertainment
So when you think of SeaWorld you likely do not think of their entertainment. During our visit, they were throwing their Electric Ocean Celebration which is taking place from June 17th to Sept 4th. This new event lights up the night with fun DJ's and a new Cirque Electric Show. The guests absolutely loved the DJ located in the middle of the park. The excitement was actually contagious as we watched everyone from the kids to the adults dancing throughout the park.
The Cirque Electric show was completely packed. The show featured a variety of dancers and acrobats performing over the water in various glowing costumes. It was actually very entertaining and I'm the type the typically only wants to watch the fireworks. The best part was when these guys came out on these jet packs that shot them up hundreds of feet in the air. It was like something out of a Spiderman movie.
I honestly cannot wait to visit SeaWorld again. I'm not going to avoid that there is controversy, but they have made great strides in adjusting their shows and safety procedures to address the concerns of the public. SeaWorld has changed its direction to become a more educational experience designed to encourage guests of all ages to preserve our marine life.
When you really get to see these majestic sea creatures up close, it really instills the importance of protecting our oceans for future generations to admire.