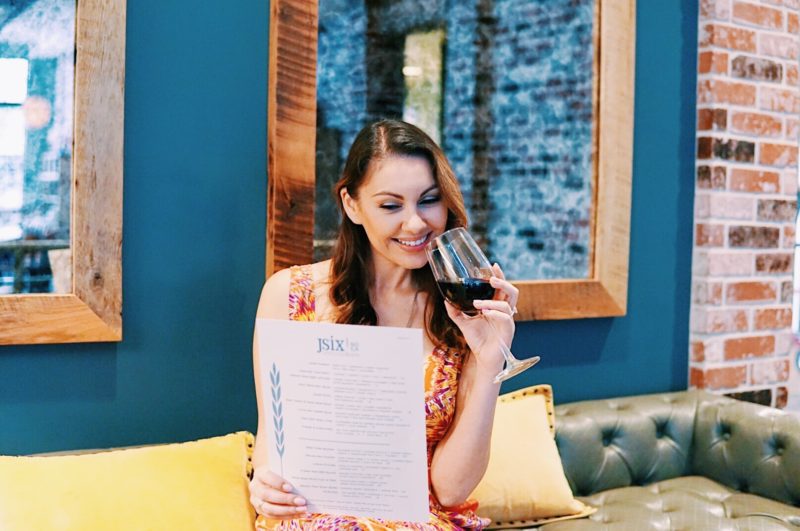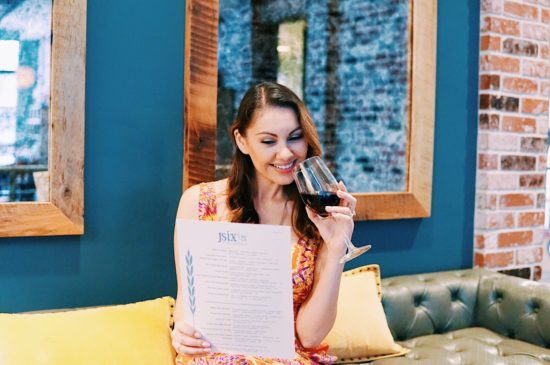 During our amazing stay in San Diego, we had the pleasure of dining at Jsix Restaurant at The Kimpton Hotel. Jsix is known for offering elegant cuisine slightly influenced by Chef Sinsay's Filipino roots. One of those dishes was a very clever Sweet Corn Bucatini served with table-side truffles. This is what I call fine dining at it's finest. Their other dishes, however, are equally as impressive and creative.Whether you're a local or visiting the Gas Lamp District in Downtown San Diego, the Jsix Restaurant is a must visit. In addition, if you're looking for a more casual experience you can also head up to the rooftop for some drinks and appetizers at Upper East.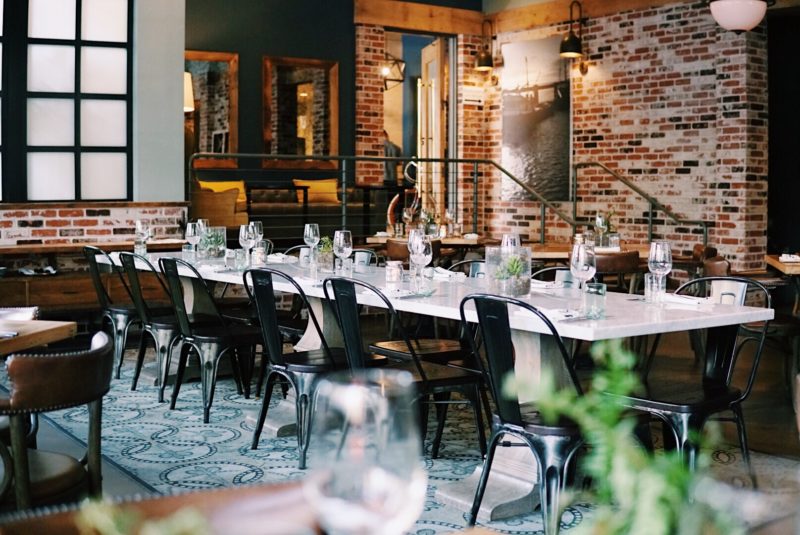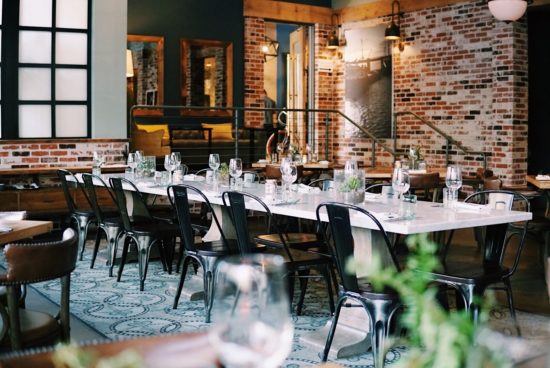 For starters, all dining experiences should begin with a cocktail. Meet the Hiro Dreams of Agave, pictures below, created by bartender Jay Joy (yes that's really his name). This clever cocktail was inspired by the idea of using wasabi instead of the popular jalapeno. By using wasabi, Jay is better able to improve the consistent flavor of each drink as the heat of jalapenos can be very unpredictable. We love the use of wasabi which gives the drink almost a horseradish like spice. It's also absolutely beautiful with its bright green color. Green means healthy right?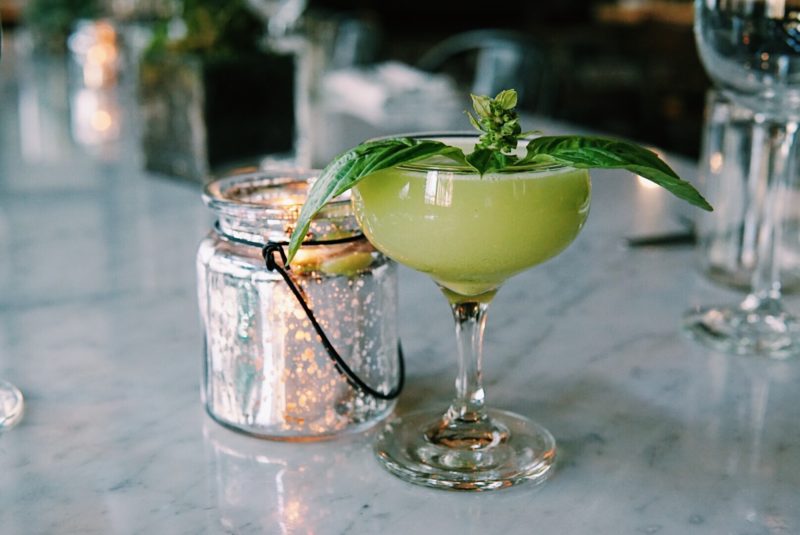 correlejo blanco, lime, agave, basil, wasabi
Next, we had to indulge in their spectacular charcuterie and cheese selection. As you know I am a huge fan! This charcuterie cheese board is one of my favorites. I love how every restaurant can put its own unique spin by adding various accompaniments. I especially loved the sweet mustard and addition of fresh peaches. As you can see from the photo's this is a beautifully presented board with various cheese and meat selections added to the menu regularly. I highly recommend the goat cheese selections.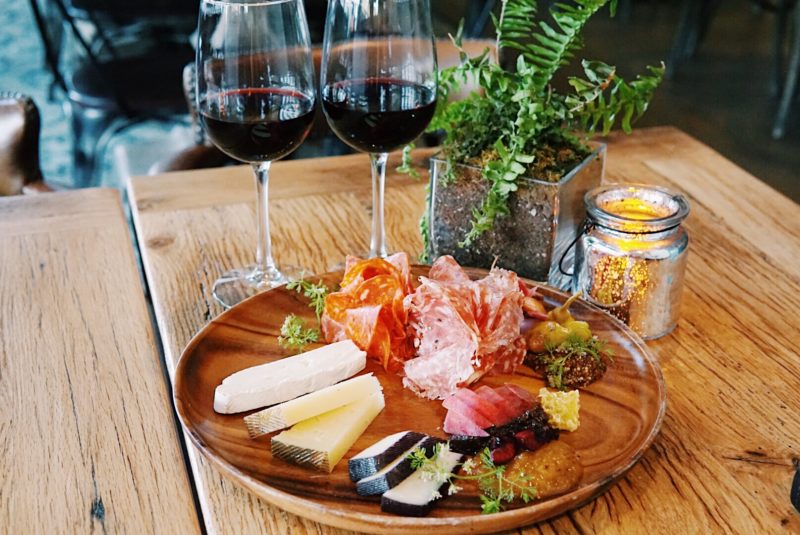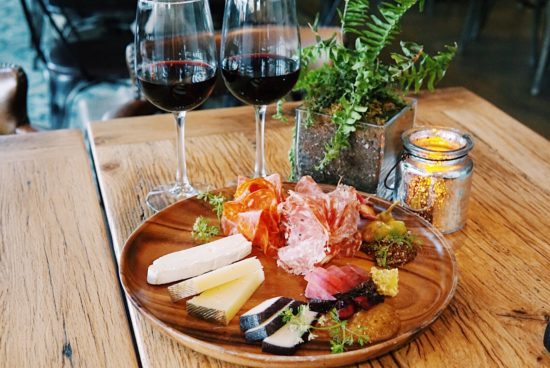 If you are a fan of caviar, and what fine dining foodie isn't, I highly recommend their delicate Caviar puffs with creme fraiche. These light and fluffy puffs are a perfect start to any meal and are simply adorable. I also absolutely love the plating.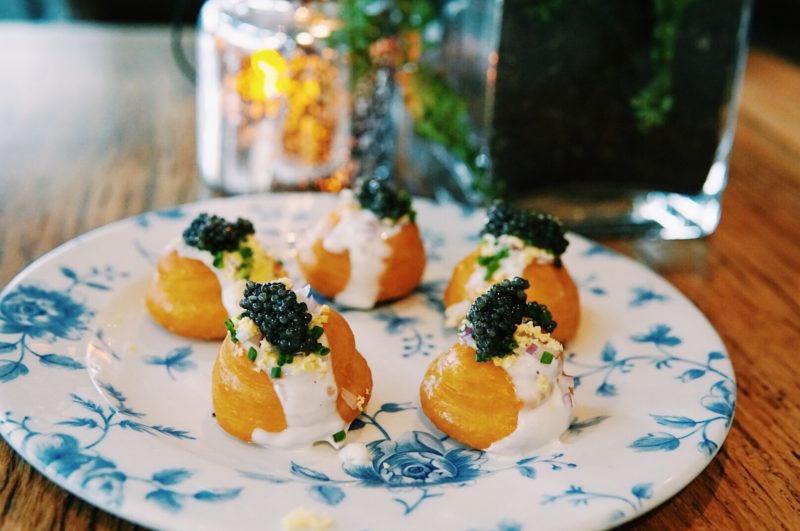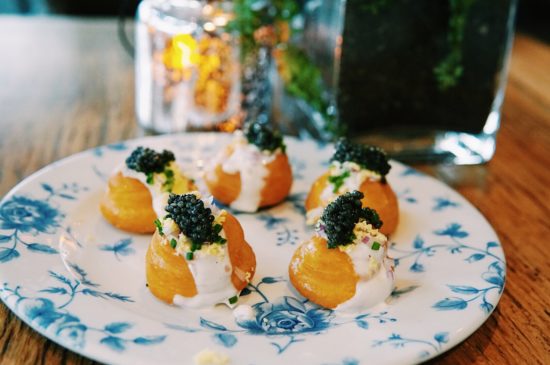 Now its time for that amazing Sweet Corn Bucatini inspired by the popular "Palobok" Filipino noodle dish. This newly inspired version features smoked peanuts, caramelized egg yolk, garlic, and of course fresh truffles. It is not often you are able to experience a $23 dish that arrives with a box of fresh truffles. This is truly an extra special treat that really speaks to the care and thought in all the dishes served at Jsix Restaurant. This dish is also completely vegetarian.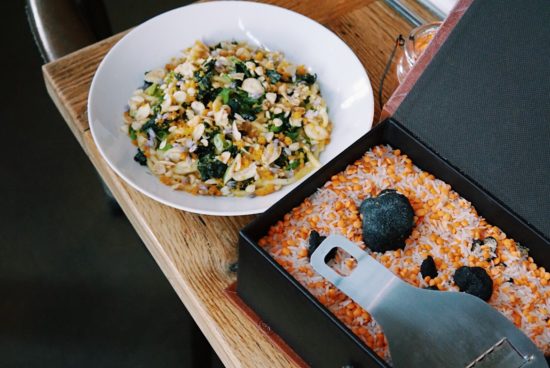 However, if it's meat you crave then feast your eyes on their Filet and Adobo Pork Shank. The below filet is served with crispy fried onions, finger link potatoes, and a delicious chimichurri sauce. The perfect selection for any steak lover.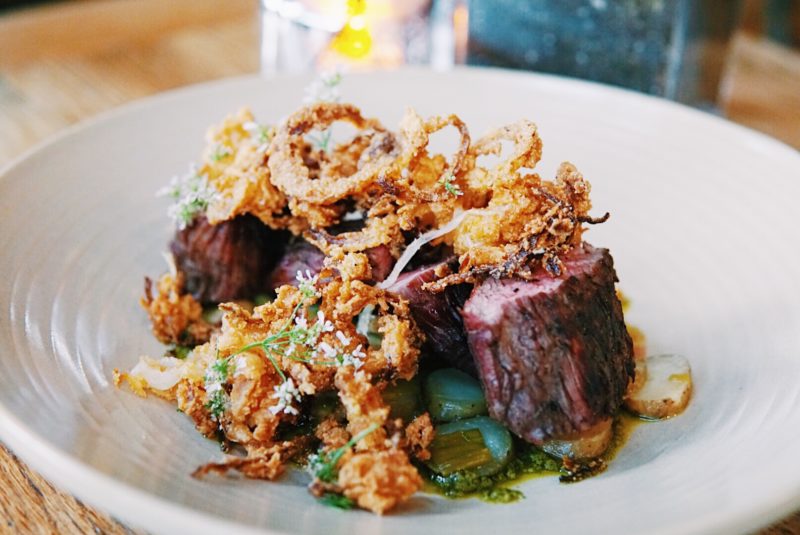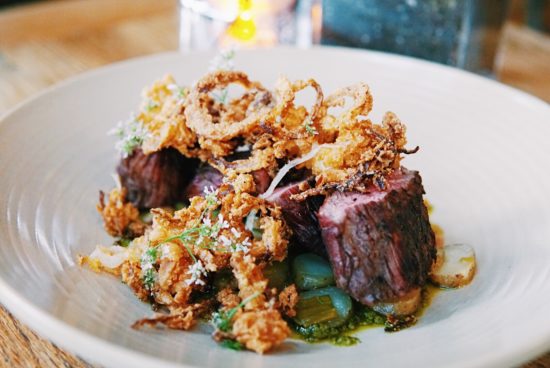 If you read my blog often then you know I order a pork shank everytime I see it on a menu. It's fairly rare to find, but I have noticed this amazing dish picking up popularity around Southern California. I have never had a mediocre pork shank at any restaurant and this was no exception. The Adobo Pork Shank was full of flavor and was delicious served with the jasmine rice and green beans. I could really taste the Filipino inspiration in this dish.
Finally, what I really love about the Jsix Restaurant at the Kimpton Hotel is that they also offer a more laid back and fun experience. You can head up the elevator to their poolside bar Upper East and enjoy their specially created appetizers and even order off the Jsix Restaurant menu.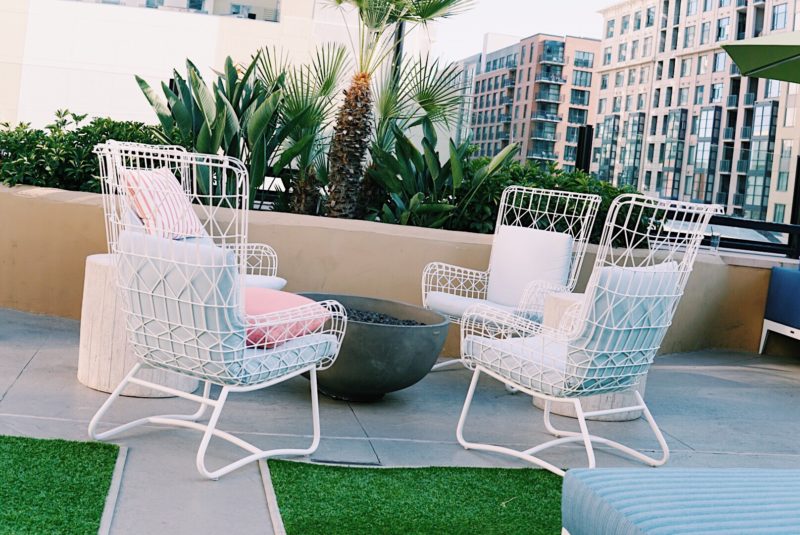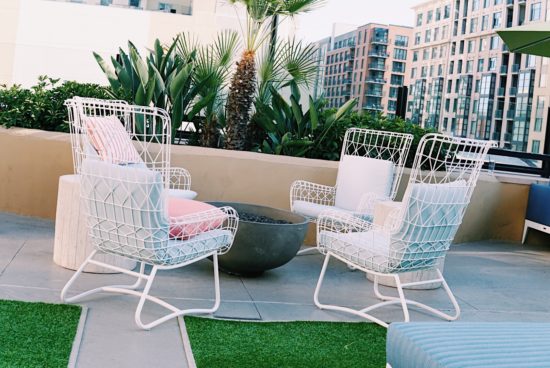 When we went it was full of birthday parties and bachelorette parties so we ordered a quick appetizer and headed downstairs. I definitely suggest reserving a cabana if you plan to spend the day at the pool.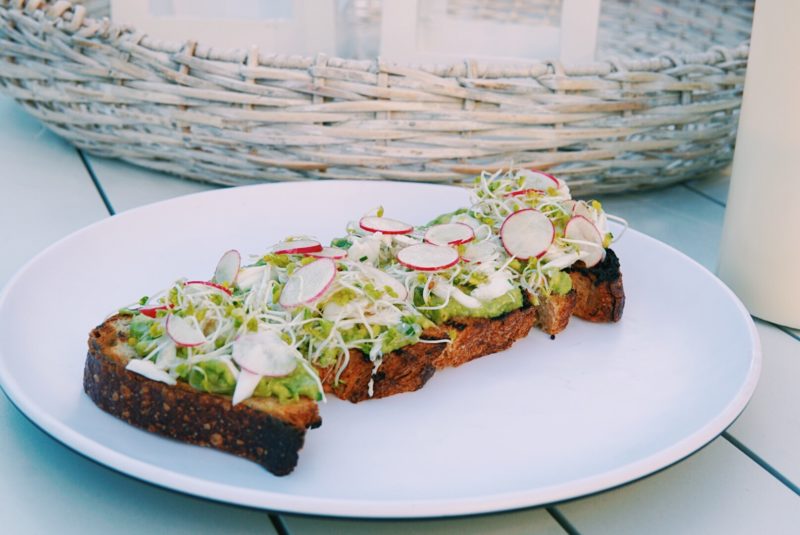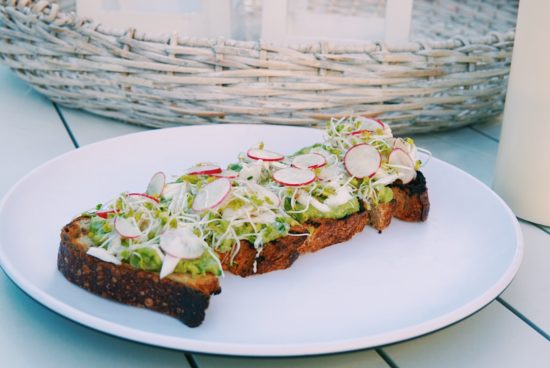 So which one of these fabulous dishes would you devour?
Jsix Restaurant & Upper East at The Kimpton
616 J Street | San Diego, CA, 92101
Reservation: 619-531-8744