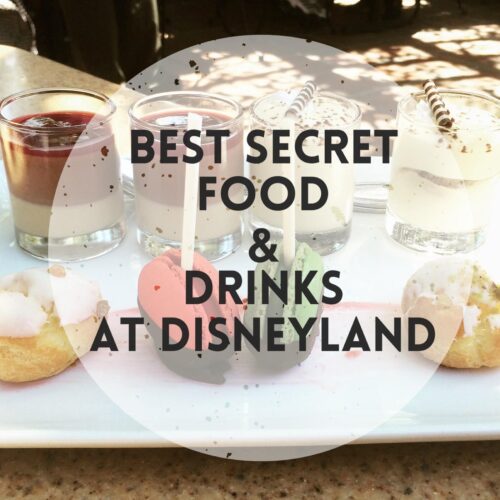 This is my favorite post thus far because I love Disneyland, I probably go way more than I should. It started at once a month and has become several times a year. I know all the little ins and outs, but more importantly exactly where and what to eat! My day at Disney is split between eating and going on a few rides, but mostly eating. I think Disneyland is completely under estimated. When people think of Disneyland food they think of giant chicken legs, Dole Whips, Candy Apples, and maybe the Blue Bayou if they're feeling some fine dining. You're not going to find any of that here because these are the real amazing foods at Disneyland, this is how you do Disney Pretty Fit Foodie style!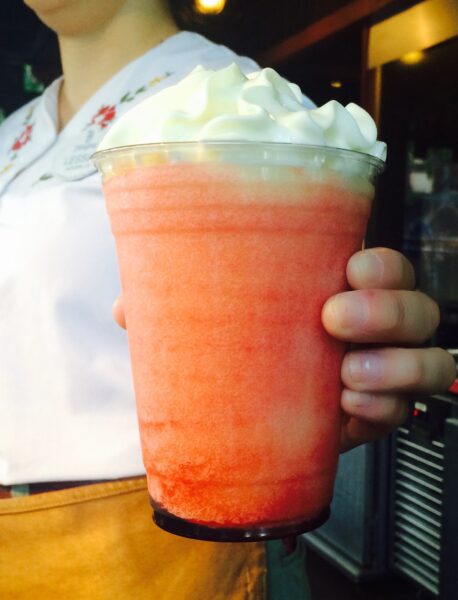 I start my day knowing I'm going to have to grab some fast passes so I'll need a little treat to tide me over until lunch. Its usually hot and after a long car ride I'm thirsty and ready for a quick cool down. Let me introduce you to the best drink at the park, yes better than the Dole Whip which gives me heartburn all day. Feast your eyes on The Red Apple or Boysenberry Freeze. Found in Disneyland by the princess tent next to the castle or in California Adventures at Cone Coction.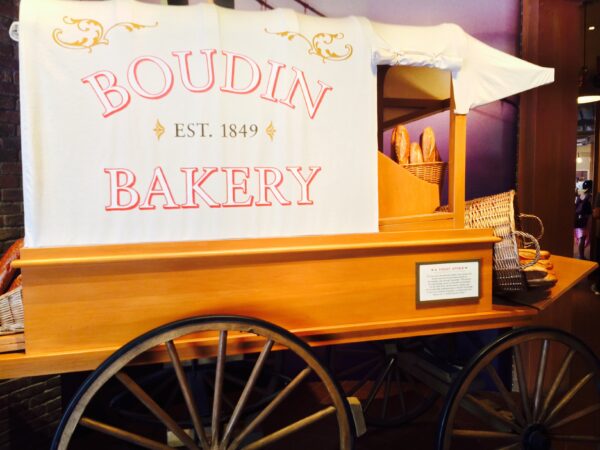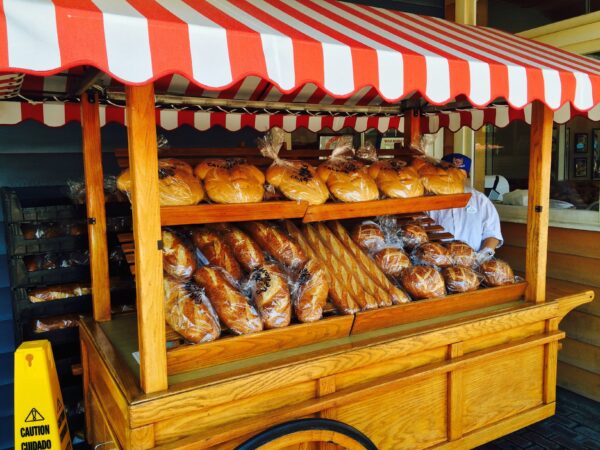 Now if you still need a little nibble, take a walk through the Boudin Bakery from San Francisco and discover how they make the tastiest Sour Dough Bread. They say they use a piece of the originally yeast in ever loaf which they hand out fresh samples of as you walk through. If Petit Trios has the best French Bread, this is for sure the best Sour Dough.
By now we've already grabbed a few fast passes and went on the Runaway Railroad and California Screaming so its time for lunch and there is only one place worthy of lunch in the entire park. This is a big statement, but let me just say, as I was developing this blog I went to Disney two times just so I didn't miss any of my must have Disneyland treats. I could have picked another place for lunch but we both agreed that Wine Country Trattoria is hands down the only option and here is why.
Its outside on a beautiful shaded terrace
They make their fettuccine noodles homemade ( I know expensive Italian Restaurants in LA that don't even do this)
You can enjoy your afternoon cocktail!
the wait is usually not long, they say 20 minutes but its more like 10 and you can grab a glass of wine at the wine bar while you're waiting
Mushroom Bruschetta!!
Your Must haves are the Mushroom Bruschetta with Artichokes and Sun-dried Tomatoes. Followed by Shrimp Scampi Fettuccine in a white wine lemon sauce. Be sure to add Brocollini to make it extra tasty!
And now for the biggest secret, the World of Color Dessert. Technically you are suppose to order the World of Color meal, but I know that if you are very sweet and smile really nicely you can get one of these as your Birthday Dessert instead of the Mickey Face. Indulge in mini Tiramisu's, Pana Cotta's, Cream Puffs, and Macaroons!!
Now not that this will ever replace lunch, but maybe for a yummy snack you can all dive into a warm bowl of Steak Gumbo. You know that moment were it was 80 degrees all day and then the sun goes down and you're freezing in your shorts and tank top because the temperature dropped down to 50 degrees? That's called Gumbo Time! Disneyland hands down has delicious and authentic Gumbo, just look at that chunk of Okra.
For Dinner you're going to want to plan for a reservation. A little tip is to make your reservation for the Terrace at 8pm and you can see all the fireworks and they even play the music from the show. But sitting inside is also just as magical. Most people walk right past Carthay Circle and aren't even sure what it is. It is a spectacular and beautiful restaurant with the best food in the entire park, even Napa Rose. From their well crafted cocktails to one of a kind colorful dishes, you will not leave here disappointed. Maybe poorer, but not disappointed! To start enjoy a traditional Martini with a giant Diamond Ice cube for Disneyland's 60th Diamond Anniversary. Complimented by a stuffed green olive with blue cheese, yum!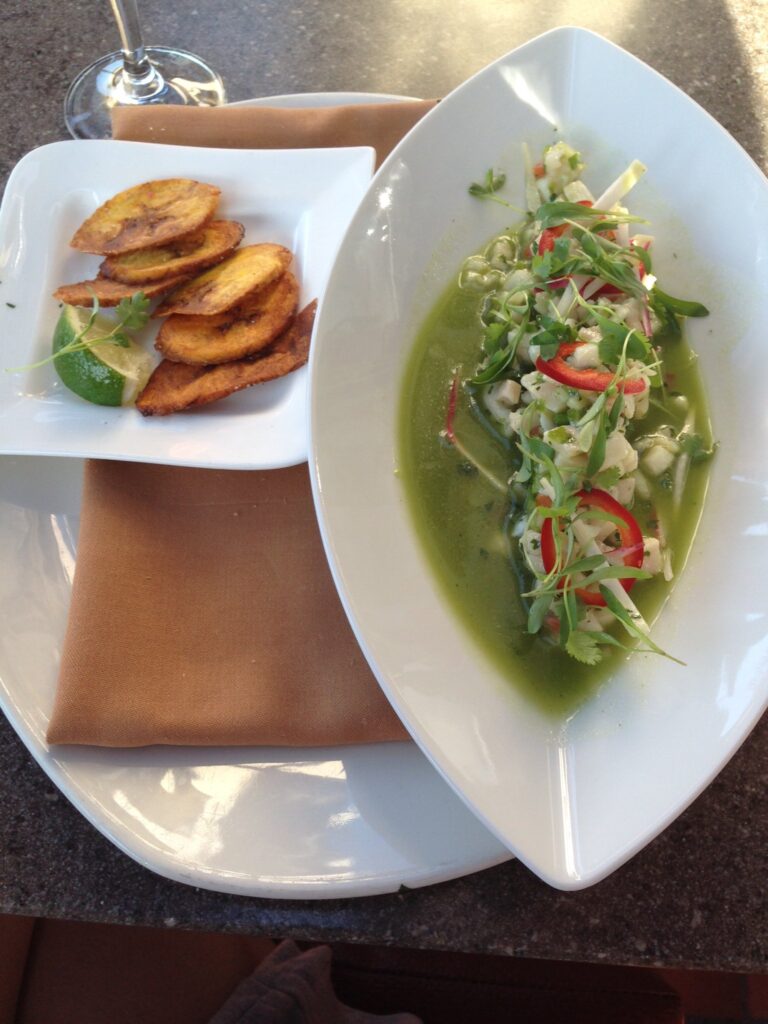 Next you"ll want to try one of their many tasty appetizers. Look at this beautiful Ceviche with Tomatillo Sauce and Plantain Chips.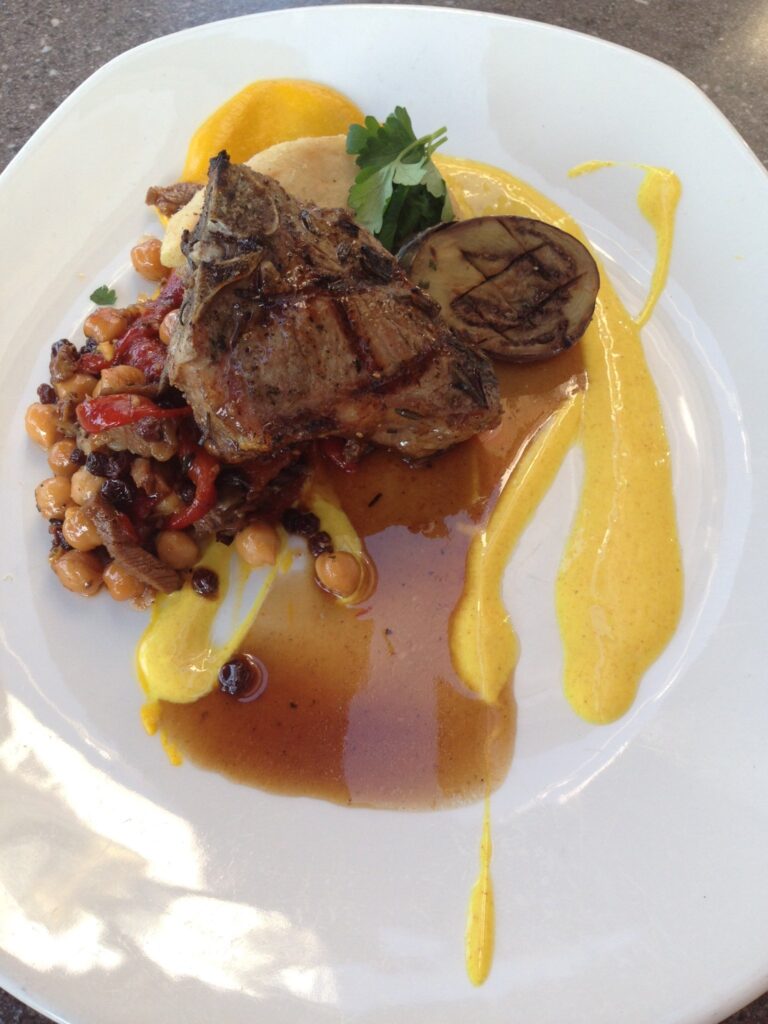 And for the Entree, my all time favorite dish is the amazing Lamb Shoulder with Curry Sauce, Chick Peas and Currants. This dish is phenomenal! It has 3 different types of sauce that are all delicious on their own and even the little grilled eggplant is yummy. As far as Lamb dishes are concerned this is one of the best I've ever had and its right here in Disneyland.
If a Martini is not your drink, my second favorite drink at Disneyland is their Rose Regale which you can find all over Disney Venues like the Walt Disney Concert Hall. It is the tastiest Sparkling Red Wine I've had and its my tradition to get a glass every time I visit the park.
And of course you"ll need another dessert so please head over the the Ghirardelli Shop across from the Boudin Bakey and enjoy one of their amazing Sundaes with real fudge! If you know me, you know I love peanut butter sauce so their Peanut Butter Sundae was my obvious first choice and it did not disappoint. This is the yummiest Sundae you've ever had and they hand out little Ghirardelli Caramel squares at the door.
Disclaimer: now for my disclaimer, please share everything on this list! Its tasty, its amazing, and its also a million calories. So when you're at Disneyland screw the Chicken Leg and Dole Whips. These are the real secret foods of Disney that I look forward to devouring on every trip.