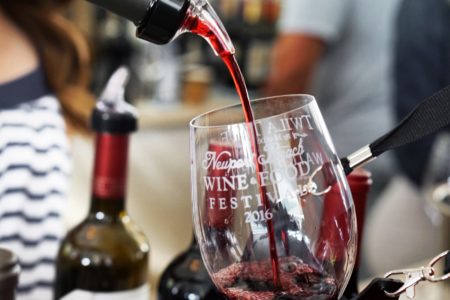 The Newport Beach Wine and Food Festival is easily the most anticipated foodie event of the year. At $175 a ticket, you can believe this luxurious event is reserved for only the most serious foodies, five-star restaurants, and Sommelier approved wines.
I attended Sunday's festivities and enjoyed samples from Orange Counties top restaurants including Mastro's, Five Crowns, Sushi Roku, Watertable, A & O Kitchen, and B. Candy just to name a few. The food selections ranged from lobster mashed potatoes with prime rib to octopus ceviche and there were endless tastings of wine as far the eye could see. So much wine in fact, that when you entered the event they had complimentary wine glasses strategically attached to lanyards so you could effortlessly enjoy endless pours while leaving your hands free to sample delicious food to your heart's content.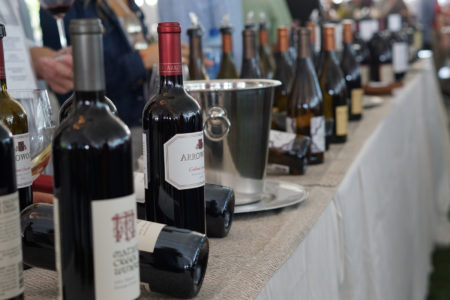 I have to admit, this really is the ultimate foodie event and is well worth the price tag. There was never a line, not one vendor ran out of food, and everything was served hot and fresh. It took me nearly two hours to try samples from every restaurant. Towards the end of the evening, I was so stuffed, but I had to go on. It was my job to try every single tasting available! There were some seriously amazing dishes that were so good I literally could have just grabbed several plates and tucked myself away in a corner.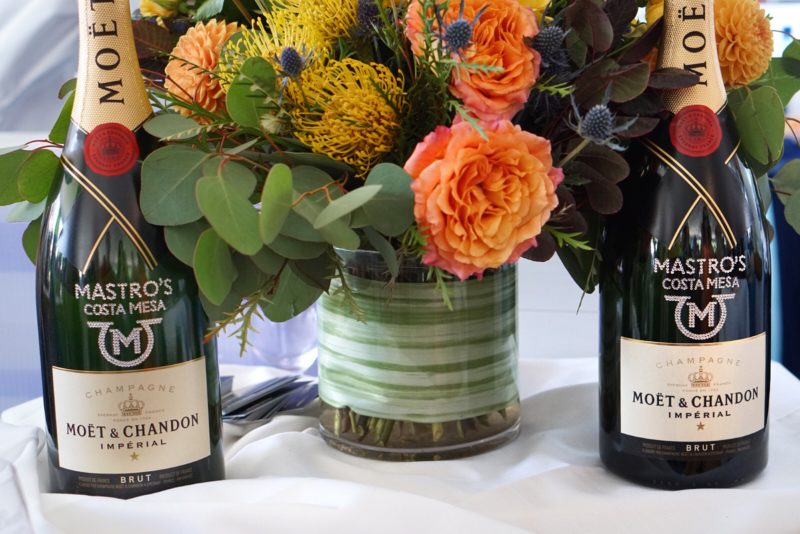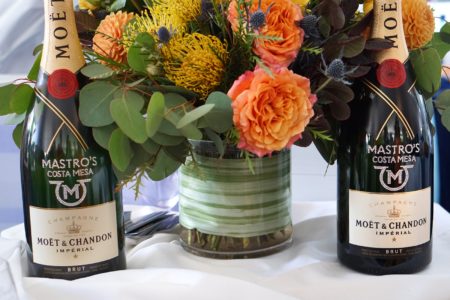 For the tastiest and most decadent tasting of the day, it is no surprise that Mastro's brought their A game. They served up fresh sliced steak sirloin cooked to perfection. This steak incredibly tender and lean. I know with Mastro's I shouldn't be surprised at the quality, but they deserve credit for executing their samples so flawlessly to over one thousand guests. As if that wasn't enough, they served their delicious sirloin with an equally impressive serving of mashed potatoes topped with huge chunks of lobster in a cream sauce. I was immediately envisioning my dog Boogie inhaling his food in seconds. Then I remembered I was at a nice event in Newport Beach and quickly restrained myself.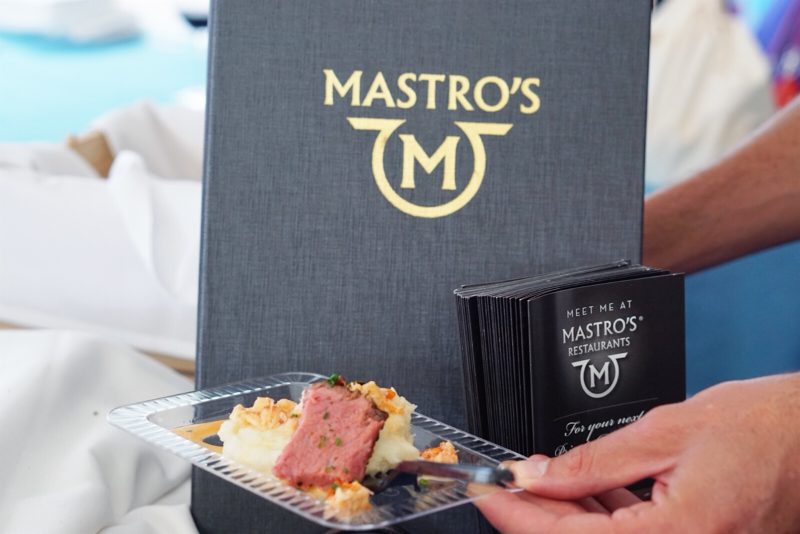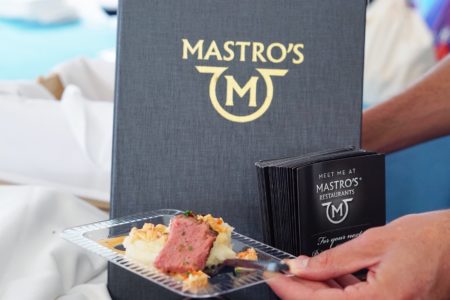 The most beautiful and innovative dish of the day went to Watertable and their beautiful beet stained scallop crudo with pomegranate seeds. They were almost too pretty to eat, but of course, I enjoyed every single bite. The flavors went together in a perfect harmony. It was creative and most importantly, it worked. I love discovering new amazing restaurants at these types of events and I can't wait to report back on Watertable which is located in The Hyatt Regency at Huntington Beach.
The Fiance's choice award goes to Sushi Roku. Now to be fair, my fiance is the pickiest eater and is not nearly as adventurous with his food as I am. With that being said, I have to admit, those were some seriously tasty hand rolls. I'm pretty sure he ate at least three of them and I heard several other foodies going back for seconds.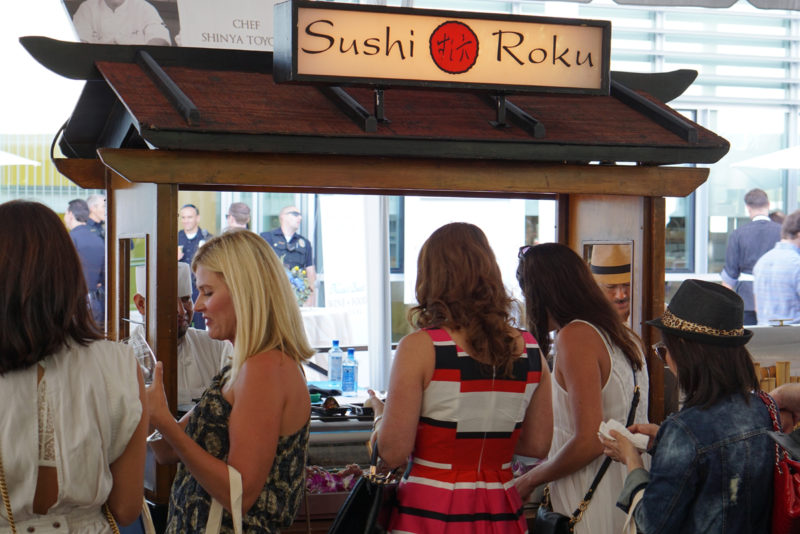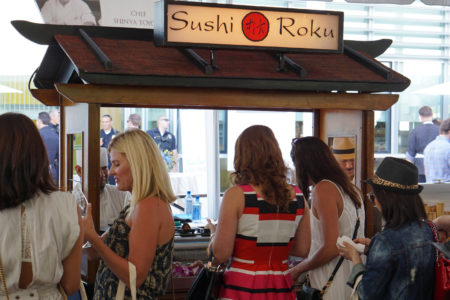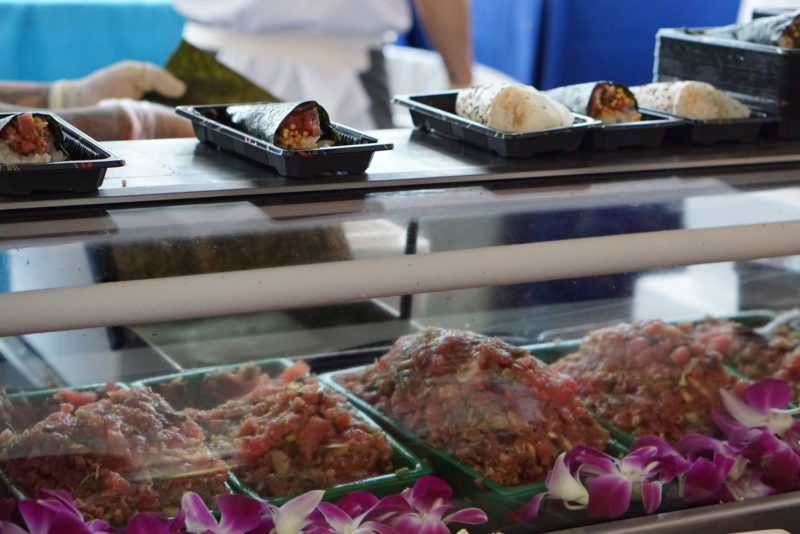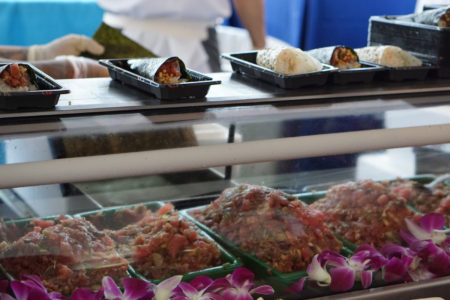 Enjoy these awesome pictures and stay tuned for an even closer look at some of the new restaurants I've discovered from covering the Newport Beach Wine and Food Festival.