Welcome to Trade in Irvine, where all your indecisive hunger needs are met. Do you ever get so hungry you can't decide what to eat? Of course, who doesn't? Trade in Irvine is the perfect place to please even the pickiest of eaters. From Mediterranean to Japenese, vegetarian and even some southern comfort. At Trade you"ll find delicious cuisine for whatever your palette craves.
First, we headed over to Gyro King to get the taste of the Mediterranean. We tried the juicy chicken kabob platter complete with rice and fresh salad. The chicken was tender and the rice was full of flavor just what you want. Next, we tasted the infamous gyro fries. These babies were like a flavor explosion!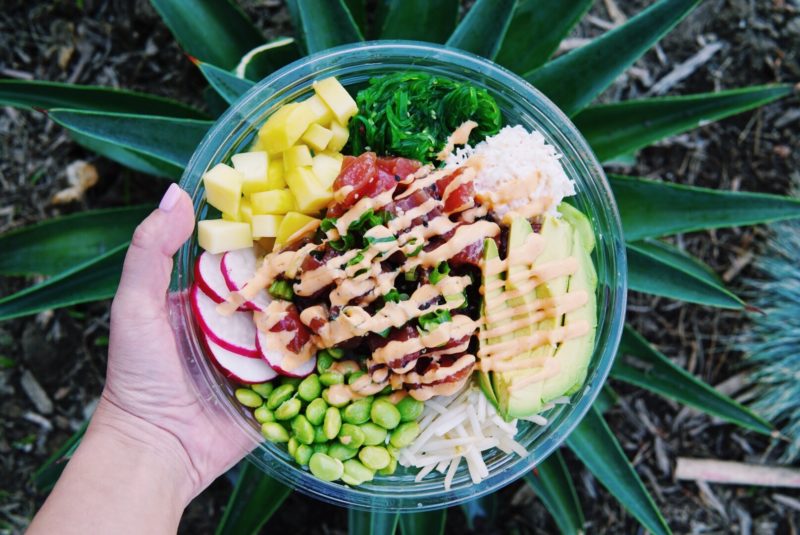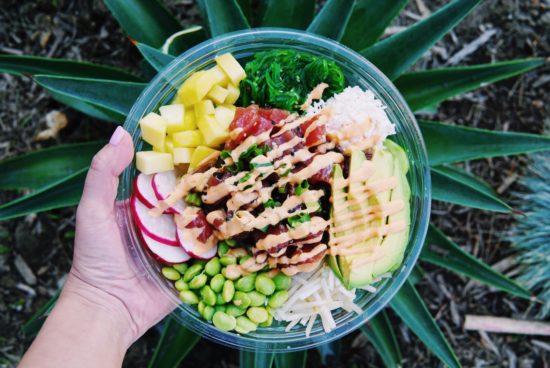 Next, you won't be disappointed with Megadon. The combo of Hawaiian and Japanese food makes for the perfect pair. I highly recommend getting a large Poke bowl. Not only is there a generous portion of fresh ahi, but there are a million ways you can customize your bowl. You can add fresh fruits like mango, honeydew, and even pineapple. This is honestly one of the best poke bowls I've ever had, especially for the price of around $12, you can't beat it.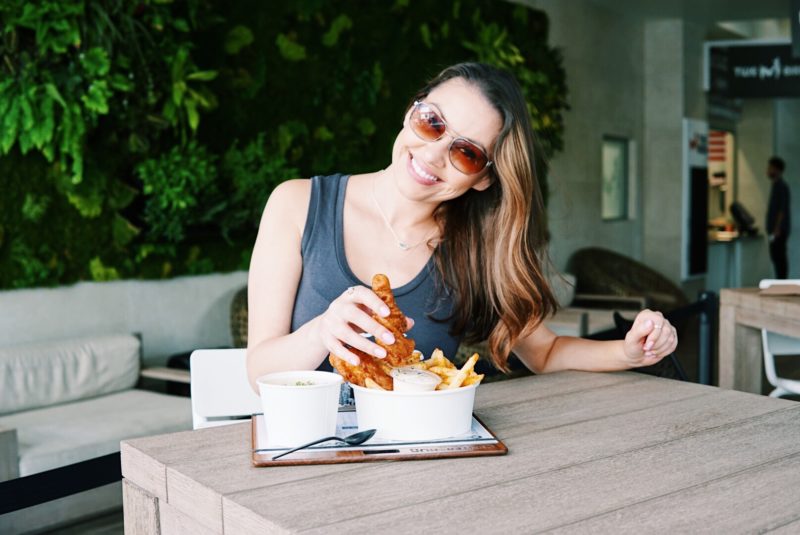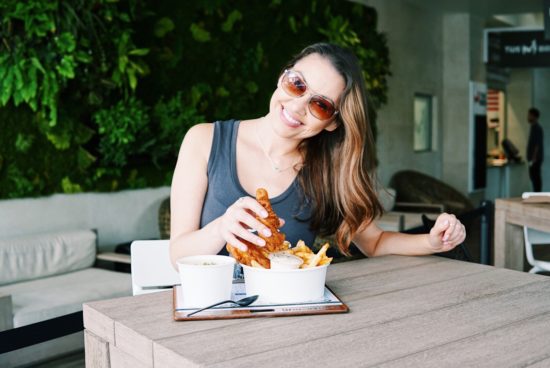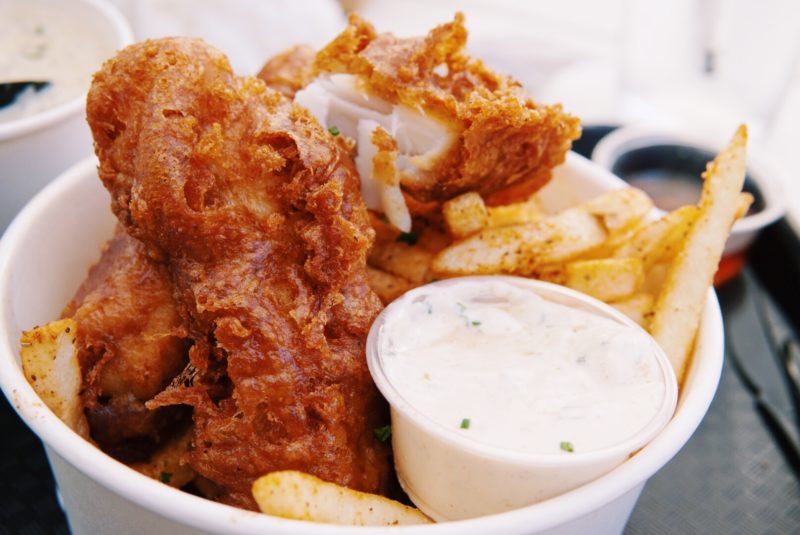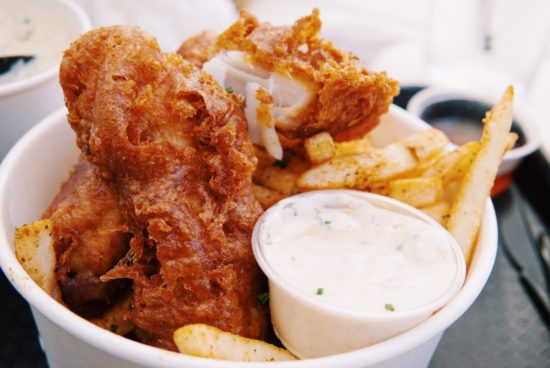 Alternatively, if you prefer your fish fried then definitely head over to Portside right next door. We tried the fish n chips made with "New Castle" beer battered fish and fries. In addition, we paired it with the traditional New England clam chowder. Chef Fernando (@chefnandofer) likes to keep things interesting and whips up a menu every few months. For the upcoming summer menu, he'll feature a decadent coconut shrimp with fried rice and pan seed flowers. Also, he'll reinvent the honey walnut shrimp and wrap it in a burrito. Pop on over and try the summer menu now.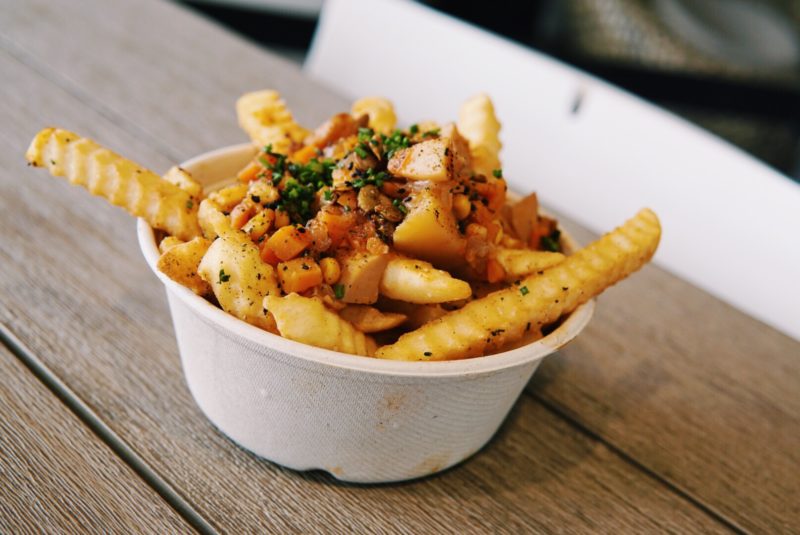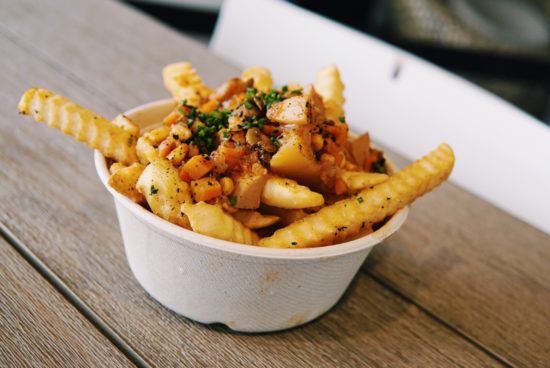 Then, for all the vegetarian eaters at Trade in Irvine head over to Butterleaf. We tried the poutine bites created with ingredients including veggie chowder, kale and pepita seeds. It's always great to have vegetarian options that even us meat lovers can enjoy!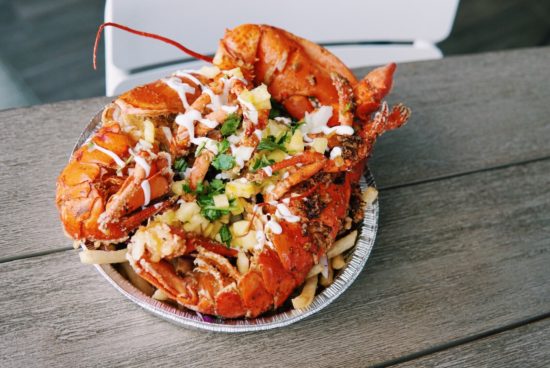 Alternatively, if you love seafood then get ready to indulge at Dos Chinos. This Latin-Asian Grub at Trade in Irvine has a unique menu ready for you to enjoy. We were lucky enough to get the super popular 1lb Lobster fries which typically sell out by the end of the day. Other items they're known for are the "Stoner Bowl" served with a fried egg and "Dos Chinos Asada". Get your Latin dining with an Asian spin.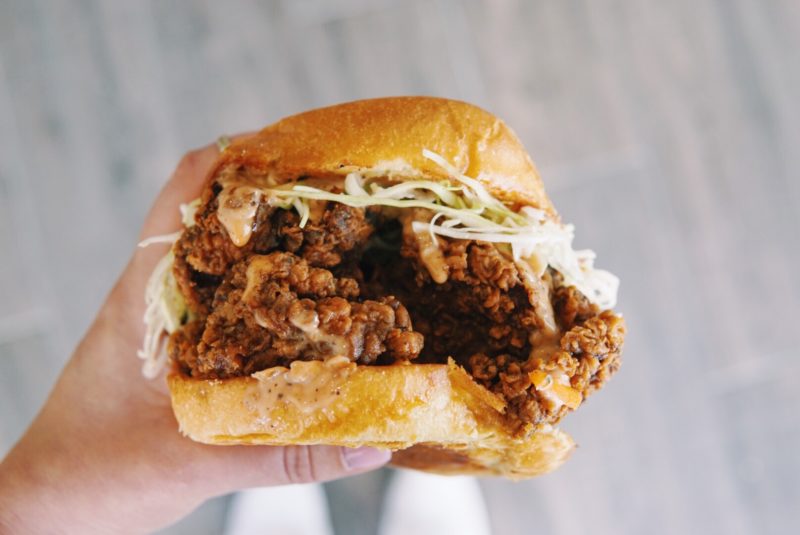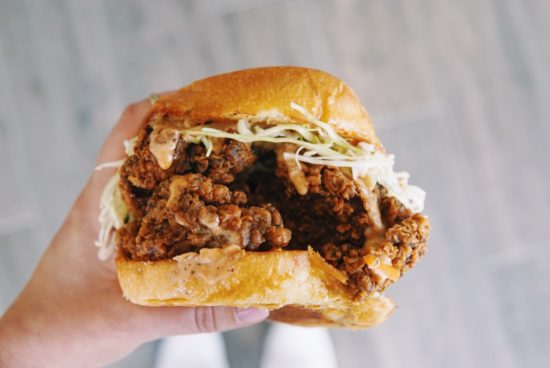 If southern cuisine tickles your fancy, then walk over to Two Birds. We tried the "bird and hand" sandwich complete with the most savory fried chicken. They also have specialty sodas like the "snozzberry" with hints of cherry. Traditional with a twist of "snozzberry".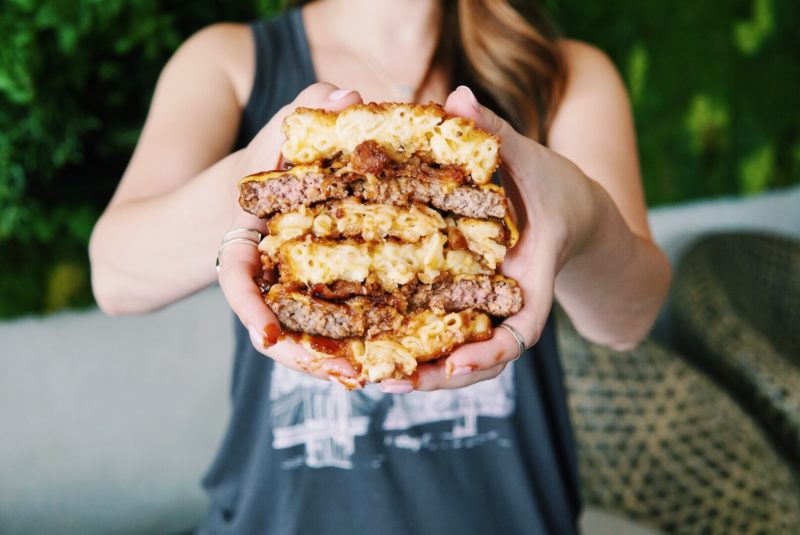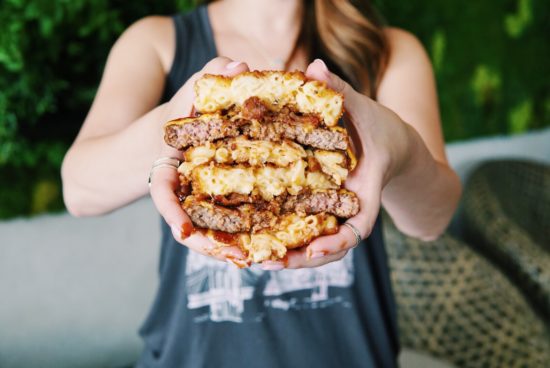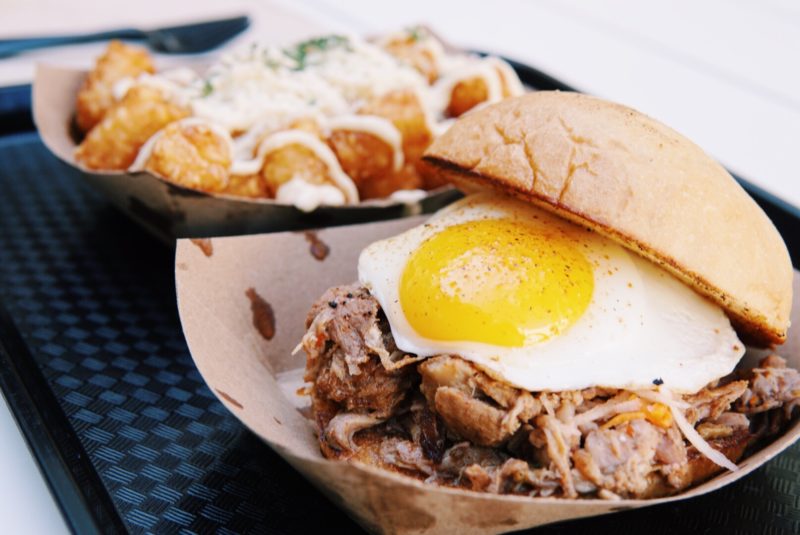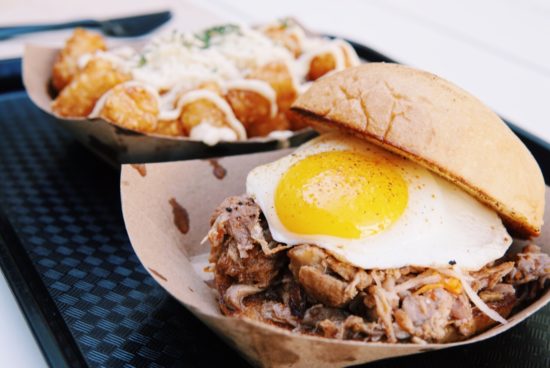 Finally, for the ultimate feast look no further than the Pig Pen Delicacy at Trade in Irvine. We dove into the "MacDaddy Burger" complete with candied bacon wrapped beef patties and fried mac n cheese for the bun. Get your bib out and taste this one of a kind burger. If that seems a little much, try the "Pulled Porkie" with BBQ pork and a hot sunny side egg on a brioche bun. Additionally, to complete the meal we tried the parmesan truffle tots with garlic aioli.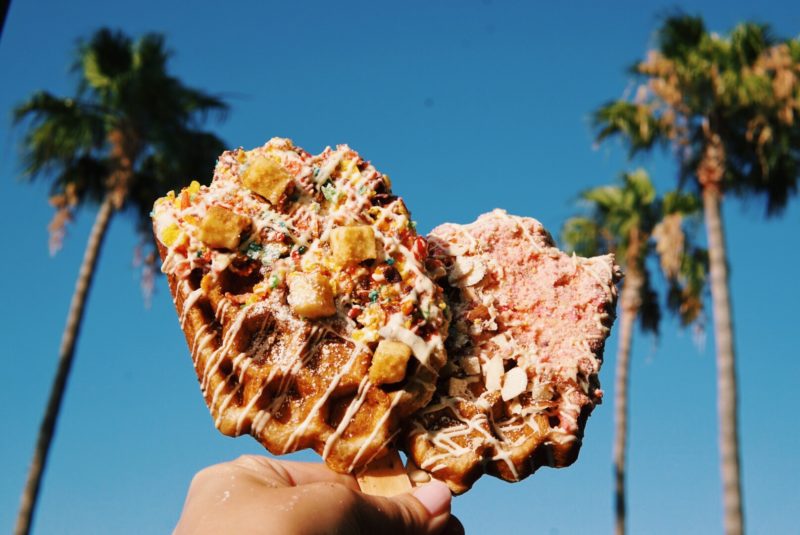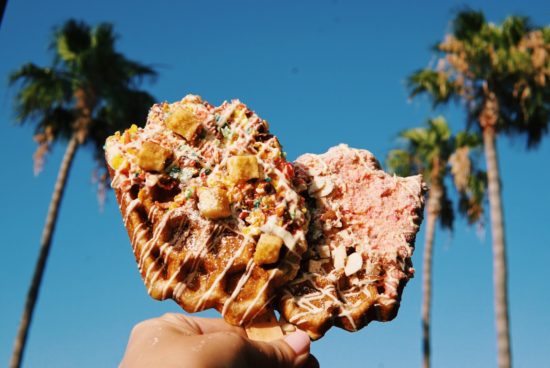 Lastly but certainly not least, experience Sweet Combforts. These aren't your typical Belgium waffles. These trending treats are covered in anything your heart desires. Delight in my personal favorite the "Cookies and Dream" with Oreo cookie butter, Oreos, and white chocolate drizzle. Secondly, the sweet "Bam Bam" topped with fruity pebbles and cheesecake bites. Thirdly, "Ya mom's!" with pink Circus Animal cookie butter topped with Circus Animal cookies. Enjoy their rich shakes like "Cookie Monster" with Oreos or a Mexican classic, "Horchata". Sweet tooth satisfied. I have to admit, these were beyond delicious!
Now that you've seen all the treats Trade in Irvine has to offer have you decided what to eat yet?