Wilma's Patio has much to offer with its beautiful Balboa Island location and expansive menu to satisfy all your cuisine cravings. A favorite among Newport Beach locals, this restaurant has been family-owned for over 35 years. The owner, Wilma's daughter Sherri, prides the restaurant on their family environment which extends from the kitchen to the community.
Their menu has only grown since Sheri took over. What began as a small menu with only a few items has extended to offering all-day breakfast, coastal cuisine, Mexican food, and even some of Sheri's favorite home-cooked recipes! Whether you're craving french toast in the evening or a traditional family meal just like mom used to make, Wilma's Patio will surely become one of your favorite Newport Beach restaurants.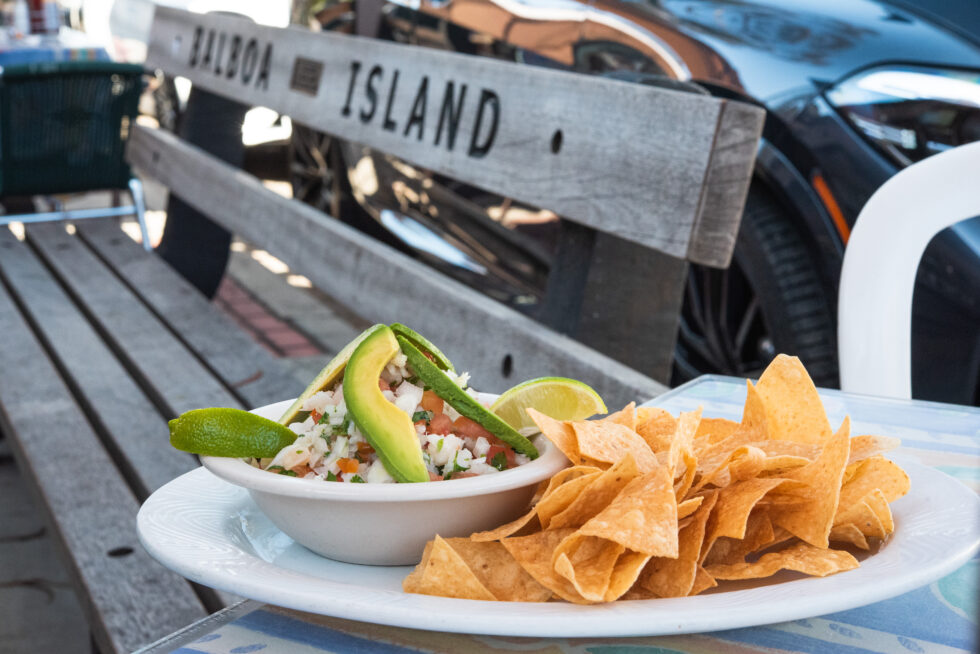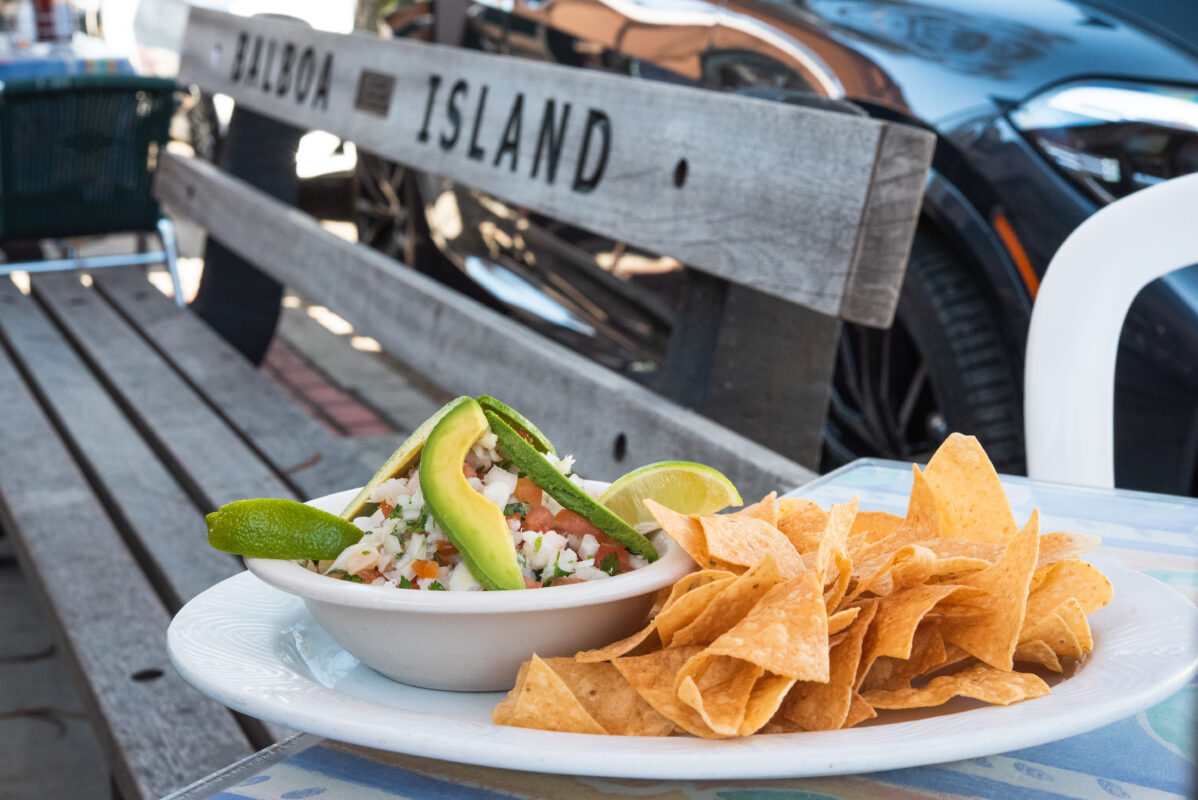 The history of Wilma's Patio began with a nostalgic visit to Balboa Island in 1975.
Situated along Balboa Island's Marine Avenue, Wilma's Patio is a fun cross between a cozy beach cottage and friendly diner. The original owners, were Sheri's parents, Wilma and Maurice Staudinger. After living in Glendale the family decided to purchase a beautiful large new home in Irvine, Califonia. They decided to take a nostalgic trip to Balboa Island to discuss the renovations of their new home over a nice dinner. Her parents would often vacation on Balboa Island in the 1950's!
During dinner, Maurice chatted with the owner of the restaurant they visited and asked if the restaurant was for sale. Surprisingly he said, "well actually, yes!". They bought the restaurant on the spot and decided to move into a smaller house. They named the new restaurant Wilma's Patio and it has been family-owned ever since.
Sheri describes her first impression of driving over the bridge to Balboa Island as being "like entering Disneyland." Wilma's Patio has since become more than a restaurant. It's "the home of Balboa Island." According to Sheri, Wilma's is like "one giant family" from its employees to the customers. After church on Sundays, Wilma's Patio is "like a party!" Locals float from one table to another to say hello and catch up, truly showing the family spirit of Newport's beloved Wilma's Patio.
Their light and refreshing ceviche is perfect to enjoy by the sea.
Wilma's Patio is a home away from home, but its delicious cuisine is the true treasure here! To start off, we enjoyed their refreshing ceviche. It contains line caught Pacific cod, fresh lime juice, cilantro, tomato, and onion. Served with avocado and warm tortilla chips, this light appetizer pairs perfectly with the cool ocean breeze!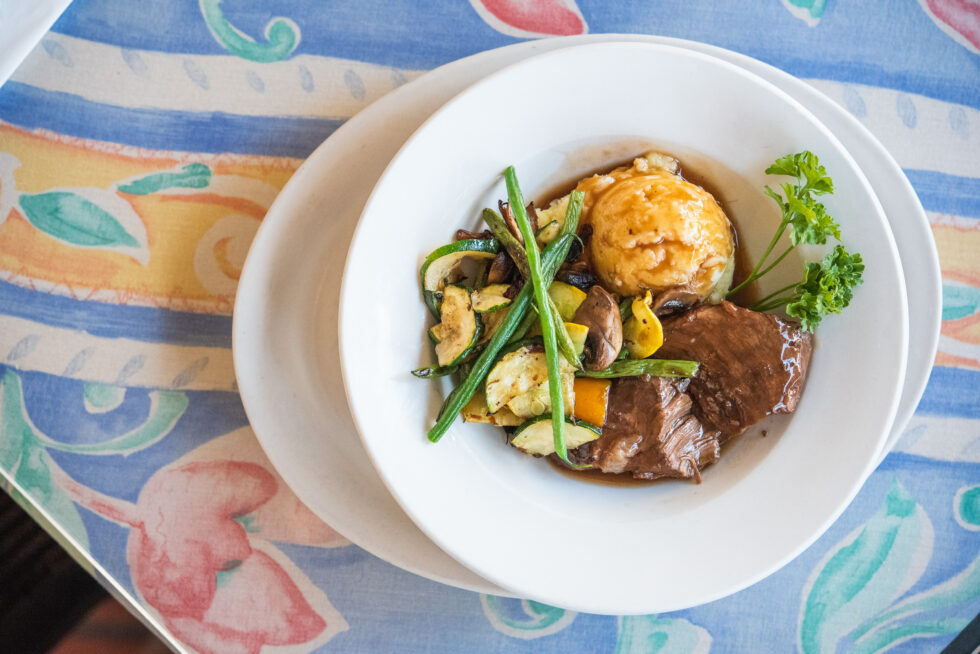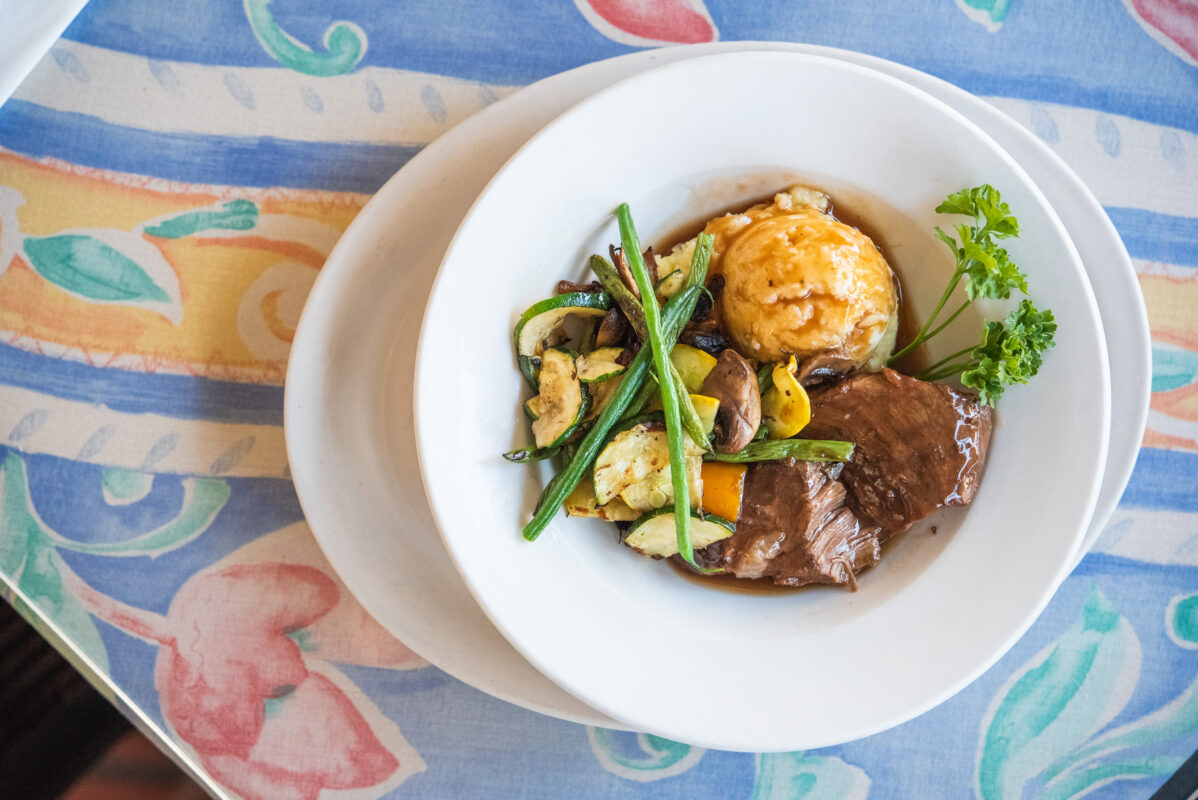 Wilma's delicious pot roast will rival your mom's recipe!
After our appetizer, I decided on a small plate version of their savory, slow cooked pot roast. This dish comes with freshly grilled and seasoned veggies, mashed potatoes, and gravy. The tender meat falls apart at a fork's touch. With one bite of this mouth-watering pot roast along with the flavorful veggies and mashed potatoes, you'll feel right at home at Wilma's Patio. If you think your mom's pot roast is amazing, you need to try Wilma's. I bet your family pot roast recipe will have some serious competition!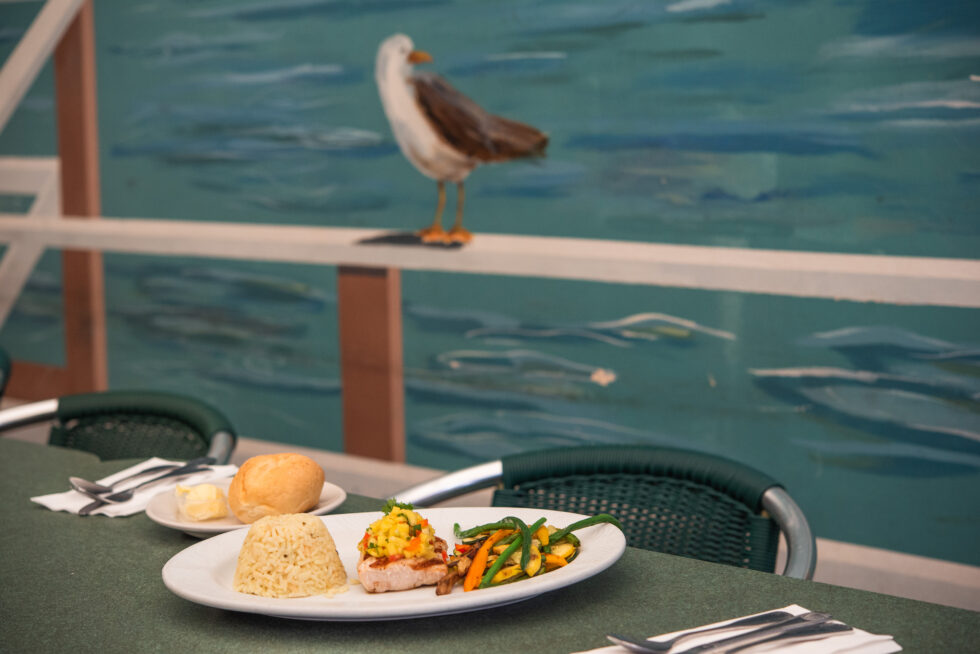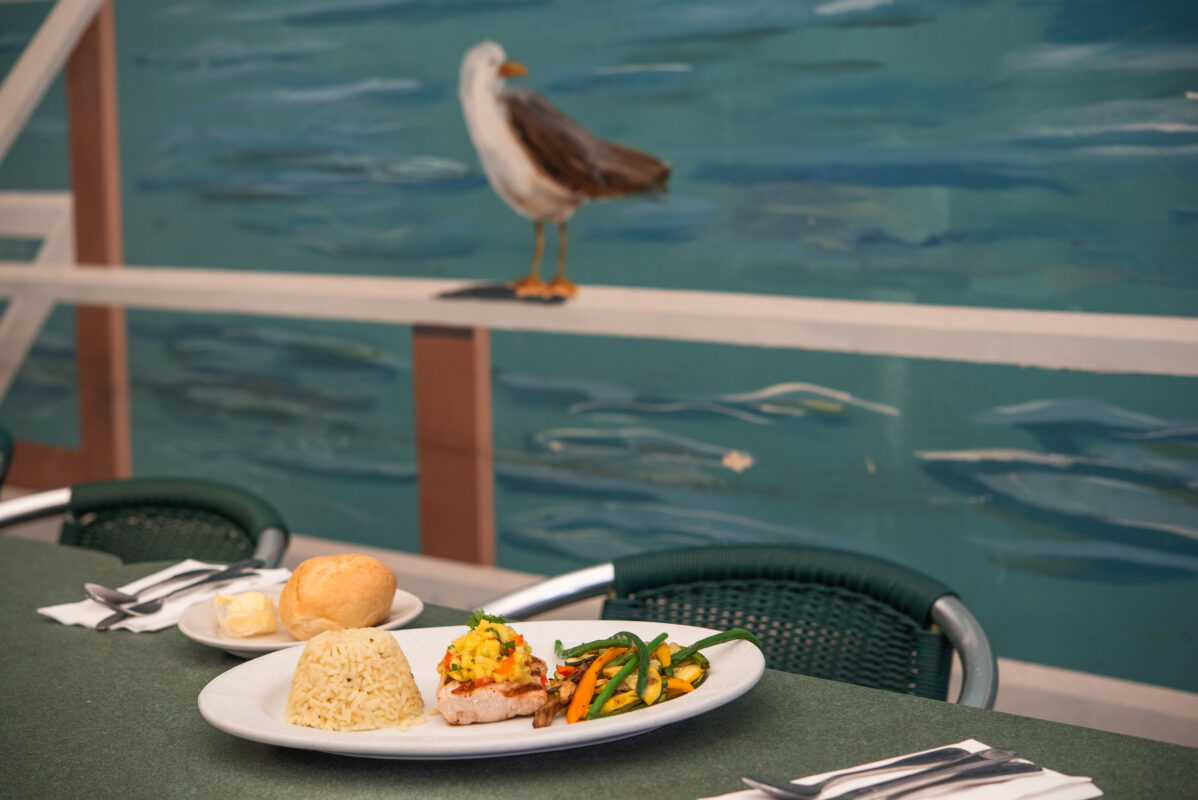 Wilma's Patio offers plenty of seafood options to kick off your trip to Balboa Island.
Next, we had one of Wilma's dinner favorites, the mango mahi-mahi topped with a sweet mango salsa. It comes with rice pilaf and seasoned vegetables. The sweetness of the mango salsa was light and refreshing. I loved every bite of the buttery and fluffy rice pilaf. When you go to Wilma's Patio, this seafood dish is definitely a must.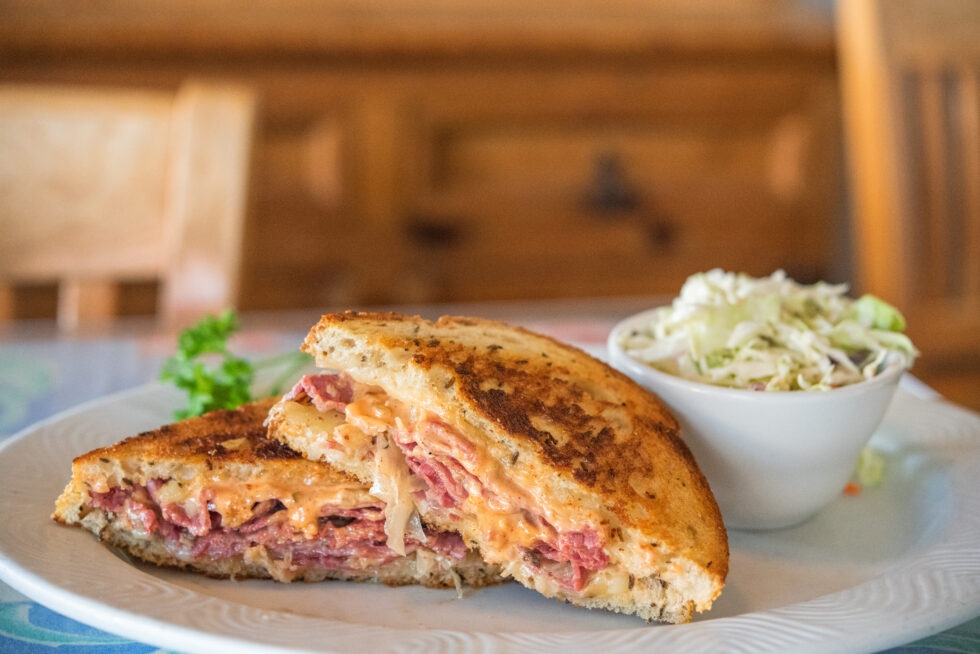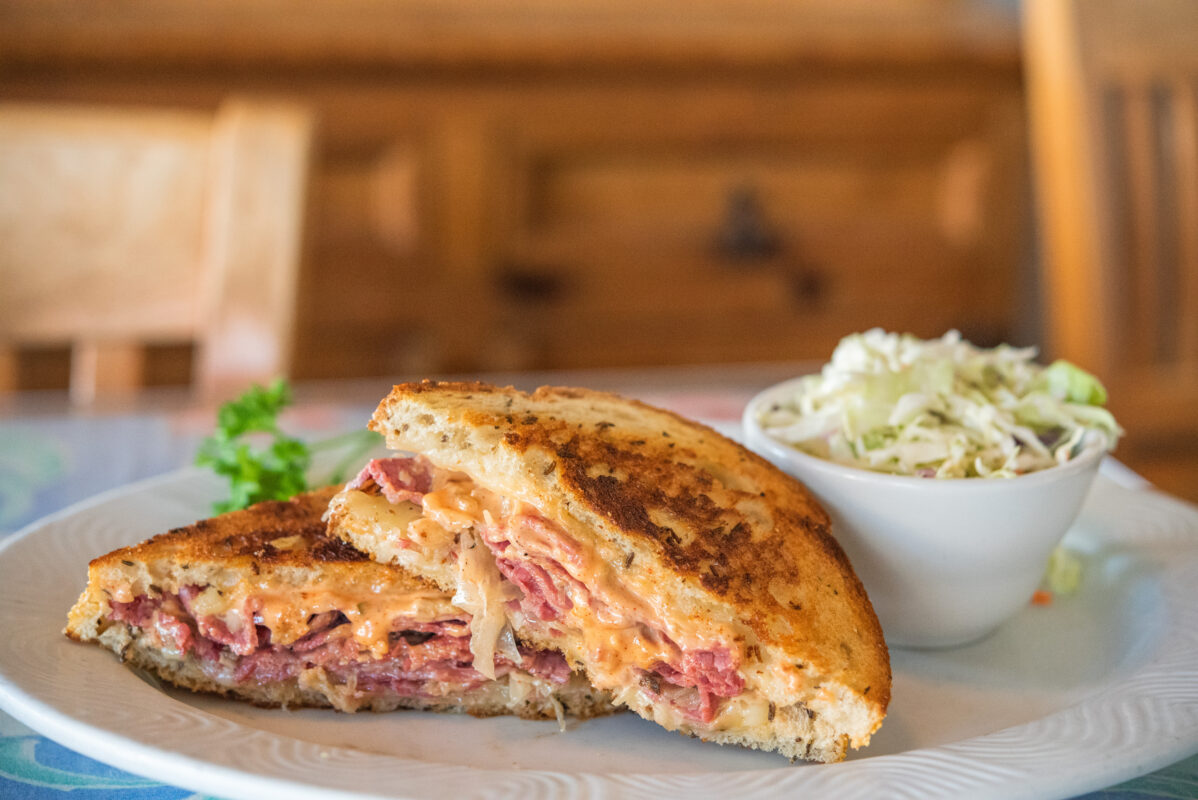 Here you'll also find an "authentic" Reuben.
Being from NY, I couldn't leave without trying the Reuben. This isn't just any Reuben sandwich, however. Sheri prides herself on this being an "authentic" Reuben which you can't get anywhere else! She even told us a story about a man who visited the restaurant who claimed to have known the original creator of the Reuben and he said that hers was the best Reuben next to his.
I have to admit Wilma's Reuben did not disappoint. It was piled with lean tender corned beef, swiss cheese, sauerkraut, and thousand island dressing (which is homemade, by the way!) grilled on deli-style rye bread. I'm already planning my next return for one of these!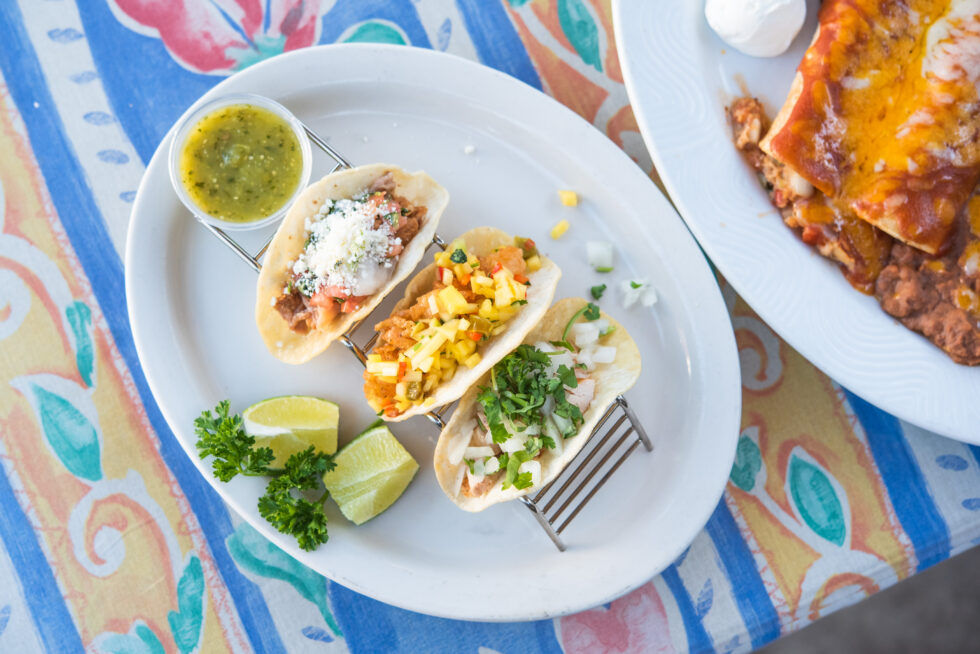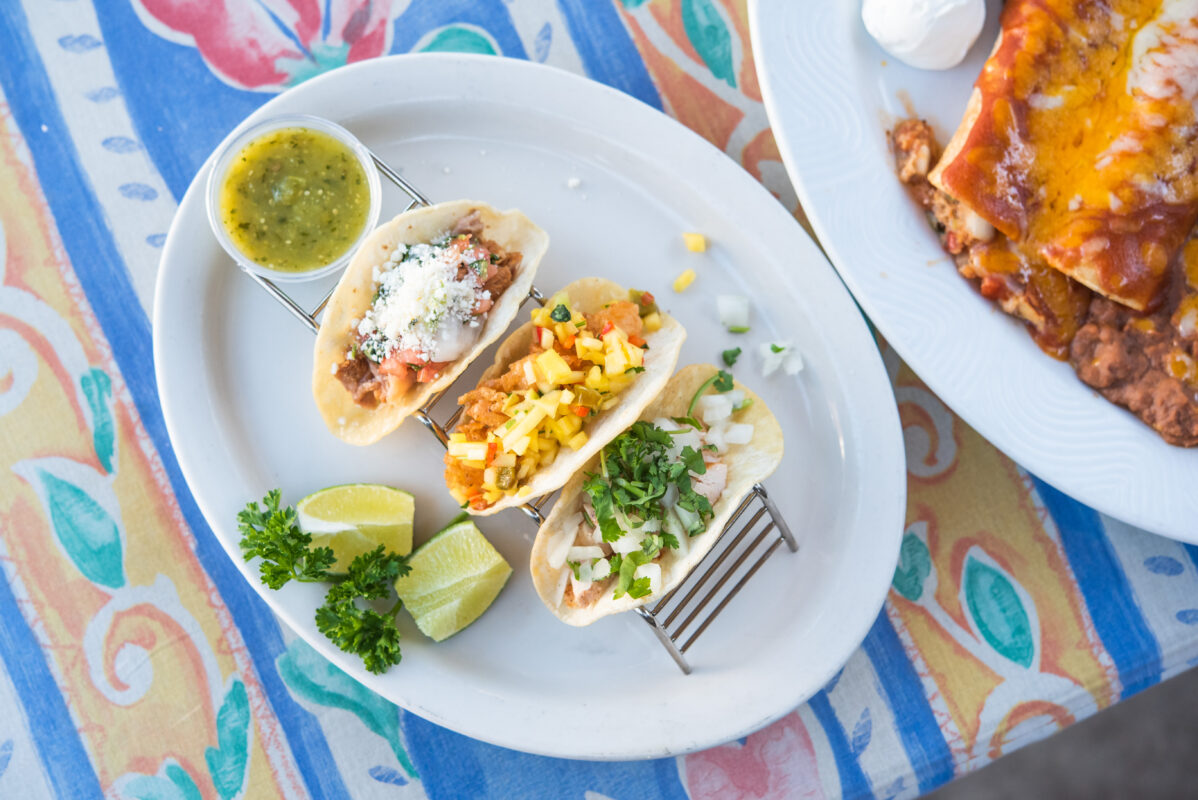 Try their authentic and delicious Mexican cuisine!
First, we tried Wilma's new street tacos which are available after 2pm. These are a lighter choice but are definitely still filling! I recommend trying these as a prelude to the authentic and delicious Mexican cuisine which Wilma's Patio has to offer! We tried classic chicken, fried shrimp, and carnitas tacos. Guests can also order steak, beef, or fish.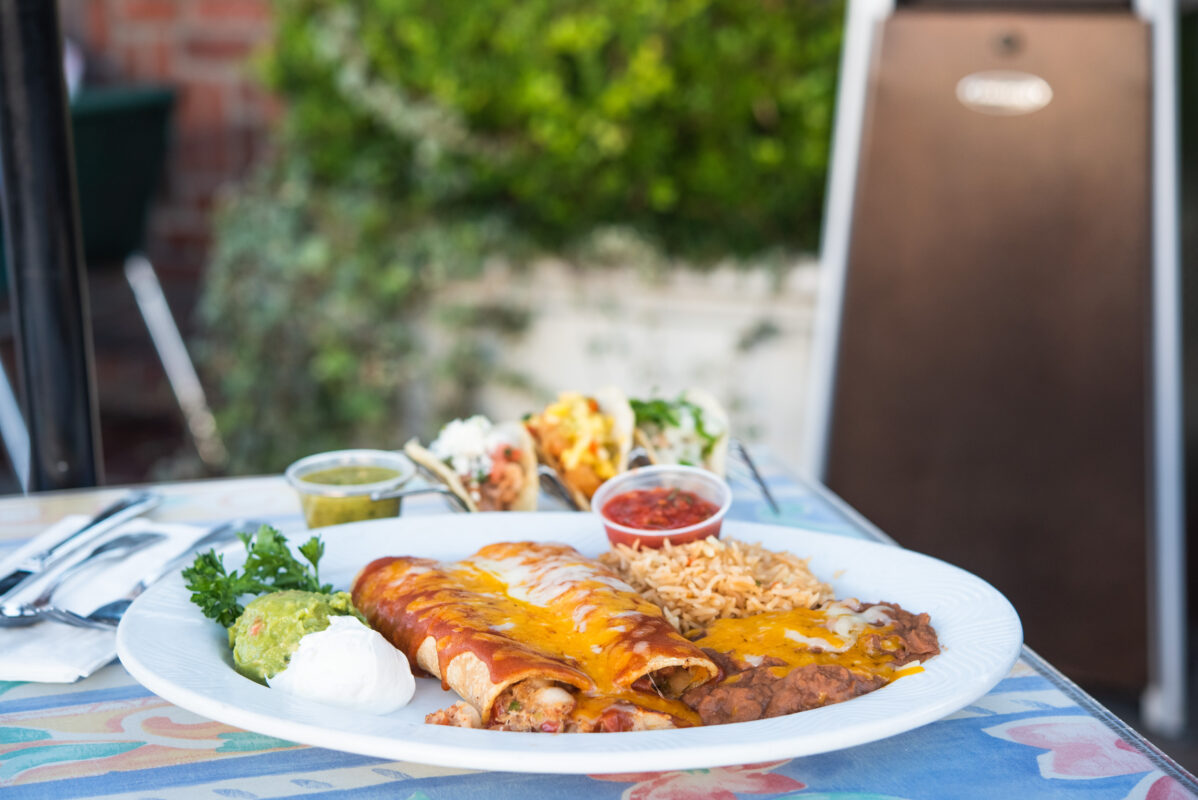 Next, we couldn't resist their crab enchiladas. These are served in corn tortillas, generously stuffed with fresh crab meat, quick-seared, and topped with pico de gallo, enchilada sauce, and cheese. I was pleasantly surprised by how abundant each bite was. The enchiladas were overflowing with delicious crab meat. This is the perfect coastal dish to savor while enjoying Balboa Island's sea breeze.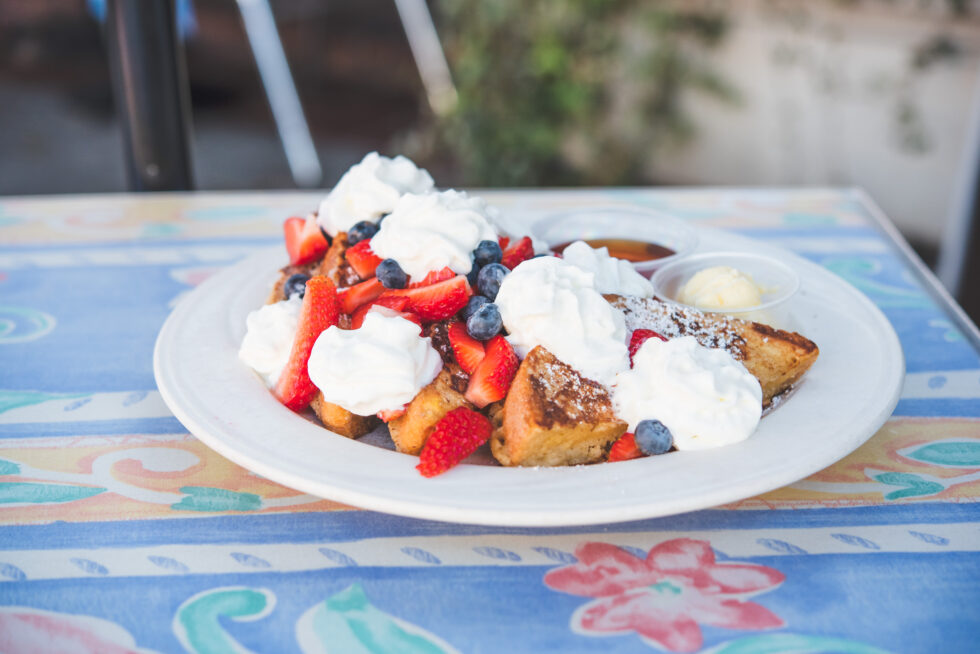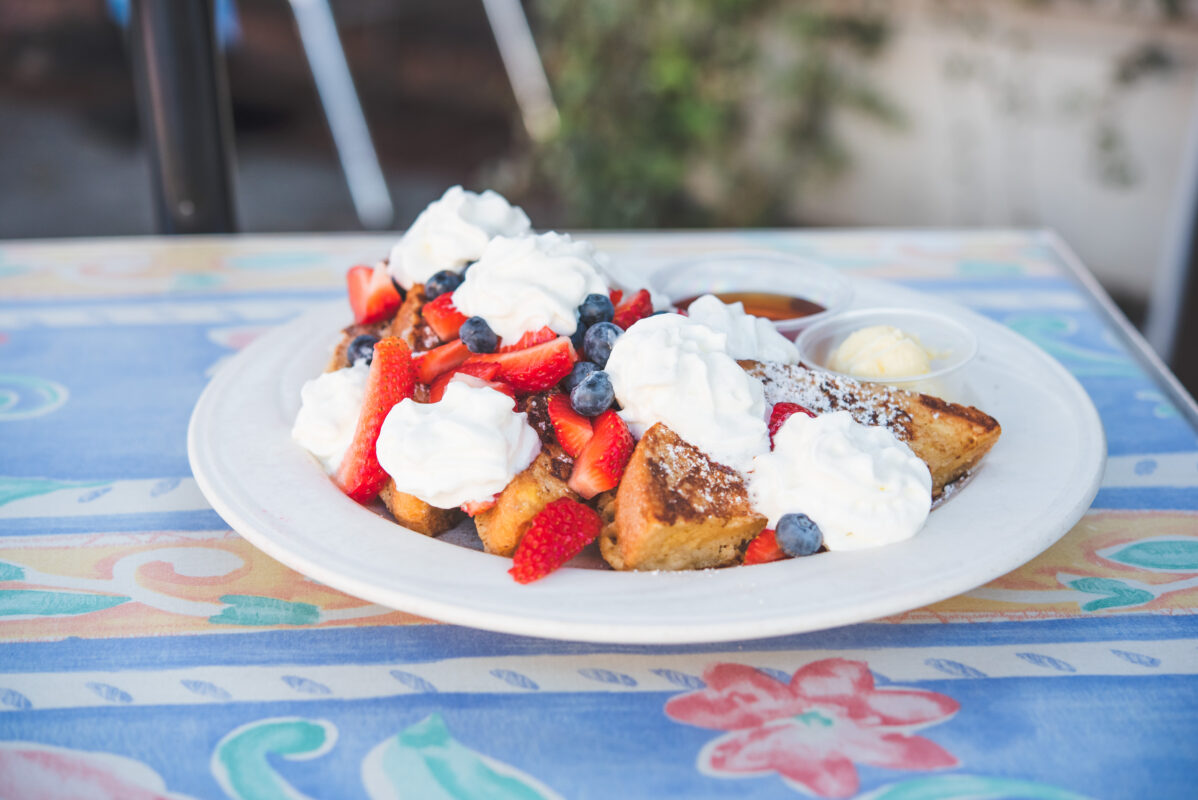 Who doesn't love breakfast for dinner?
Wilma's Patio has so much to offer, they even serve breakfast for dinner! We tried many different entrees during our time there so we ended the day with their red, white, and blue french toast. This is a classic breakfast dish, but it can also be enjoyed as a shared dessert.
Wilma's Patio is a place that makes you feel at home. They are the perfect laid-back coastal restaurant that treats everyone as part of the family, from the guests to the staff. Whether you're craving all-day breakfast, authentic Mexican cuisine, or classic homestyle dishes, Wilma's Patio on Balboa Island serves something for everyone!
203 Marine Ave, Newport Beach, CA 92662
Other Newport Beach Restaurants Loved by Locals.