It's time for our coverage of the 2018 Disneyland Festival of Holidays. Each year Disneyland's California Adventure brings several wine and food festivals to guests and they continue to get better and better. Park-goers can expect booths set up throughout the park with tasty bites and libations featuring cuisine from around the world. Of course, in all my glutinous glory, I tried a variety of items from each booth so I could bring you all the must-try dishes from the 2018 Disneyland Festival of Holidays. Just to make sure you don't miss the best of the best, I"ll be ranking our favorites so you know exactly what to try first.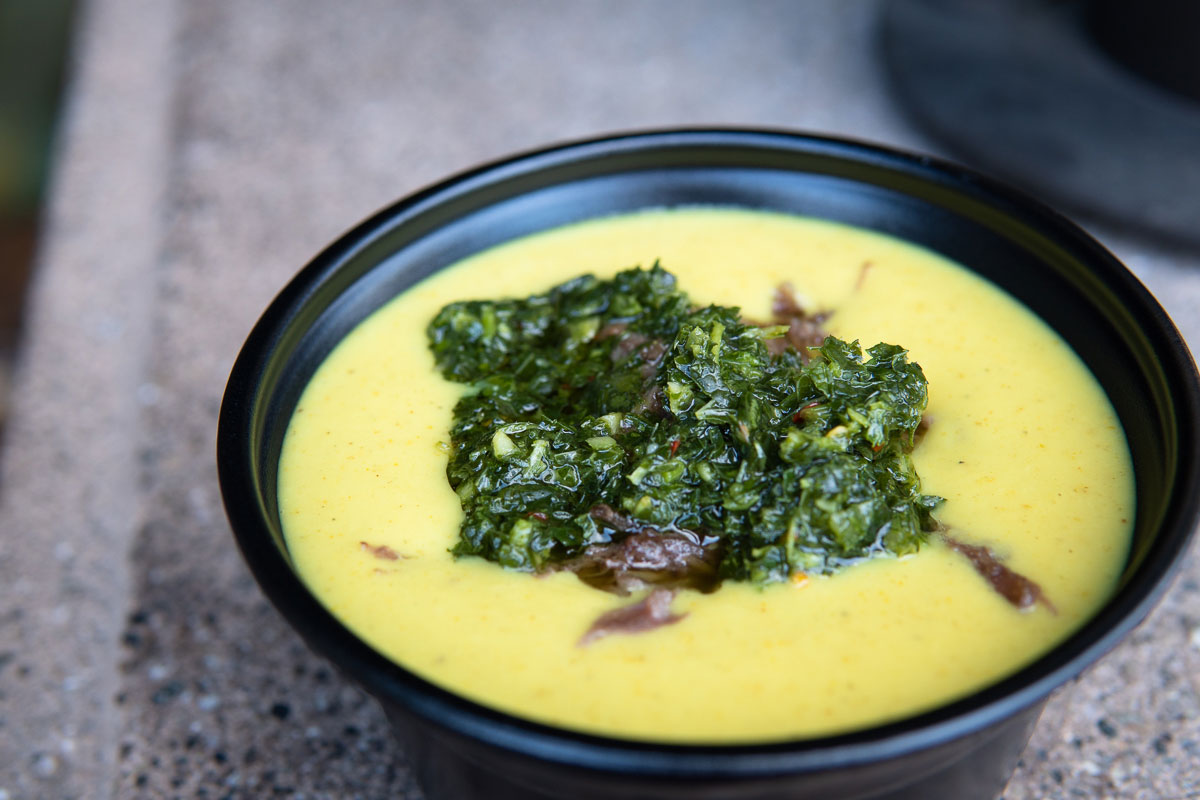 Curry Cauliflower Soup with Braised Lamb and Mintchurri
First up is this flavorful soup found at the "Holiday Duets" booth. This curried soup was pure perfection with a very generous portion of braised lamb. The mint chimichurri sauce was perfect and is actually what I serve to accompany lamb when I make it at home. This dish was an unexpected winner in my book and so good we had a second bowl before we left the park and plan on going back for more. Trust me you will not be sorry!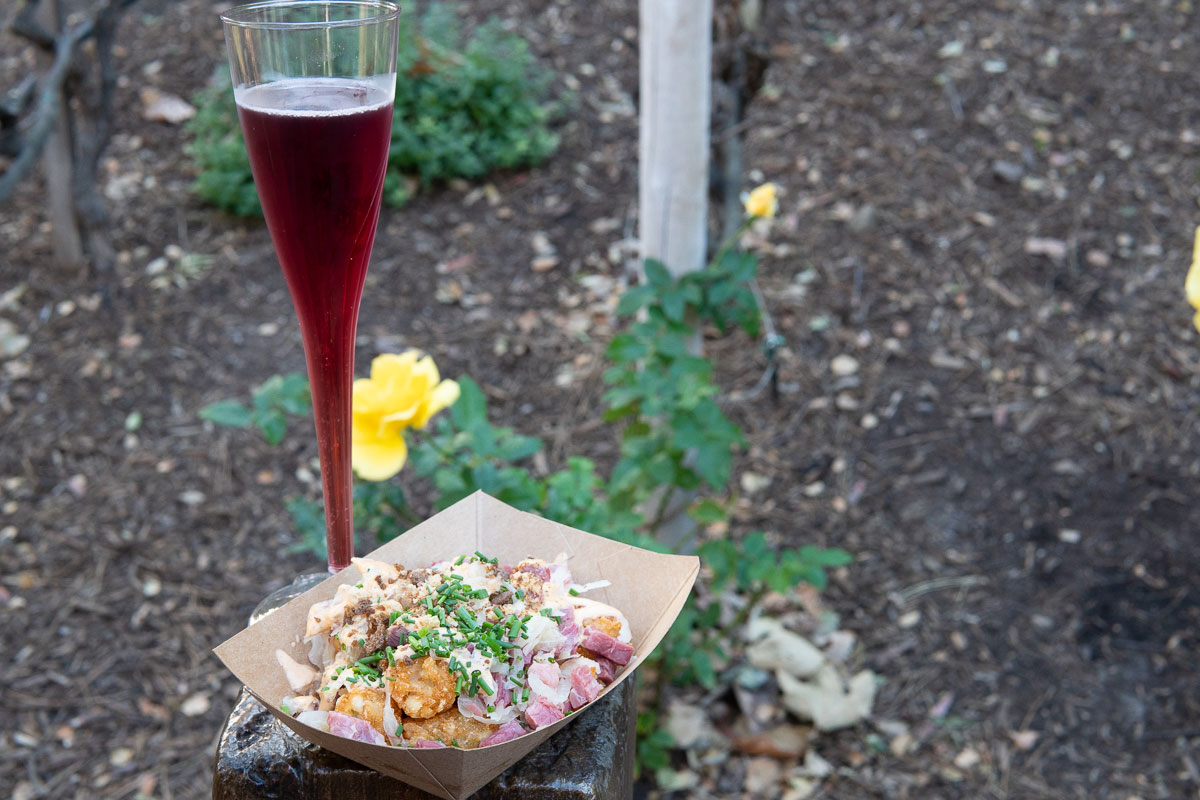 2. Rueben Potato Tots with Russian Dressing and Rye Toast
Next, the Rueben Tots found at the appropriately titled, " Favorite Things" booth, are simply delicious. Piled high with lean pastrami, sauerkraut, and drizzled with thousand island, these tots are delicious. I love a good rueben sandwich and I have to say these were possibly better. If you're looking for something everyone will dive into then look no further.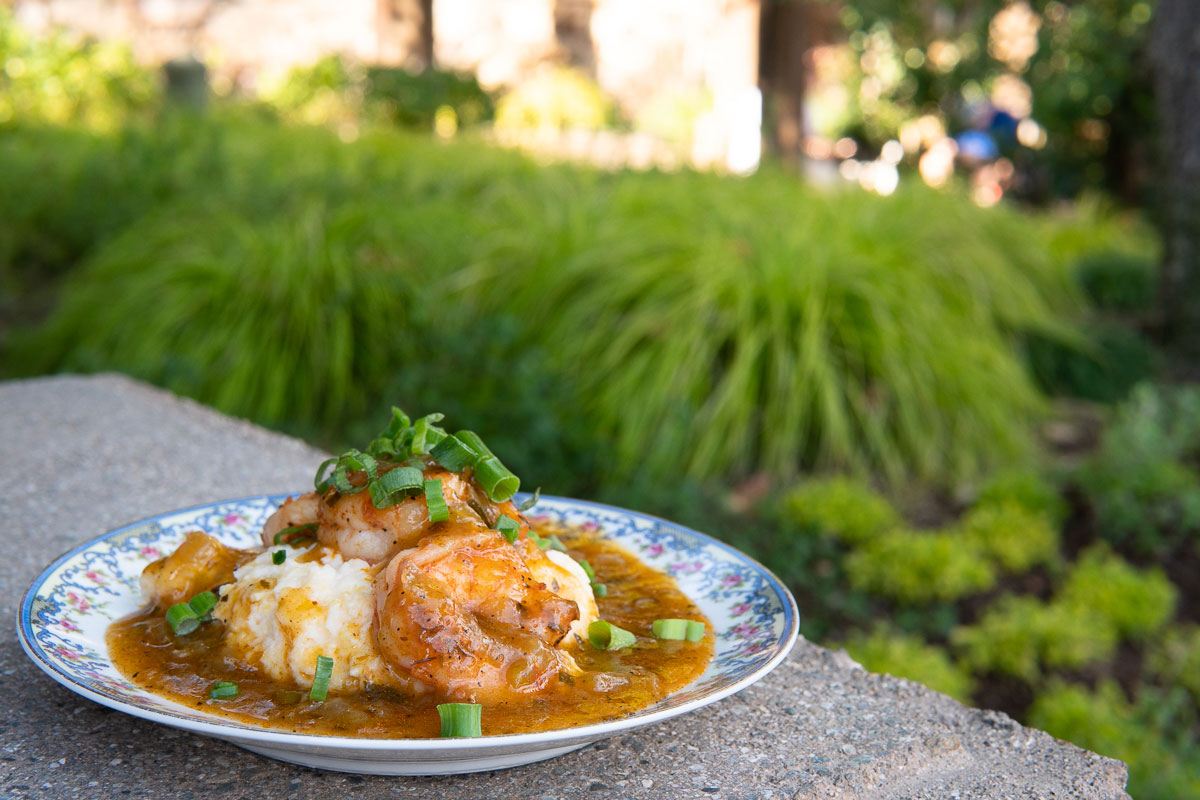 3. Shrimp and Grits with Andoulli Sausage
Then, also found at the "Holiday Duets" booth was the Shrimp and Grits. The flavor of the sauce and texture of the grits were spot on. If you love a bit of southern flare then this dish is likely the best Shrimp and Grits you"ll ever have, no kidding.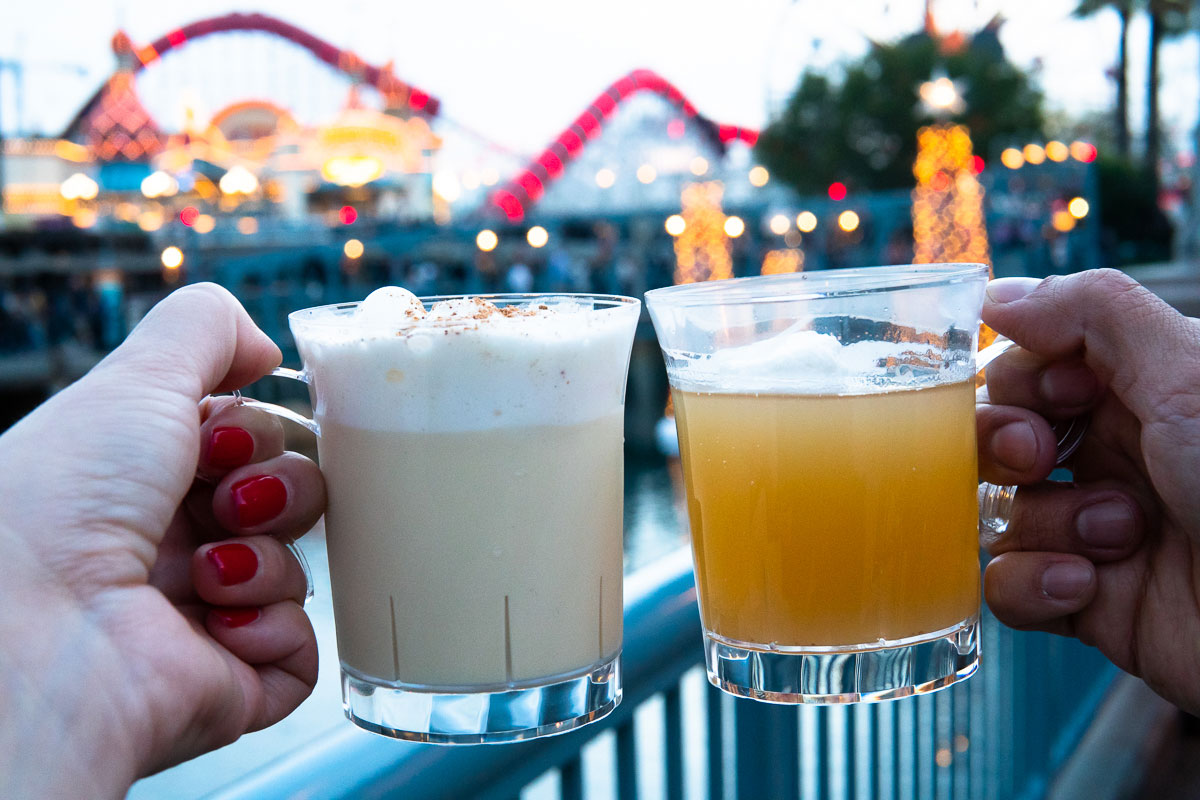 4. Eggnog Cocktail with Whipped Cream and Nutmeg Dusting
Then there is the Eggnog. Each year I look forward to the Eggnog Cocktail at Disneyland's Festival of Holidays. It has become almost of a tradition for me. Not only is it delicious, but it sure does pack a punch. Let's just say you should likely stick to just 1 or 2 glasses. Anything more than that and you might end up like Sleeping Beauty. (also found at the "Favorite Things" booth)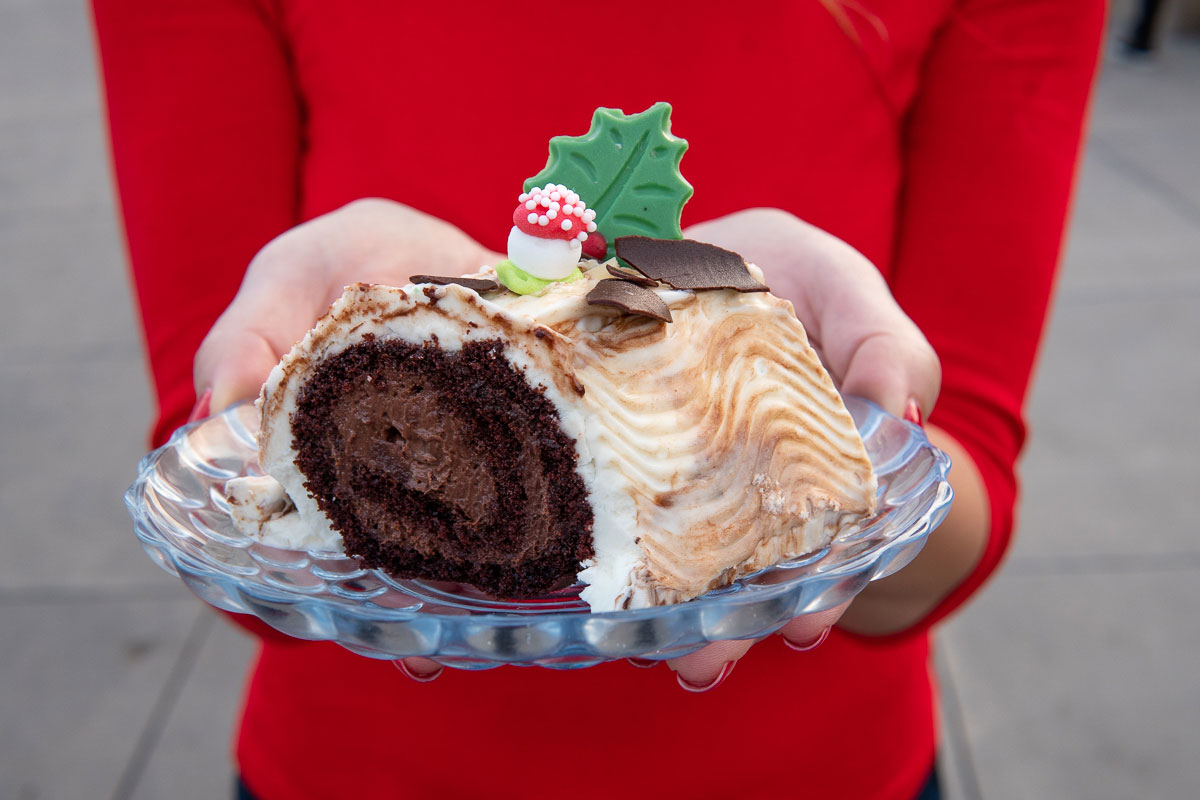 5. Black Forest Yule Log
Another tradition of mine is the Christmas Yule Log found at the "A Twist on Tradition" booth. This chocolatey treat has made its return at the 2018 Disneyland Festival of Holidays and I could not be happier. Is there anything better than an adorably decorated chocolatey holiday treat? Not only is this dessert adorable, but its also light, fluffy, and delicious. 
Other honorable mentions…….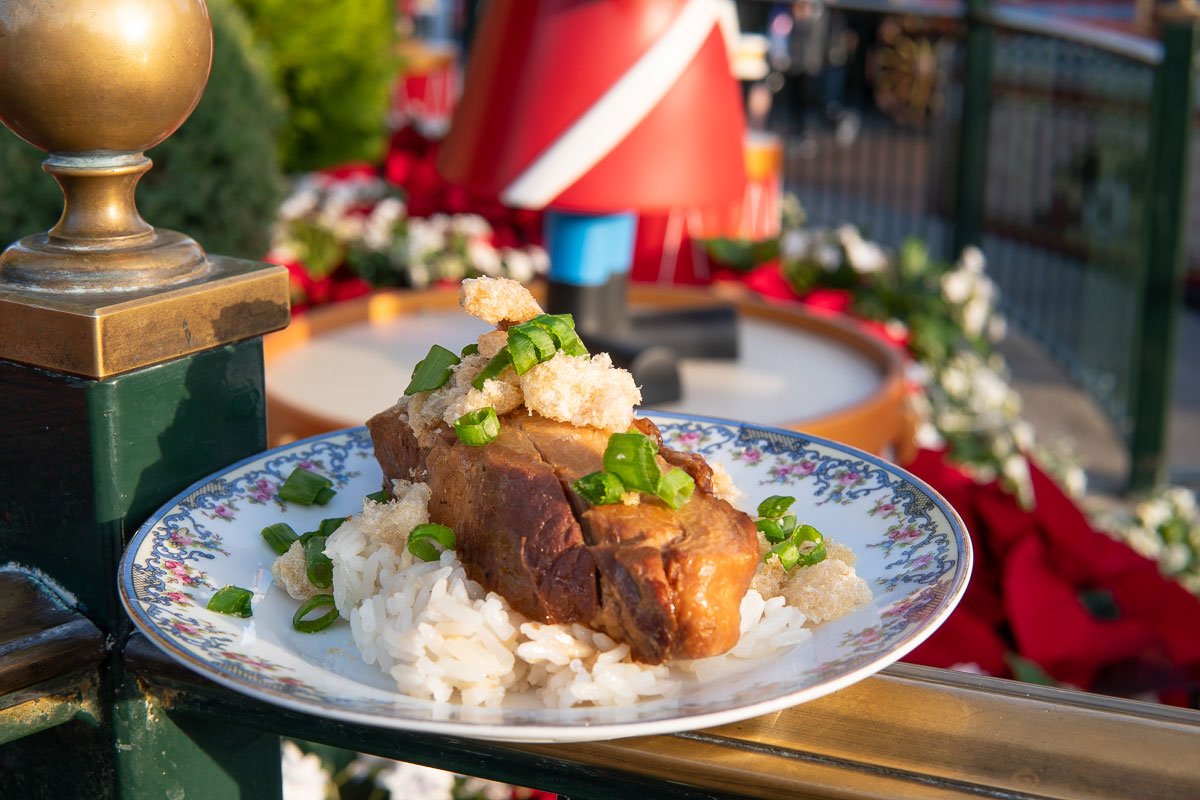 6. Braised Pork Belly Adobo with Garlic Fried Rice
This dish was incredibly flavorful and according to my Pilipino partner in crime, Joseph, it's also very authentic. The rice perfectly balances out the salty adobo flavoring on the meat. This Braised Pork Belly is making a return this year. If you have not tried it yet, I highly recommend heading over to the "Blissfully Braised" booth to give it a try.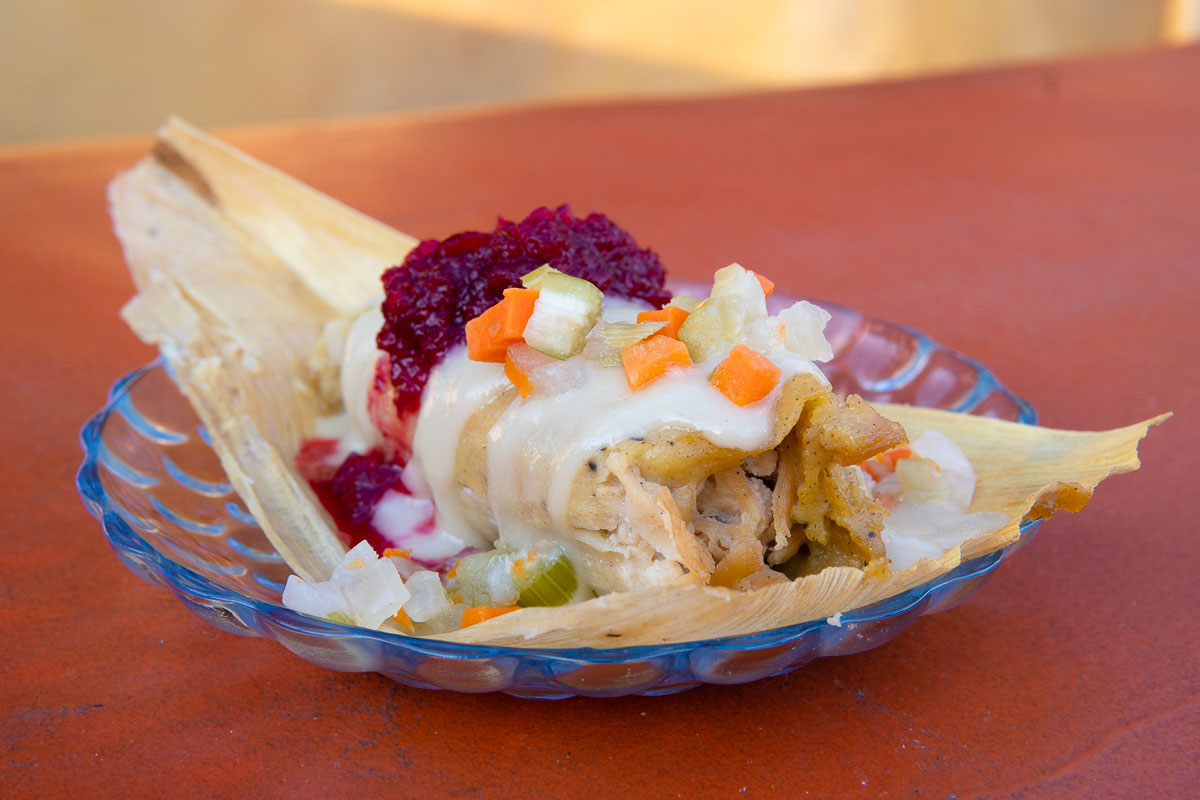 7. Turkey Stuffing Tamale with Cranberry Relish
A very welcome twist on a classic tamale was the Turkey Stuffing Tamale shown above. They were honestly perfect and I could totally see making this as a dish during the holiday season. The tamale was topped with a delicious turkey gravy and the homemade cranberry sauce really made each bite feel like a Thanksgiving feast. You"ll find these creative tamales at the "Merry Mashups" booth.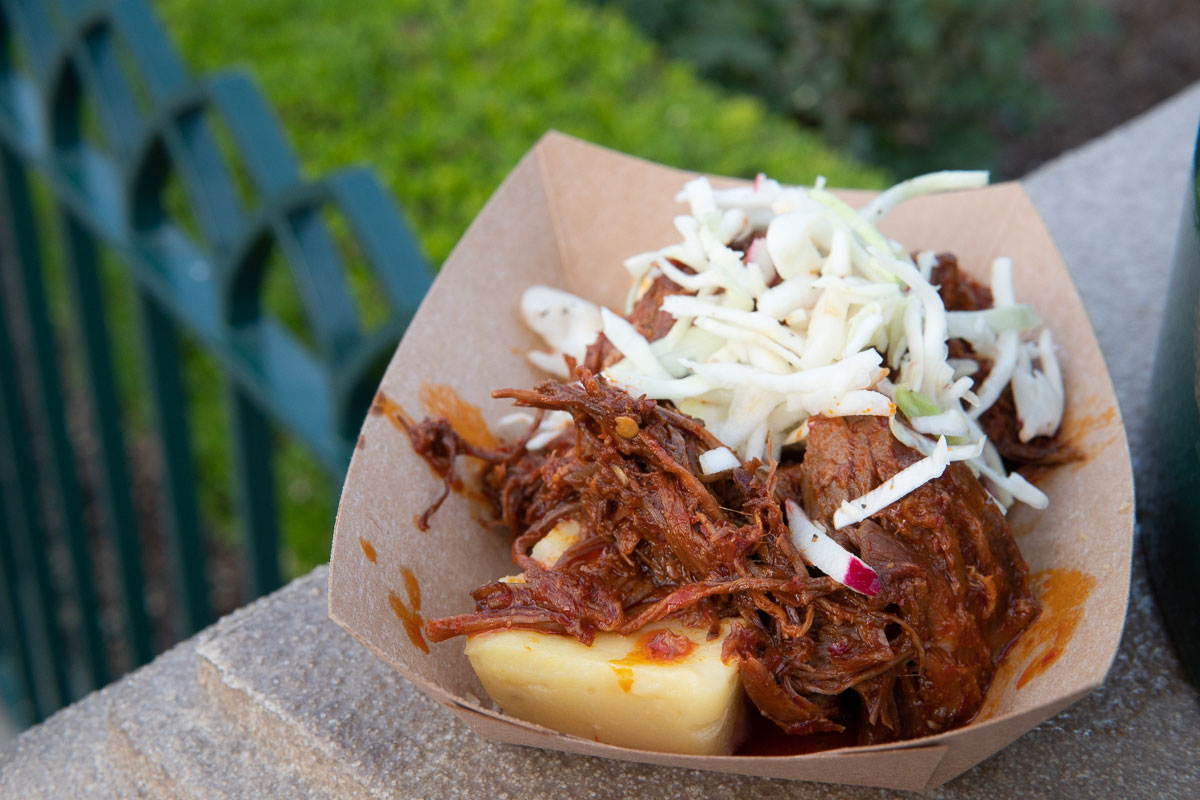 8. Pozole Rojo Beef with Hominy Polenta
The Hominy Polenta was a different texture than I prefer (more gelatinous), however, the meat was the true star of this dish. The Pozole Rojo Beef, as shown above, was a generous portion. The meat was incredibly flavorful and oh so tender. If you are trying a variety of dishes, it's definitely worth heading to the " Twist on Tradition" booth and giving this one a try.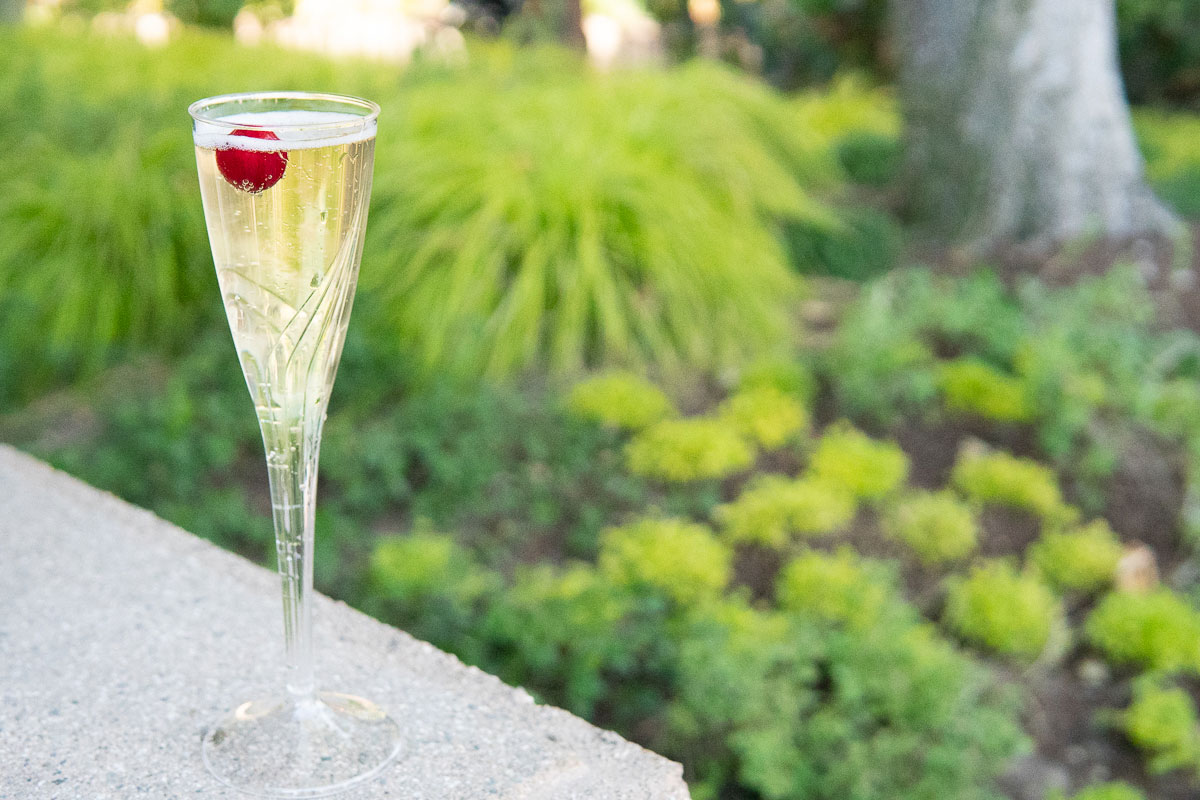 9. Pear Mimosa
Finally, my personal favorite are the mimosas found at the "Making Spirits Bright" booth. This is how I like to get my Disneyland visit started. Guests can opt for a mimosa flight or pick their favorite and enjoy in a nice tall flute. I personally recommend the Pear Mimosa if you're just dying to walk around with that pretty flute.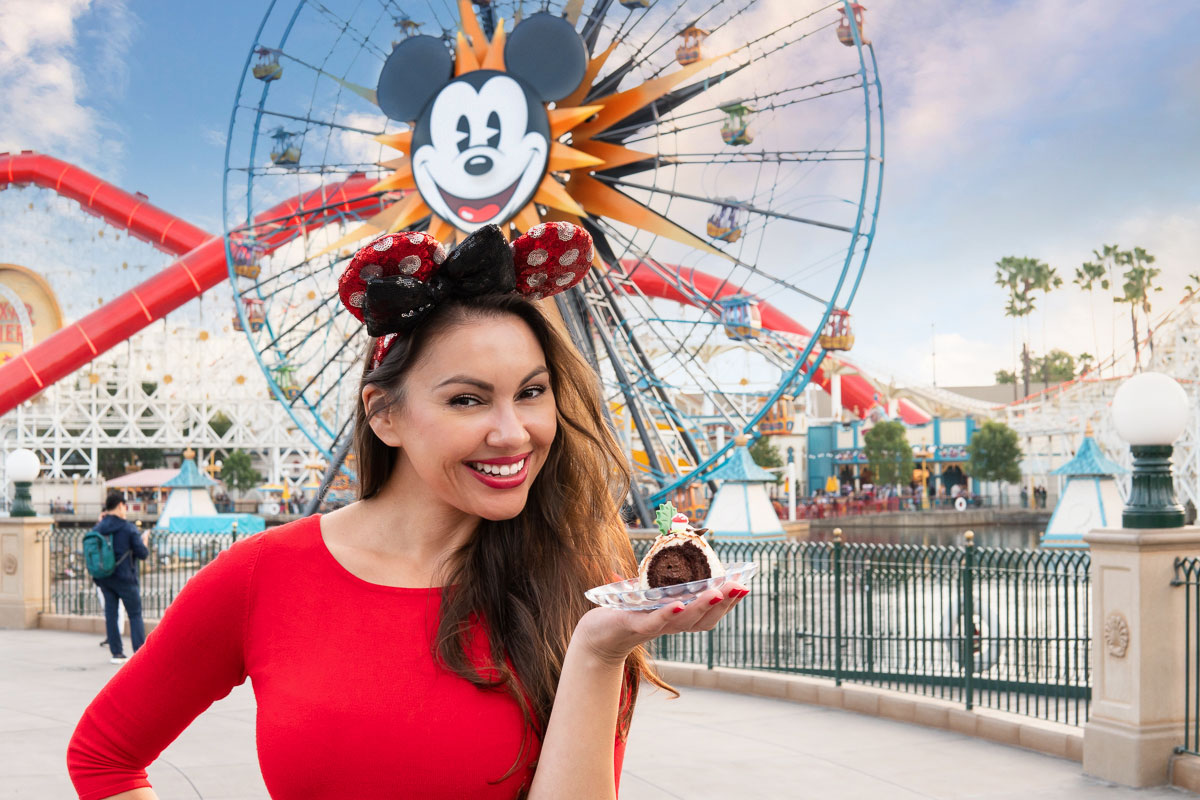 There you have it, my ultimate list from the 2018 Disneyland Festival of Holidays. Which one of these tasty morsels would you try first?