Our pick for the Best Temecula Restaurant is Small Barn in Old Town Temecula, which just celebrated its two-year anniversary. While Temecula has long been known for its rows of wineries, it is now beginning to make a culinary name for itself.
The wine country coastal cuisine at Small Barn is the type of restaurant you would expect to find in a culinary capital like Yountville. Throughout your dining experience, you'll find thoughtful ingredients with nuances of Asian-inspired flavors. Enjoy this exclusive look at Small Barn in Old Town Temecula.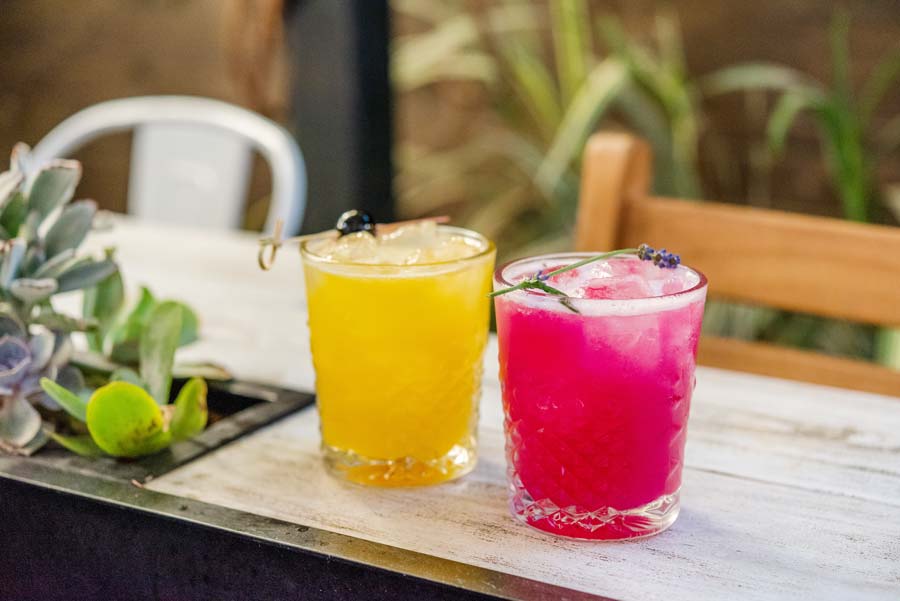 Small Barn in Old Town Temecula serves the most vibrant curated cocktails.
To begin your dining experience, Small Barn has an intimate selection of in-house wines and colorful vibrant cocktails. Two of their signature cocktails are Barn Burner and Sage Advice pictures above. Barn Burner is a delicious Mezcal cocktail with a subtle hint of spice from the Ancho Reyes Chili Liqueur mixed with pineapple, lime, and aquafaba.
This is the first time I've seen aquafaba used as a cocktail ingredient (aquafaba is a vegan meringue made with the liquid of chickpeas). The beautiful Sage Advice is made with gin, elderflower, raspberry, fresh sage, and lemon.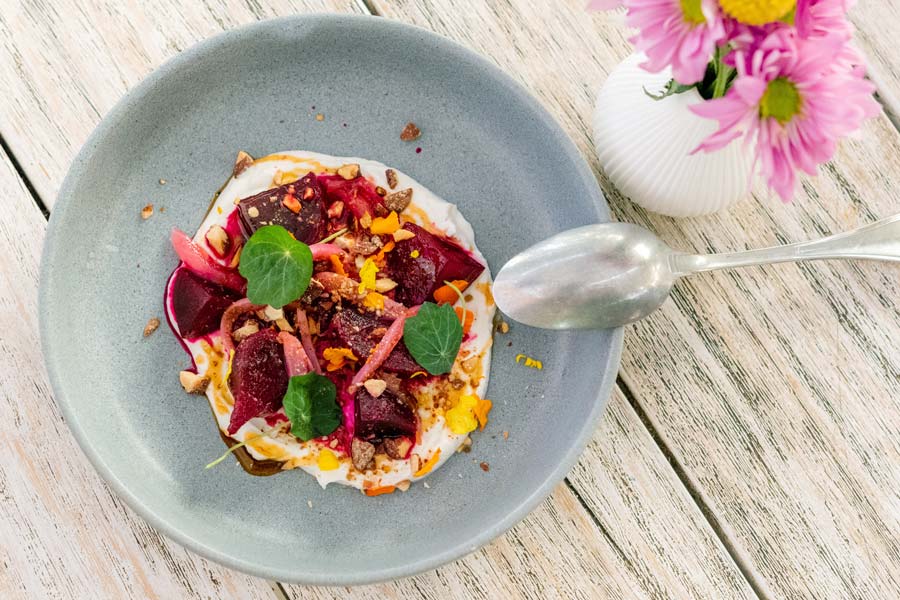 Sensational Roast Beet Salad
For starters, Small Barn has a wonderful selection of "Light & Fresh" or Warm & Hot" appetizers. One of my favorite dishes of the evening was their flavorful Roasted Beet Salad made with fresh red beets artistically placed atop greek yogurt, drizzled with Temecula Valley honey, and sprinkled with candied almonds.
Though the dish sounds simple enough, the flavors are oddly complex and addictive. We even ordered an additional plate because they were all eaten so quickly.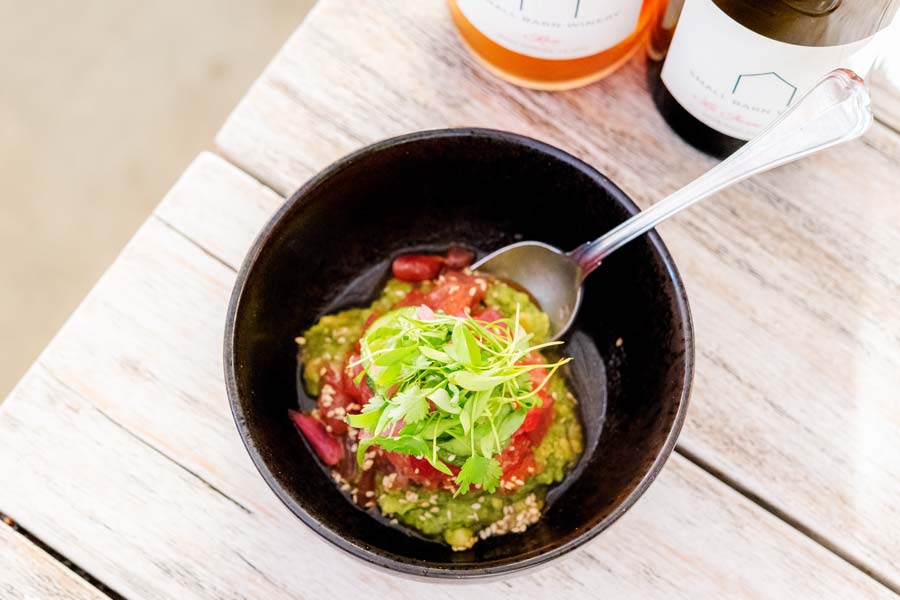 Hawaiian line-caught Ahi Tuna
Then we ordered the Hawaiian line caught Ahi Tuna in a ginger vinegarette. It arrived topped with pickled sesame cucumber and was served over guacamole. The Ahi was incredibly fresh and lean. The tasty ginger vinegarette was the first introduction to the subtle Asian influences we would come to see throughout the evening.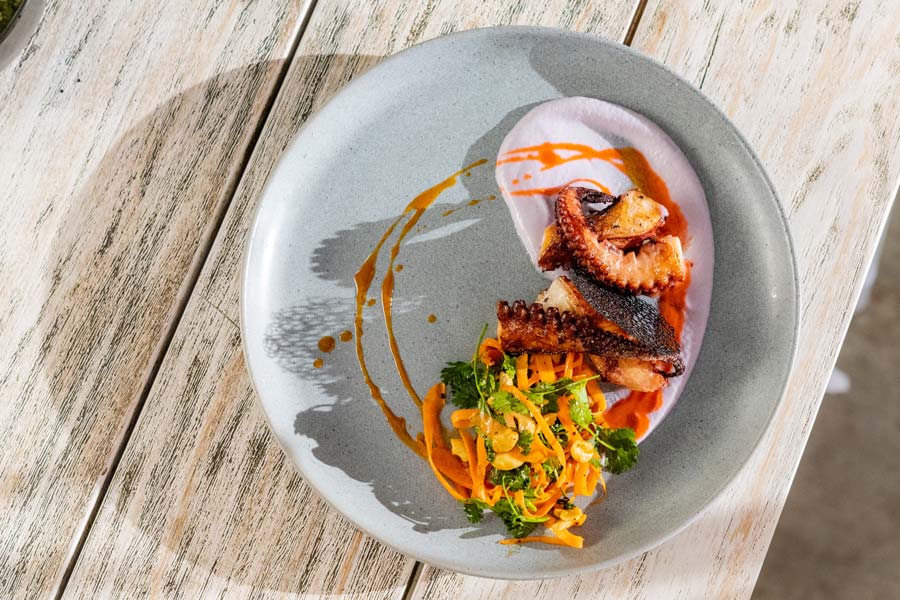 Pan-Seared Octopus
Pan-Seared Octopus is a dish I'm always excited to see on a menu. This variation was accompanied by a carrot, cilantro, and cashew salad over a fabulous sun choke puree with a light drizzle of Passion Fruit Vinaigrette. The octopus was incredibly tender and seared to crispy perfection.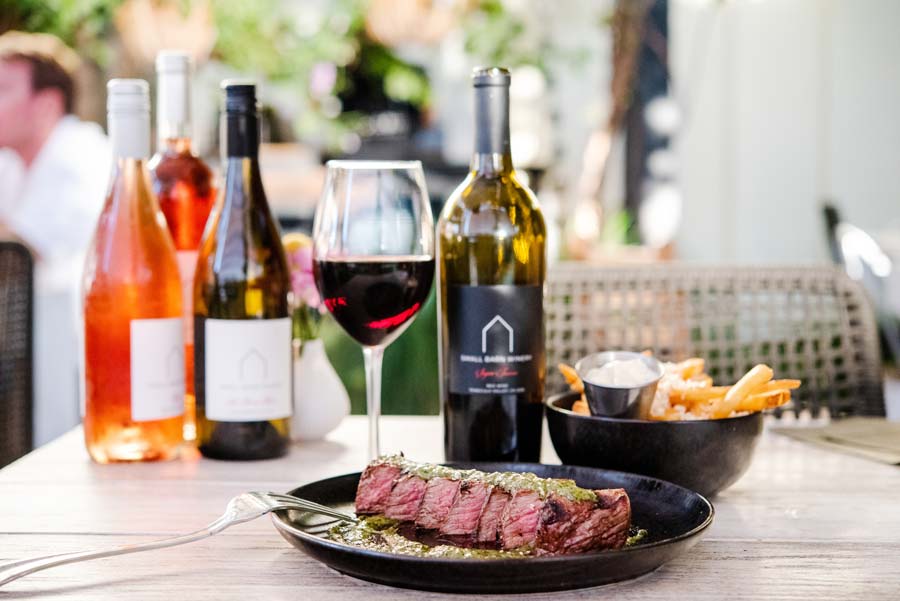 Perfectly prepared Steak Frites
For entrees, we ordered several different selections to share with the table. Small Barn in Old Town Temecula is perfect for larger parties with its farmhouse tables and crave-able selection of entrees.
The Steak Frites was a 9oz flat iron steak cooked to a perfect medium rare, drenched in Mint Chimichurri (click for recipe), with a generous portion of Manchego fries. It arrived conveniently presliced so everyone was able to enjoy.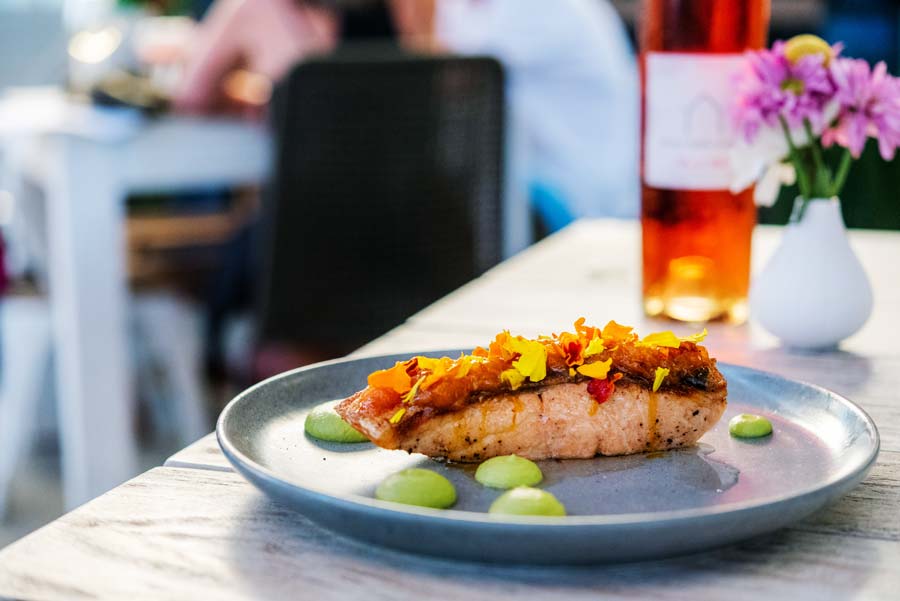 Wild Isle Salmon
The Wild Isle Salmon was artistically presented with perfectly seared skin topped with delicate edible flower petals. The saltiness of the seared skin balanced perfectly with the dollops of pea & coconut puree that adorned the plate. A flavorful orange citrus relish tied the entire dish together.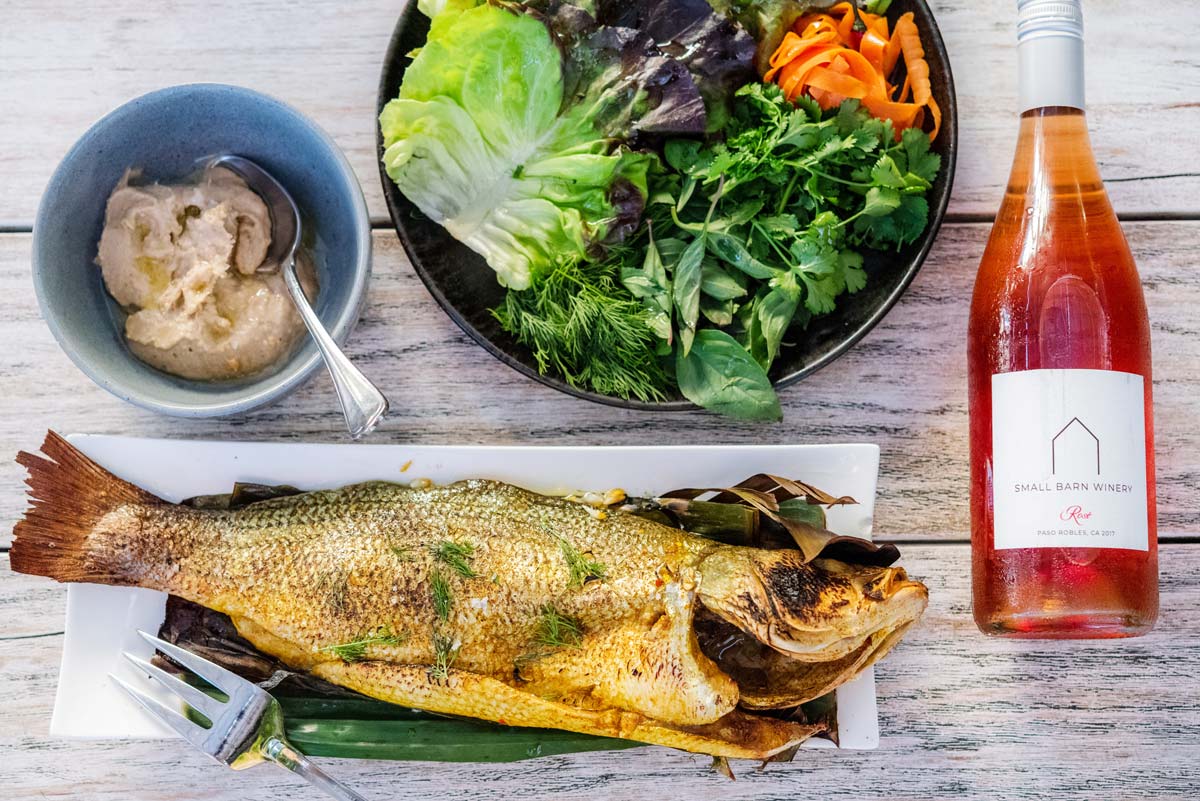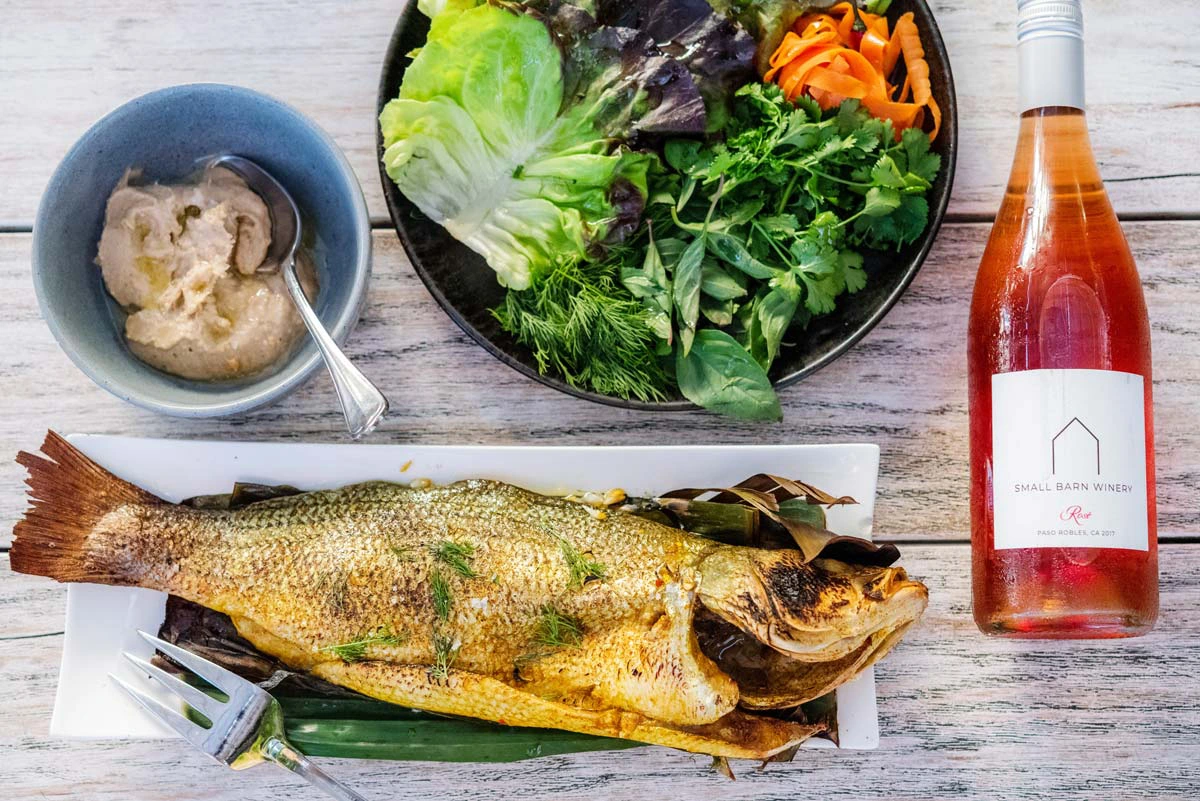 The best Temecula restaurant serves an impressive Vietnamese-inspired Whole Sea Bass.
The Whole Sea Bass was the true star of our dining experience and really shined with its Vietnamese-inspired ingredients. Each bite had the most delicate flavors of Tumeric. The Lettuce with herbs was perfect for wrapping up chunks of sea bass, reminiscent of eating Vietnamese Crepes.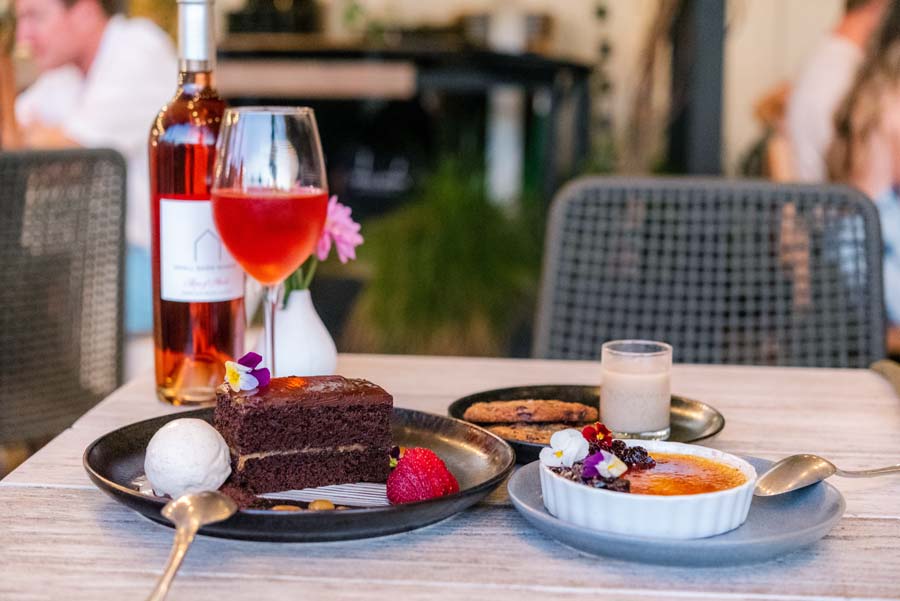 One dessert is never enough.
Finally, we ordered a selection of desserts for the table. I absolutely refused to share the homemade chocolate chip cookies with almond milk. Both the decadent chocolate cake and creamy creme brulee were also amazing. I can never select just one dessert so I highly recommend visiting with a group of friends so you can try them all.
If you plan on visiting Temecula or live in the area, Small Barn in Old Town Temecula is easily the best Temecula restaurant for 2022. Owners, Cathy and Dan Gibson, are so wonderful and have truly brought a special culinary experience to the region.
28535 Old Town Front St.
Temecula, CA 92590
P. 951.225.2820
Discover More of Temecula Wine Country