If you're looking for the best Thai food Orange County has to offer, look no further than Hanuman Thai Eatery in Costa Mesa. Chef and Co-Owner Jenny Preechatiwong have created every dish on the menu inspired by her upbringing in Southern Thailand.
Her husband, Dale Thawornjaroen (Owner of Etcetera Sushi next door), is of Japanese descent and influenced the artistic plating and presentation of the dishes. Together, they have created an elevated Thai experience that stays true to its roots of traditional ingredients and bold flavors.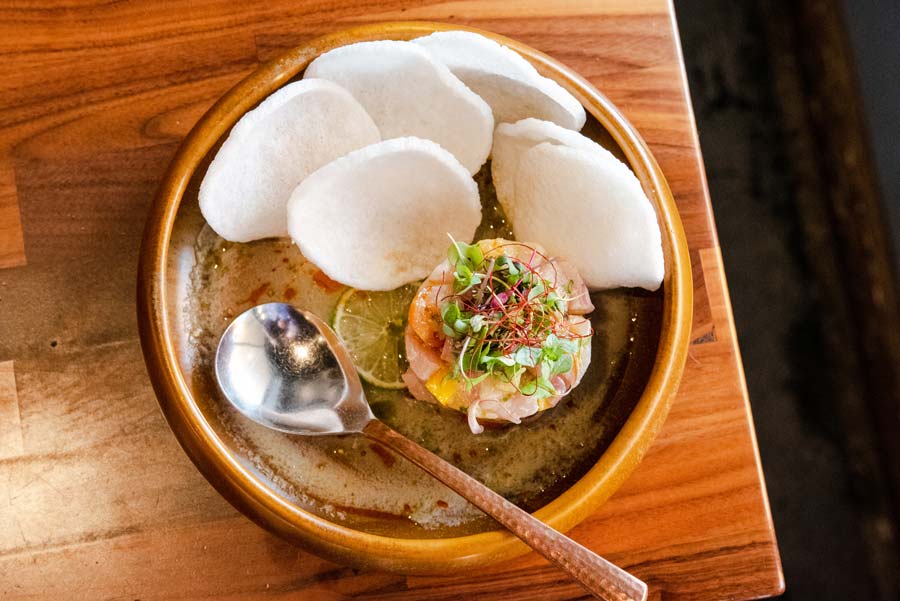 Hanuman Ceviche with Yellowtail
To begin our experience we started with the chefs recommended Hanuman Ceviche. This dish featured generous chunks of fresh Yellowtail with a light mix of mango and red onion. Served alongside were delicate fluffy shrimp crackers that offered the perfect placement for each scoop of ceviche.
The flavors were a balanced blend of citrus, with the lightest whisper of chili oil and saltiness from what I'm guessing is a fish sauce. All of the sauces, marinades, and broths are a bit of a mystery at Hanuman Thai Eatery, but they are all created to perfection.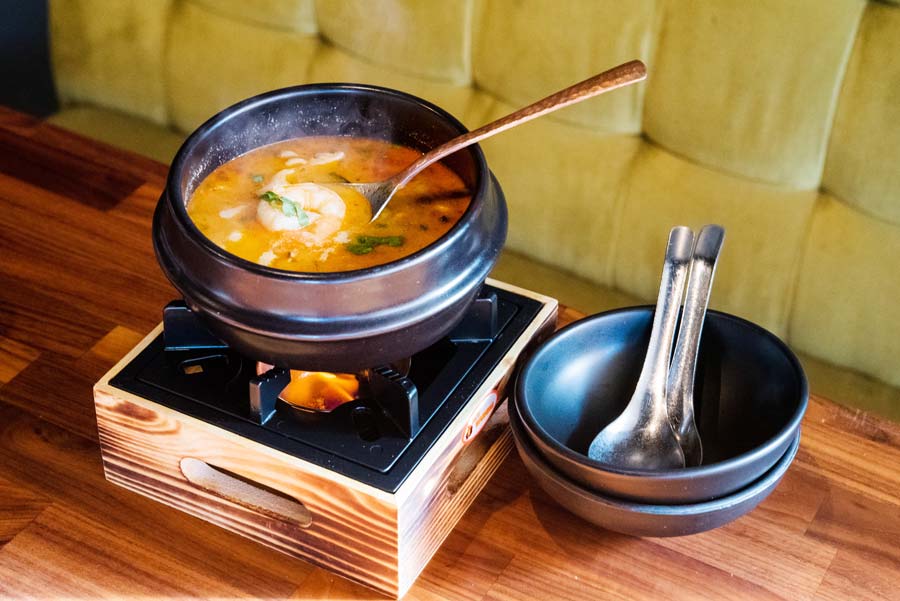 Tom Yum Koong Soup
Thai soups are my absolute favorite so I could not resist trying their Tom Yum Koong which was an authentic sweet and sour soup with large chunks of shrimp. The broth was much more flavorful than you'll find at your run of the mill Thai restaurant. This was most likely due to the addition of unique ingredients such as Kaffir Lime leaves, rarely found in other Tom Yum soups.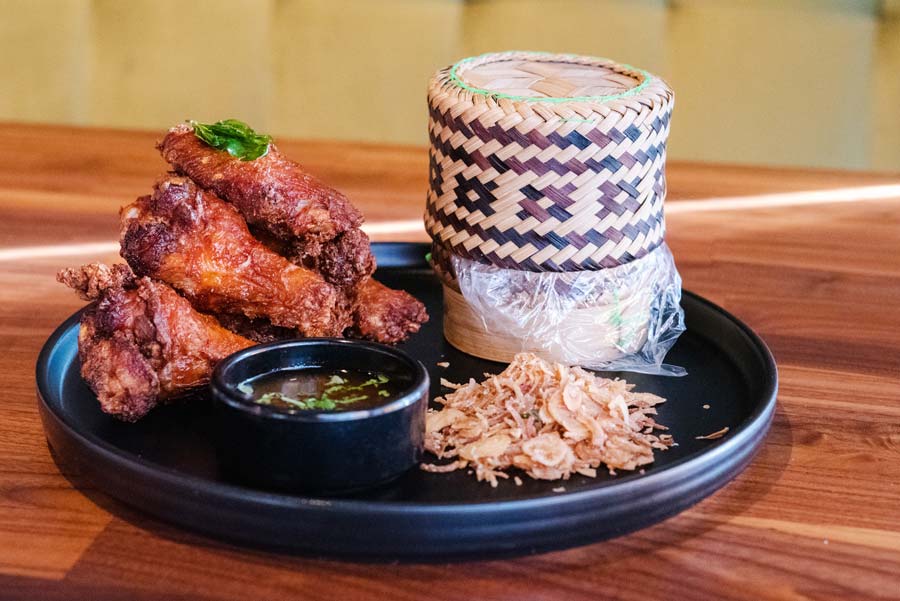 Gia Todd Hat Yai (Fried Thai Chicken Wings)
Next, we enjoyed the Gia Todd Hat Yai which are crispy fried chicken wings served with sticky rice, fried shallots, and secret dipping sauce. This dish was inspired by the popular fried chicken in South Thailand's Hatyai city in Songkhla Province where Chef Jenny grew up. In fact, Thai Fried Chicken is called Hat Yai after the city where it originated.
Traditionally, this fried chicken is marinated in a sauce of garlic, soy sauce, oyster sauce, sugar, salt, white and black pepper, and coriander. Though we'll never know the exact ingredients or combinations in any of Chef Jenny's sauces.
What we do know, however, is that the Thai fried chicken at Hanuman is perfectly crisp with a mouthwatering sauce you'll be hard pressed to find anywhere else. While dining you can see plate after plate of these chicken wings being ordered which is exactly why this restaurant is not only the best Thai food Orange County has to offer but likely all of Southern California.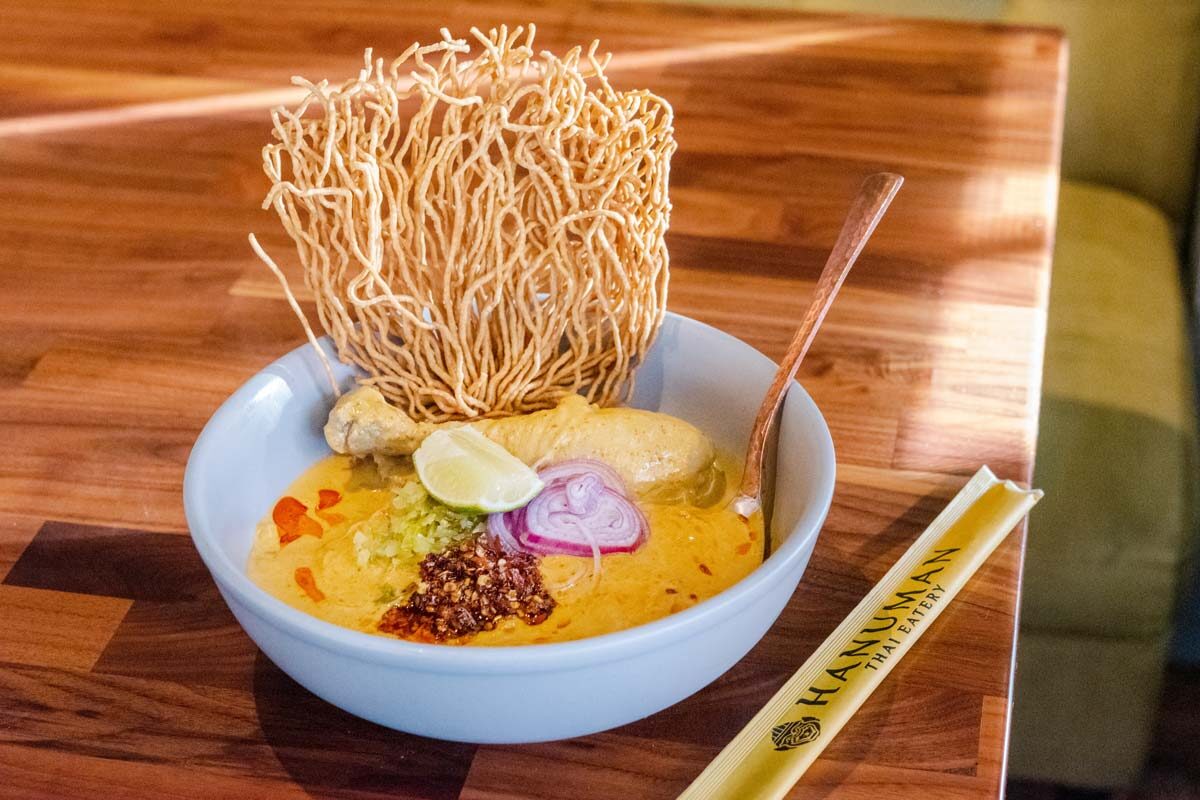 The Popular Khao Soi
Another of Hanuman's signature dishes, and my favorite of the evening, is their popular Khao Soi. This fragrant curry dish originates from Nothern Thailand and features a rich creamy coconut broth with mild spice. It is served with a braised chicken leg, soft egg noodles, and the most flawless presentation of fanned crispy egg noodles.
There are also subtle ingredients added by Chef Jenny which really bring this dish to life such as the pickled mustard greens which add a well-balanced hint of vinegar to each bite. The Khai Soi at Hanuman in Costa Mesa is one of those unique, mouth-watering dishes you'll always return for.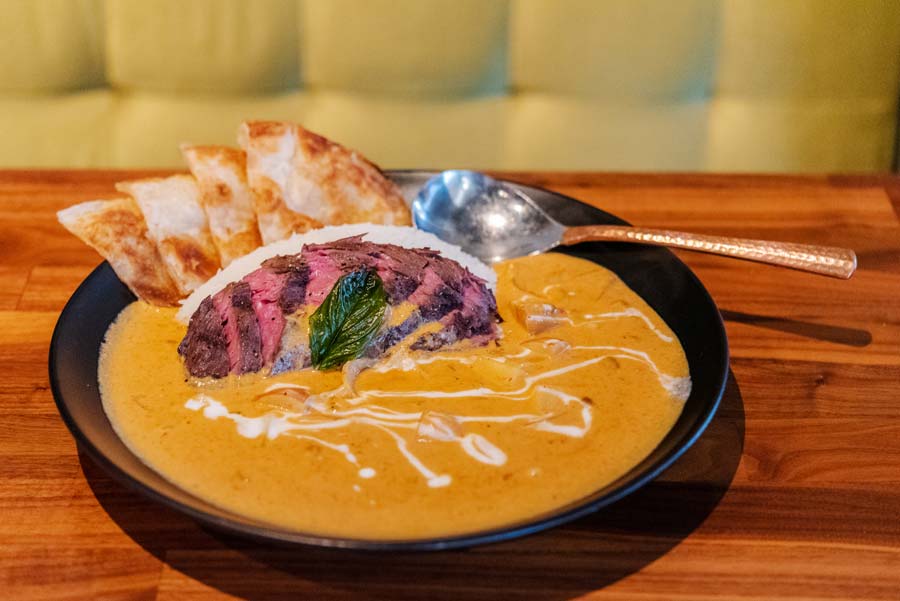 Massaman with Roti
For our final entree, we selected the beautifully plated Massaman which is a creamy, tangy, and sweet curry that is mild in spice, yet bold in flavor. Served with the curry are thick slices of medium rare steak with chunks of potatoes and sprinkles of peanuts. The dish is incredibly fragrant with flavor undertones of cardamom, cinnamon, and cumin.
Worth mentioning is also the amazing Roti bread, like a cross between Naan and a puff pastry, served alongside. The Roti is even served as a dessert at the restaurant which inspired me to sprinkle my leftover Roti with cinnamon and sugar the following morning. This light and crispy bread is so indulgent, it should be served at every fair and amusement park.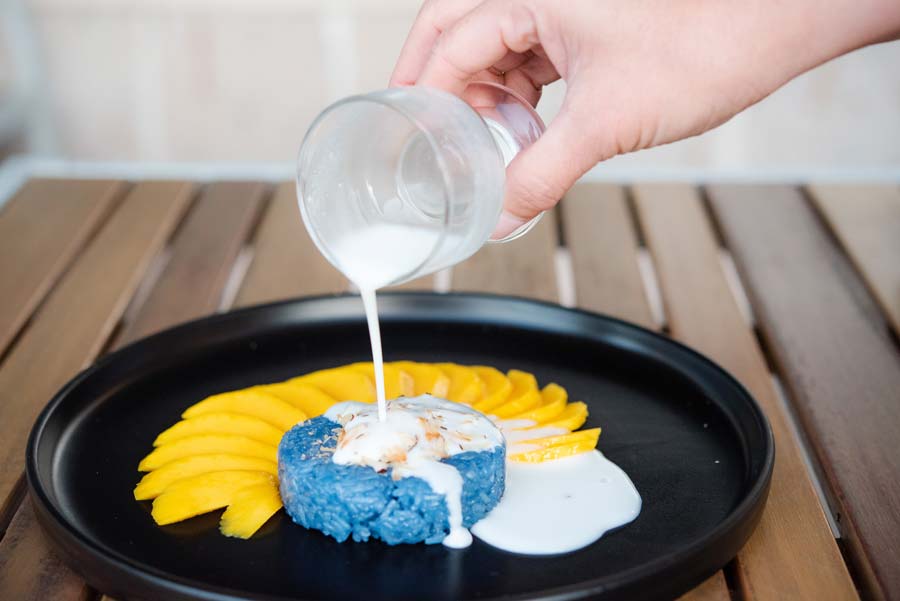 Mango Sticky Rice
For dessert, we opted for the classic Mango Sticky Rice which is available in season. I noticed instantly that they use champagne mangos in this dish which have a more buttery smooth texture and aren't stringy like red mangos can tend to be. Colorful butterfly pea is added to the sticky rice to give it a natural blue hue and sweet coconut milk is drizzled over the top.
The best Thai food Orange County has to offer is getting a second location!
Hanuman Thai Eatery will also be opening up a new location so stay tuned for more details to come. If you're looking to experience the best Thai food Orange County has to offer, I recommend arriving early between 3pm and 5:30pm.
Hanuman does not take reservations as the restaurant is a smaller and more intimate experience, but well worth the wait!
355 Bristol St Ste U Costa Mesa, CA 92626
Discover More Cultural Cuisine in Orange County