Fishbone Laguna Beach is still fairly new to Orange County, opening in the fall of 2019. They have several successful locations throughout Canada and offer artistically presented upscale seafood inspired by the flavors of Portugal. OC Restaurant Week presented the perfect opportunity to stop by and experience their fantastic menu. My expectations were beyond exceeded with their bold flavors and fresh imported seafood that tastes as if it was fished out of the ocean that very morning. Each dish arrived plated like a work of art that was truly a culinary vision to be appreciated.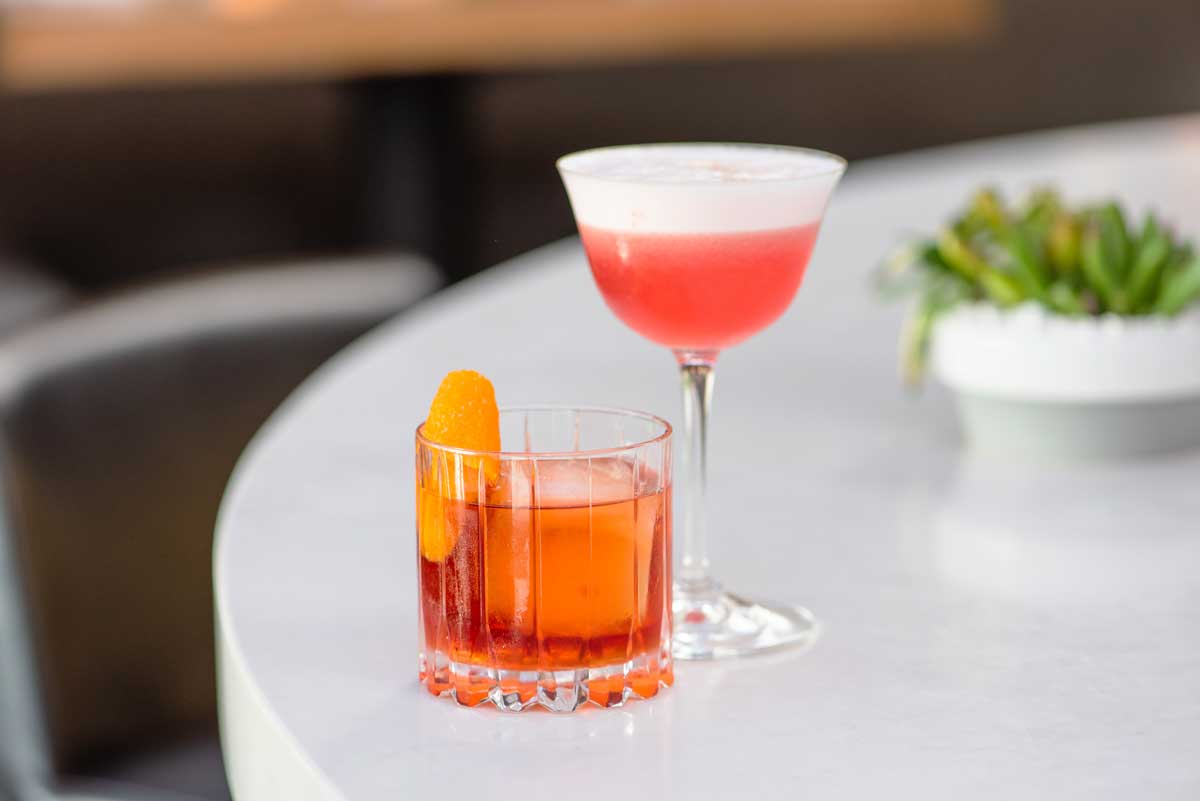 Pictured above are the Smoked Negroni and Berry Berry Sour Cocktails, both available on the OC Restaurant Week menu
First, for cocktails, many OC Restaurant Week menus are featuring specialty cocktails. Their signature Smoked Negroni Cocktail is featured on both their regular daily menu and as a special during OC Restaurant Week. This cocktail begins by first igniting smoked applewood chips which are extinguished over the cocktail glass giving it a subtle, yet smokey aroma and flavor. Then a mix of Carpano Antica, Herb infused Campari Apéritif, and Roku Gin is stirred into the glass on the rocks and garnished with an orange peel. I can't think of a better way to start the evening.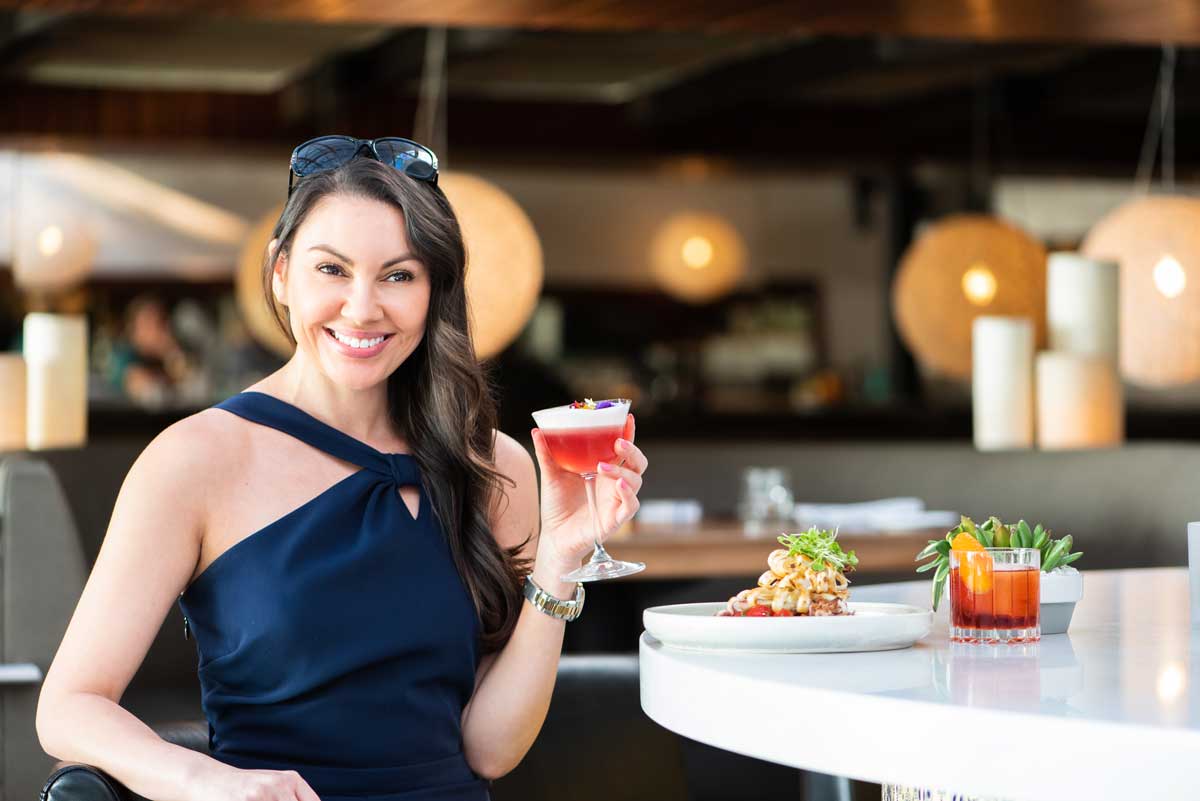 Our second cocktail, Berry Berry Sour Cocktail, was created exclusively for OC Restaurant Week and contained Chambord, Vodka, Lemon Juice, Fresh Berries, and Egg White. This fruity drink was then poured into a champagne coup and topped with flowers for a soft and colorful display. We would definitely consider this an Instaworthy cocktail.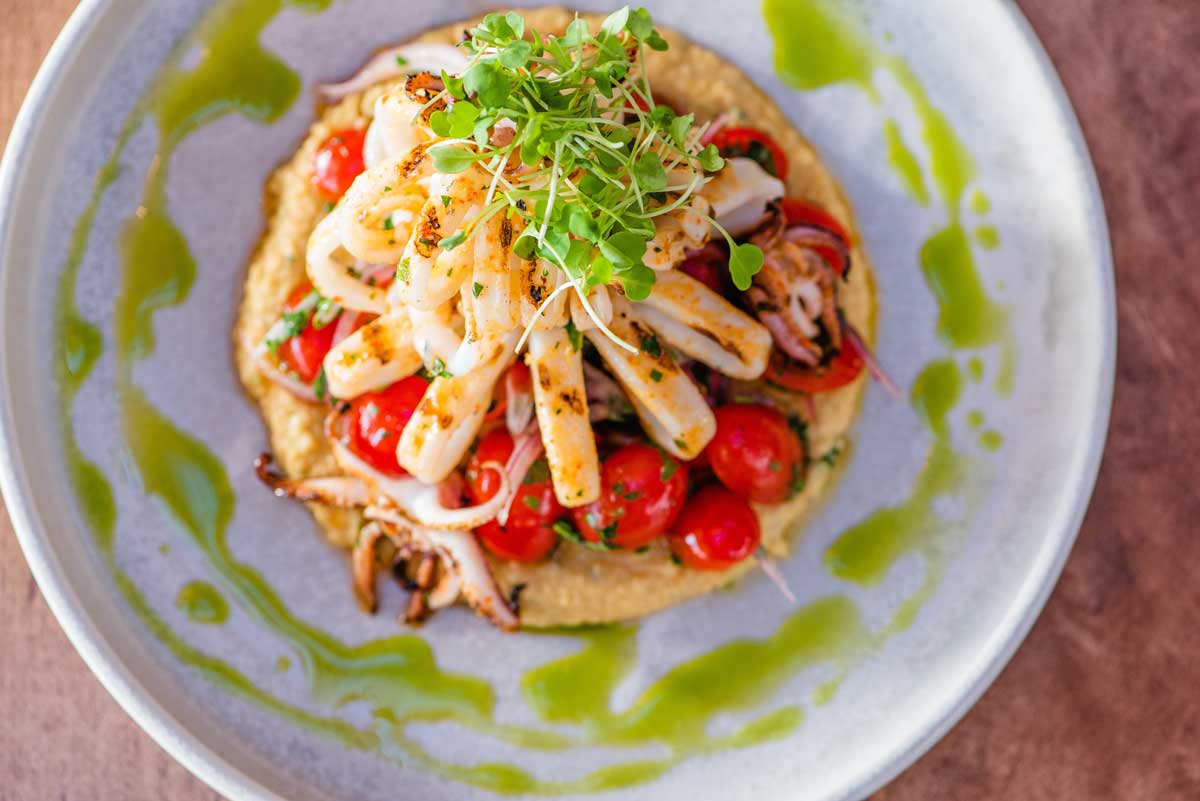 Now that we were enjoying our cocktails it was time to indulge in their fabulous menu. The freshly Grilled Loligo Calamari at Fishbone Laguna Beach is a must-try. Luckily it is also available on their $50 OC Restaurant Week dinner menu as an appetizer option. This is without a doubt the most beautifully presented grilled calamari dish I've ever seen. The calamari rested atop garbanzo puree, sauteed cherry tomato saladita, paprika, and drizzled with spiced lemon oil. As expected, the dish was incredibly fresh, cooked to perfection, and the flavors melded together beautifully.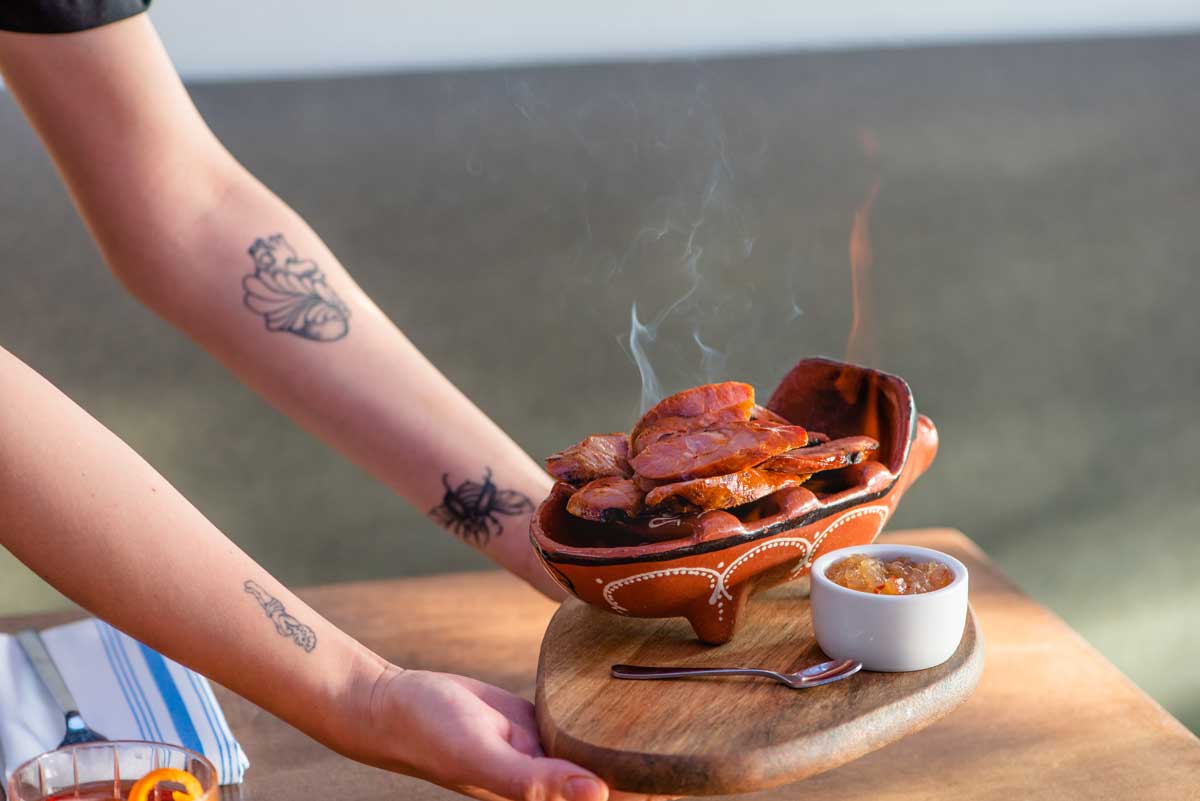 The moment you begin enjoying the cuisine at Fishbone Laguna Beach you'll instantly notice the bold Portuguese flavors. There are even unique menu items such as The Chourico (chorizo) on Fire. While the name is fun and catchy, it is also quite literal as well. This dish includes grilled Aguardente with a side of Sweet & Sour Apple Chutney for a dipping sauce. It seems very simple; however, where this dish really stands out as a "Crowd-Pleaser" is in its presentation.
The Chourico arrives on a custom made ceramic grill in the shape of an adorable pig. The inside of the grill is set on fire and delivered to your table with long-lasting flames and cook the Aguardente sausages right at the table.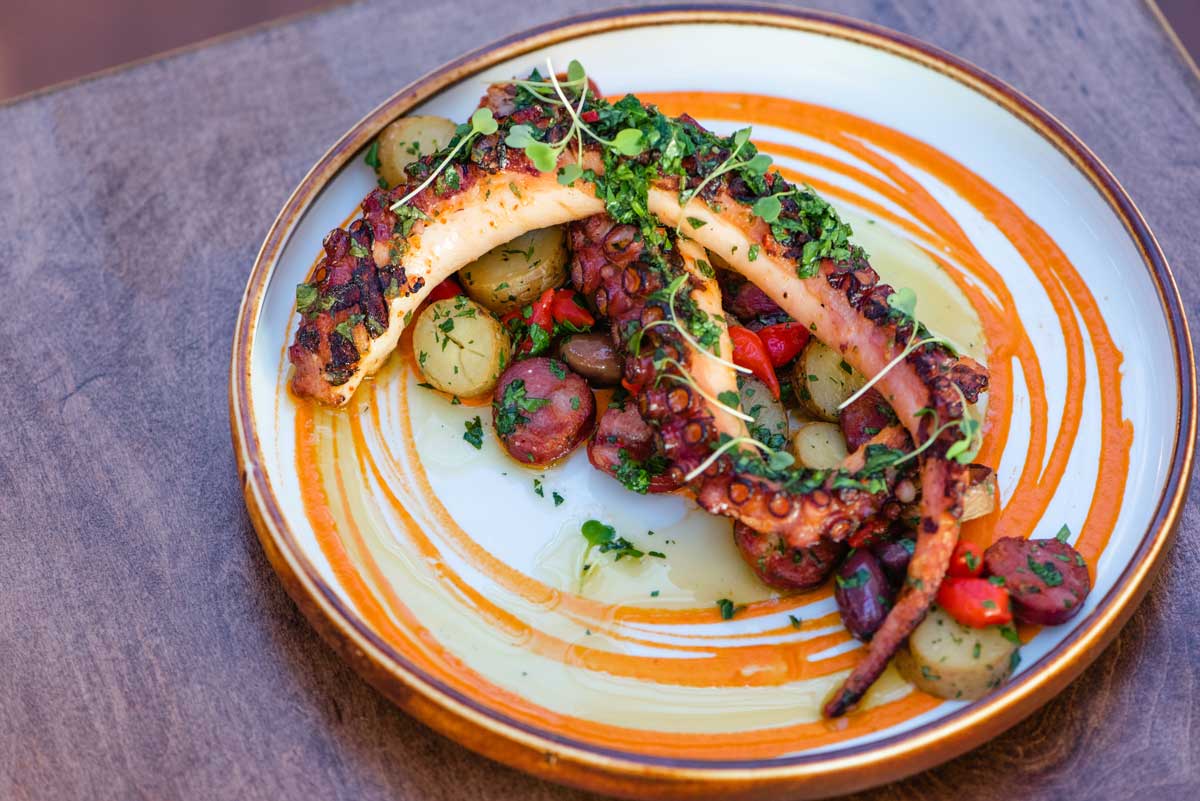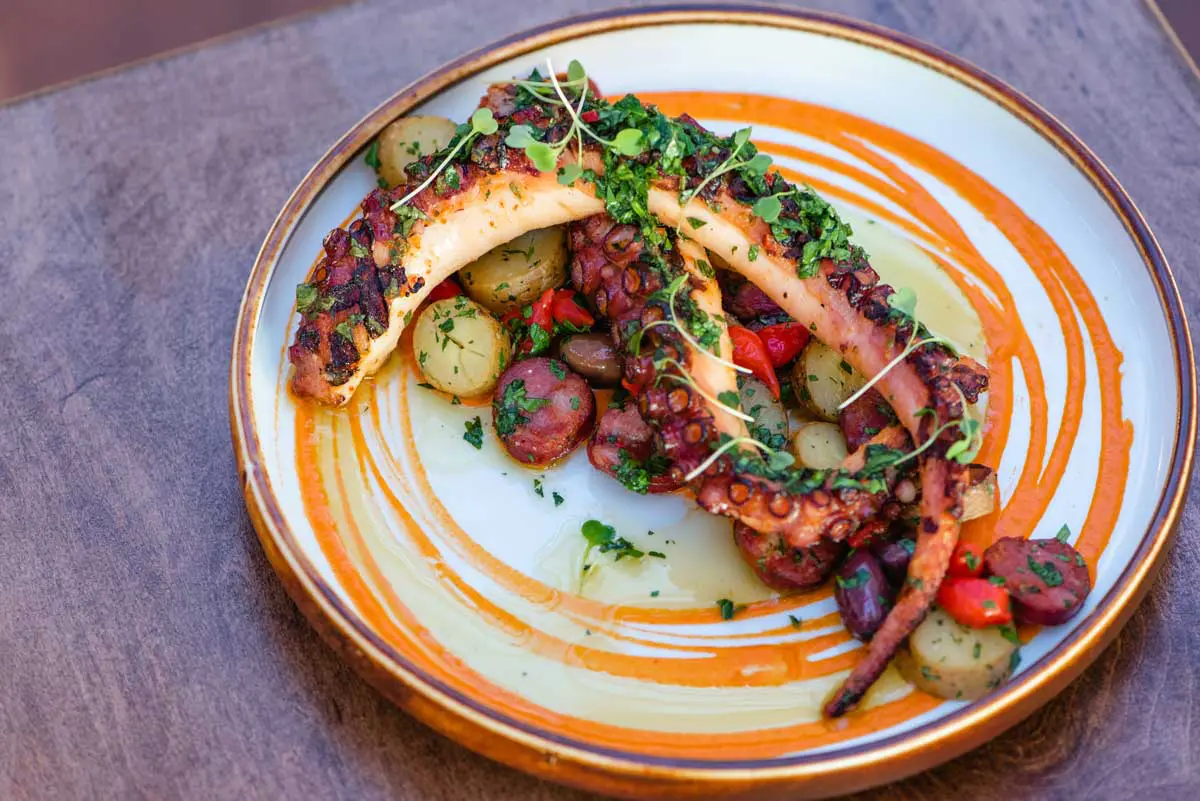 Next, for entrees, we first tried their Grilled Spanish Octopus with chourico (chorizo), fingerling potatoes, olives, and housemade Romesco sauce. Guests will be astonished by the massive size of this Octopus which is actually imported from the coast of Spain. The Octopus is braised for over 5 hours before it is grilled making it incredibly tender, especially for its size. I would say this is easily the best grilled octopus you'll find in Southern California.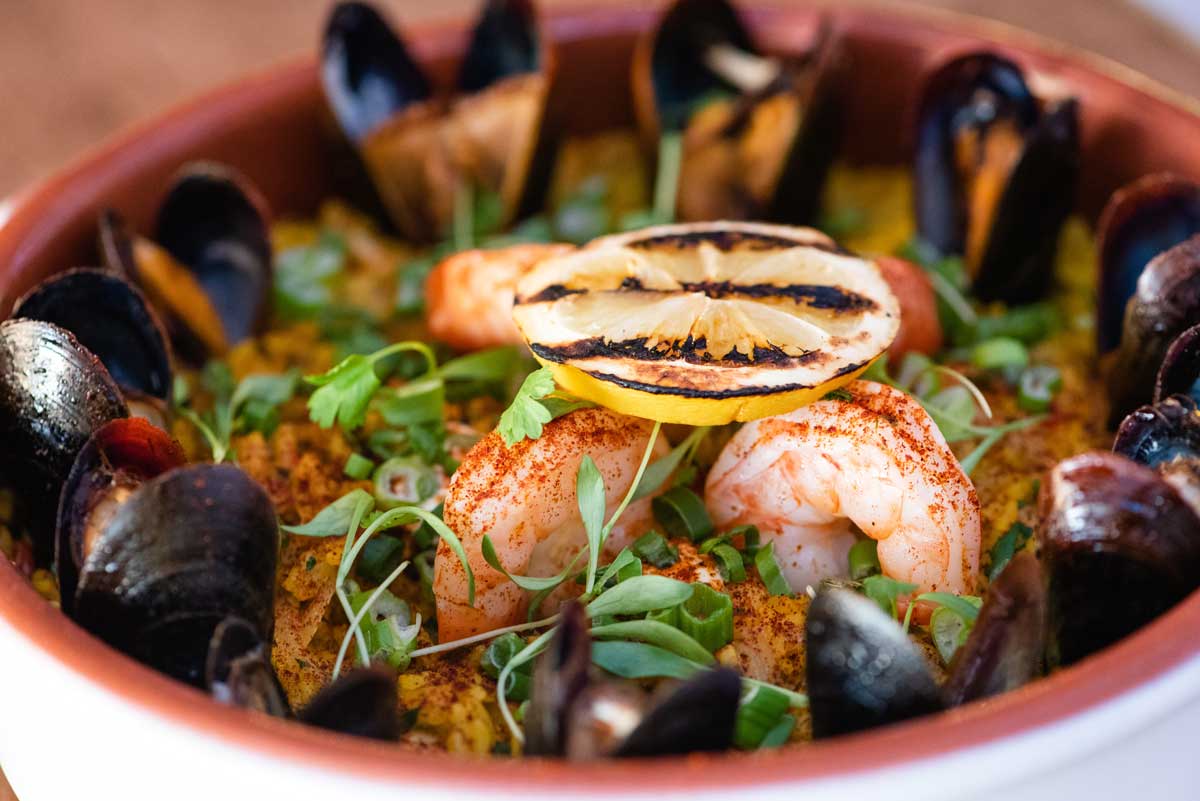 Both the Arroz A Valenciana and Grilled Spanish Octopus are available on the Fishbone Laguna Beach OC Restaurant Week Menu
Our final dish was the Arroz A Valenciana which is their Portuguese take on Paella. The Arroz A Valenciana arrived with saffron rice, chourico, bay scallops, sofrito, peas, pimenton, piquillo, and aioli which is then adorned with four large tiger shrimp and a grilled lemon surrounded by a crown of mussels. Each bite offers a mouthful of surprises. I especially enjoyed the addition of grilled lemon which, when squeezed over the entire dish, perfectly balanced the variety of salty flavors.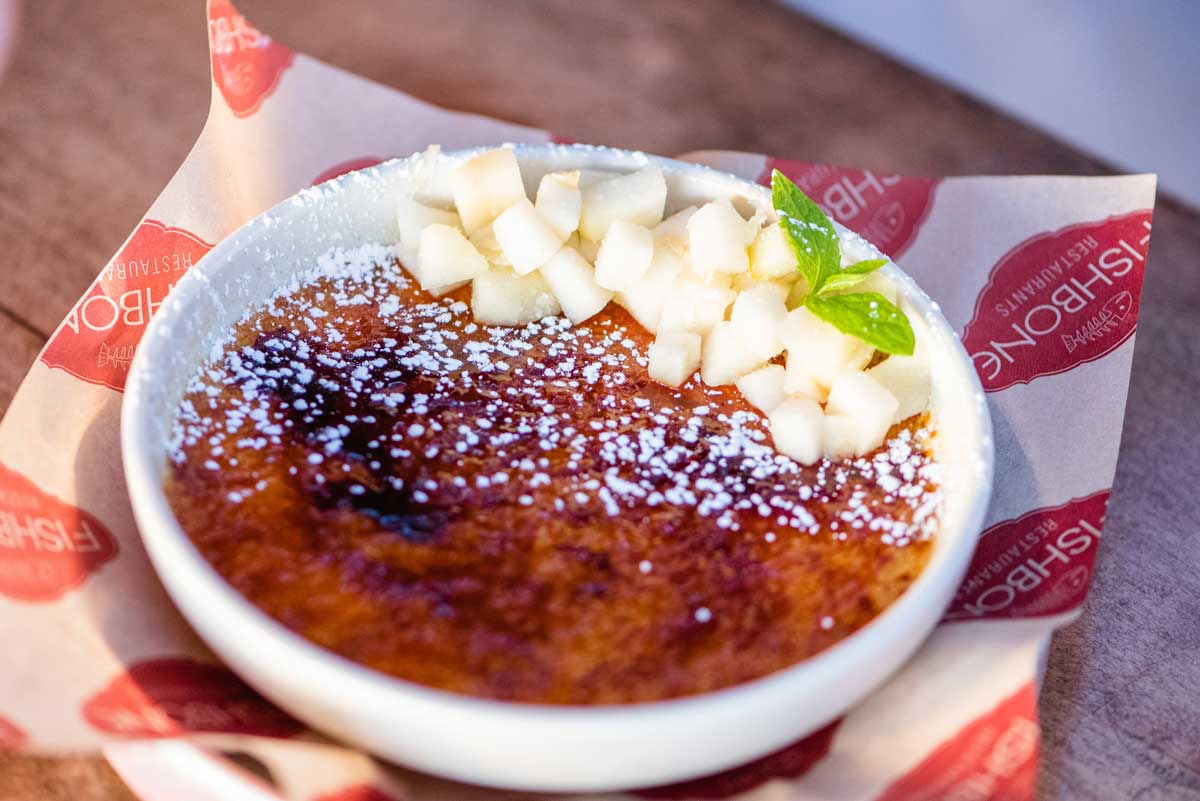 We ended the night with a beautifully presented Crème brûlée with grilled Brandy Apples. This is also one of the desserts offered for OC Restaurant Week.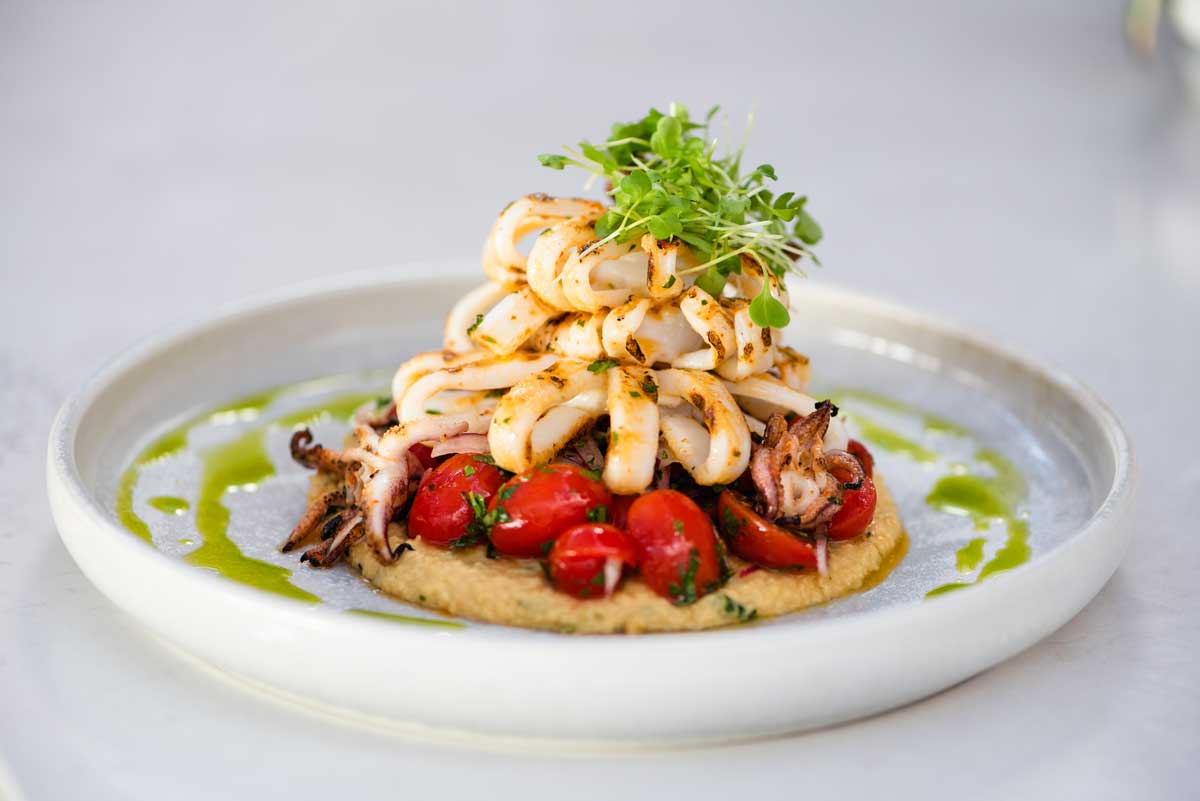 Fishbone Laguna Beach is a fantastic addition to the Orange County culinary scene. Chef and restauranter Pedro Periera has done an amazing job of bringing his native Portuguese influence and melding it perfectly with fresh coastal fare. It is remarkable that his culinary background stems from his family upbringing.
In fact, Chef Pedro originally traveled to Canada to pursue a career as a professional soccer player, but it looks like destiny has a way of working things out. The world would have truly been deprived had Mr. Periera not found his way to the culinary arts. His technique and plating resemble a chef with years of French culinary training. Fishbone is a fantastic addition to Laguna Beach which I hope remains for many years to come.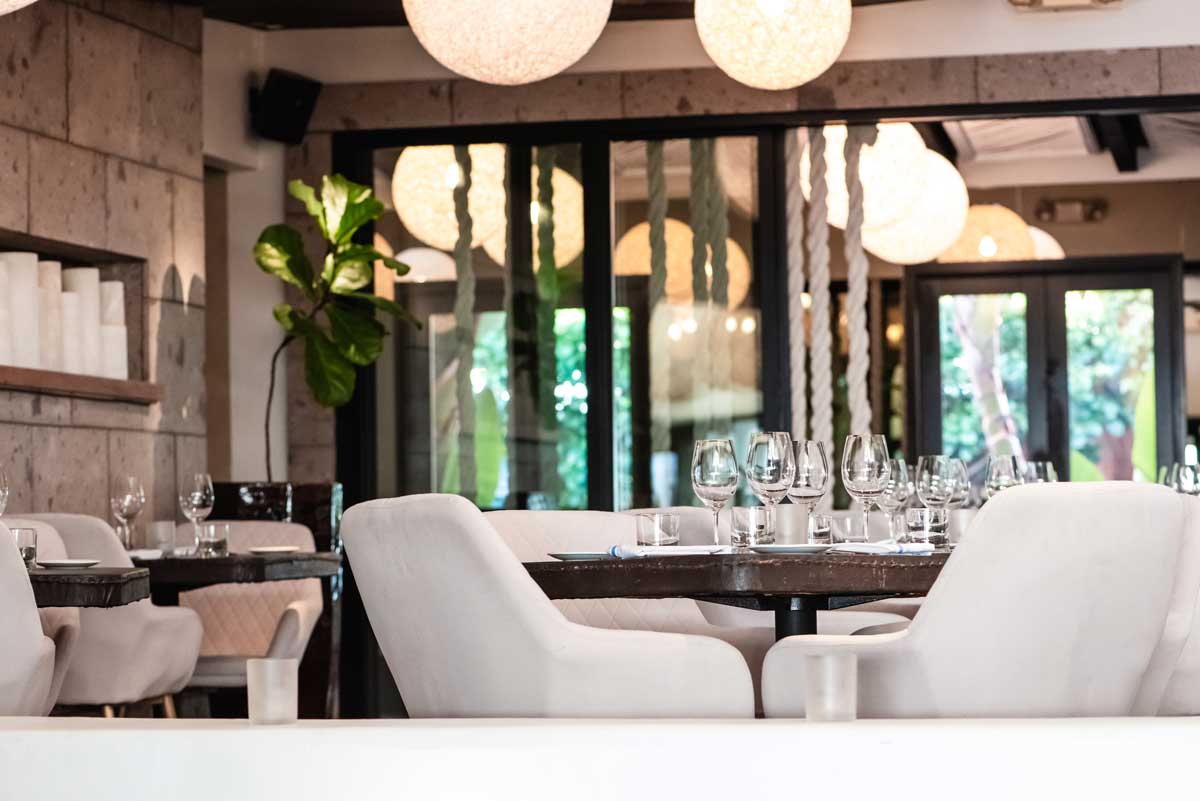 480 South Coast Hwy
Laguna Beach California 92651
(949) 393-4889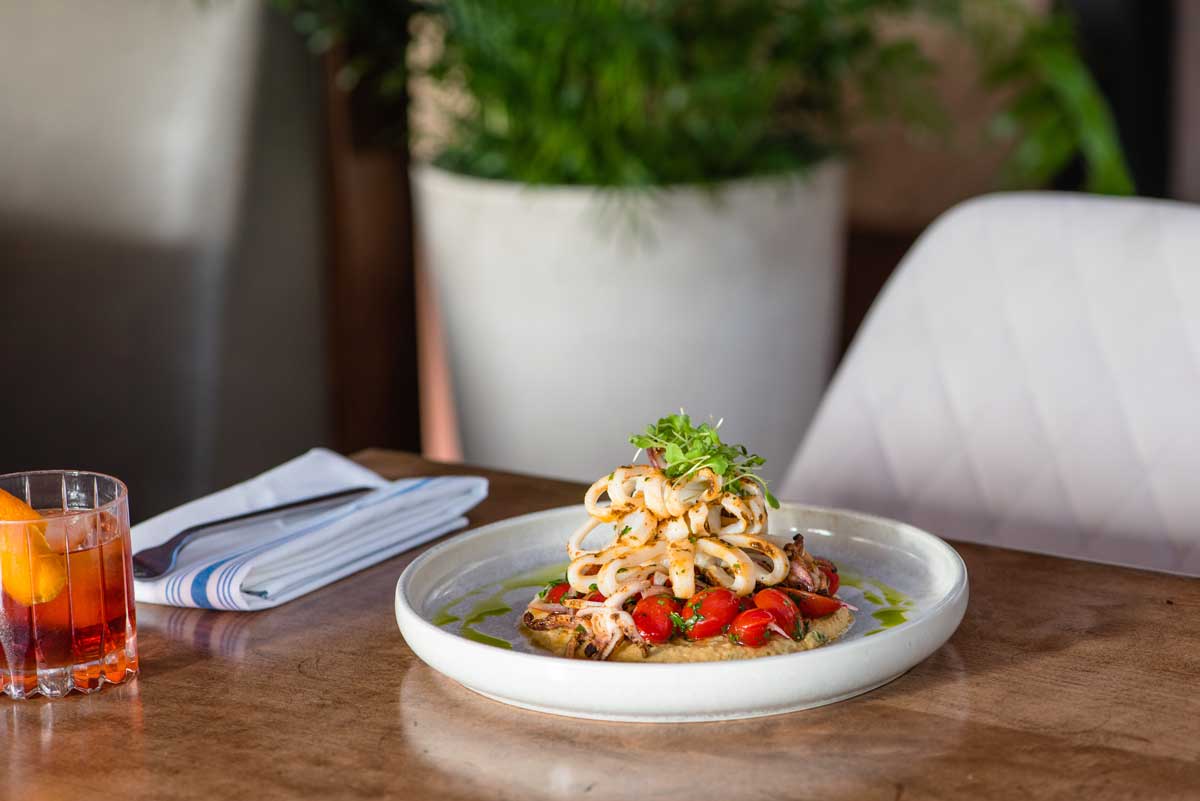 Below is the Fishbone Laguna Beach OC Restaurant Week Menu 2020
Featured Cocktails $12
Berry Berry Sour
Ketel One + Chambord + Fresh Berries + Lemon + Egg White + Bitter
Smoked Negroni
Roku Gin + Carpano Antica + Campari + Applewood Chips Smoke + Orange Bitters
Fishbone Sunset
Hornitos Tequila + Blood Orange Juice + Dehydrated Blood Orange + Egg White
Cointreau + Lime
Dinner $50
Amuse Bouche
Mini Crab Cake
Citrus + Pickled Jalapeno + Avocado Crema
Appetizer
Choice of
Grilled Loligo Squid
Garbanzo Puree + Tomato Saladita + Spiced Lemon Oil
Beets & Orange
Pickled Fennel + Goat Cheese + Pepitas + Whita Balsamic Grainy Mustard Vinaigrette
Flaming Pig
Portuguese Sausage + Brandy Flaming + Sweet & Sour Apple Chutney
Main
Choice of
Spanish Octopus
Confit + Romesco + Chorizo + Fingerling + Sweety Drop
Arroz a Valenciana
Saffron Rice + Prawns + Mussels + Bay Scallops
Lobster Bisque + Pimenton + Charred Lemon
Flat Iron
8oz Prime Steak + Chimichurri + Tomato Compote
Batata a Murro
Dessert
Choice of
Chocolate Peanut Butter Torte
Makers Mark Anglaise + Crumble + Berries
Maple Crème Brulee
Burnt Sugar + Brandy Braised Apple