Orange County Restaurant Week is finally here and we're bringing you an early preview of the delicious Sushi Roku OC Restaurant Week Menu. Taking place between March 8 – March 14th, 2020, guests will be able to dine at amazing restaurants throughout Orange County and select from a variety of lunch and dinner menus. Every year we scour the menu's and choose a handful of new restaurants and personal favorites. Sushi Roku, located as Fashion Island, is a beloved restaurant among Newport Beach and Orange County locals. The quality of their cuisine is always top-notch and diners love the trendy and sophisticated atmosphere.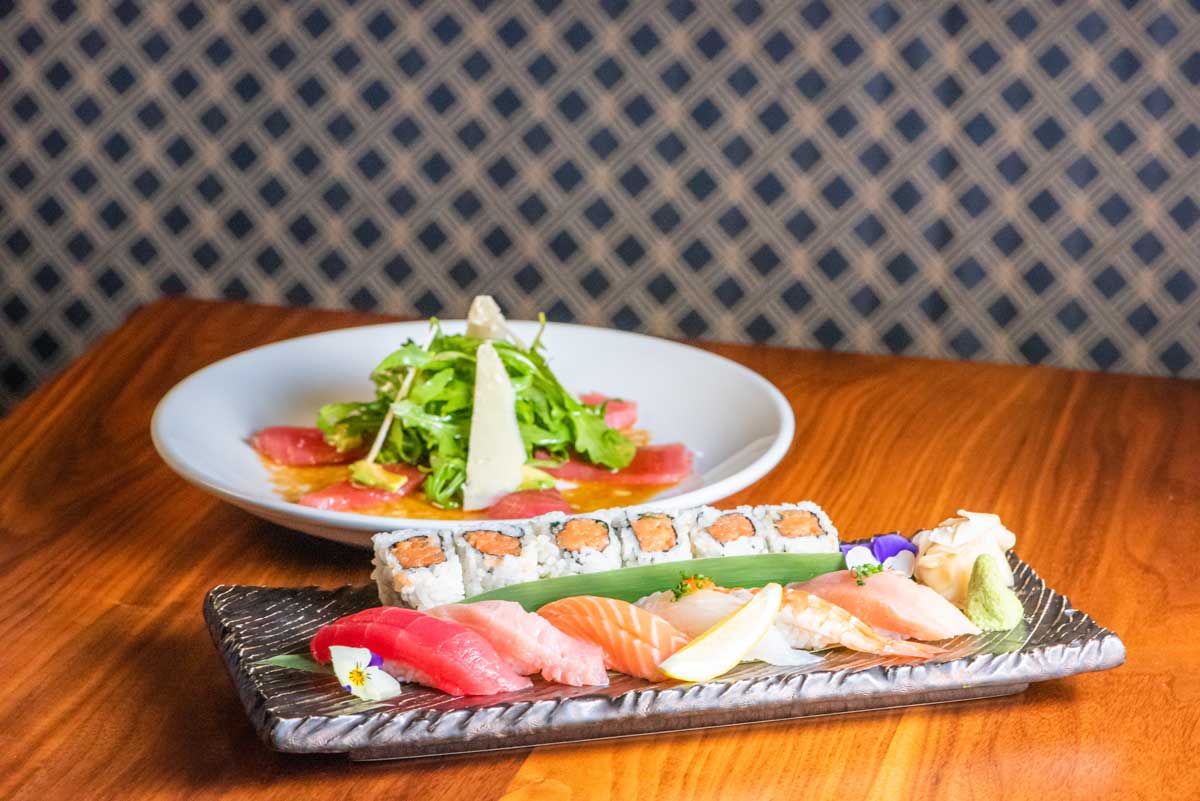 Sushi Roku OC Restaurant Week Lunch Menu $25 featuring their Tuna Carpaccio and 6 Piece Sushi Assortment with Spicy Tuna Roll
The Sushi Roku OC Restaurant Week menu offers both lunch and dinner options. From their lunch menu, we decided to select the Tuna Carpaccio with wasabi truffle soy, arugula, avocado, and Parmigiano Reggiano as our first course. Guests can also choose from an Organic Kale Salad and Avocado Hanabo. For the second course, we enjoyed the 6 Piece Sushi Assortment and Spicy Tuna roll, which included tuna, yellowtail, albacore, salmon, shrimp, and fluke. All of the sushi and seafood at Sushi Roku is incredibly fresh so this was an obvious choice. Other lunch options include their signature Jidori Chicken (Donburi) and Tuna Poke. Their OC Restaurant Week lunch menu is an incredible value at only $25.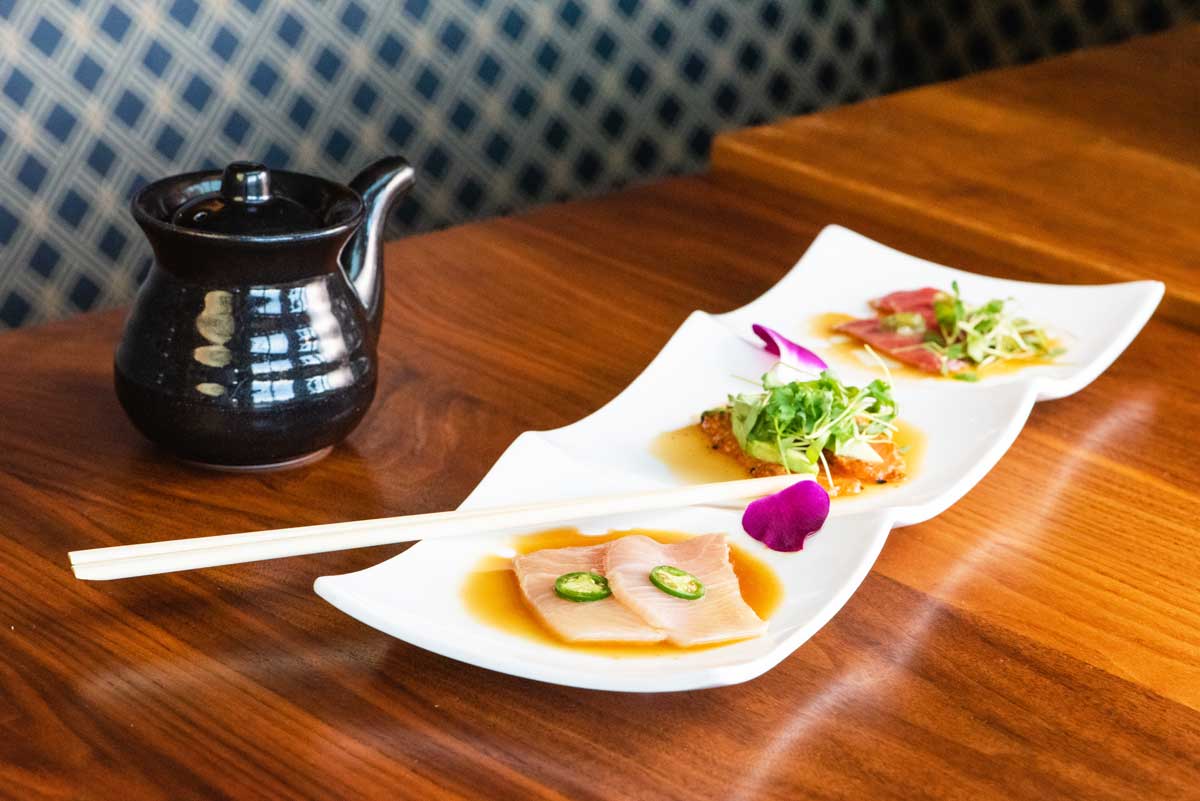 From the Sushi Roku OC Restaurant Week 2020 Dinner Menu $50, the Trio of Appetizers by Farm & Sea
Next, I could not resist the dinner menu offerings at Sushi Roku for OC Restaurant Week 2020. They offered a great sampling of some of Sushi Roku's most popular dishes for $50. For starters, guests can choose between a trio of appetizers from the farm or sea. The San Ten Mori, or Trio of Appetizers From Sea arrived with Yellowtail Serrano with Yuzu Ponzu, Salmon Carpaccio, and Bluefin Tuna Wasabi. While I'm not normally a fan of raw salmon, this salmon was incredibly fresh and tender with a hint of spice. It completely dispelled my distaste for raw salmon and this is one of the few restaurants I would make an exception for. The Bluefin Tuna Wasabi was my absolutely favorite and had an indescribable flavor. I would return just for this.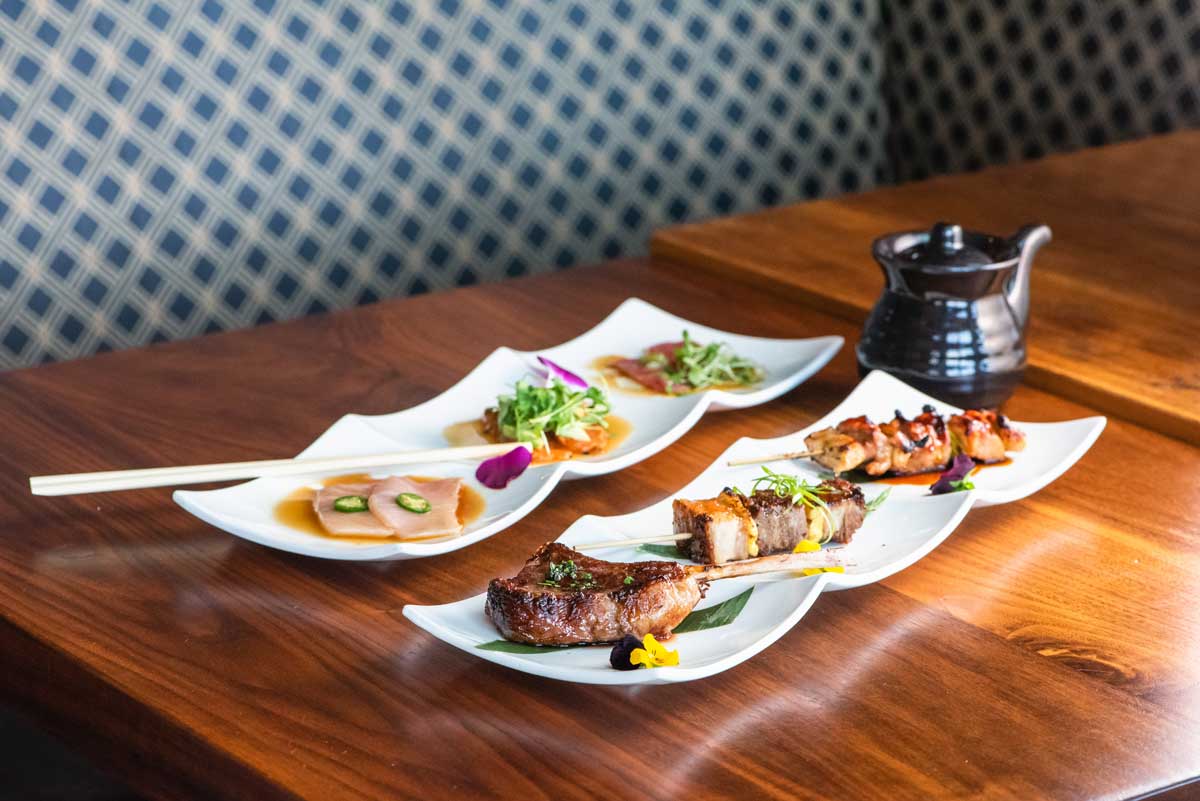 The San Ten Mori, or Trio of Appetizers From Farm, was an amazing value with generous portion sizes. It comes with Crispy Pineapple Pork Belly, Grilled Lamb Chop, and a "Jidori" Free Range Chicken Skewer. Lamb is one of my personal favorite dishes and this lamb chop was absolutely delicious with a beautifully seared crust. The Pineapple Pork Belly melted in your mouth and the Jidori Chicken had a wonderful smoked flavor. I wish this was always on their menu, but it is only available during OC Restaurant Week.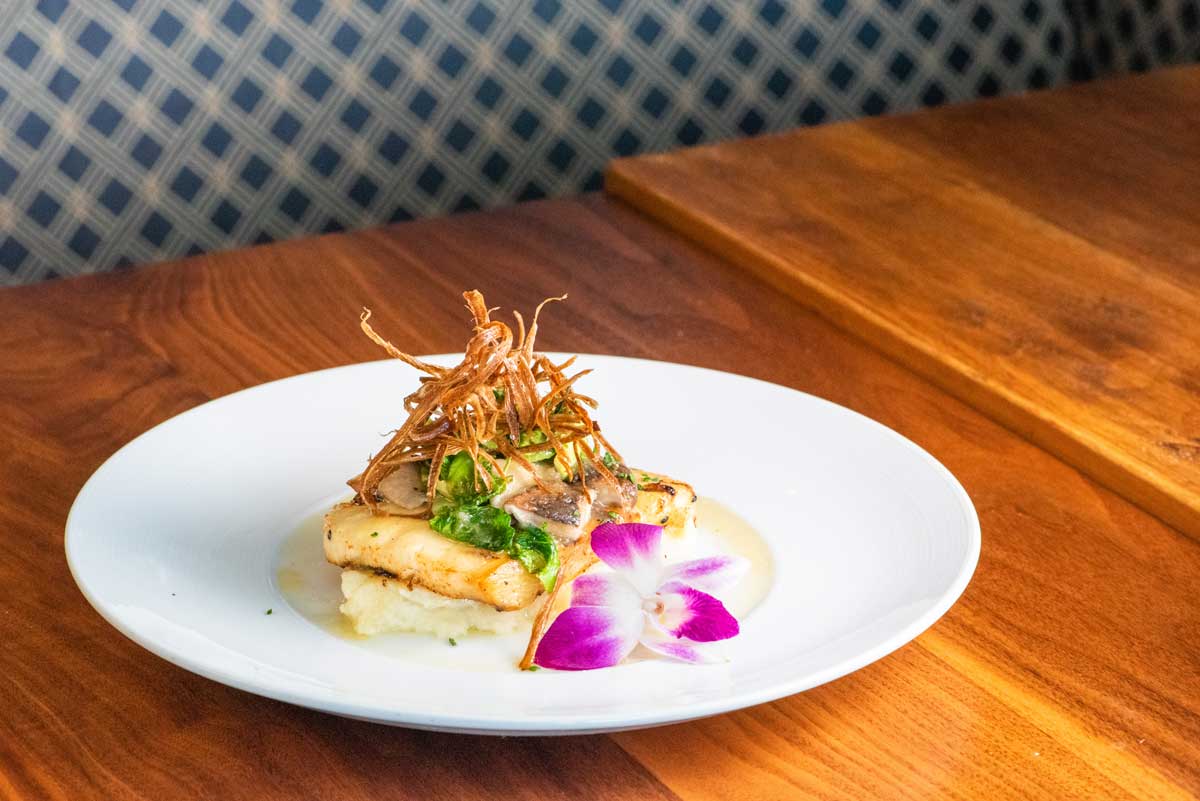 OC Restaurant Week 2020 Dinner Menu Offers an Entree Selection of Blacked Seabass or New York Strip Japonais
For entrees, diners can choose between the Blacked Seabass or New York Strip Japonais. Of course, I recommend coming with a guest and selecting both! The Blackened Sea Bass is served with mash potatoes, shitake mushroom, Brussel sprouts, and yuzu honeydew. The honeydew sauce added a unique sweet and citrusy flavor to the dish. Crispy onions placed at the top offered the perfect crunch.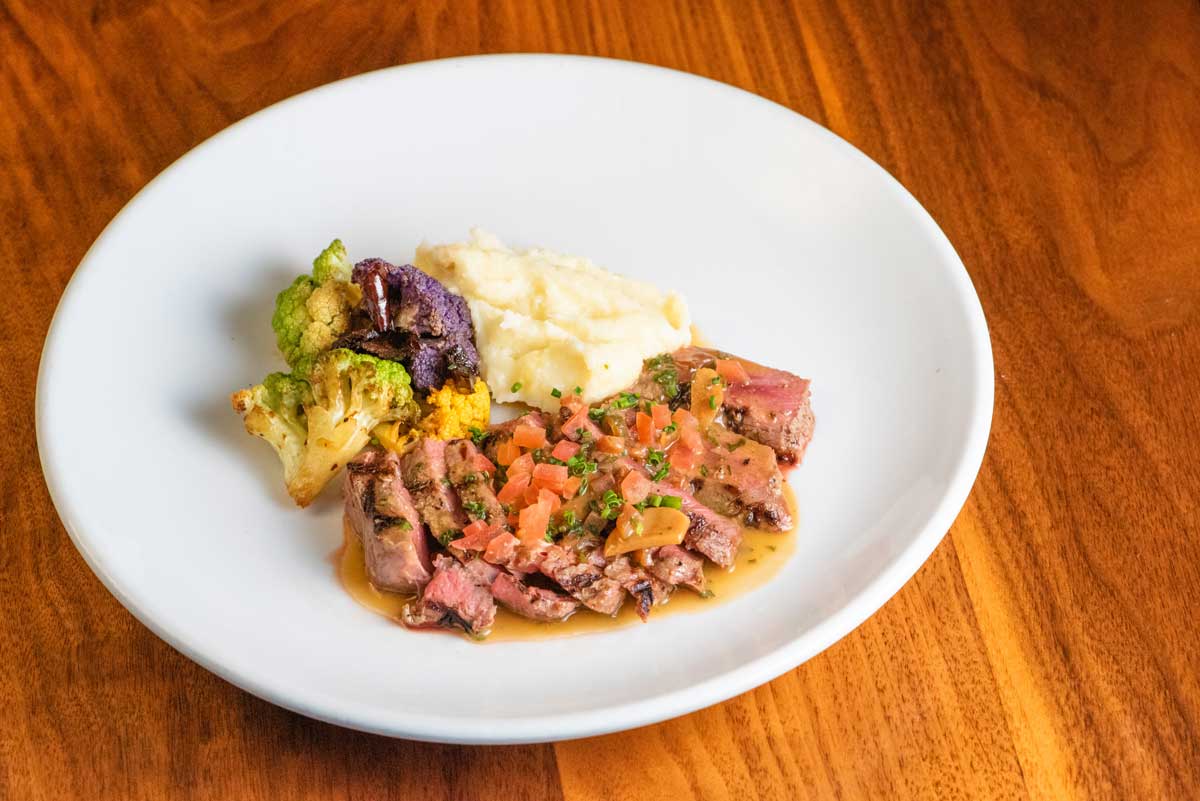 The New York Strip Japonais was one of the highlights of my evening. This dish looks so simple but upon your first bite, you will realize it is full of complex and unique flavors. The manager Chris, let us know that the sauce has been a secret family recipe for generations. I spent most of the dinner trying to decipher the different ingredients, with no luck. The large thin slices of garlic seemed as they had almost been pickled. We also discover small crispy pieces of dates which I would have never guessed had I not asked the chef. I would say this is a dish everyone should try upon visiting Sushi Roku even when it is not OC Restaurant Week, it is that good; you will want to lick the plate clean!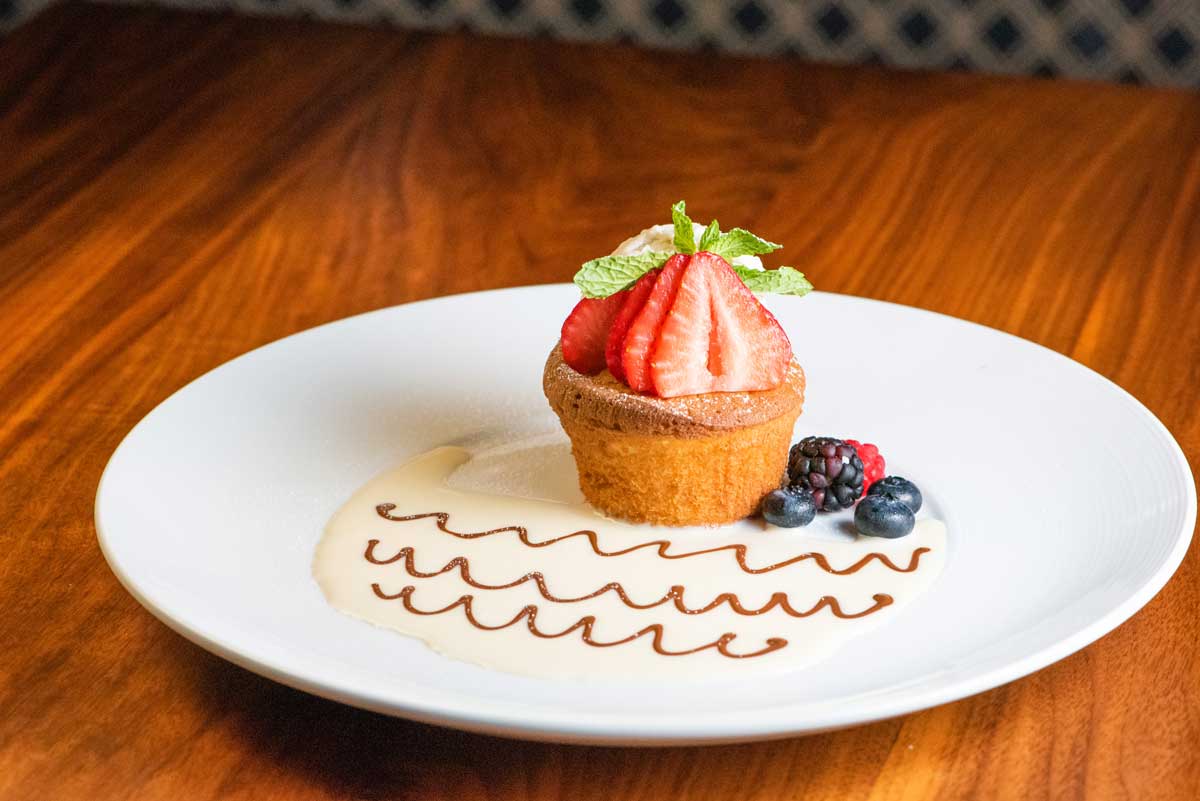 Finally, no meal is ever complete without dessert. Sushi Roku is offering its adorable Mini Buttercake garnished with fresh berries, Creme Anglaise, and vanilla ice cream. The cake was light and fluffy, not as dense and heavy as many buttercakes can be. I would say it was the perfect ending to an absolutely amazing dinner.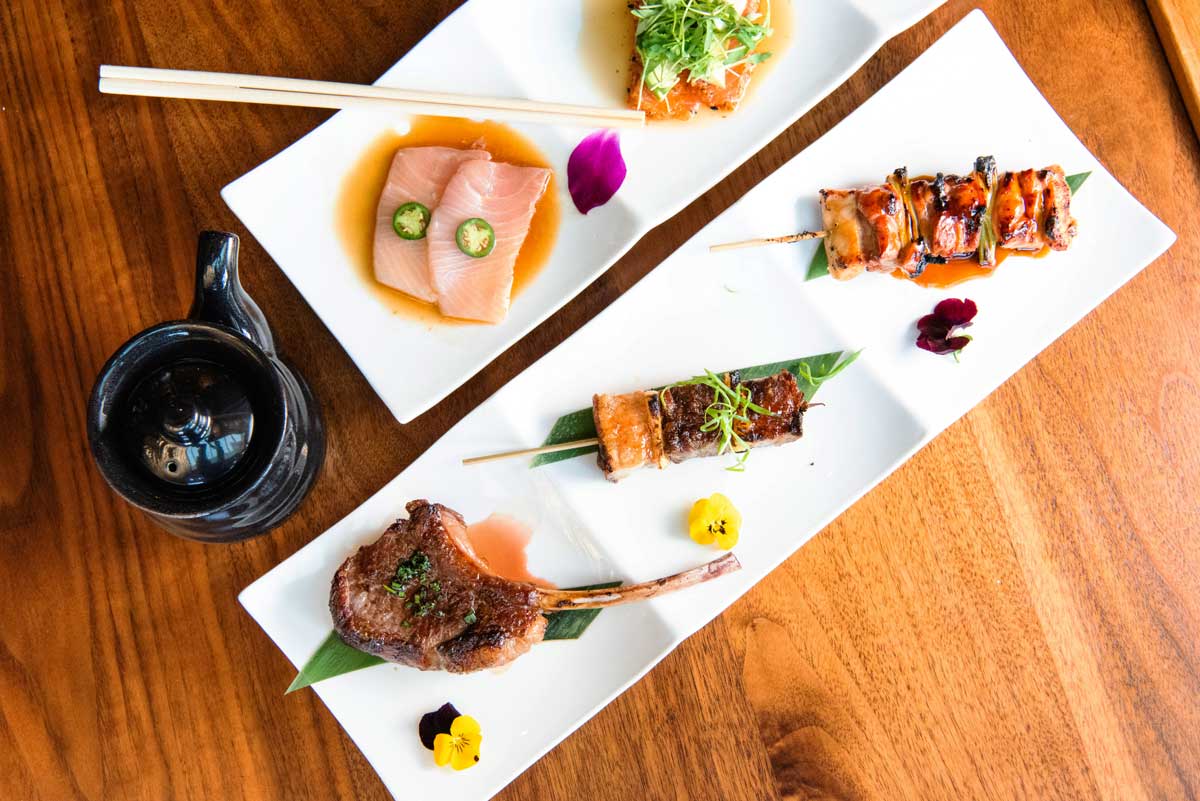 The Complete Sushi Roku OC Restaurant Week Menu 2020
Lunch $25 | Dinner $50
First
choose one
Organic Kale Salad
King Oyster Mushrooms, Crispy Shiitake, Ginger Plum Vinaigrette
Avocado Hanabo
Avocado, Parmigiano Reggiano, Crispy Rice
Tuna Carpaccio
Wasabi Truffle Soy, Arugula, Avocado, Parmigiano Reggiano
Second
choose one
6 Piece Sushi Assortment & Spicy Tuna Roll
Tuna, Yellowtail, Albacore, Salmon, Shrimp, Fluke
Tuna Poke
Soy, Chili Oil, Rice
Donburi
Jidori Chicken, Vegetables, Rice
Third
choose one
Mini Chocolate Brownie
Vanilla Ice Cream
Mix Mochi Ice Cream
Chocolate, Green Tea
Dinner $50
First
choose one
San Ten Mori
Trio of Appetizers From Sea
Yellowtail Serrano with Yuzu Ponzu
Salmon Carpaccio
Bluefin Tuna Wasabi
San Ten Mori
Trio of Appetizers From Farm
Crispy Pork Belly with Pineapple
Grilled Lamb Chop
"Jidori" Free Range Chicken Skewer

Second
choose one
Roku Signature Style Sushi & Baked Crab Hand Roll
Tuna, Salmon, Yellowtail, Albacore, King Crab
Blackened Seabass
Mashed Potatoes, Shiitake Mushroom, Yuzu Honeydew
New York Strip Japonais
New York Strip, Roasted Cauliflower, Japonais Sauce
Third
choose one
Mini Buttercake
Vanilla Ice Cream
Sorbet & Mixed Berries
Sorbet, Choice of Two – Raspberry, Coconut, Mango, Lychee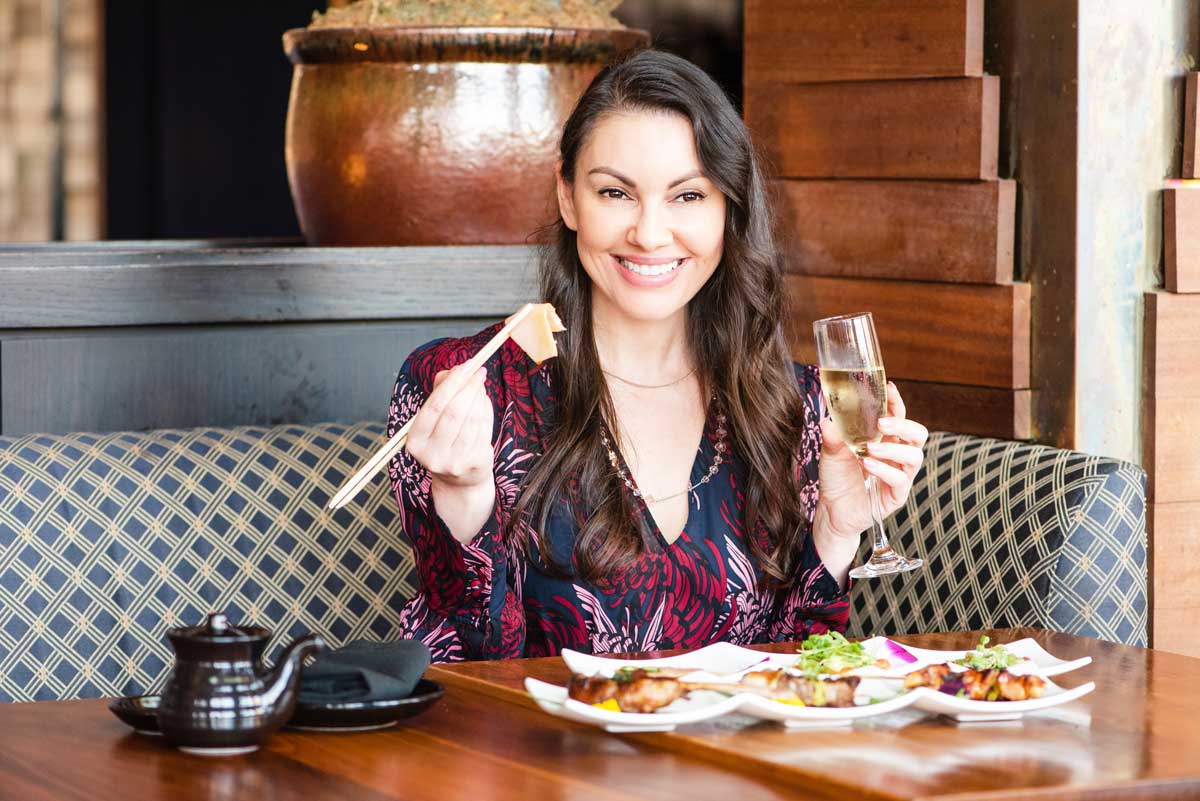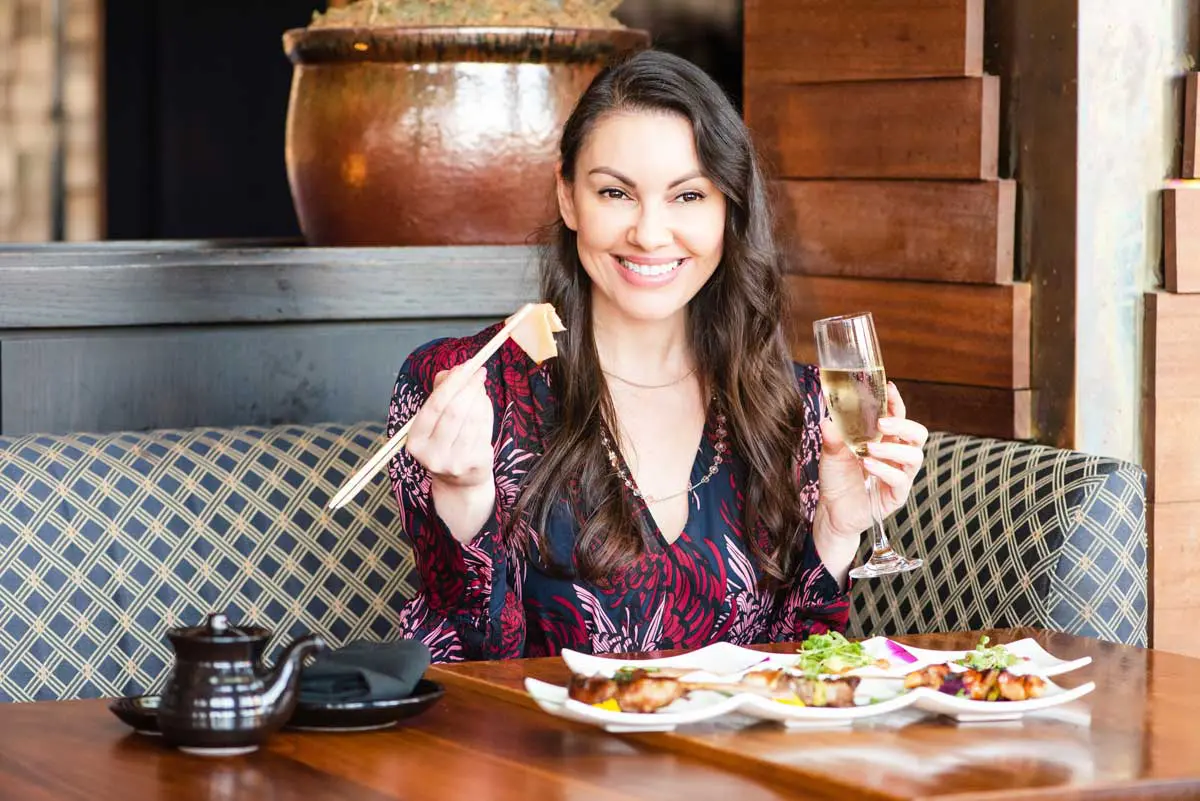 327 Newport Center Dr.
Newport Beach, CA 92660
949.706.3622