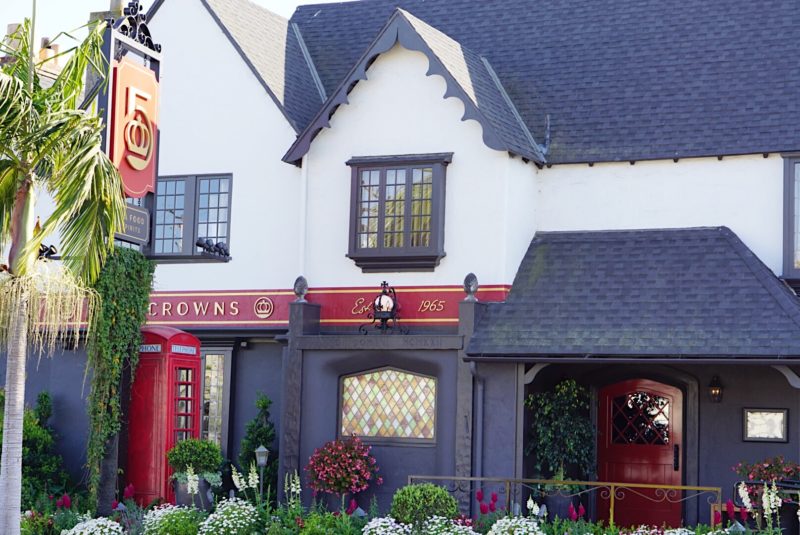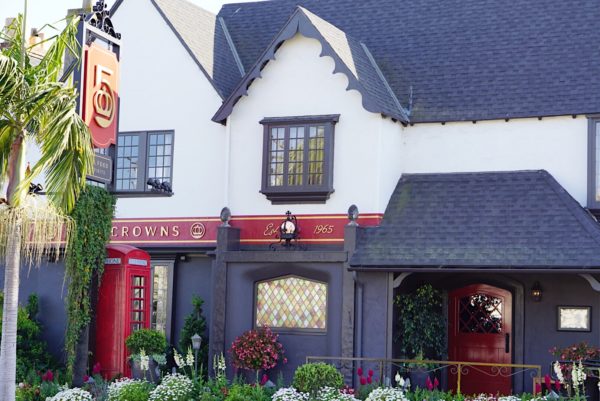 Five Crowns is a classic Orange County restaurant mostly known for their juicy and indulgent traditional prime rib dinners. For spring, however, they also have a wonderful and refreshing new menu that features light colorful ingredients like english peas and fresh strawberries. Their new menu is the perfect occasion to enjoy the beachy town of Corona Del Mar while dining in their one of a kind greenhouse style patio.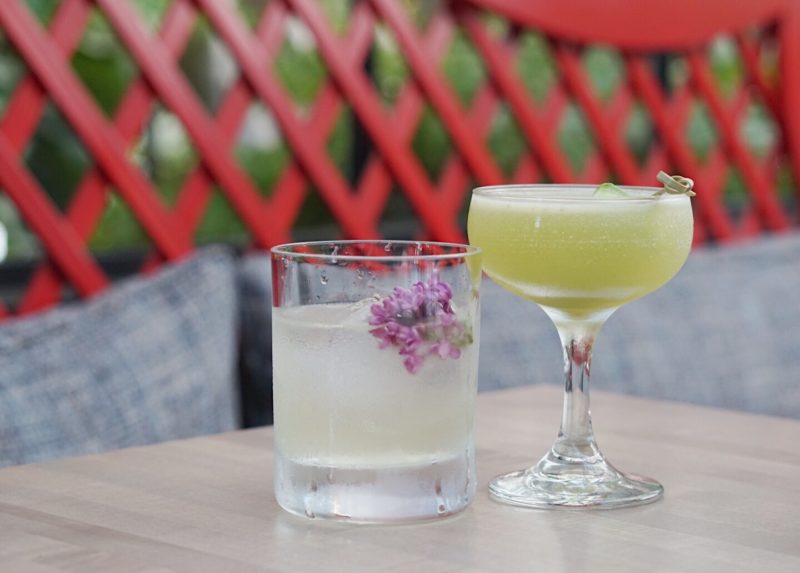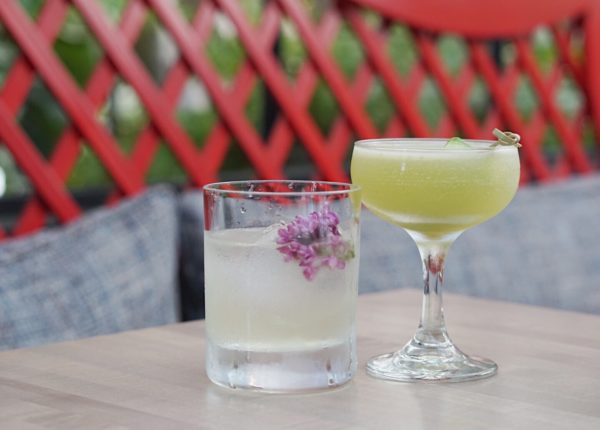 We, of course, started the evening with some light and refreshing cocktails. The mixologist even made us his specialty cocktail, The Ugly Gentleman, which was a runner-up in the national mixology competition. All the crafted cocktails featured at Five Crown are developed by their extremely talented team of mixologists. Watching him make our drink felt like enjoying a performance which ended in us receiving a really yummy treat at the end. Luckily for you, we have it all on video for you to watch below.
Their new spring menu has everything you could ever want to bring delicious, fresh, farm to table ingredients straight to your plate. We started the evening with their Burrata & Grilled Baby Leeks and the Foie Gras Torchon served with grilled brioche and apple butter. I have to say, this was the largest piece of [amazon_textlink asin='B0036747GC' text='Foie Gras' template='ProductLink' store='prettyfitfood-20′ marketplace='US' link_id='abd2a62e-23f8-11e7-96f6-616c7fe49c99′] I have ever received at a restaurant and it was incredible. If you love this delicacy, Five Crowns foie gras is simple yet delicious, letting the ingredients speak for themselves. Hands down one of the most decadent Foie Gras dishes you will ever have.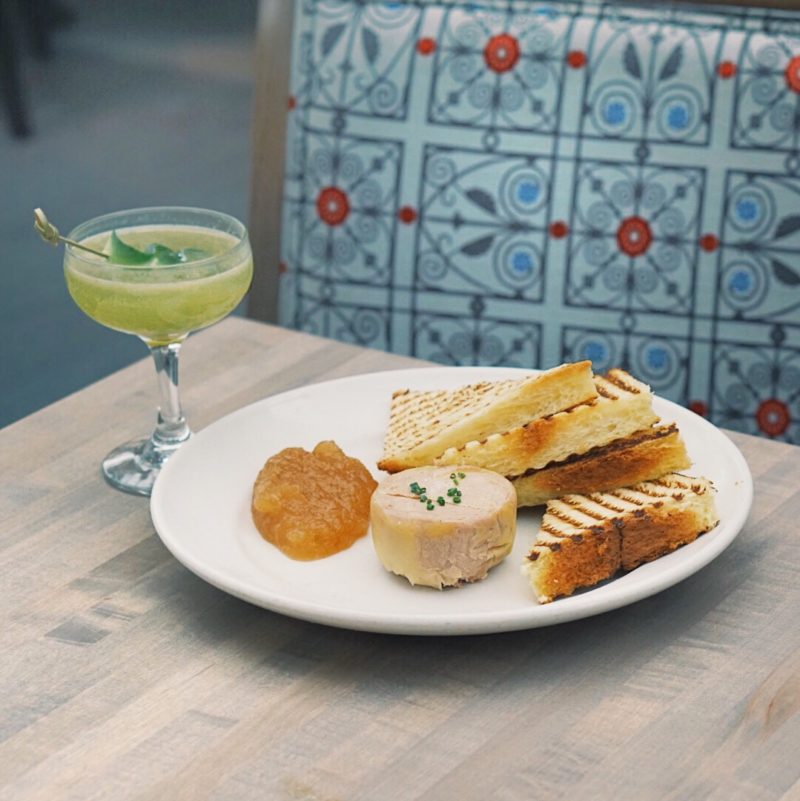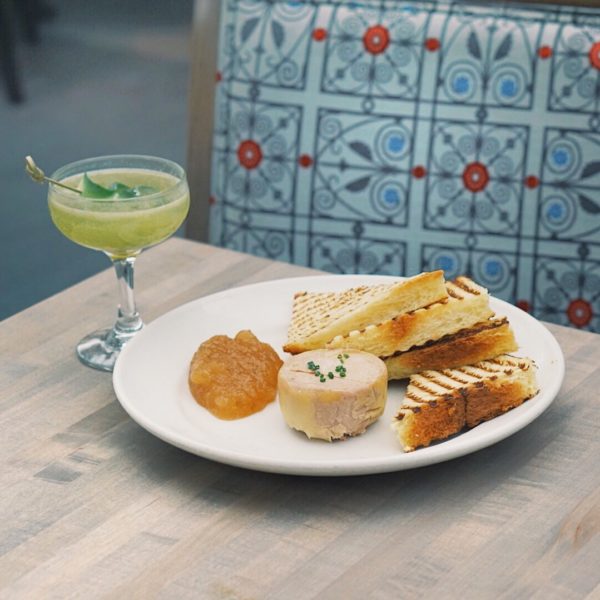 Next, we followed up with the Mixed Green Salad, Grilled Octopus, and the traditional Potato Leek Soup. The name of this salad really does not do it any justice. I would have named it The Strawberry Fields Spring Salad. It just perfectly encompasses everything you could want in a spring dish featuring fresh strawberries, beets, candied pistachios,[amazon_textlink asin='B0050ILV64′ text=' lamb chopper cheese' template='ProductLink' store='prettyfitfood-20′ marketplace='US' link_id='c43f3dfe-23f8-11e7-872e-0b8d5bcde452′], and balsamic vinaigrette.
I am also a sucker for Grilled Octopus. I know it sounds crazy but I love the tentacles. The same with calamari. I never go for the rings. I only want the yummy little tentacles! The grilled Octopus at Five Crowns is a giant braised grilled Octopus tentacle served with a light lemon vinaigrette. It was cooked beautifully and was as tender as can be. The biggest misconception about octopus is that it is chewy. Fresh octopus prepared properly is extremely tender and delicious.
For dinner, we enjoyed the Alaskan Halibut, Spring Mushroom & Artichoke Risotto, and the Roasted Jidoria Chicken. The Alaskan Halibut made for a wonderful spring dish paired with white asparagus, english peas, cauliflower puree, and caper brown butter sauce. I have a serious weakness for brown caper butter sauce. This dish was incredibly light and refreshing. Then there was the Roasted Jidori Chicken which was served with an amazing vert sauce similar to a chimichurri. It was just so full of flavor I could not stop eating it.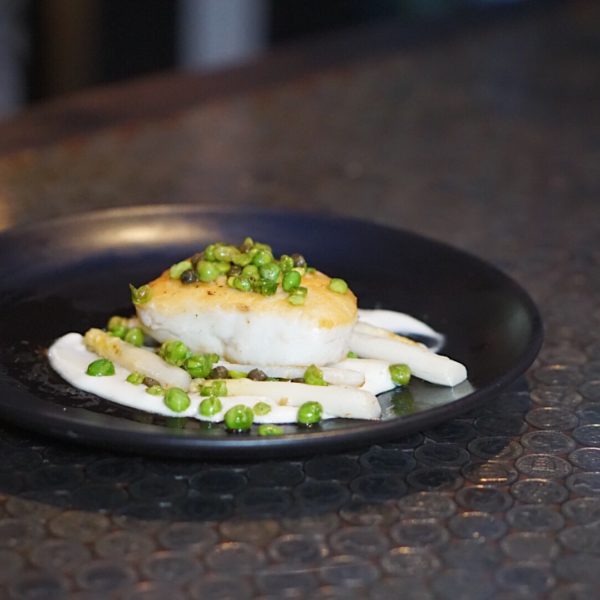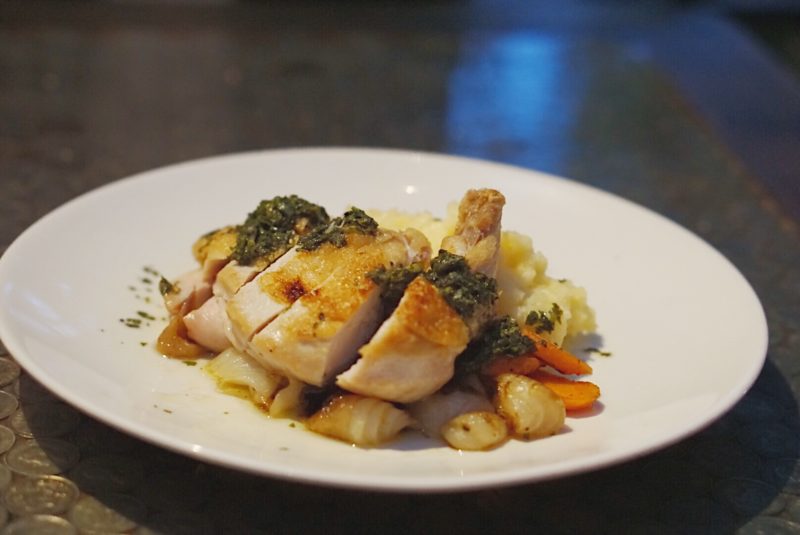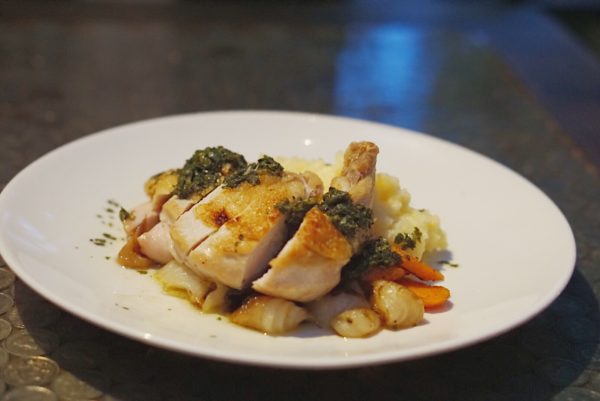 The Spring Mushroom and Artichoke Risotto is the perfect accompaniment to any meal. They also used my absolute favorite mushrooms which are[amazon_textlink asin='B009S6XG5S' text=' morel mushrooms' template='ProductLink' store='prettyfitfood-20′ marketplace='US' link_id='ec52cba1-23f8-11e7-8122-c1421e3ce76c']. I was informed that the mushrooms in this dish will always change to what is in season. I really love when restaurants do this and I was extra excited that they were using morel this evening. Morel mushrooms look like little sponges and have a heartier texture. I order them every chance I get!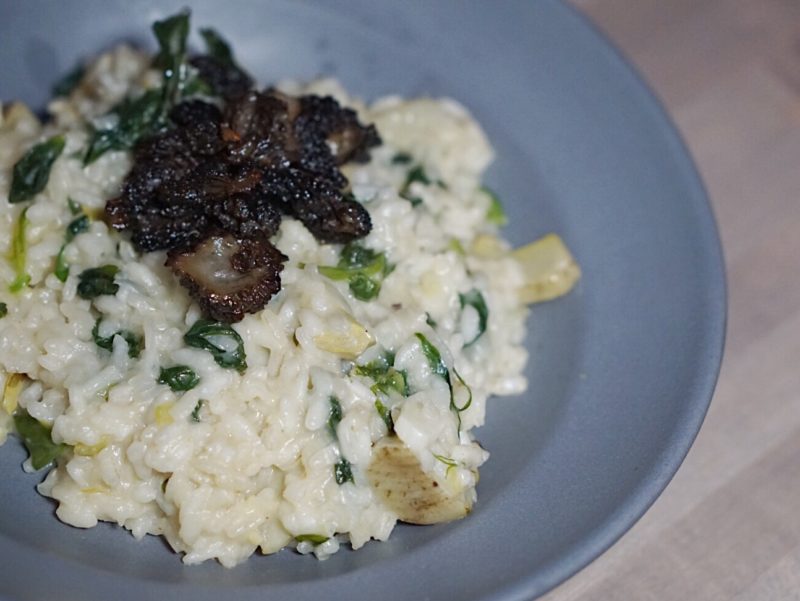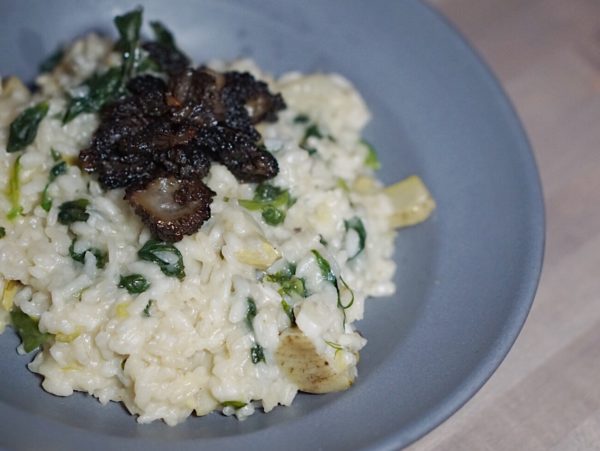 Last, but certainly not least we enjoyed a delicious Lemon Steam Cake. This cake is amazing because it tastes like a refreshing spring lemon souffle but it is actually a custard that bakes into a cake. It also takes half the time to bake. As I'm sure you can imagine this was gone in 60 seconds. If you know me, you know I devour desserts like a zombie eating its first victim.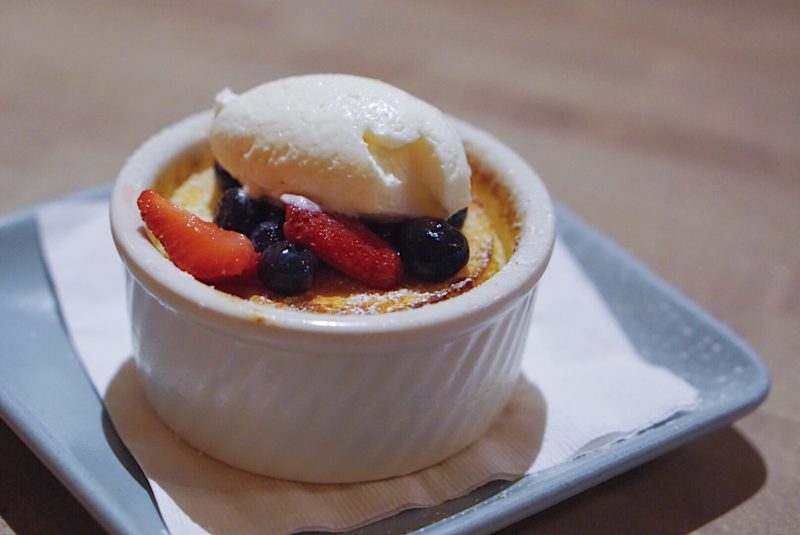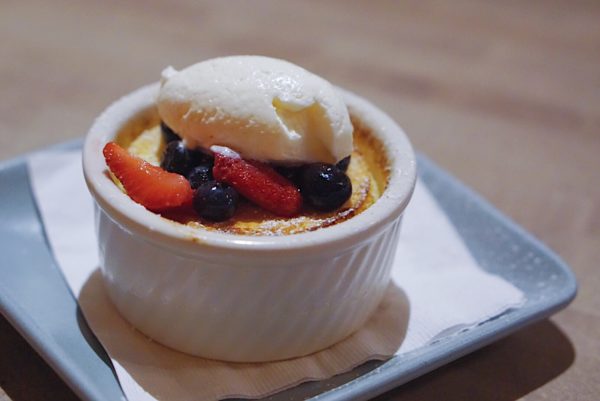 In addition to the amazing new spring menu at Five Crowns, we got lucky and happen to arrive on Artisan Cheese Night! If you go over to Side Door ( located right next to Five Crowns in the same building) the third Tuesday of every month, you can enjoy a special night dedicated to specialty artisan cheeses. These cheeses are from smaller independently owned cheese farms which only are released in small quantities.  In order to give customers the opportunity to try these specialty cheeses, they decided to have a special evening the 3rd Tuesday of every month which offers five specially selected types of cheeses you can order with your cheese and charcuterie boards. This is an event every cheese lover should check out. The care that goes into selecting these cheeses is very commendable and I love that they have found a way to feature these specialty cheeses.
We are also doing a $50 Giveaway to Five Crowns, just add your email below and be sure to follow @prettyfitfoodie and @fivecrowns on Instagram?
Five Crowns & Side Door
3801 E. Coast Highway
Corona del Mar, CA 92625
Phone: 949.760.0331