I love heading to fun events in Southern California and this past weekend I decided to check out the Knotts Berry Farm Boysenberry Festival. I had never been before but kept hearing so many great things. Since moving to Orange County from L.A. I am discovering some seriously amazing events. Had I known how much fun this festival would be, I would have been driving down to celebrate a long time ago.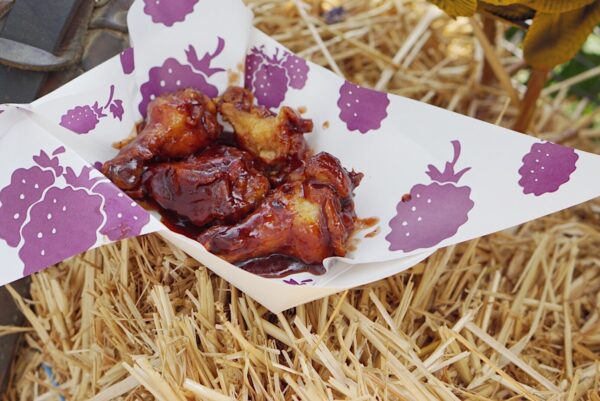 Boysenberry BBQ Chicken Wings
First, I am crazy about food-themed events and it really doesn't get any better than the Knotts Berry Farm Boysenberry Festival. Almost every food item in the park uses boysenberry in a clever way from sweet boysenberry treats to savory bbq sauce and even a boysenberry aioli. I've never seen one ingredient used in so many different ways. Even more surprising was that all the dishes managed to use boysenberry in ways the really worked.
At the Boysenberry Festival you can go rogue and choose from delicious creations all over the park or you can purchase a tasting pass with 6 pre-selected treats to enjoy. The tasting pass was actually a great value at only $25 so we couldn't pass up that deal.  I also had to try their special Gator Bites served with fries and a boysenberry aioli. I don't know anywhere in Southern California that serves alligator and the last time I tried it was in Florida. It's actually really tasty and almost like a cross between chicken and fish. I think it tastes a lot like fried southern catfish.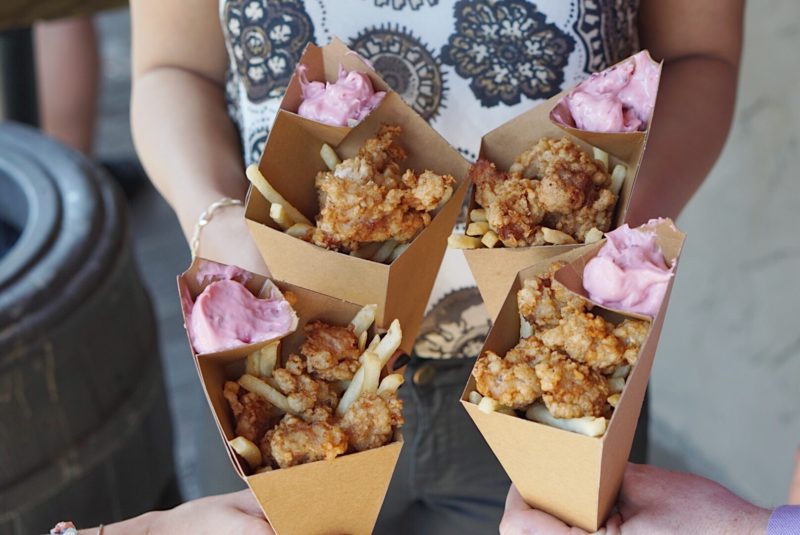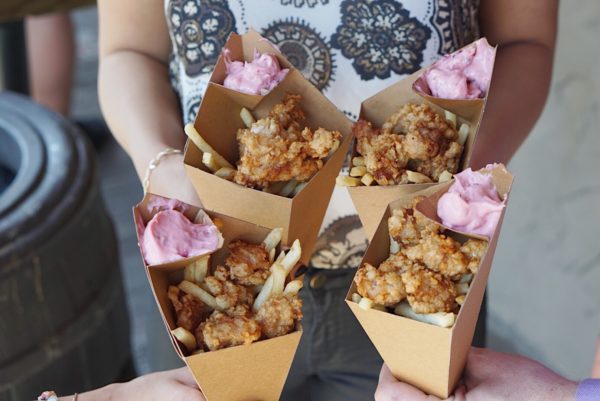 With the tasting ticket, you receive Boysenberry Chicken Wings, BBQ Meatballs, Pizza, Ravioli, Panna Cotta, and Fried Dough. Of course, I took a picture of everything so you could see each treat in all of its boysenberry glory. My favorites were the chicken wings and the ravioli.
They did a great job getting those wings extra crispy. The ravioli has a very subtle flavor of boysenberry that is brought out with the addition of the tomato. I was more than happy with the various tastings, but they had so many additional boysenberry items to enjoy that it's worth going with a big group or going at least twice to try them all out.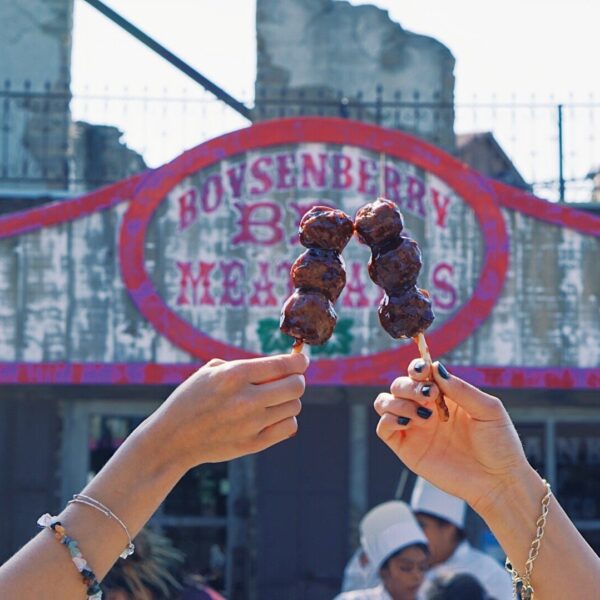 Boysenberry BBQ Meatballs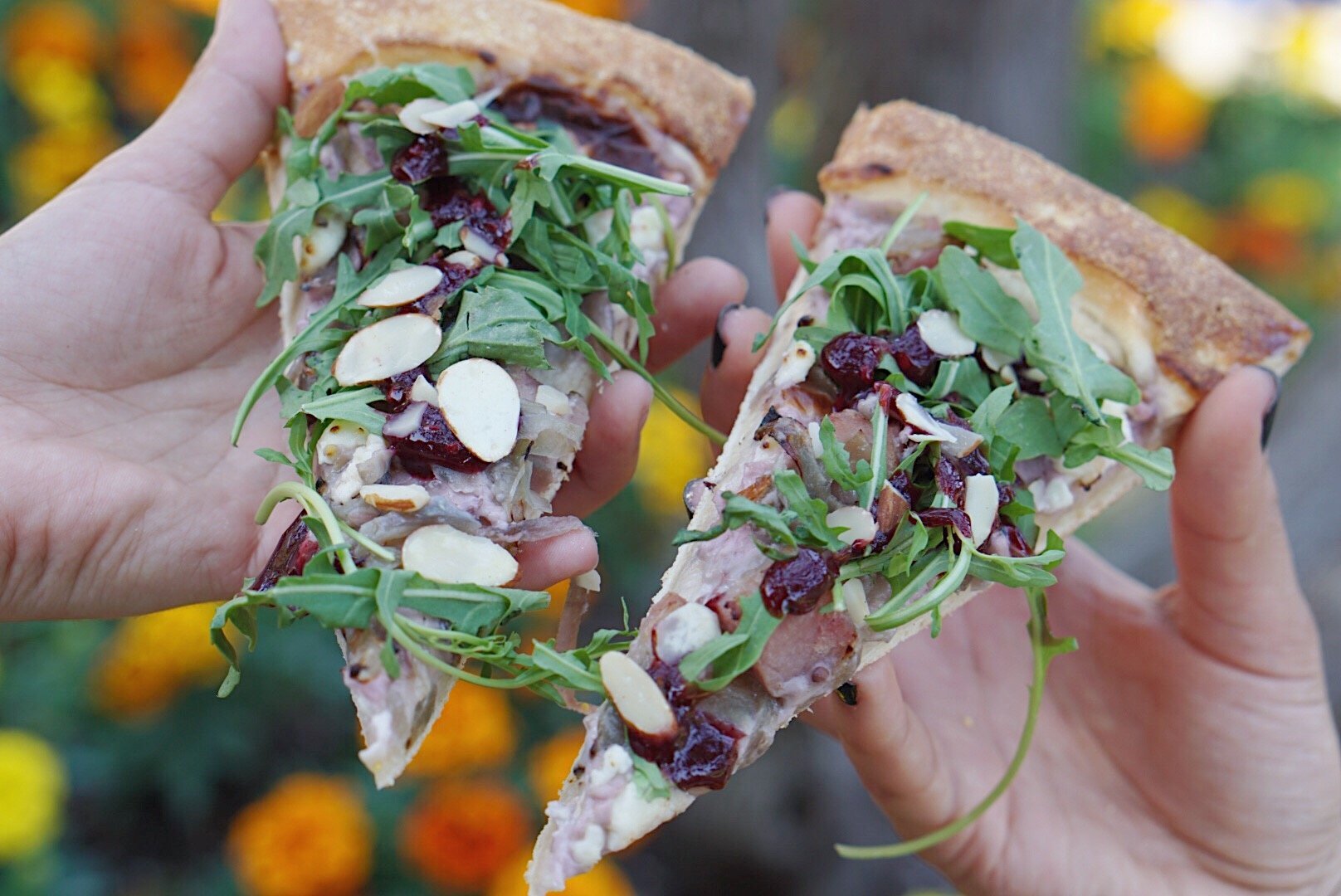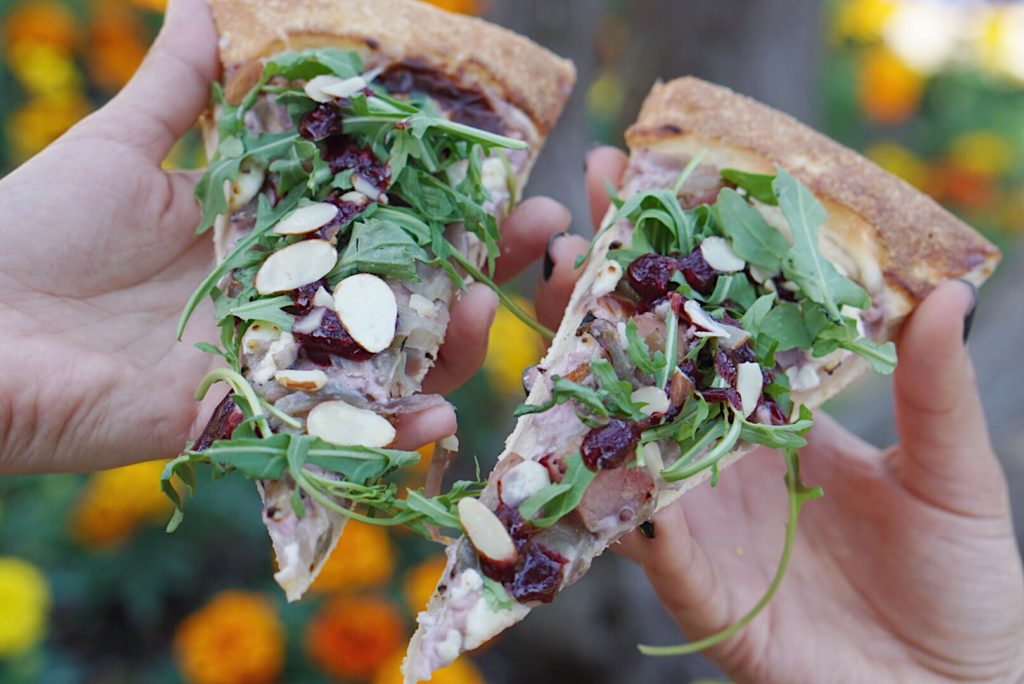 Boysenberry Pizza & Panna Cotta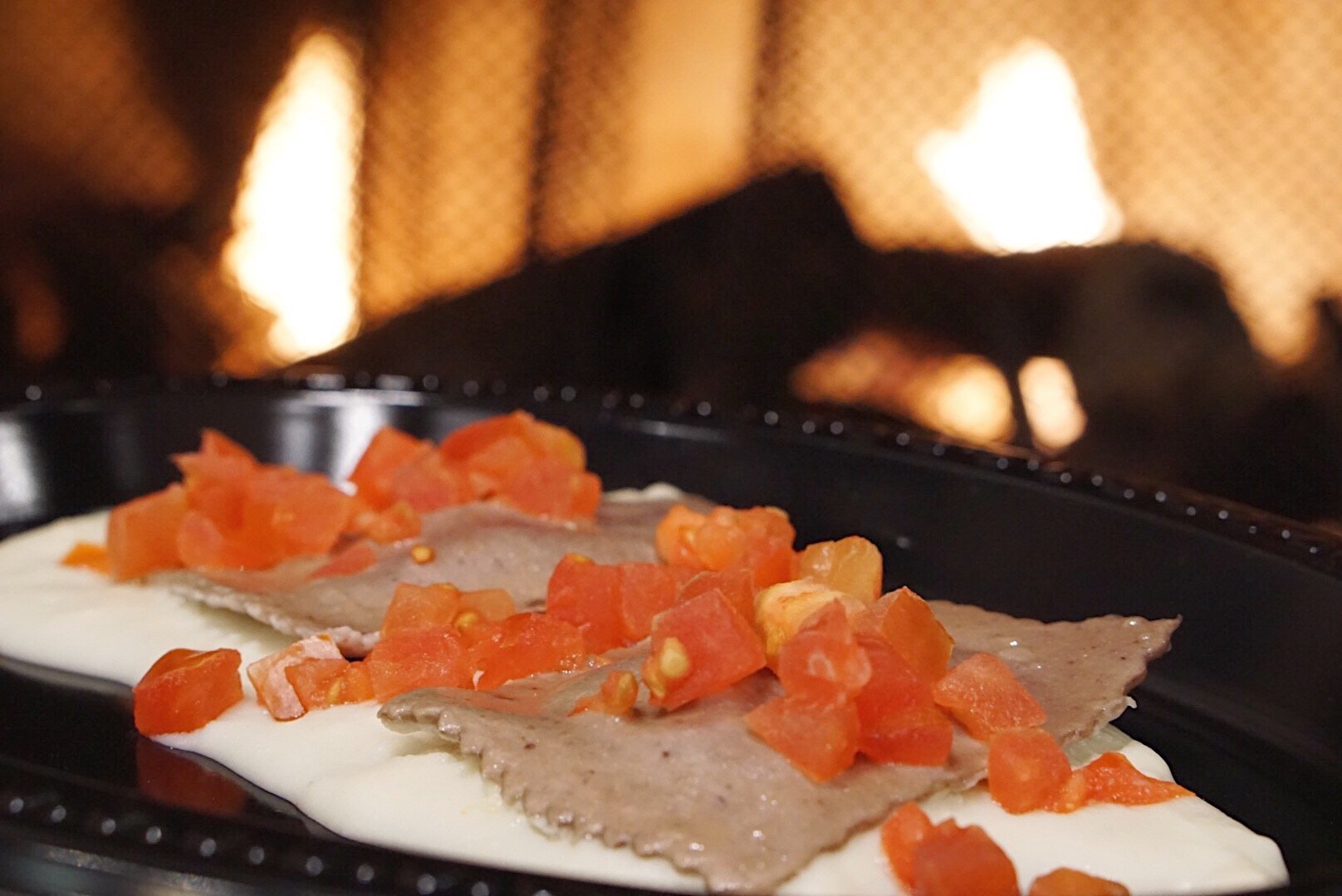 Boysenberry Ravioli & Boysenberry Stuffed Fried Bread
In addition to the tasting ticket, the Knotts Berry Farms Boysenberry Festival also has an awesome wine and beer garden. I have to admit, the second I walked into their tasting garden it was like home sweet home. I could have spent the entire day enjoying their wine garden. Each week they have a completely new line-up of wines to sample.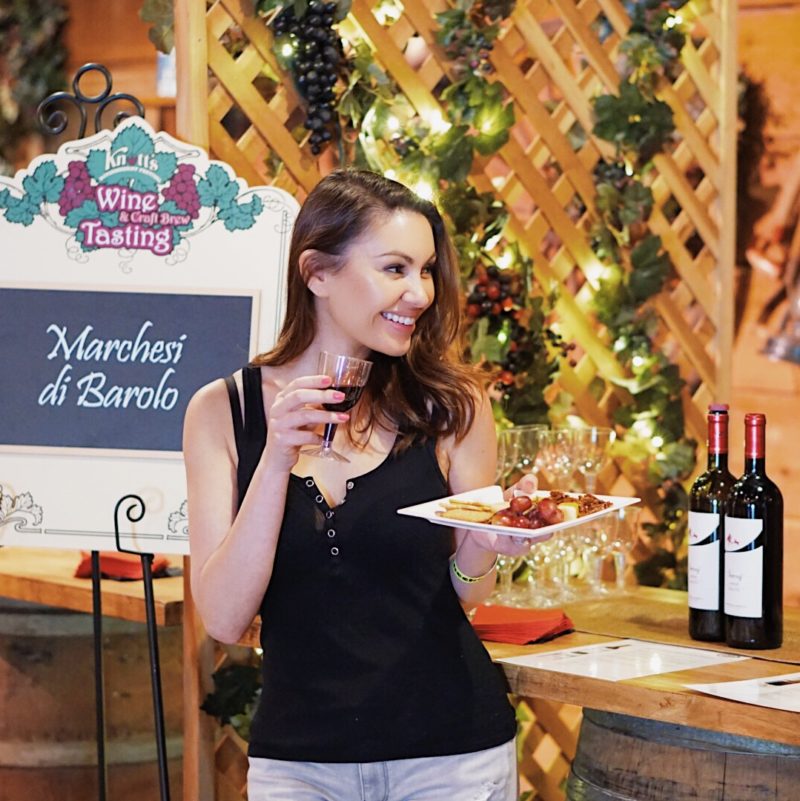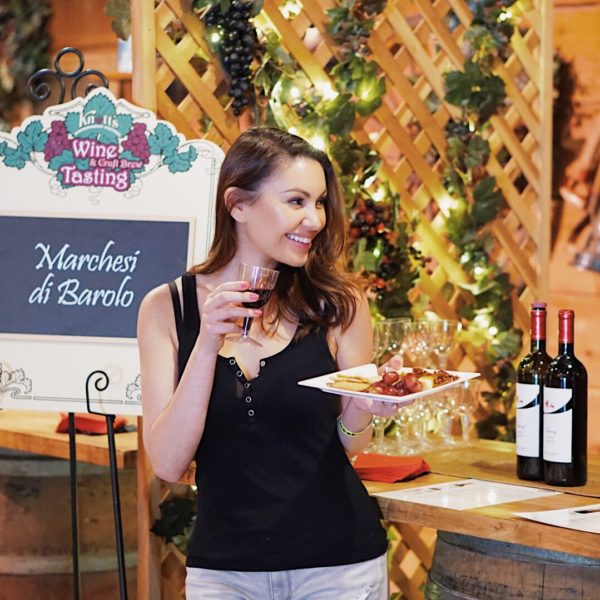 A tasting ticket is only $25 and gets you 6 tastings. This is an amazing value considering one glass of their Boysenberry Cider is $11. With the tasting ticket, you can choose any wine sample, boysenberry cider, or boysenberry beer. You also get a really tasty cheese plate with crackers and fresh fruit. This is such an awesome value. Especially when you consider that the Disneyland Wine & Food Festival is $9-$15 for each wine sample.
Another feature I loved at Knotts Berry Farm was all the artisan crafters located throughout the park. You can find artists, glass blowers, and sculptures made with logs of wood and a chainsaw right before your eyes. It was very unique and something I have never seen at an amusement park. I could spend hours looking through their different shops finding cute items for my home or to give as gifts. So many times I buy souvenirs that I would never really use in my everyday life, but I feel like the items here are all interesting items you would wear or decorate your home with. The artists are also insanely talented and it was just fascinating watching them make everything by hand.
There are only a few days left to enjoy the Knotts Berry Farm Boysenberry Festival which runs from April 1st to April 23rd. Season passes are also only $91 which is extremely affordable for families in Southern California.