When there's a chill in the air and rain in the forecast, I immediately crave the comfort food at Muldoon's Irish Pub in Newport Beach. Since they first opened their doors in 1974, Muldoon's has been the best spot for traditional UK pub food in Orange County. Raise a pint & a fork as we take a delicious look at their most classic dishes.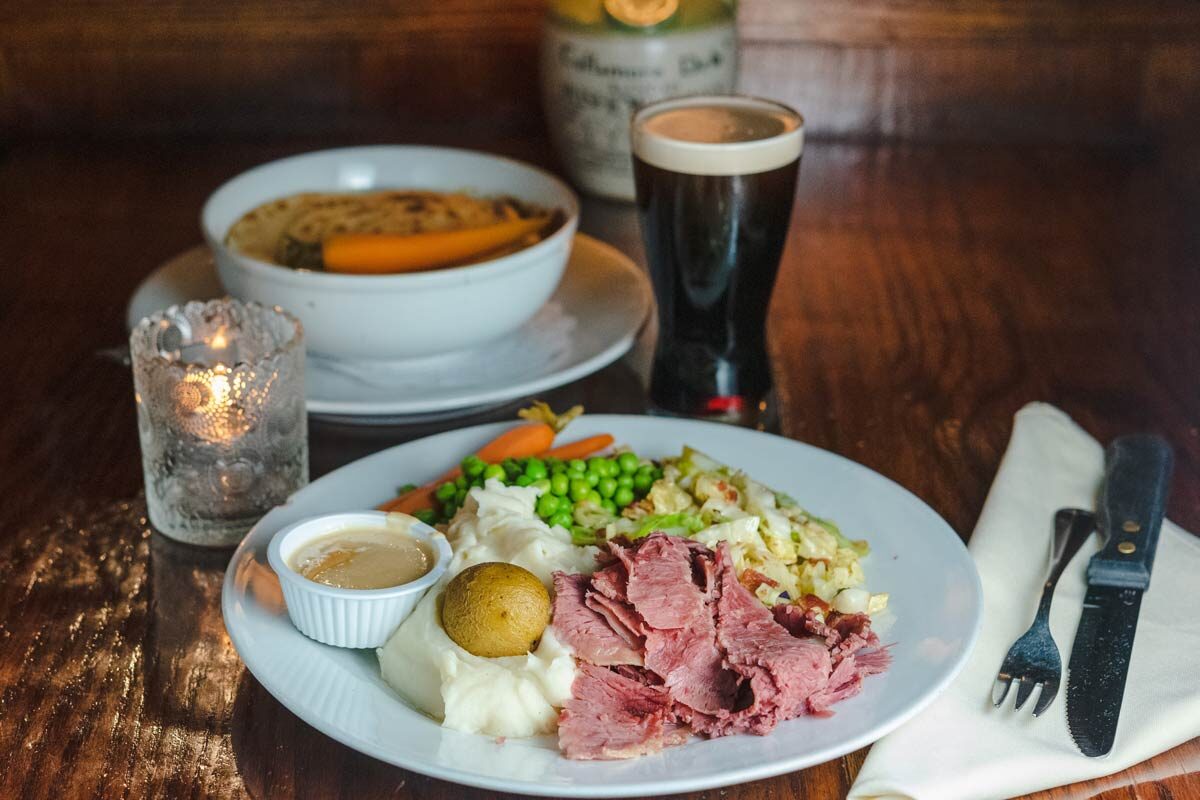 Corned Beef & Cabbage
I don't know about you, but St. Patty's Day isn't the only time I crave a delicious plate of corned beef, cabbage, and peas. What really sets this dish apart is how incredibly lean, tender, and well-seasoned their corned beef is compared to the failed attempts at most other restaurants. The corned beef is not overly salty as is typical of this dish. Even the cabbage is deliciously braised in bacon.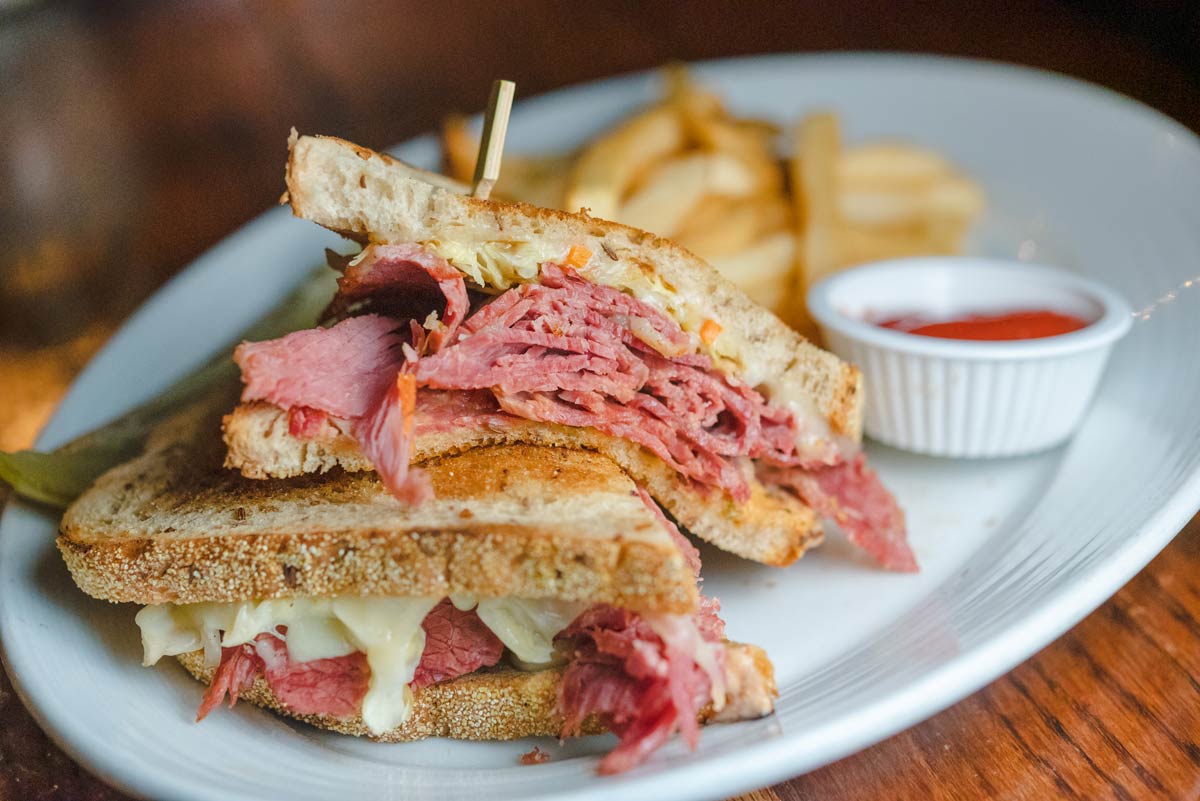 Rueben Sandwich
If you're stopping by for lunch, be sure to try their delicious Rueben. It is stuffed with layers of lean corned beef, sauerkraut, thousand island dressing, and swiss cheese on rye bread. This is one of my favorite sandwiches and the Rueben at Muldoon's Irish Pub is easily one of the best.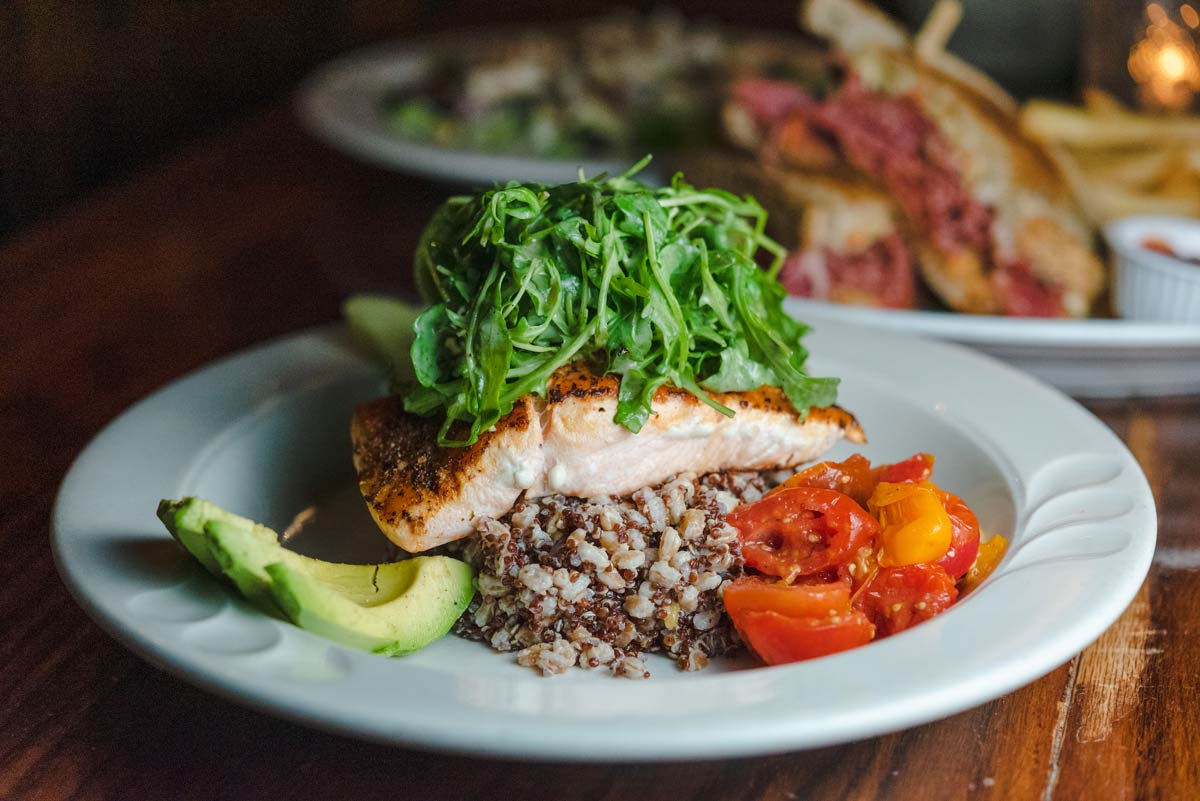 Galway Market Bowl
If you're looking to enjoy an incredibly healthy dish, pictured above is the Galway Market Bowl. This salad features seared salmon with arugula on top of a farro quinoa blend with diced avocado, roasted tomatoes, cucumbers, and a mustard vinaigrette. I'll admit, I come here to fulfill all my UK pub food cravings, but this is a wonderful salad.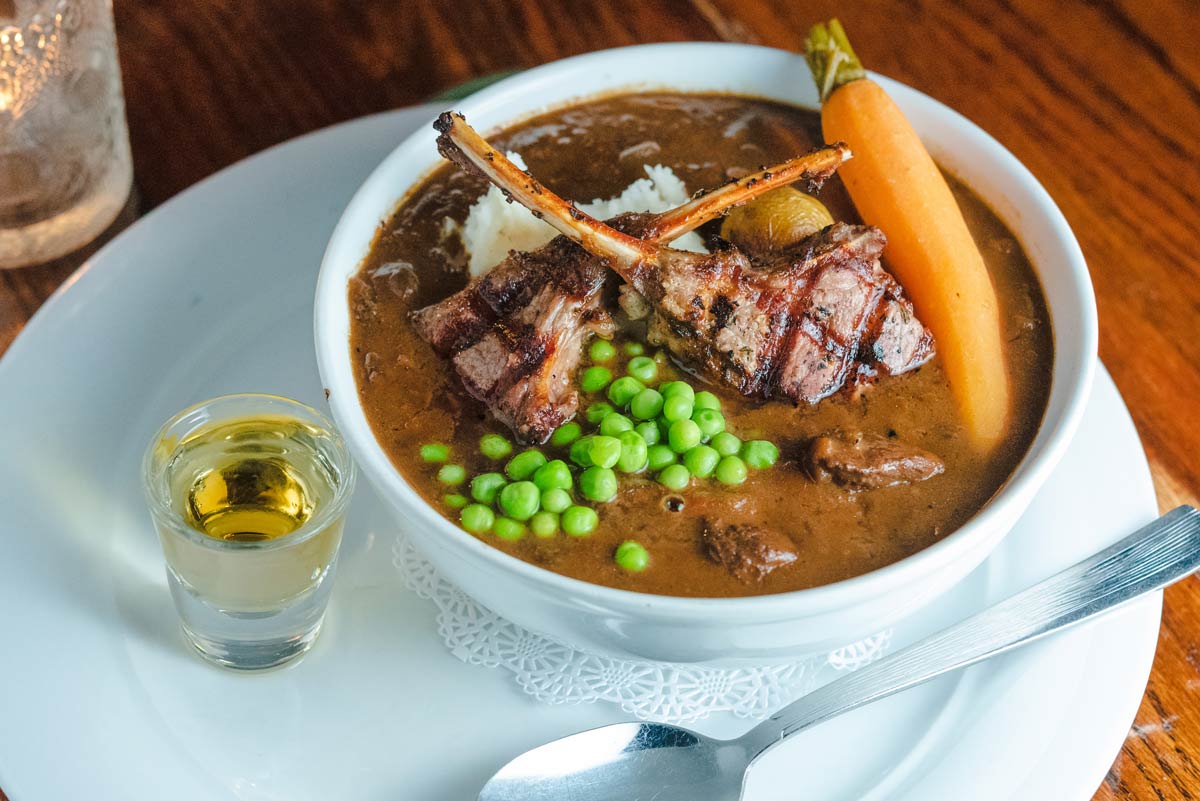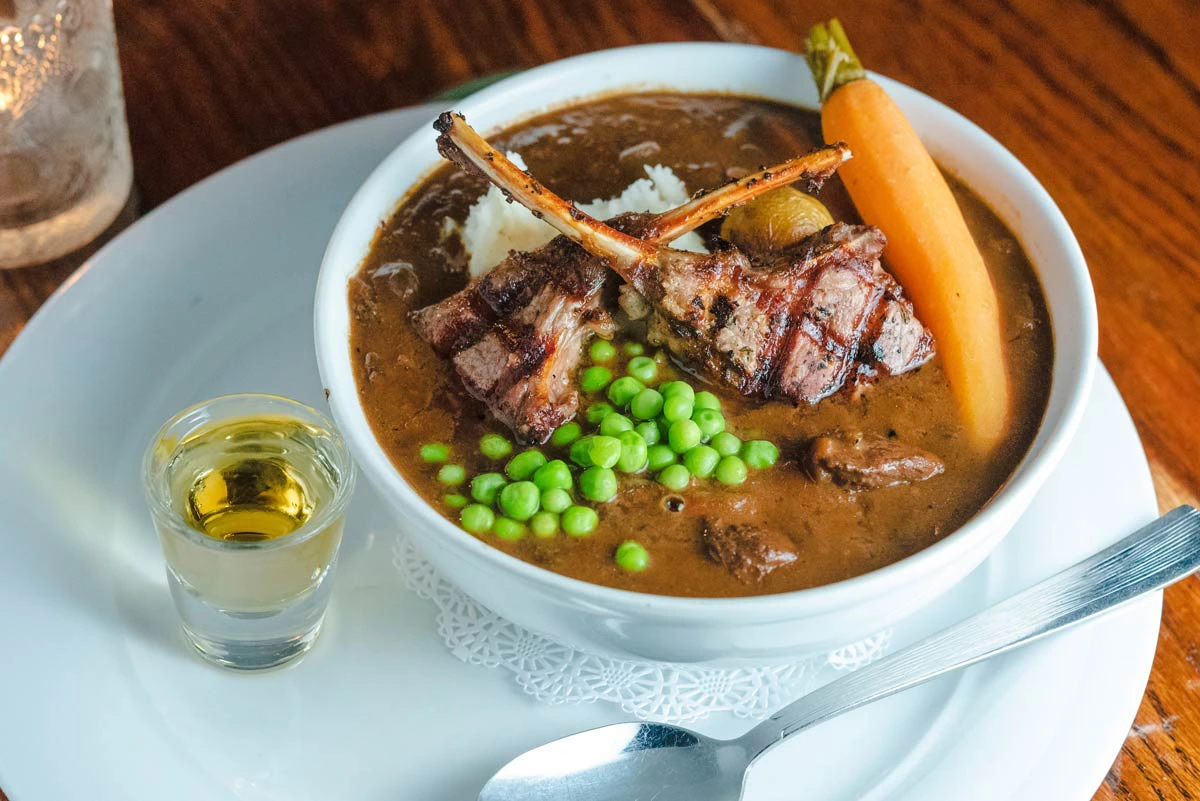 Secret Menu Item
This beautiful dish is not on the menu and is only available by request. You have to be "in the know", but now you are so enjoy! The Blackbush Irish Stew is the traditional Muldoon's Irish Stew served with two lamb chops and a shot of Blackbush. You can take the shot, sip it in between bites, or pour it right into your stew.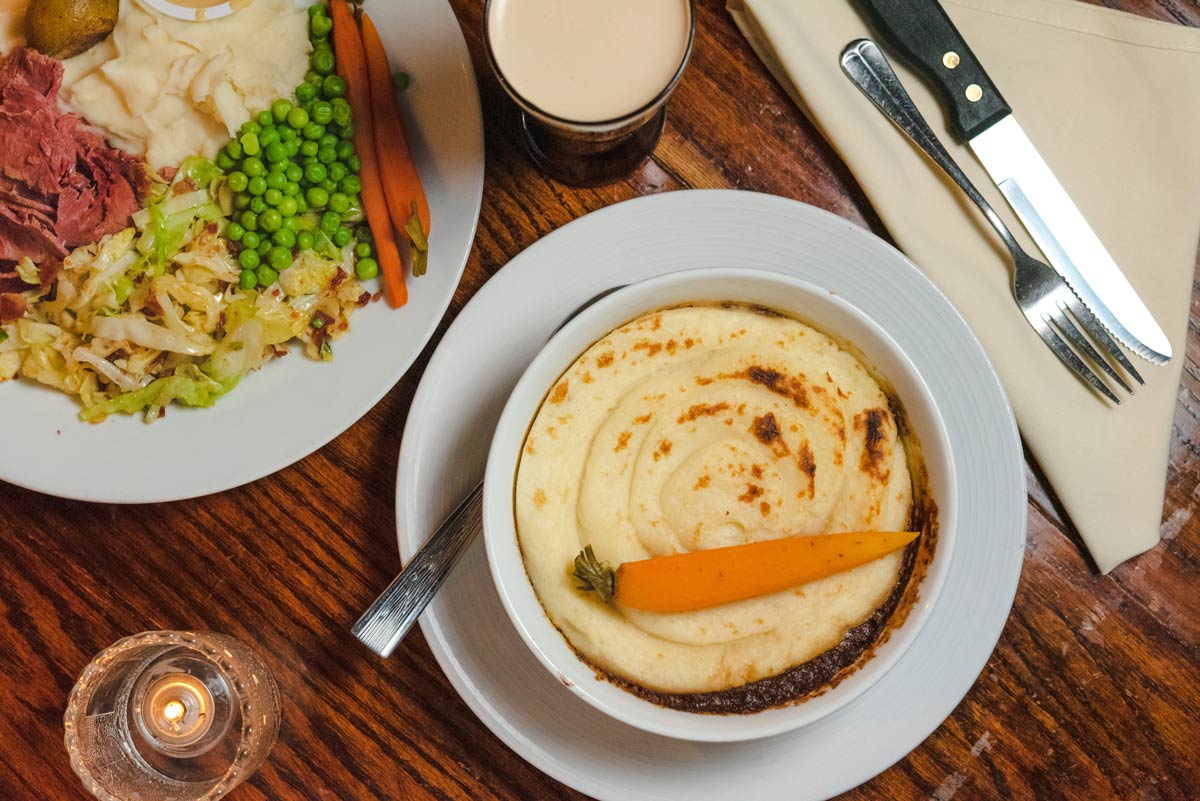 Shepard's Pie
One of my favorite dishes at Muldoon's is their comforting Shepherd's Pie with ground meat and peas topped with a golden mashed potato crust. What makes this dish even better is it comes in a large size and a smaller pub size. During happy hour you can even get the pub size for only $10, total score!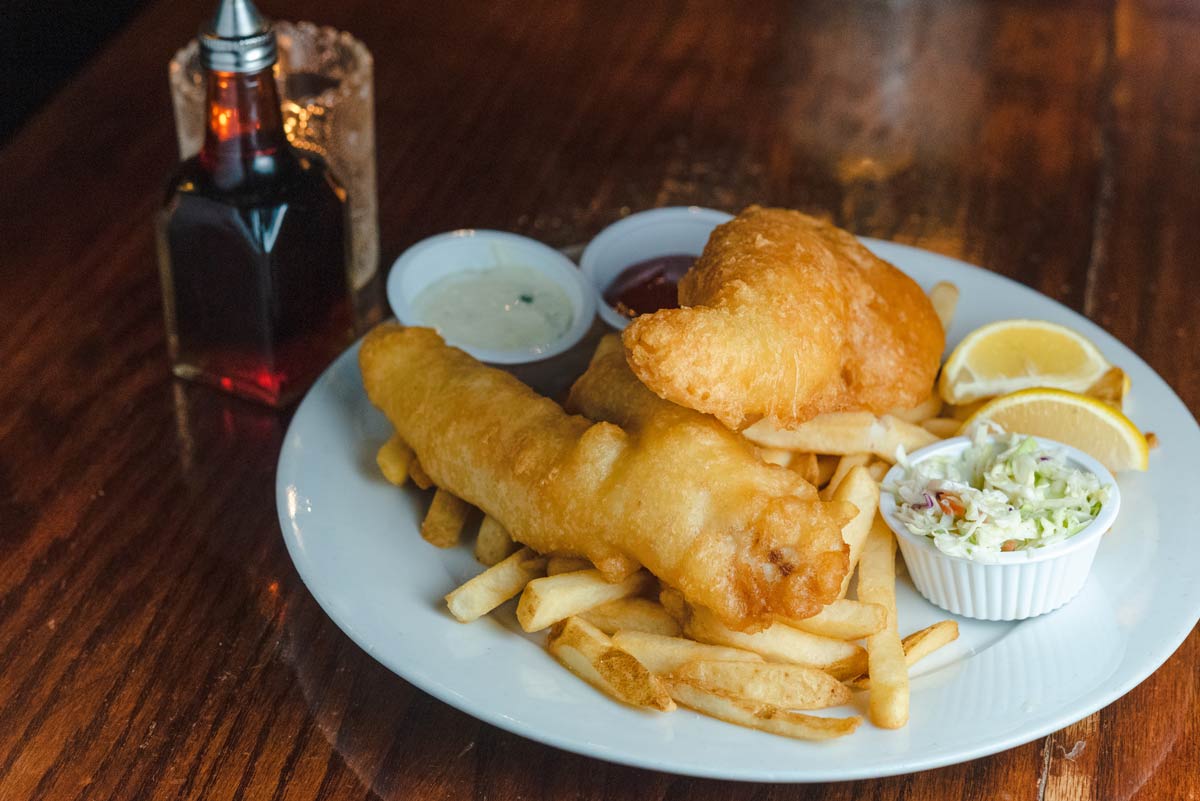 Fish & Chips
We cannot talk about UK pub food without a killer fish & chips. The fish at Muldoon's Irish Pub is a light and flaky snapper with an extra crispy tempura batter. It is served with hand cut fries, coleslaw, tartar sauce, and malt vinegar. This fish is so crispy you will never have to worry about them getting soggy.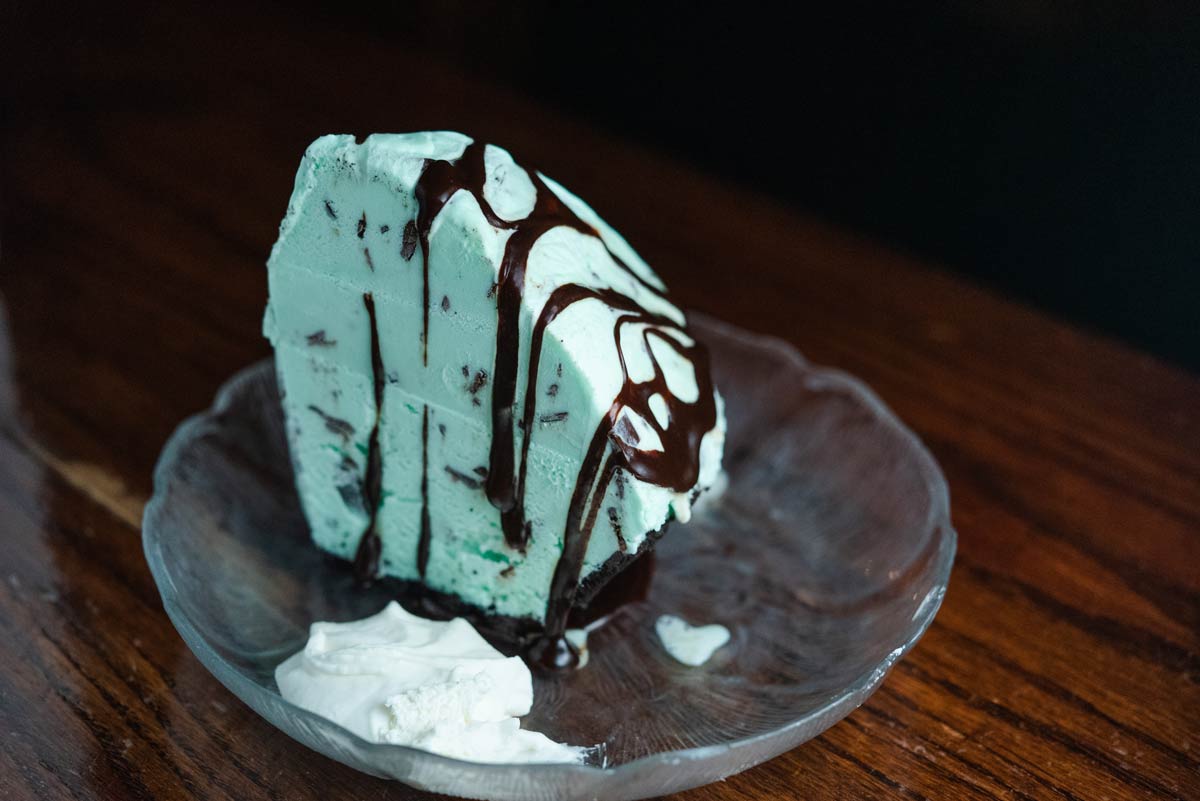 Mint Chip Mud Pie
Being someone who never skips dessert, the Mint Chip Mud Pie was on my must-eat list. I love mint chip ice cream so this was a no-brainer. Muldoon's also has homemade apple pie though, so I suggest ordering several desserts and sharing!
St. Patricks Day at Muldoon's Irish Pub in Newport Beach
I probably don't have to tell you, but Muldoon's is the place to be for St. Patrick's Day and reservations are full a year in advance. People line up the night before to be there when it opens early in the morning. Throughout the day Muldoon's is packed and it is quite the show. The food however is way too good to not visit regularly.
They also have an awesome brunch with crab benedicts, corned beef hash, and a classic bangers skillet with baked beans.
202 Newport Center Dr
Newport Beach, CA 92660
Discover More Newport Beach Restaurants