Posts may contain affiliate links. Read our full disclosure policy here.
The anticipated opening of Pour Vida Newport Beach has finally arrived after gaining much success from its flagship location in Anaheim. Their new location offers a sophisticated menu in a casual laid back atmosphere. They are located right off Jamboree and Birch in a business complex, which has become the latest trend in Orange County restaurant locations. Pour Vida Newport Beach is a hidden gem and welcome new addition to satisfying my never-ending taco cravings.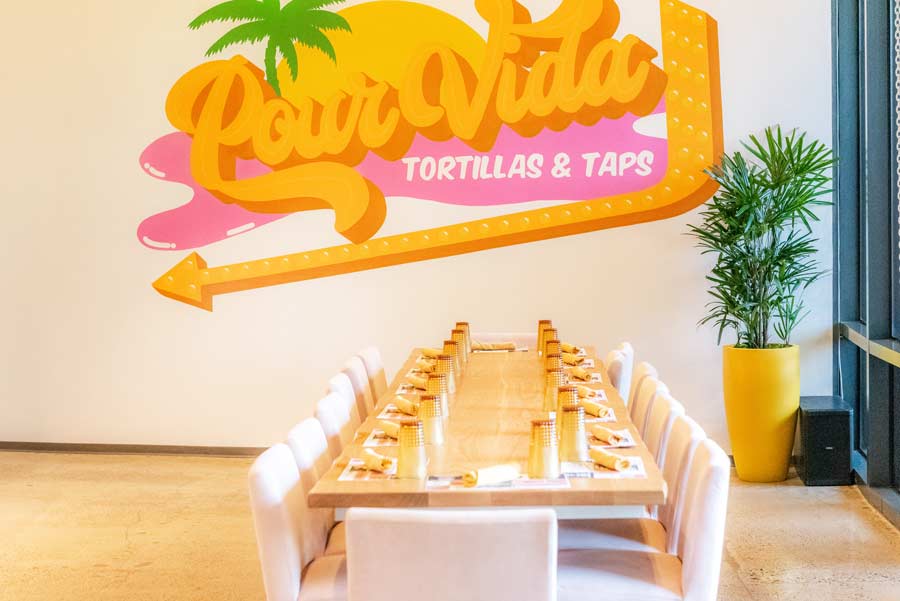 Pour Vida introduces a blend of Latin & Asian-inspired flavors.
Pour Vida is not just your typical Mexican Cuisine, but a unique blend of Chef Jimmy Martinez's Mexican and Puerto Rican heritage infused with his Asian and French culinary training. The second I saw arroz con gandules on their menu I was instantly transported to growing up in New York and enjoying homemade authentic Puerto Rican food with my girlfriend. Imagine my surprise when I learned the chef was half Puerto Rican! Pour Vida shines as a unique take on culturally infused Mexican cuisine combined with Latin flavors that will leave a lasting impression.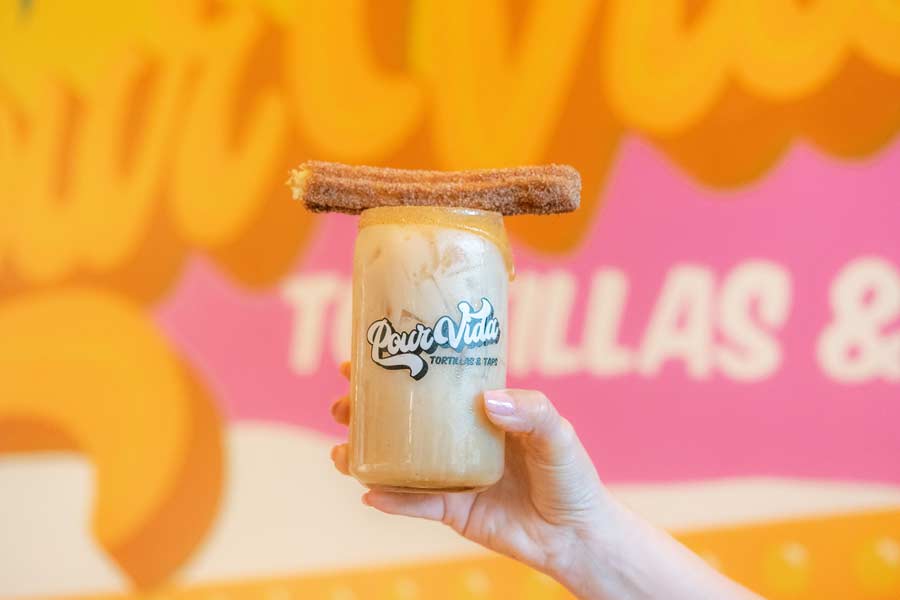 For an additional $3, the Rumchata can be topped with a homemade churro.
To start off our dinner, we tried three of Pour Vida's beautifully crafted cocktails. We had their Rumchata, Grapefruit Paloma, and the Red Pinata Fresh Pressed Margarita. Their Rumchata is served with house rum and cinnamon sugar syrup around the rim. For an additional $3, it can also be topped with a homemade churro. Trust me when I tell you, get the churro, they are amazing! Warm, crispy on the outside, dowsed in cinnamon sugar, and soft on the inside.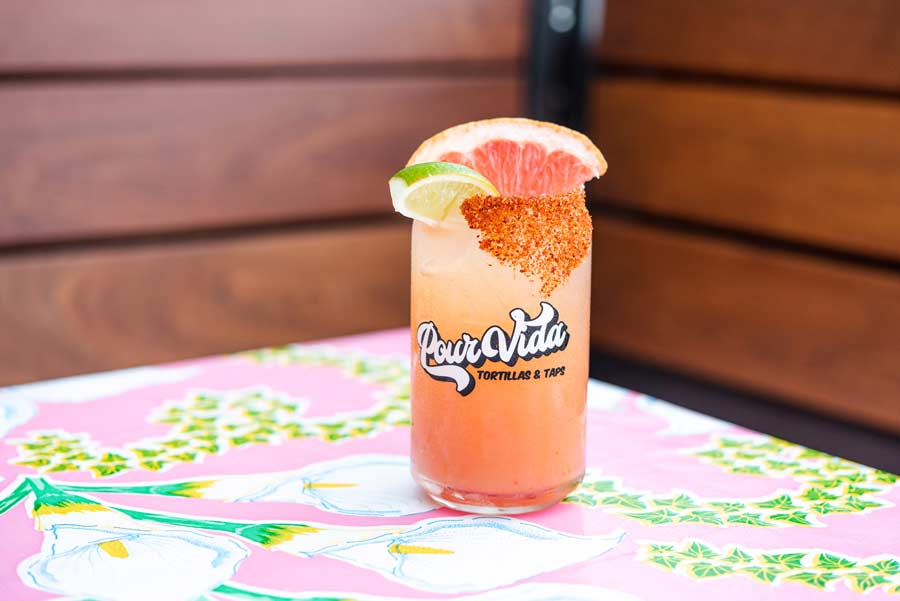 The Best Paloma in Southern California!
Then I had to order my personal favorite, The Paloma. Pour Vida Newport Beach makes my absolute favorite Paloma. In fact, this is the only place I will order one. I have had so many disappointing Paloma's that I almost gave up. The Grapefruit Paloma at Pour Vida is made with freshly pressed grapefruit, lime, agave, and house tequila. On the rim of the glass, there is a slice of grapefruit, lime, and Tajin.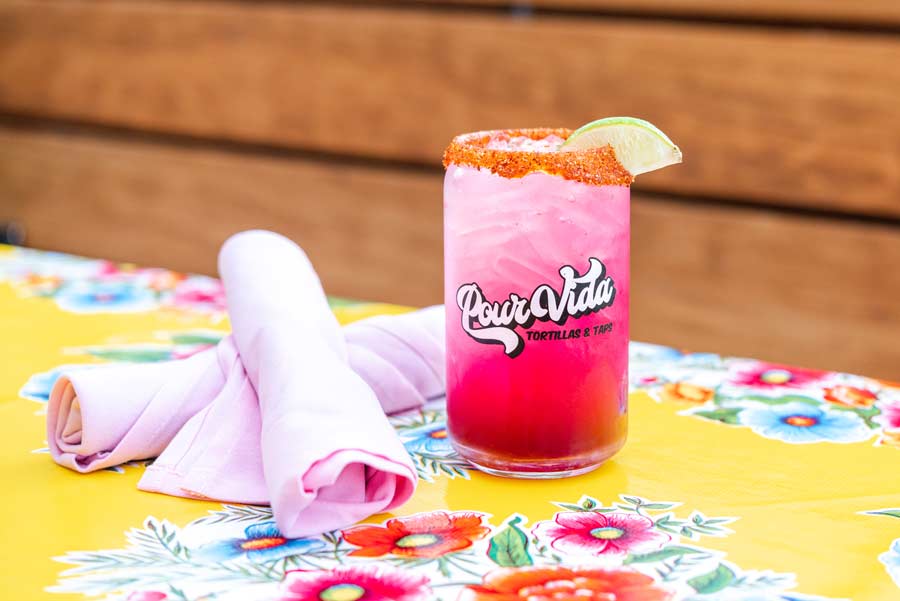 Enjoy Fresh Pressed Juice or a Fresh Pressed Margarita.
Lastly, we wanted to try Pour Vida's Fresh Pressed Margaritas. They offer two different flavors, the Red Pinata and the Passion Caliente. We decided to go with the Red Pinata since it was so healthy and made with beets, ginger, pineapple, orange, and lemon. This cocktail is visually stunning with a fushcia ombre coloring, Tajin rim, and slice of lime. The Passion Caliente is made from habanero, passionfruit, orange, lemon, carrot, and pineapple. Both Fresh Pressed Margaritas can be ordered with alcohol or simply as fresh-pressed juice.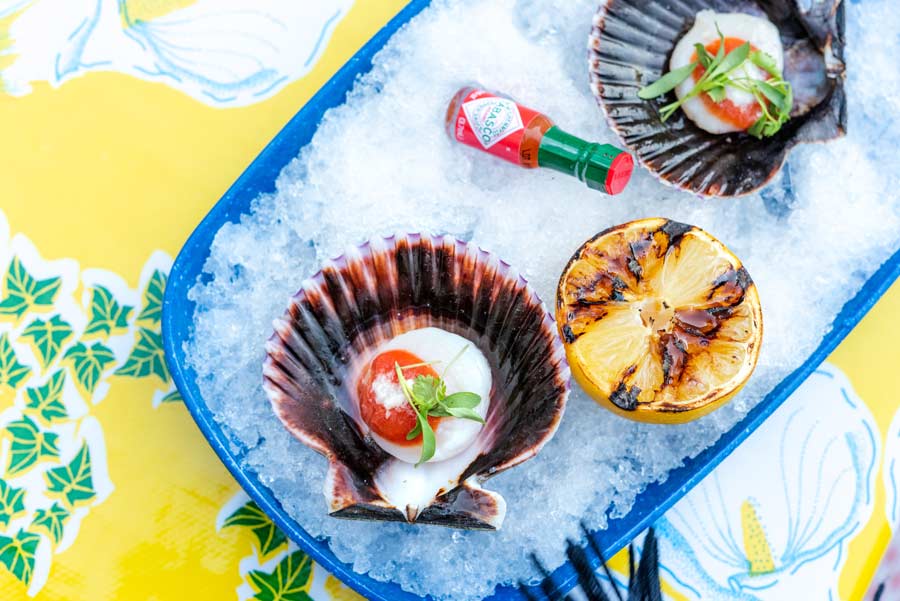 Pour Vida Newport Beach is the only location with a Raw Bar
Pour Vida Newport Beach is currently the only location that features a Raw Bar. They change their options weekly, depending on what the market has fresh to offer. After ordering our cocktails we decided to take advantage and enjoy a little raw scallop amuse bouche. They were fresh, tender, and the perfect start to the rest of our meal.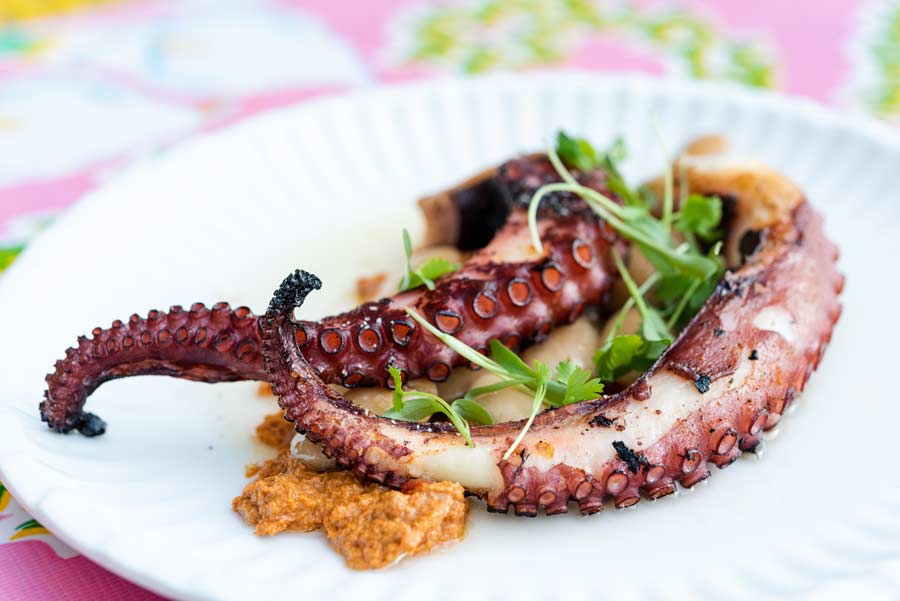 The Charred Octopus features a Chorizo Chimichurri
Next, I wanted to make sure I featured the amazing Charred Octopus. This fabulous starter arrives with a  generous amount of grilled octopus on top of a bed of Chorizo Chimichurri and Spanish Gigante Beans. The Octopus is nicely charred with a delicate tender center accented with a savory citrus bite from the Chorizo Chimmichurri.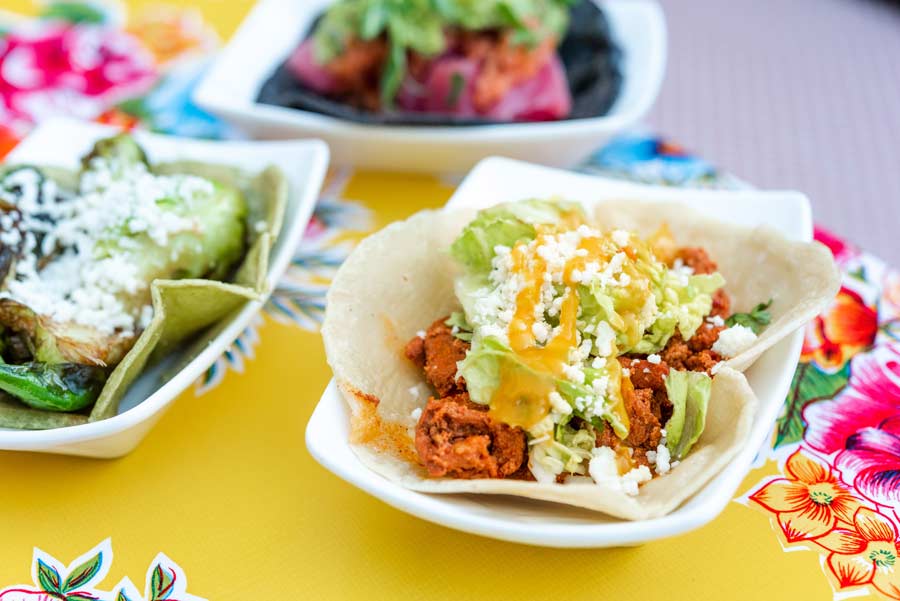 Mango Pork Taco
For tacos, we wanted to select a variation of flavors and decided to go with the Mango Pork Taco, Spicy Ahi Tuna Taco, and the Brussels Sprout Taco. The Mango Pork Tacos came with pickled Napa Cabbage, Queso Fresco, and Mango Aji Amarillo all in a regular flour tortilla. The pork was well marinated and had a subtle hint of spice to it. The sweet mango offered a nice contrast to the savory pork.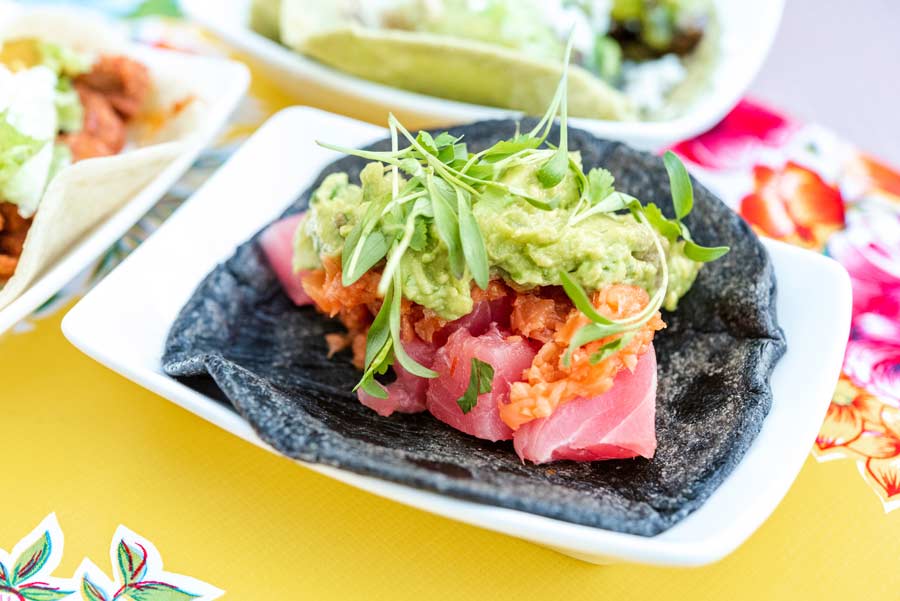 Ahi Tuna Taco with pickled ginger
The Spicy Ahi Tuna Tacos arrived with pickled ginger, ponzu sauce, chili paste, and guacamole on a squid ink tortilla. The Ahi Tuna was fresh and of exceptional quality while the pickled ginger gave the taco an authentic Asian twist. 
Brussels Sprout Taco
Finally, the Brussels Sprout Taco included a soy-ginger glaze and Queso Fresco on a spinach tortilla. This taco is also a local favorite of Pour Vida regulars. The brussels sprouts were nicely grilled and the soy glaze was savory and flavorful. I just wish these brussels sprouts came in a big bowl.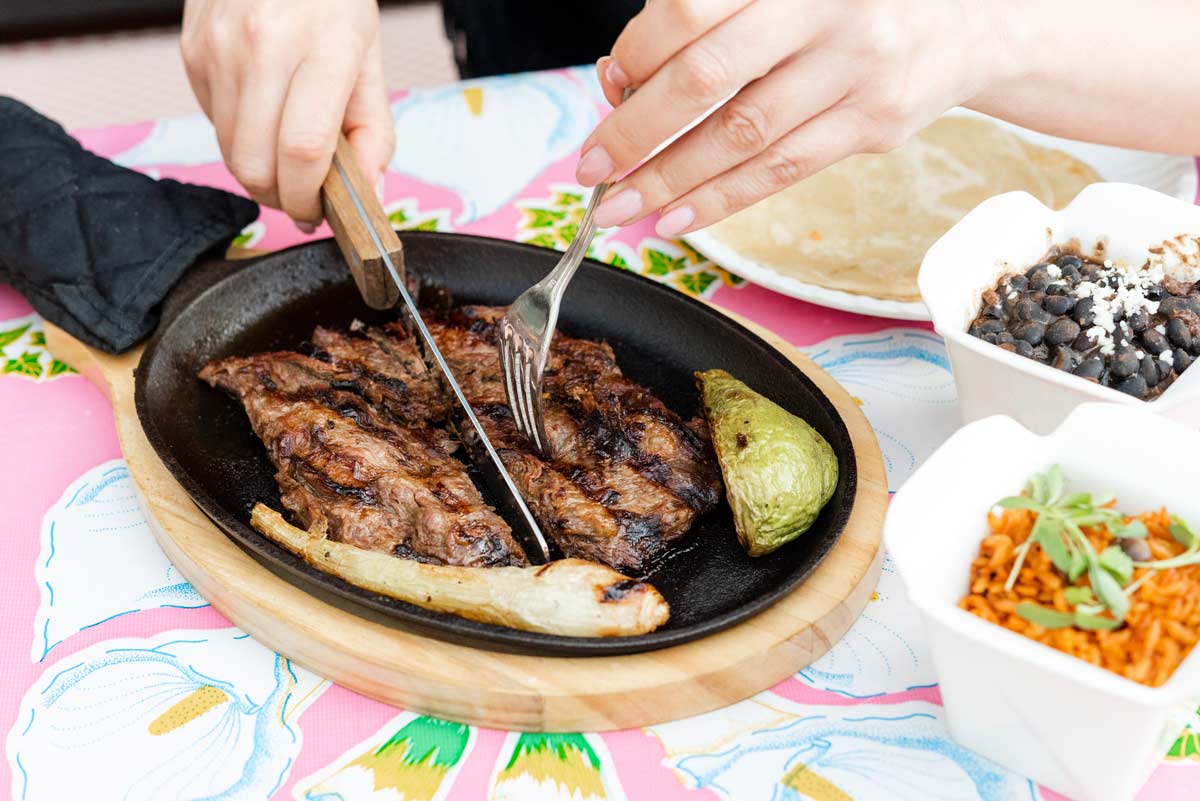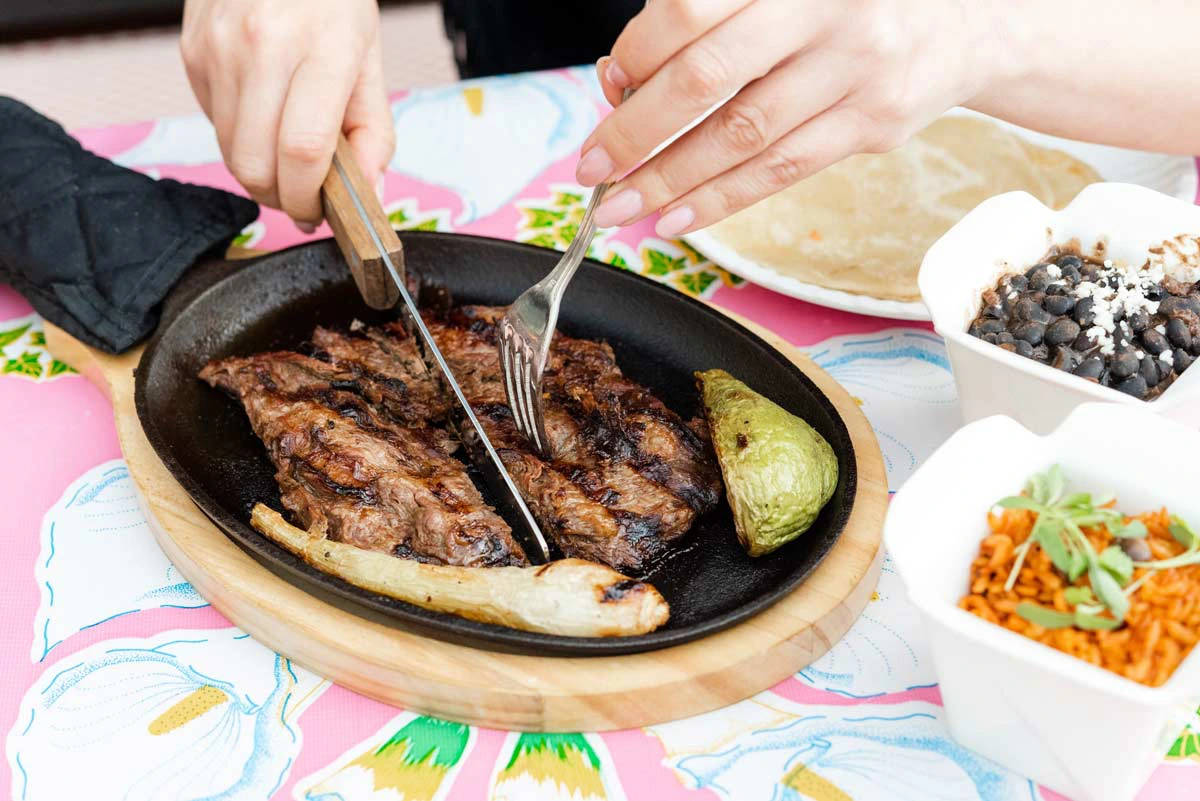 The Popular Pineapple Steak Skillet
For our entree, we enjoyed Pour Vida's popular Pineapple Steak Skillet. All of their skillets come with Chayote Squash, charred Spanish Onions, black beans, arroz con gandules, and flour tortillas. The skirt steak comes out on a hot sizzling skillet with a nice crispy sear. The skirt steak was infused with flavor and a generous enough portion for two. I especially enjoyed the side of arroz con gandules which I have never seen served at a restaurant in Orange County. It was such a nice treat and so much better than just your typical Mexican rice.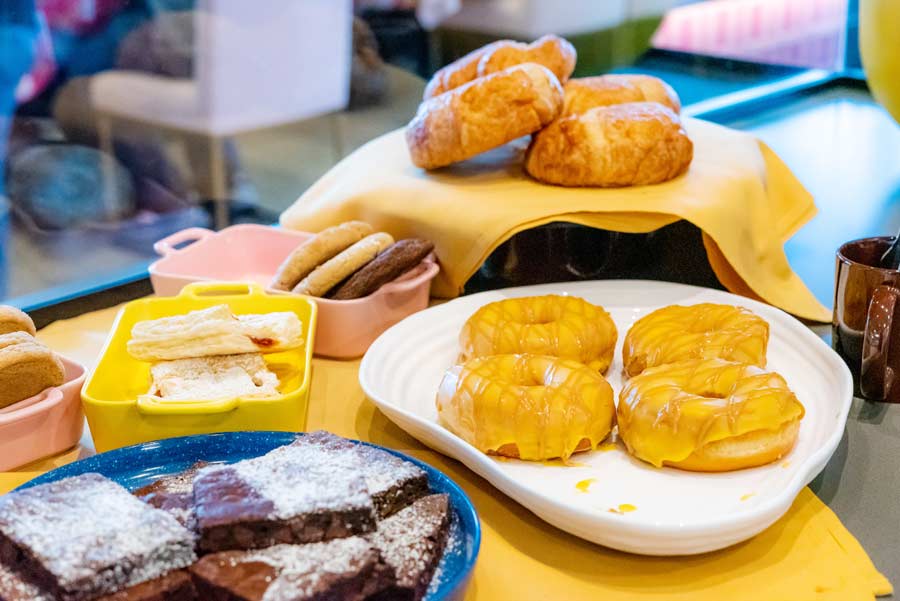 Pour Vida has amazing fresh-baked pastries.
Finally, we could not miss out on the opportunity to try one of Pour Vida's amazing pastries for dessert. We ended up having the Mango Dulce de Leche Donut. The glaze is reminiscent of a much elevated Krispy Kreme. I couldn't believe how well the flavors of mango and dulce de leche worked. It was like they were meant to be together. The donut came out fresh, warm, and perfectly soft. Just like the Raw Bar, the pastries change every week so there will always be a new flavor new to try.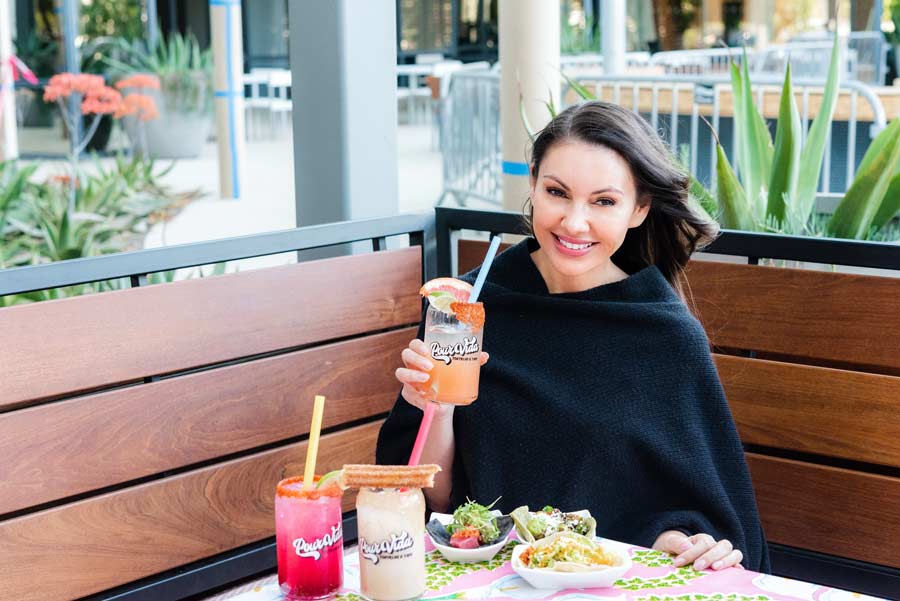 Pour Vida Happy Hour is Monday-Friday 2pm-5pm
Pour Vida Newport Beach also offers a delicious Happy Hour Monday-Friday between 2pm-5pm. As part of Happy Hour, patrons can order their Pineapple Skirt Steak Taco, Jacuzzi Chicken Taco, Fried Chicken Taco, IPA Battered Whitefish Taco, and the Pork & Plantain Taco for only $3. For drinks, the house Margaritas or Mexican draft beers will be $5.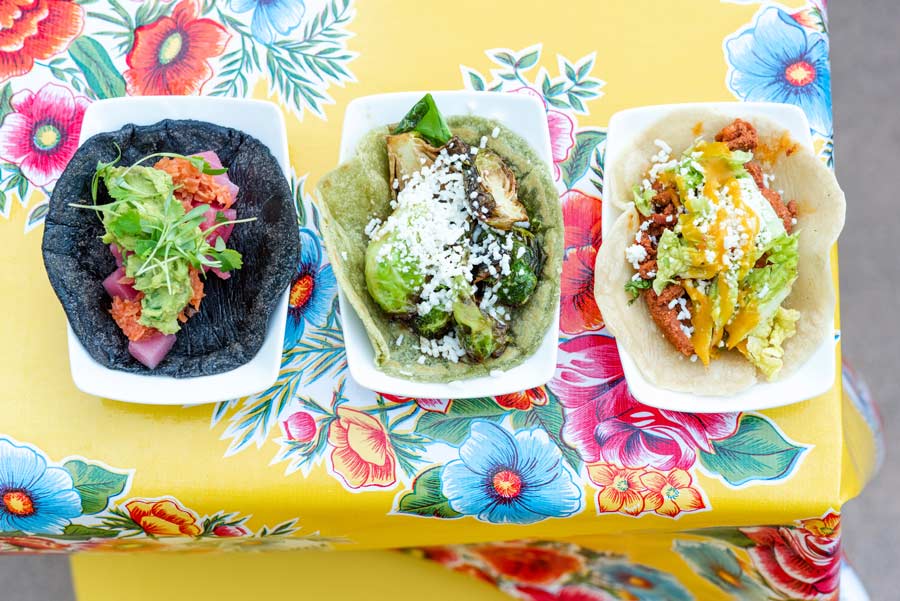 Pour Vida Newport Beach is located at 5000 Birch Street
Pour Vida Newport Beach is located at 5000 Birch Street which is in a business complex on the ground level. Pour Vida is open everyday from 9am-9pm. They also offer a fantastic breakfast which we'll have to try next! Pour Vida validates parking for two hours. Table reservations can be made on their website or by calling  (949) 336-4982. They also offer online ordering for pick up! 
locations in Anaheim & Newport Beach
open 9am – 9pm
Enjoy some of our favorite Orange County taco spots