The Napa Rose Disneyland Chefs Counter experience is easily the most excellent dining experience at the Disneyland Resort aside from 21 Royal which is not as obtainable to the average visitor. The Chefs Counter, however, is an experience any Disneyland guest can enjoy.
If you're celebrating a special occasion or just want to experience the absolute best dining experience at Disneyland, here is everything you need to know about how to book the Napa Rose Disneyland Chefs Counter, what to expect, a few tips, and a preview of our entire dining experience.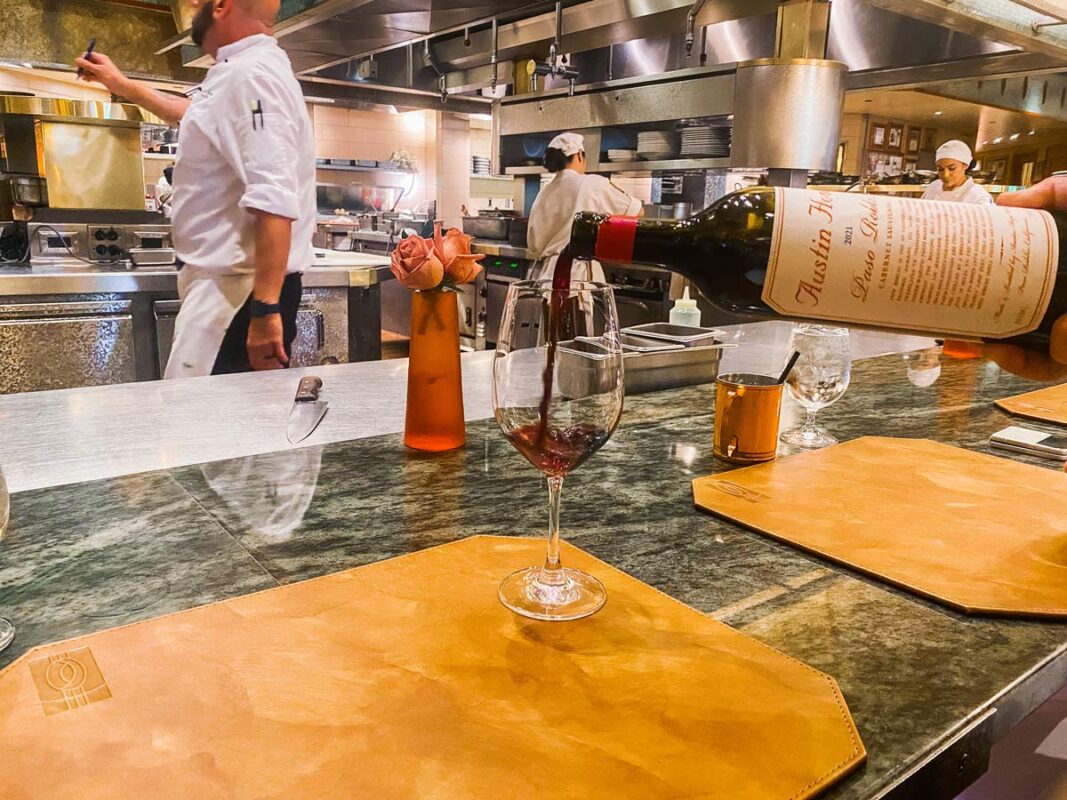 What is the Chefs Counter at Napa Rose Disneyland?
Napa Rose Disneyland is a fine dining restaurant located in the Grand California Hotel. This hotel is accessible through Downtown Disney or from inside California Adventure. While Napa Rose has a regular menu, the best experience is the 7-course Chefs Counter.
What to Expect
During the Chefs Counter experience, you will sit at the counter facing the kitchen. The executive chef will come to greet you and ask about your food preferences. Based on these preferences, you will be served a 7-course meal.
How to Book Reservations
The Chefs Counter at Napa Rose cannot be booked online. In order to reserve this special dining experience, you need to call the restaurant directly at 714-781-4636. If you are prompted to leave a message, let them know you want to book the Chefs Counter and they will return your call.
To book this experience, plan ahead. They start taking reservations 3 months in advance so plan accordingly. Even if it is not 3 months beforehand, it is still worth it to call. They also have a waitlist and can call you if a spot opens.
Pricing
The Napa Rose Chefs Counter 7-course experience will set you back $150 per person. There is also an optional wine pairing which is an additional $90 cost. I prefer just wine and champagne. For example, a glass of their brut is $18, and my glass of Austin Hope was $20.
Pro-Tips
Before I show our complete meal, here are some pro-tips to help you can make the most of your experience.
Review the Regular Menu
Preview the regular menu for an idea of what you could be served. Several of our courses were smaller tastings of regular menu items.
Be Very Specific
Be very specific when telling the chef your likes and dislikes. This will guide your experience. If you see something you do not want on the menu, say you do not like it, and vice versa.
For example, my guest never mentioned they didn't like duck and it was one of our courses. Another example is if you see an item on the menu you really want to try, like the grilled octopus, tell the chef the seafood you do not like and then mention that you LOVE Octopus. This will pretty much guarantee you receive it as one of your courses.
Speak Up
If you are really jealous of your guests course and not thrilled with your own, speak up. Don't eat a course that you really do not want. They are very accommodating.
During my visit my guests was served an amazing grilled Spanish Octopus and my course was spears of fried asparagus! Needless to say, I was like "um I am very, very jealous of that Octopus" and they chef switched out my asparagus and gave me Octopus. If you average the cost, each dish is worth $21, and asparagus just does not measure up to Spanish Octopus so I was not having that!
Do NOT do a full Disney Day and Chefs Counter
I've done the Chefs Counter several times now and I never realized how long it is. Expect to wait 30 minutes between each course and a 3-4 hour experience. Now normally I never even noticed this. But on one visit I did a full early day at Disneyland.
I got up at 6am and tried to make rope drop (though I failed and made it by 8:45am). I spent all day going back and forth between parks, going on rides, and eating snacks. By our dinner reservations for the Chefs Counter at 5:30pm, I was already exhausted. I didn't get out of there until 8:30pm and it felt like the longest dinner of my life.
This is an expensive dinner so you want to be able to enjoy it, not rush, or feel tired and ready to go home. My advice is to go on a completely separate day and just enjoy the experience.
Ask For The Bread!
During our visit they kept teasing us with this amazing fresh baked Focaccia and we did ask the chef if they were going to teasing us or if we would get to try it. He warned us about how much food was coming but we could only think about the bread.
He was absolutely right. By the time they brought the bread after our 3rd course, we were already getting full. But you know what? That bread was the best breakfast and I'm glad I asked and got to bring home an entire loaf which was complimentary!
Save Room
Do not eat a bunch of food before your experience. This might seem like common sense but if you're already at Disneyland it can be really easy to fill up on churros and treats. This 7-Course meal is very filling. Several of the courses felt like full meals. My Octopus and Filet course were incredibly filling.
Our entire 7-Course Napa Rose Chefs Counter Dinner
Here is an entire preview of our 7-Course Napa Rose Disneyland Chefs Counter experience. This will give you a good idea what to expect. Additionally, here is what my guest and I communicated to the Chef for our preferences.
Me: Dislikes are Scallops, Shrimp, and Salmon (I actually like salmon but can make it myself, I do not want it at a restaurant).
Guest: Lactose Intolerant, does not like Mushrooms, forgot to mention dislikes Duck.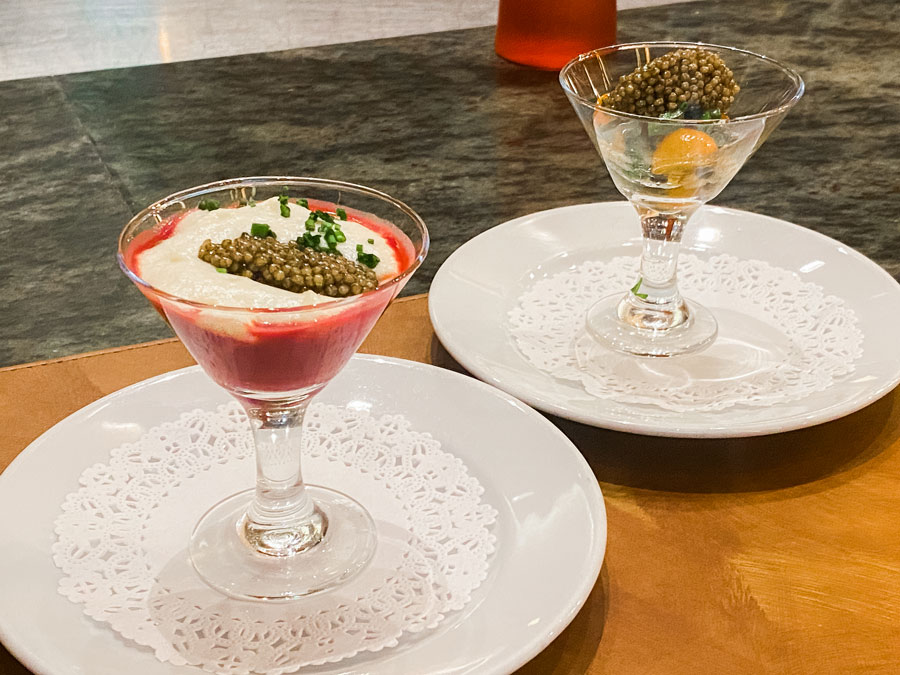 First Course: Caviar
The first course was a generous dollop of caviar on a potato and beet spuma. My guest got a different version with tomatoes and cucumber which was not as amazing. He should have taken his lactose pill as it affected his dishes and he missed many delicious sauces.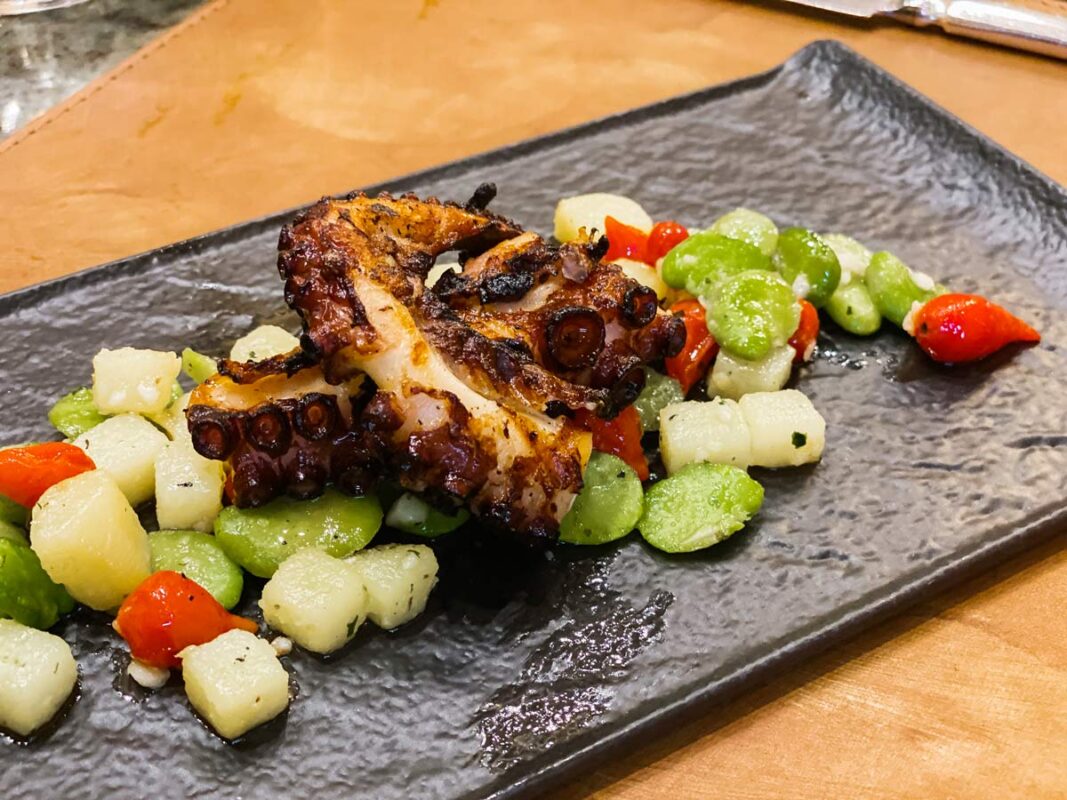 Second Course: Grilled Spanish Octopus
This is the dish I switched out my fried asparagus spears. The Spanish Octopus was absolutely delicious on a bed of colorful green fava beans, red sweet baby peppers, and tiny cubed potatoes. It was also a very filling and generous portion.
This dish was also on the regular menu which is why its worth to check it so you can hint to the chef how much you LOVE octopus!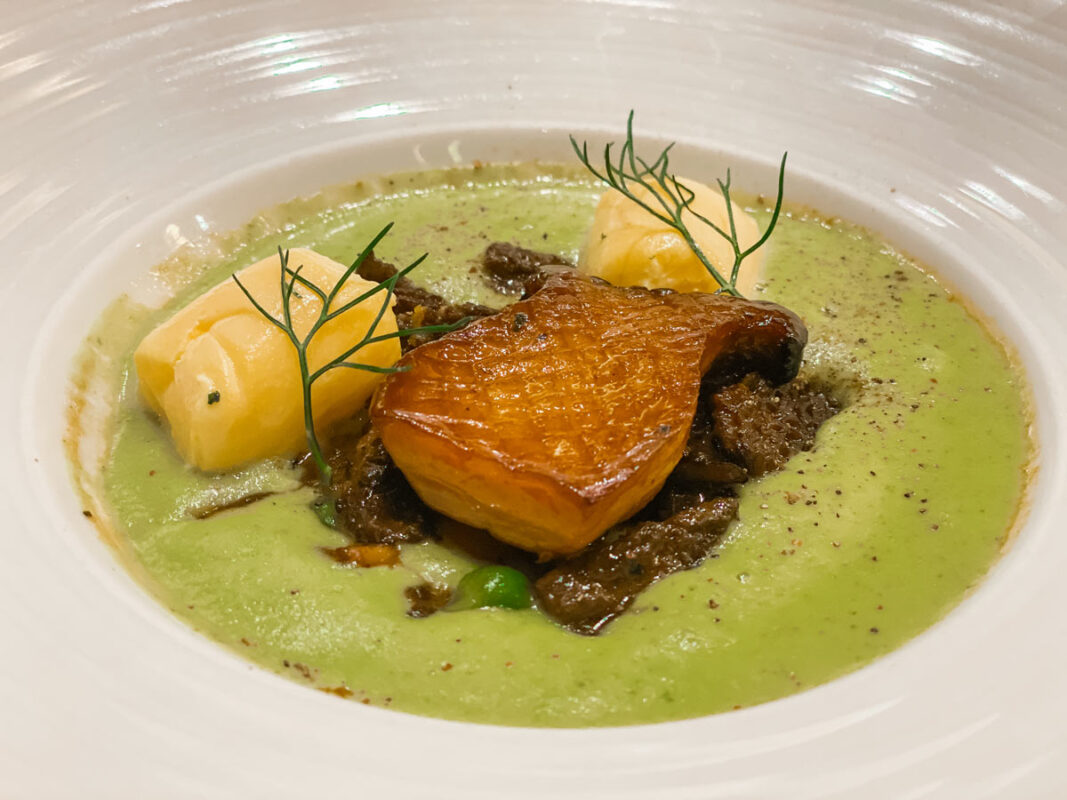 Third Course: Morel Mushrooms & Ravioli
It's a good thing my guests said they didn't like mushrooms because the third course was a delicious array of mushrooms with sweet english peas surrounded by a vibrant pea puree. The star was a handful of luxurious morel mushrooms.
My guest on the other hand received a ravioli stuffed with a ground procutto mixture over a beef reduction sauce. I tried both dishes and enjoyed my Morel Mushroom dish so much more.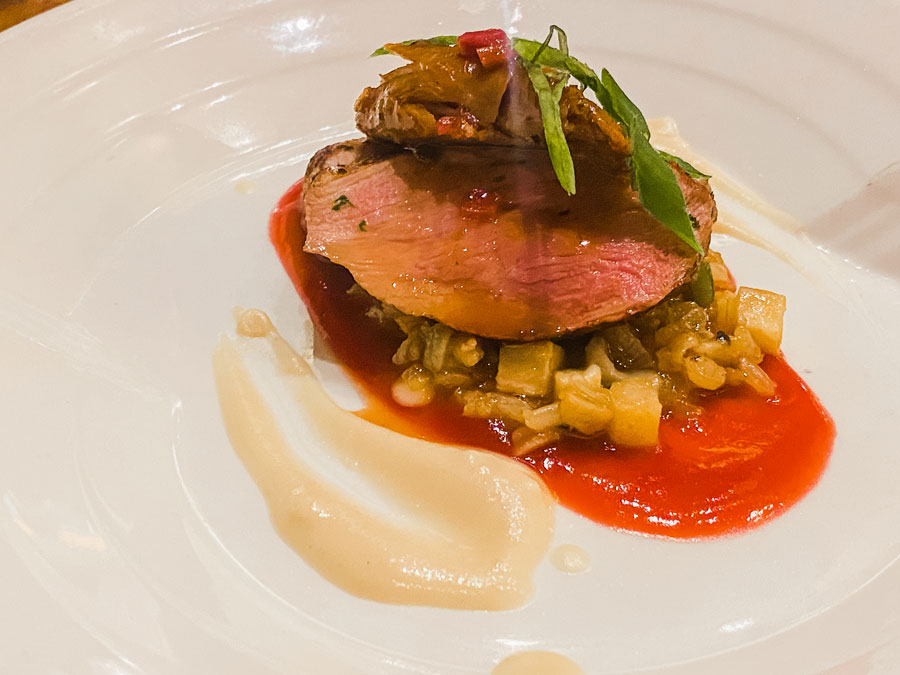 Fourth Course: Duck Breast
The fourth course was a beautiful duck breast with duck confit over a sweet rhubarb reduction and whole grain celery root slaw. This dish was delicious, however, my guest never expressed he did not like duck which is why it is very important to preview the dining menu. This duck breast was also available on the main menu.
After the duck breast, we were also given a lime sherbert palette cleanser. Mine was very well balanced as it was served floating in a yogurt sauce. Due to my guests lactose request, he only received the tart sorbet.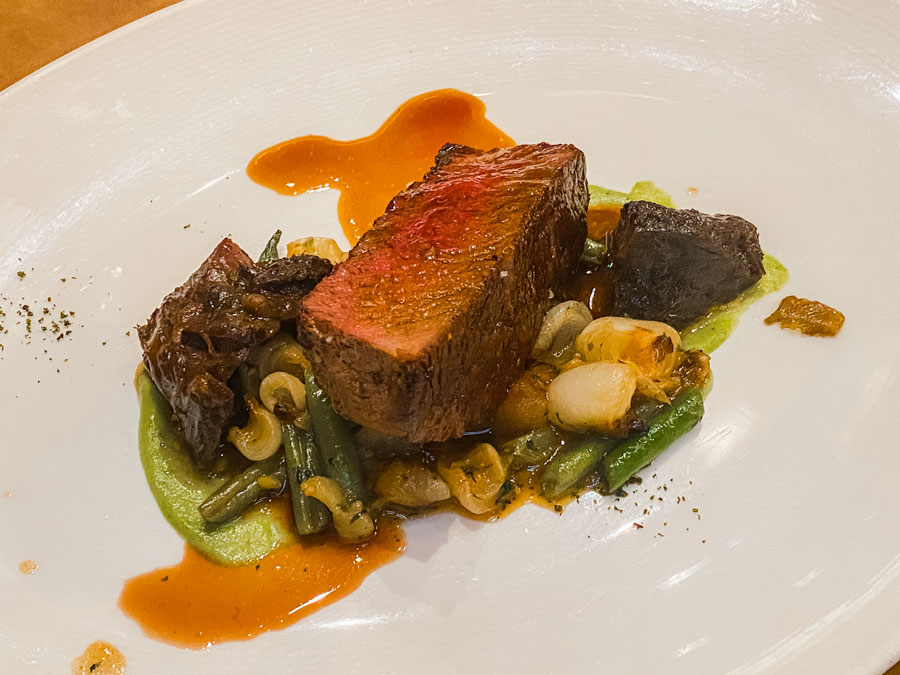 Fifth Course: Filet & Pork Chop
The main courses were very generous portions and I was already so stuffed. I received a beautiful Filet and tender beef cheeks over capellini onions and green beans. It was absolutely fantastic.
My guest received a sliced pork chop which tasted more like a pork tenderloin. I also peeked over at another group and one of them received an Osso Bucco with Bone Marrow. Out of all the options I had seen, I definitely enjoyed mine the most. My guest was pretty envious of my tender filet.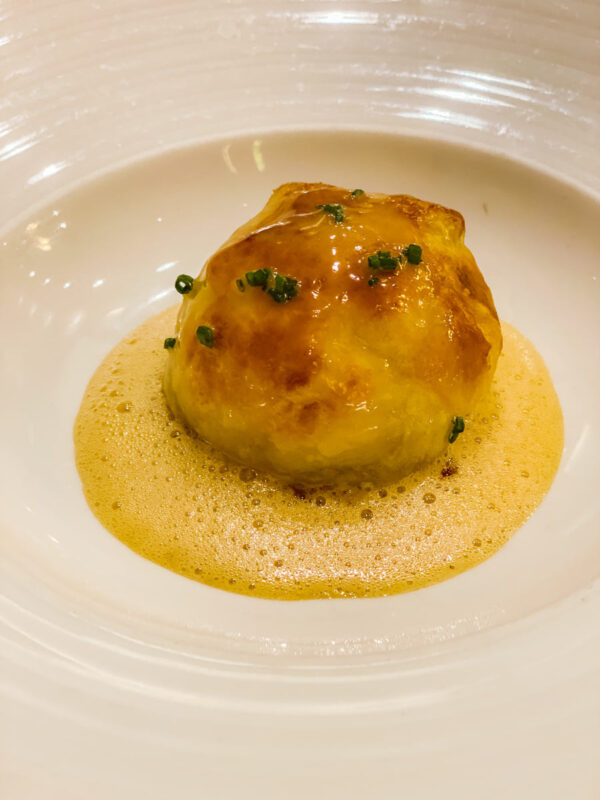 Sixth Course: Cheese Puff & Strawberry Sorbet
The sixth course was like a sweet precursor to the dessert. I was so full I really could not enjoy my delicious puffed pastry filled with gooey cheese over a lavender foam reduction with a honey drizzle. I did take a big bite and it was fantastic.
My guest who obviously cannot have cheese received a strawberry sorbet. Due to how full I was, I would have preferred his, but mine was decadent and amazing. One thing to remember is each course is worth about $21, and I don't think anyone would ever pay $21 for either of these courses. These were definitely the most disappointing but since we were already so full, it didn't bother us. You are also paying for the experience, but this could have been a little more unique or substantial.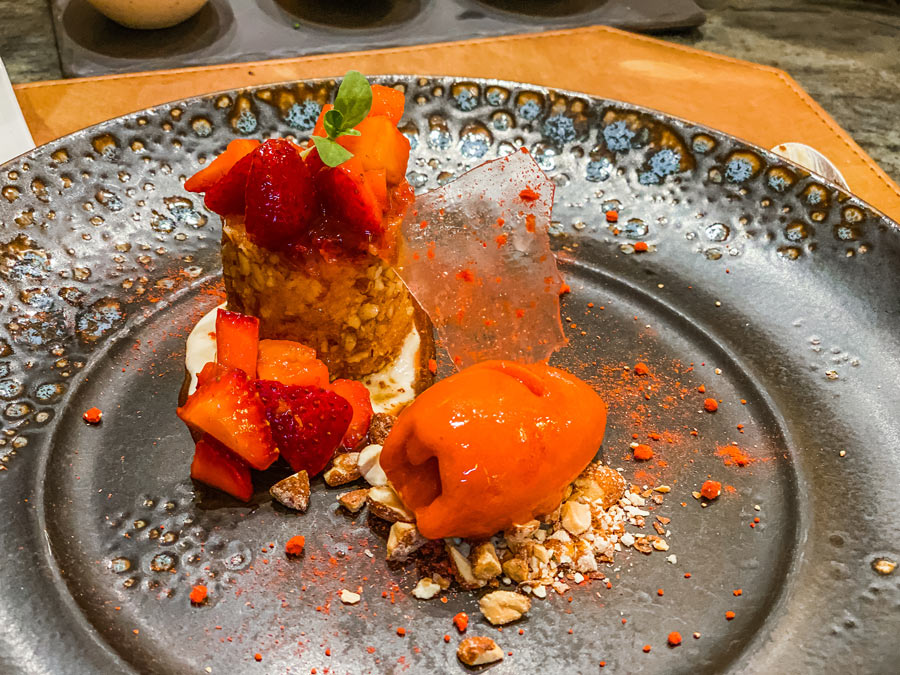 Seventh Course: Strawberry with Almond Cake & Vegan Chocolate Cheesecake
Before receiving our final dessert course, we actually received another mini "free dessert". I received a tiny olive oil cake which was a bit too dense for me, but my guest received a tasty tapioca pudding.
My dessert was a light almond cake with fresh strawberries and sorbet. It was very light and refreshing but I am not a fan of almonds. My guests had a vegan chocolate cheesecake which was incredibly rich and dense. I think given how full we were, lighter dessert options would be better. They did let us select our desserts which was nice.
Overall, the Napa Rose Disneyland Chefs Counter is a wonderful experience worth trying at least once. If you have any questions you couldn't find in this article, do not hesitate to ask in the comments below. If you dine at Napa Rose, you will also receive a 5-hour parking validation when you valet at the hotel.
Discover More Disneyland Tips