Wild Goose Tavern in Costa Mesa is well known as a hip Orange County bar, but I'm here to show you why it is so much more. Sure you can get great cocktails, awesome happy hours, and a juicy burger, but here are 8 reasons Wild Goose Tavern is so much more than just bar food!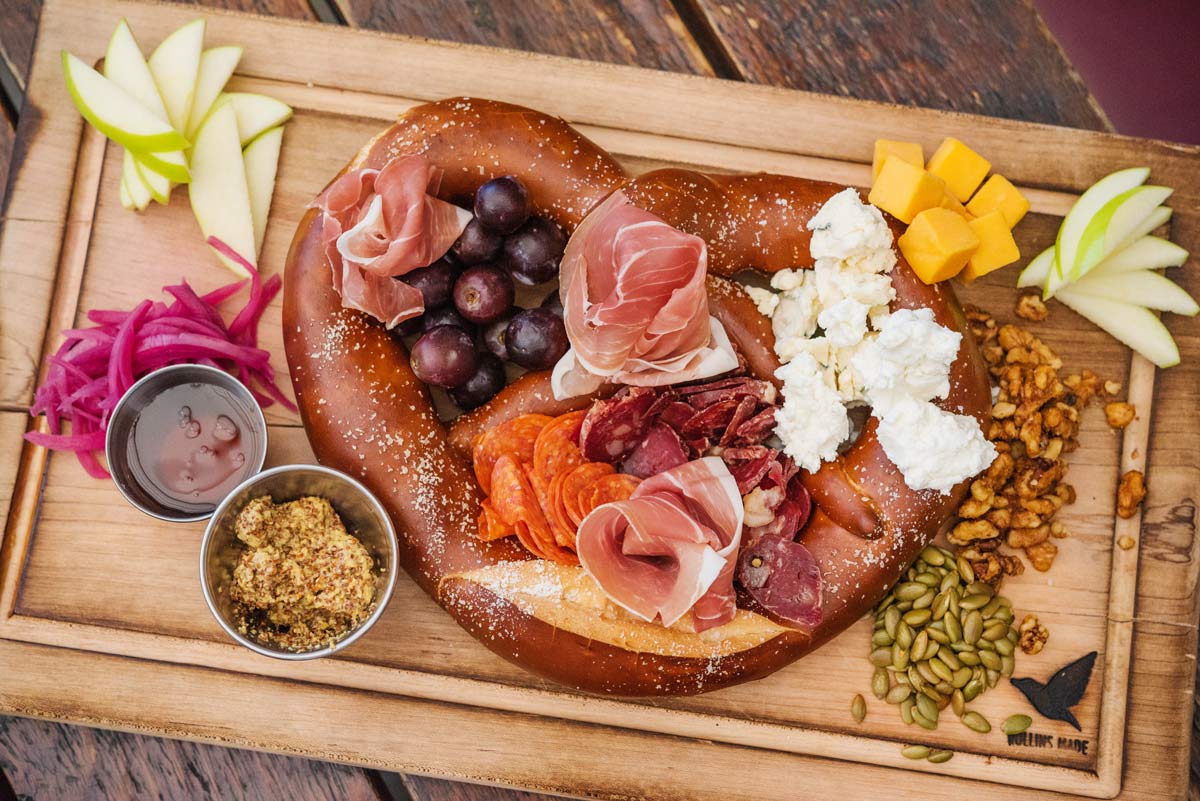 1. Epic Tavern Charcuterie Board
Wild Goose Tavern in Costa Mesa has an epic Charcuterie Board served with a gigantic Bavarian pretzel. This is probably one of the best charcuterie boards in Orange County. Each pretzel nook is piled high with salami, pepperoni, prosciutto, soft goat cheese, and grapes. Surrounding the pretzel are cheddar cheese cubes, sunflower seeds, and candied walnuts. As an extra special treat, you'll also find Wild Goose Taverns special hot honey which pairs perfectly with fresh sliced apples.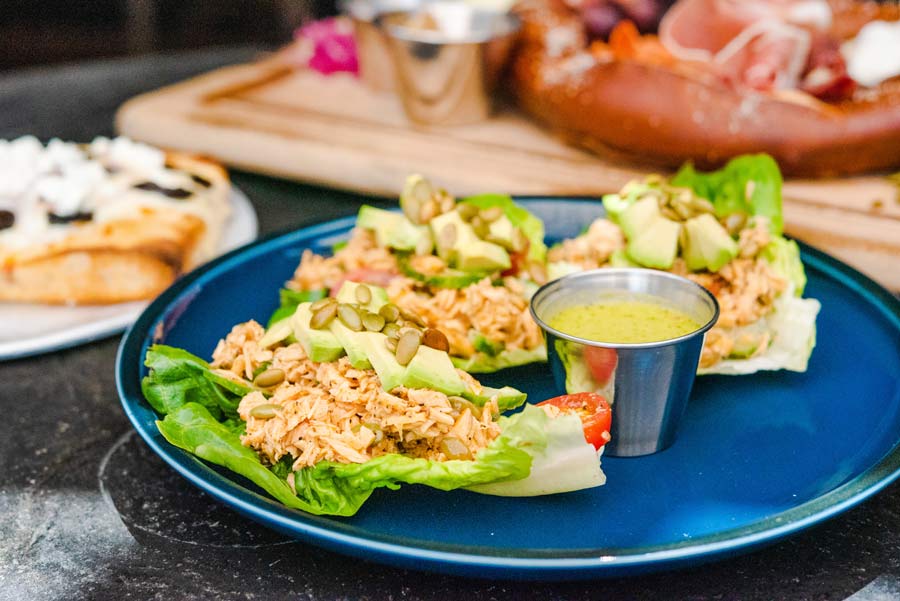 2. Crave-worthy Salmon Lettuce Wraps
Ok now hear me out, I normally never order lettuce wraps, but I randomly ordered these when I was visiting with a friend and wanted something light. These Salmon Lettuce Wraps have become a regular staple in my repertoire of weekly meals. They look simple enough but the flavor combination of the orange shallot dressing, tangy chimichurri, fresh shredded salmon, cool cucumber, chunks of avocado, cherry tomatoes, and crispy pepitas is perfection.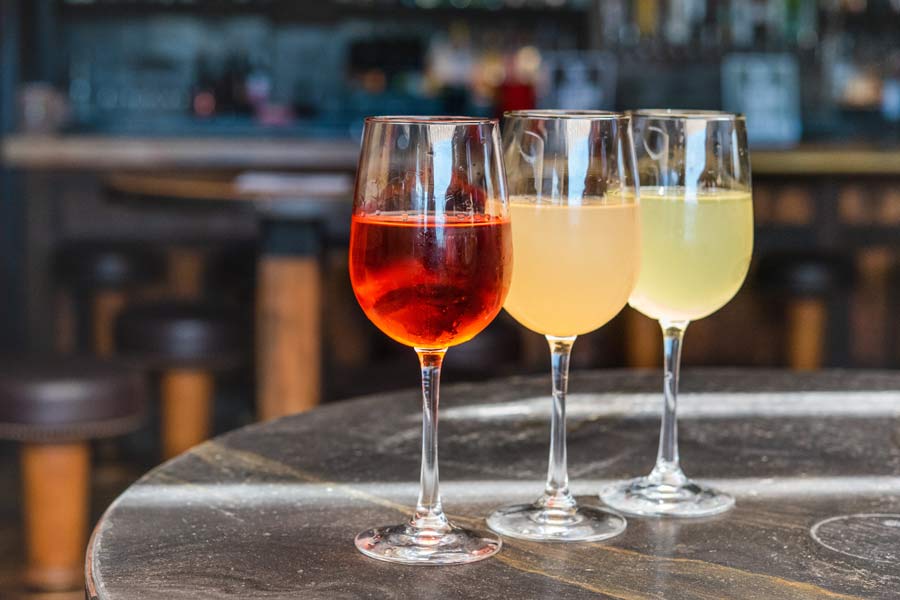 3. Bottomless Mimosas
Bottomless Mimosas are a rarity in Orange County, but a brunch staple. Nothing pairs better with an amazing brunch than endless mimosas. Bottomless mimosas are available Saturday and Sunday from 9am -1pm for only $20 and can be ordered with traditional OJ, pineapple, cranberry, or grapefruit!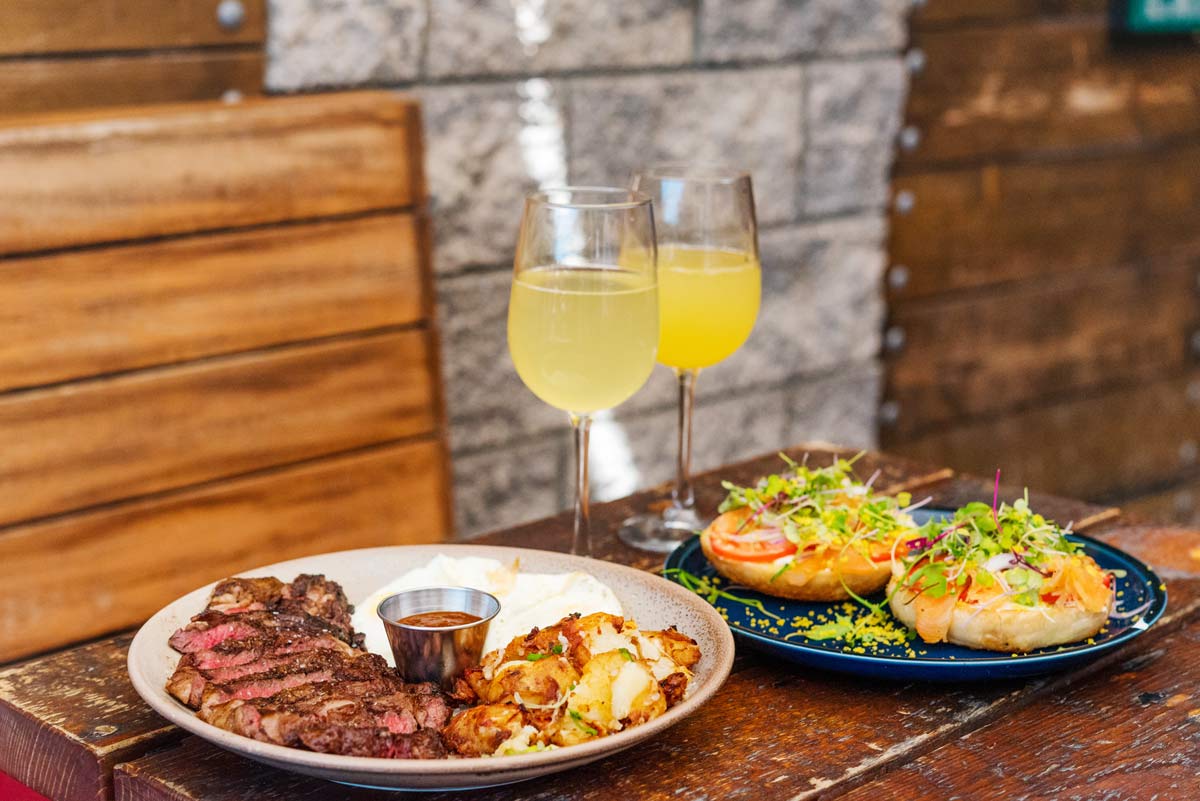 4. Awesome Brunch Menu
There is nothing basic about the brunch at Wild Goose Tavern in Costa Mesa. They have everything you could possibly desire like chicken & waffles, chilaquiles, and a prosciutto benedict. The real star however is the $18 Ribeye steak and eggs which is always cooked to perfection!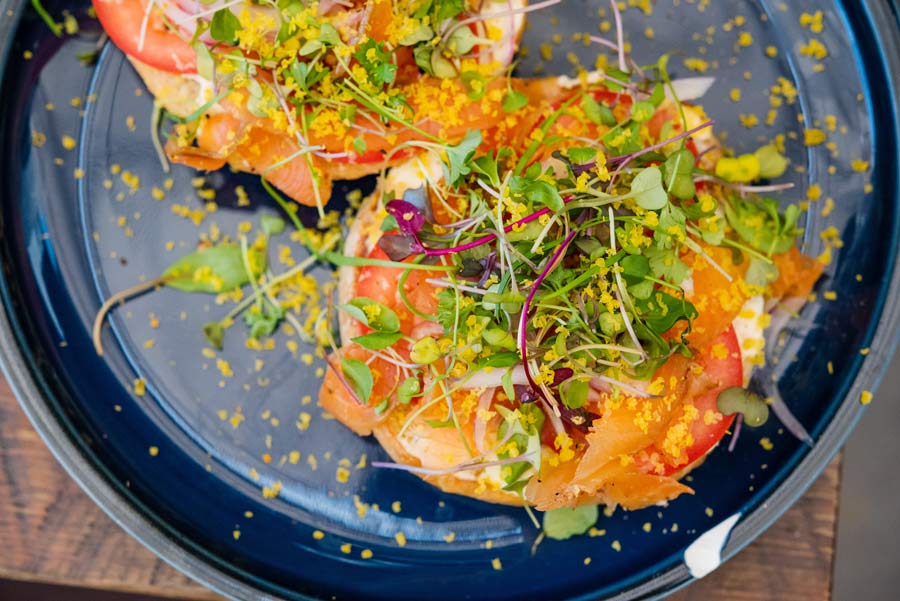 5. Not Your Basic Lox
You might be asking yourself why Lox would get its own spot on this list. What might seem like ordinary lox on a bagel at first glance will completely blow you away after the first bite. The chef makes his own housemade sourdough bagels which are then topped with a smear of jalapeno cream cheese, Roma tomatoes, house-cured salmon, red onions, micro radish, and shaved egg.
I have honestly never had a homemade bagel so delicious. If this was nothing but the chef's bagel with a little butter, it would still belong on this list!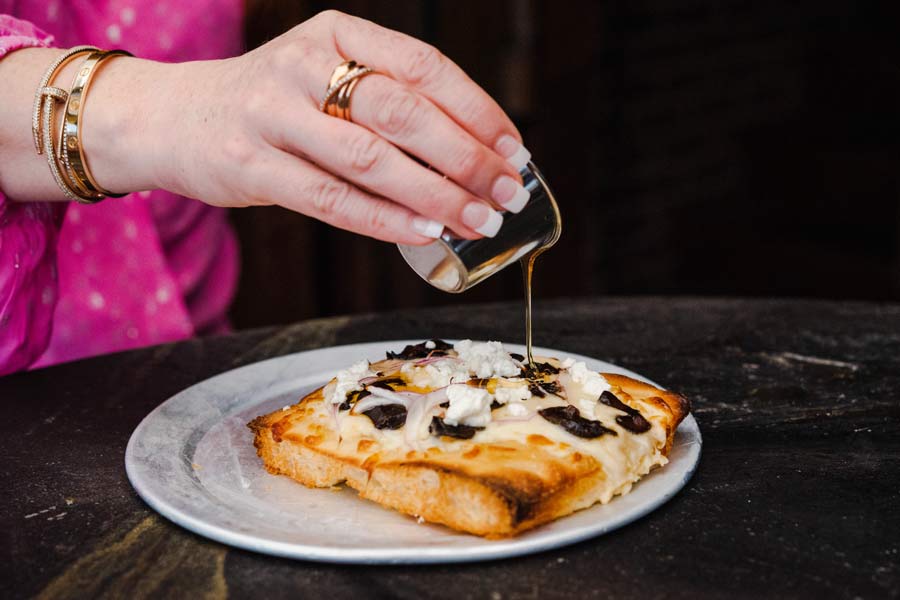 6. Happy Hour Pizza Slices
Monday through Friday from 2pm-6pm Wild Goose Tavern has their happy hour. I typically do not head to a happy hour for a pizza slice, but don't let appearances fool you. This is no ordinary pizza slice. I grew up in NY so I know a thing or two about pizza. Normally we like our pizza thin and crispy, but they also have Sicilian slices like the pizza pictured above.
Typical Sicilian slices can be a bit too doughy for my taste, but the Sicilian pizza slice at Wild Goose Tavern would blow anything made in NY out of the water. Once again, the chef makes his pizza dough in-house and it is phenomenal. Each bite is light and fluffy in the center with the most perfect crispy outer crunch.
The "Honey Badger" pizza with drunken mushrooms, red onions, and goat cheese is my top recommendation to pair with the chefs amazing hot honey drizzle. So far, this is hands down the best pizza slice you'll find in Orange County.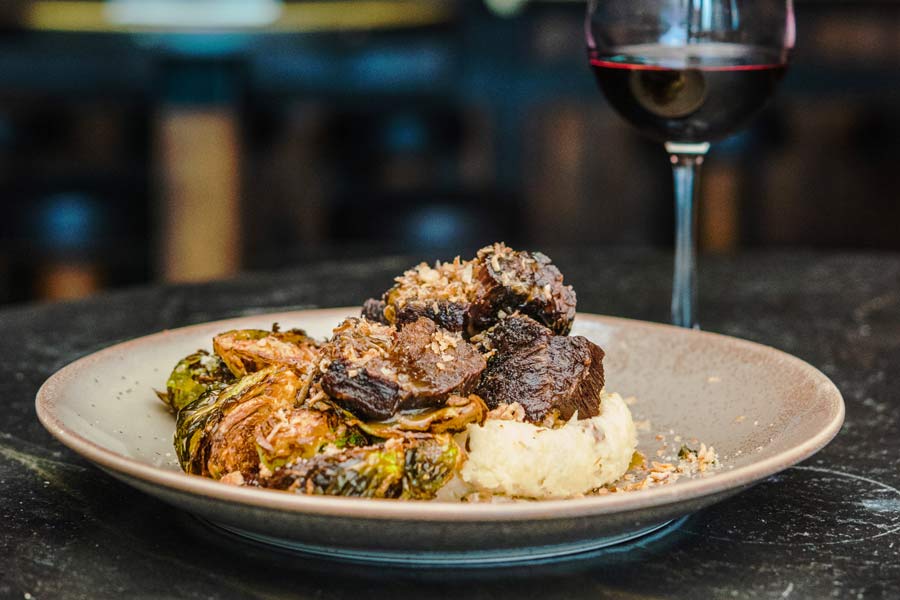 7. Crispy Short Ribs
The Crispy Short Ribs for "big appetites" is an indulgent meal not for the faint of heart. It features crispy fried chunks of tender meaty short ribs with a honey whiskey glaze, extra crispy Brussels sprouts, homemade mashed potatoes, and fried shallots. This naughty meal is one of the most popular dishes at the restaurant and rightly so. It is mouth-wateringly delicious.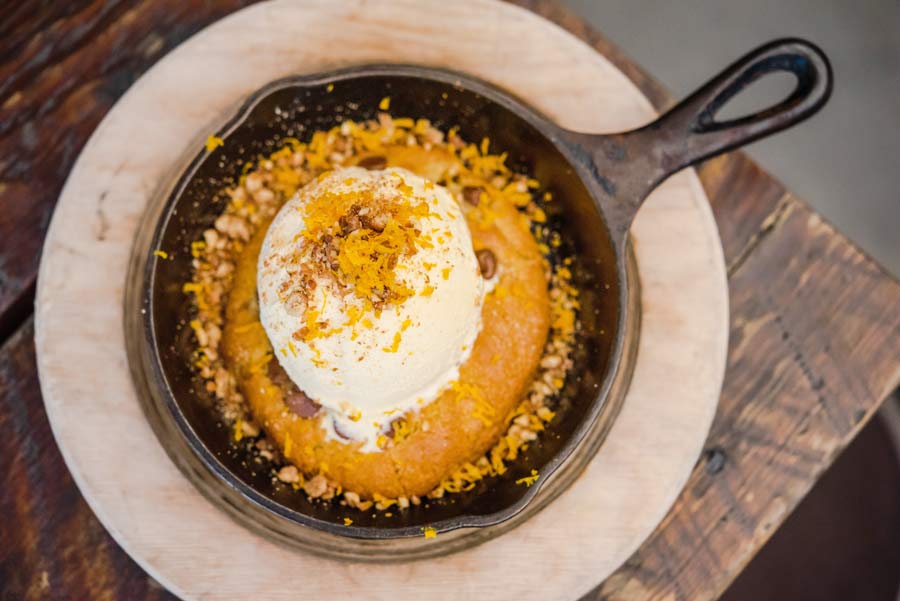 8. The Better Pizookie
I'm a girl who loves her desserts and who can resist a freshly baked cast iron skillet cookie. Move over BJ's because your Pizookie has nothing on the Drunk'n Cookie at Wild Goose Tavern served with a bourbon semifreddo, candied pecans, and orange zest. This decadent dessert will hit all the right spots for my fellow sweet tooth foodies.
436 E 17th St, Costa Mesa, CA 92627
Discover More Delicious Restaurants in Orange County