Halloween Horror Nights 2023 at Universal Studios Hollywood has introduced a huge lineup of new spooky treats. This year's food and cocktail offerings will be themed after Stranger Things, Chucky's Child's Play, and Dia de los Muertas. Here's everything new at Halloween Horror Nights and where to find them!
Halloween Horror Night Tips
After attending this year's Halloween Horror Nights my biggest tip is to invest in the front of the line passes. The lines are crazy long and you will spend most of your evening waiting for hours. A front of the line express pass is well worth the investment for this once a year event.
My second tip is to enjoy the rides which have significantly shorter wait times. Jurrasic World, Transformers, The Mummy, The Simpsons, and the Harry Potter rides are all open. The express pass is also good for rides!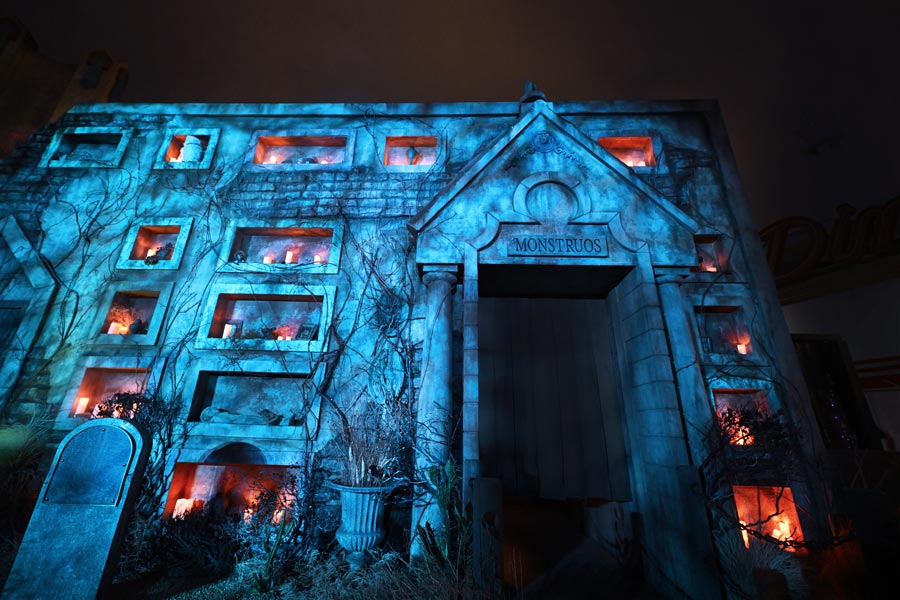 What's New For Halloween Horror Nights 2023
This year's all-new scare zones taunt and torment guests as they navigate the darkness from one terrifying haunted house to the next. This year's new scare zones include:
El Terror de las Momias, a Latin-themed scare zone and an extension of the"Monstruos. The Monsters of Latin America" haunted house that takes guests on a desperate attempt to escape an ancient army of unearthed mummies.
Located on New York Street, the"Toyz" scare zone dares guests to play in the toy box of terror where a wicked toymaker uses dark magic to bring his evil toys to life.
A welcome wagon of"Ghostz" featuring a horde of blood-soaked, chainsaw-wielding ghosts gather at the entrance to Halloween Horror Nights to rattle nerves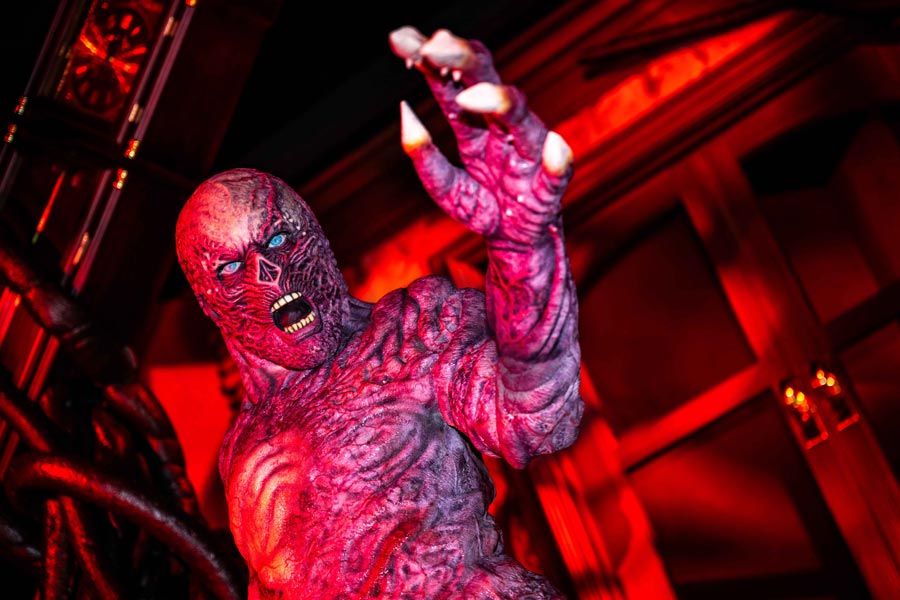 Halloween Horror Nights 2023 Mazes
This year's line-up includes 11 mazes located throughout the park. Below is a quick list of all the mazes.
The Last of Us
Stranger Things 4
The Exorcist: Believer
Universal Monsters Unmasked
Chucky Ultimate Kill Count
Evil Dead Rise
Monstruos: Monsters of Latin America
Holidayz in Hell
Terror Tram: The Exterminators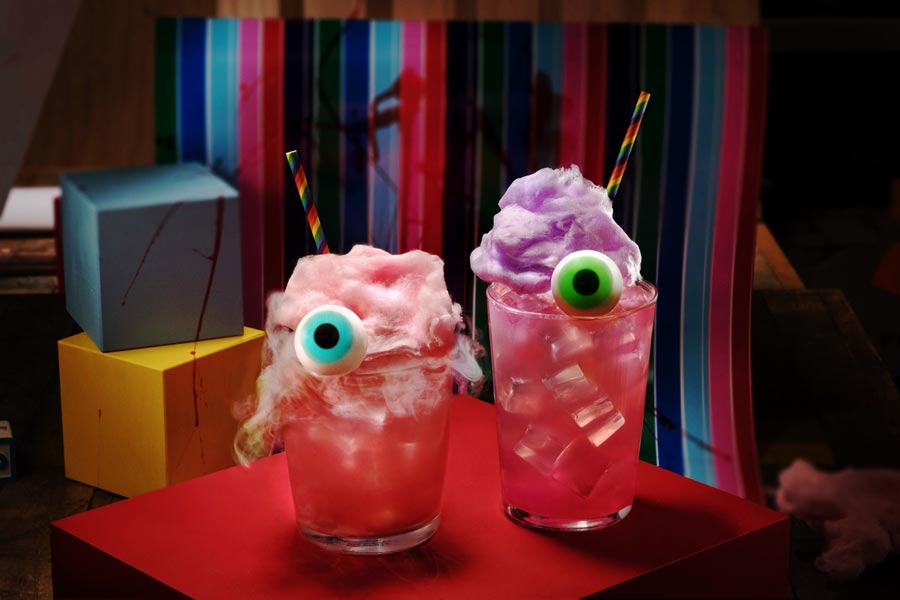 Halloween Horror Nights 2023 Food & Cocktails
Now for my favorite part of the event, all new spooky food and cocktails. This years event features themed food from Stranger Things, Chucky's Childs Play, and Dia de los Muerto. Here are some of the new spooky themed offerings and where to find them.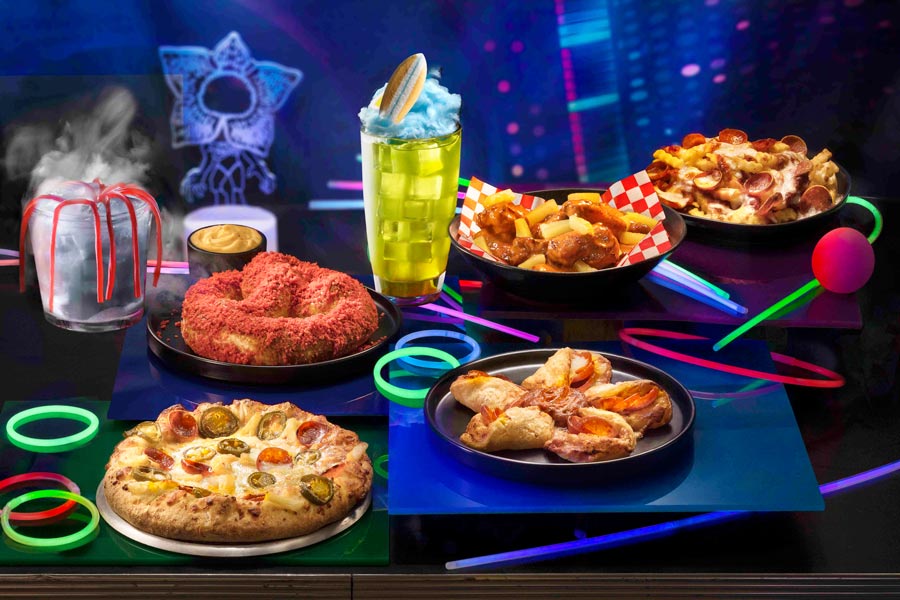 Stranger Things
"Stranger Things" fans can visit Surfer Boy Pizza for a variety of pizza flavors, Scoops Ahoy for tasty ice cream creations, and a new 80's themedStellarBar with mixed cocktails.
Hellfire Club Pretzel
Elevens Waffle Sundae
Demogorgon Pizza
Hellfire Push Pop
Meat Lovers Pizza
Pineapple Buffalo Wings
Pizza fries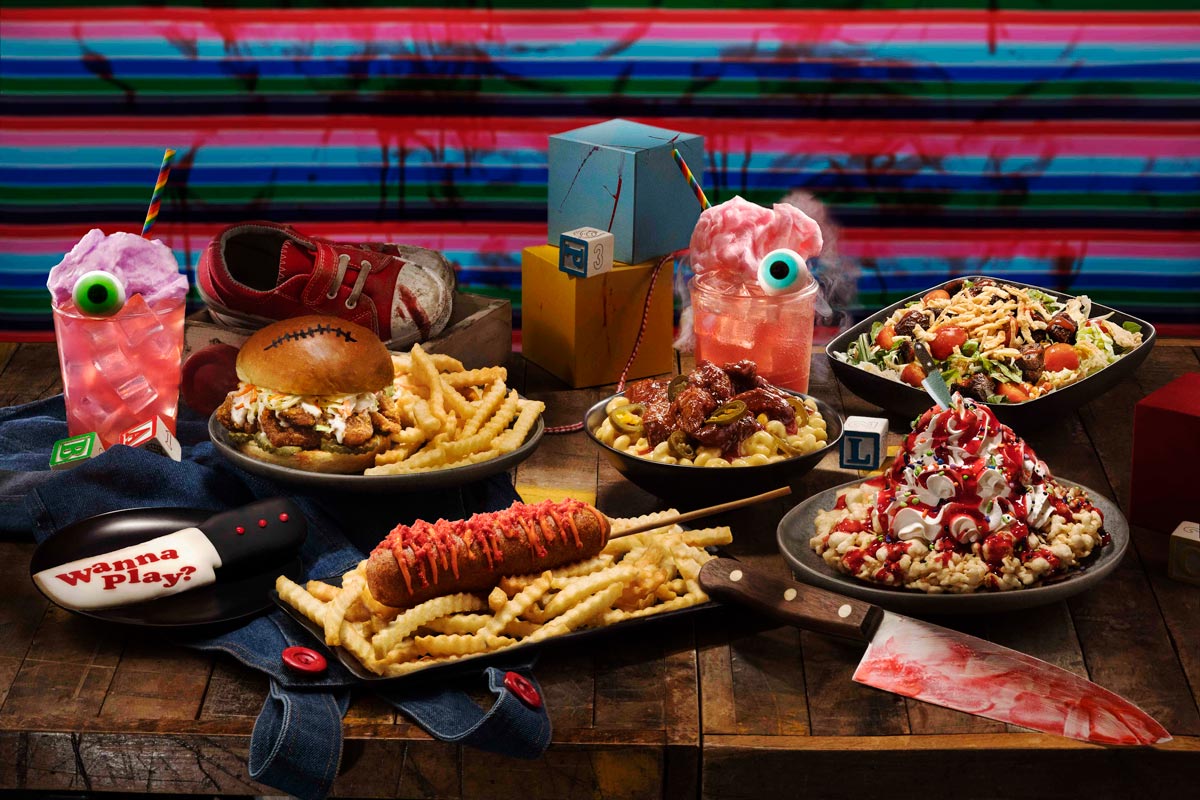 Chucky
Quick service restaurant Hollywood & Dine will transform into a"Chucky"-themed BBQ featuring brisket and Nashville popcorn chicken sandwiches, pulled pork macaroni and cheese, funnel cakes, and themed drinks.
Childs Play Funnel Cake
Chuckys a Clucking
Chuckys Mac-Assacre
Always Come Back Corn Dog
Friends to the Burnt Ends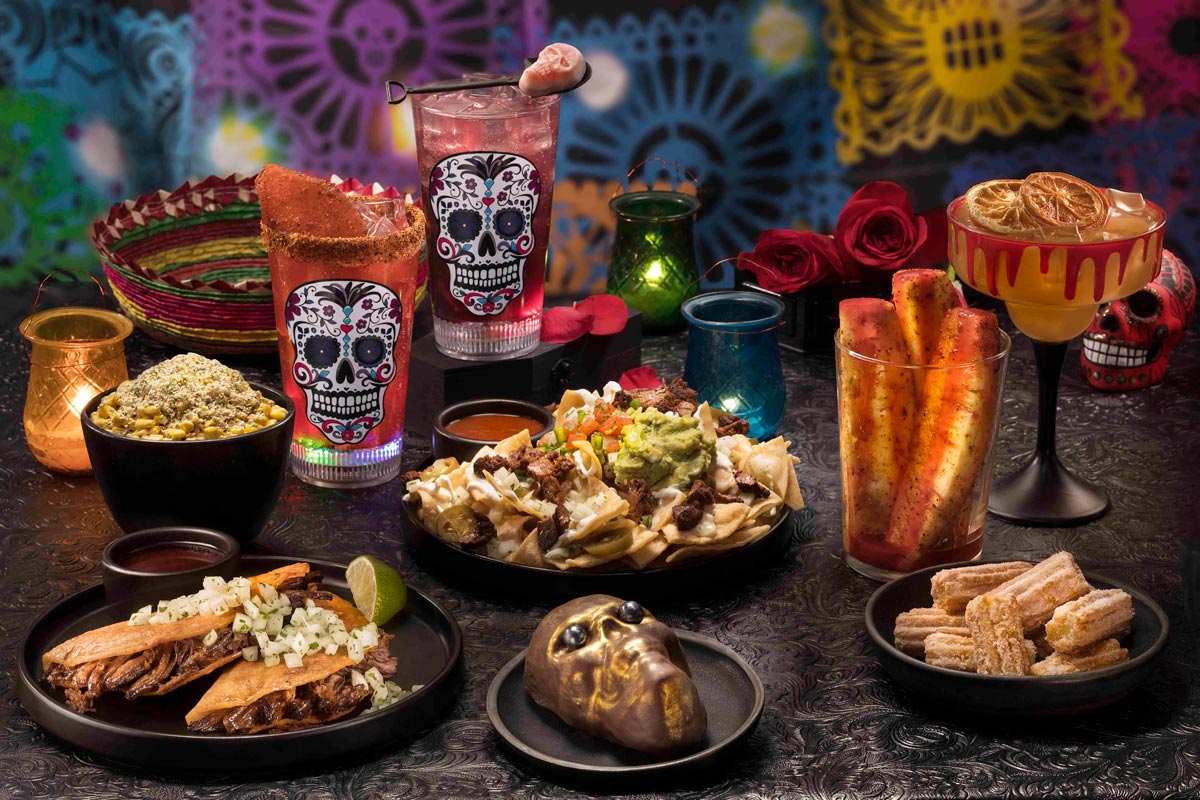 Dia de los Muertos
Universal Plaza will serve up a celebration in honor of Dia de Los Muertos featuring an array of Latin Folklore-themed cocktails, Lil Cocina Taco Stand and a margarita bar.
Beef Birria Tacos
Carne Aasada Nachos
Chamoy Spears
Churro Bites
Esquites
Chocolate Skull Cake
Variety of Cocktails and Margaritas
The Carl Laemmle Patio will feature Peacock's Halloween Horror Bar with themed cocktails from The Purge and "Chucky" and photo opportunities with scare actors.
Ticket Information
Universal Studios Hollywood offers a variety of Halloween Horror Night ticket options, including General Admission, Universal Express, After 2 P.M. Day/Night, the premiumR.I.P. Tour, the new Early Access Ticket, which provides access to select haunted houses prior to the scheduled event opening(starting at 5:30 p.m., subject to change), and the popularFrequent Fear PassandUltimate Fear Pass. For more information about each ticket type and Terms and Conditions, visit www.HalloweenHorrorNights.com.
Halloween Horror Nights 2023 runs select nights from Thursday, September 7 through Tuesday, October 31 at Universal Studios Hollywood.
Discover Our Travel Guides & Restaurant Reviews
View all of our travel guides and get tips on things to do, where to stay, and what to eat in each destination. Discover local Southern California Restaurants.