While scouring the internet for hours searching for the perfect hotels in Napa, I came across the strikingly charming White House Inn. The accommodations are often my favorite part of a vacation, allowing me to truly feel like I have departed to a new destination. There is something extremely special and unique about The White House Inn.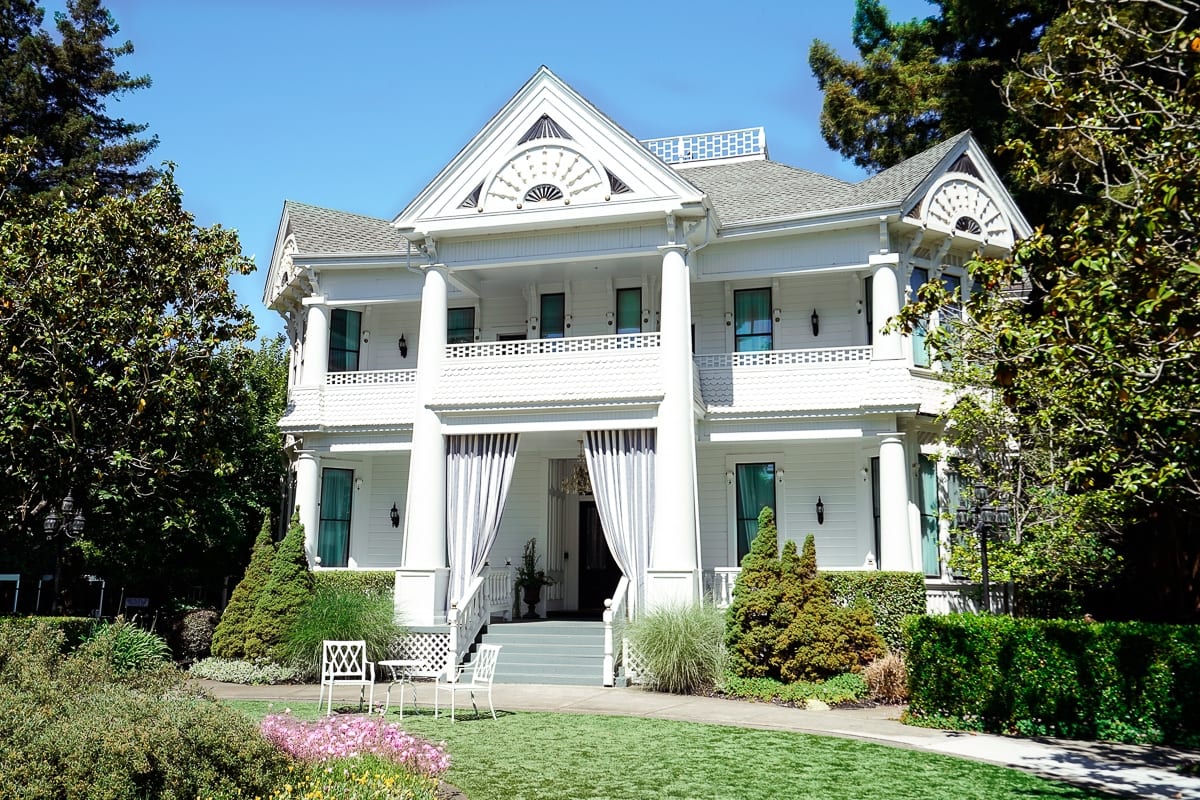 The Decor
The newly remodeled decor mixes old world charm with modern elegant touches. The White House Inn has a cozy feeling of being in a boutique hotel with only 17 rooms. Of all the hotels in Napa Valley, this one immediately caught my attention.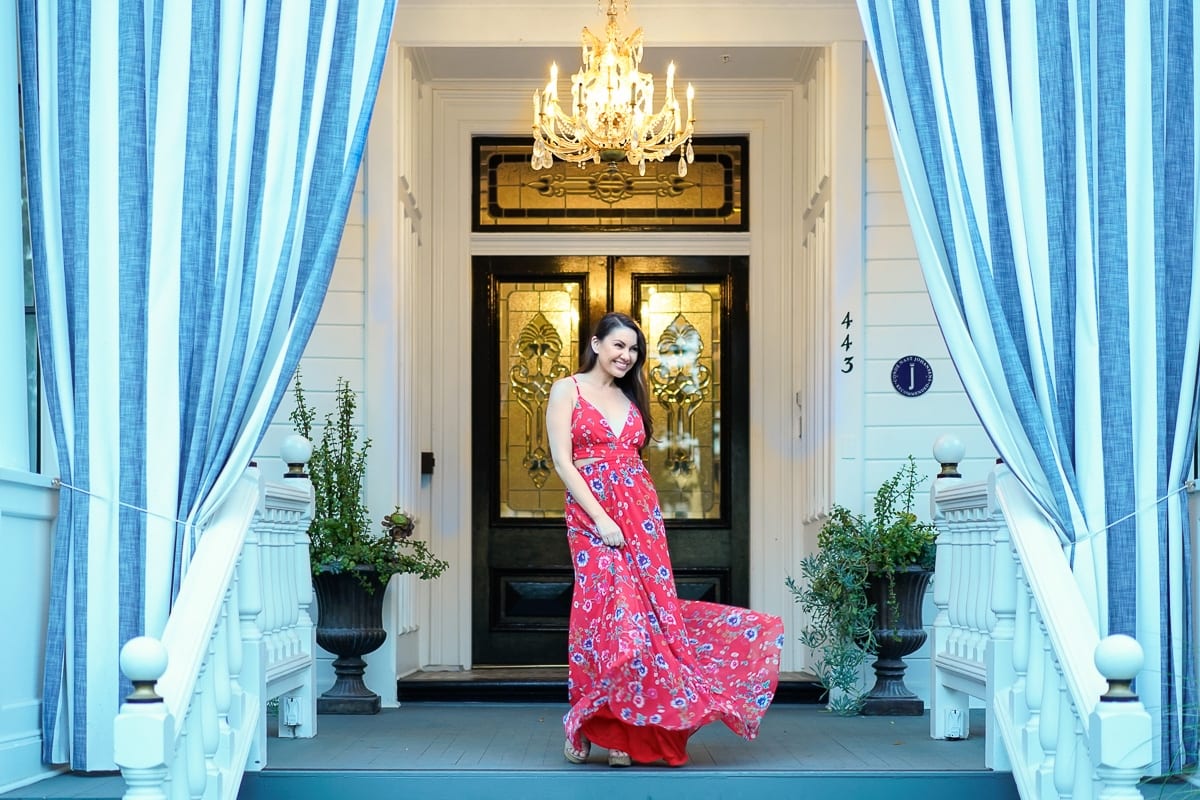 As you walk up to the front steps, you'll immediately notice the elegant chandeliers which also adorn numerous rooms throughout the hotel. Gold crown molding accents the walls and modern blue carpeting with mustard yellow polka dots line the floors.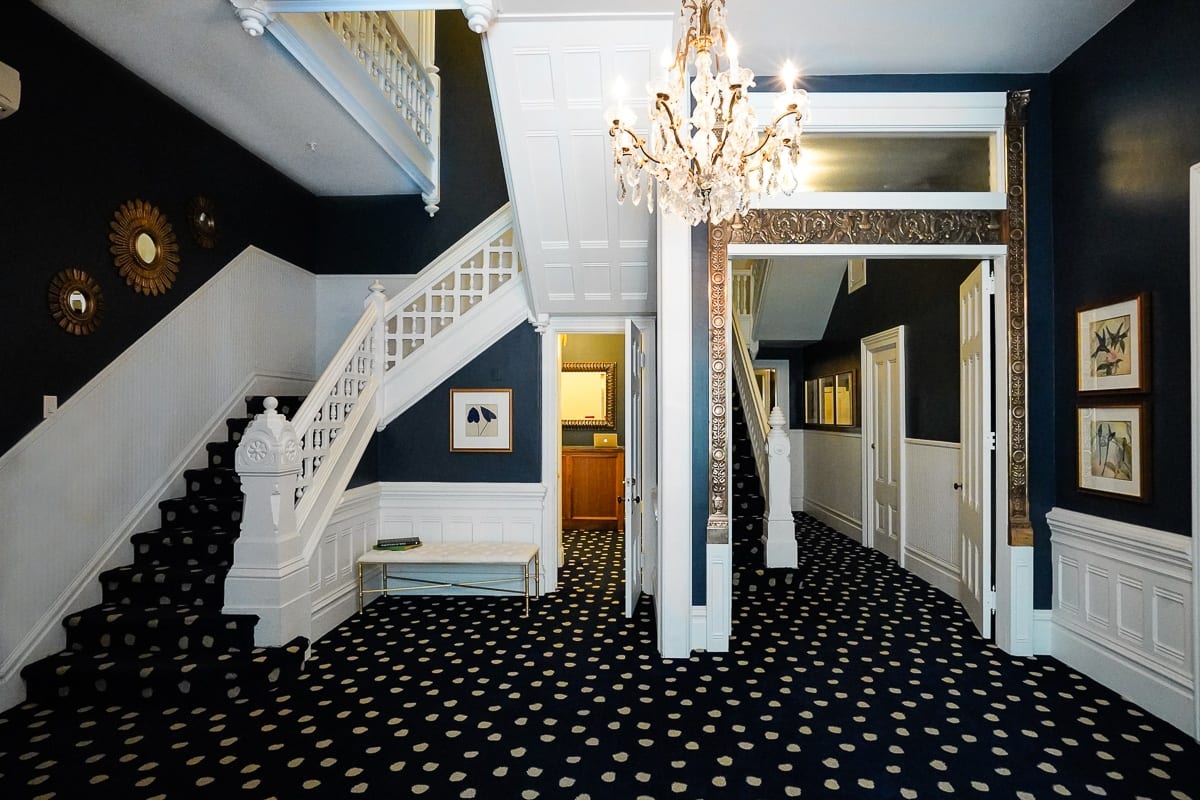 Interior Design
The White House Inn has managed to keep much of the original home's features intact while still adding new modern decor such as bold carpeting. It exudes Victorian charm with a blend of modern colors and patterns.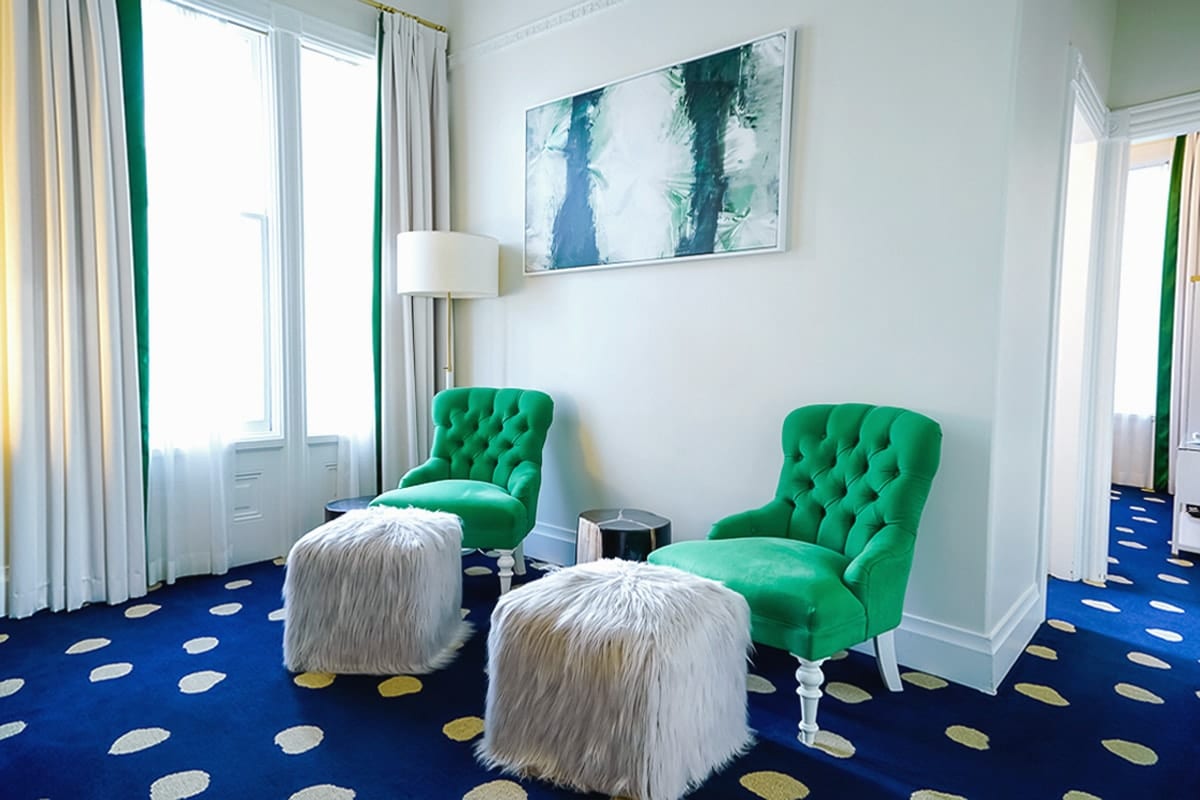 The Rooms
The rooms are incredibly spacious and charming. Bright-colored green chairs with furry footstools compliment the blue carpets. We stayed in one of their King Rooms which had a separate living room featuring a lovely fireplace and work desk for my laptop. My favorite touch was the geode artwork which made the room feel especially trendy and vibrant.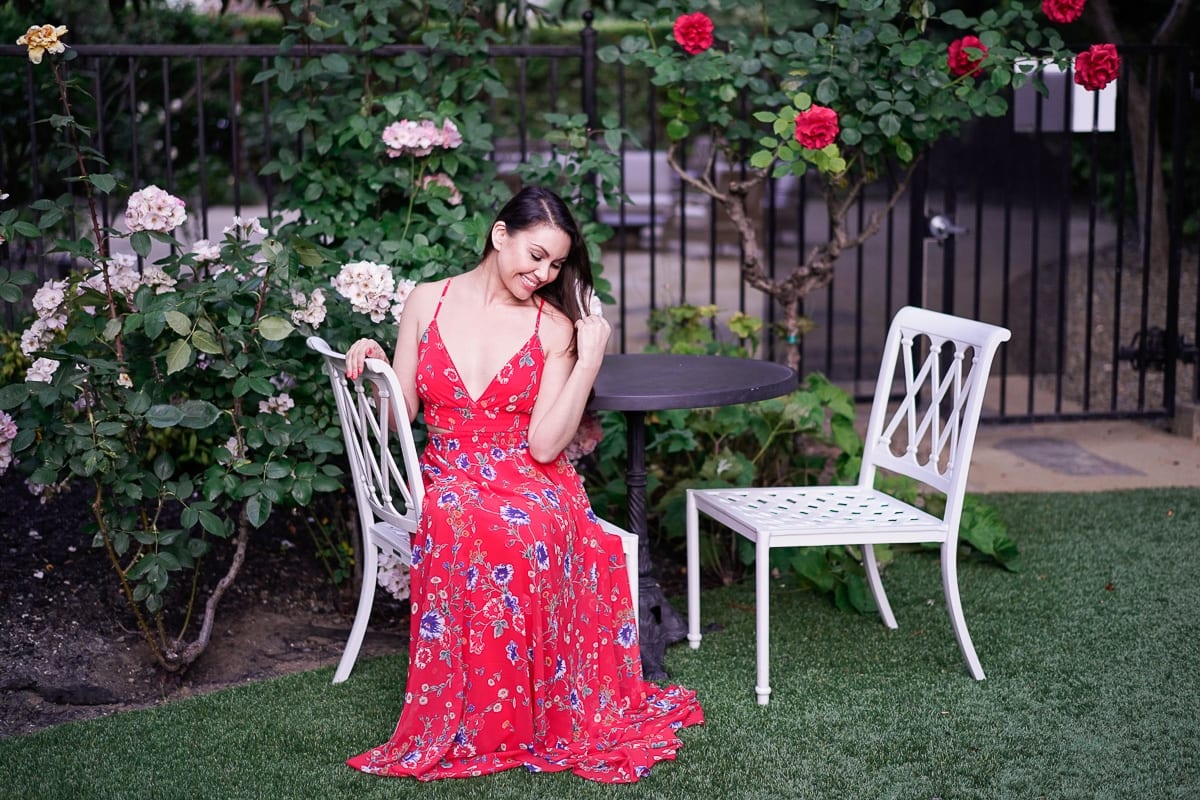 The Outside
The outside space is beautifully landscaped with rose bushes. Comfortable, large cabanas with fluffy pillows and warm knit blankets surround the pool. Their outside space is perfect for enjoying a glass of wine.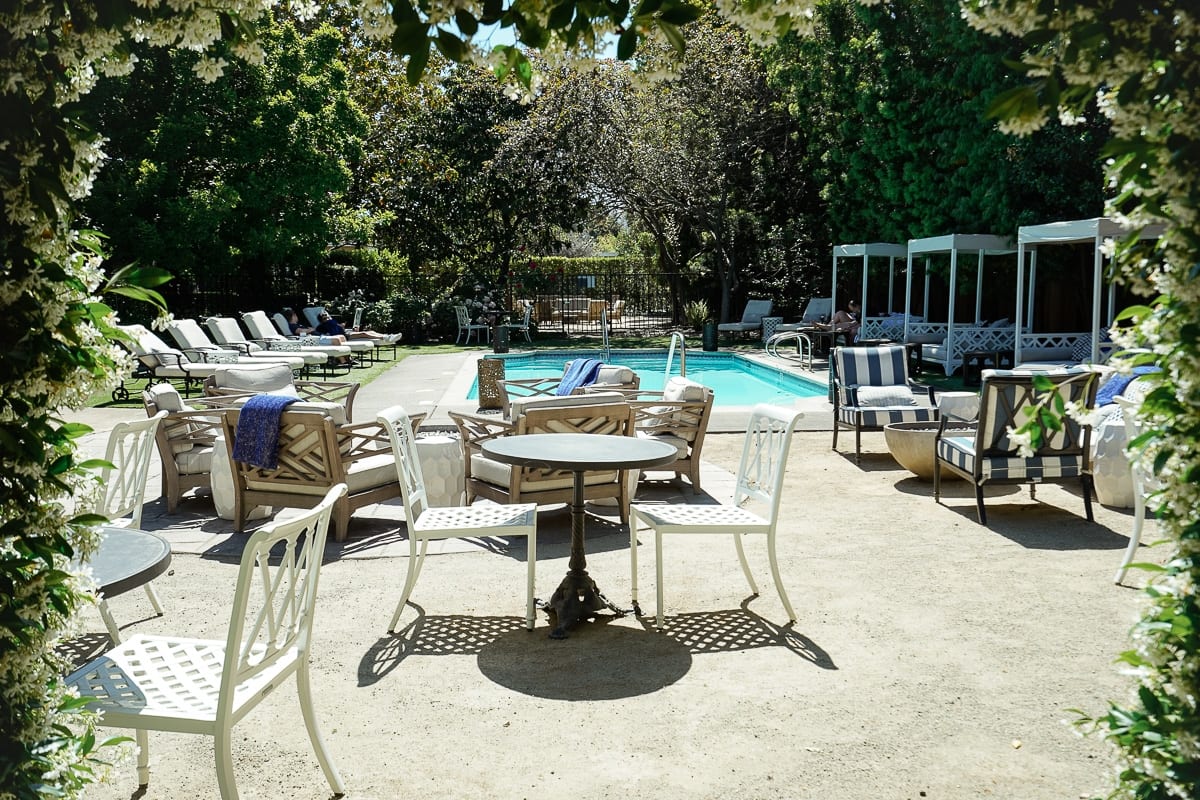 Fantastic Pool
The White House Inn also has a fantastic pool surrounded by their perfectly manicured garden landscape. You'll feel like you're swimming in a secret wine country garden. There are plenty of lounge chairs for relaxing, soaking in the sun's rays, and cooling off on those hot summer days.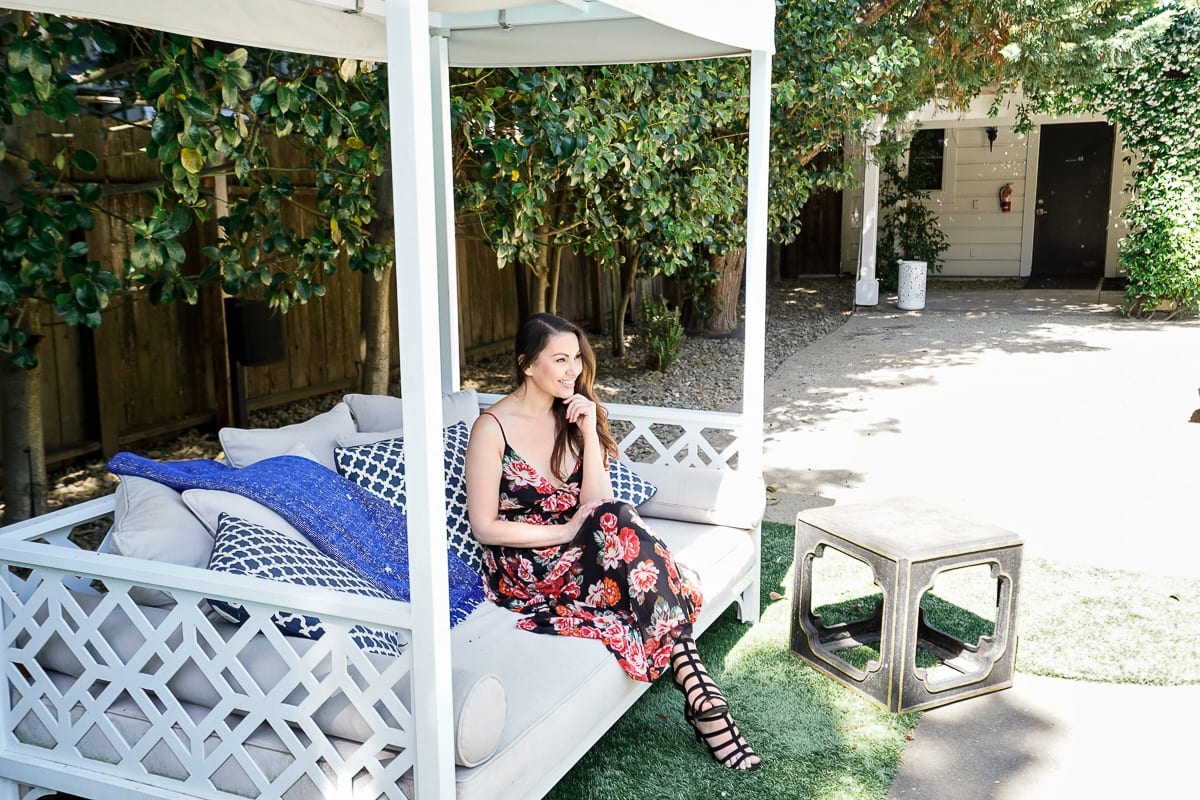 Complimentary Cabanas
While most hotels in Napa charge for the use of Cabana's, the White House Inn is such an intimate hotel that they offer several cabanas complimentary for hotel guests. I prefer being in the shade so this was a definite perk.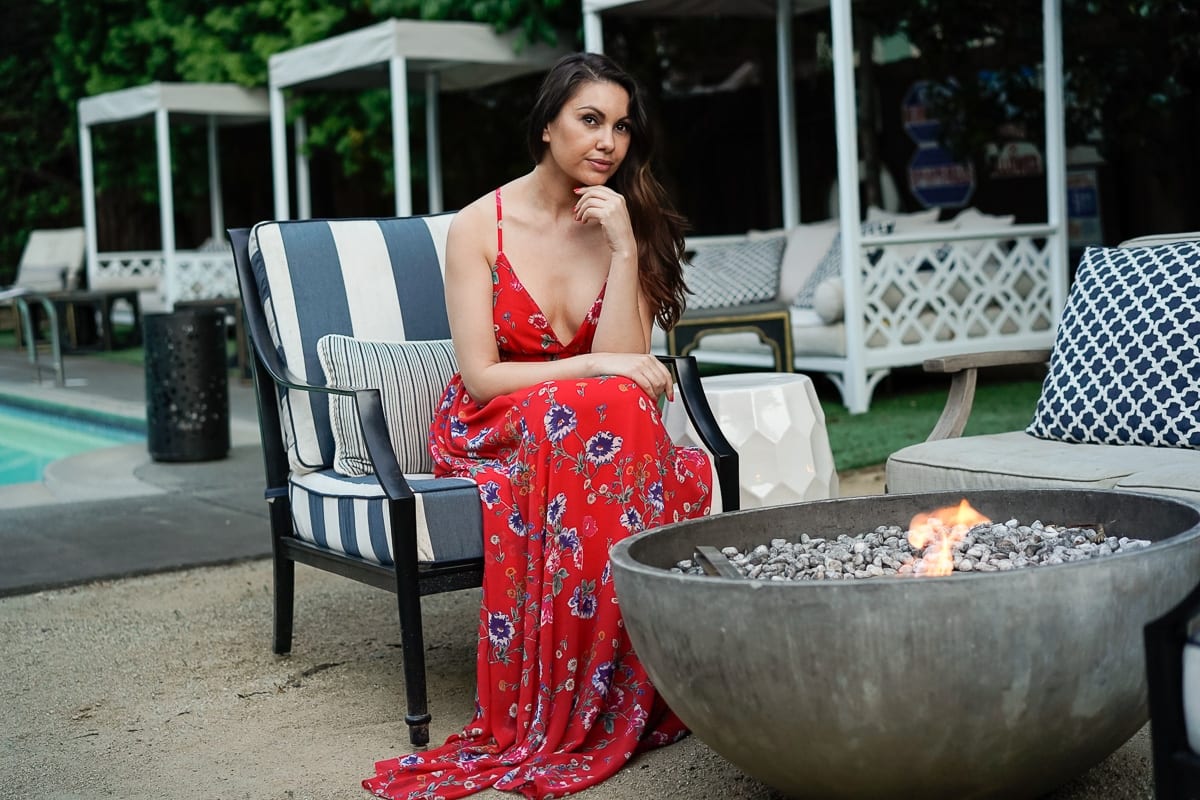 Outside Fire Pits
The evening in Napa's Wine Country can get especially chilly. After a long day, I really enjoyed cozying up to their fire pits and enjoying a glass of wine from one of my many wine tasting adventures.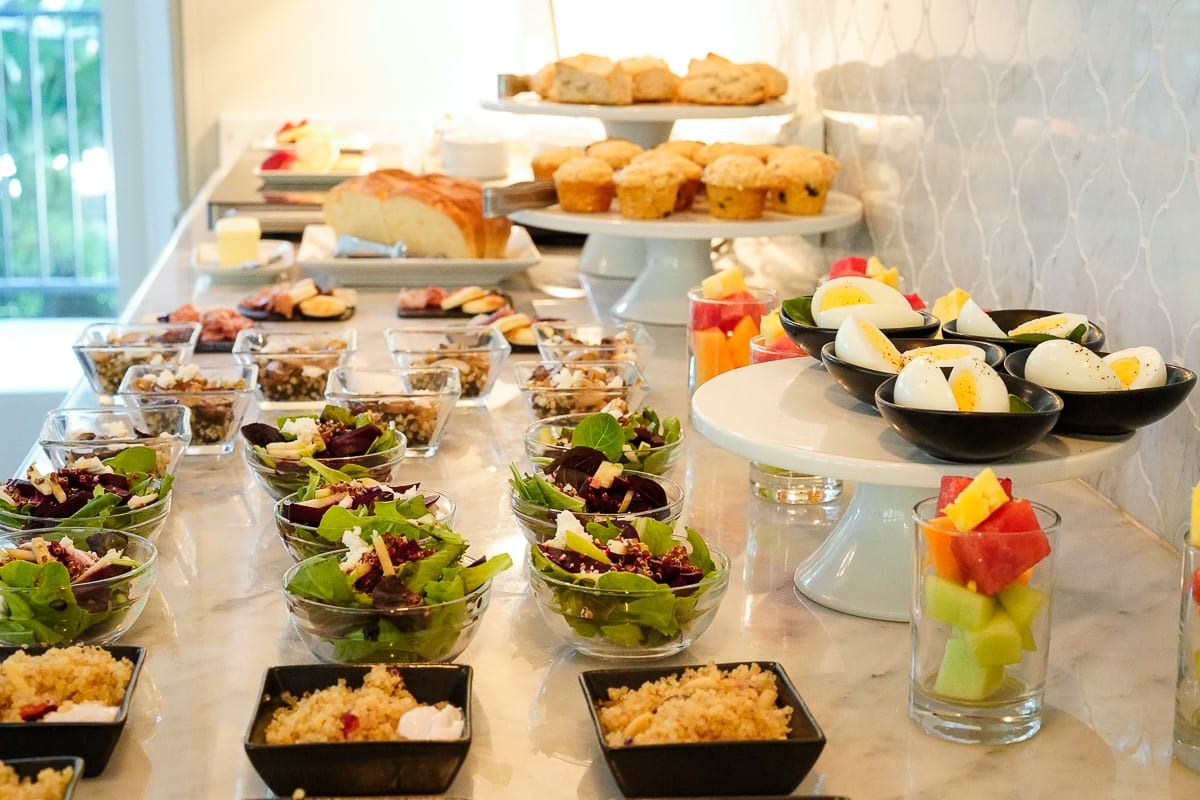 Tapas Style Breakfast
My favorite feature of the White House Inn was their amazing tapas style breakfast. There was a huge selection to choose from including mini pancakes, yogurt with granola, fresh fruit, charcuterie, and poached eggs.
You can expect to find new dishes every day, further adding to the excitement. I honestly could not wait to throw on my bathrobe and run downstairs to see what goodies were waiting for me.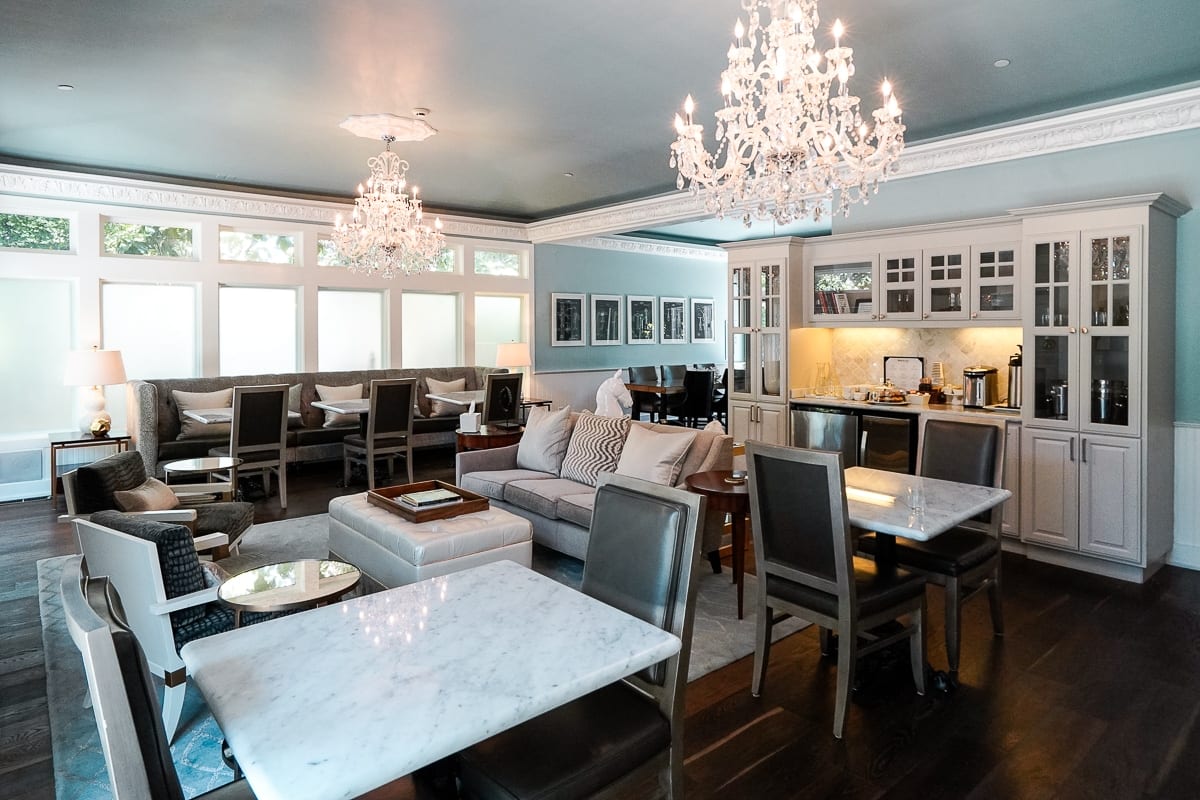 Hotels in Napa with Happy Hour
A trend with many hotels in Napa is offering a complimentary happy hour. As an added bonus, if you make it back by 5pm, White House Inn offers a complimentary wine hour with hors' d oeuvres! Guests can enjoy glasses of wine, a variety of cheese, fresh fruits, and charcuterie.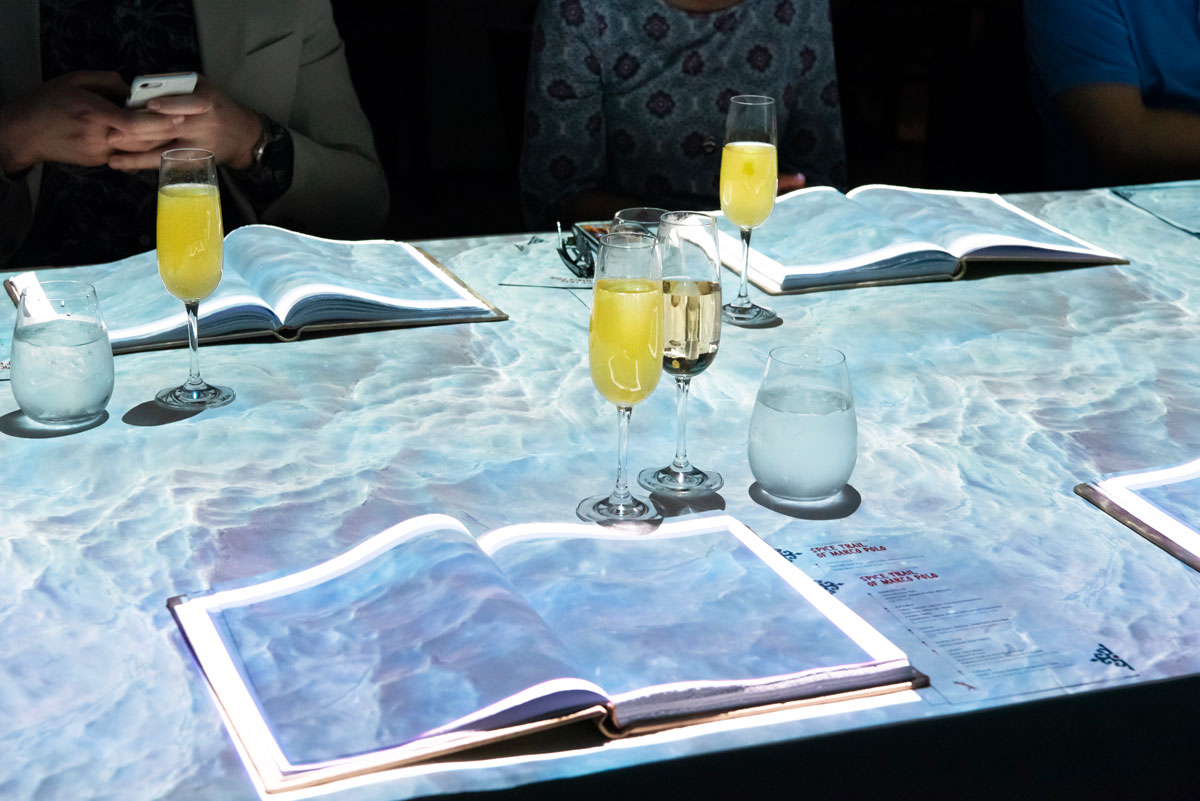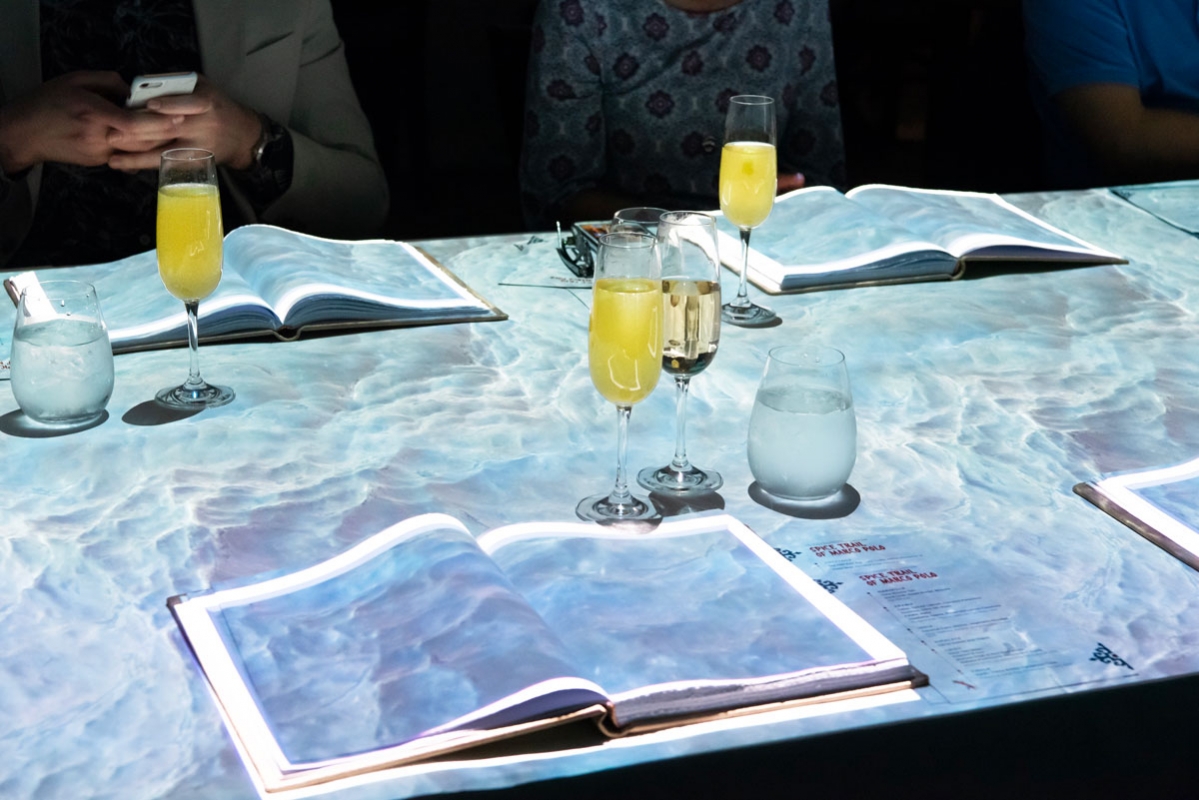 Downtown Napa Location
While searching hotels in Napa, I also really loved that The White House Inn was conveniently located in downtown Napa. If you have not explored Downtown Napa, it is a fabulous location full of wonderful restaurants like Morimoto's, The Bounty Hunter, and even Napa's own Culinary Institute which has several special dining experiences like the Le Petitite Chef 3-D Dinner.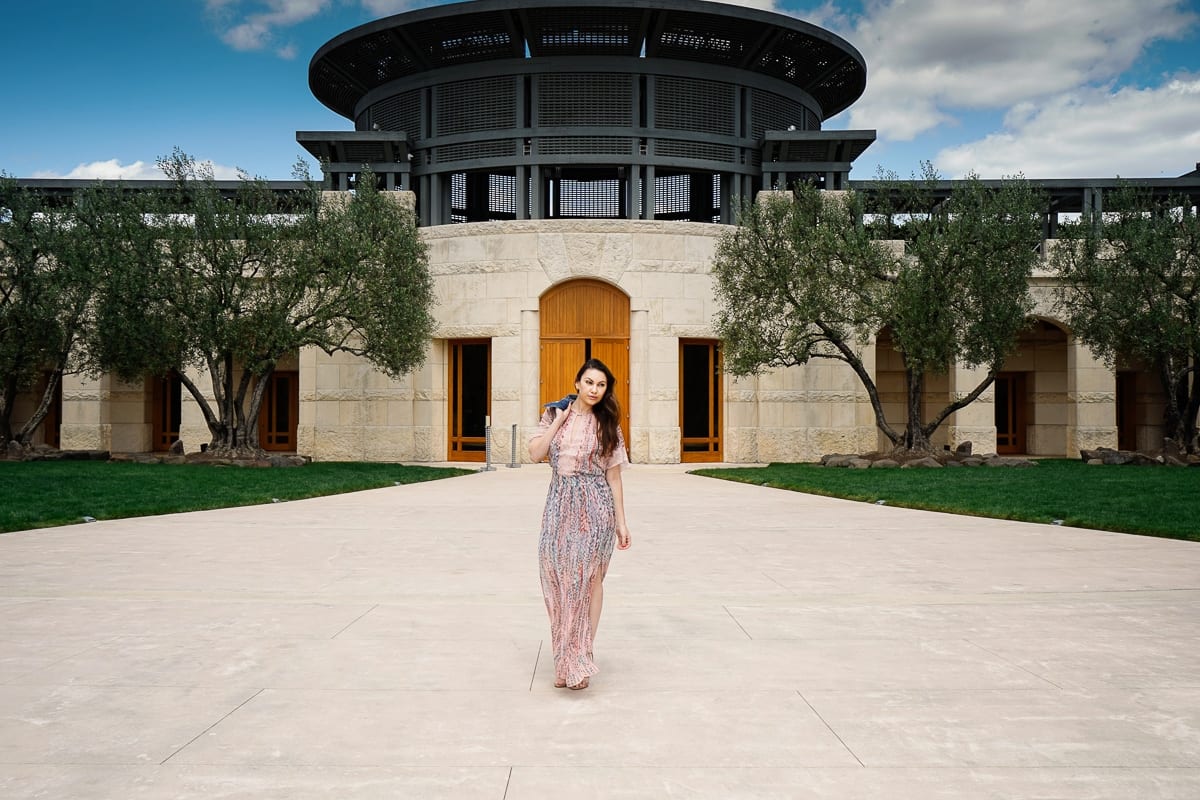 Best Wineries to Visit in Napa
This was my first time visiting the Napa Valley and I really wanted it to be an amazing adventure through wine country. We road through the vineyards in an ATV Tour at Hess Collection, ate our hearts out at Piazza Del Dotto, took a sky gondola ride to Sterling Vineyards, sipped the finest champagne at Domaine Carneros, and admired the modern architecture of Opus One. Needless to say, this was the most epic wine country girls trip you could possibly imagine.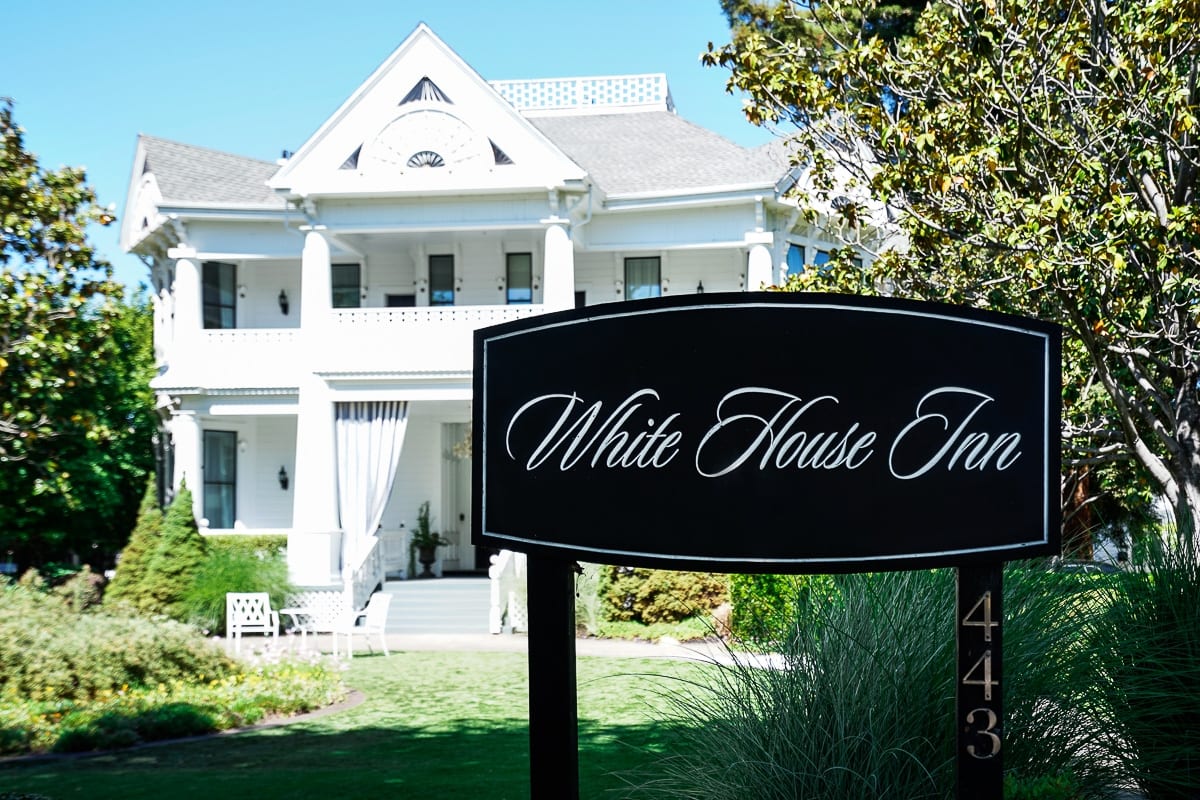 White House Inn Napa
443 Brown St
Napa, CA 94559
Reservations: (707) 254-9301
Discover More of Napa Valley