If you're looking for an amazing restaurant in Barbados during your travels, The Tides in Holetown should be at the top of your list. When visiting Barbados, I was blown away by how outstanding their restaurants were. I think we all want to enjoy a restaurant with exceptional seafood and breathtaking ocean views in the Caribbean. I assure you that The Tides in Holetown will check all of your boxes and then some!
The Tides in Holetown Location
The Tides is located in the city of Holetown which is in the parish of Saint James. This area is on the west side of Barbados and is the most exclusive and luxurious. Here you'll find the most amazing villas, resorts, private beaches, and fine-dining restaurants. During my time in Barbados, we stayed at Casablanca Villa which is one of the most luxurious Villas in Barbados. Holetown is about 20-30 minutes from Bridgetown and is definitely an area you will want to visit during your stay.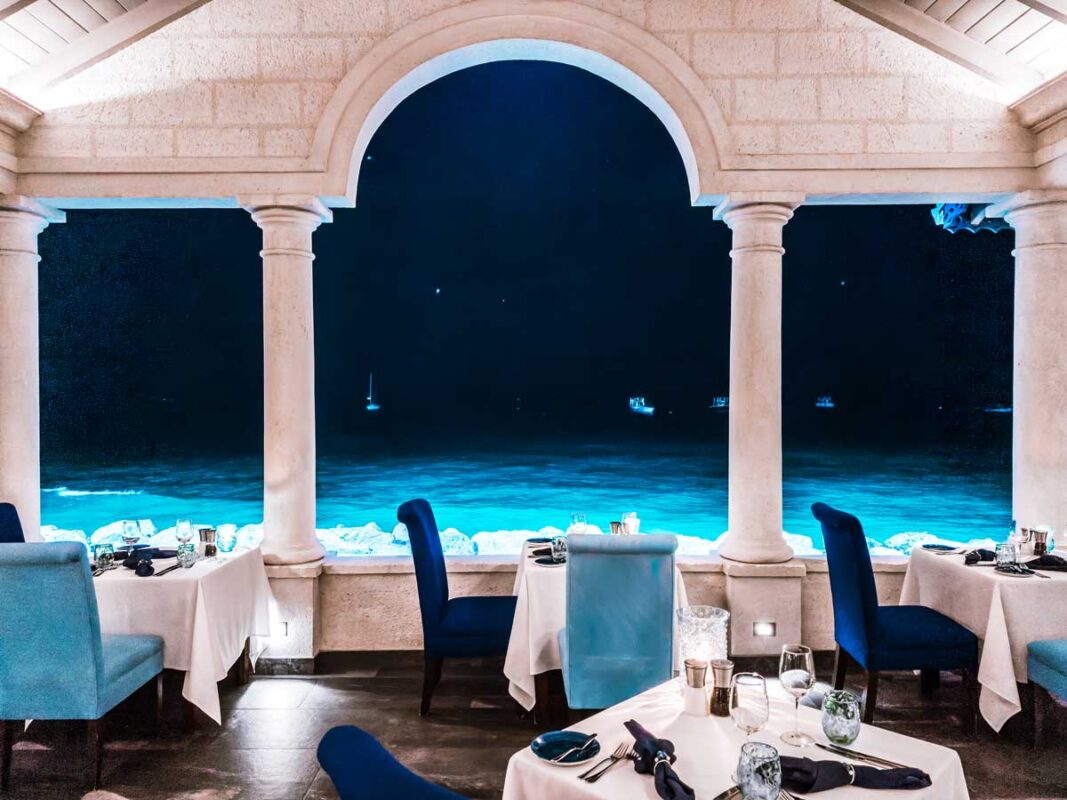 Ocean Front Restaurant in Barbados
As soon as you enter The Tides restaurant in Barbados, you'll immediately be captivated by the beautiful Mediterranean-style architecture with tall white columns framing beautiful ocean views. The restaurant is steps away from the water and while dining you can gaze upon the waves crashing against the rocky shores. In addition to the amazing views, next to the tables are large beautiful trees that have been preserved with the restaurant built around them.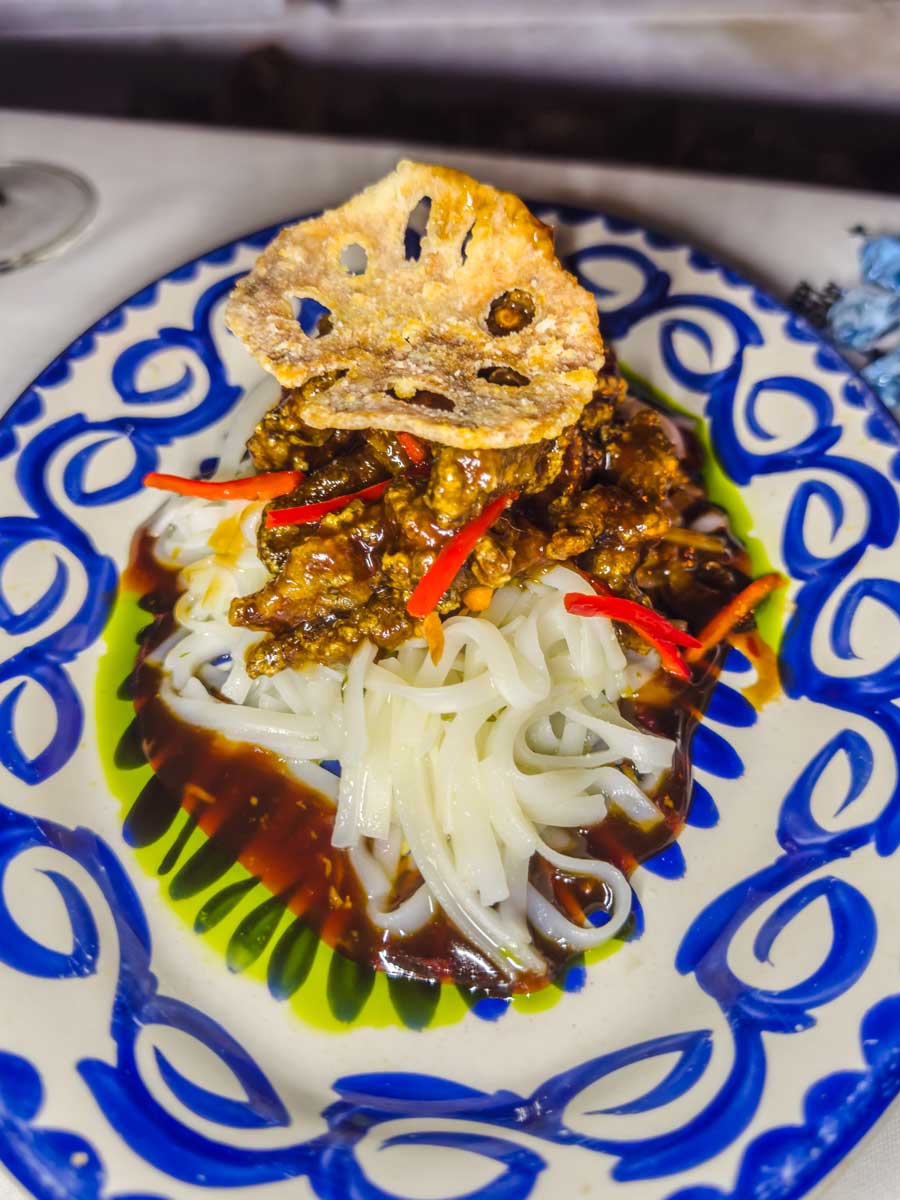 Crispy Chili Beef
The menu at The Tides offers the type of cuisine I would expect to find in many of the high-end restaurants in Southern California but with a Caribbean twist. For starters, we enjoyed the Crispy Chili Beef which was recommended by our server. I have to say my guest and I were so impressed by how wonderful this dish was and we quickly learned to always trust the server's recommendations.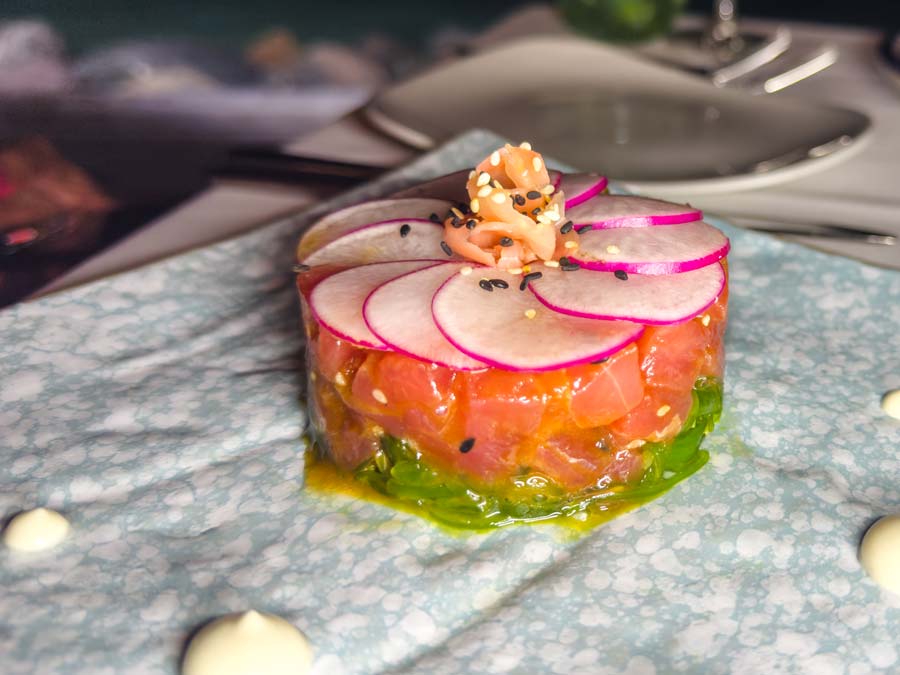 Tuna Poke
Next, we tried their Tuna Poke which was incredibly fresh and served on a seaweed salad topped with fresh radishes and ginger. Around the plate were a few dollops of flavorful aioli. This dish reminded me of what I would expect from my favorite restaurants in Southern California and was very similar to the ahi at Red O.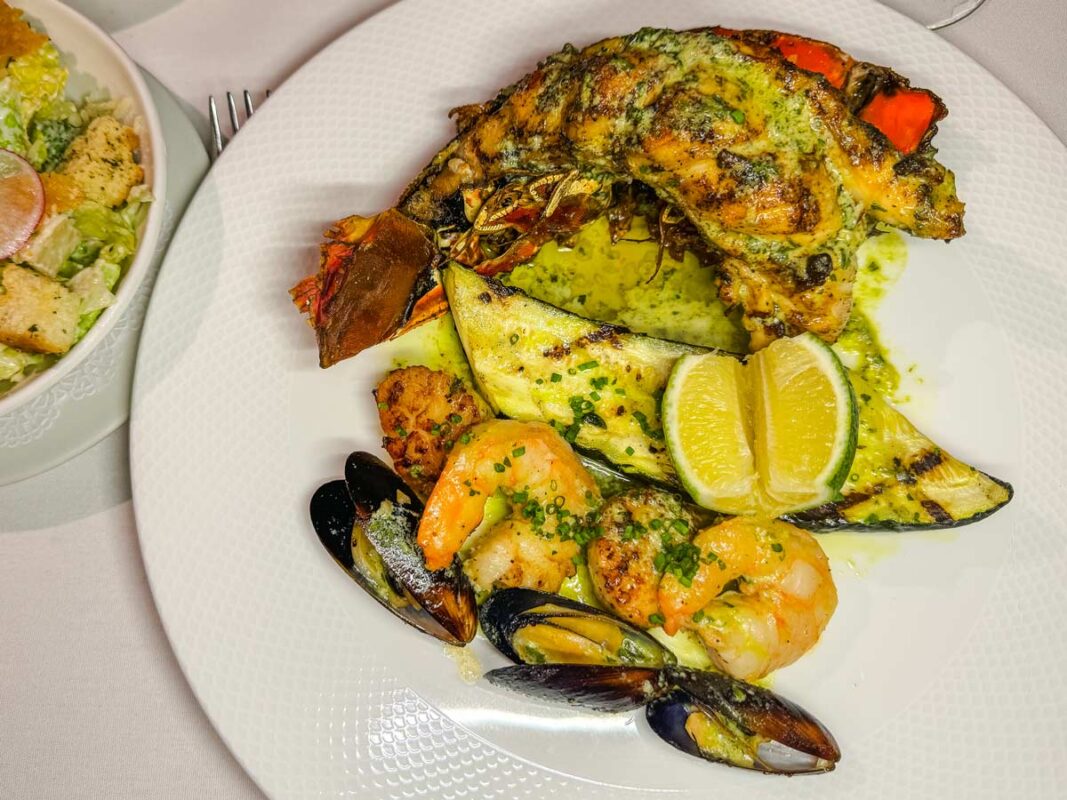 Caribbean Lobster Tails
For entrees, we both indulged in the grilled Caribbean lobster tails served with king scallops, mussels, shrimp, grilled zucchini, and a Caesar salad. This was some of the freshest lobster I've ever had. It tasted nothing like the lobster you would typically find in the US, even at fine dining restaurants. The lobster at The Tides in Holetown was plump, flavorful, juicy, and not fishy at all. What stood out the most however was the texture which was incredibly tender with no chewiness.
The portion size is so huge you will most likely have leftovers to bring back. During our stay in Barbados at Casablanca Villa we had an amazing private chef. He made us wonderful lobster and seafood omelets with our leftovers.
Live Music
If you want to immerse yourself in the music of the Caribbean, The Tideas offers live music throughout the week. Every Tuesday from 7:30 pm until 10:30 pm you can enjoy international saxophonist Arturo Tappin. Then vocalist Shadia will be serenading guests every Thursday from 7:30 p.m. to 10:30 p.m. Finally, steel pannist David Hutchinson will be playing his keys every Sunday from 12:30 p.m.
Even if you're staying at a resort, I highly recommend visiting the restaurants on the island. I was not expecting the cuisine to be nearly as amazing as it was. The Tides in Holetown is easily one of the best restaurants in Barbados with amazing fresh seafood and gorgeous views. I guarantee you will not be disappointed.
The Tides Contact Information
Balmore House
Holetown, St.James, Barbados
Phone: +1 (246) 432 8356
Reservations: reservations@thetidesbarbados.com