Posts may contain affiliate links. Read our full disclosure policy here.
The Sapphire Laguna Beach brunch has just become my new favorite weekend indulgence. Their brunch menu is more fantastic than I could have even imagined. This should be of no surprise however since Russ Bendel took over in 2020. Sapphire is now part of the same restaurant group that belongs to Olea in Newport Beach, Ironwood in Laguna Hills, and Vine in San Clemente. If you enjoy one-of-a-kind brunch selections, creative mimosa flavors, and farm-fresh dining, then the Sapphire Laguna Beach brunch is your perfect weekend escape.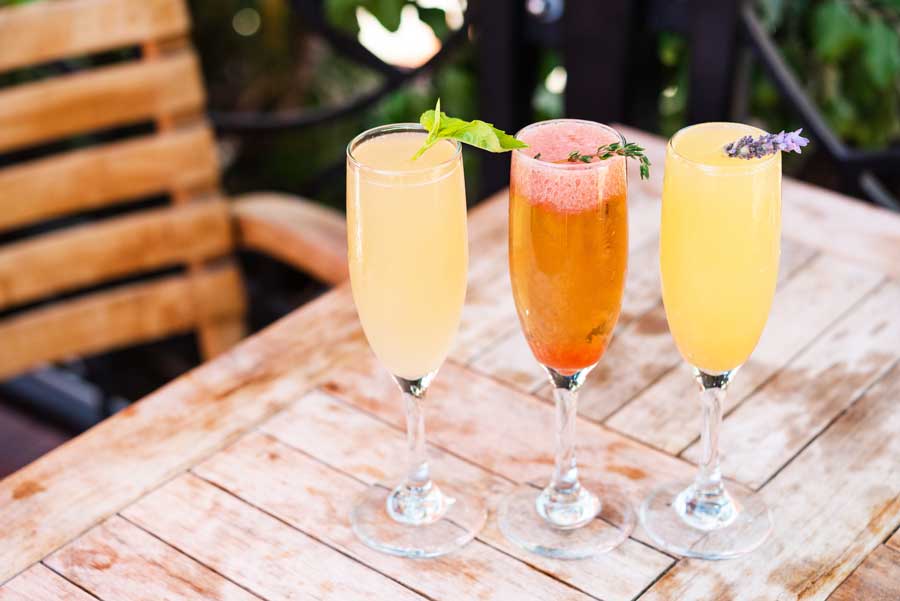 Sapphire Laguna Beach offers three mimosas with clever and unique flavor combinations.
First, every fabulous brunch should begin with sparkling mimosas. Sapphire offers 3 specialty mimosas that are both unique and delicious with clever flavor combinations. My personal favorite was the Passion Fruit, Orange, and Guava Mimosa which was like an island get-away with bright tropical notes. My girlfriend enjoyed the Strawberry & Thyme Mimosa which was the sweetest out of the bunch. Then, we had the Ruby Grapefruit & Sweet Basil Mimosa which was more subtle in sweetness with tangy citrus flavors.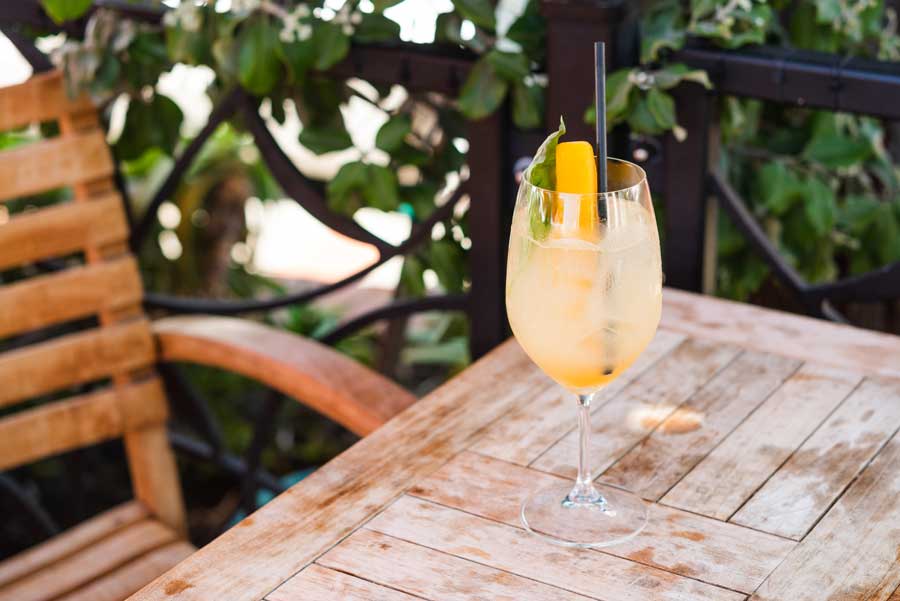 We also enjoyed the popular Patio Pounder. It comes in a generous glass with vodka, Meyer lemon, sweet basil, and champagne. It also has a fun tangerine popsicle ice cube that makes for the perfect ocean background brunch photo!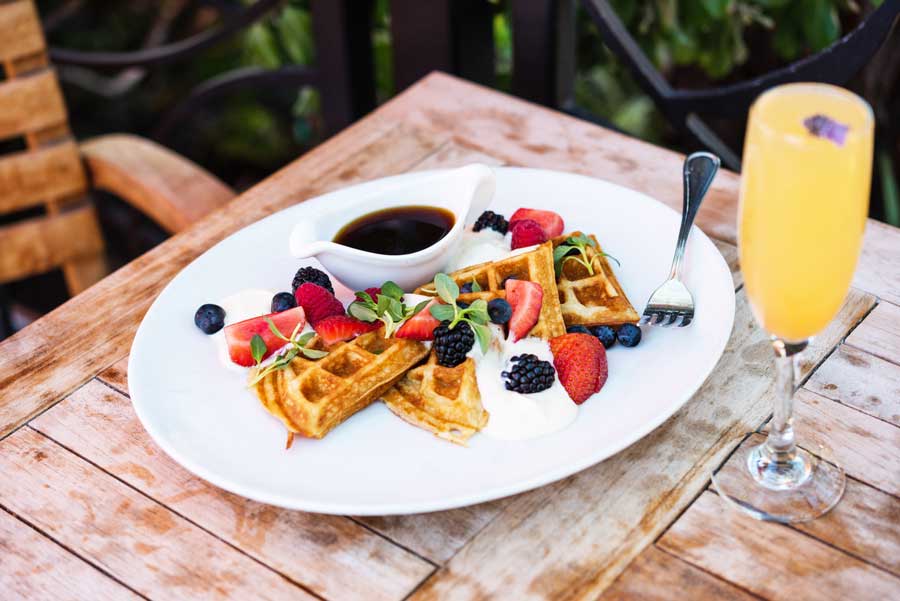 Guests are obsessed with the Lemon Creme Fraiche & Nutella Waffles!
For entrees, we started our brunch with their Meyer Lemon Crème Fraiche Waffles, and, of course, the irresistible Nutella Waffles. The lemon waffles are a Sapphire brunch favorite! They come with four fluffy waffles, a side of warm bourbon maple syrup, and are topped with a variety of fresh berries. The star of the dish was the zesty lemon cream which complimented the waffles perfectly.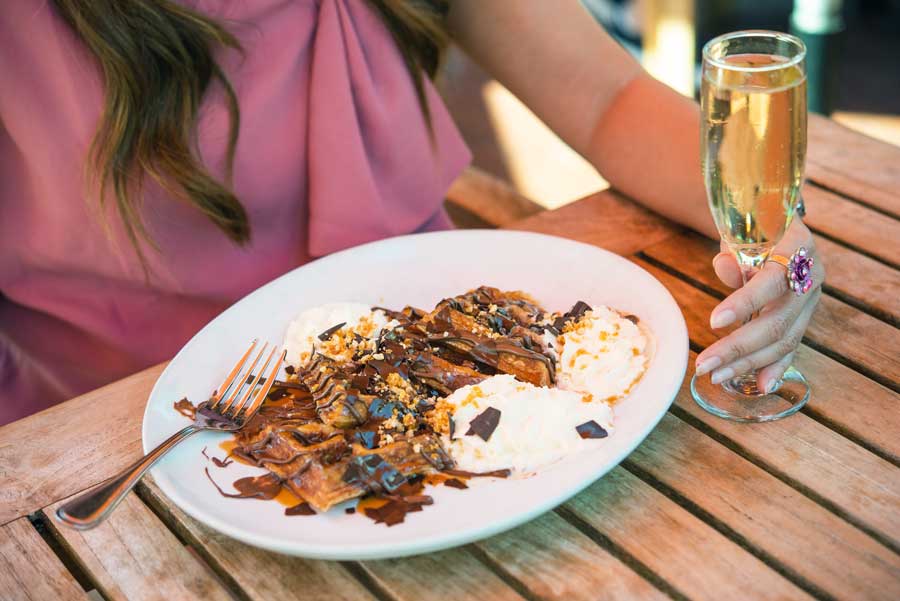 The Nutella waffles, on the other hand, are perfect for those with a sweet tooth. The waffles arrive drizzled with Belgian dark chocolate and sea salt caramel. They are then topped with a candied hazelnut crumble and generous dollops of sweet Tahitian vanilla whipped cream. If Ferrero Rocher was served for brunch, they would be these amazing Nutella waffles from the Sapphire Laguna Beach brunch menu.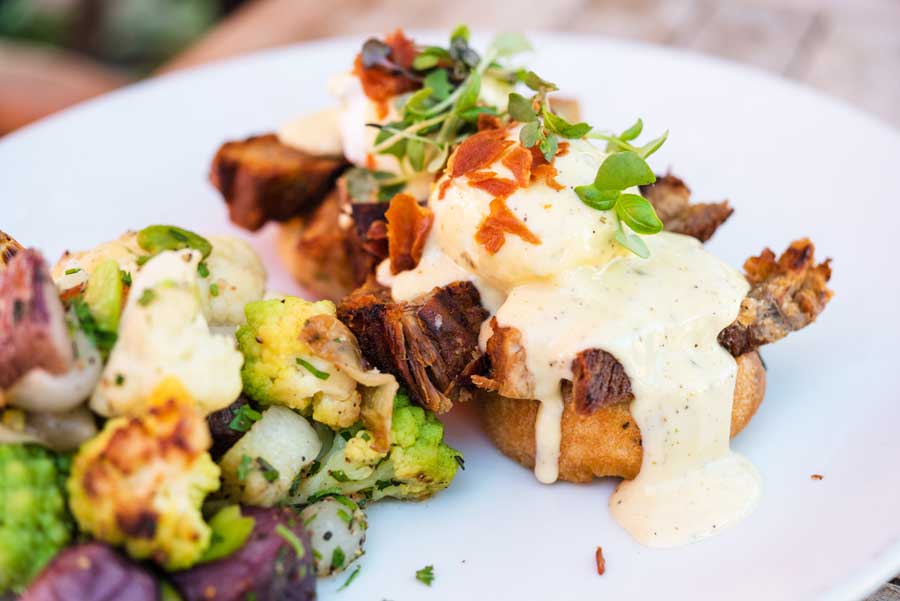 The Kurobuta Pork Belly Benedict will keep you going back for years to come.
Next, we enjoyed a twist on the classic eggs benedict, the Kurobuta Pork Belly Benedict. This benedict variation is the best I've had so far. It features thick slices of pork belly laid on housemade rosemary focaccia, with a perfectly poached egg. The entire benedict is then drenched with a decadent champagne bearnaise.
The pork belly slices were extra meaty compared to cheaper cuts you may have experienced that are primarily all fat. Additionally, the small slivers of fat that were present were crisped to perfection and almost reminiscent of eating a pork grind.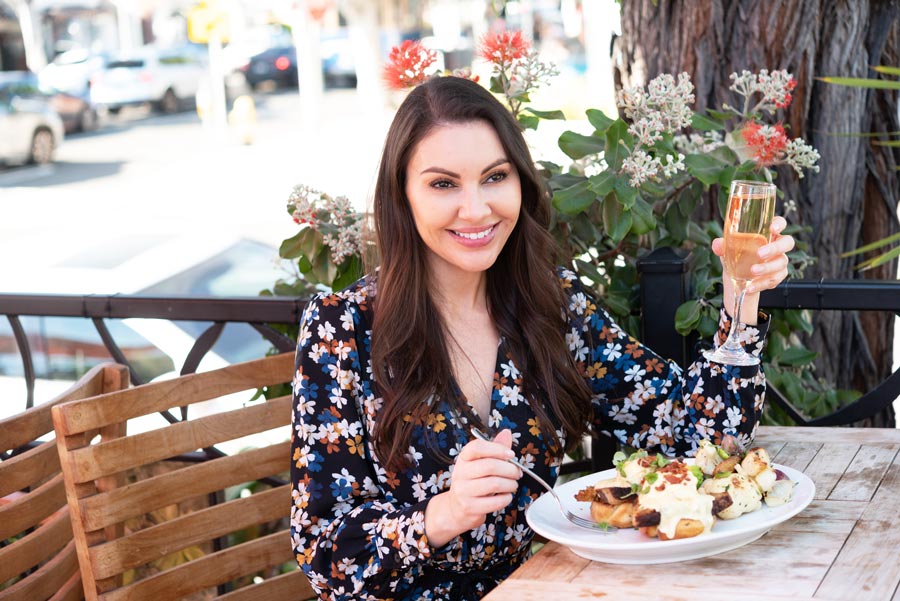 The homemade rosemary focaccia was also a wonderful unexpected twist to traditional English muffins or biscuits. The focaccia was light and fluffy with a buttery finish. Fresh rosemary flavor added an additional welcome element to the dish. We also appreciated the fresh market-to-table roasted vegetables that are a signature of Russ Bindels restaurants. This benedict was perfection and one of those special dishes that we'll keep you visiting the Sapphire Laguna Beach for years to come.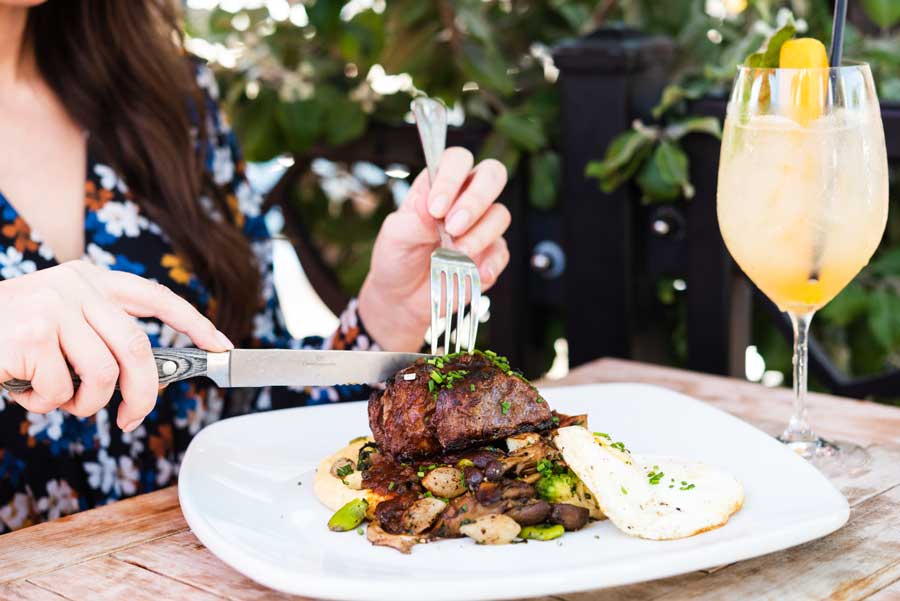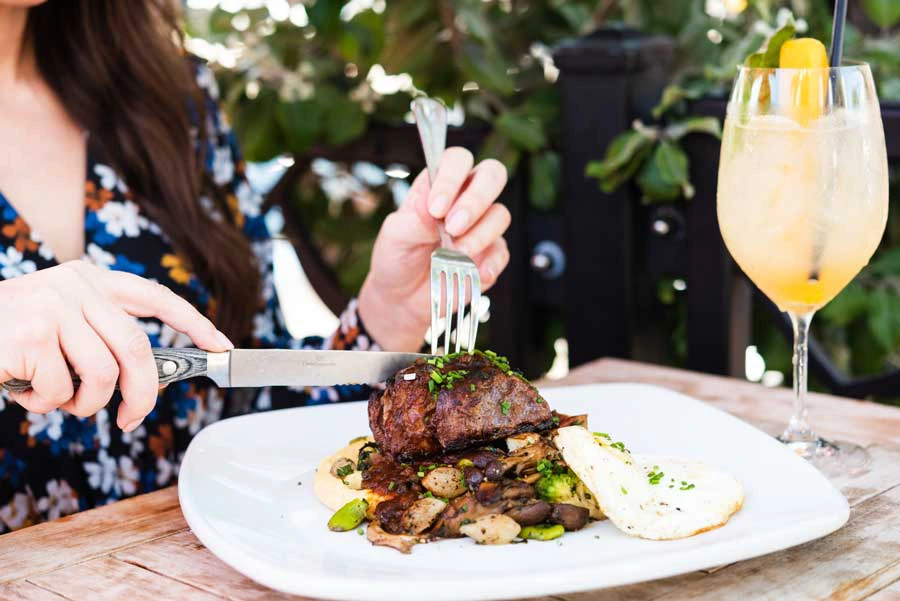 Double R Ranch Filet Mignon with Cage-Free Fried Eggs
Most exceptional brunches offer a steak and eggs entree, but the Sapphire Laguna Beach brunch takes this to another level. Their Double R Ranch Filet Mignon with Cage-Free Fried Eggs is one of the most tender and flavorful steaks you'll find. This hearty dish is prepared with a green peppercorn-cognac reduction and served with wild mushrooms, market vegetables, fresh romanesco, and creamy Fromage blanc grits.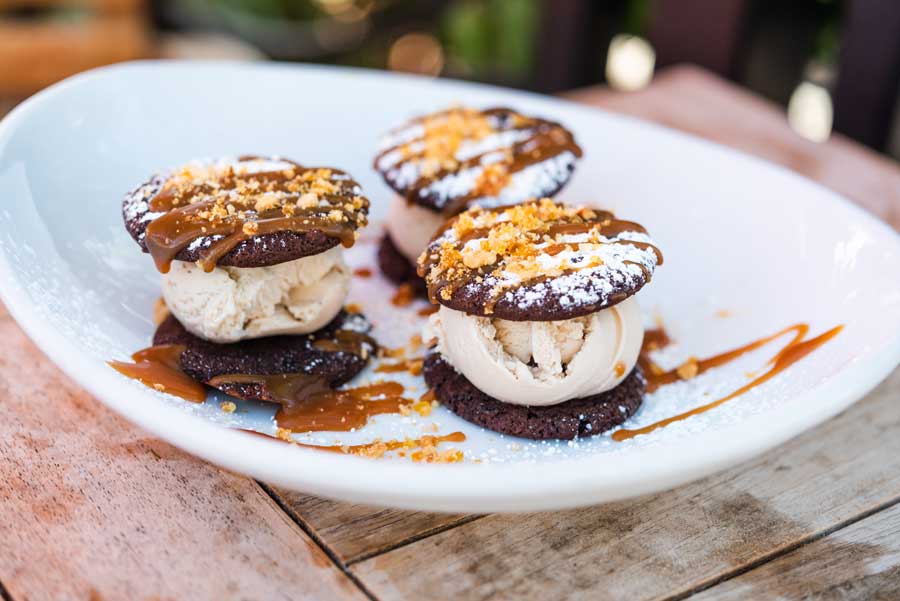 The mouth-watering Dark Chocolate Chunk & Fromage Blanc Dessert Cookies
Lastly, for dessert, I was so thrilled to see they had the Dark Chocolate Chunk and Fromage Blanc Cookies on their menu. This is one of my all-time favorite desserts and I couldn't imagine leaving without them. These Fromage blanc cookies are sandwiched between a peanut butter cup gelato and then topped with Spanish peanut crumbles. This is a dessert that I recommend everyone try on their next visit if you haven't already.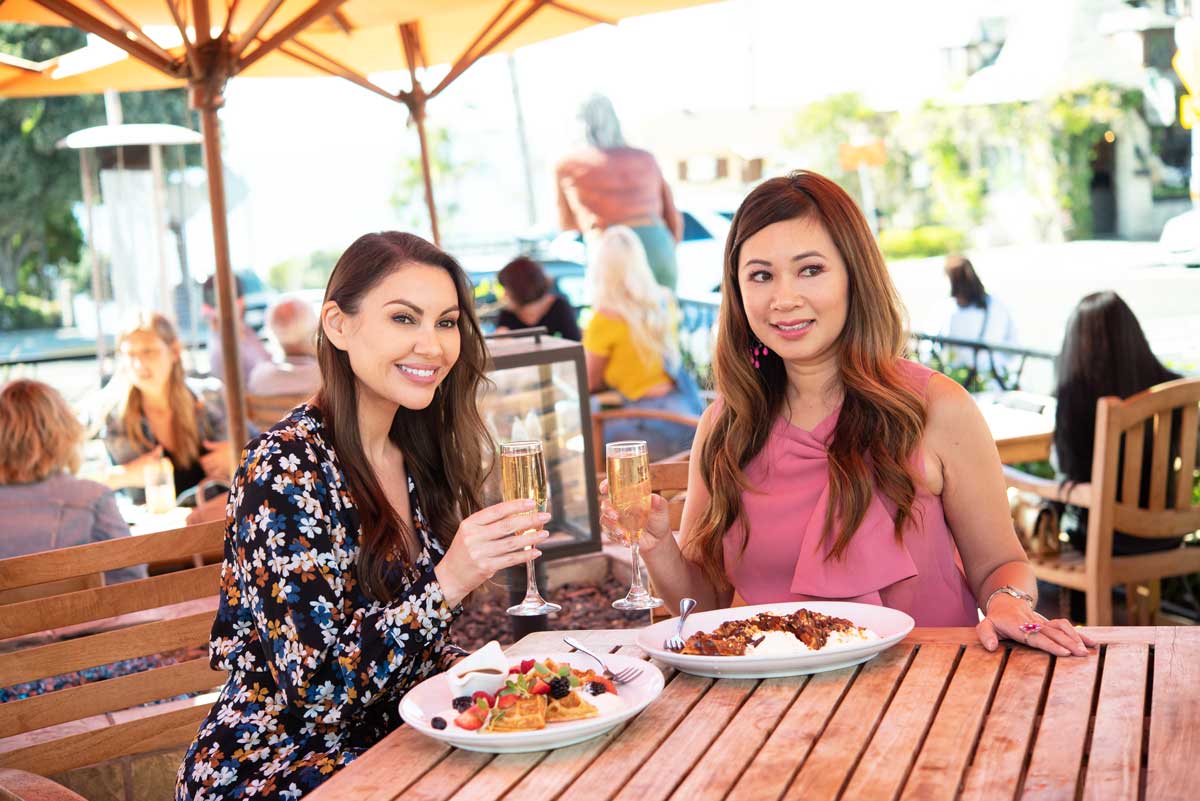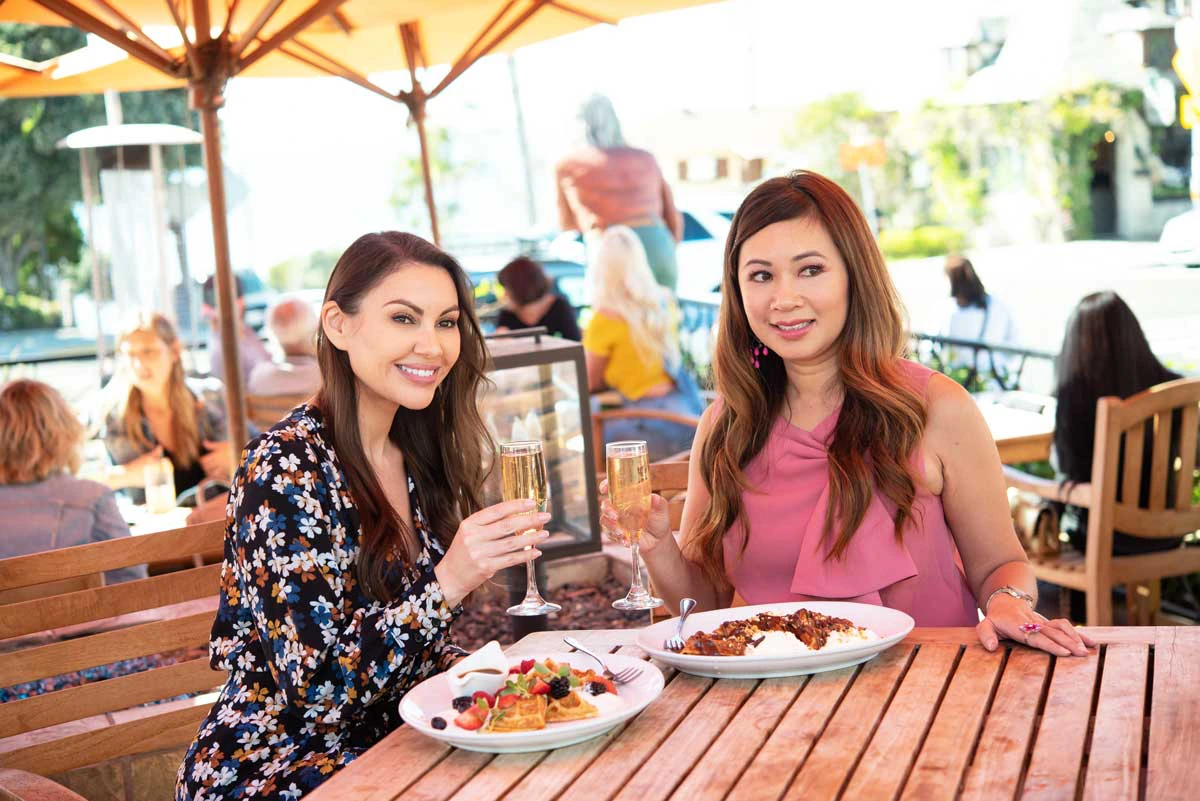 Sapphire Laguna Beach brunch is available weekends from 10am – 2:30pm.
The Sapphire Laguna Beach brunch is a welcome addition to this ocean-front dining community. Their entire menu is exceptional. Sapphire restaurant is nestled on the corner of 1200 South Coast Highway and Brooks St. in the heart of Laguna Beach. They have a bustling patio with a sneak peek ocean view and a modern lounge interior area with bar seating. Brunch is served Saturday and Sunday from 10am – 2:30pm.
Nextdoor to Sapphire Laguna Beach, you'll also find The Pantry with quick and easy take-out options, to-go cocktails, pastries, and crafted espresso beverages.