On June Monday, June 19th and Tuesday, June 20th, Sushi Roku Newport Beach will be celebrating their 2yr anniversary and National Sushi Day by offering 50% off their entire food menu. Guests can also enjoy an exclusive Anniversary Menu offering a la carte specials designed to showcase the unparalleled sushi experience for which the restaurant is known.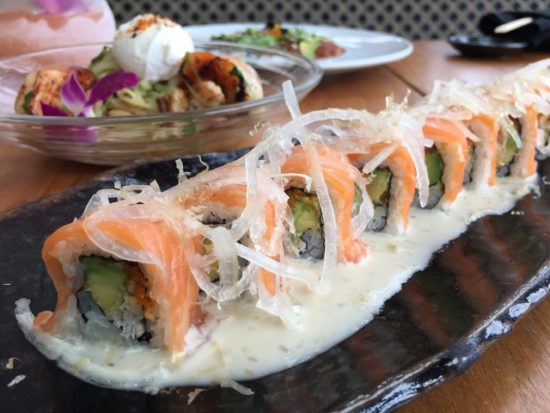 Sushi Roku's Newport Beach Exclusive Anniversary Menu is available June 12th-20th and includes:
Uni Toast – Japanese Bread, Uni, Japanese Garlic Butter Sauce, Red Caviar, Green Caviar, Black Caviar
Tuna Pizza – Flour Tortilla, Marinated Tuna, Spicy Tuna, Wasabi Aioli, (Bacon or Crispy Mushroom), Balsamic Reduction, Chili Serano, Kaiware Sprouts
Bamboo Seafood Risotto – Bamboo Rice, Prawns, Calamari, Scallops, Shimeji Mushrooms, Butter Shallot Chicken Stock, Reggiano Parmesan Cheese, Black Truffles
Kuma Roll – Crab mix, Avocado, Smelt eggs, Salmon, Maui onions, Bonito flakes, Roasted garlic onion sauce
Summer Ramen – Bincho Grilled Prawns (Garlic, Salt and Pepper), Cucumber, Micro Cilantro, Poached Egg, Crispy Mushroom, Baby Frisee, Miso Sesame Soy Sauce, Ramen Egg Noodles
Anniversary Roku Fusion – Svedka Vodka, Pineapple, Honeydew, Cantaloupe, Watermelon Dry Ice, served with a bamboo straw
Carnival Cake – Cotton Candy, New York Cheese Cake, Strawberries, Bacardi 151 Rum
Guests will also have an opportunity to experience craft cocktail, sake and wine pairings to complement the menu. Executive General Manager and Sake Sommelier for the restaurant, Eiji Mori, curates an extremely selective sake menu that embodies the complex flavors and aromas that define craft sake. Sushi Roku has been recognized for its vast selection of sakes in all styles and price ranges. Its Sake Program offers a greater variety of 300ml bottles. Guests have the opportunity to discover and explore a wide variety of sake, from traditional Junmai, Ginjo, and Daiginjo, to more playful options, including flavored sakes and Nigori, and sparkling varieties. The restaurant's wine list specializes in labels from around the world that pair well with Japanese cuisine: crisp whites, including bottles of premium French Champagnes, and full-bodied reds.
Sushi Roku Fashion Island is located at 327 Newport Center Drive in Newport Beach (adjacent to Macy's, across from True Food Kitchen). For more information about Sushi Roku's menu and other locations, visit www.sushiroku.com.