The Taste of Knotts at Knotts Berry Farm is taking place each weekend through September 13th, 2020. Guests will be able to enjoy pre-purchased tasting cards to sample a selection of 5 food or beverage options from over 35 tasty items located throughout the park. Since we were unable to celebrate the Boysenberry Festival this year, Knotts Berry Farm brought us the perfect event to enjoy the rest of the summer. They introduced several new food and beverage selections this year so lets take a look at some of the best bites from Taste of Knotts.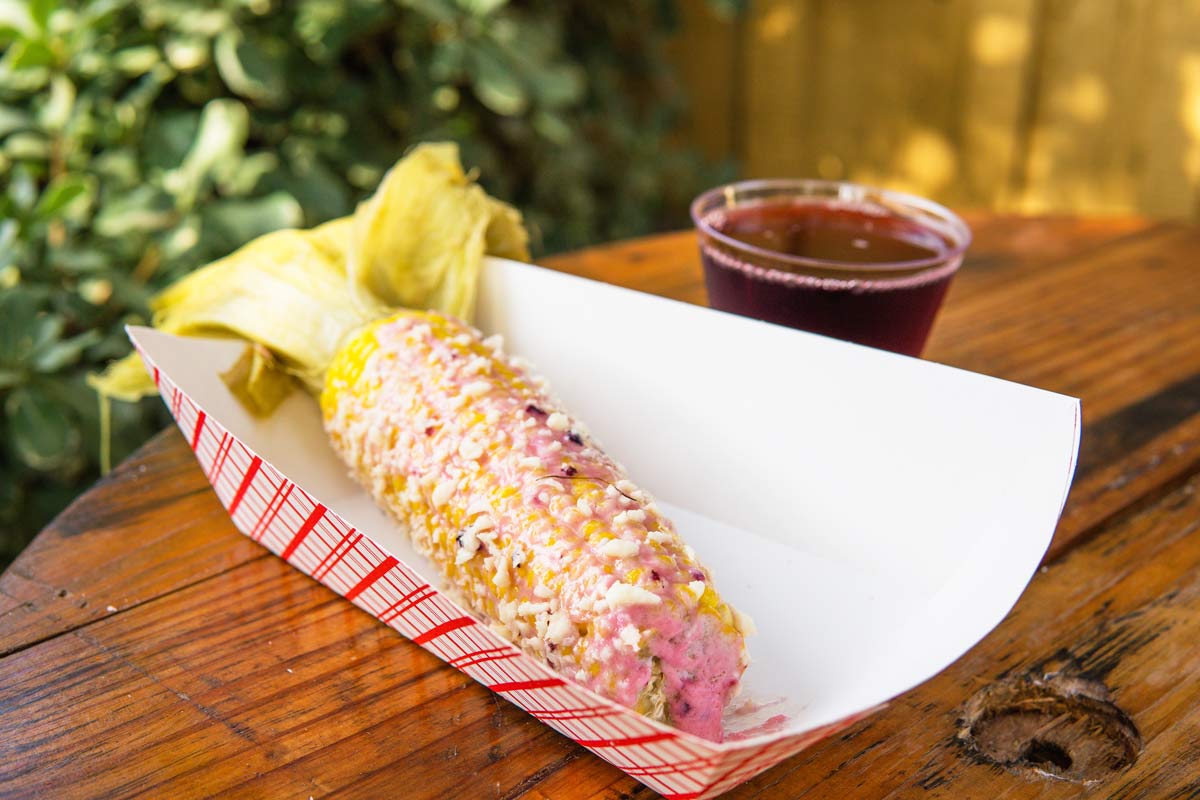 Before we get into my new favorites from this year, Knotts offered several favorites from previous food events. Luckily this included two of my absolute favorites, their Louisiana Style Pork and Beef Sausage on a Hogie and the Elote with Boysenberry Butter Mayo and Cojita Cheese. Both of these can be found in Ghost Town at the Firemans BBQ. The Elote is one of my favorite items from the Knotts Berry Farm food festivals and is a must try!
New from Taste of Knotts is the Boysenberry Battered Chicken Tenders and Waffle with Fire Honey
The Taste of Knotts has introduced a handful of new items including Loaded Tater Tott with pulled pork, Chili with a boysenberry cornbread muffin, and Homestyle Mac & Cheese. However, one of my favorite new items is their Boysenberry Breaded Chicken Tenders on a Waffle with fire honey. This was so tasty I didn't even want to share. I hope they keep this item on their list for every future food event!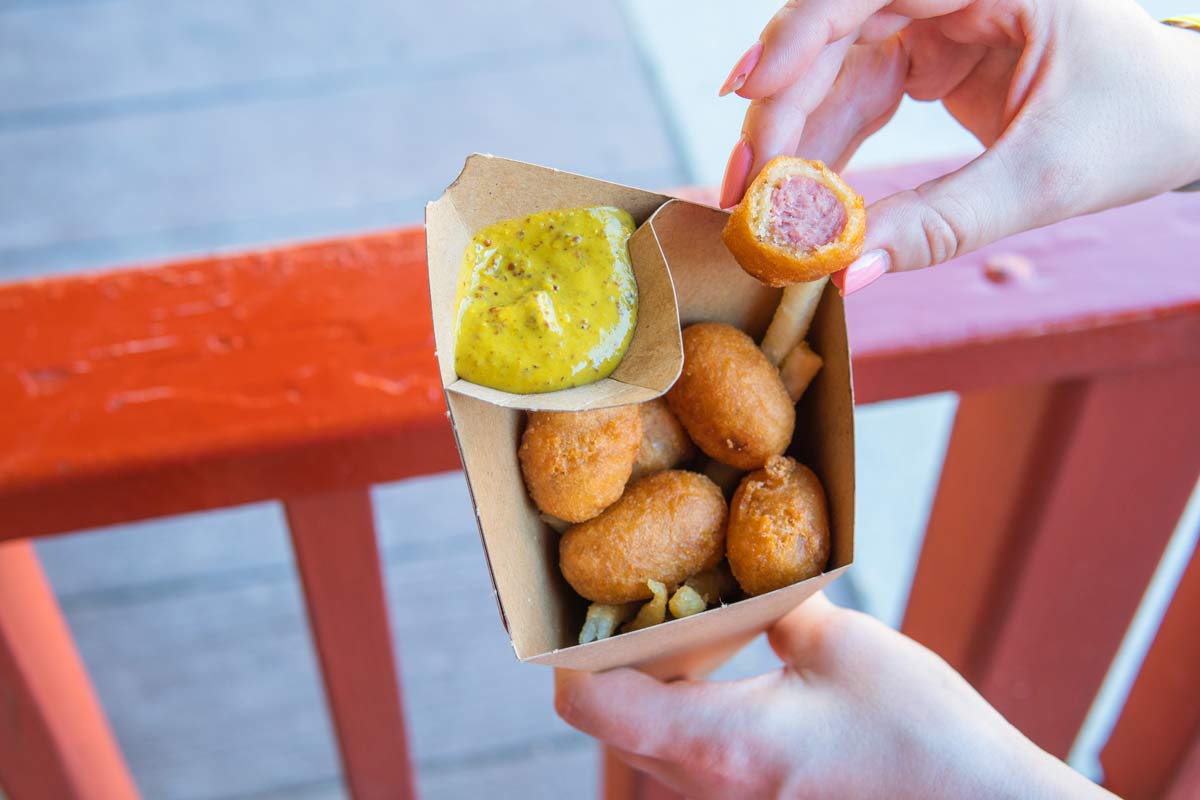 Another new item that had my taste buds jumping for joy. The Mini Corn Dogs with Fries and Boyseberry Mustard is a must try. Oh my gosh did it hit the spot. Each little corn dog was perfectly crispy on the outside and that boysenberry mustard just took it to the next level. Even the fries were so good. They were pipen hot and so fresh. I missed all of my favorite summer event this year including the OC Fair. My heart really needed those precious little corn dogs.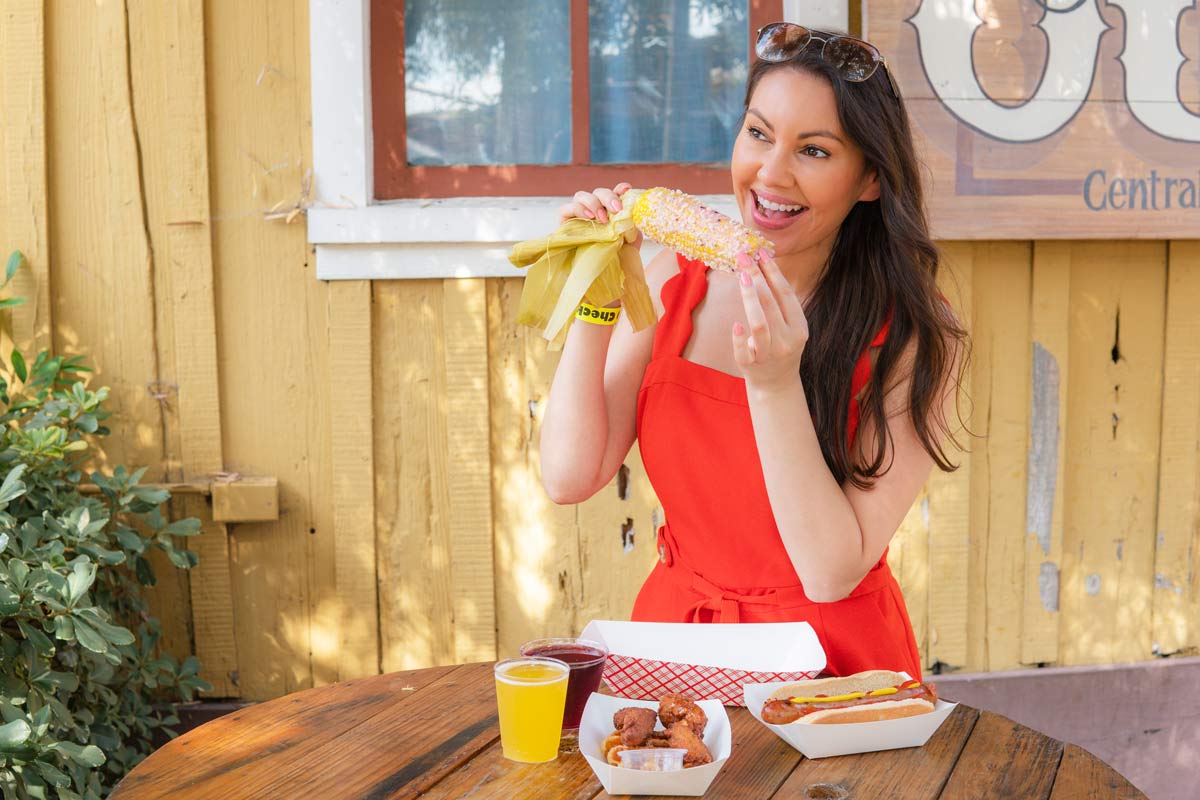 In addition to all the amazing food options, Taste of Knotts did not disappoint with the drink selection. There is a huge selection of both non-alcoholic and alcoholic beverages to choose from. Throughout the park you'll find the new Boysenberry Smoothie, Watermelon Lemonaide, and Boysenberry Basil Lemonade. I, of course, went straight for the alcoholic beverages and enjoyed the new Boysenberry Sangria and Mango Cider. Both were delicious and refreshing!
Knotts Berry Farm also has a great selection of desserts to choose from.
Finally, Knotts Berry Farm did not forget about dessert. Taste of Knotts offers a selection of new sweet treats throughout the park for their tasting cards. I opted to try the funnel cake fries with strawberry dipping sauce and the Fried Boysenberry Pie Bites. The truth is by the time we were ready to try dessert I was so stuffed. These "samples" are generous. After stuffing my face with elote, chicken & waffles, half of a suasage, sangria, and mango cider, I could only manage a few bites of dessert. They also have French Toast Churros and a Blueberry Lemon Cookie with Vanilla Icecream sandwhich.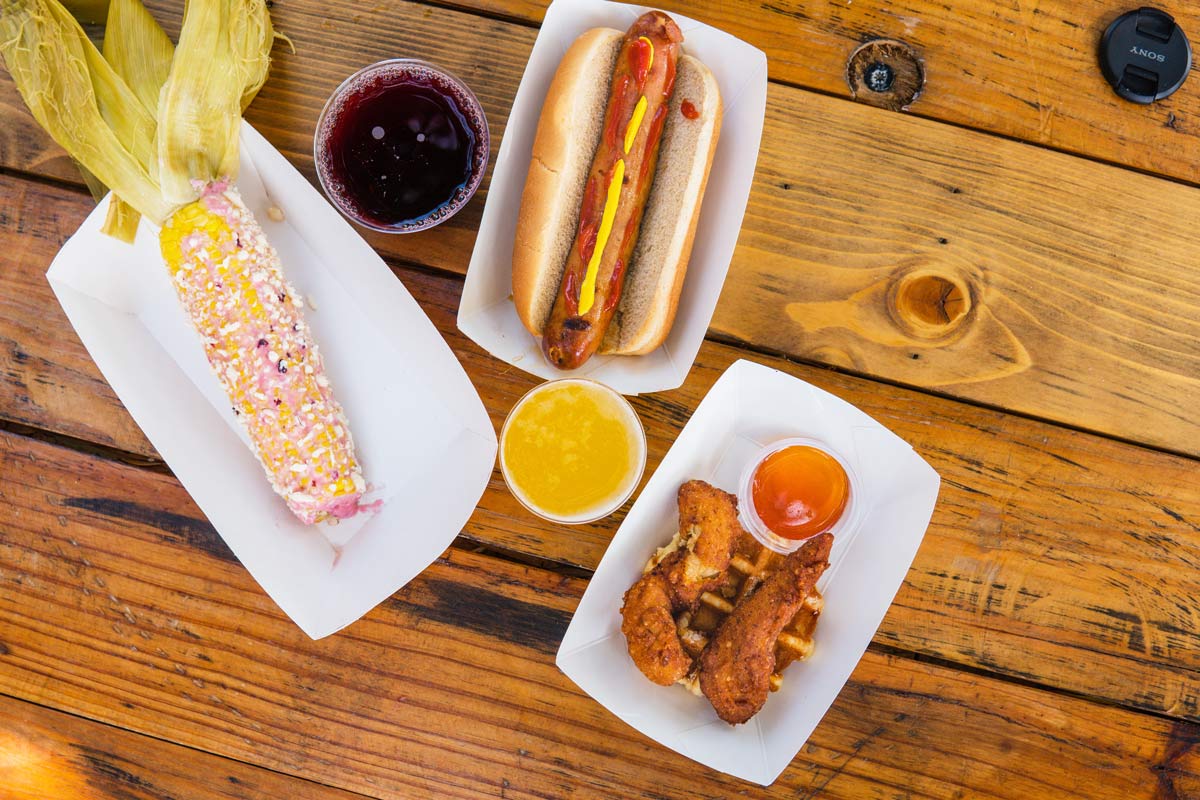 Taste of Knotts was amazing and exactly what I needed after being stuck at home for almost 5 months. Did I mention I am also in the middle of a home renovation and have no kitchen! I could not believe how many food choices were available throughut the park. Adult tasting cards are only $30 for 5 tastings and required for entry. You can visit https://www.knotts.com/play/events/taste-of-knotts for more information as well as an online map.