Posts may contain affiliate links. Read our full disclosure policy here.
Sundays are made for delicious cuisine, sparkling wine, and the Wilson Creek Temecula brunch. If I could plan my perfect Sunday brunch, Wilson Creek would check every box, and boxes I didn't even know needed checking. My life will never be the same now that I've tried their Ultimate Wine Slushy. I'm obsessed with everything on their menu from the steak and eggs to the homemade Focaccia. If you're looking for the ultimate Temecula brunch destination, Wilson Creek is hard to beat.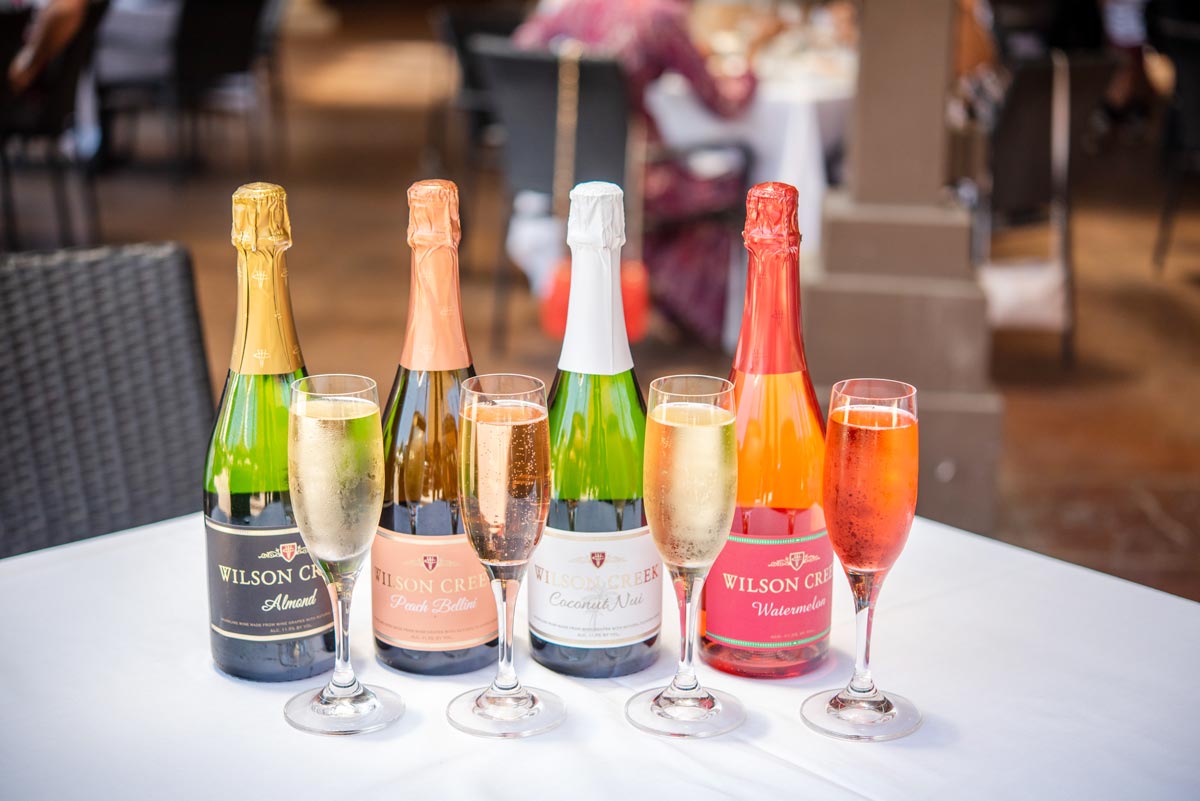 Temecula has long been one of my favorite wine country escapes. It's always underrated among hard pressed winos and never gets the credit it deserves. However, Temecula is incredibly charming with miles of beautiful vineyards as far as the eye can see. Unlike many other wine country destinations, all of the wineries in Temecula are nestled in their own community, one after the other. You can spend hours hoppings from one winery to the next.
The Sparkling Wines are a must!
I decided for my birthday, that I wanted to enjoy the perfect Temecula brunch in wine country and Wilson Creek was at the top of my list. Whenever I am at an outdoor Wine and Food Festival, I immediately head to the Wilson Creek booth for a refreshing glass of sparkling wine to quench my thirst. Brunch really is not complete without a little sparkly, so as soon as we arrived, we ordered a glass of several flavors to sample.
I remembered the Watermelon Sparkling Wine from the LAWineFest and the Almond Sparkling Wine is what they're known for. Then we also tried the Coconut Sparkling Wine and Peach Bellini. It was my birthday brunch and we weren't holding back. As I could have predicted, they were all delicious.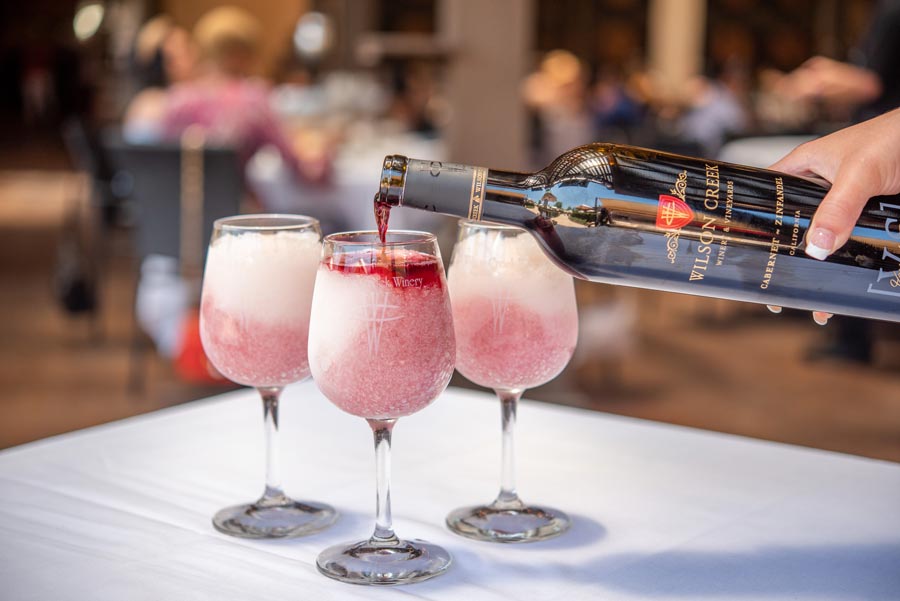 The Wine Slushie is Life Changing!
Then the manager told us about their amazing Wine Slushies and my life will never be the same. You know when you visit a restaurant and try something so delicious you cannot stop thinking about it, counting the days until you can return? That is what will happen when you have your first sip of the Wilson Creek Wine Slushy, a frozen swirl of Bellini and Almond Sparkling Wine, with a red wine topper of their fabulous Carbnet Zinfandel Blend.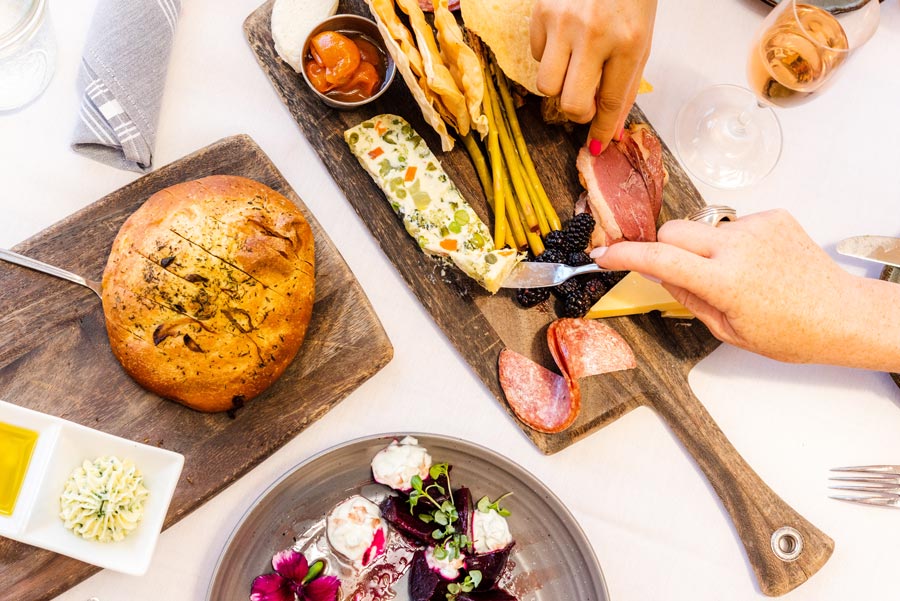 Epic Cheese and Charcuterie Board
For starters, we had to order an epic Cheese and Charcuterie Board. This unique board features a few additions that are not common on most boards such as the vegetable terrine (quiche with cottage cheese) and the most fabulous duck prosciutto. It was absolutely delicious and the perfect start to our Temecula brunch day.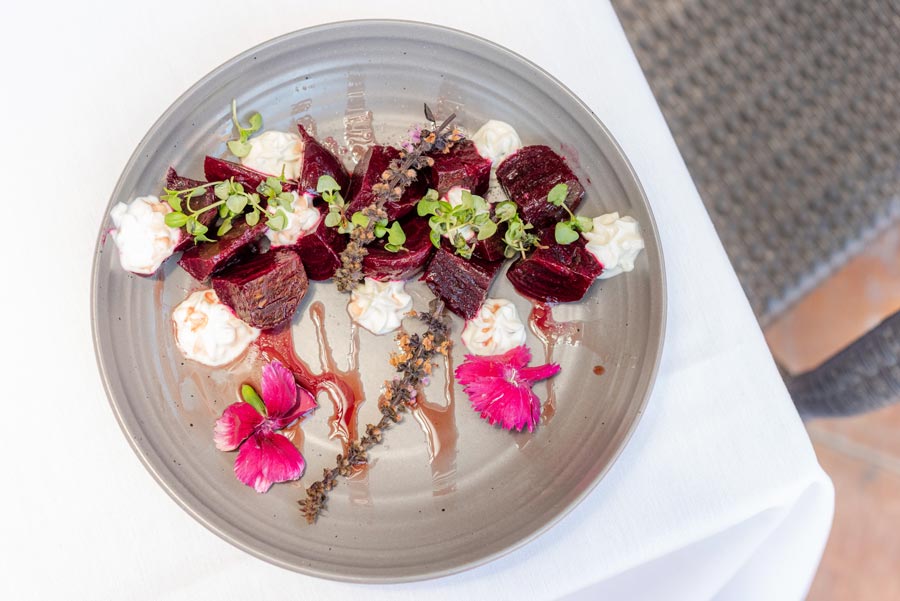 Beet Caprese with whipped goat cheese
I also love fresh beets so we enjoyed their Beet Caprese with roasted beets, whipped goat cheese, basil, roasted garlic olive oil, red wine reduction, and Okinawa sea salt. They were absolutely perfect and refreshing.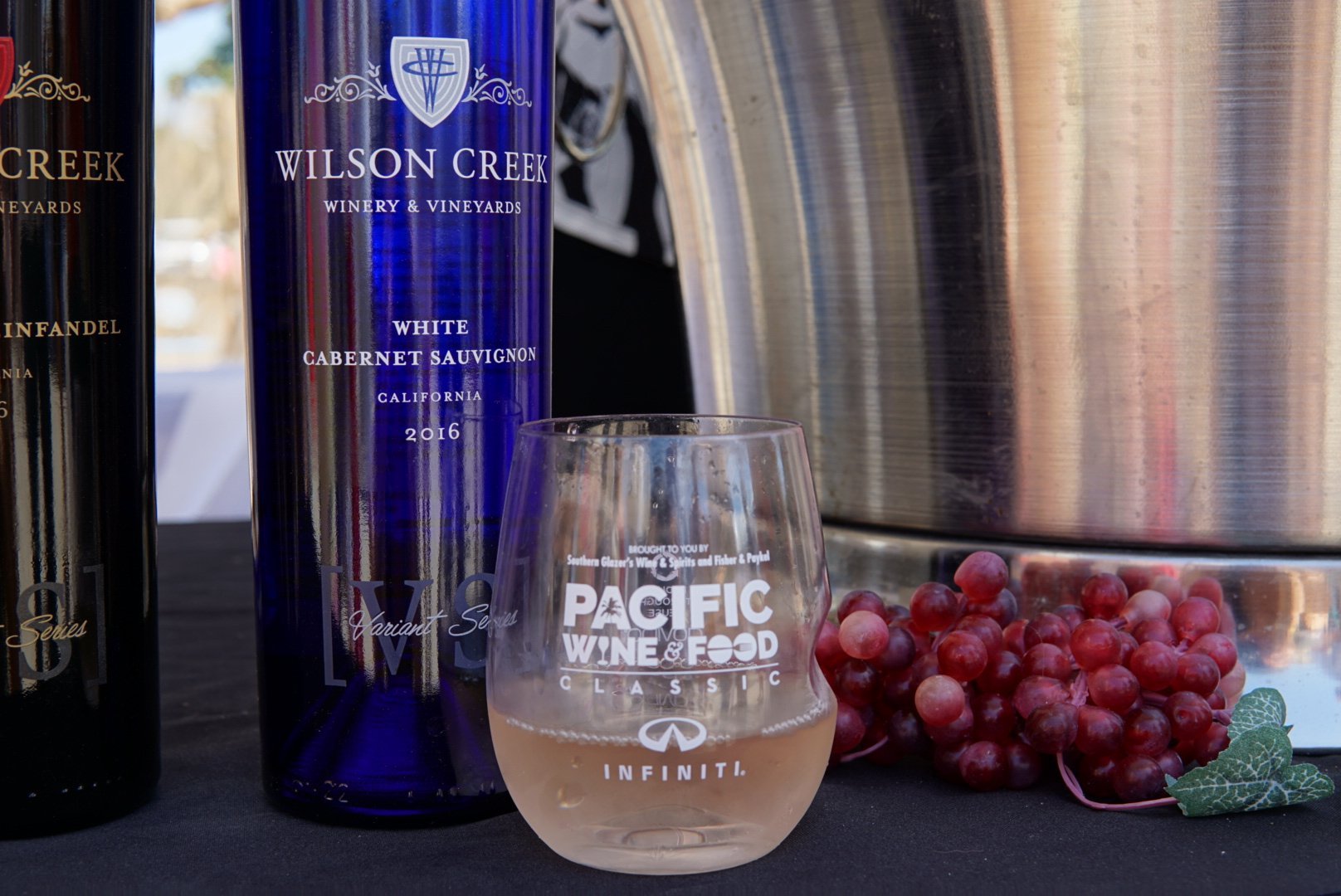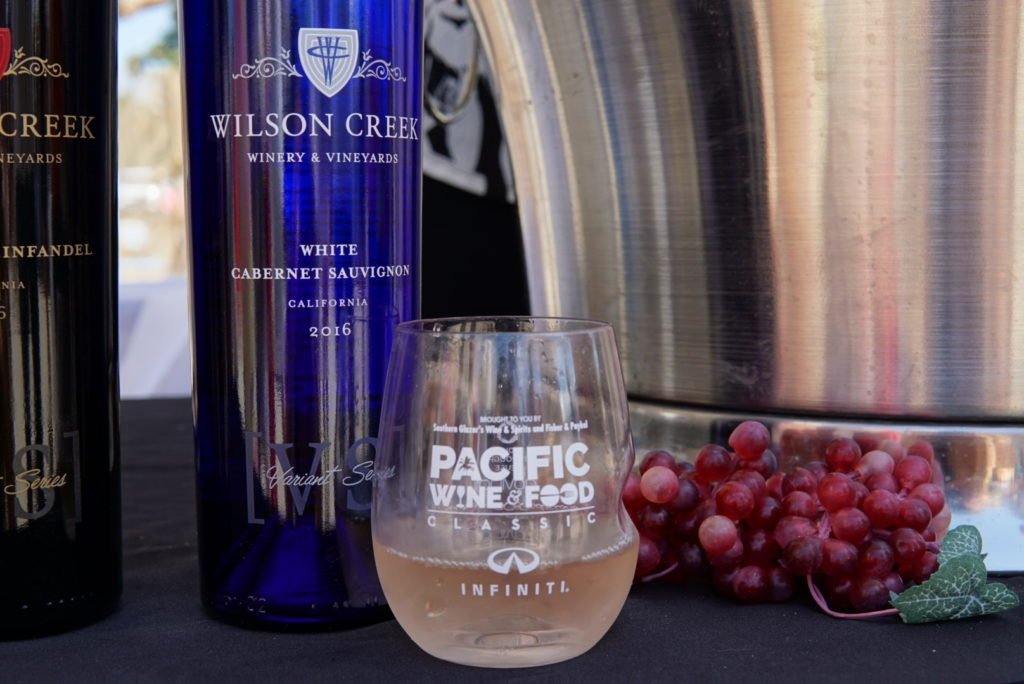 The White Cabernet Sauvignon is a game changer.
To pair with our delicious charcuterie board, we decided to try their White Cabernet Sauvignon. This is such a special wine and a total game-changer. I normally never drink white wine as I can taste the headache the moment I take my first sip. However, the White Cabernet Sauvignon is not processed like a typical white wine.
I remember trying this wine at the Pacific Wine and Food Classic in Newport Beach and they explained that the grapes are gently pressed so they have less contact with the skin leading to a beautiful light blush coloring.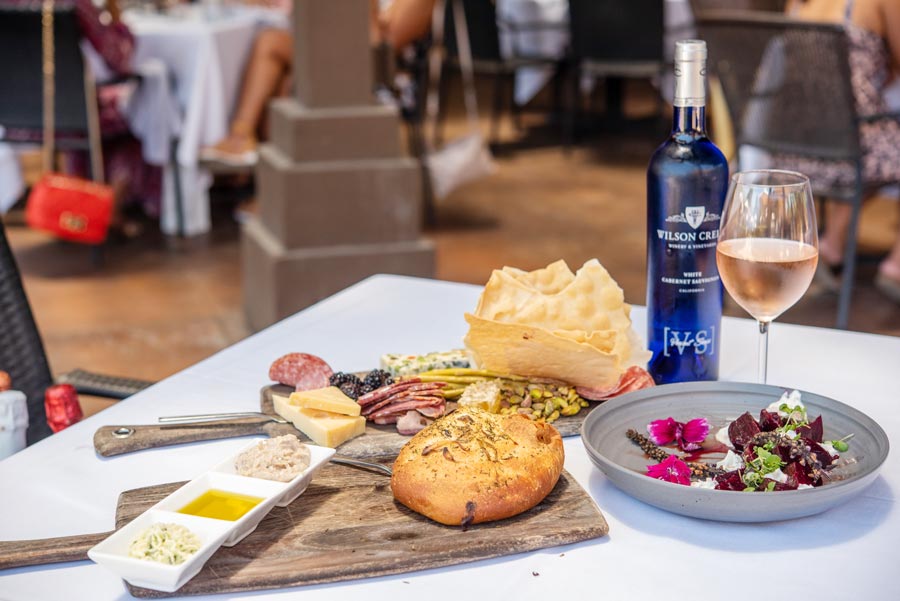 The Focaccia is a guest favorite.
One item that I hadn't considered ordering was the fresh-baked Focaccia. That is until I walked past a table who ordered it and saw how amazing it looked (by the way, I make an amazing gluten free focaccia)! This Focaccia is a favorite among guests and for good reason. It is insanely delicious and served with green goddess butter, roasted garlic oil, and artichoke pesto.
I could have been completely happy just sitting on the grass overlooking their vineyards with a loaf of that focaccia and a bottle of their red cab blend.

Sondra Barker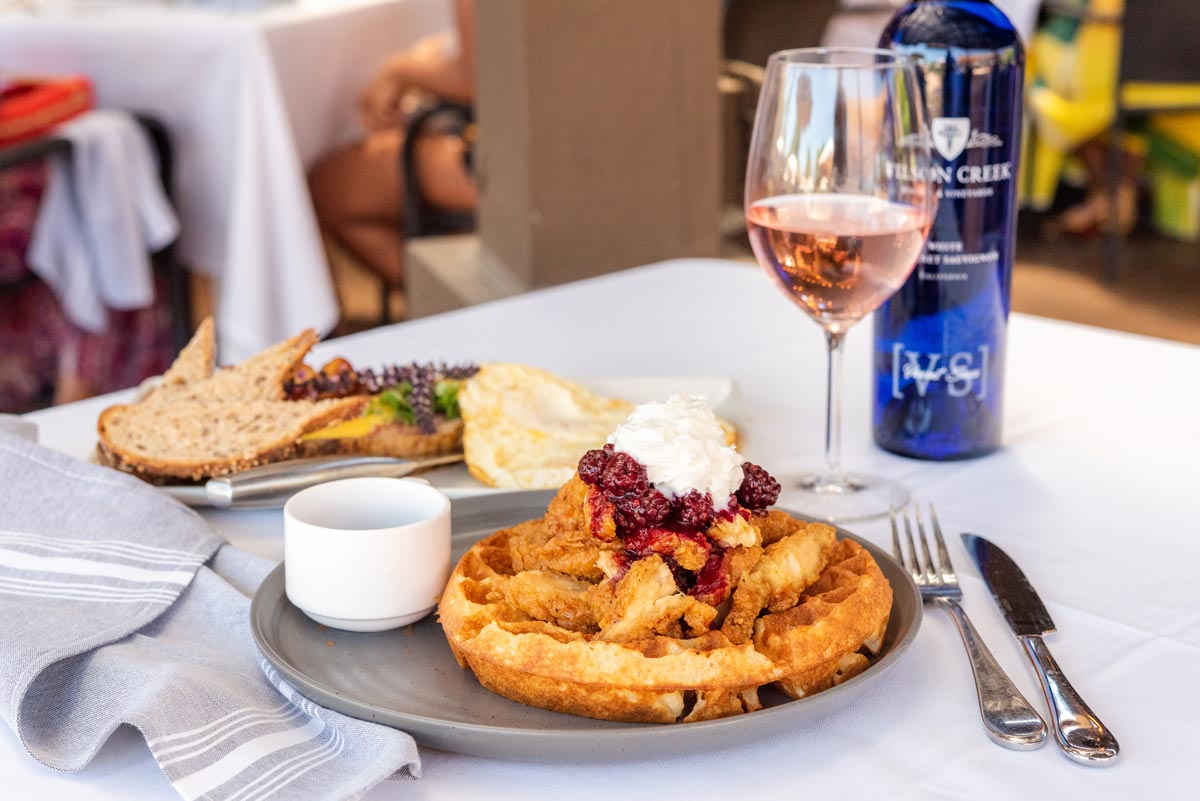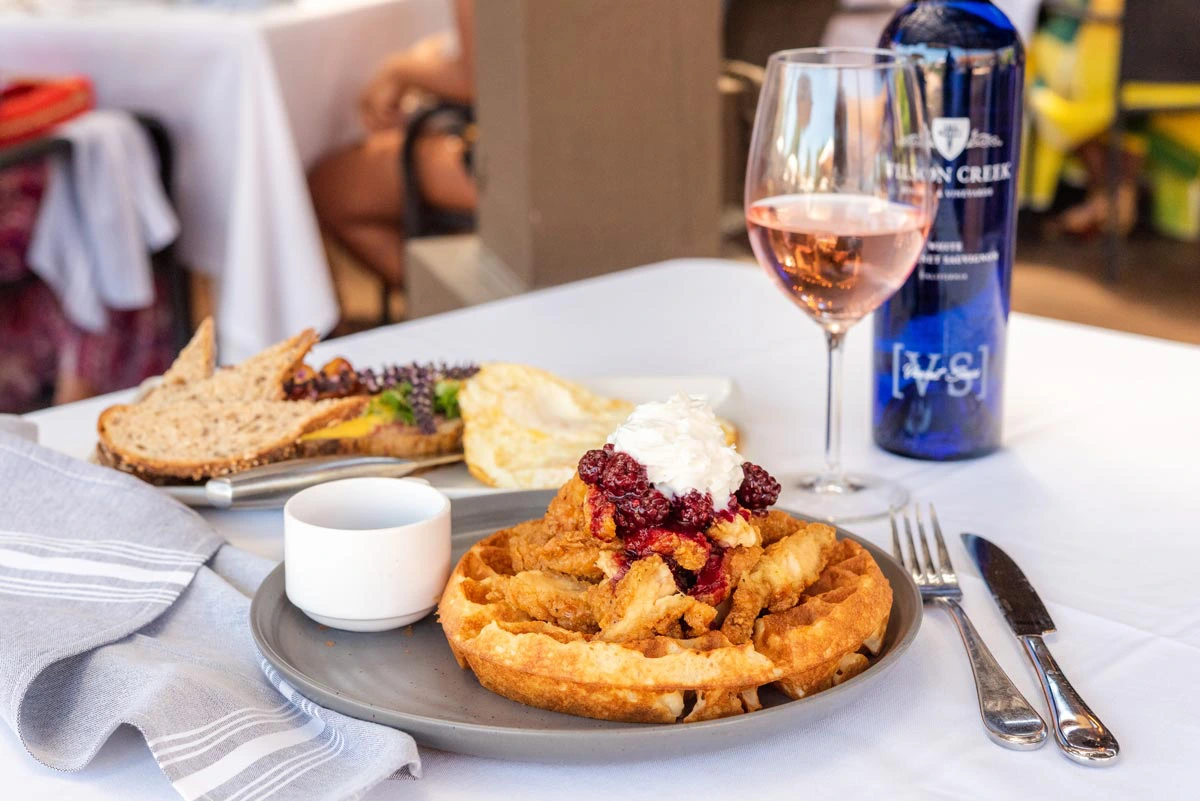 Belgian Waffles with Maple Glazed Chicken Fritters
For entrees, I knew I wanted to try the Belgian Waffles with maple glazed chicken fritters. The dish arrived with the most delicious wine berry compote and whip cream. You can absolutely never go wrong with chicken and waffles.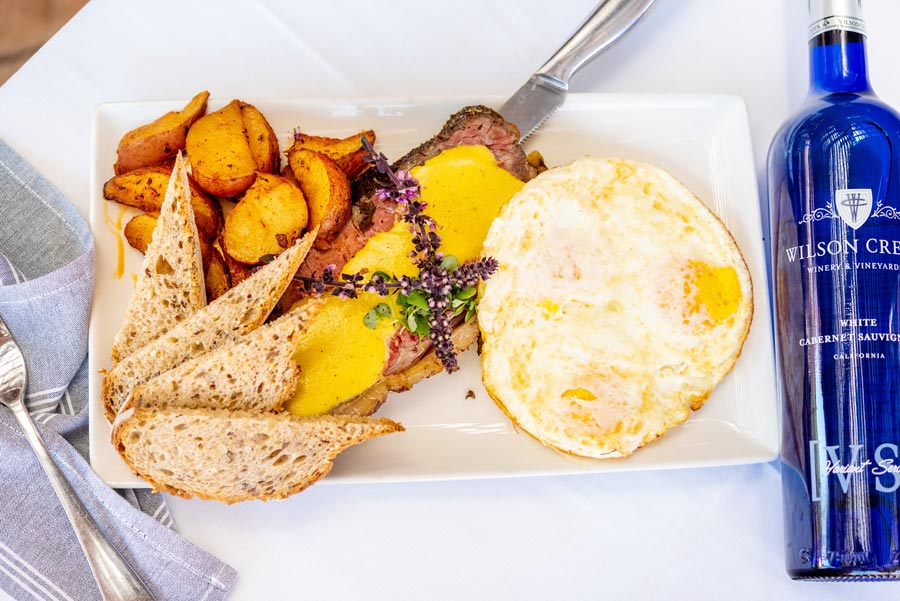 Show-stopping Steak and Eggs
Then, their steak and eggs were an absolutely show stopper. The steak was like a thick prime rib cut smother in decadent bearnaise with two fried eggs and smoked paprika breakfast potatoes. If you're going to order an entree, make sure you order this for everyone to enjoy, it was so tender and perfect. I didn't even want to share, so maybe order two!
If you're in the Temecula area or just looking for a fun day trip, the Temecula brunch at Wilson Creek cannot be beaten. It has everything from outstanding cuisine, vineyard views, sparkling wine galore, and don't forget about their life changing magical Wine Slushy. Truth be told, I will never travel up to Temecula and not stop by Wilson Creek for a Wine Slushy!
Open 7 Days a Week
35960 Rancho California Road
Temecula, CA 92591
(951) 699-9463
Reservations are a MUST if you plan on dining. They also have a walk up wine tasting area, as well as an outdoor area, where you can order snacks and wine slushies!