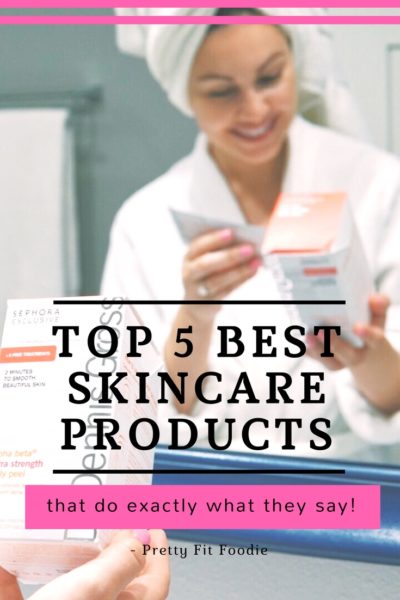 pin it!
Taking care of our skin is so incredibly important and here is my personal list of the 5 best skincare products that do exactly what they say. These products are my staples. This is not an endorsed or sponsored ad. These are my go to products that I have used for years and they have never let me down. Some are incredibly affordable. Good skin care does not need to break the bank. All that matters are the quality of ingredients which I luckily know a lot about. I never purchase any product without reading all of the ingredients first.
While I love talking about cuisine, it might be great to know that prior to starting my blog, I worked in the skin care industry for several years. In fact, I managed several medical spa locations and have worked as a consultant for one of the top celebrity doctors in Beverly Hills. Having dealt with my own skin care issues, I am a great source of knowledge for women suffering from various skin care concerns from acne to aging. My knowledge and dedication to using the right products are likely why I look like I haven't aged in over 10yrs. For the record, I just turned 36!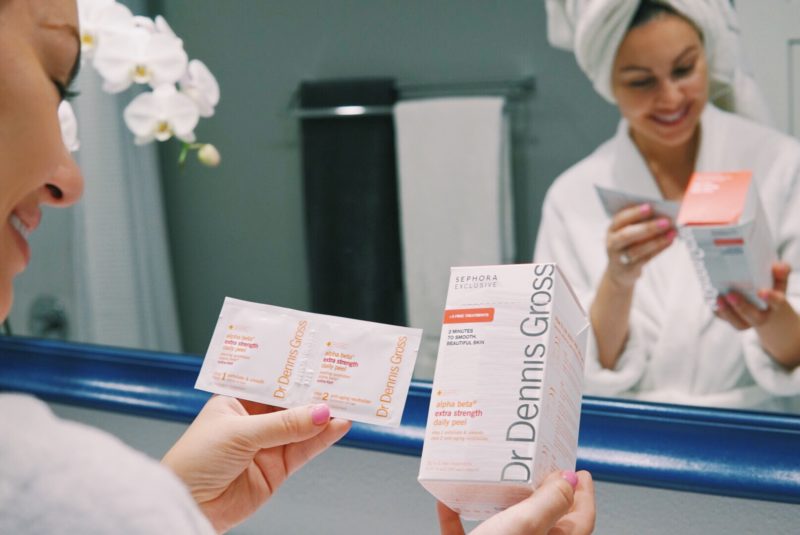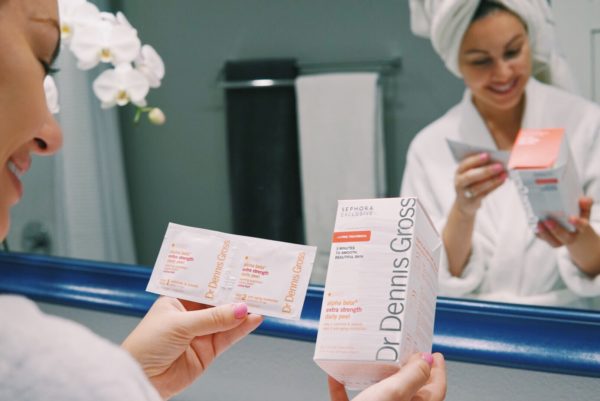 [amazon_textlink asin='B005A1Q5UI' text='Dr. Dennis Gross Exfoliating Pads' template='ProductLink' store='prettyfitfood-20′ marketplace='US' link_id='da83498a-6d5e-11e7-b4f8-d93183f1d095′]
These exfoliating pads contain an AHA Blend of Glycolic Acid which is amazing for exfoliating the skin in a way that is nonabrasive. Not only do these pads help reduce fine lines, they also work wonders for clearing breakouts. My skin is not perfect and on days I feel like my skin is acting up, this product gets it in check almost over night. They also make one for sensitive skin as well. I have been using glycolic products for years so I opt for extra strength. I honestly cannot live without this product and trust me when I say it is worth every penny.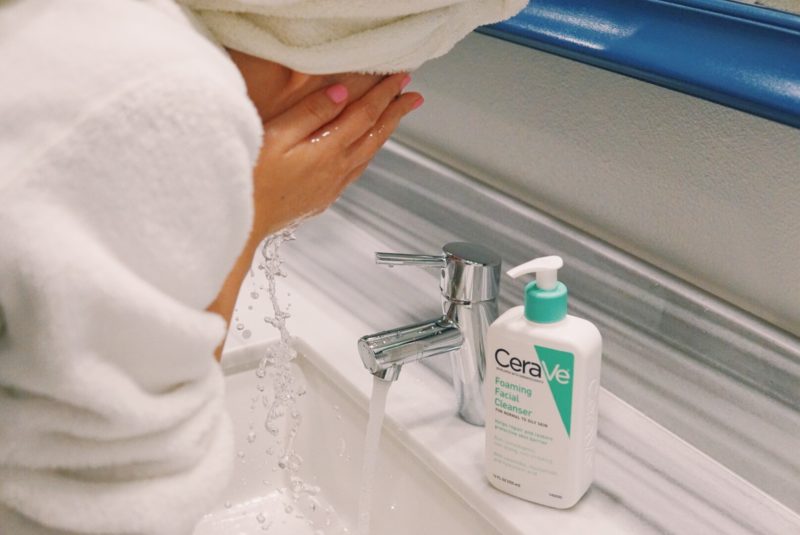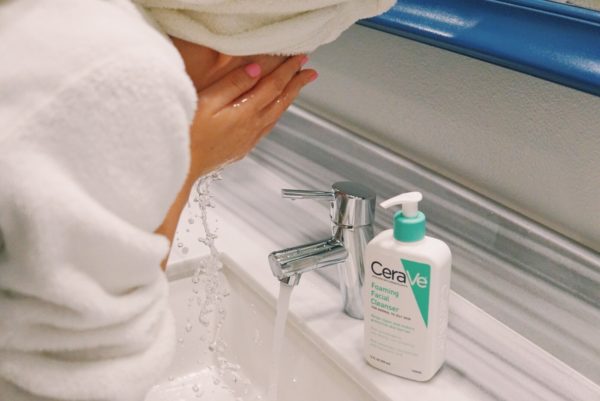 2. [amazon_textlink asin='B003YMJJSK' text='CeraVe Foaming Facewash' template='ProductLink' store='prettyfitfood-20′ marketplace='US' link_id='5c36bc9b-6e41-11e7-af5b-7fae03fc0b6c']
I was first introduced to CeraVe years ago when it was recommended by a dermatologist and I have used it ever since. When it comes to a face wash, what our skin desperately needs is a balance. We want to remove dirt and makeup but not our natural moisture. When you excessively dry your skin, the oil glands go into over production and you end up having breakouts. This face wash uses a key ingredient called Hyaluronic Acid which acts as a humectant. Humectants are ingredients that draw moisture into the skin and help your skin retain moisture. When reading ingredients it also goes by the name sodium hyaluronate.
Hyaluronic Acids is the absolute best humectant available with the ability to hold 100x its weight in water. It enables your skin to be well moisturized without the use of any oils and is often found in many serums. All of CeraVe's products are rich in Hyaluronic Acids and Ceramides (another moisturizing ingredient). After washing your face you will notice they you never get that dry feeling. It is incredibly gentle and safe for all skin types. More importantly, it is also affordable. If you are on a budget, you can use all of their products, but their face wash is my favorite choice.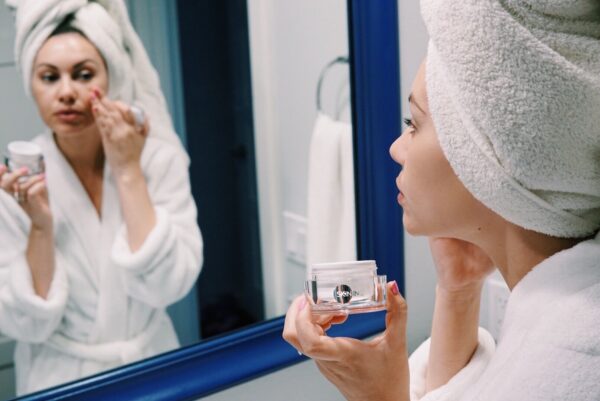 3. [amazon_textlink asin='B00T9GYUSO' text='Skin Inc' template='ProductLink' store='prettyfitfood-20′ marketplace='US' link_id='f71614d2-7193-11e7-8200-fbe6c38a4e05′]
I received a sample of this Skin Inc Hydrating Gel Mask over a year ago. After scraping every last drop from my free sample I knew I had to bite the bullet and just buy this mask. I'm not going to lie, it is not cheap, but it is worth it. In fact, my fiance had a slight case of psoriasis and flaky skin on his eye brows and forehead. This is the only thing that literally cured it. He received numerous prescription and hydrocortisone creams, but after using this product for a few days it completely went away and has not come back since. It is extremely hydrating using that magical hyaluronic acid, but it is not oily and will not break your skin out. After using this hydrating night mask you will wake up with baby soft skin. It is also amazing for plumping fine lines and wrinkles. This is absolutely one of the best skincare products on the market for hydrating the skin.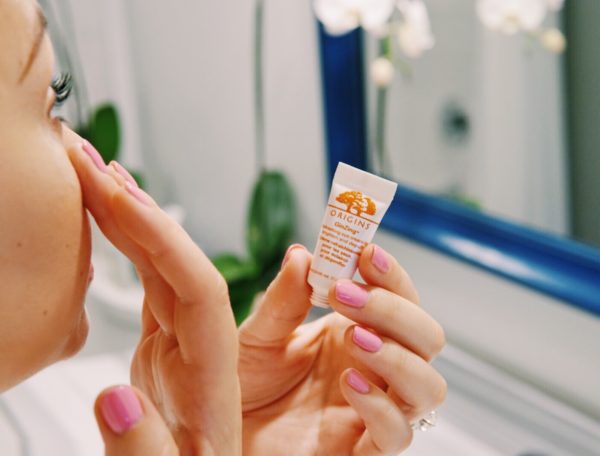 4. [amazon_textlink asin='B00JIBFEQC' text='Origins Ginzing Eye Cream' template='ProductLink' store='prettyfitfood-20′ marketplace='US' link_id='bb7075b2-7193-11e7-bd46-b7e4b9f7a9c2′]
I've tried a million different eye creams and Origins Ginzing Brightening Eye Cream is by far my favorite. The cream truly does brighten the under eyes and you can see a visible difference the second you put it on. It has an almost pearlescent like sheen that blends seamlessly with the skin. When on, it does not look like a crazy highlighter but makes a very noticeable difference that is extremely natural.
It also contains caffeine extract which is a natural diuretic. The same way caffeine makes us dehydrated when we drink it also affects the skin by reducing water retention which causes puffy under eyes. Caffeine also constricts the blood vessels, reduces redness, and aids in circulation which helps reduce dark circles. In all of the above pictures, I have zero makeup on and my under eyes really do not have any puffiness or discoloration. I also contribute this to staying out of the sun!
5. [amazon_textlink asin='B00CNWY1YY' text='Aluminum Oxide Crystals' template='ProductLink' store='prettyfitfood-20′ marketplace='US' link_id='4660c778-73b2-11e7-9eae-976e58fd49e7′]
These Aluminum Oxide Crystals are one of my favorite secret beauty products. By now almost everyone knows what a microdermabrasion treatment is, but what most don't know is that you can actually purchase your own crystals. Giving yourself an at home microdermabrasion is incredibly easy. Simply add a small scoop of crystals to your hands and mix it with your face wash. The results are actually even better because you can control the pressure you apply and be more vigorous on areas that need it most. Your skin will be more smooth than you could ever imagine.
So why should you use [amazon_textlink asin='B00CNWY1YY' text='Aluminum Oxide Crystals' template='ProductLink' store='prettyfitfood-20′ marketplace='US' link_id='97657b83-73b3-11e7-8cd2-15f1ec0eb690′] over other scrubs? The molecular structure of these crystals are perfect spheres meaning they do not have jagged edges which can scratch the skin. Almost all other scrubs, especially those like ground walnut, salts, and sugars actually scratch the skin causing irritation. Additionally, Aluminum Oxide Crystals rank high on the hardness scale. This means your skin will not absorb the crystals as they are being used so you are able to exfoliate more dead skin cells. Scrubs like sugar and salt will eventually be broken down leading them to be not as effective. I use these crystals almost on a daily basis with my face wash and they last forever! They also save me hundreds of dollars on microdermabrasion treatments at the spa.
There you have it, my 5 Best SkinCare Products. Have you tried any of the products on this list?