If you've been dealing with Malessezia Folliculitis (an overproduction of yeast on the skin), finding Fungal Acne safe moisturizers is no easy task. The truth is the majority of moisturizers on the market do not contain fungal acne safe ingredients. In fact, there is still a lot of research and controversy about whether certain ingredients are actual triggers or not. I will break down the best fungal acne safe moisturizers for every skin type based on my own experience.
I happen to have combination skin. In the winter months, I use more moisturizing creams; in the summer months when it's hotter, I stick to lightweight moisturizing gels. If I have dryer areas, I'll just as a dab of a heavier moisturizer in that area. I have a fairly good idea based on my own skin type of what will work best on others. If you have combination skin, I recommend having both lighter and heavier fungal acne safe moisturizers on hand.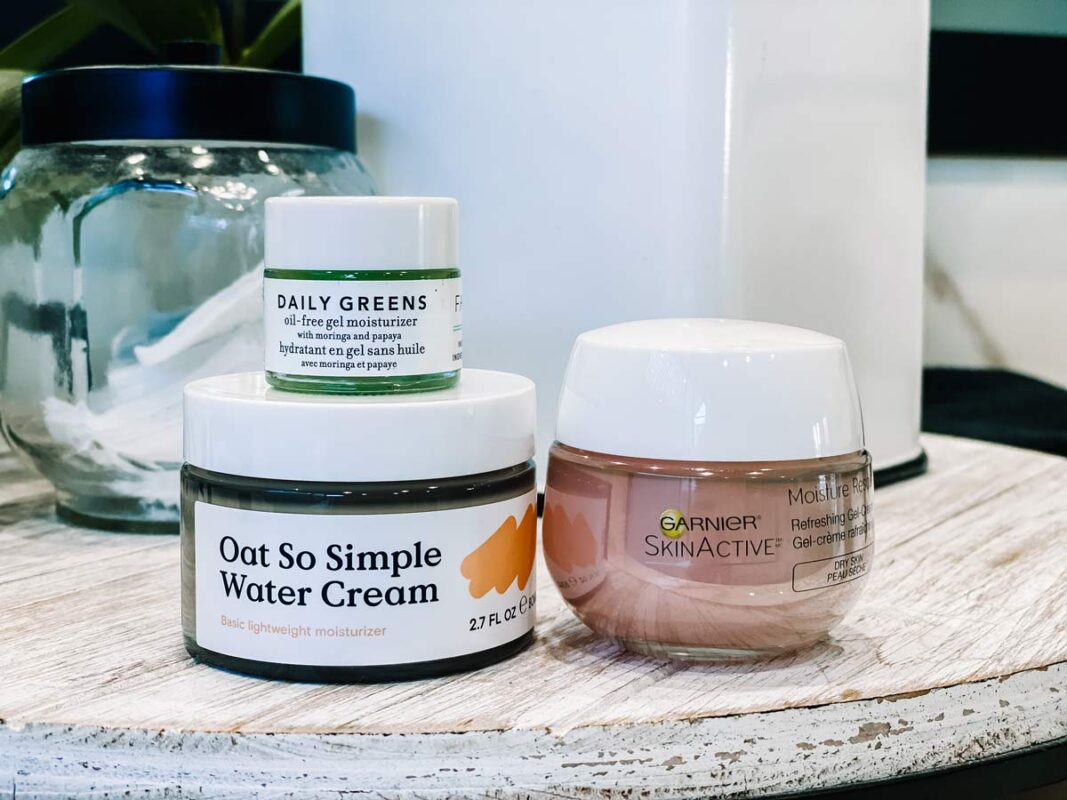 Fungal Acne Safe Moisturizers for Oily Skin
If you have oily skin, live in a humid climate, or tend to sweat a lot either naturally or from being active, you'll want to use a lightweight fungal acne safe moisturizing gel. Luckily, these are actually much easier to find. Here are my personal favorites. There are also popular brands which I do not recommend and I am going to explain why as well.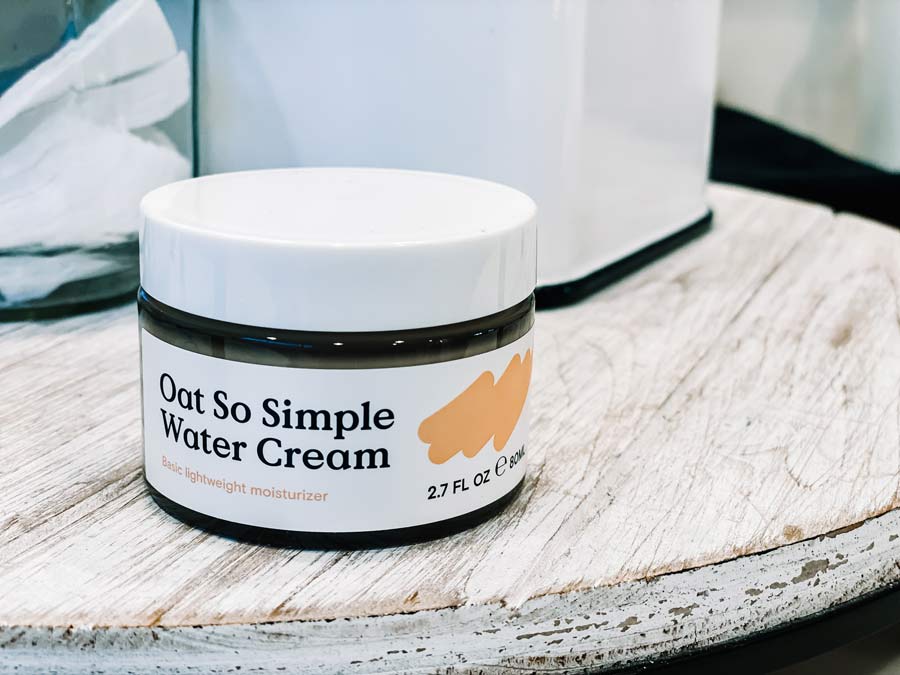 Fungal Acne Safe Moisturizers for Dry Skin
Unfortunately, if you have dry skin, there are a lot fewer options when it comes to fungal acne safe moisturizers. However, there are a few I have used which I think are excellent.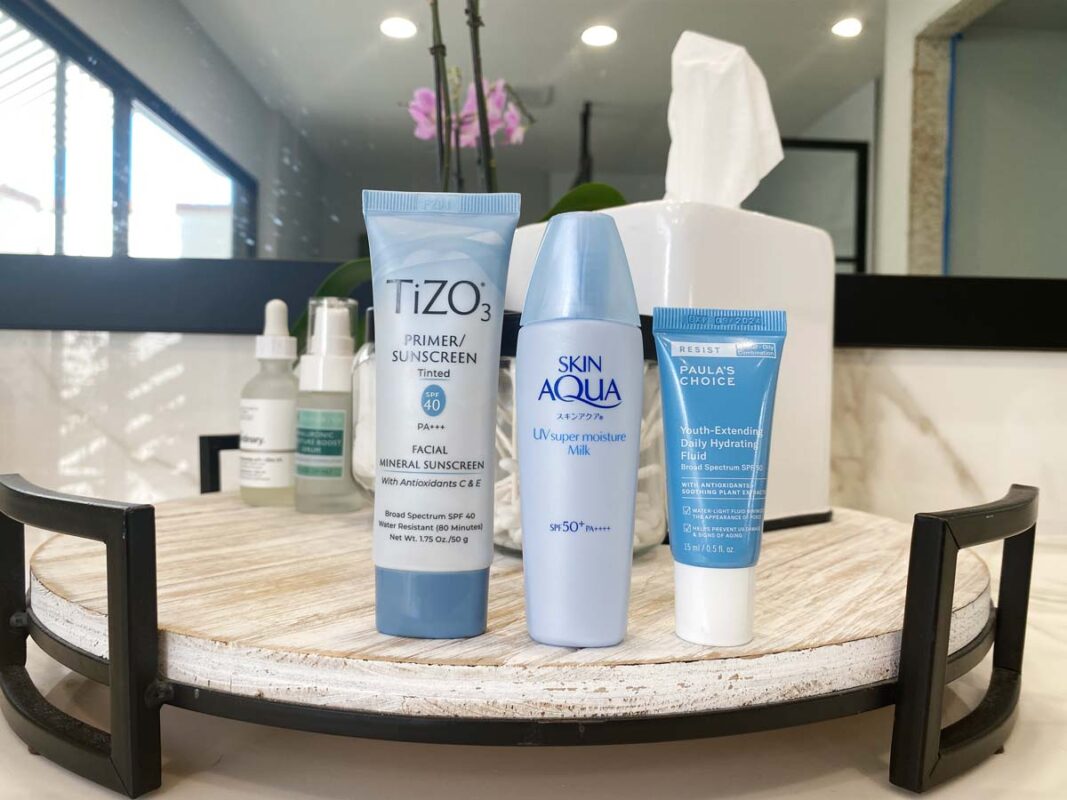 Fungal Acne Safe SPF
Using good fungal acne safe moisturizers and SPF go hand in hand. Here are the two SPFs I use and sometimes I even double them up together.
First, the Skin Aqua Moisture Milk SPF 50 is my holy grail sunscreen. It is amazing and super silkly on the skin with no white cast or irritation. it also causes no piling on the skin and works well with makeup. You can also just use this as your daily moisturizer. This SPF is great for dry skin.
If you have very oily skin or live in a humid climate, I recommend either TiZO3 Facial Mineral Sunscreen and Primer or TiZO2 Facial Mineral Sunscreen and Primer. These both go on with a matte finish and feel like a primer similar to Benefits Pore No More. I personally prefer the tinted, but either of these is great to use.
Products I Do Not Recommend
Finally, now that I've gone over my recommendations, I want to clarify that I do not recommend Hado Labo Plumping Cream. This is the only product that ended up breaking my skin out. After doing some research, there is a study that shows a lipid source when combined with arginine can increase the production of yeast on the skin and Hado Labo contains both Arginine and Squalane.
Maybe this is the reason, but I also found it to be very heavy on the skin, like a sticky paste. It did not absorb well and so I personally do not recommend it.
Second, The Avene Extreme Emulsion was discontinued and their other line of products are NOT Fungal Acne Safe. A very similar product is the La Roche-Posay Toleriane Sensitive Fluide Protective Moisturizer which is still available, however, they changed their formulation and it is no longer I product I recommend.
Both of these moisturizers had squalane as the main ingredient. Now the closest moisturizer to these would be the Krave Beauty Oat So Simple Water Cream. This moisturizer uses squalane and minimal ingredients. It is probably the best fungal acne safe moisturizer currently on the market so let's hope they keep this formula the same!
Here is the full ingredient list for Krave Beauty Oat So Simple Cream: Water, Butylene Glycol, Caprylic/Capric Triglyceride, Squalane, 1,2-Hexanediol, Trehalose, Behenyl Alcohol, Ammonium Acryloyldimethyltaurate/VP Copolymer, Avena Sativa (Oat) Meal Extract
I hope you found this article helpful and if you have any questions do not hesitate to leave a comment. Be sure to also check out my other articles below.
More Fungal Acne Articles