The Country Club delivers a Costa Mesa brunch that is not for the faint of heart. Their menu is sprawling with every brunch fave imaginable, but they really knock it out of the park with their extra fancy bottomless mimosas and a steak & egg ribeye fit for a king.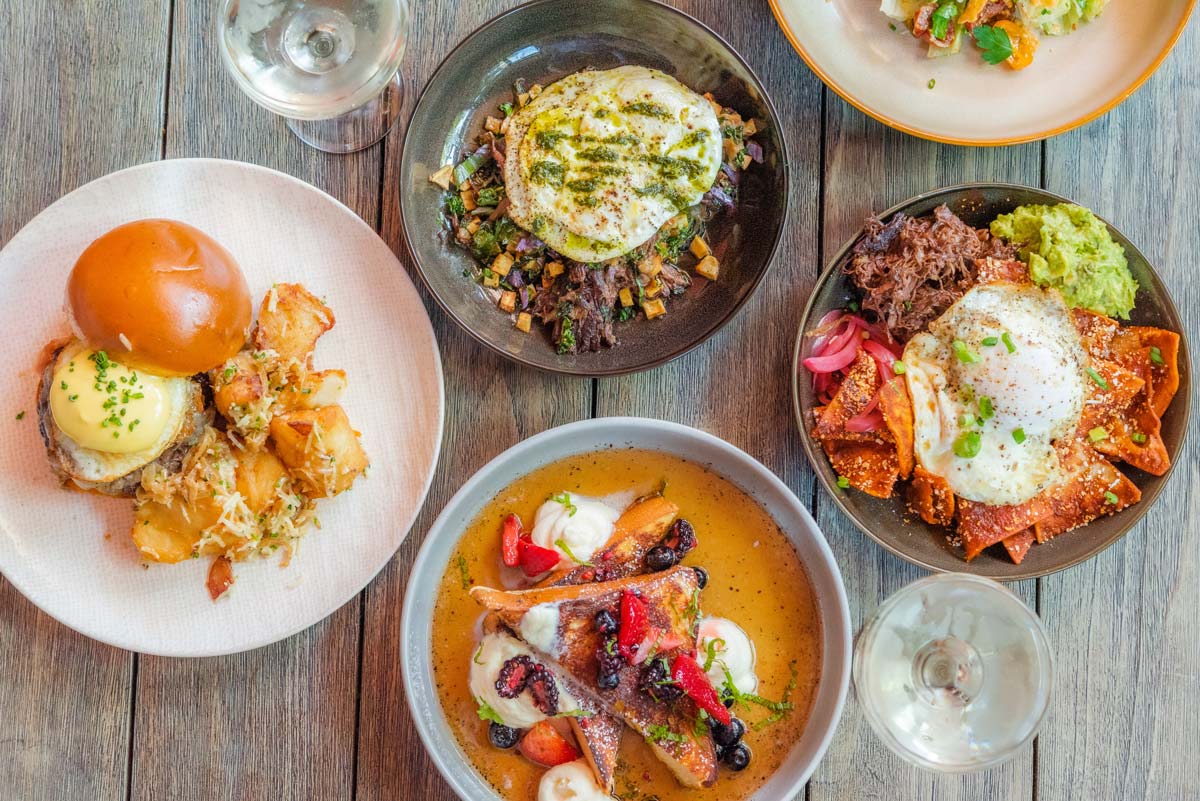 Whatever you're craving, you'd be hard-pressed to not immediately book a reservation after seeing everything this Costa Mesa brunch spot has to offer.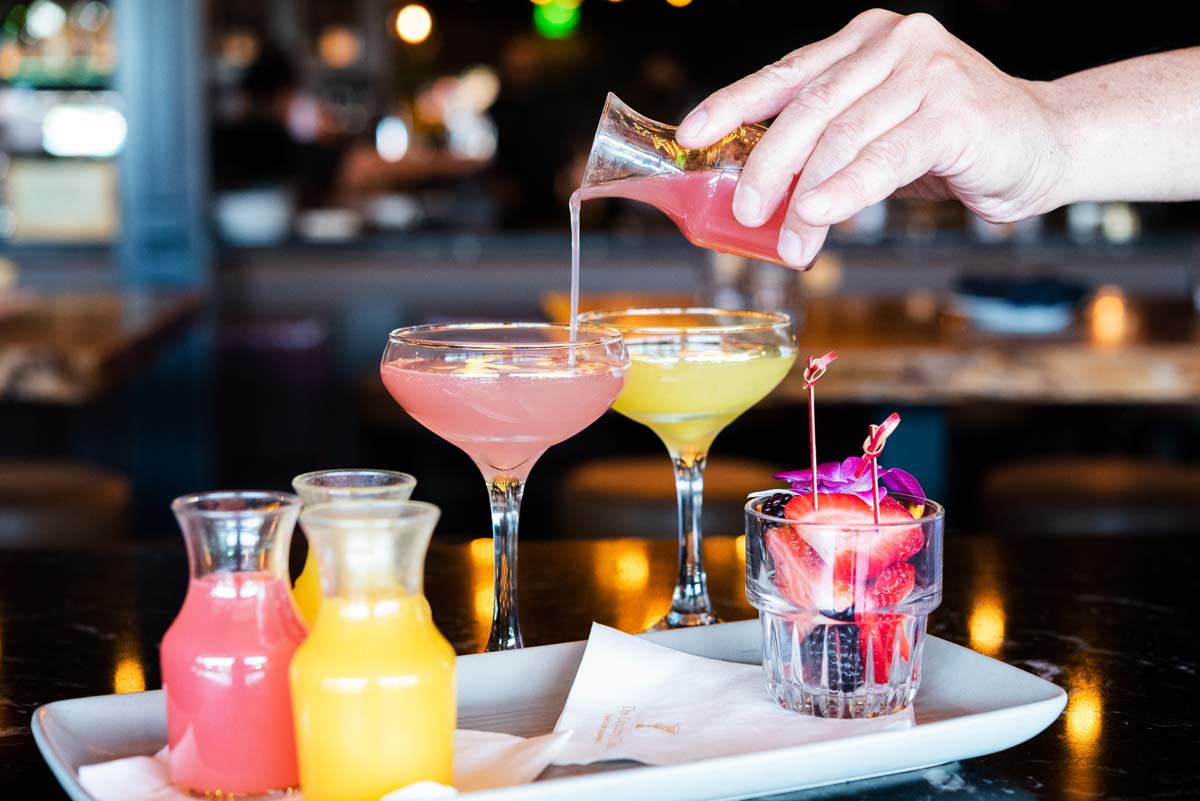 Bottomless Mimosas
What is a fabulous brunch without a mimosa? Few places offer bottomless mimosas, but The Country Club in Costa Mesa has you covered. Not only are their mimosas truly endless throughout you're entire brunch, but they are also jazzed up with 3 different types of juices and a side of fresh berries.
Start with traditional OJ, finish with their fantastic guava, or mix and match with a splash of pineapple. Either way, this bottomless mimosa brunch provides the perfect start to your weekend.
Chilaquiles
The Country Club brunch offers an endless array of choices. I personally try to convince the table to each order something different so I can indulge in a little of everything. If you're craving a classic Mexican feast, the Chilaquiles are always a solid choice.
Our Chilaquiles arrived with two fried eggs, buried under a stack of crispy corn tortilla chips that were smothered in a flavorful smoky tangy chili sauce. Shredded chunks of meaty marinated short ribs were bolstered by house-made pickled onions, cojita cheese, mashed avocado, and braised bacon for a brunch dish that was a serious crowd-pleaser.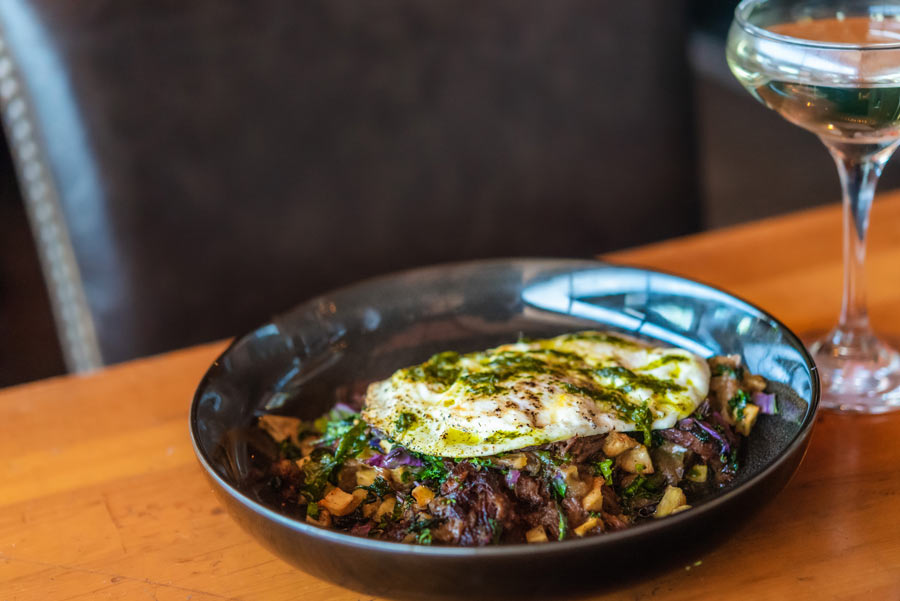 Short Rib Hash
Next, I opted for the less conventional Short Rib Hash. I love the blended flavors of a good hash which allows for every component of the dish to land on my fork for the perfect bite. The Country Clubs' Short Rib Hash featured a generous mound of short rib marinated in pastrami spices. Braised bright green kale was folded throughout with crispy cubes of sweet potato, and caramelized onion beneath two fried eggs.
My advice is to cut into both fried eggs and let that creamy yellow yolk drip all over the entire hash before diving right in.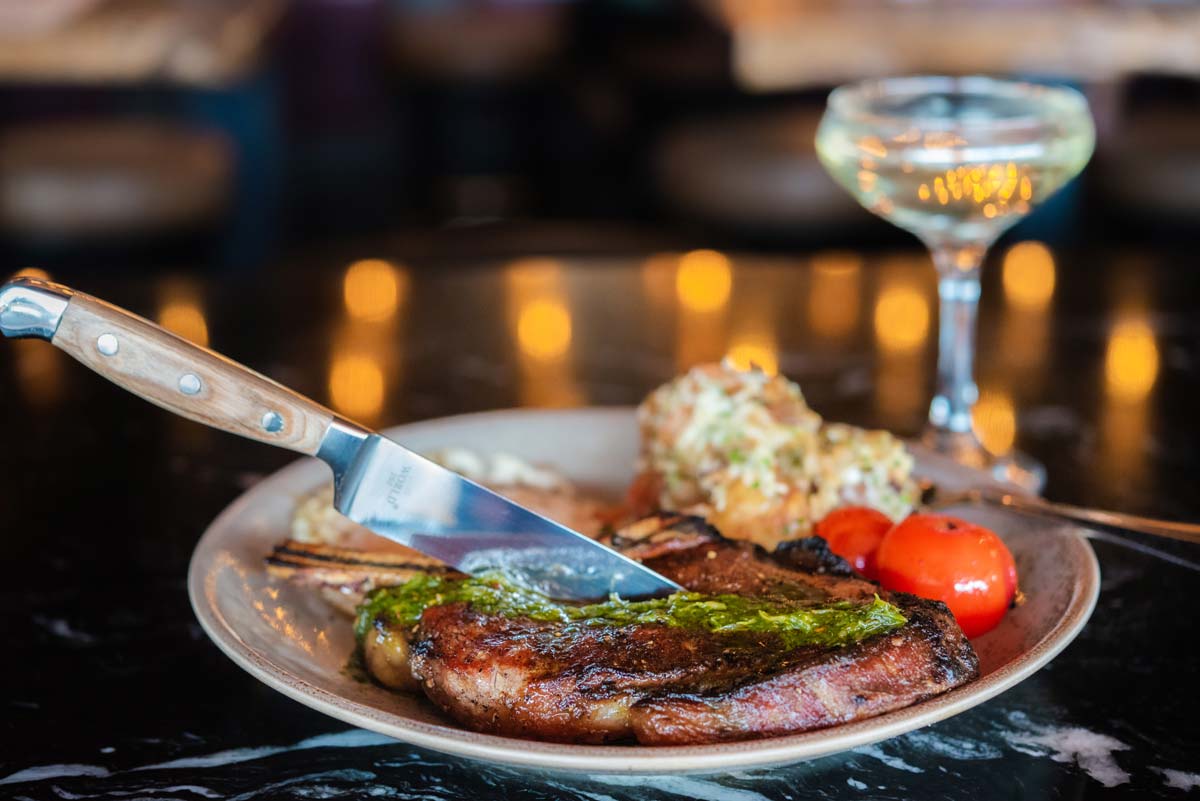 Ribeye Steak & Eggs
For a Costa Mesa brunch fit for a king, the traditional steak & eggs are served with a wonderful hanger steak, but the ribeye is next-level. This massive slab of beef arrived with a perfectly grilled char dressed with a drizzle of chimichurri. Next to the fried eggs were cubed whole potatoes with an armor of crispy fried skin melded with parmesan cheese and caramelized onion.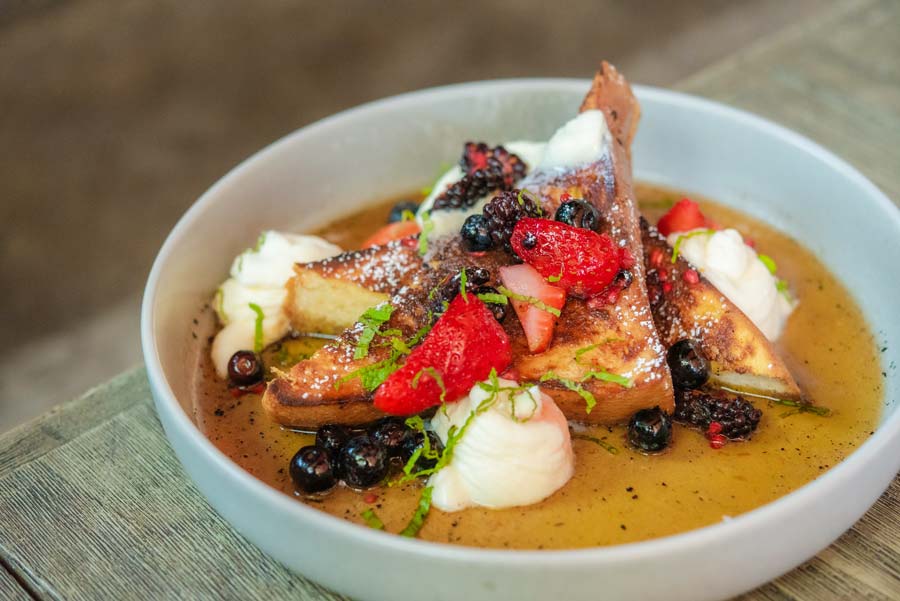 Brioche French Toast & Banana Fosters Pancakes
For a sweet finish both the Brioche French Toast and Banana Fosters Pancakes are fantastic choices. Typically, I always prefer the French toast, but the Banana Fosters Pancakes were so magical I couldn't put down my fork. What they lacked in appearance they more than made up for in flavor.
These fluffy pancakes had slices of banana mixed throughout and were drenched in a sweet bourbon caramel sauce. The accompanying whipped cream enhanced each bite with infused flavors of caramelized brown sugar and maple.
Whatever your heart fancies, The Country Club delivers a Costa Mesa brunch that will satisfy everyone's cravings. The bottomless mimosas are reasonably priced at only $22 and the servers even leave the bottle for the table.
We had so many amazing selections to choose from, sharing was a no-brainer. Whether you're looking for a kick-ass weekend brunch or celebrating a special occasion, The Country Club in Costa Mesa is easily one of the best brunch spots in all of Orange County.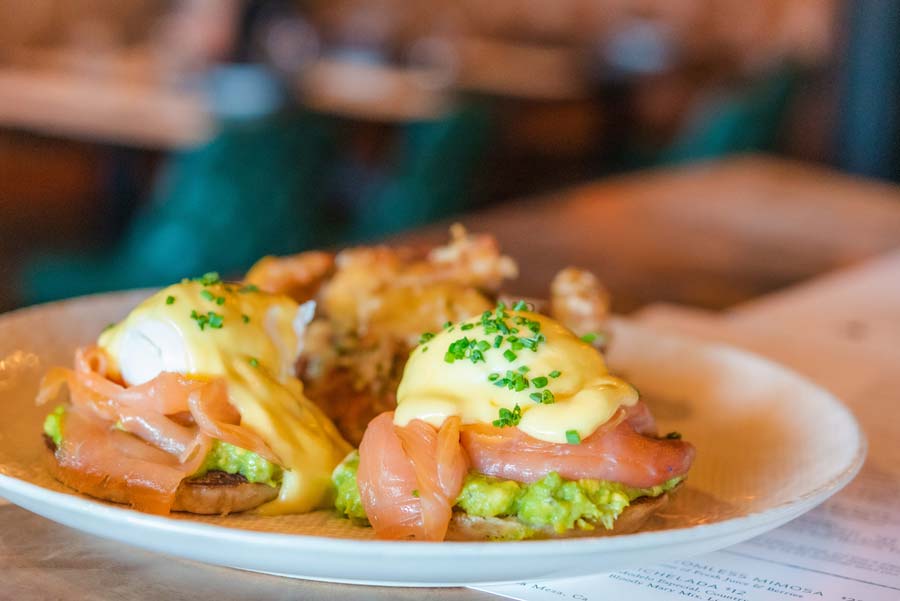 Discover More Orange County Restaurants