The long-awaited Postino Irvine location has finally opened bringing an exciting new wine bar concept to Orange County. Postino Wine Cafe already has over 20 locations primarily located in Arizona, Texas, and Denver. This fun new restaurant is the perfect place to grab a group of friends to indulge in a variety of share plates paired with delicious wines. It's truly a restaurant best enjoyed with friends and family.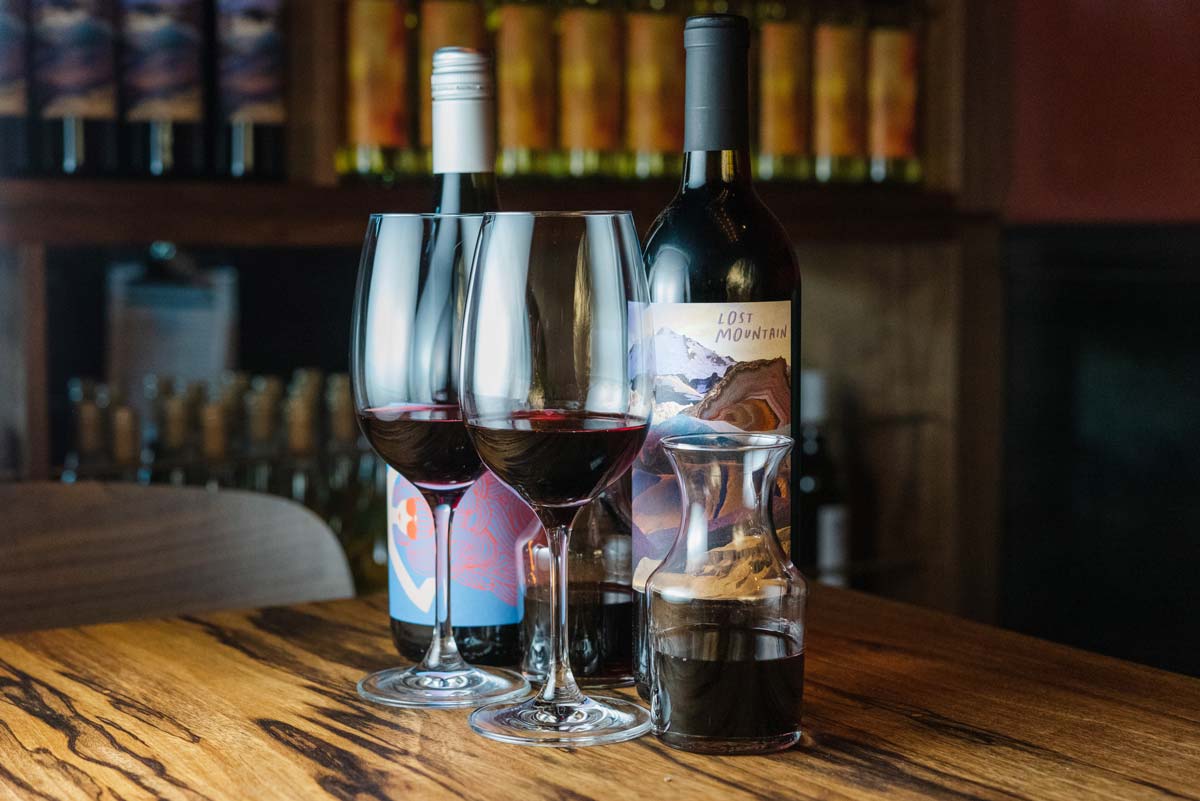 The Wine
Postino Irvine has 27 varietals of wine which rotate every 6 months. This trendy wine bar prides itself on sourcing unique wines from around the world. To encourage guests to experience new bottles at home, all bottles that you bring home are only $20. 
You'll notice that a bottle inside the restaurant ranges from $40-$58. That means, if you want to take home a bottle of that $58 bottle of wine, it's only $20!
The Vibe
One thing unexpected was the laid-back carefree vibes you'll experience when you visit the Postino Irvine location. You might be expecting some slight pretension from a wine bar, but Postino's is quite the opposite. If I was to describe the atmosphere it would be fun, eclectic, and free-spirited. Servers are free to express their own style, dogs are welcomed & encouraged, and good conversation is always welcome. 
One wall at the Postino is adorned with real, seriously rad, vintage boomboxes as a homage to the SoCal music scene. During my visit, I discovered that each location has a special floor-to-ceiling display inspired by its neighborhood.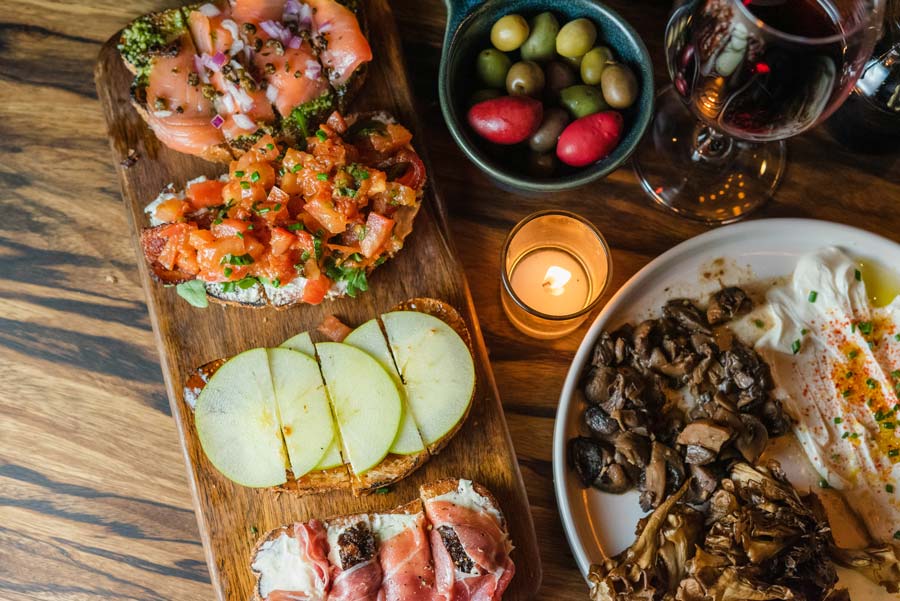 The Boards
When it comes to cuisine, Postino is best known for its robust line-up of Boards comprised of 4 chef boards and a bruschetta board.   Each bruschetta board features four generous slices of rustic bread with various topping combinations. Guests can get creative and choose from 4 of the 12 available options. The board arrives with each bruschetta conveniently sliced for easy sharing. During our visit we tried the:
salmon pesto
Brie, Apple, Fig Spread
Burrata, bacon, arugula, tomato
Precuitto, figs, marscapone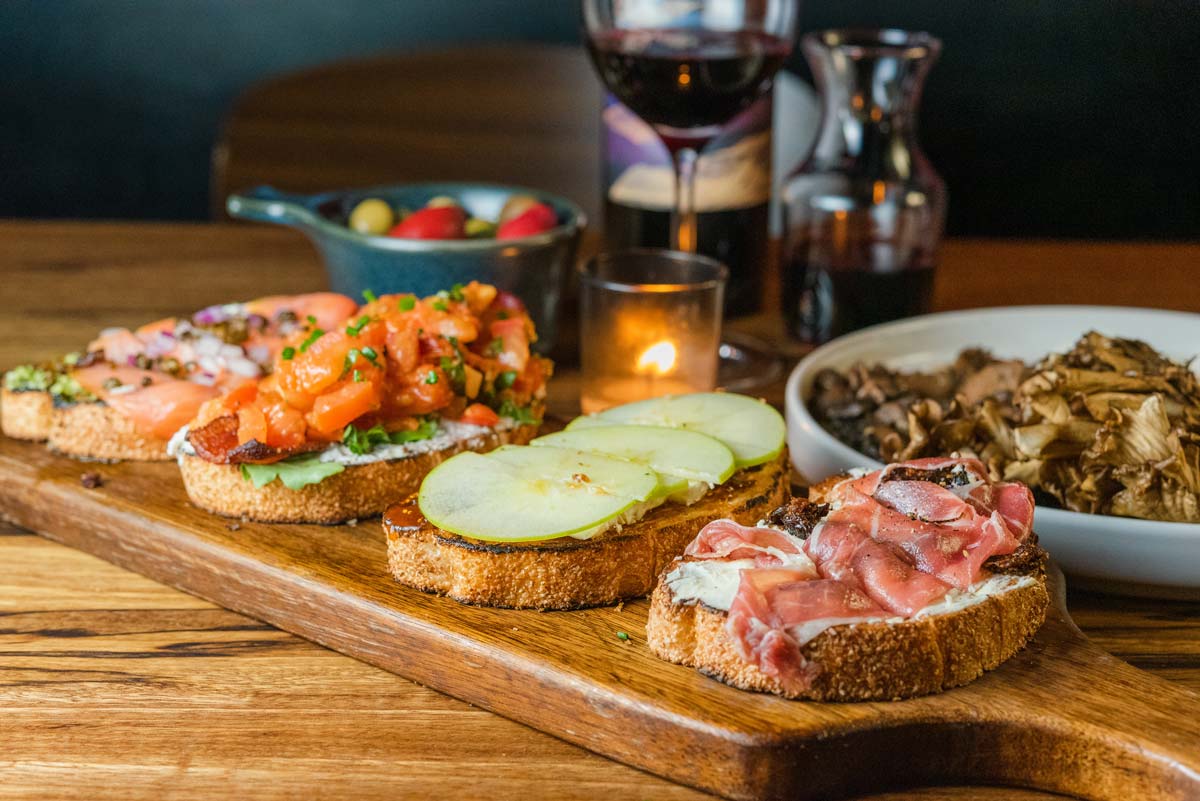 Favorites
Of the 4, my favorite bruschettas were the Brie with sliced Granny Smith apples and sweet fig spread as well as the Burrata with crispy bacon slices, arugula, and fresh chopped tomatoes. The salmon pesto was also incredibly flavorful and is a great option for anyone who enjoys smoked salmon.
Each visit is the perfect opportunity to try some of their other combinations. The artichoke spread, salami & pesto, and sweet n' spicy pepper jam with goat cheese are also popular choices among regulars.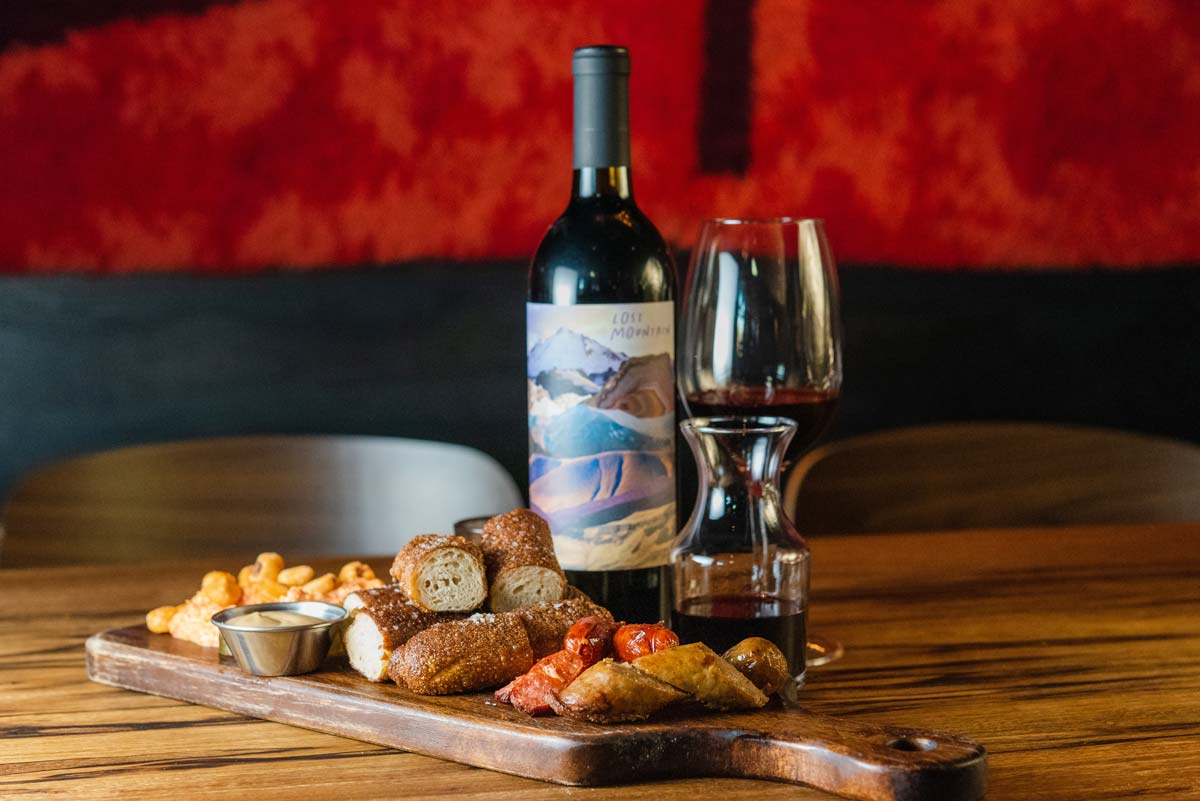 Nicks Board
Postino also offers 4 specialty boards: The Bounty, Chefs Charcuterie, Table Cheese, and Nick's Board. All of the boards are completely lavish with a variety of delicious bites for the table to nosh on. The board that immediately drew my attention, however, was Nick's Board comprised of sliced Italian sausage, Spanish pork links, warm soft pretzel bread, zesty pimento cheese, and corn nuts!
This board was on a whole new level of deliciousness. The pretzel bread was outstanding, freshly baked, with just a hint of flaky salt. If you've ever had pimento cheese dip, this was just like mom used to make and addictive.
My girlfriend who I've never seen eat beef or pork in the 20 years I've known her, was eating the sausage. I enjoyed this board so much, I brought my fiance to Postinos the very next day and ordered it again!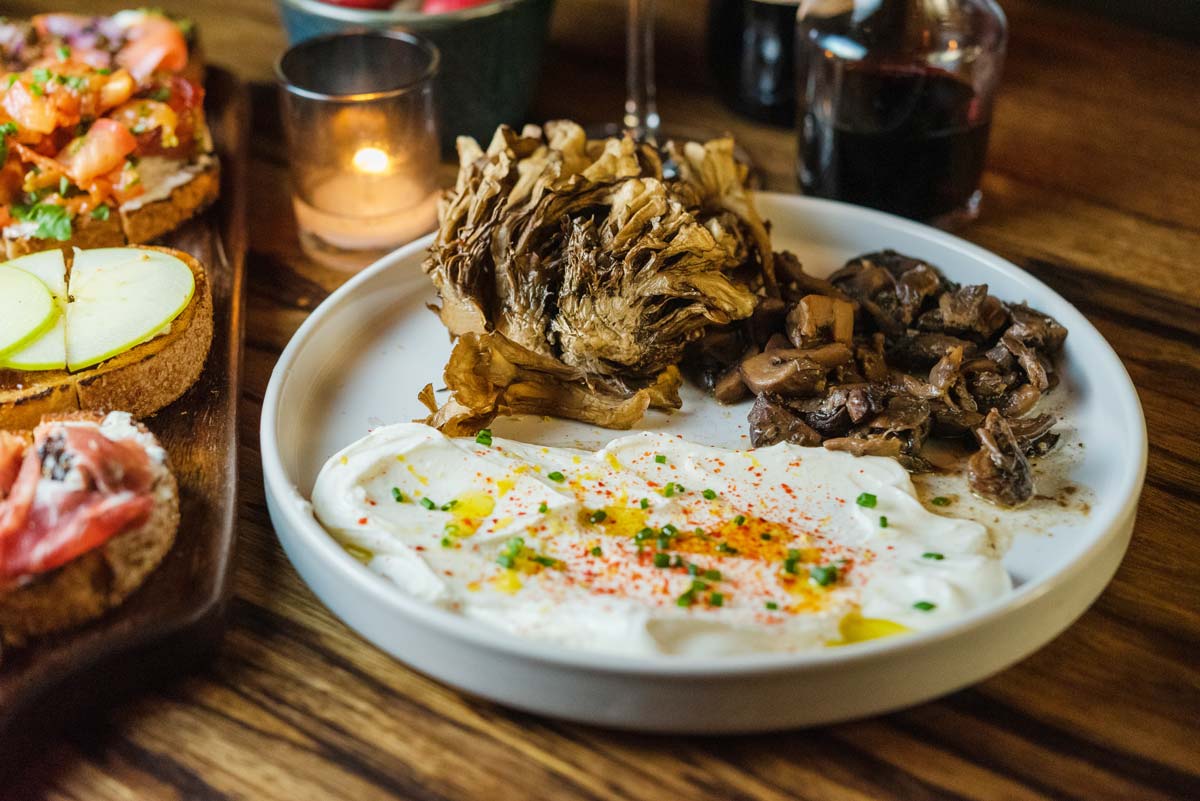 Maitake Mushrooms
My girlfriend, who has visited before, insisted I order the Maitake Mushrooms under "Snacky Things". These exotic mushrooms look like flowers and are tender with earthy umami flavors. For the perfect balance, I recommend adding both types of mushrooms to your fork with a smear of the accompanying creamy yogurt sauce.
Honorable Mentions
The Postino Irvine location offers so much variety on its menu to showcase everything would be impossible. Just two boards were more than enough for a group of 2-4 people. However, the meatballs with goat cheese are also on my list of bites to try. On my return visit the following day, I also ordered the skewers and they were terrific.
They also offer delicious paninis, salads, and soups. For the perfect lunch combo, guests can select a half portion of two.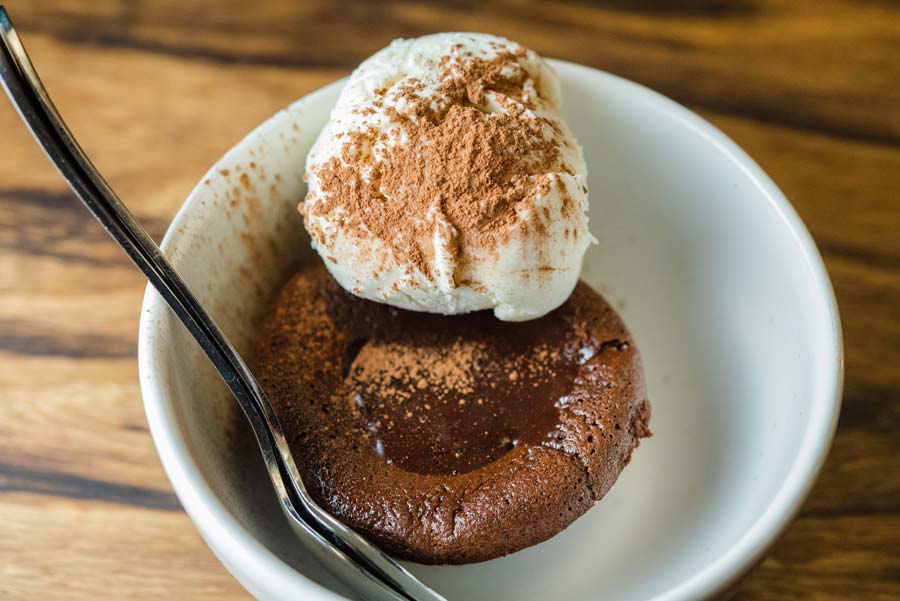 Dessert
Finally, for dessert, we decided to try their very popular Chocolate Bouchin which was like a cross between flourless chocolate cake and a soufflé. Drenched in the center was a decadent chocolate ganache. After this picture was taken, my girlfriend and I gobbled it on the spot!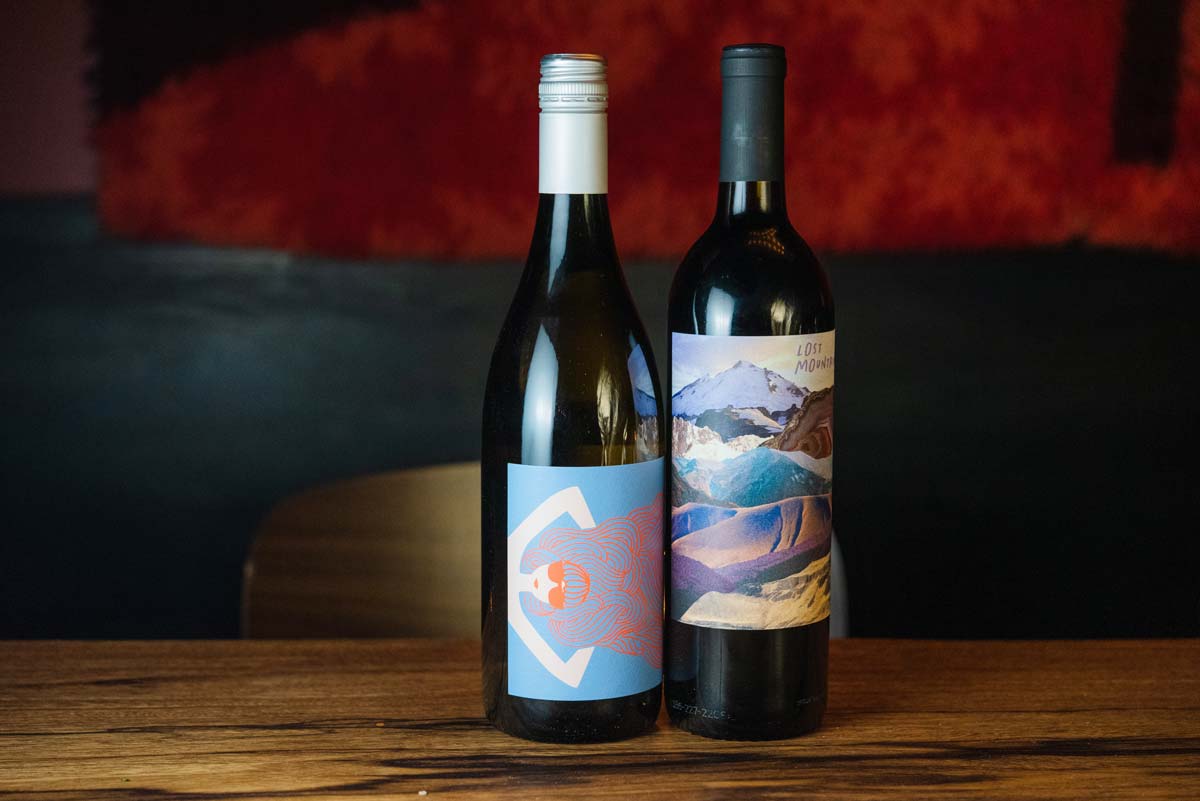 Discover More Awesome O.C. Restaurants