[lwptoc hideItems="1″]
Today I'm going to tell you everything you need to know about chin filler for acne scars, marionette lines, jowls, double chin, thinning skin, and facial composition. Chin filler is not as well known as other areas such as the lateral cheeks, but it is one of the most impactful types of filler you can get for numerous facial improvements.
Many of you may not know this, but before starting my website and during, I worked in the medical spa industry. I started working for a well-known doctor in Beverly Hills as a consultant and later ran my own medical spa in Manhattan Beach. I was then a Director of Operations for three medical spas in Orange County and San Diego. Needless to say, I know a thing or two about non-invasive beauty procedures and I'm definitely not afraid to talk about them or try them.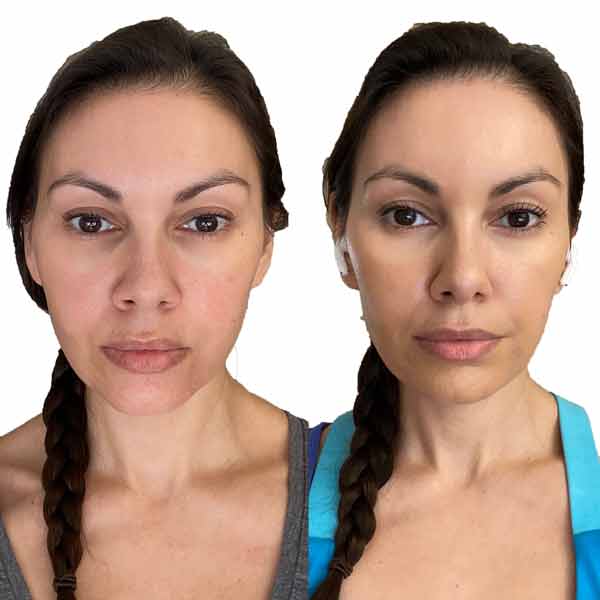 Quarantine was the perfect time to do a little refresh since I was spending most of my time indoors and had plenty of time to stay home and recover. Not to mention when I do go out, half of my face is covered by a mask. I'm about to turn 40 so the signs of aging are starting to take effect. I'm experiencing loss of collagen and I started to notice my dad's jowls appearing on my face. I decided to create my own plan for turning back the hands of time and taking care of some newly discovered issues.
One part of my plan was to get chin and jawline filler to treat the collagen loss I was experiencing in my chin. Most people don't realize the impact the chin and jawline can have on facial composition. The loss of collagen in the chin and jawline area can lead to jowls, smile lines, and double chin. Additionally, when you begin to lose collagen, it accentuates facial scarring making it much more visible. I had cystic acne in my early 20's which caused scarring that was not very noticeable until recently.
Watch the full video showing chin filler for acne scars and jawline filler.
Another reason many get chin and jawline filler are to give their face more definition. The first time I saw chin filler on someone with a recessed chin was when I worked for Simon Orion in Beverly Hills. I was truly blown away. It made such a dramatic difference and has remained one of my favorite filler treatments.
I received my treatment at The Image Center in Irvine with nurse Kara. I found them on Instagram while going through the hashtag "OCMedSpa" and they had a wide variety of treatments. As you'll see in the video, nurse Kara was excellent and took her time. We stopped several times to look at the results and touch up areas throughout the treatment.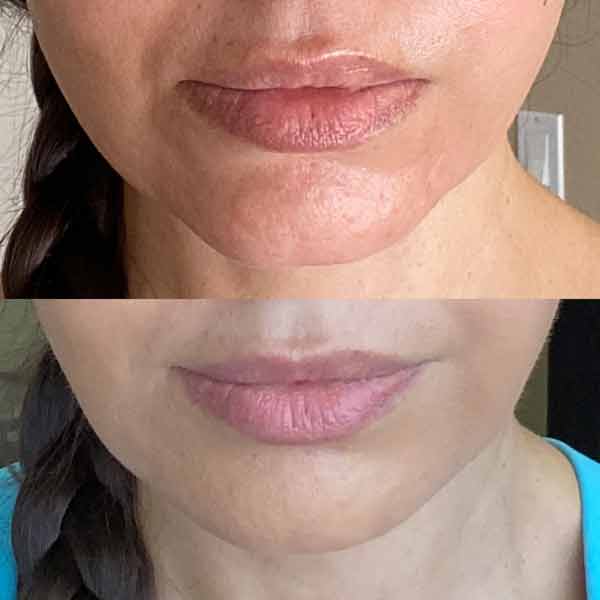 Chin hollowness & thin skin, filled in with Restylane
The results were really dramatic and improved the laugh lines around my chin, smoothed acne scarring, improved my facial symmetry, and evened out areas that were becoming hallow on my chin. We used Restylane Lyft which lasts for over a year and is similar to Voluma but more affordable. We ended up using several syringes. If you are doing chin and jawline filler, expect to use at least 3-4 syringes.
Each nurse has their own preferences but I personally recommend using Restylane Lyft which studies have shown actually lasts longer than Voluma. Many injectors also like to use Radiesse however this filler cannot be dissolved and can cause lumps if used in areas with thin skin. It is best used for areas such as the jawline, but should be injected deeper along the bone. One benefit to Radiesse is that it helps your skin produce collagen. Sculptra is another filler that does this.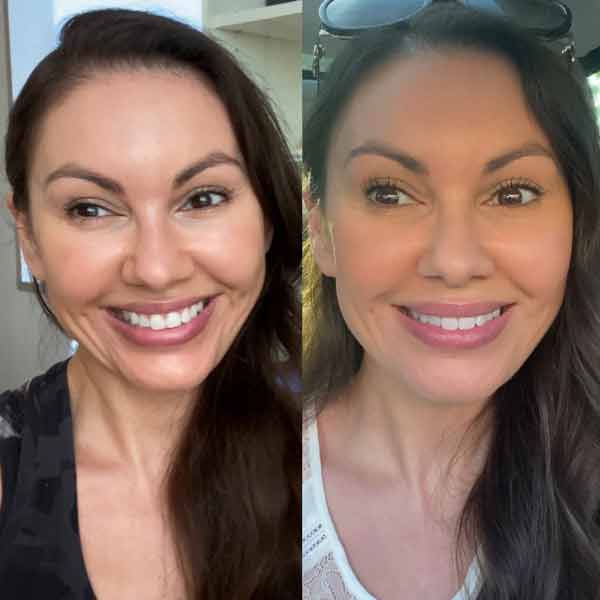 Before and After showing smile lines
However, if you are treating loss of collagen and have thin skin, you'll need to use a filler that has a smooth and thinner consistency. It is also common to use different types of filler on different areas so it is completely ok to mix and match.
I hope you found this article informative and if you have any questions please don't hesitate to ask. I'll also be sharing additional treatments including Kybella to melt the fat pockets causing jowls, threading for loose skin, micro-needling, and my skincare tips. You can also read about some of my favorite skincare products.