Knotts Berry Farm is celebrating the holidays by bringing us their brand new food festival, Taste of Merry Farm. Now through January 3rd, guests can pre-purchase tasting cards to attend this outdoor wonderland. I, of course, arrived opening weekend to enjoy all the tasty festivities which included over 60 unique food and drink options. Below you'll find all the best bites from Taste of Merry Farm which includes almost all new food and drink items.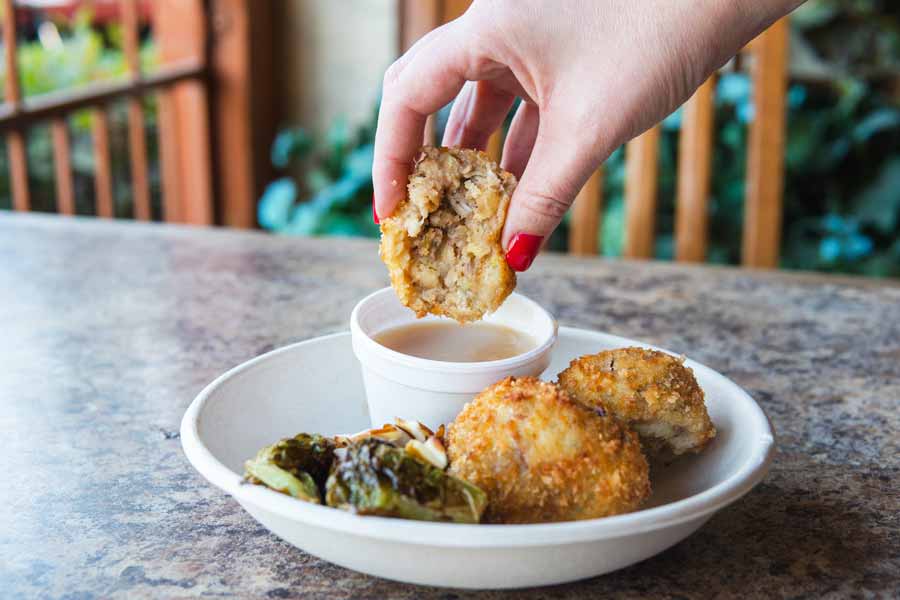 I look forward to the Knotts Berry Farm Turkey Dinner Bites every year!
1.Turkey Dinner Bites
My all time favorite item is Knotts famous Turkey Dinner Bites which they serve every year. I call them, Turkey Balls. Each bite is basically a delicious Thanksgiving dinner complete with stuffing, turkey, cranberries, and gravy. This year they are also served with a small side of brussell sprouts! You'll find these tasty Turkey bites at the Spurs Booth next to Ghostrider.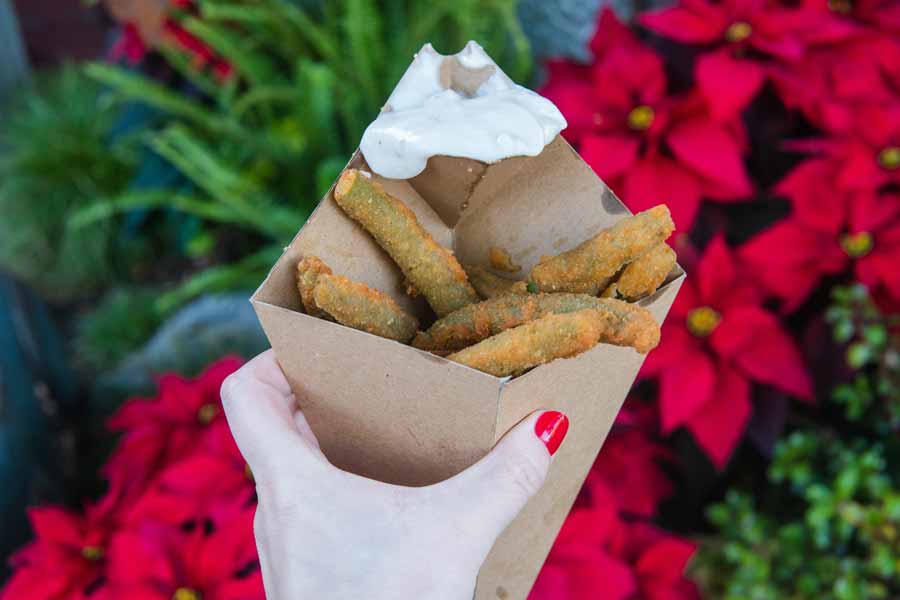 2. Green Bean Fries with Creamy Mushroom Dipping Sauce
Oh my, these green bean fries are awesome!! They are like a clever green bean casserole, but even better. The green beans have a tasty fried batter on them and they are bursting with flavor. I consider these an absolute must-try. We devoured them, one after the other, utterly oblivious to the world around us. These can be found at Wilderness Broiler which is right next to my favorite Pony Ride. These are easily my favorite new item at Taste of Merry Farm. I hope they offer these next year as well.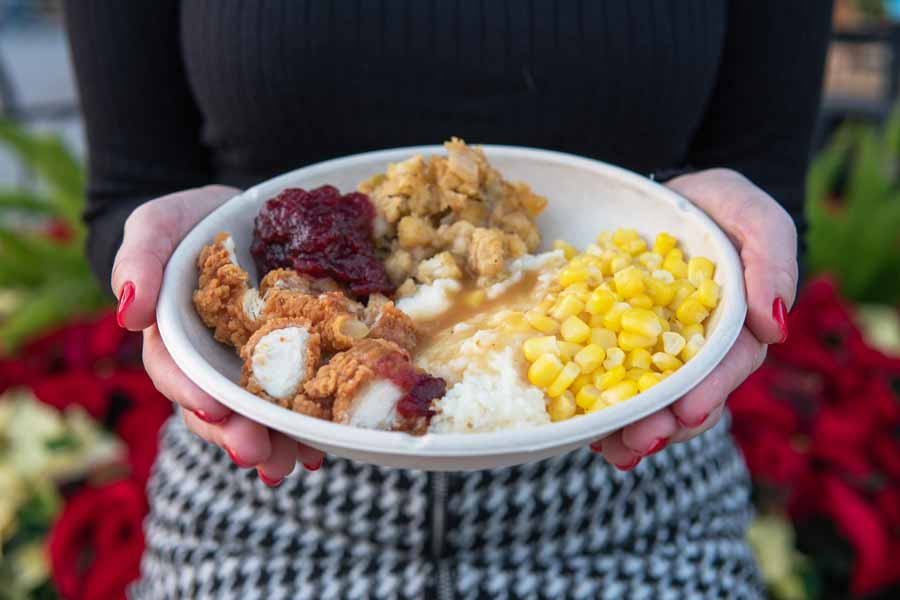 3. The Holiday Bowl
What's better than a complete Thanksgiving Dinner? A Thanksgiving dinner that substitutes the turkey for chicken tenders, that's what! Can we just be honest and admit that we all love chicken tenders? By the time we made it to Coasters Diner (across from the new HangTime Ride) for the Holiday Bowl we were completely stuffed but you better believe we made room.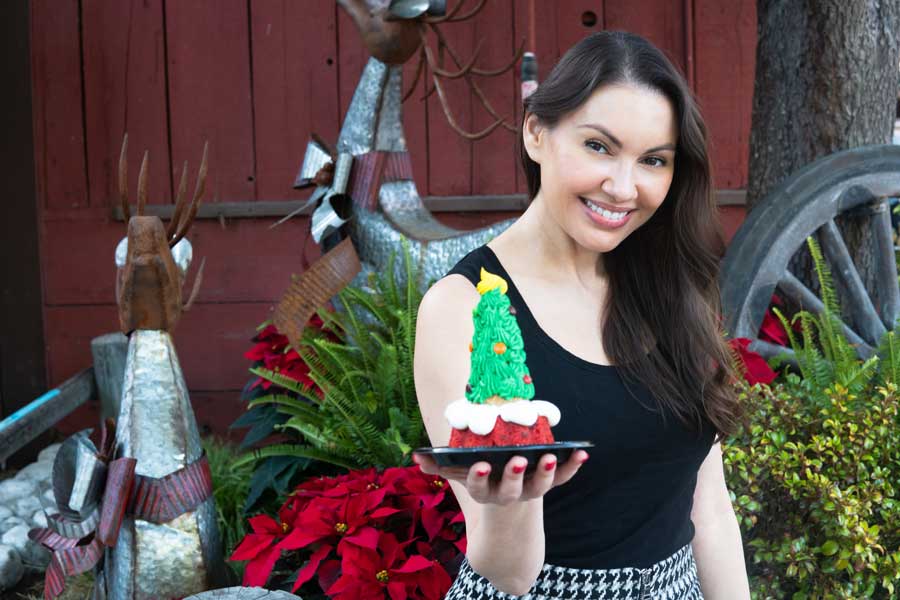 Easily the most adorable new item at Taste of Merry Farm is the Christmas Tree Bundy Cake.
4. Christmas Tree Bundt Cake
Also at the Wilderness Broiler is this adorable Bundt Cake. This dessert is so cute we were asked at least 5 times where we got it while we were snapping photos. It is composed of a red velvet bundt cake with chocolate chips and a waffle cone decorated as a Christmas tree. This is what I call the perfect Instagram shot!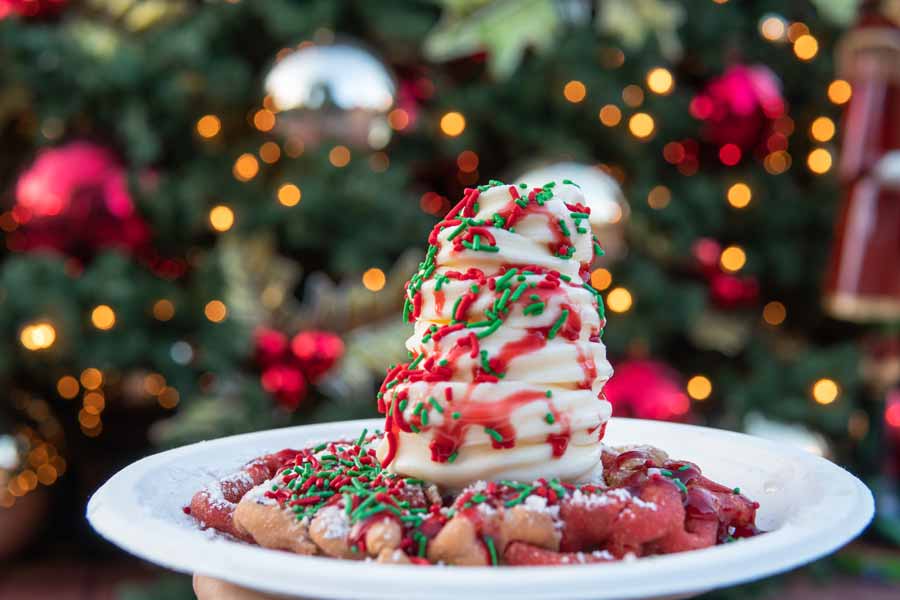 5. Strawberry Funnel Cake
One dessert is never enough so we also enjoyed this festival strawberry funnel cake with soft served ice cream and strawberry syrup. You can never go wrong with a funnel cake and believe me, you will need several friends to finish this.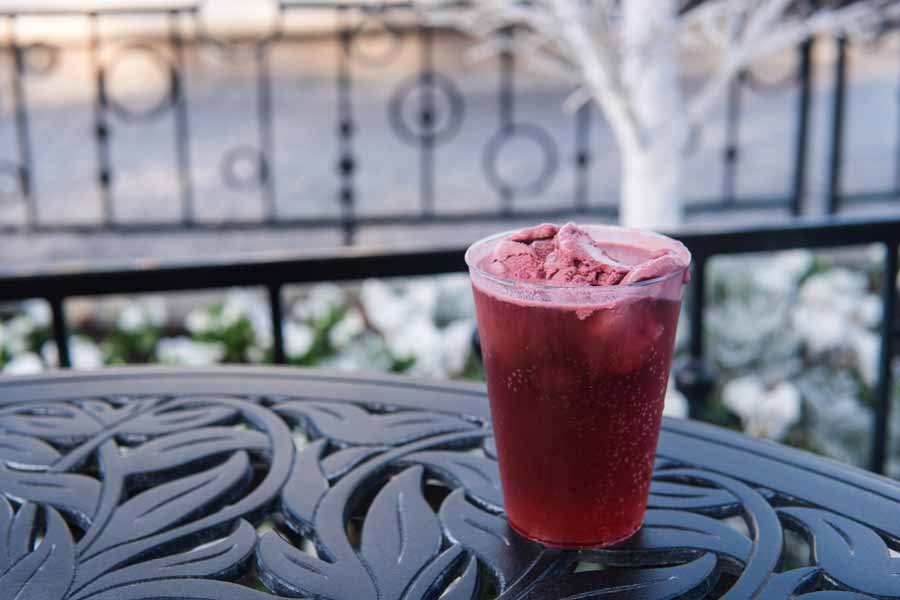 6. Boysenberry Champagne Float
I love champagne so I made sure to visit Hollywood Hits across from the bumper cars. The Boysenberry Champagne Float is champagne with boysenberry syrup, topped with boysenberry ice cream. A true indulgence to quench everyone's sweet tooth.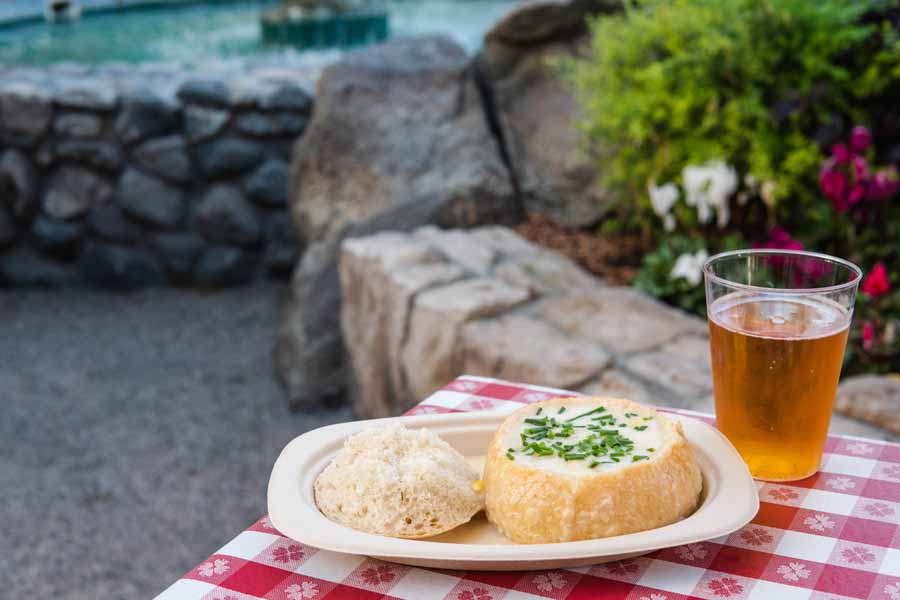 7. Corn Chowder in a Sourdough Bowl
Chowder in a bread bowl is just nostalgic and makes it feel like Christmas. That's precisely what we all need right now. After watching everyone's homemade sourdough creations for the past several months, I have to admit, I was kind of craving one. My only wish is that it was even bigger. Also pictures with the corn chowder bow is the delicious hard pumpkin cider which is so good. The Corn Chowder we found at the Wagon Wheel across from Ghost Rider.
8.Pulled Pork Mac and Cheese
Located right next to the Wilderness Dance Hall, is the Pulled Pork Mac and Cheese. Now I have to be honest, this is also where the hard cider, wine and sangria is located which is always my first stop when I arrive to Knotts. They placed Mac and Cheese with tender BBQ pulled pork right next to my hard cider so of course, I had to try it.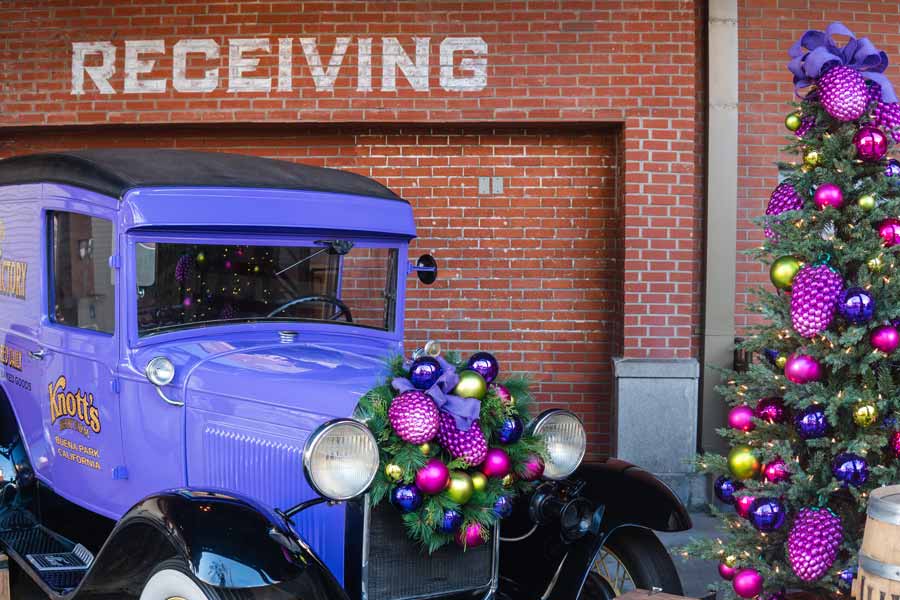 Taste of Merry Farm is almost sold out so get your tasting cards asap!
These portions are so huge there is no way you could possibly leave hungry. Adult tasting tickets for Taste of Merry Farm offer 5 food or drink items and are $40. You have to pre-purchase your food tickets on the day you want to attend and numerous dates are already sold out so do not wait! You can purchase your tasting cards at https://www.knotts.com/play/events/taste-of-merry-farm. Season passholders get 10% off and you can also purchase your photo's with Santa.