The much anticipated Disneyland Food and Wine Festival 2022 has finally returned. We arrived on opening day to try as many delicious food and drink offerings as possible. There were some definite hits as well as some serious misses throughout the day. If you're planning your visit, here is a list to help you hit up the best food stands to make the most of your visit. Those lines can get pretty long so you'll want to make your time count. Here are the best and worst eats from the Disneyland Food and Wine Festival 2022!
If you prefer to watch the Food and Wine adventures of Remy and I as we stuff our faces and comment on the video you can check out our Disneyland Food and Wine Festival 2022 Youtube Video.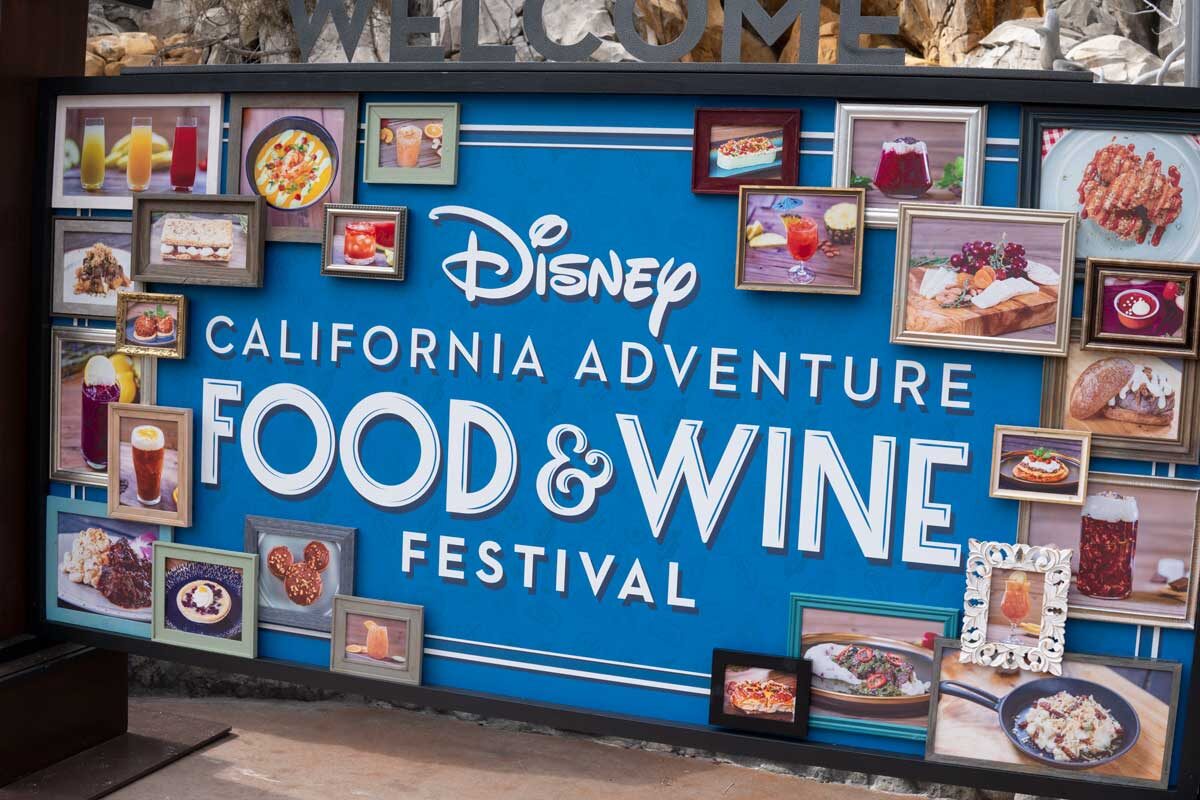 When is the Disneyland Food and Wine Festival 2022?
Disneyland Food and Wine Festival 2022 can be enjoyed from March 4th – April 26th. Food items can be purchased at various food booths throughout California Adventure park individually or with a Sip & Savor Pass.
Pro Tip: Once you have your pass, you can order all of your food items at any booth, save your receipt, and then go straight to the pick-up windows. This will save you some time waiting in lines to place your order.
How much are the Disneyland Food and Wine Festival Sip and Savor Passes?
Sip and Savor passes can be purchased at numerous booths for $58 and if you have a Magic Key they are only $52.
Pro Tip: Don't purchase your pass at the first booth at the beginning of the Festival. This line is incredibly long. Instead head towards The Little Mermaid ride and purchase them at the souvenir booth.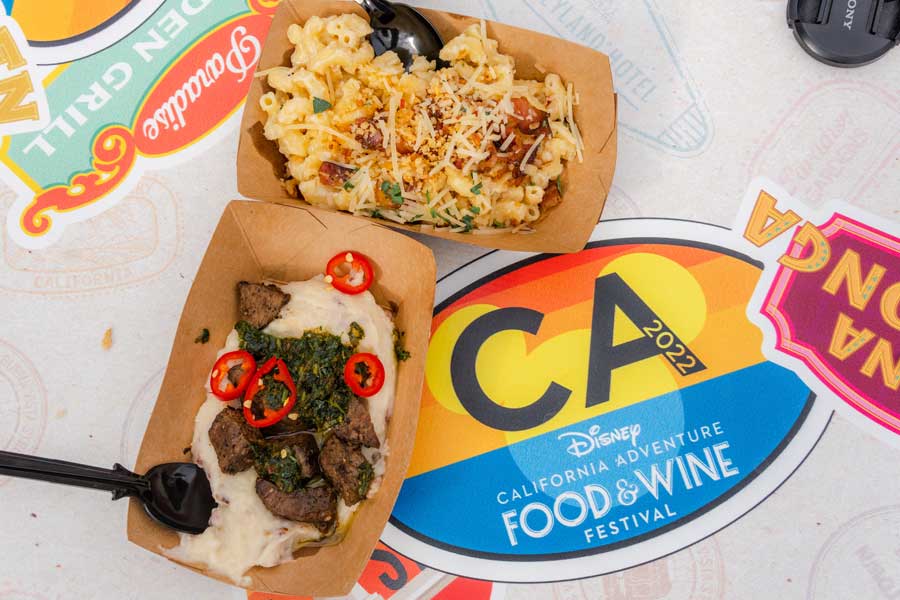 The Best Food from the Disneyland Food and Wine Festival 2022
We tried so many items from the Disneyland Food and Wine Festival 2022 and I left the park completely stuffed. Here are my favorite eats from the event!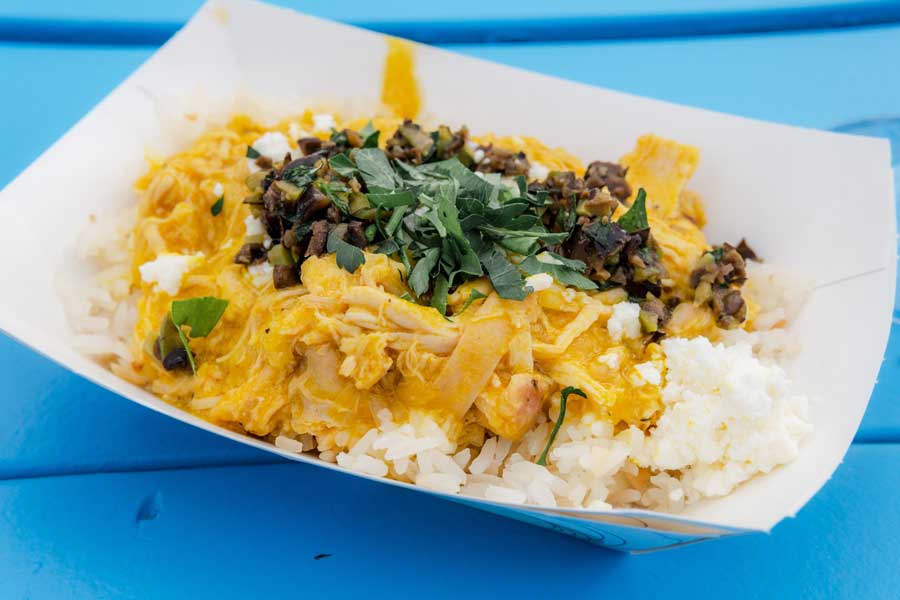 1. Aji de Gallina at Peppers Cali- Ente
The Aji de Gallina was my favorite dish from the Disneyland Food and Wine Festival. It featured tender shredded chicken in a yellow chile cream sauce over Jasmine rice and topped with olive tapenade. The sauce was only slightly spicy, but full of flavor. I honestly could not stop eating it and can't wait to head back for a second round. It is definitely a must-try.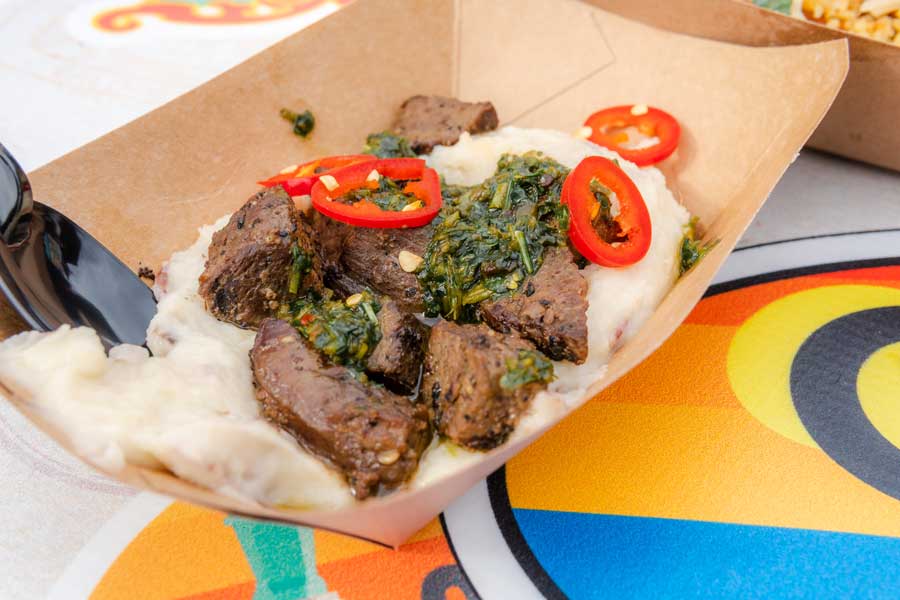 2. Grilled Top Sirloin at Garlic Kissed
The grilled top sirloin from Garlic Kissed was a pleasant surprise. I am always critical of steak dishes because they often tend to be fatty and chewy. The grilled topped sirloin from Garlic Kissed, however, was tender and lean. It is served with roasted garlic gruyere mashed potatoes and black garlic chimichurri. Everyone at our table agreed it was a winner!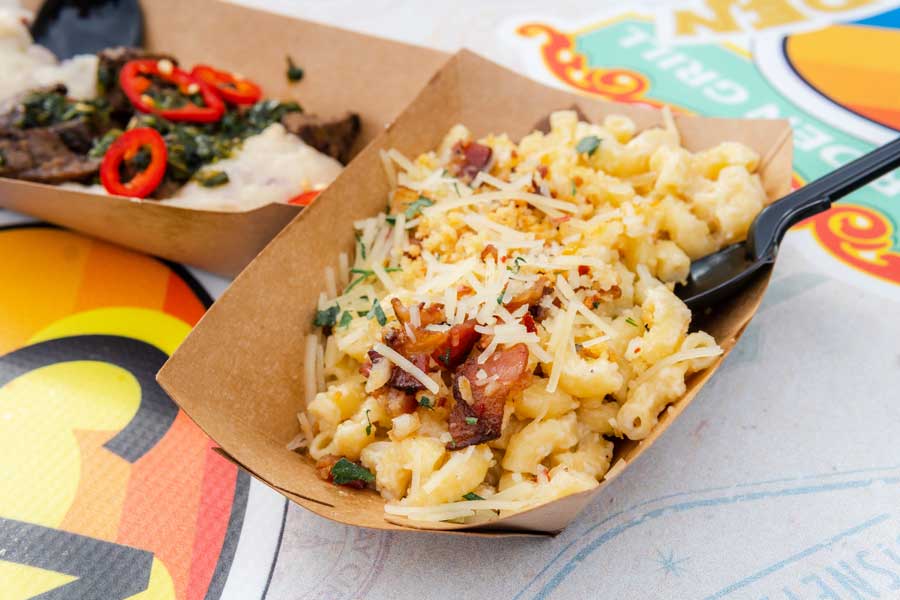 3. Carbonara Mac & Cheese at Garlic Kissed
I'll admit I typically am never a big fan of the Mac & Cheese dishes like every else seems to be. The Carbonara Mac & Cheese turned out to be absolutely delicious. The peppered bacon and breadcrumb topping was nice and crispy which really resulted in a fabulous dish.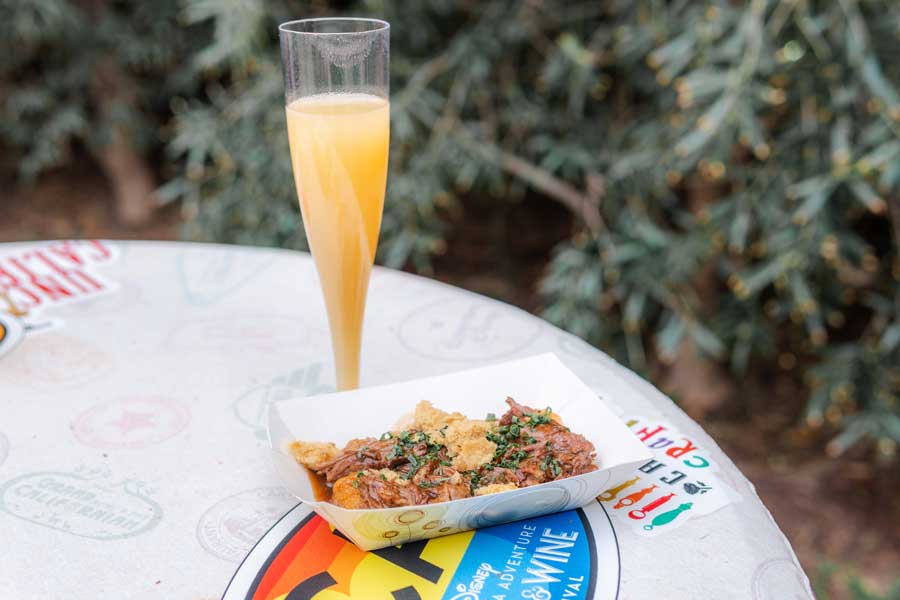 4. Black & Tan Beef Potato Puffs at D-Lish
The Black & Tan Beef Potato Puffs really were not a complex dish, but they were still awesome to eat nonetheless. Who wouldn't love tender pot roast smothered in a Karl Strauss Alley Stout gravy with cheese? my only gripe would be the weird lager micro sponge which was unnecessarily sweet, but so few that it could be easily avoided.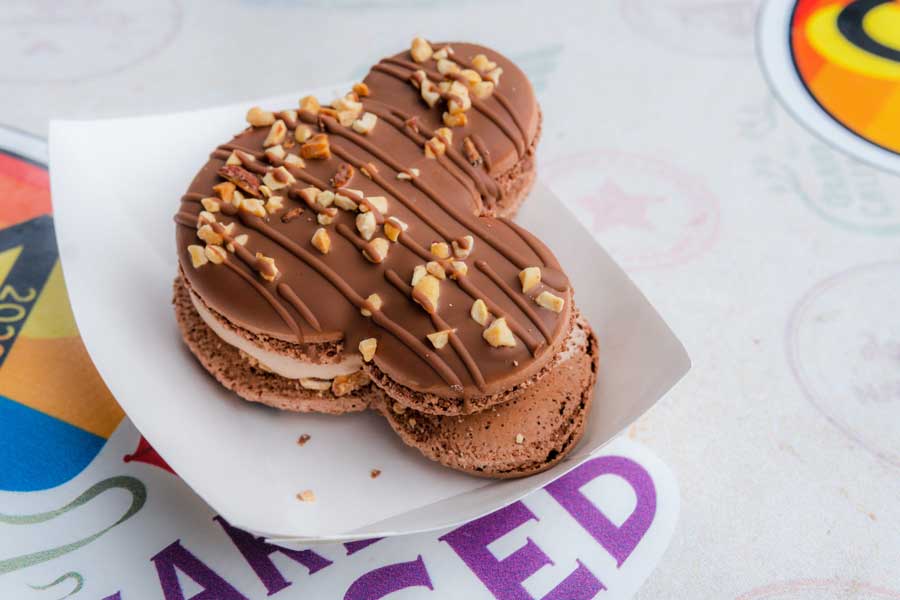 5. Snickers Caramel-Peanut Milk Chocolate Mickey Macron at Nuts About Cheese
If there was an award for Most Popular, it would go to the Snickers Mickey Macron. This decadent morsel was quite bigger than I expected and packed full of a caramel ganache sprinkled with snickers pieces. What's not to love?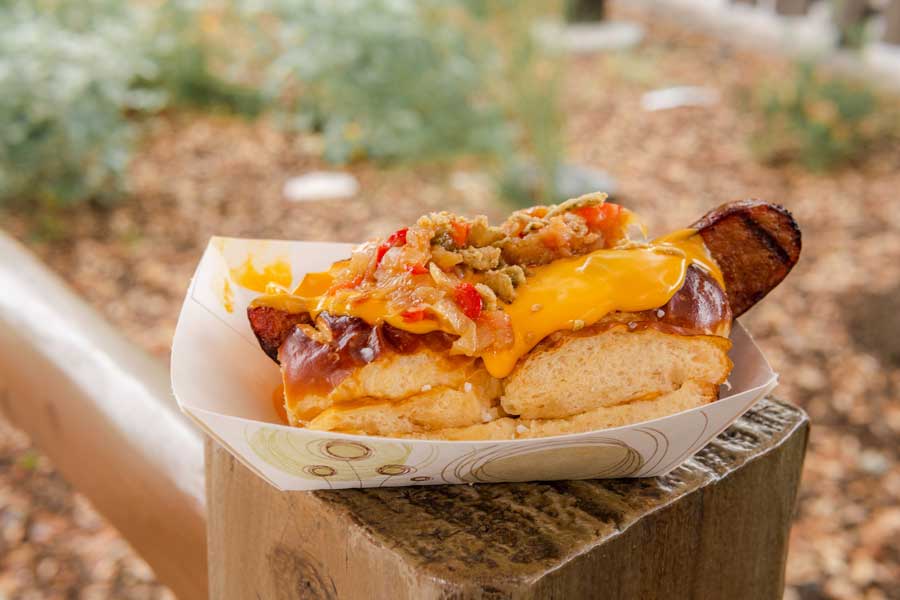 6. IPA Sausage Dog at California Brews
If you've read some of my other articles, you may have learned that I am from New York and we love hot dogs. It's one of the reasons the Ronto Wrap is in my list of The Best Disneyland Food Items. I guess it's only natural that I would love the IPA Sausage Dog, but by the way, the line was wrapped around the booth, I would say many others shared my sentiments. The IPA Sausage dog was served on a pretzel bun and drenched with cheddar cheese sauce. It was then topped with an onion-pepper jardiniere ( assuming this is a fancy word for relish) and Malt Vinegar-Jalapeno crunch. I sure wish they served these at the movie theatres.
7. Strawberry Cheesecake at The Berry Patch
I am likely the only person in existence who does not like cheesecake. The Strawberry Cheesecake from the Disneyland Food and Wine Festival 2022, however, is the exception. This delightful cheesecake had the most beautiful layers of a graham cracker crust, fluffy light strawberry cheesecake filling with a strawberry glaze, and dollops of lemon chantilly cream. Mouth-watering indeed!
The Worst Food from the Disneyland Food and Wine Festival 2022
Of course, where there are winners, there are also losers. I would say the majority of the food from this year's Disneyland Food and Wine Festival was fantastic, but a few items should have not made it out of the kitchen.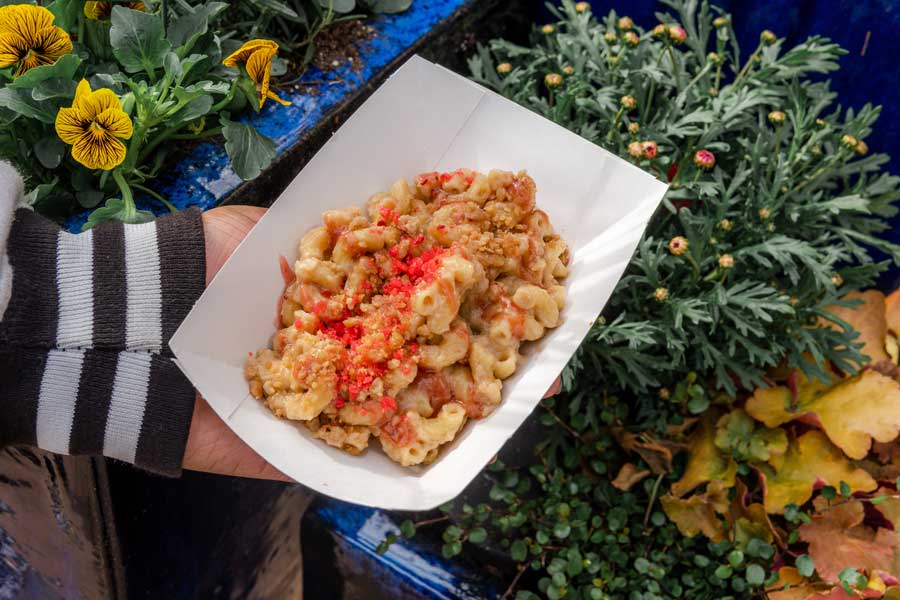 1. Peanut Butter & Jelly Mac at Nuts About Cheese
The Peanut Butter & Jelly Mac was absolutely disgusting. There is no other way to say it. I honestly do not even know how this made it into the festival or who approved of this but it was a terrible idea. The peanut butter sauce was a complete miss as if they were trying to go for a Thai peanut sauce but severely missed the mark. The weird jelly drizzle was just unpleasantly sweet and the entire dish was gross. I actually wanted to spit it out.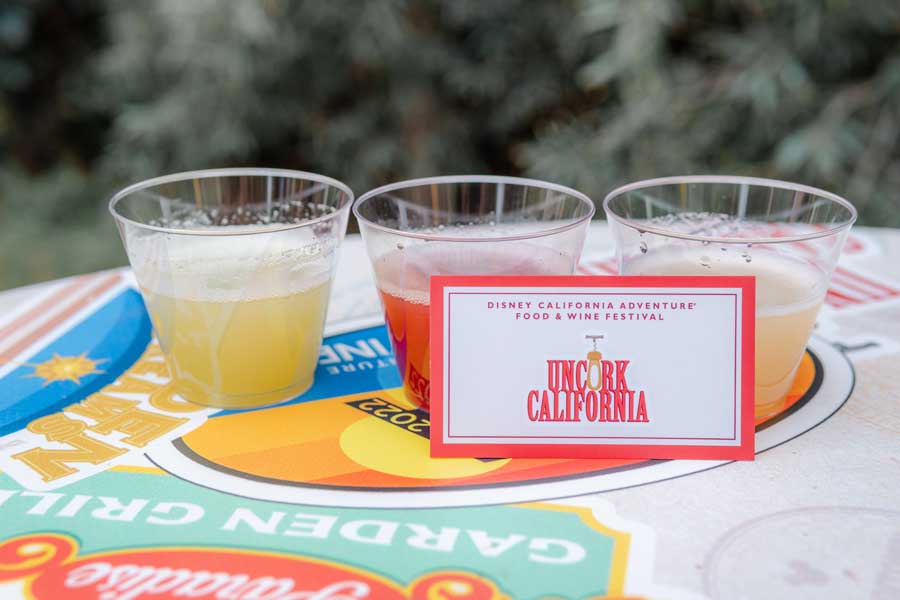 2. Cherry, Yuzu, and Ginger Mimosa at Uncorked
While the Green Apple & Lychee Mimosa was simply delightful, the Cherry, Yuzu, and Ginger mimosa were actually offensive. It was as if someone shoved a giant sprig of rosemary into my mouth and made me chew it raw. The flavors were completely overwhelming like drinking down Christmas Popurri.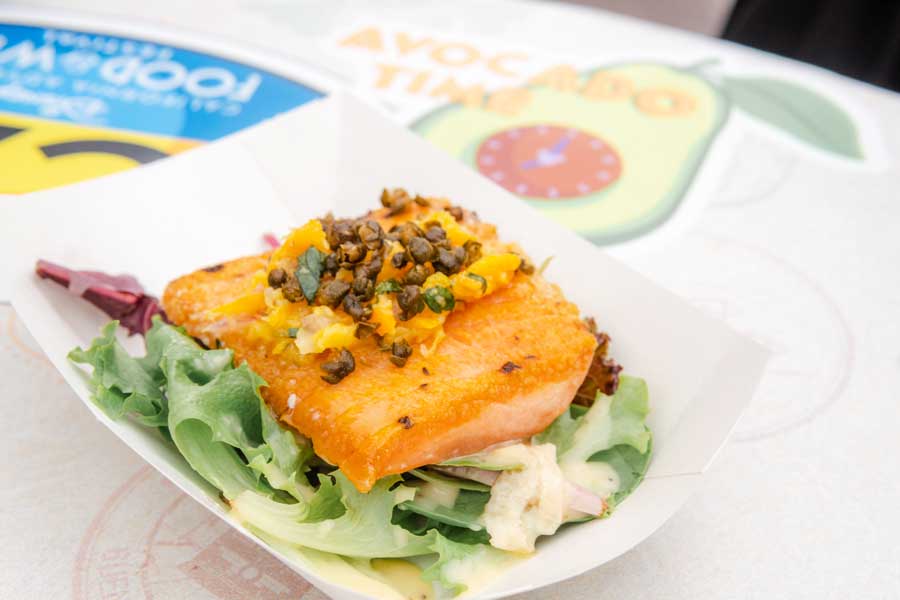 3. Honey-Orange Glazed Verlasso Salmon Salad at Golden Dreams
This dish was a real bummer. We were all really looking forward to trying the Honey Orange glazed salmon, but it was very disappointing. The flavors were both too salty and too sweet while the salmon was incredibly dry. You can definitely give this one a pass.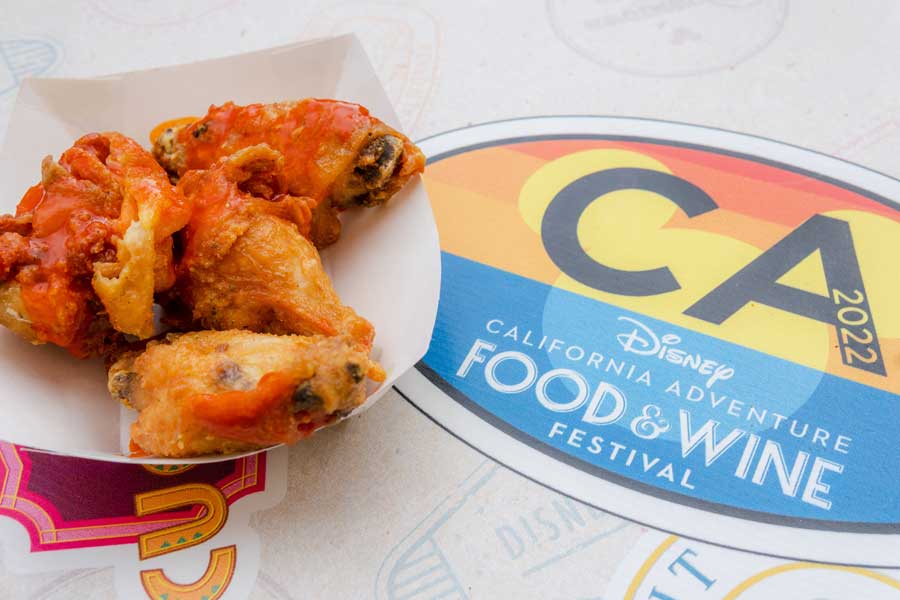 4. Ranch Wings at Cluck-A-Doodle-Moo
I don't know if these are necessarily the worst, but they weren't great. The wings were a tad soggy and not nearly crispy enough. They were flavorful, but a bit boring. I think they could have been more innovative than Ranch Wings. There Salt and Vinegar wings from the previous Disneyland Food and Wine Festival were so much better.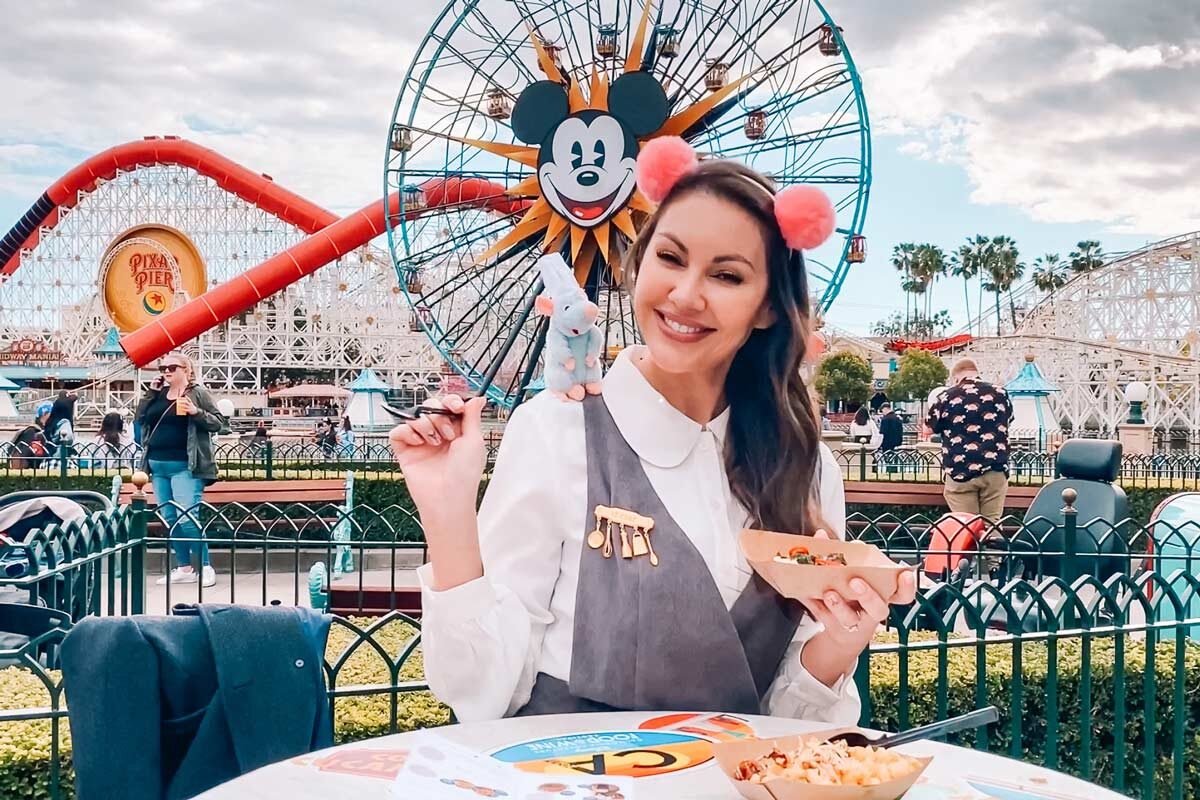 There you have it. My list of the best and worst eats from the Disneyland Food and Wine Festival 2022. I am definitely already planning my next visit. Are there any dishes you think I missed and should try? Please leave your comments below!